A lot of people don't know that the Narrows and The Subway are 2 completely different hikes you can do at Zion National Park and in this post I'll help you see which one is better for you to take.
Ideally, you'll want to do both but a lot of people don't come properly prepared for either hike or research it prior. That's what happened to me the first time I visited this park and so what I will do is explain the differences between both of these hikes to help you understand what to expect and then you'll be able to choose which one you'd rather do (if not both).
My quick history with the Narrows and Subway hikes explained:
I've been to Zion National Park 4 times so far and 2 of those times, I've hiked the Narrows. I've also done other cool hikes there like:
However, I have yet to do the Subway hike because of what I discovered about it's length and requirements beforehand. Out of all the hikes at Zion, this is the one you need to do most for prior before going.
Overall, the Subway is on my list but I highly recommend doing the Narrows if you can't go to the Subway and if you're wondering why that's the case, I'll explain that shortly: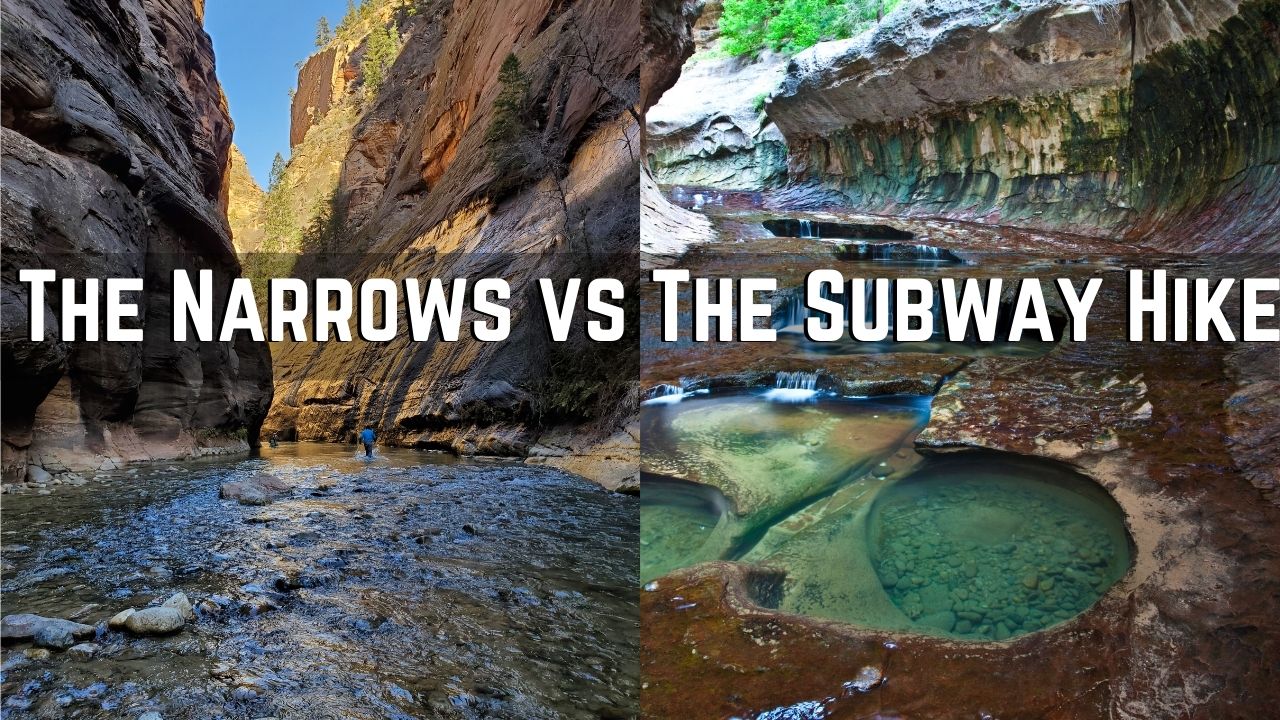 A summary of the Narrows hike:
While I have an entire preparation guide to the Narrows here, here's some quick things to note about this hike:

It is at least 7-8 miles one way.
You do need to dress properly according to the season.
If it's cold, you are better off wearing a dry suite for the cold water.
It gets very crowded between the Spring and falls seasons at this hike.
You don't need a permit to do this hike.
The hike is amazing and has truly stunning views for hours.
Proper footwear is important.
Water shoes like the Body Glove are good for this hike when it's warm.
More boot friendly water shoes are better for colder seasons.
I recommend doing this hike in a single day and starting very early.
Overall, this is a bucket list hike for anyone who enjoys the outdoors and it's one I will keep doing again and again each time I am hiking in Utah.
Note: Here's a couple of more hikes like the Narrows if you're looking for similar environments.
A summary of the Subway hike:
As I said, I have yet to do this hike because every time I visit Zion National Park, it's only for one day and this is the hike that requires more preparation (and paper work) to do.
Here's what you need to know about the Subway hike:
It's about 12 miles long.
10 of those miles are hiking through regular trails.
The really good part of the Subway is towards the end of it.
You need to get a permit to go on this hike.
You can get a permit at the Zion visitor center.
There are beautiful swimming holes and views there.
In some ways, there's parts of the Subway which look like the Narrows.
Like the Narrows, you'll want to do this hike very early.
For me, a lot of these things were a surprise as when I first visited the park, I had no idea which hike was where, let alone which requirements were necessary to go and while I was disappointed I couldn't do the Subway hike, I will in the future.
Which hike is better for you to go on? The Narrows or the Subway?
Here's a very quick way to figure out which of the hikes is better for you to do:
If you're going to Zion for one day, do the Narrows (or part of them).
In some ways, the Narrows is a more "grander" hike than the Subway.
Do the Subway hike if you're staying at Zion for more than a day.
Do the Subway hike if you've already done the Narrows.
Do the Narrows hike if you've already done the Subway hike.
As for which is more beautiful, both have their moments.
With the Narrows, the hike feels repetitive after a few miles (but it's still fun).
It's easier to get to the Narrows hike than the Subway (length and paper work).
If you visit the Narrows, you'll have time to do at least one more hike after.
If you visit the Subway, odds are you won't have much time to do any other hike the same day.
If you'd like to see what others say about the Narrows vs Subway debate, see Tripadvisor here.
Don't limit yourself to just Zion National Park, there's much more to see:
When I first visited Zion, I was stunned by how amazing it was (and still am which is why I keep returning), but the fact of the matter is that Utah as a whole has so many more sights on the same level (but completely different views) that I highly recommend checking out.
So unless you're specifically spending a few days in Zion and just want to stick to the hikes there, here's a number of other amazing adventures you can do outside of the park:
1) I highly recommend exploring the Mighty 5 National Parks.
2) Depending on how many days you have (and how far you can go), there's parks close to Zion like Bryce Canyon and Capital Reef and if you're headed north, absolutely explore the other 2 parks of the Mighty 5 which are Arches National Park and Canyonlands National Park.
3) There's also beautiful hikes and parks in between these like Coyote Gulch, Dead Horse State Park and more.
4) And if you're into scenic drives, besides the beautiful on in Zion, do these other scenic drives in Utah to really see how amazingly beautiful this state is.
5) See my alternative hikes to the Narrows to see which other places you can explore like it (some are actually in Oregon but most of them are in Utah).
6) There happens to be an amazing hike in Sedona (Arizona) that has parts which look likes the Narrows and even the Subway too! It's called West Fork Trail and I highly recommend it.