You're here now because you likely wanted to hike to Observation Point in Zion and you discovered that the trail to it is closed. And this has been the case for years, meaning it probably won't open again anytime soon.
However, there is another trail to reach it which I personally did when I learned that Observation Point was closed too, and in this post I'm going to show you everything you need to know about it (map, directions, how to get there, etc…) because it is a bit of a roundabout approach to getting there, but it's a totally legitimate trail and it'll take you to the same exact overlook spot that Observation Point is famous for.
Quick info on Observation Point in Zion:
Name: Observation Point Zion.
Location: Inside Zion National Park.
Hikes to reach it: East Rim Trail (The official one that's closed), and the East Mesa Trail (alternate option).
Distance: East Rim Trail (8 miles in and out). East Mesa Trail (6 miles in and out).
Difficulty:

Moderate

.
Rating:

5 out of 5

.
Recommended? Yes! Its unfortunate that the main trail to Observation Point is closed and it is more scenic, but at least you can still see the same exact overlook from a different hike and as someone who has done that hike, I highly recommend it.
The alternative route to Observation Point in Zion is called East Mesa Trail: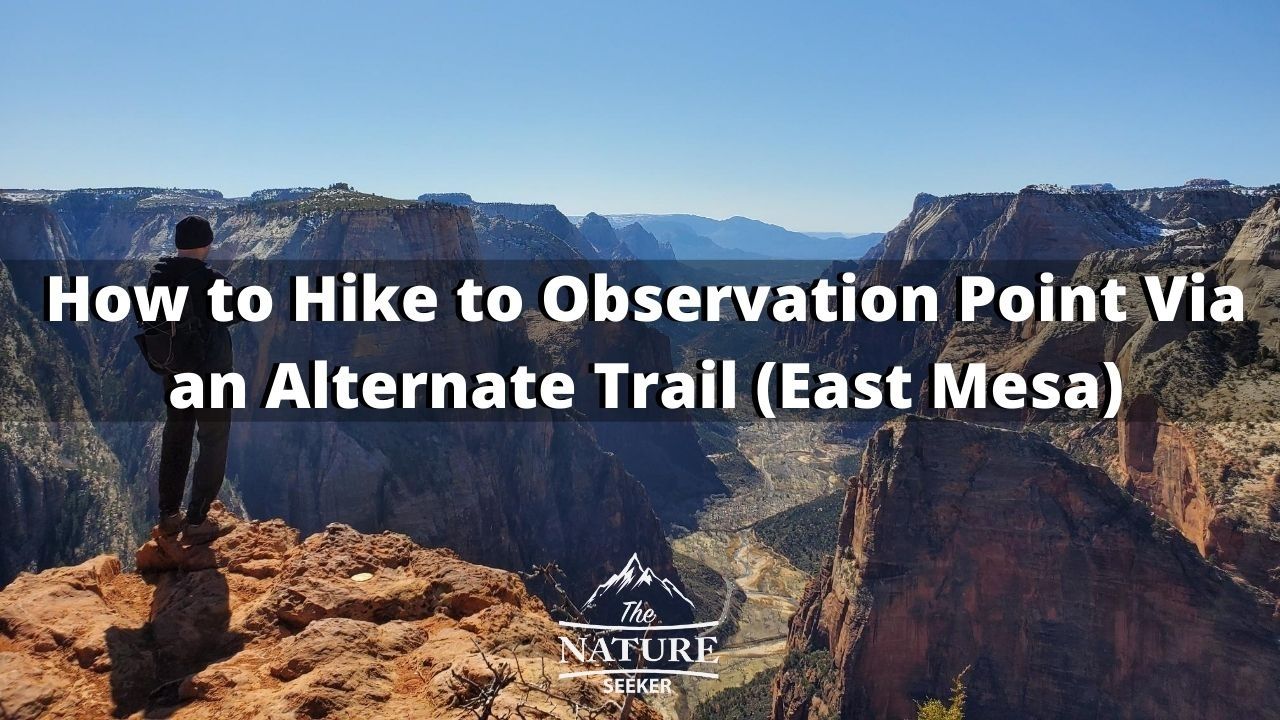 The picture you see here is me standing at the edge of Observation Point after finding and following the East Mesa trail, when the main one was closed.
In order to get to the East Mesa trail head though, you'll have to follow a few instructions that I'll talk about in this post.
As a preview:
It will involve having to leave the park out the east end and enter a road that leads back into the park from another entrance up north. It seems counterintuitive, but it's a legitimate trail.
I'll show you a map of it and how to get there shortly.
It's not difficult to reach or hike to Observation Point from it, and because we don't know how long the official trail (East Rim) will be closed, it's better to use this alternative trail in the meantime.
Why is the main trail to Observation Point (Called East Rim) closed?
The National Park Service site for Zion National Park has reported that a rock fall on the main Observation Point trail is responsible for the closure and until it's cleaned up, the main one won't reopen.
Considering how slow and in my opinion unreliable NPS is at getting stuff done quickly (this closure has been going on for months now with no definite date of reopening). It's about an 8 mile hike from this main trail (there and back).
Update: I revisited Zion National Park in 2023 and the situation is still the same (The East Rim trail is still closed).
Info about the East Mesa Trail to Observation Point (the alternate route):
It's not a commonly known trail for basic tourists to Zion, but it's been around for as long as I can remember and it begins outside and east of the park.
It's still open and keep in mind that the closure in Zion National Park isn't to the actual overlook, but the main trail which leads to it. And the good news is that besides being able to reach Observation Point legally, it's a great, simple hike that gives you time to do more one day hikes at Zion National Park.
How to hike to Observation Point through the alternative East Mesa trail:
1) The first thing you'll want to do is take a screenshot or download this map (or ask for it in the visitor center of Zion).
In my case, I took this picture of the map, by the trailhead to Observation Point: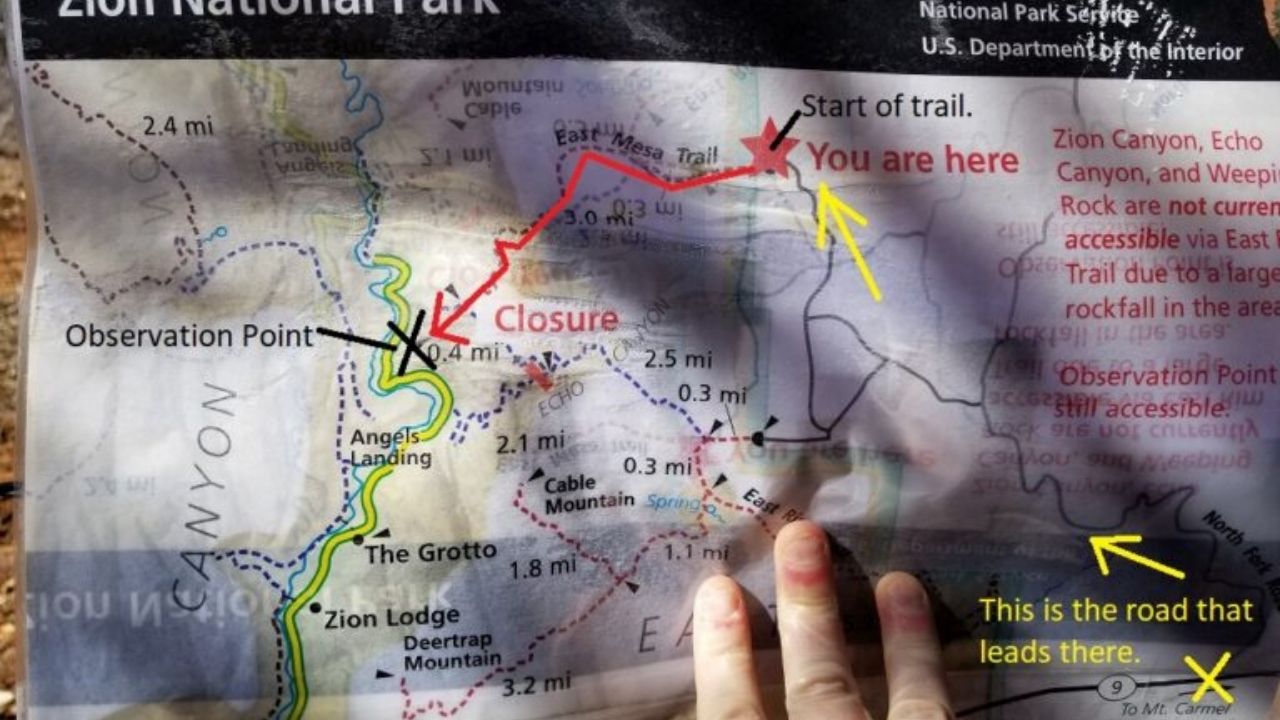 As you can see where it says trail closure is part of the East Rim trail and that is the official Observation Point trail that's closed off. You can also find the same exact map on Alltrails too. In case you need a direct link, here's the Alltrails map of East Mesa but I would also take a picture of this map above too.

2) The second thing you need to know is that Zion has 2 main entrance points:
One from the west (where I entered it) and one from the east.
The east mesa trail is outside of the eastern part of Zion National Park. Yes this means you will need to technically exit Zion, but once you take the road to the trail to start the East Mesa trail you will be back inside of Zion National Park.
I'll be detailing each step of the drive to the East Mesa trail, followed by instructions on how to navigate through the trail itself (which is easy) shortly, but it's really the drive that can be a little bit confusing for first timers, like it was for myself and the buddy I went with.
It's easy to think the road you use to get to East Mesa Trail doesn't go anywhere and want to turn back.
Don't make this mistake because it really will take you to the trail head, and the trail will take you to Observation Point like I said before.
The summarized directions to East Mesa Trail head to see Observation Point:
Enter North Fork County Road outside of Zion National Park (2-3 miles east of the eastern entrance of Zion).

Head north and stay to the right (you'll cross a resort, don't go into it). Follow signs for East Rim trail.

You will likely have to cross a VERY muddy road that spans for about 1-2 miles (have a 4×4 or all AWD car).

If you find the car you're in can't go further in the road, stop the car on the side (there's open areas on the road) and walk.

Walk further north and you will see signs for Observation Point and East Rim trail (one or the other).

The road will take you to a trail head, and you'll make your way WEST on the trail for about 3 miles.

This 3 mile hike is fairly simple and will take you to Observation Point.
Here is a Google map listing for the East Mesa trail head (just in case):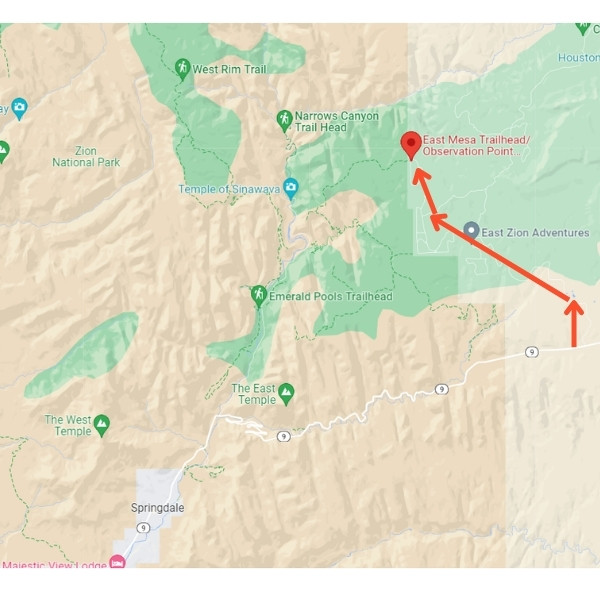 I have included an official GPS location for the East Mesa Trailhead here but at the same time also added a screenshot of a map to give you an idea of where to go.
Remember, this trailhead is not technically in Zion National Park.
To access it, you first have to enter a specific road outside the eastern end of the park, then drive up to it, then hike back into Zion and to the top of Observation Point.
Make sure if you do use your GPS to make it lock onto the trailhead coordinates before driving up there as the signal is very weak in many places there and I would rather you have an easy time following it vs guessing if you're in the right area.
The good news though is that if you do run into issues with your GPS, then there are signs which will point to Observation Point like this: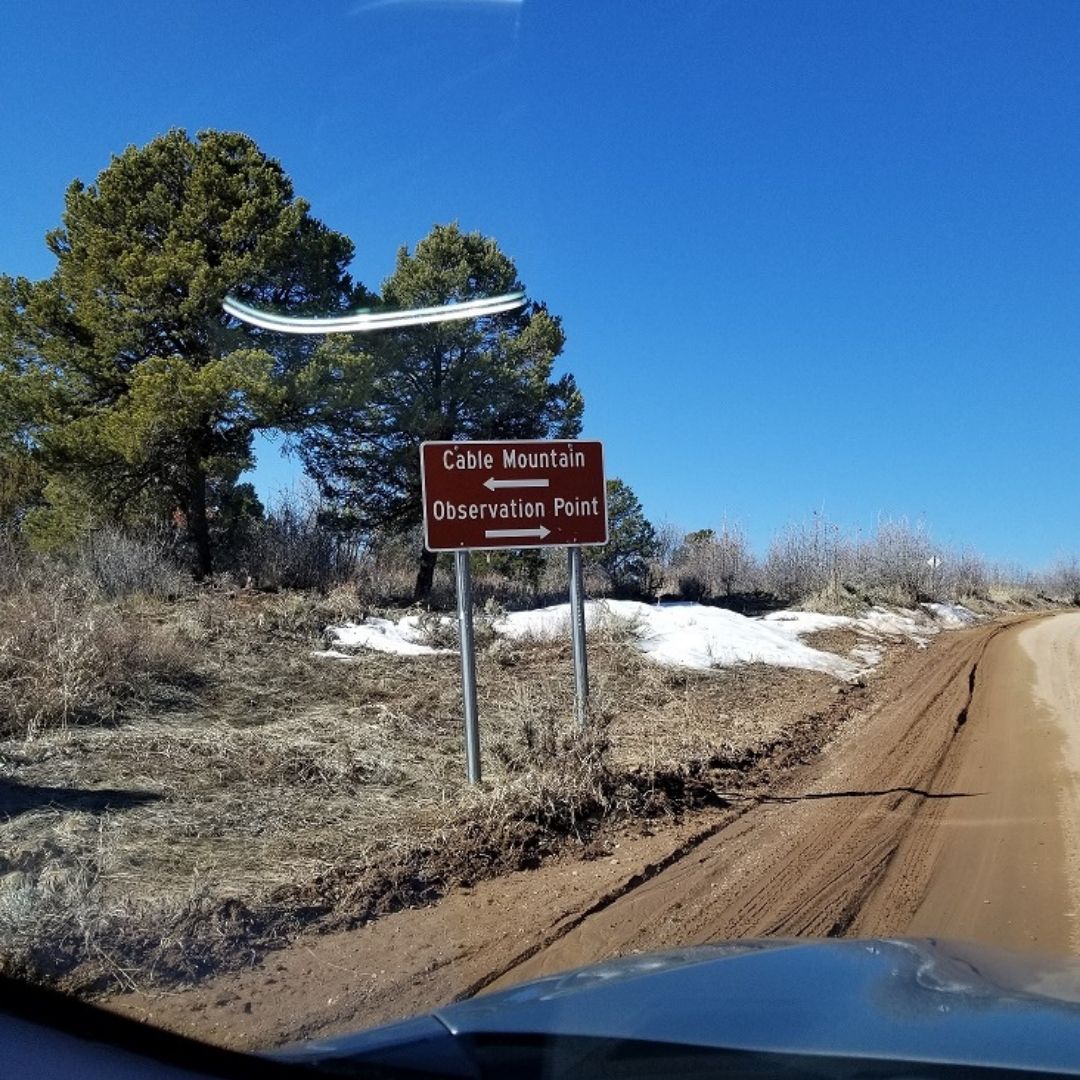 Long story short, if this map listing doesn't take you through the same steps I just showed you above, then follow the steps instead. It's really not a difficult road or trail to reach, but it's the off road aspect of entering this area that can suck and there are many turns along the way that seem enticing. I should also mention that for this road (not the hike), the of weather in Zion National Park as well as the season will affect how annoying this drive is. Between November and March, I would say there is more rain and cold weather, so this area will be more muddy.

Just follow the map and look for Observation Point signs (there are multiple ones, but they can be far apart sometimes).
Here is an example:
During warm and hot seasons, getting to the East Mesa trail head should be easy, but we did it during the winter, when there was a lot of snow, icy and wet areas, making the mud very deep, slippery and difficult to bypass on the car we were in.
It's even a miracle we were able to drive so far into this road to begin with.
I think even a 4 wheel drive car would have problems.
About a mile before the trail head, we decided to stop the car for fears of it getting stuck, parked it in the nearest area possible without obstructing traffic and walked on foot to the trail head.
It took us about 15 minutes to reach it: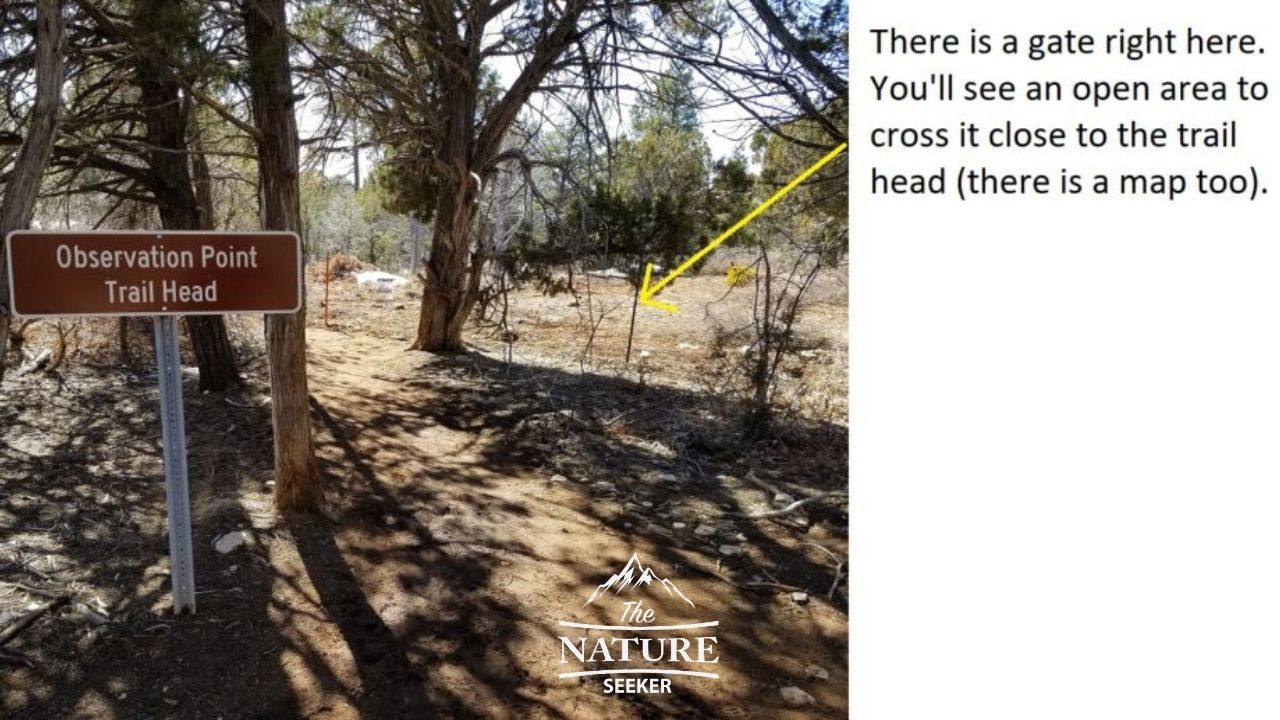 Just a heads up:
Once you reach the trail head, like the image above says, there is a gate right next to the trail head sign and on that gate is a map I pasted above. Right next to the map is an entrance PAST the gate that will start you on the 3 mile trail to Observation Point.
Don't make the mistake of following the gate, because the entrance past is actually easy to miss. Remember, it's right next to the trail head and right near the map on the gate itself.
What to expect hiking the East Mesa Trail to Observation Point:
Once you pass the gate, it's a very easy trail to navigate, but it will take you a few hours to reach the Observation Point overlook (if you're just walking that is).
For us, it was simple to follow the trail as we could easily see plenty of footprints all leading there (and back).
This trail is apparently not well known, since we only saw 2 other people while we were there, but rest assured, it WILL take you to Observation Point, while the main trail is being fixed up.
And of course, once you to get to Observation Point, take your time and enjoy the views.
When I got there with my friend, there was no one else around and aside from that being an amazing feeling, there was also an incredible and serene silence to the place that is just something you'll have to experience yourself.

If we had more time, we would have spent hours more there and just let the sight hypnotize us, but we had to go further and so we left after being there for about 30 minutes.
Other questions about Observation Point:
Can you still get to Observation Point?
Yes, there are 2 Observation Point trails at Zion and both are open.
How hard is Observation Point?
Observation Point is a moderate hike but it is long at over 6 miles depending on which route you take, so you will get tired if you're not prepared.
How many miles is Observation Point?
The main Observation Point trail is about 8 miles in and out, while the alternate one (East Mesa) is 6 miles in and out.
8 other things to do in Zion National Park after you hike to Observation Point:
1) If you have more time or are planning to spend a few days in Zion, you can read up on my Zion National Park one day hike ideas on things you can do each day while at this park.
2) For us, we hiked a chunk of the Narrows trail after doing Observation Point.
3) I wouldn't bother with Angels Landing because you're basically going to be doing a similar hike and I think the hike to Observation Point is safer than Angels Landing anyway.
4) If you plan to exit Zion National Park, you may want to consider checking out the other parks in Utah, also known as the Mighty 5 National Parks, the closest of which is Bryce Canyon National Park, which is also very beautiful. I also highly recommend Coyote Gulch as well!
5) And for the great area in the state, here is a list of the best hiking trails in Utah (the list is going to grow).
6) Another option is to try some awesome hiking trails in St. George which is close to Zion National Park.
7) Explore Kanab Utah, which is very close to Zion National Park and specifically the Observation Point trail.
8) See the Canyon Overlook Trail with an equally impressive view of Zion, but from a totally different area.