Zion National Park has been truly unforgettable for me ever since I visited it a few years ago. If you're planning on going here or if you have doubts that there are other parks more worth visiting, let me put that to rest and tell you this:
In my opinion, Zion National Park is likely the most beautiful park in all of Utah and possibly the most beautiful national park experience you'll have (even more so than the Grand Canyon, but that's my opinion). 
This photo shows why Zion National Park is so beautiful and worth visiting:
Let me also say that being in Zion National Park itself is an experience you will NOT forget, but if you're into adventures, want to spend time with the family and/or just want to enjoy nature, this place is going to remain with you for life.
At least that's how I felt after I visited it and so I'd like to share where you should go and what you should do when you're there…
Firstly, I want to say my trip to Zion National Park was very impromptu.
I had a conference I was doing in Las Vegas, something that happens once a year for several of those years, I had contemplated visiting Zion National Park as it's about a 3 hour drive away (here's another popular spot called Mt. Charleston that is closer if you can't go far away from the city).
Well this year, I promised myself I'd visit it and do a lot more nature traveling and so I kept that promise…
My friend and I who were part of the conference, left our hotel at 3:30 in the morning, got ourselves a rental and zoomed right into Zion. It took us about 2:30:00 to arrive, but I was driving like a maniac, mainly because we had to be back by 6:30 pm (pacific time) and it's important to know that in Zion National Park, the it's listed in central time:
Anyway, this was my first time exploring the dessert and while I found the drive there to be less than interesting (barren lands and mountains were nice, but there was no greenery, nothing to really enjoy like say in the Catskills), it wasn't until we finally entered the border of the park that we knew, we had entered into something truly amazing:
Right here is the start of the scenic drive (see many more scenic drives like this in North America) and before you do anything else, make sure you drive around this park. Maybe plan to do half of it in the morning (arrive SUPER early) and the rest when you leave (before sundown) if you are doing a day trip.
The mountains absolutely engulf you. There's no other way to explain it. The pictures just can't put into words how gigantic these mountains are and how minuscule, yet humbled you feel to be in the presence of such nature…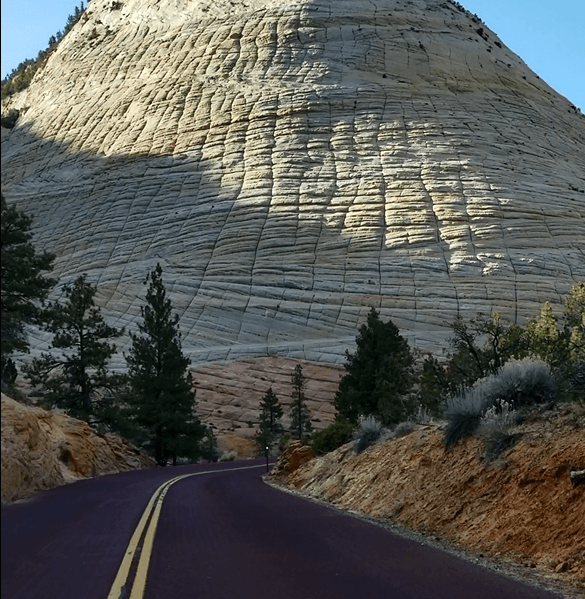 Here is another path we took on the scenic route (above) where I saw the mountain you see. I've never, in my life seen a mountain shaped like that, look like that or feel like that. It feels you can run up it. Truly remarkable.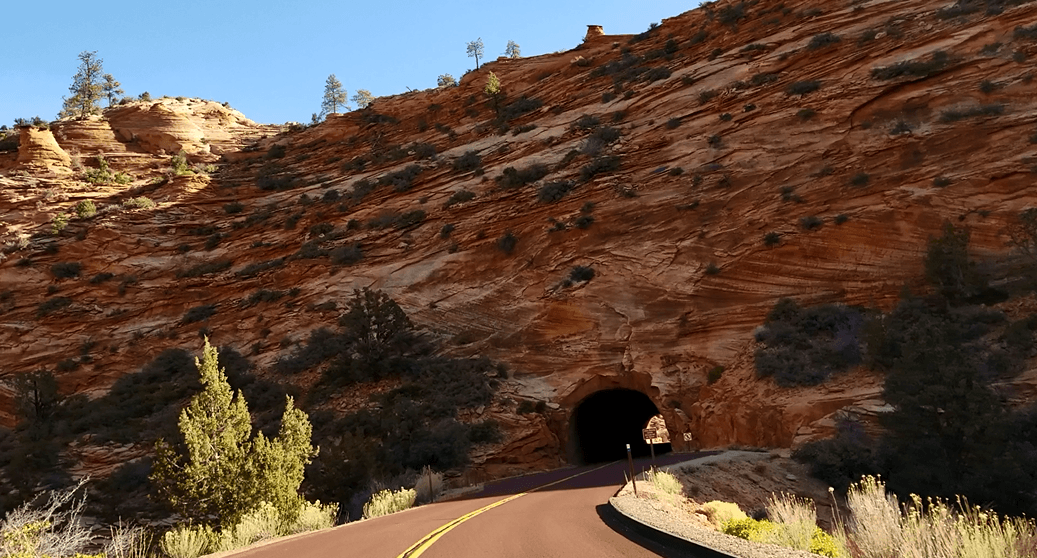 More from the scenic route. There's at least 2 tunnels we crossed and with a convertible car, it was an amazing experience. Definitely do the scenic drive and truly take in the sights, you will never forget it. 
Now let me say that my friend and I only had a brief idea of what we wanted to get done in Zion national park:
1) We wanted to do the Angel's Landing hike. I'll do a separate article on that, but the short story is we ALMOST accomplished it. We stopped with less than a mile left on the trail because honestly, the hike became so steep and dangerous, that I started feeling dizzy and decided that it was too risky.
Note: I hiked Observation Point instead during another visit to Zion and it was way safer.
People have fallen of that path and died unfortunately and while I love hiking, there's a limit. You are up over a 1,000 feet there…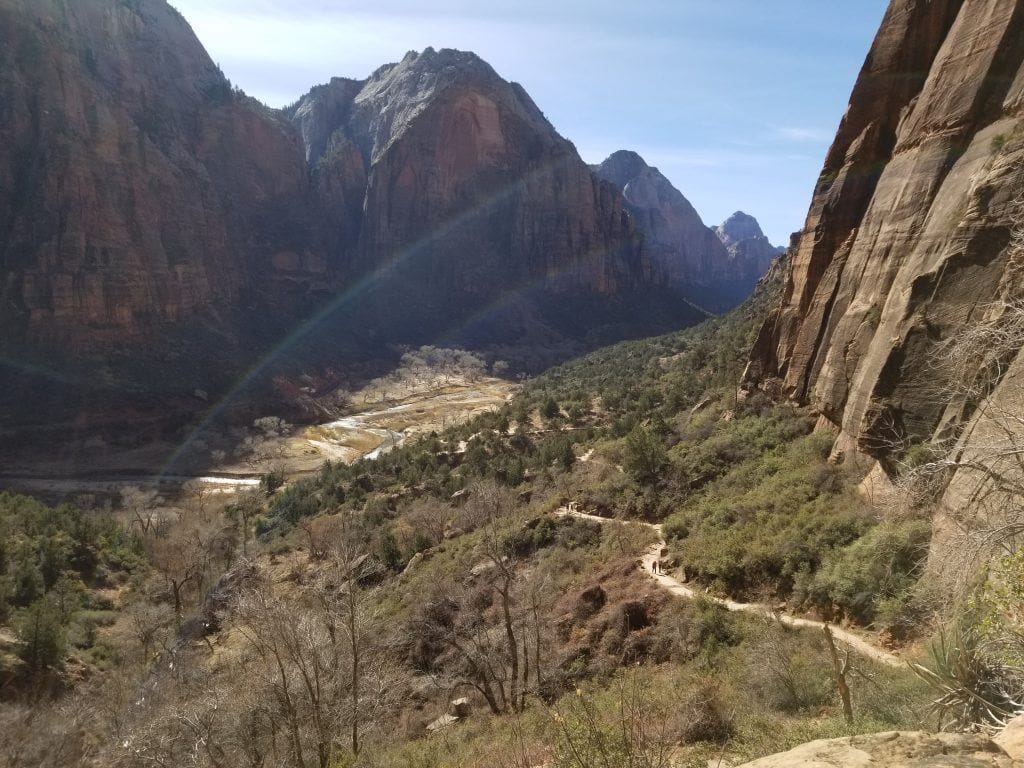 But we more or less did a large majority of the hike in about 2 hours (usually it takes longer). We then figured with the time we had left, we could do one more of the hikes we intended on, which is:
2) The Narrows!
The Narrows is a water trail where you literally have to walk through water for over 4 miles one way, then head back for another 4+ miles. I'll also do another article on that, but here's a little preview of what you'll see:

Yeah, it's incredible. By the way, my Instagram account (right of the site) shows all my trip photos/videos so you can see them all there (I update it daily).
Let me tell you guys something: That trail was breathtaking, but FREEZING. We did this in early February, where it's still technically winter. Luckily there was no snow, but that water was ice cold and we had nothing but water shoes on. We didn't last too long, but we lasted enough to see some amazing stuff in that Narrows.
We managed to complete a huge chunk of our itinerary and while we couldn't finish everything, we had more than a good taste of what Zion National Park had to offer. So with that said, let me give you:
3 things you need to do if you're planning a trip to Zion National Park:
1) Plan ahead.
Look at a map, see which sights/hikes you wish to do. Besides the Narrows and Angel's Landing, there are others (we wanted to do the Subway but it was on the other side of the park and we had to get back to Vegas).
If you want to do the same hikes we did, the good news is that they are basically along the same road. Angel's Landing is the first path you'll find, and if you keep following the same road, it'll lead to a dead end (and a parking lot) where the trail to the Narrows will begin.
One very good thing you can do is stop off at a lodge right before the entrance to the park. Their tourism store has a map of the map you should absolutely take with you.
2) Hate large crowds?
We do too. The best time to see Zion National Park is before March from my understanding, February was almost empty in the morning, but I hear it gets quite busy in the later months. 
Although the only draw back of a February visit is that you'll likely have cold weather (temperatures can reach in the high 60s) and cold water (like I said, freezing), you get the benefit of not having to be with large crowds and enjoy quiet nature trails.
3) Do the scenic path (on a car) if it's your first time.
You won't regret it. It's quite a surreal experience.
12 safety tips for Zion National Park:
1) Plan ahead with the proper supplies.
Depending on which season you check out Zion National Park determines which supplies you'll need to bring, but do note that in the spring and summer seasons, it is VERY hot there.
2)
Doing a day hike?
Take a hiking backpack, water, energy drinks, some snacks. Know your physical limits and plan on doing 1 or multiple hikes based on that. We were fine with 2 trails. 
3) Staying at their lodge?
Make a reservation. Typically it's easier to get a room on off seasons. The more likely you are to visit ON season, the earlier you should schedule a reservation. 
4) Doing a tour?
Know that they only happen during ON seasons. Tour buses do not run off season. But I will tell you this, I enjoyed the car ride a lot, so consider that over being in a crowded bus. 
5) Stay safe.
Do not risk hikes that you are not confident in. Safety first here people.
6) Enjoy the sights.
We literally only had half a day (and a 6 hour car ride there and back) so we had to rush through everything. I really wish we had more time to take in the sights.
7) Camping?
Plan ahead, view the most popular areas and prices (yes it will cost you).
8) Bring some tick/bug sprays just in case.
9) Know there is rarely cell phone reception there.
This place is a national park guys for a reason, because it is kept in it's natural state meaning there's few areas with actual, modern day conveniences. So warn people when you're going there that you won't be reachable. 
10) Wear some good shoes!
For the dry hikes, trail running shoes will do. For the water hikes, water shoes will do.
11) Bring some swimwear.
We didn't intend on swimming, but in the Narrows you're going to be in water, sometimes just by your feet, and sometimes all the way to your chest, so bring some swim wear.
Zion National Park is going to be an awesome experience for you if you take your time with it, stay safe and prepare prior by knowing which places you wish to visit (I think there's 9), but the most popular ones are the Subway, the Narrows and Angel's Landing. Next time, I'll do the Subway 🙂
Also, other than the other hiking areas near Vegas I linked to, I will be updating more places to visit that are close to Zion National Park, but for now, what I wish to share with you are 10 awesome places I visited in the Pacific Northwest.
12) Don't do any hike you're not comfortable with, it's not worth the risk, view it from a distance.
We didn't risk the whole Angel's landing trail and we're happy with what we saw, in hindsight, we had enough time to visit the Narrows as a result!
Have you been to Zion National Park? If so, what do you recommend checking out? Let me know!
In 2020, I plan to revisit this place and conquer new trails and provide some awesome new photos and updates to what you should see there!
Update: A second visit to Zion occurred 2 years later.
I went to Zion again in 2020 and explored places like Observation Point and managed to go further into the Narrows. I'll write up a whole article on my second visit to Zion soon, but in the meantime, I have included links to the new hike I did (Observation Point).