Utah has 5 major national parks, known as "The Mighty 5" and very recently I took a 5 day road trip through this state to see them and I highly recommend it.
If you're looking for road trip ideas through this state, the one I did was very satisfying. So I'll share exactly what I saw, hiked and explored in each national park.
The beauty is that most of these national parks can each be explored in a single day and I have posted several articles showing this is possible (because I did it).
In addition to that, there's more than just national parks in Utah worth exploring and that's exactly what I did when I checked out a popular but less known hike known as Coyote Gulch, which also was part of my itinerary.
Here's how my 5 day road trip through Utah's Mighty 5 National Parks went:
Day 1: Zion National Park.
Day 2: Bryce Canyon National Park.
Day 3: Capital Reef National Park.
Day 4: Canyonlands National Park.
Day 5: Arches National Park.
And these are the Mighty 5 parks in Utah by the way.
My road trip across them had me go through some truly scenic roads and I highly recommend you take some time to explore them as well based on the route you take.
Here are 10 scenic drives in Utah you can do, and many of them will take you through these parks.
Here is a map of the Mighty 5 National Parks: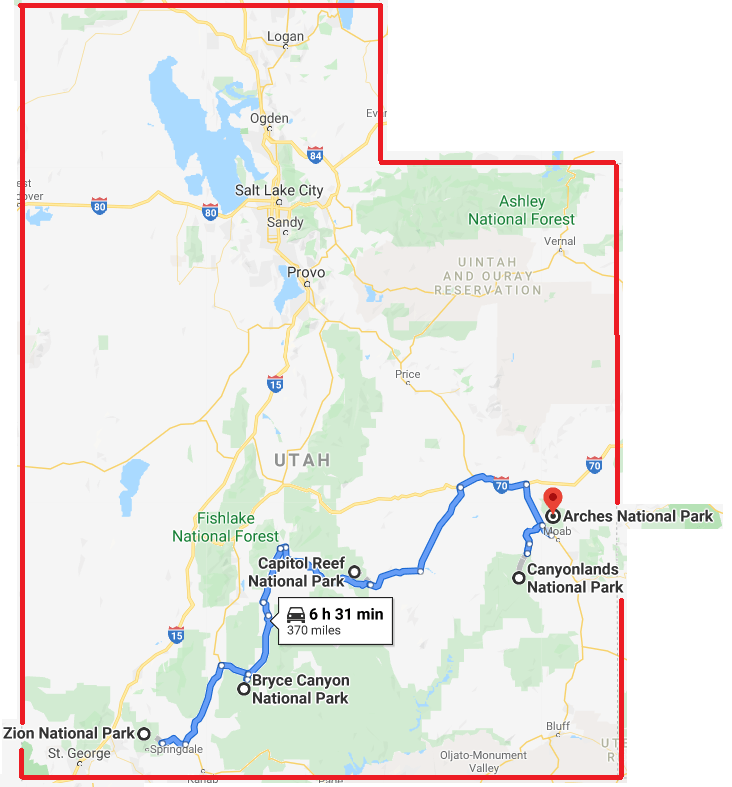 Now if you're just looking to explore nothing but the national parks in Utah, that's how you can do it.
The best place to start is either from Las Vegas or Salt Lake City.
I started my road trip from Vegas which is why my list is in that order.
If you start from Salt Lake City, you just reverse the order and you can do each park in a single day.
Of course, you can't explore every single thing in each park with only 5 days to spare, but you can explore enough during that time to be satisfied by it.
I certainly was and I'll share what I did each day that I was in each national park.
When is the best time to do a road trip across the Mighty 5 Parks?
That's very subjective, but in my opinion, it's best to go when the crowds are low and the weather is cool/cold. For that, I would recommend going anyway from January right up until March hits.
Once March hits, not only does the weather get significantly warmer, but the crowds start to rise and the shuttle service becomes mandatory. That to me is very annoying so I prefer going when it's much colder (and off season).
The details of my road trip through the Mighty 5 National Parks of Utah:
Here is how I explored each park, everyday that I was in Utah:
Day 1: Zion National Park
I started my trip in Las Vegas and the closest National Park in the Utah Mighty 5 lineup to it is Zion National Park. I personally left my hotel around 4:00 a.m. in the morning with the intent to arrive in Zion around 7 a.m.
There's a lot you can do in Zion National Park in one day, and in my case (this time around), I began by:
Hiking to Observation Point.
Then I did a scenic drive through the park.
And then I finished up with hiking a few miles into the Narrows.
You can also try doing the Angels Landing hike if time permits.
This visit to Zion National Park a very active day for me as by the time I finished coming back from the Narrows hike, it was already dark.
Now in this particular case, I had to drive back to Las Vegas and I would continue my road trip with another friend, a few days later. We would actually head straight into the next park which is Bryce National Park, and cut through Zion in the process.
But in your case, you can easily do Zion, and then head into Bryce and start your day 2 hike without going back n forth like I did.
So yeah I hope that convinces you to take a drive through Zion and even if you don't plan on hiking anywhere, the scenic drive through the park is worth it, and considering the roads between the 5 Mighty National Parks intertwine, I say you should try it!
Day 2: Bryce Canyon National Park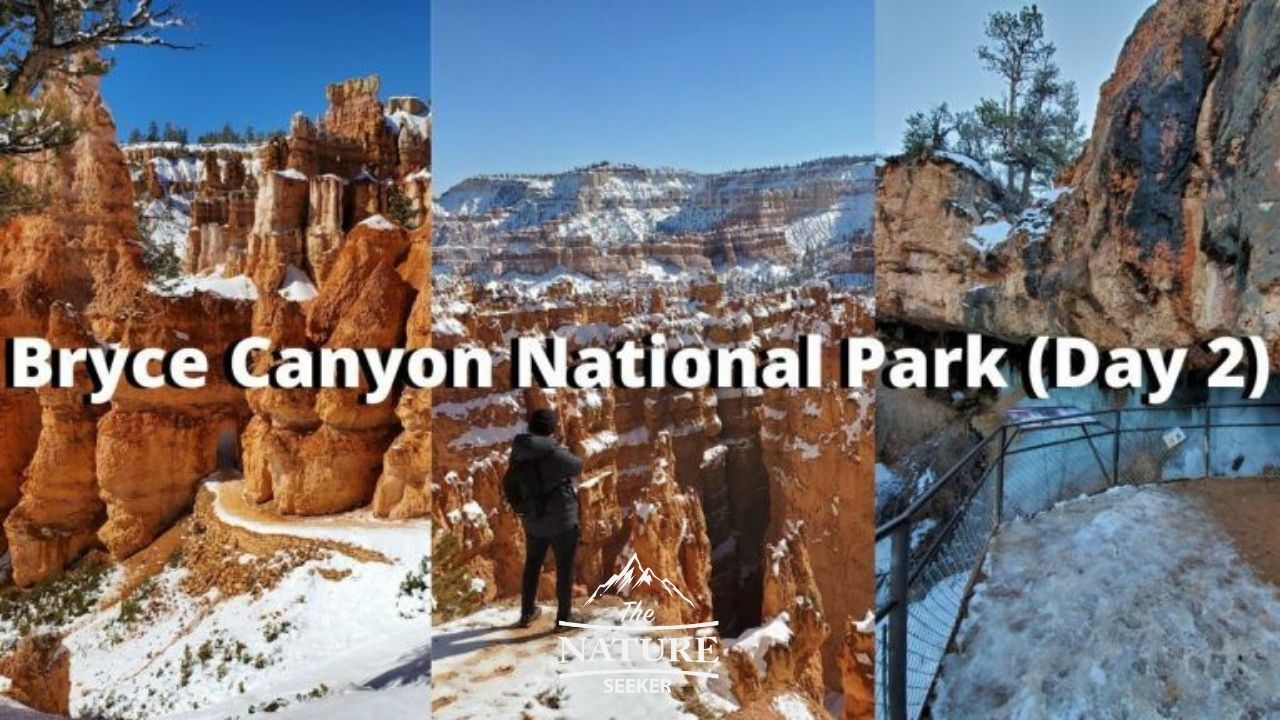 It takes about 2 hours to get to Bryce Canyon National Park from Zion National Park. When I got there, most of the park's campgrounds, hotels and so on were closed to the winter season, but most of the park's hikes were open and I took a 5 mile loop to explore much of the park, from the top and bottom of it.
I did 3 connecting trails:
I began with the Queen's Garden Trail which starts from the top of the park and heads down.
Then I connected with the Navajo Loop Trail to go back.
At the top I finished and got back to my staring point following the Rim Trail.
This was a very scenic hike that helped me truly appreciate Bryce Canyon. The hike is moderate for most people and can easily be done in a day. Also going during the winter helped a ton since it was very chilly (and snowy).
Because I had so much time left over after this hike, I explored another right outside the park called "Mossy Cave". It is less than 1 mile and also a beautiful, and simple hike you can do. It's about a 10 minute drive outside the park.
I'll put up a scenic drive of Bryce Canyon and the hikes I did there soon. Also do note I explored this hike in the winter and I can promise you this: It gets very cold since this park is at such a high elevation. Fortunately, I wore the REI Co Op Stormhenge 850 Down Jacket during my hike here, which was more than enough to keep me warm.
Day 3: Capital Reef National Park.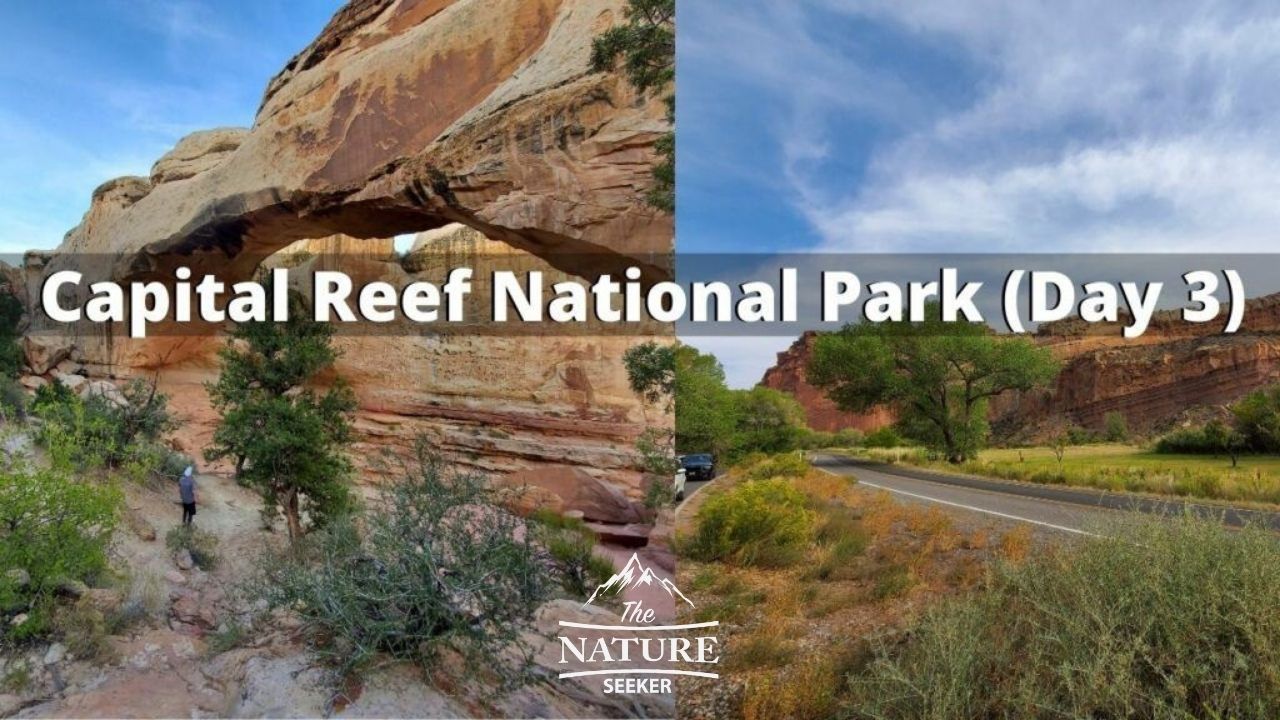 Capital Reef National Park is considered by many to the best looking national park in the Mighty 5, but that's subjective.
I personally found it an astounding place and in my case, what I did was I traveled through the park on the scenic drive (it's amazing) and did a small hike to a natural bridge area above.
I didn't have much time to do other hikes, but this will be a park I will be returning to!
For me, I did the scenic drive and hiked up to Hickman Natural Bridge. Both experiences were amazing despite the short trip here and I do plan on returning to get more destinations in!
Day 3 (optional): Coyote Gulch
When I originally planned my first Utah road trip, I had no idea Capital Reef National Park was on the way, but as I exited Bryce Canyon and was headed to Coyote Gulch, I saw signs for it, but had to skip it due to time constraints. And instead what I did was went for Coyote Gulch and did Capital Reef the next time I did a road trip in Utah.
I decided to share this info on Coyote Gulch because frankly, I found it an amazing spot to check out and it's very different than any of the Mighty 5 National Parks on this list, and is far more secluded too. But the adventure you can do there is one of a kind!
Coyote Gulch is not a national park, but it is a very scenic area with difficult climbs and adventures you can explore if you're into that. It's also part of an area of Utah known as Grand Staircase Escalante and you'll find tons of amazing hiking trails there. They are much more remote than anything you'll find in the National Parks of the Mighty 5, so if you do go here, plan ahead and be an experienced hiker.
This isn't a place you should visit if you're concerned about getting lost or are a beginner hiker, because in many cases, you'll have to drive for over an hour off a dirt road, park your car in one of the major trailheads, walk a few miles, and then either climb down on rope into Coyote Gulch or go around into easier, but WAY longer trails. See more info on Coyote Gulch here.
Day 4: Canyonlands National Park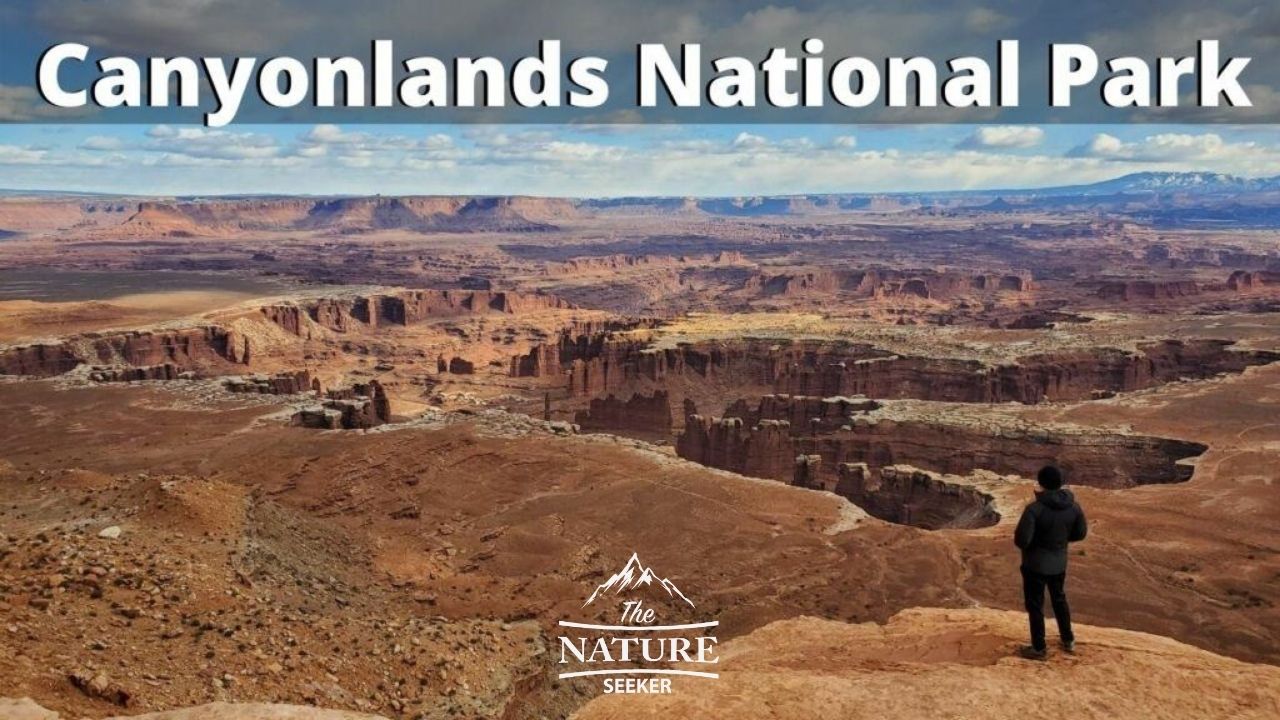 The last 2 parks on this list are literally next door neighbors (Canyonlands and Arches) and you can literally explore both in one day, which I did, but I recommend you take your time and do each park, each day and if you finished your previous day's hike in Capital Reef or Coyote Gulch, then as the trip progresses north, the next park you'll hit is Canyonlands.
Exploring Canyonlands National Park in one day is easy and the 4 short hikes I did while there were easy to complete in literally just a few hours. Most of the park was closed though, because of winter, but despite that, more than enough options are still open during this time to really get a great first time look and visit at what Canyonlands has to offer.
In my case, these are the 4 spots I explored:
Mesa Arch.
Upheaval Dome.
Grand Viewpoint Overlook (and 1 mile hike).
Green River Overlook.
Optionally, there is also the White Rim trail (100 miles on the surface of Canyonlands National Park).
And honestly, while I felt VERY satisfied with these 4 places, I still feel like I only got a teaser of what Canyonlands has to offer. I'm pretty sure though that if you do these 4 hikes in one day, you'll also feel very satisfied.
After you exit the park, stay at a hotel (Marriots there are cheap off season), that is literally in between Canyonlands and Arches, so the next day you won't need to drive far.
Day 5: Arches National Park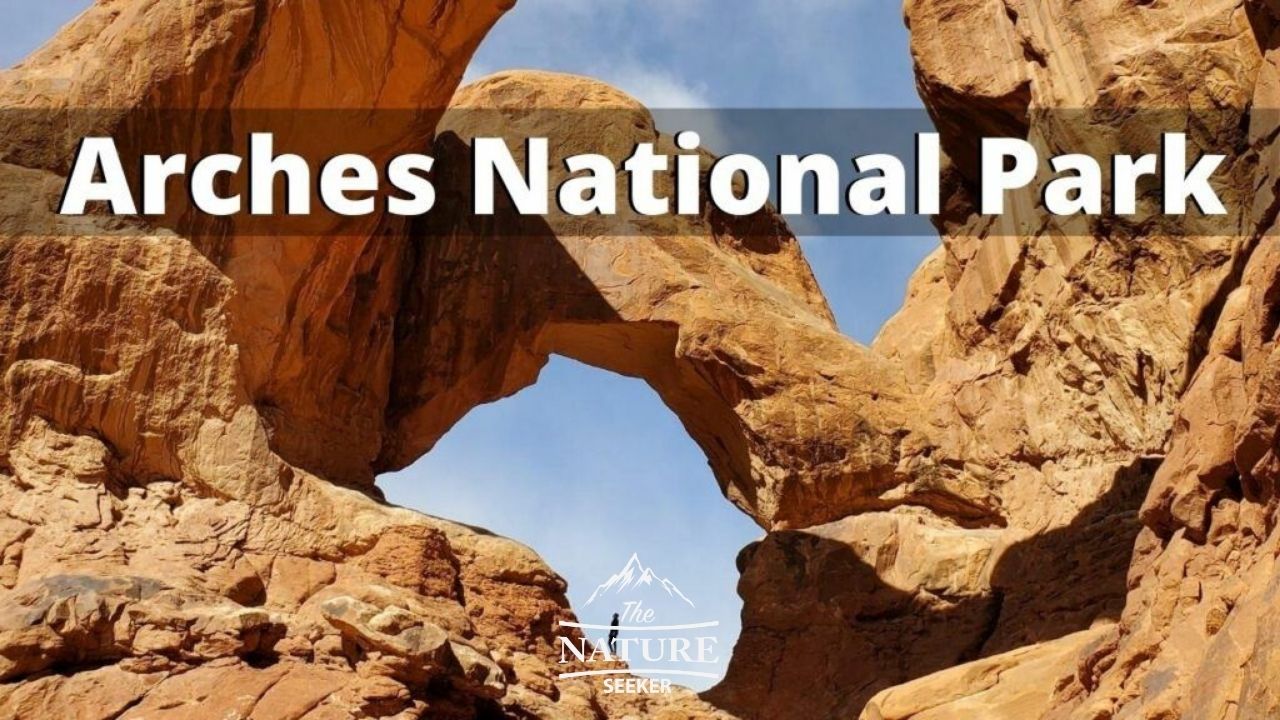 The roads in Arches National Park are very conveniently designed to help people explore much of the park's most beautiful places without backtracking a lot and this is why when I went there (on the same I also visited Canyonlands), I saw more than a few arches, scenic views and cool drives that gave me a good taste of everything Arches has to offer the next time I go.
I also visited 5 places and arches in this park (plus 1 scenic drive) and they were:
La Sal Viewpoint.
The Double Arch.
The Turret, South and North Arches (they are next to each other).
The Garden of Eden with beautiful scenic views and alien looking rock clusters.
Explored Devils Garden.
The scenic drive in Arches was also amazing.
Here is a full itinerary of what you can do in 5 days in Utah's Mighty 5:
Keep in mind that every location I listed in each day's hike is an option. In most cases, it'll be nearly impossible to do so much in a single national park in one day, but you at least have options with these lists.
What about gear for hikes in the Mighty 5? Here are my recommendations:
Questions about the Mighty 5 National Parks:
What is the Mighty 5 in Utah?
It's the 5 main national parks in the state. They are Zion, Arches, Canyonlands, Bryce and Capital Reef National Park.
How long does it take to visit the Mighty 5 Utah?
5 days is enough to visit the Mighty 5 in Utah if you keep a fast pace going, but if you want to take your time it is recommended to spend at least 7 days exploring these parks.
Which of the Mighty 5 is the best?
In my opinion Zion National Park is the best of the Mighty 5, but every other one in the state is also amazing and just as well, so are the none national park regions in the state including Grand Staircase Escalante.
Should I go to Zion or Arches?
Both Zion and Arches are incredible parks but completely different in views. They are both worth visiting and the better one to go to depends on where you start. If you're closer to Salt Lake City, go with Arches. If you're closer to Las Vegas, go to Zion instead.
Want to explore even more after your Mighty 5 National Park road trip?
8 more incredible options: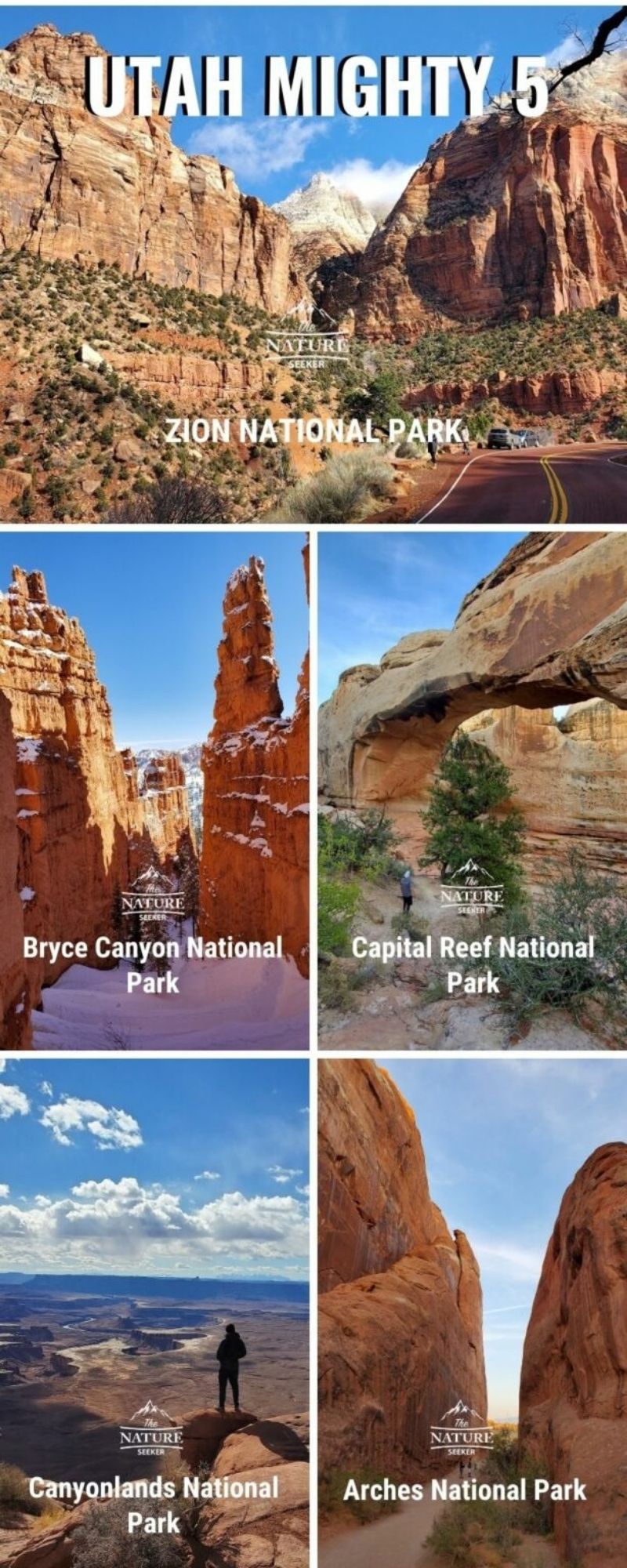 1) If you only had 5 days to explore these parks:
Then I promise you, following this itinerary will be more than enough to give you an adventure that felt like it took way more than 5 days.
There's so many activities packed into each park's itinerary and because you can so easily do so much each day, in each national park makes it satisfying.
2) But from here, if you ended at Arches National Park like I did:
Then you have the choice to fly out of Salt Lake City.
And if you did this trip backwards and started in Salt Lake City, you would have finished in Zion National Park on day 5 and from there, you can fly out of Vegas.
3) In my case, as I said before, I continued west across Nevada:
And all the details of this whole road trip, Mighty 5 included, are detailed in the following road trip across the Western US.
4) I would also recommend that if you have more than 5 days to spend and only want to do it in Utah:
Then I recommend exploring more than just the national parks there. Like I said, Coyote Gulch was one of the spots I explored and I'm happy I did (can't wait to go back!).
There are so many other mini spots, state parks and slot canyons in Utah worth exploring as well as national monuments and other scenic spots.
In short, Utah has a ton to offer beyond the national parks there (including these scenic drives you'll only find in Utah).
5) Now if you're looking for road trip ideas:
Then perhaps you can follow in the same footsteps I did and head to the west coast and/or explore parts of Western Canada like I did last year.
There's a lot of exotic nature in this region of North American and the beauty, landscapes and unforgettable memories are plentiful!
6) Want to check out awesome hikes in Utah?
Here is a list of the best hiking trails in Utah you'll find and MANY of them are actually on this list, but some are outside the Mighty 5 National Park regions and are equally awesome (if not better).
Thank you for reading this article on 5 national parks you can explore on a 5 day road trip in Utah! I hope it's given you a lot of ideas to put on your own list and if you do go on this trip or have adjustments you made that also made the trip worthwhile, let me know below!
7) State parks, there are many across Utah!
There's dozens of them to check out. Here's a link to the best state parks in Utah to at least 13 of them (and they have less crowds than the Mighty 5).
8) Visit Kanab Utah:
Kanab is a small city not far from Zion National Park, but the reason it's such an amazing spot to explore is because there are many stunning, yet none national park regions to explore there like Vermilion Cliffs, natural bridges and caves.