If one day is all you have to spend at Arches National Park, trust me, it's more than enough, because you can do a lot there, especially if you follow this exact itinerary I followed.
I've actually visited Arches National Park twice so far, but due to the road trips I was on each time, and a schedule to keep, I could only spend one day in this park both times.
And here's a preview of what I saw in my one day trip to Arches National Park: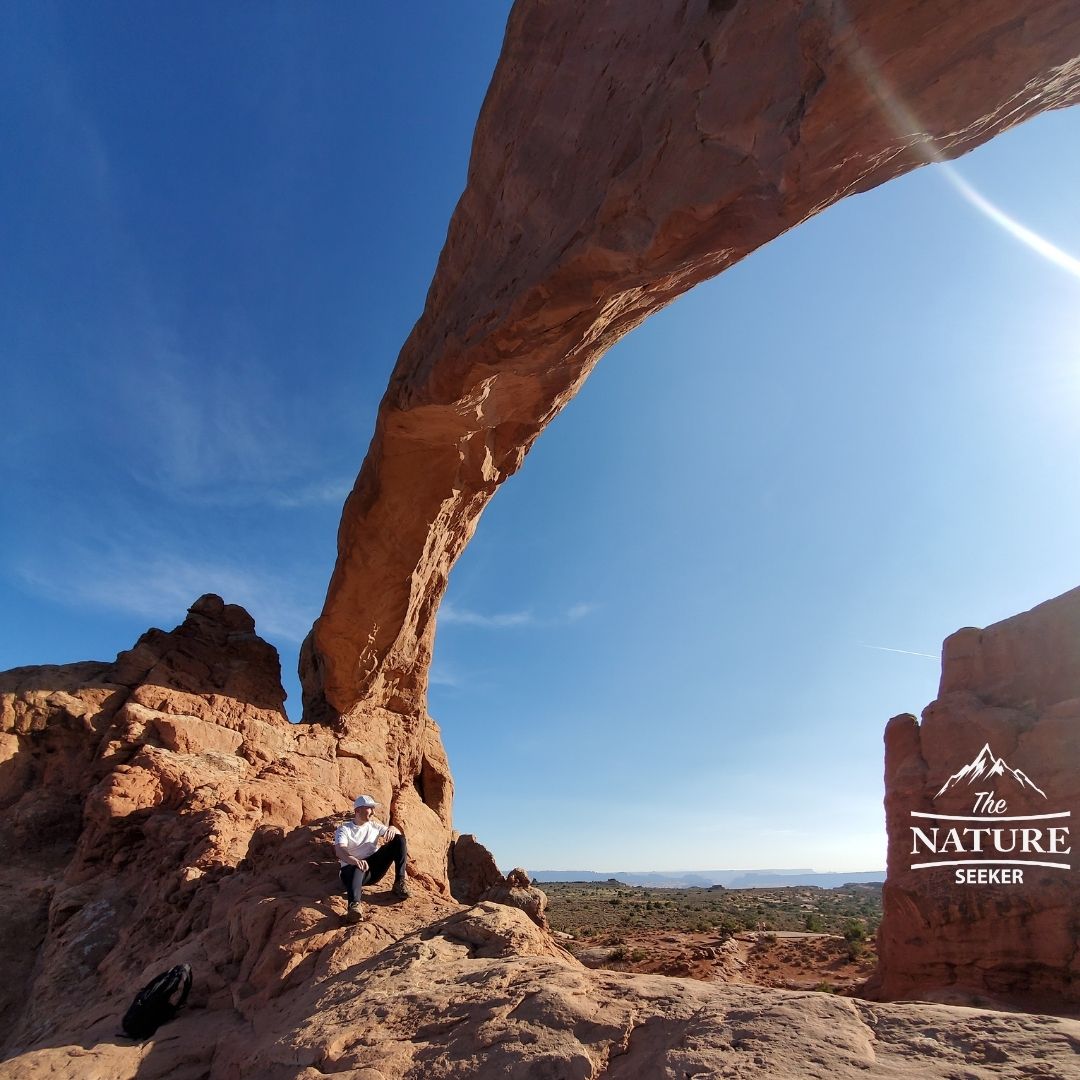 To be honest, I greatly underestimated Arches National Park and never imagined how awesome and alien the landscape could be.
That was until I went there for the first time and on top of that, and all the activities I did while there, I also had an ample amount of time to explore the neighboring park 30 minutes away which was Canyonlands National Park.
They really are that close to each other. So if you start early and complete the same itinerary I did in Arches, you can absolutely find time to also explore Canyonlands as well (and do a lot of things there too).
And I encourage you to do it, because despite these parks being so close to each other on the map, their landscapes greatly differ and both places are well worth visiting.
And of course, if you don't want to rush, make it a 2 or 3 day trip, because each park has it's own jewels that are worth taking the time to explore.
Do this itinerary only if you have a short time to explore either place.
However, let's focus only on Arches in this article. For Canyonlands, I linked to it so you can check out what to do their for a day too.
Here's how easy it is to do a day trip at Arches National Park:
The beauty is that the way the roads are designed at Arches, it's very easy to:
Drive through many of the scenic areas.
Stop at overlook after overlook.
And do short hikes within that drive all within the span of a single day there.
At Arches National Park, you basically have one main road with a few turnoffs, that lead to nearby parking lots, loop trails and easy access to the many arches at this park.
This means that you can cover a bunch of destinations within the park very easily and very quickly and considering how scenic everything is over there, every place you visit within this park is going to feel like you're on another world.
Here's what I recommend seeing at Arches National Park if you only have one day to explore:
Since the main entrance to this park is from the south side (off road 191), you'll start there.
Your first destination will be La Sal viewpoint.
Followed by that you'll check out Garden of Eden.
Next you'll visit the nearby double Arch (one of the most famous in the park).
Then you'll hike right next to double arch a short 1/2 mile hike to the Turret, South and North Arches, all next to each other.
From there, check out Devils Garden, 3-4 arches there before moving on. It's also considered to be one of the top hiking trails in the entire park and you'll see why if you go.
The first time I went to Arches, I managed to complete the first 4 parts of this itinerary within 3 hours. I had to leave #5 for next time because my friend and I wanted to see Canyonlands, and yes we did a whole ton there too, all in the same day.
However, the second time I visited Arches, I managed to complete all 5 of these things (and plan to do more the next time I go to Arches).
The point is that because just about everything in Arches is so close together, it's very easy to explore and cover a ton of things. It's one of the things that impressed me about this place. Now let's get into the details of each location:
1) La Sal Viewpoint (A great start to your one day trip in Arches):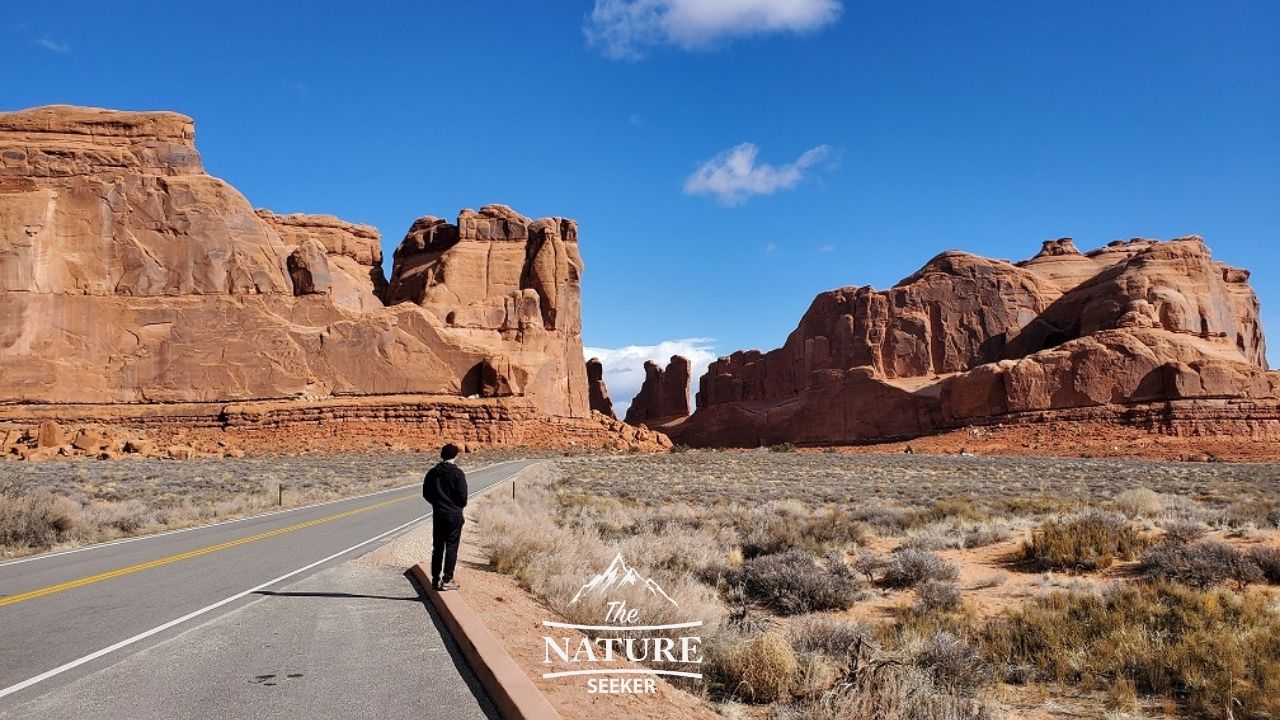 This will be the first major viewing area you can stop at and for us, when my buddy and I first saw it, we literally said "we're stopping".
I've been to many national parks in Utah, so I'm used to the dessert scenery, but this particular viewpoint was very new to me.
The whole landscape of Arches is truly unique and in this case, there are trail hikes available nearby La Sal Viewpoint, something worth exploring if you have extra time in this park.
The canyon you see deep into the picture to the right also has amazing scenery and I will be sharing a scenic drive we did through that place in this article as well.
Either way, this particular viewpoint was prepping us for what was to come in Arches National Park, and it would only get better.
2) Garden of Eden:
This is a small section of the park which has mound looking hills and mountains, not really arches, but it is a stop I recommend you make because hiking through this area is short, scenic and truly beautiful.
We didn't stay long at the Garden of Eden, but exploring it was also a short stay for us.
But I assure you, the photos you can take here are plentiful and there's also great scenery of the other attractions this park has to offer.
In this area, there is a beautiful viewpoint that you'll see that gives you a nice overview of the eastern side of the park:
3) Double Arch (It's one of the most iconic arches in the park):
To my knowledge, the Double Arch might be one of the top 3 most popular arches in this entire national park (there are 1,000s there).
The reason why is that if you look at Instagram posts of this park, you'll likely find this one posted most often.
Naturally, when I came to Arches, this was the one I was hoping to see most, and I got my wish, because it was very close to Garden of Eden.
And the awesome thing is you can actually hike to it and up it as you can see in the photo to the right.
When I did this, I was fortunate because hardly anyone was hiking here at the time and it was a truly awesome short hike.
And out of all the arches I saw in the park that day, the Double Arch was my favorite.
One thing to note is that Arches National Park in general has 1,000's of arches to check out.
Not all of them are on main trails, but giant ones like the Double Arch is easy to find and if you only have 1 day to spend at Arches, I'd only focus on the most beautiful, sight worthy ones.
4) Explore Turret, North and South Window Arches: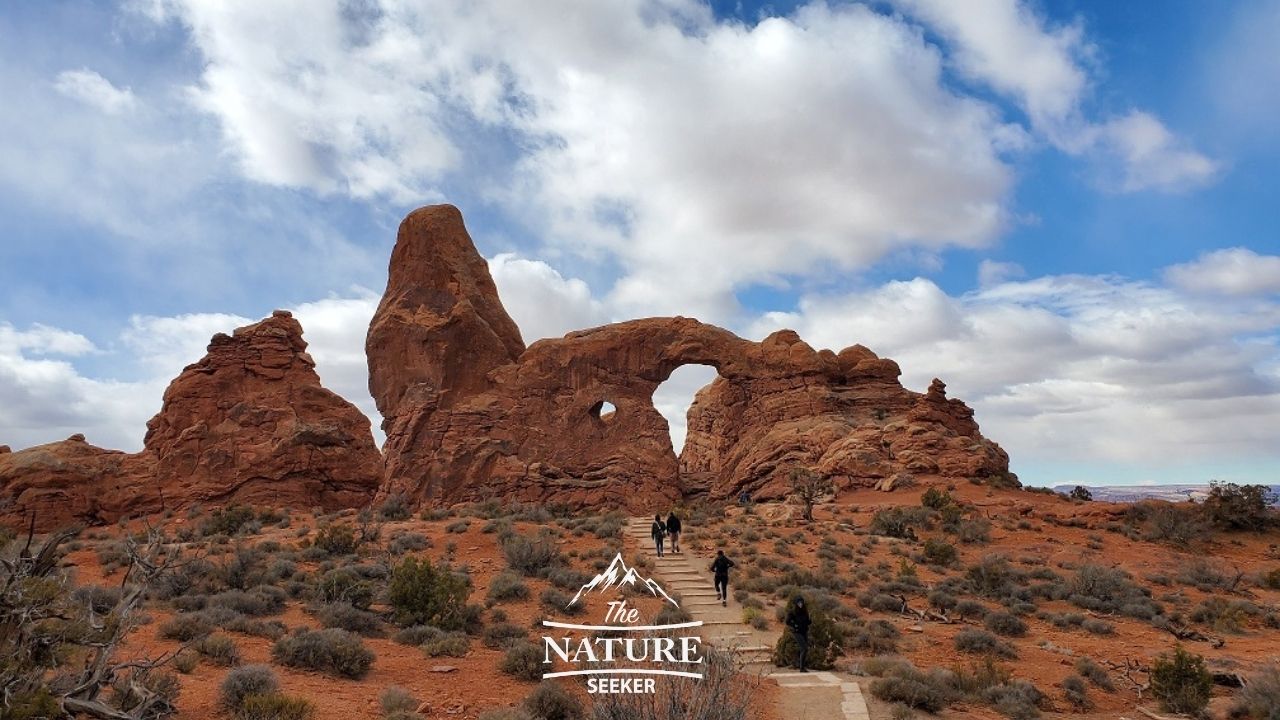 Once you check out the Double Arch, the next 3 are literally nearby, a few 100 yards away from the same parking lot that leads you to the Double Arch.
So if you're already there (the Double Arch that is), walking to these next 3 places will only take you about 15 minutes (I told you things were close by at this park!).
First I recommend exploring the Turret Arch (above).
Next I recommend exploring the South Arch.
And finally, check out the North Arch before completing this section of Arches National Park.
There's actually a few ways to go through these 3 arches and in our case (both times I went to this park), we (my buddies and I) first explored the Tunnel Arch, and then right next to it, the South Window Arch but we also went behind the South Arch and climbing into it is too dangerous from the front end: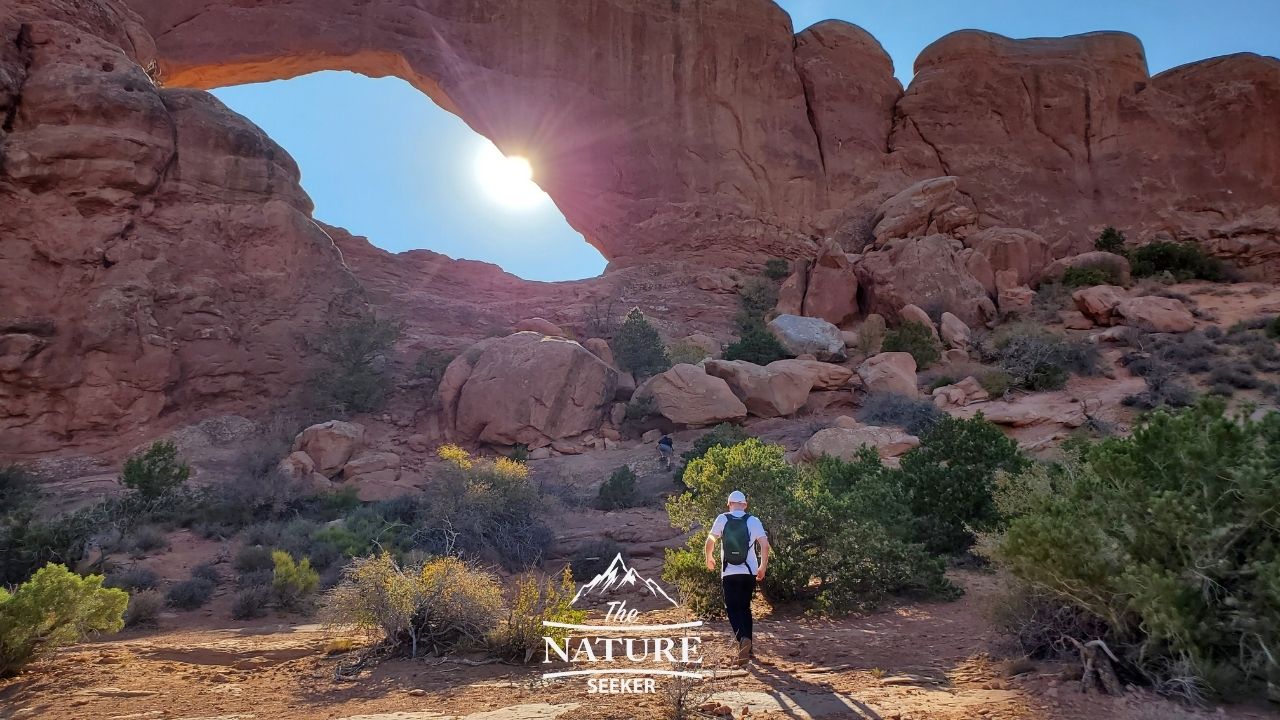 Followed by that, we climbed back down from the South Arch, continued to the next one, and climbed the North Window Arch, after which we exited through it, and back to the parking lot: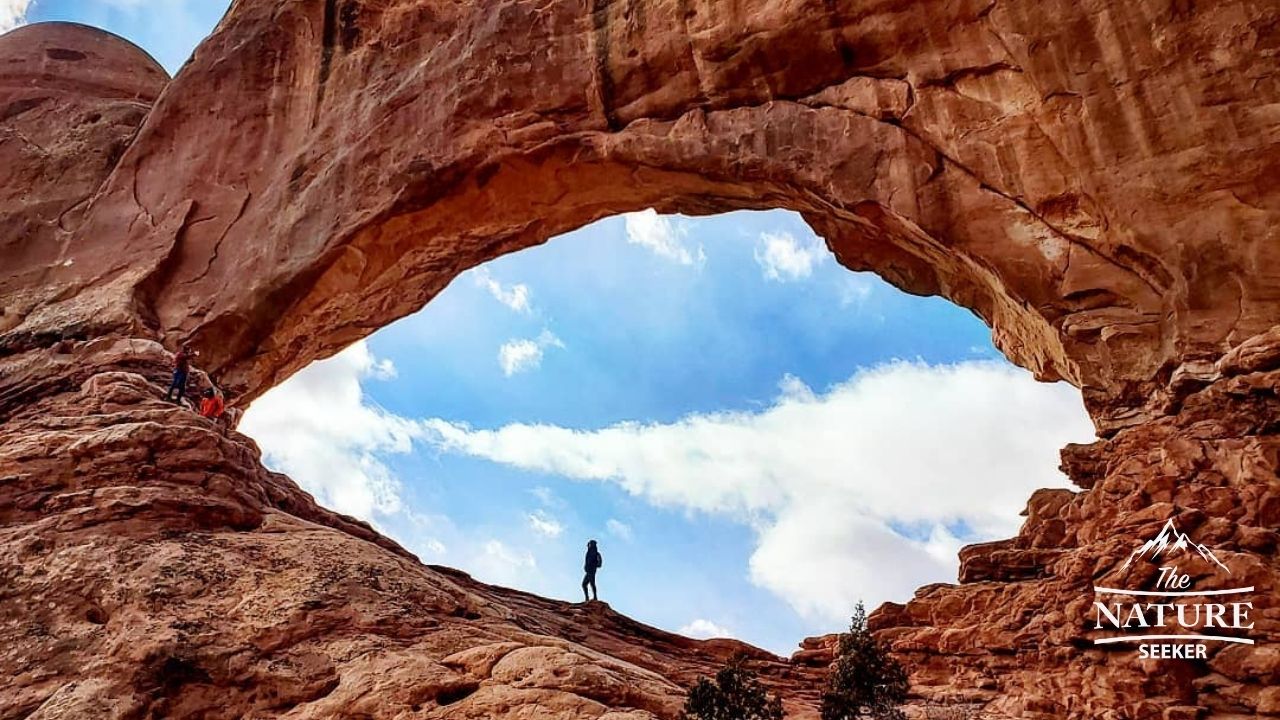 This section of the park took us a little over an hour, but because we didn't make long stops, it was easy to cover all of this in such a short time.
5) Explore Devils Garden, the trails and arches there to finish up:
One of the last places I saw in Arches National Park was Devils Garden, where you'll find campgrounds, a large parking lot and a beautiful loop trail to see at least 3 different arches.
In addition, this is also one of my most recommended hiking trails in Utah.
The Devils Garden loop trail is a few miles long, but is quite scenic to explore and the actual trail area is very flat for the most part, so it's an easy hike to do for most people.
As for the location itself, Devils Garden lies at the northern most part of Arches National Park.
Besides the loop trail, you'll also find a few alternative ways to cross it in parallels, which includes going in between the kinds of mountains you see to the right.
The sand in this region is a combination of pink and red, and it's extremely smooth too, something I really enjoyed holding in my hands.
What I absolutely also loved about this national park is how much hiking you can actually do there without limit, and certainly, some hikes at Devils Garden should be carefully done and of course, respect the land!
For my friends and I, this would be the last hike we did before the sun started setting.
Bonus (if there's time): Check out Delicate Arch
The Delicate Arch is actually considered to be the most popular one in all of Arches National Park and I did get a chance to see it on my trip, but from a distance. You see in order to see Delicate Arch, you have 2 choices:
First, you can see it from a few miles at the parking lot which has a trailhead to go to it.
Second, you can actually take that trailhead which will take you to it which the image shows above.
The thing is, that takes time which can take you away from seeing the other amazing spots in Arches. Just as well, because it's so popular, you'll likely have to wait in line to get a picture there (which is why visiting in the winter time might be better).
In any case, if your day trip to Arches National Park has a few extra hours left, hiking to Delicate Arch is recommended and hiking there at nighttime is also possible (but I recommend going during the day because it's safer and there's less risk of getting lost).
Gear I recommend having when visiting Arches National Park:
And from there, the last part of the trip was driving the scenic road back to the entrance, something which itself is also very beautiful and recommended! Fortunately I got a bit of video footage of that.
This was the scenic drive back to the entrance of Arches National Park:
I mean how can you not marvel at this scenery?
This section was such a treat for us and totally unexpected, because we did drive through it when we first entered, but the direction from which we came gave us a whole different viewpoint, than when we were going back and by far, the drive back and out of the park was in my opinion far more scenic.
And that concluded the very short one day trip we did in Arches National Park:
Depending on how long you have in the day to do this, you can easily cover the same spots we did in under 5 hours if you're not the sort of person to stop frequently. And I promise you, with the short stops we made, we had ample opportunities to take breathtaking pictures.
You will too. And if you need more ideas, check out Tripadvisor for more Arches NP ideas.
More National parks (and sights) to see in Utah (even in one day):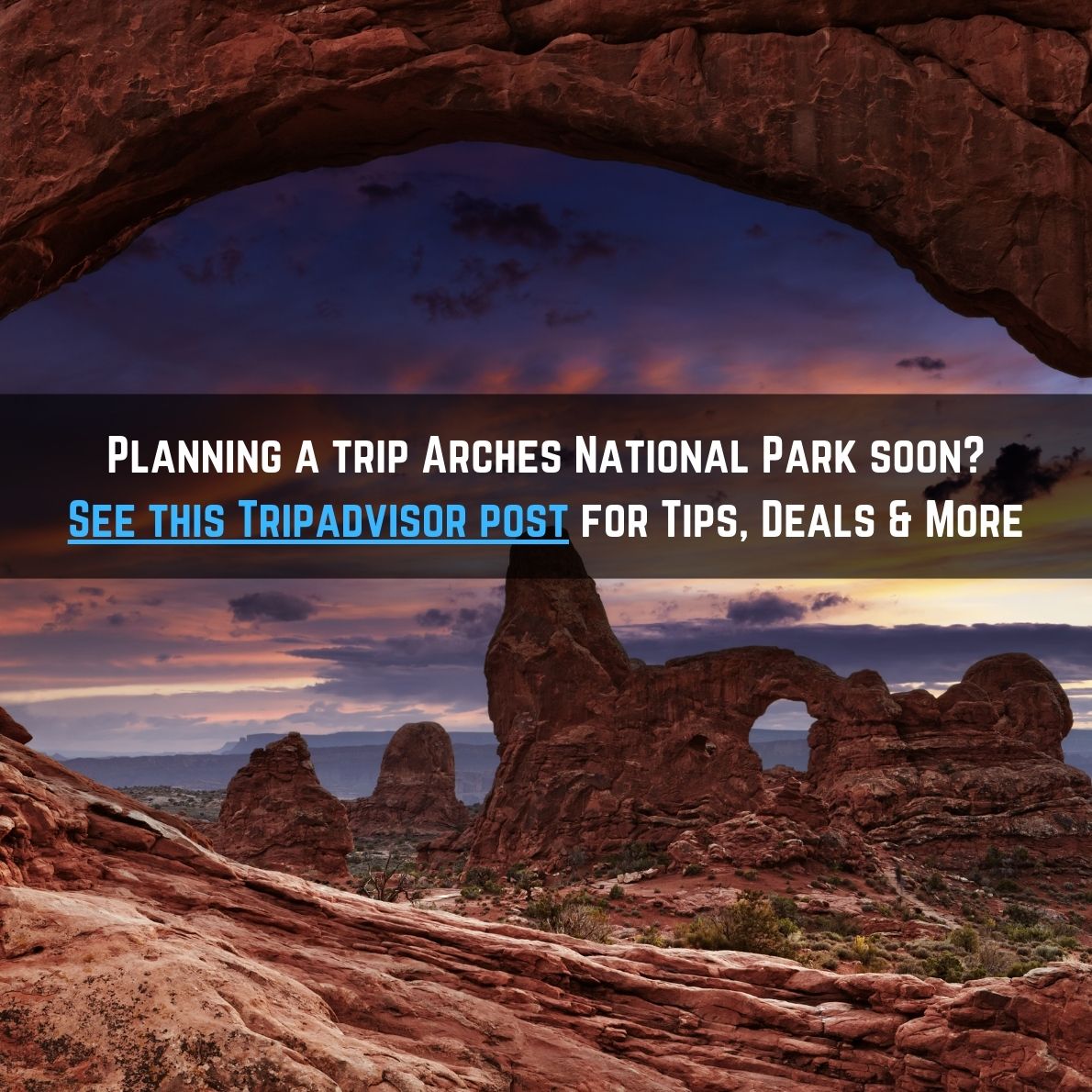 1) Canyonlands will be the closest to check out, as it's only 30 minutes away. In some cases, exploring both Arches and Canyonlands is possible in one day.
2) Capital Reef National Park. This one is about 2-3 hours west of Arches and it is also a spectacular park I recommend exploring!
3) Bryce Canyon National Park. The next closest one will be Bryce to Capital Reef and it has very beautiful short hikes to explore.
4) Zion National Park. The last on this list, and it's not far from Las Vegas either. I love Zion and have been there 3 times so far.
5) You can even do the whole Mighty 5 National Parks in Utah which would have you explore all 5 of these parks (Arches included).
6) You can explore some of the state parks in between the national park. One recommendation would be Dead Horse State Park.
7) There's also other awesome gems a few hours away from Arches National Park like Coyote Gulch, which is an awesome, difficult hike, but has amazing places to explore!
Road trip ideas for people traveling through Utah:
Other than the Mighty 5 National Parks, there is also the option of traveling across many of the western states in the US, which I actually happened to do during this same trip that took me through Arches National Park. If you'd like to know more, check out my post on my western US road trip.
And I hope this itinerary for what to do in Arches National Park truly helps you see and enjoy it as much as I did!
Other commonly asked questions (and answers) about Arches National Park:
How many days (how long or tour) should you spend in Arches National Park?
Typically 2-3 days is enough to see most of the park.
Is a one day trip to Arches National Park enough?
Obviously you won't be able to see the whole park in that time, but if you start early and do the one day activities like I did, then this itinerary above can really help you see about 70% of the best parts of Arches quickly. You will have to do some serious hiking, walking and driving, but if you're into active stuff, this will feel like an awesome adventure!
How many arches are in Arches National Park?
From what I know, there are several 1,000 arches to explore.
If you have anymore questions about Arches, let me know!