The first time I visited Bryce Canyon National Park, I only had one day to check it out and while I didn't know what to expect or what things to do, I saw 5 things that made it a very satisfying trip.
The hiking trails and activities in Bryce Canyon National Park are very close by one another, and because of that:
There's a lot of things you can do in a short amount of time.
Even if you have one day, it's more than enough because you can easily hike through much of the park in that time.
And that is exactly what I did when I visited this place. Let me tell you my story:
I was doing a road trip that began all the way in Las Vegas, and decided to try and visit all of the 5 Mighty National Parks in Utah.
Zion National Park was the first place I visited as it was the closest.
And Bryce Canyon would be the second.
I did visit other National Parks in Utah after Bryce, but I'll cover them later in this article.
And with these parks and every other I visited on my Utah road trip, I only had 1 day to explore each spot, and so when I came to the gates of Bryce Canyon, and I found out that much of the park was closed due to the snowy weather (this trip was in early March), I asked the ranger for advice on seeing as much of the park as possible but all in one day.
Turns out, despite many closings, the main attractions in the park were still open to exploring and that allowed me to really get into the heart of this park and truly see the sights. The following trails and scenic overlooks I will be sharing with you are the same exact ones I did. I will be putting them in the order I completed it in.
Here are the 5 things to do in Bryce Canyon National Park in one day (itinerary):
Do the Queens Garden trail and check out Sunrise Point Overlook.
Head down the Queens Garden trail (3 miles).
Head back up the Navajo Loop Trail (1 mile).
Enjoy the beautiful overlooks at the top of Navajo Loop Trail.
Explore Mossy Cave. It is outside of the park.
In total, you're looking at 5 miles of hiking in this one day itinerary.
And these 5 miles will take you deep into the park and give you some great views, awesome hiking experiences and a lot of photogenic opportunities of the amazing panorama Bryce Canyon National Park has to offer.
And just as well, the experience of being there is an adventure in itself.
A detailed look at each of the things to do in Bryce Canyon National Park:
1) First of, the Sunrise Point Overlook is amazing: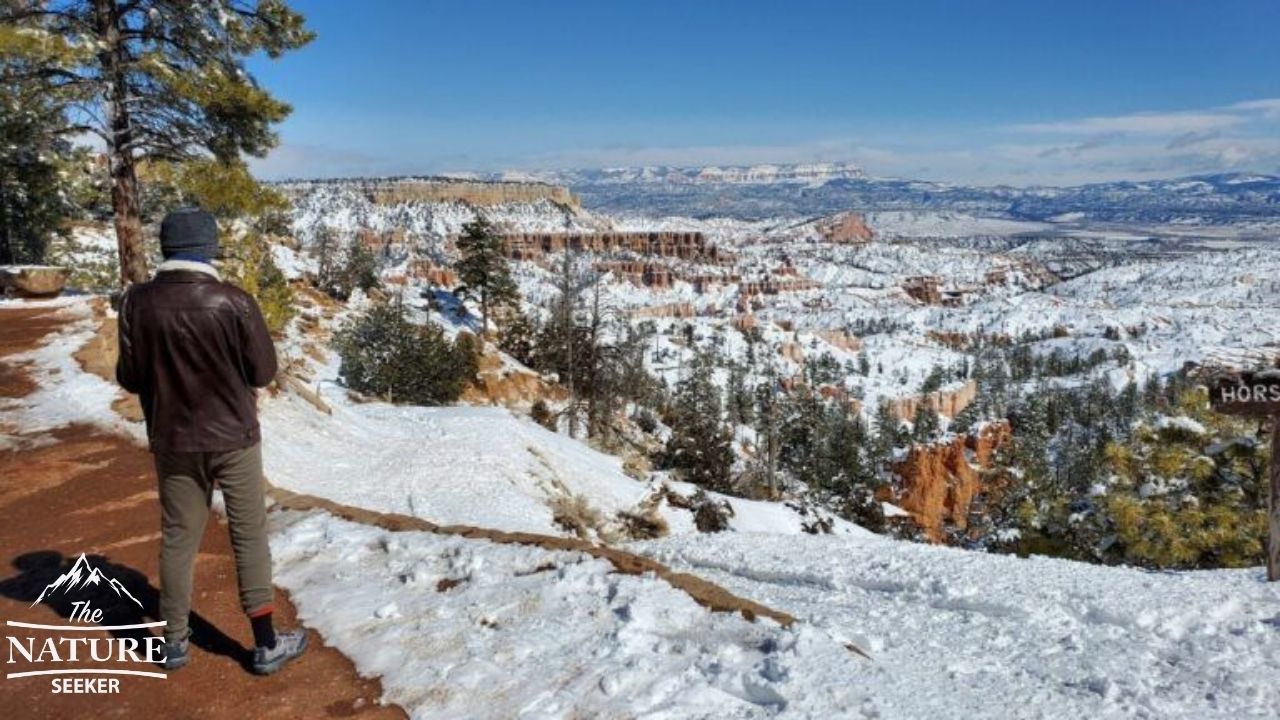 You will get a beautiful view of basically the entire park and see how unique Bryce Canyon looks compared to pretty much any other Mighty 5 National Park in Utah, and probably the world:
If you're not into hiking, this kind of overlook area might be just what you need to really take in the views from the park and be satisfied with your visit.
For me personally, I wanted to get into the park and explore it more, and thus began the second area of this park's exploration:
2) The Queens Garden Trail will take you deep into the park and see amazing sights: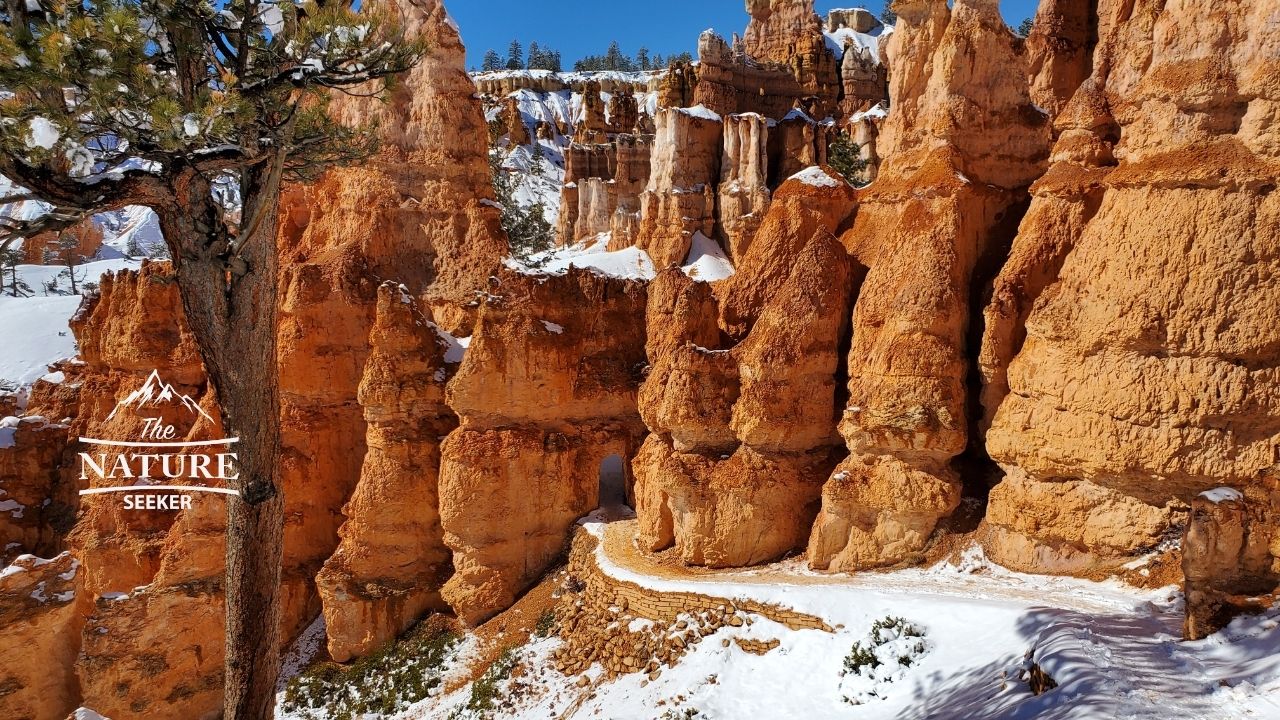 For at least 1 mile, you'll be entering the heart of the park and going through incredible scenic hikes that are actually quite simple to navigate through. You'll enter small tunnels too and cross a small stream when you reach the bottom of this trail.
And really, I do recommend stopping and enjoying the views, it's worth it. The Queens Garden trail is in my opinion one of the top trails to take in this park to get the most out of it if you're tight on time. I have also added this hike to my list of the best hiking trails in Utah to try.
3) The Navajo Loop Trail at Bryce Canyon will lead you to the famous zig zag hike: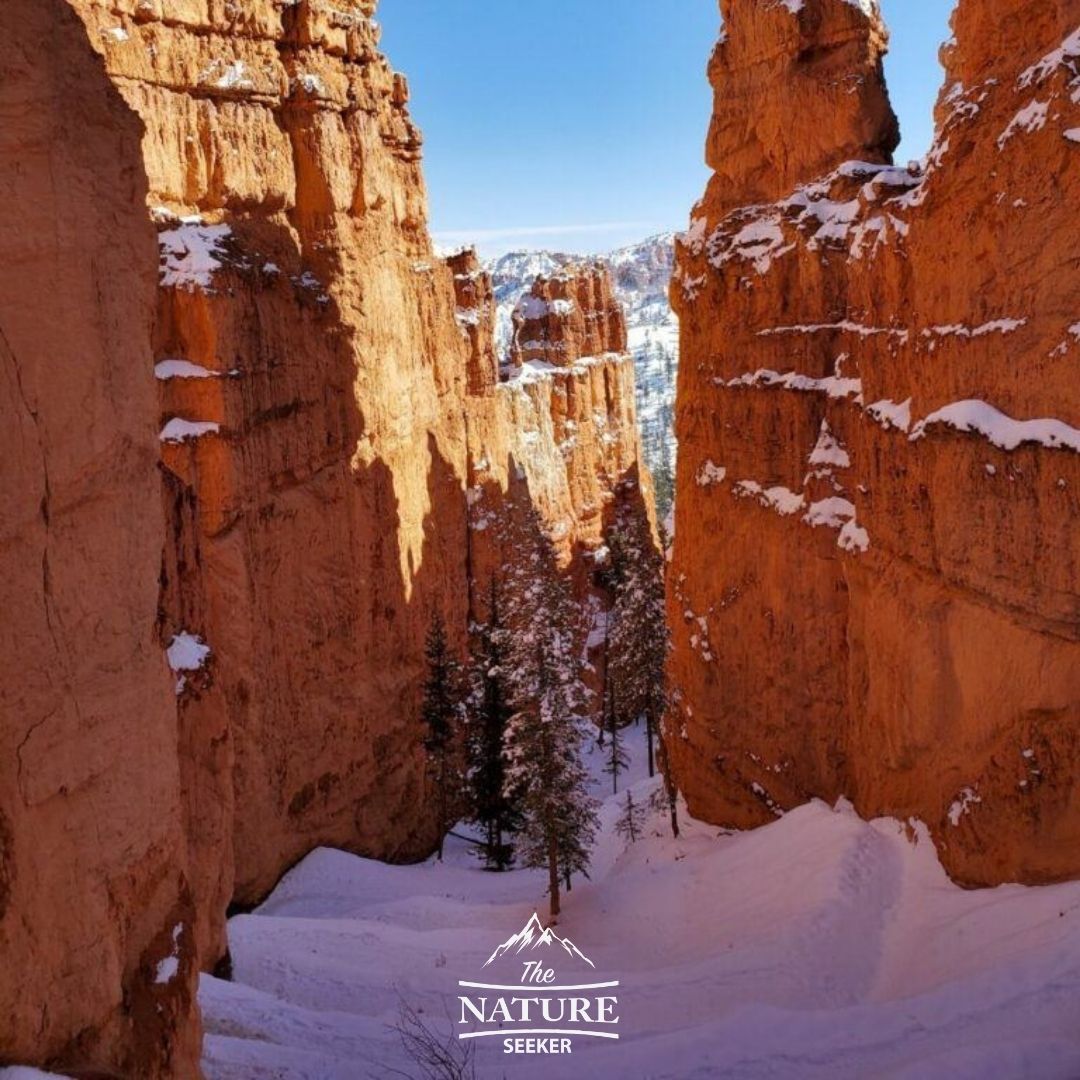 The Navajo Loop trail will help you return back up to the parking lot without having to backtrack and see the same sights in Bryce Canyon (unless you really want to do that).
But this trail will also take you through a very famous zig zag hike upward.
This is actually a very popular location that you may see a bunch of Instagram photos from and I was fortunate enough to do it (I was worried I wouldn't get a chance).
You'll be hiking upward on the Navajo Loop trail for about a mile.
Here is a picture of the zig zag area I was talking about (it's covered in snow though):
And I have to say the cold made hiking through this area so much better for me personally as I was sweating very little but enjoying the cold breeze there at the same time. It wasn't bitter cold, but pleasant and if you're like me then you might want to visit this place in the winter too.
4) Returning back to the parking lot (You'll see this amazing overlook):
Once you finish the Navajo Loop trail, you'll return to the large parking lot close where you originally began you trip.
And there's several viewpoints you can check out in spots up there that I recommend you take some time to do because they also give you a different but full view of the park.
And this was where I had this picture taken:
There really are a lot of areas in Bryce Canyon to take awesome photos from and this certainly is one of them.
5) You'll also see Mossy Cave (it's outside Bryce, but the area is amazing, and less crowded):

Apparently not many people know about Mossy Cave, but it's a small trail that I believe is outside of Bryce, but still within that same kind of landscape.
We accidentally spotted signs for this place while driving through after finishing our time in Bryce.
We didn't actually think much of it, considering the sign was so small for it that it didn't seem important.
But because our next destination was too far to explore that same day, we decided to turn back and end the day exploring Mossy Cave and we were truly happy that we did!
This is a very short, but very pleasant scenic hike. It has red sand, bridges, beautiful views and even a nice waterfall called Tropic Ditch Falls as well as a cave you can explore (the actual Mossy Cave).
I just saw signs for it as I was headed to my next destination and decided to stop there. In our case, when we went here, the cave was filled with ice as you can see which I think adds more beauty to it.
5 miles of hiking for Bryce Canyon National Park may not sound like a lot, but:
If you have more time to explore the park, as long as you visit it when there isn't any snow, more trails and options will be open for you to explore. For me, exploring these 5 miles of trails, views and hikes was enough for my first time in Bryce Canyon and you will see a lot of beautiful spots when you follow this trail too.
For me, when I went through it, the time it took me to get through them all was about 2-3 hours, but I did kind of rush the hikes because I wanted to have some more energy for the next day's hike which would be through Coyote Gulch. Remember, I was doing a road trip, so my pace may not necessarily fit with the one you set, which is totally fine.
When to visit Bryce Canyon National Park (My advice):
I've so far only visited this park in the winter and as someone who prefers cold weather, I loved it.
Keep in mind that if you go here during the winter, when you reach the parking lot, the elevation there is about 8,000 feet, so it will literally be freezing when you go.
However, when you reach the bottom of the park during the hikes I mentioned, the temperature will probably rise to the point where you can likely just wear a warm sweater.
If you go to Bryce Canyon National Park during the winter, I recommend 3 pieces of clothing:
There is a very good chance some of the trails you walk through in Bryce might be soggy, and wet, and if you're not careful it can be problematic. To stay dry when hiking here, I recommend the following things:
1) A very warm jacket. I wore my REI Co Op Stormhenge 850 Down Jacket and it was perfect for the weather at the top of the park.
2) For socks, I wore my Showers Pass waterproof socks and it made going through the snow easy and kept me dry. For other selections, see these waterproof socks.
3) And finally, for shoes, I wore my Ozark trail shoes and they were totally fine for this. I do also recommend the Salomon Speedcross 4 sneakers if you plan to jog through the trails in Bryce Canyon National Park (and during any season).
If you like warm and even hot weather, then visiting this park during the corresponding seasons is fine too, but I would suggest avoiding the summer heat here. Plus, there will likely be large crowds during the warmer seasons, which is something I dislike a lot, so another reason to go during the winter is that you will hardly run into anyone there.
One additional downside of going during the winter (besides the cold) is the fact that much of the other parts of the park will be closed off so if you have more time to explore the park, you might not be able to that.
So if you wish to go during the winter, go to Bryce Canyon during the tail end of the winter season. By that time, the weather will still be pretty chilly, but the snows will likely melt by that time and the closed off trails will open back up again.
My overall review of seeing Bryce Canyon National Park:
I loved it and I regret not going sooner. I was floored by Zion National Park when I visited it 2 years before, and figured no park could match Zion's beauty. But Bryce ended up surprising me and opening my mind to the fact that Utah has so much more to offer than I imagined.
And that is why I continued my journey through Utah's Mighty 5 National Parks following my trip to Bryce Canyon, where I ended up seeing Canyonlands and Arches National Park in the following days (Coyote Gulch was also part of that trip).
This was a road trip across the western US that went on for another 7 days after my trip in Utah finished.
So if you have the chance to see Bryce Canyon National Park, do it, because:
You can easily explore a ton of it in one day.
It is fairly easy to hike through many areas so you can see a lot of the park.
The overall hikes to see much of the park are short, so you can do a little and see a lot there.