The Willis Creek Slot Canyon was one of the best surprise hikes I discovered and did in the Grand Staircase Escalante area of Utah and while I highly recommend you go, there are several things to know about it, namely 5 specific things which I'll cover in a moment (and get into the details of).
Quick info on the Willis Creek Slot Canyon:
Name: Willis Creek Slot Canyon.
Location: Grand Staircase Escalante and close to Kane County.
Distance: About 5-6 miles in and out.
Difficulty: Easy.
Permit needed? Nope!
Rating: 5 out of 5.
Family friendly hike? Yes!
Here's the 5 things to know regarding Willis Creek Slot Canyon:
You'll need an AWD vehicle to reach the trailhead.
The hike is very scenic, but not very challenging.
There are many hikes across the region to explore after.
No major hiking gear is needed to do this trail.
Bryce Canyon National Park is close by.
Other than these 5 things (which I do recommend reading further about as I'll detail more things), this "hike" is amazing because of the scenery and it's a great introduction to exploring one of the many slot canyons in Utah, and in this case a pretty safe and easy one.
1) You'll need an AWD car to get to the Willis Creek Slot Canyon trailhead:
Honestly, the "hardest" part of this hike is actually getting there by car. Wherever you are coming from, a chunk of the drive you'll have to do to reach the trailhead (about 10 miles) involves being on a dirt and rocky road.
Most regular cars can drive it, but there is a section which involves a massive incline on that same dirt road which I honestly don't think regular cars can do, and if they can, it's just too risky. An SUV with AWD will do fine in that part, so before you go there, just have the proper vehicle type with you.
Once you pass that incline area (the road also zigzags in that spot), it's just more of the same flat and dirty roads to reach the trailhead, which is quite large and can fit a few dozen cars. There is also a sign on the trailhead with a map, but you can also get it on Alltrails (which is what I did).
2) The hike is scenic, but not challenging:
At least for most people. Most of what you'll be doing is walking on a river bed or sand throughout most of the hike. However, that lack of a challenge is made up with incredible scenery around you and there are several sections of the hike where you will enter one slot canyon, exit it, be out in a more open wash area, then back into another, even more beautiful slot canyon and they do get better, deeper and the walls get higher the further you go.
I personally love a challenging hike, but I found myself really enjoying every step I took on this hike and I honestly believe you will too. The simplicity of this hike is as follows:
You will start in the parking lot (trailhead).
You'll walk near the wash, and come down into it.
As you keep walking (it'll zigzag the whole way), you'll come across one slot canyon after another and get incredible views.
3) There are many other hikes in the region to explore after Willis Creek:
I'm guessing if you are planning a hike through Willis Creek Slot Canyon, then there's a good chance you are also planning to explore other spots around this slot canyon after your trip. If you are familiar with the region, you'll probably already know the masses of other hiking opportunities nearby this one but if you are unfamiliar with the area or perhaps if this is your first time exploring a slot canyon, let alone Utah, then here's a few recommendations:
Explore more Grand Staircase Escalante hikes. Remember this slot canyon is part of that, and there are many different hikes, trails and even more slot canyons all through this region to explore. The link I provided there will give you a lot of other ideas, all with a variety of hiking experiences, and here's some specifics:
In regards to slot canyons, you have Zebra, Peekaboo, Spooky Gulch and more (see a list of the best slot canyons in Utah).
In regards to great hikes, Red Canyon, Coyote Gulch, Calf Creek Falls and more.
There's also at least one major

Utah state parks

nearby this area to check out (Petrified Forest State Park).
You can make an entire week long trip out of just exploring the Escalante region and nearby areas here and not even have to visit any of the major parks, and I'm talking about the Mighty 5 National Parks in Utah.
4) You don't need any fancy hiking gear for Willis Creek Slot Canyon:
At the very least, decent hiking shoes (I wear Solomon Speedcross 5 trail shoes) and decent waterproof socks (I wear the Randy Sun Waterproof socks usually) will do in case the water level is a bit high, but for the most part, you are crossing a dry wash area here.
So if you are looking for a very simple and scenic hike and don't want to bring anything crazy (gear), then this is a perfect trail to explore for you. If you are someone who is still interested in doing other hikes around the area, then for many of those, I would recommend decent and higher level hiking gear which I will talk about below.
5) Bryce Canyon National Park is only 45 minutes away from Willis Creek: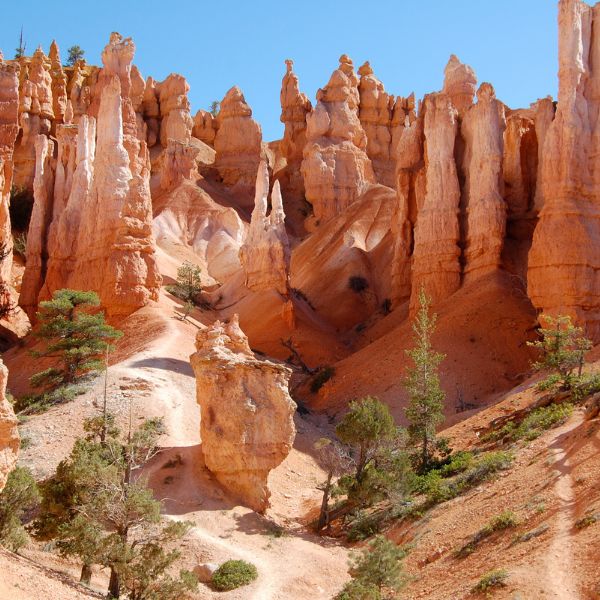 I discovered this hike while looking up trails near Bryce Canyon National Park and was very glad I took the chance to go there with the group I was with. If you like the above picture, I also have many more Bryce Canyon National Park photos which are just as good. We had just finished exploring that national park and had time to do one more trail and while there were many options (the closest being Red Canyon which is amazing), I decided to try Willis Creek and the benefit is that there was no one else on this trail when we went.
Either way, the closest of the Mighty 5 by Willis Creek Slot Canyon is Bryce Canyon National Park. Another reason I bring this is up is because if you are doing a multi day trip in Utah, you will want to stay around the Bryce Canyon National Park area as this is where you'll have most of the hotels available.
A decent plan B option is heading further north on road 12 into the town of Escalante where you will have other motel options available (near Bryce is better in my opinion). Now if you are further heading north (or east which is where road 12, one of the most scenic drives in Utah goes), then you can stop by Capital Reef National Park (which is actually 2 hours from Willis Creek trail).
Products to bring for Willis Creek (and other hikes nearby):
Remember, you don't need any crazy good gear for this hike. You'll just be walking on small rocks and sand for the most part.
Other questions about Willis Creek Slot Canyon:
Is Willis Creek Slot Canyon worth it?
Yes, Willis Creek slot canyon is an amazing, very scenic and easy to hike trail.
How long is Willis Creek slot canyon?
Willis Creek slot canyon is almost 6 miles long in total and it's an in and out trail.
Last things to know before you hike at Willis Creek slot canyon UT:
I wouldn't devote an entire day or anything to this hike. It can be done in combination with at least another 5 mile hike nearby so you can mix it together. In my case, I hiked in Bryce Canyon before checking this place out. One other thing you may want to know is that sometimes it can get windy in the slot canyon area there depending on the weather.
Finally, flash floods. Always be aware of these things when hiking this or any slot canyon. Check the conditions of this area before you go and avoid it if it's raining the same day you are going.