Folks, I own a number of awesome waterproof socks across different brands and out of all them, I can easily tell you the Randy Sun ones are the best. Why? Because they literally saved me from getting hypothermia on recent hike I did and this review will detail all of that!
Not only that but out of all the different brands and types of waterproof socks out there, Randy Sun is probably the one that I've personally seen with the most positive reviews and this is the reason why I decided to get myself a pair of them.
Basic information on the Randy Sun Waterproof socks:
Company:
Randy Sun.
Price:
$30-$50 (different options available). See all the Randy Sun Waterproof sock options here.
Colors:
There's actually a few different types of Randy Sun Waterproof socks. I own the ones which reach up to your knees and there's 6 different colors available. Some of the other groups (which reach up to your ankles) have up to 17 or more different colors.
My rating for the Randy Sun Waterproof socks:

5 out of 5

:
Are the Randy Sun Waterproof socks really waterproof?
Yep! Here's one of the places I've tested them in: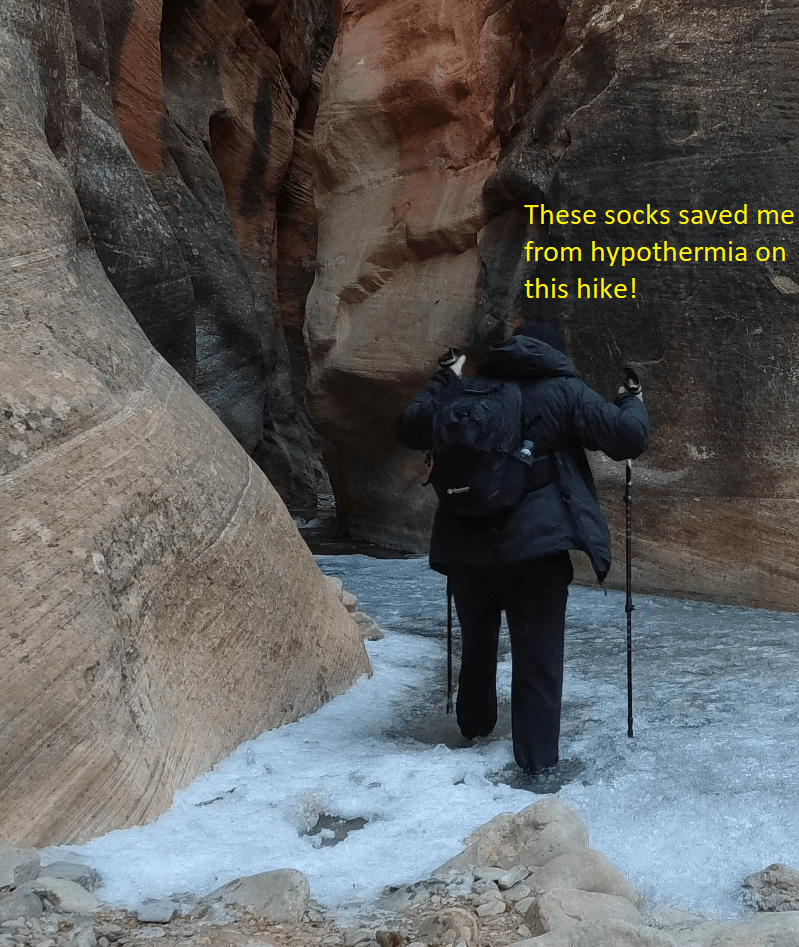 I've also tested them in the following scenarios:
Stepping into a bucket of water.
Walking around in winter weather and "accidentally" stepping into deep icy puddles.
Taking them on basic nature walks where mud and moisture is involved.
Update: Tested them on several hikes, including an astounding waterfall hike in Minnesota (see below for details).
Update 2 (the toughest test): I wore them at a place called Kanarra Falls which is a canyon and stepped into deep, frozen water. I was totally fine! You can see a picture of me on the right (this is where I would have gotten hypothermia were it not for these socks).
In every single instance, I've not felt a drop of water on my skin. Get the same socks here.
Do I recommend the Randy Sun Waterproof socks?
Yes. I've so far been very impressed with them and the bar was set really high beforehand because I owned some of the best waterproof socks including a pair called from Showers Pass (which I still use) and these ones are just as good if not better (because they reach further up my leg). There's also a Showers Pass waterproof socks review I made for further info on my experiences with it.
How I decided to get myself the Randy Sun Waterproof Socks:
Before I even got the pair of Randy Sun Waterproof socks I have today, for a few years prior, I'd been using the Showers Pass waterproof socks. I actually have 2 pairs of them to this day, and I've loved wearing them on many of the hikes and major road trips I do. In most cases, they have protected me from many colds, viruses and sicknesses by keeping me dry and warm in many cold and wet conditions.
However, there was only 1 problem with the Showers Pass socks:
There weren't any options of these socks available that reached higher than my calf muscle which isn't bad actually. But I like to get into some thick woods and often have to go deeper into water than I intend to, and when the water level you're in surpasses the level the socks are at, there's a chance it might flow into the socks and then get you wet.
This is a lesson I learned the hard way in the Canadian Rockies, on my western Canada road trip when I first tested those socks on. I went thigh deep into the ice cold water, which was way higher than the socks offered me protection. For a few minutes, they didn't let a drop inside, but as I kept moving in the water, they eventually did and all that ice cold water began flooding my feet. I learned the hard way, very quickly that these socks had their limits.
I didn't really know that there were other waterproof socks on the market:
Even though I had that one incident, I was so impressed by those socks that I didn't feel the need to research any others. But after looking to get 2 pairs of those for my family members, I discovered it was hard to come by as most of them were out of stock and no longer sold in major stores like REI.
Enter the Randy Sun Waterproof socks (the positive reviews are what got me to buy it too):
Once I realized I wouldn't be able to get the same Showers Pass socks again, I decided to finally start researching what other brands and options there were. The clear winner based on positive reviews (800+) and the sheer amount of positive ones were the Randy Sun Waterproof socks (see the Randy Sun Waterproof sock reviews here). Because there were so many choices and colors of Randy Sun Waterproof Socks, I elected to buy the ones which reached higher on my leg, closer to my knee this time around.

Pros:
The material is comfortable.
Yes, they are really waterproof.
A great accessory for trail runners.
A great accessory for anyone who gets their feet wet.
Offers awesome protection up to the knees.
There's no sweating in them.
There's a lot of different color options available.
They (literally) saved me from getting hypothermia on one of my hikes.
You can also get different sizes. Some go as high as your calf muscle while others closer to the knee (which I prefer more).
Cons:
Like any waterproof socks, your protection from the water goes as far as their height does which is around the knees in this case. I still have yet to fully test this, but I suspect it's the exact same thing as with my Showers Pass waterproof socks.
The 3 initial tests I ran on the Randy Sun Waterproof socks:
The first thing I did was put one of the socks on and then put my foot under a faucet. Not a drop leaked through, awesome!
I then put them on several times when I did walks outside my house. It involved walking in snow and sometimes having to step in deep ice puddles. Thankfully these socks also managed to stay dry on the inside and I could barely feel the cold. These socks do a great job of keeping out the cold.
Another thing I was worried about was sweat. Would my feet sweat in these? And the answer is basically no. These socks are made from such a material that my feet never really sweat much, even when I run with these socks on.
It's something the Showers Pass socks also have, but I'm glad it's also the case with the Randy Sun Waterproof socks too.
Final thoughts on the Randy Sun Waterproof socks:
With these 3 experiments alone, combined with all of my experiments with the Showers Pass waterproof socks, I can confidently say the Randy Sun Waterproof socks are a great choice for people considering getting waterproof socks (it's the top choice in my waterproof sock arsenal).
I can totally see why these socks get such great reviews and now you can add me as a +1 to them (with a 5 star rating). In fact, I also bought 2 more pairs of Randy Sun waterproof socks for my family members, each a different color, but all with the same reliable protection from getting wet.
Update: Tested the Randysun waterproof socks on the North Shore where there were many hikes through water!
There's a place in the US called North Shore MN and it's a beautiful spot I explored very recently. Many of the hikes I did there involved hiking through rivers, streams, waterfalls and a lot of wet places, some of which were pretty deep and in every single case, I am happy to say that because I wore the Randy Sun waterproof socks, I was totally fine all throughout.