I've have owned 2 pairs of the Showers Pass Waterproof Socks for several years now and in this review want to share the very positive experiences I have had using them in different, wet environments.
Basic information on the Showers Pass Waterproof Socks:
What are they? 
They are literally waterproof socks that you can wear when you go hiking and want to prevent your feet from getting wet.
Are they really waterproof? 
Yes! I have literally stepped into a foot of ice cold water and stayed in it for minutes, came out, took the socks off and my feet were perfectly dry.
And as for hiking when it's raining or walking over streams, this goes without saying, but of course, my feet were also perfectly dry when wearing these in those environments.
Price:
$36 a pair. See pricing for the Showers Pass socks.
Do I recommend them? Yes!
I absolutely love them and ever since I used the first pair, I got a second just in case. I still keep and use both pairs and they've really protected my feet from getting wet, catching a cold and not having to walk around in wet, soggy socks.
One pair is red/black (the most common color you'll find for this product), and the other is grey/black. The reason I got 2 different colors is because I wanted to know which ones I used to clean up, while I wore the other and vice versa.
I've also tested a few other waterproof socks since and I still think the Showers Pass waterproof socks are one of the best choices in my opinion. I also like the Randy Sun Waterproof Socks a lot as well.
How I started using the Showers Pass Waterproof Socks:
For starters, let me say that I have hiked in many areas that involve getting wet in one way or another and before I even knew that waterproof socks existed, whenever I'd hike around, and expect to get wet, I'd always bring an extra pair of socks knowing in advance I'd need it.
But let me tell you, that annoying squishy, wet and cold feeling of walking with wet, cold socks never sat right with me.
And this did eventually lead me to start exploring different products for the outdoors and ultimately me getting these waterproof socks.
On my first road trip in the Pacific Northwest, I stopped at an REI store to grab a warm jacket for the weather (An REI Co Op Stormhenge 850 Down Jacket which is awesome by the way), and while doing so, spotted these socks on the shelves.
I couldn't believe they were waterproof (I didn't know such products existed) but I got them anyway to test it out and I used them in environments where I would have to cross mud, rain and other environments.
In these cases, they did very well, but I didn't really test them to their fullest until I went on a western Canada road trip 1 year later.
On that road trip I really pushed their limits and was shocked when they conquered all of my tests:
I hiked through a rainy, watery gorge at the Hidden waterfall at Sombrio Beach (which is in Vancouver Island). At no point were my feet wet despite walking in a stream to reach this waterfall.
And then while hiking in the Canadian Rockies, I literally went into the ice cold glacier water that was at least 1 foot deep and these socks not only kept me dry but I was also protected from the ice cold water (picture to the right for proof).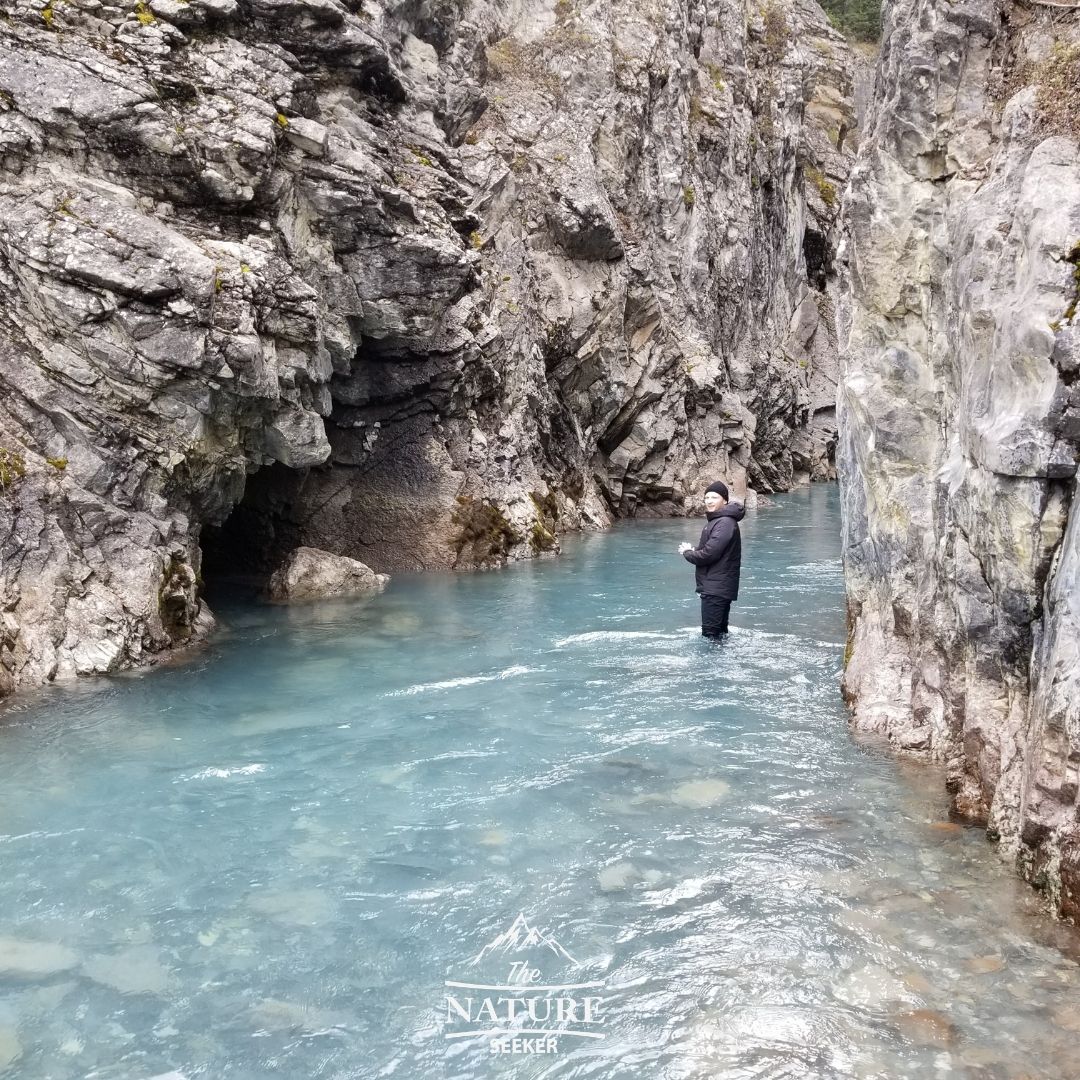 I stayed in that water for several minutes because I wanted to see if there was a limit to how much these socks could take, and from what I know so far, the answer is that there is no limit.
I was so floored by how awesome and effective these socks were, that I got another pair the next chance I got and took both pairs on my western US road trip a few months later, and of course, they came in VERY handy, as I was now using them to hike in snow.
I have also used these socks in desert environments that had me crossing rivers (Coyote Gulch for example).
The only time these socks will get you wet is if the water you're in goes over the height the socks protect you from, in which case, it will leak over the top of the socks and into the inside of them.
So as long as you don't let the depth of the water exceed the height of the socks, you're good and dry.
Another awesome thing I've found is that my feet don't really sweat in these socks, and thus don't stink.
This makes me be able to use them a few times before I inevitably take them to washer.
Environments I've used the Showers Pass Waterproof Socks in:
The short story is that in all of these environments, they kept me dry and to this day, I use these socks to stay dry when hiking in the rain.
Testing Showers Pass Waterproof socks (video):
Who the Showers Pass Waterproof Socks are good for:
Mountain bikers and bicyclists in general.
Trail runners.
Hikers.
People who expect to get wet when hiking.
Skiers and snowboarders.
Anyone who walks in wet grass, rainy weather, ect…
Pros:
These socks are fully waterproof.
They last long.
They are comfortable to wear.
They can reach as far as your knees (more protection).
They are great for outdoor activities.
Easy to put on (a little annoying to take off when they're wet).
I've avoided many colds thanks to these socks.
I've been able to go deeper and explore more places on my hikes because of their waterproof ability.
Great for people who do numerous outdoor activities.
Cons:
A bit expensive ($36 a pair).
If you get into deeper water that exceeds the protection of these socks, water will eventually get into the socks from the top and will get wet.
Should you get these socks and if so, how many pairs?
The answer is yes, get them. I personally have 2 pairs.
If you're a hiker, you're likely to get into a wet environment, and even if it's just rain, these socks make a HUGE difference on your hikes.
I never appreciated the appeal of waterproof socks until I wore these and having them on has helped maintain the warmth in feet and the ability to explore many more deeper locations over water.
They are also very long lasting so even 1 pair will hold you over for a long time, but I would keep another on hand just in case someone needs it or the first pair you wear gets too dirty or something else happens.
I take these socks with me on all of my major hikes nowadays and I couldn't be happier. I wear them alongside my Ozark Trail Running Shoes and it makes for a perfect hike in any wet environment.
And even after having them for a few years and really testing them, they still operate the same way as when I first got them.
I know there's more waterproof socks out there, but these are certainly up there in quality and from what I have seen one of the best.