What to Wear When Hiking in The Rain to Stay Dry
Hiking in the rain isn't exactly a pleasant experience and having done it many times, I want to share what to wear if you have to do it and the good news is that there isn't much needed to stay fully dry.
Now some people might prefer to hike unprotected from the rain because they enjoy that. I'm not one of those people and like comfort and I assume you do too since you're here, and therefore:
Here is a list of what to wear hiking in the rain: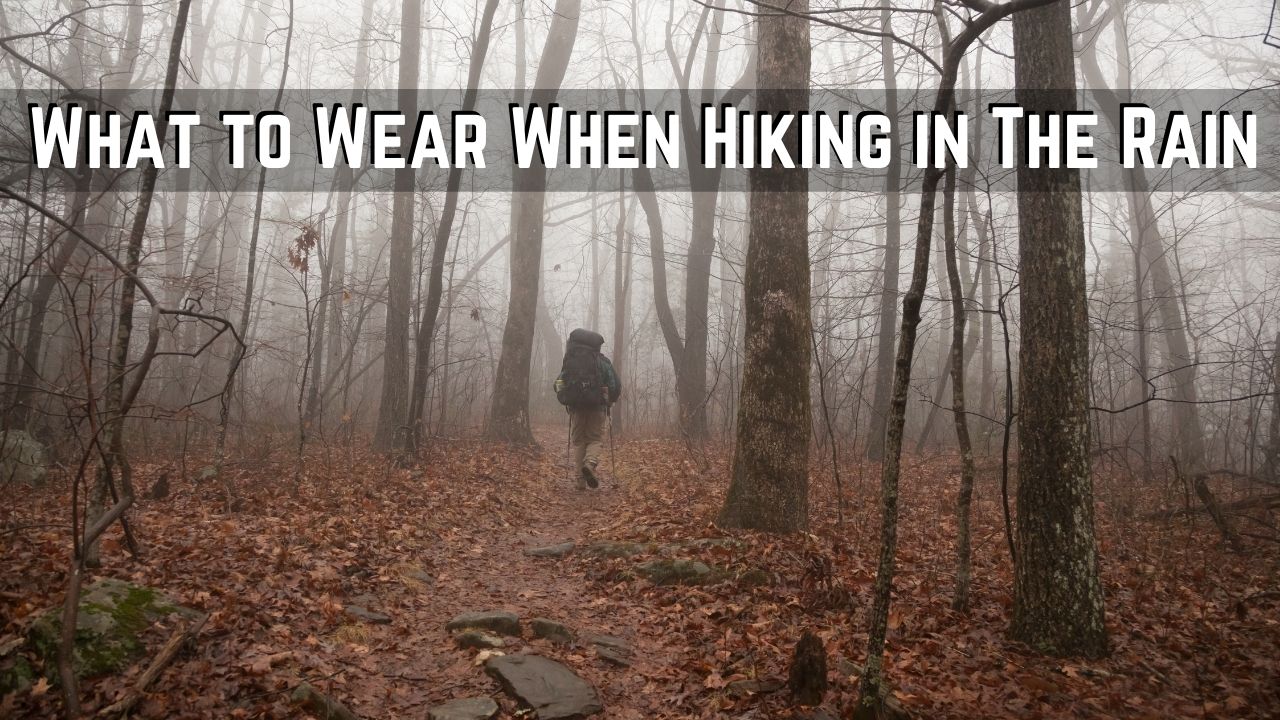 Feet: Decent hiking shoes (waterproof gore tex).
Feet to ankles: Wear waterproof socks.
Pants/shorts: Hiking/swimming pants or shorts.
Shirt: Nylon/spandex shirt.
Overall: Poncho.
Waterproof jacket with a hood.
I've given you some basics, but now let me give you specifics on what products I recommend you wear when hiking in the rain (based on my own experiences doing this for years):
1) Good hiking shoes (Gore Tex typically):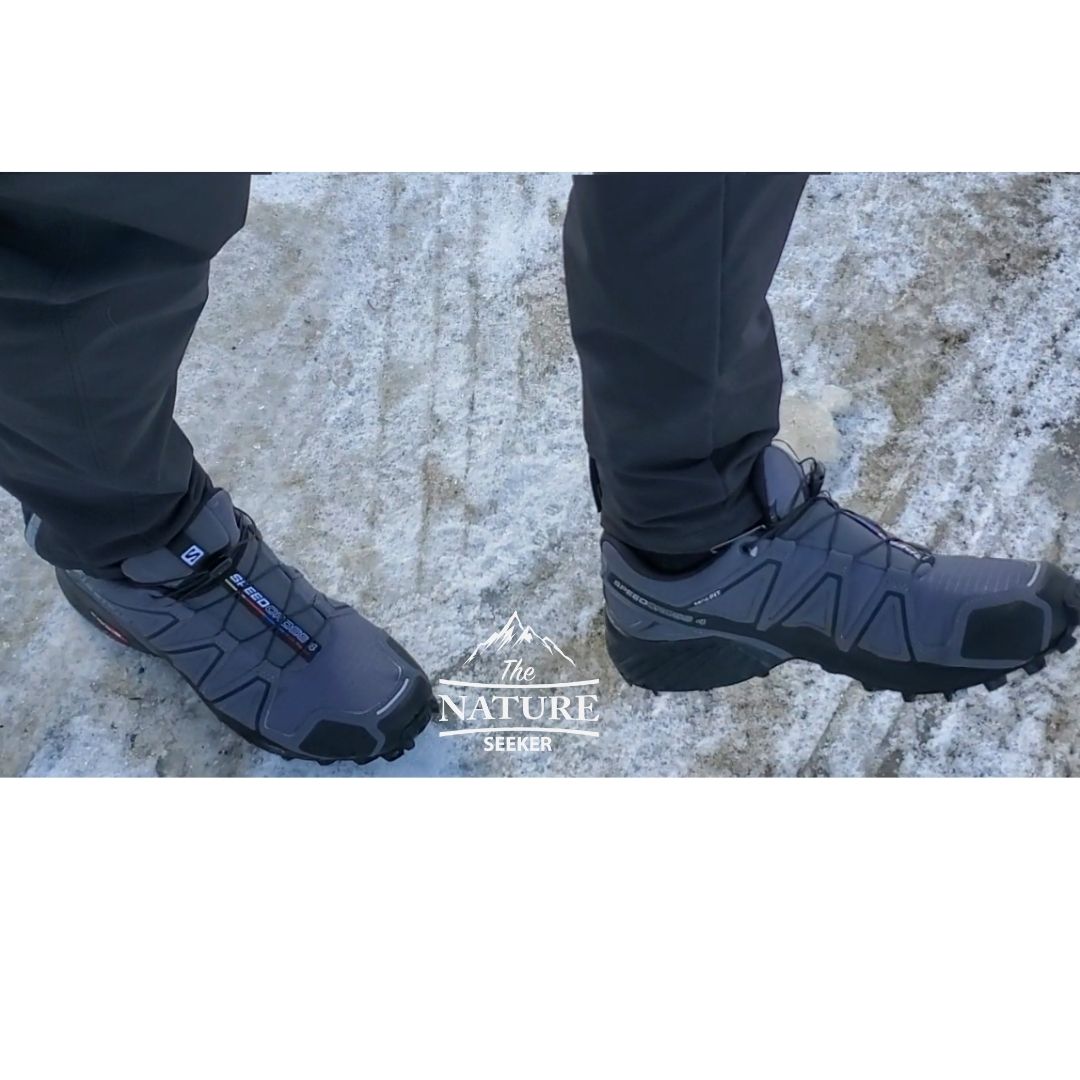 Hiking in the rain presents a lot of extra dangers, including increased odds of slipping, so decent hiking shoes are necessary and I recommend the Salomon Speedcross 5 as they work in most environments including snow.
Now they themselves are not waterproof, but I've hiked numerous times in the rain with them and they're fine. It's just that you should wear waterproof socks to compensate here.
There is also the option to wear what is closest to a waterproof hiking shoe you'll ever find which are any hiking shoes that have gore tex technology. It's basically an extra layer inside the shoe which keeps water from coming in. Of course, if you step into deep water, you'll get wet, but that's as close as you'll get when it comes to waterproof hiking shoes.
2) Waterproof socks (important):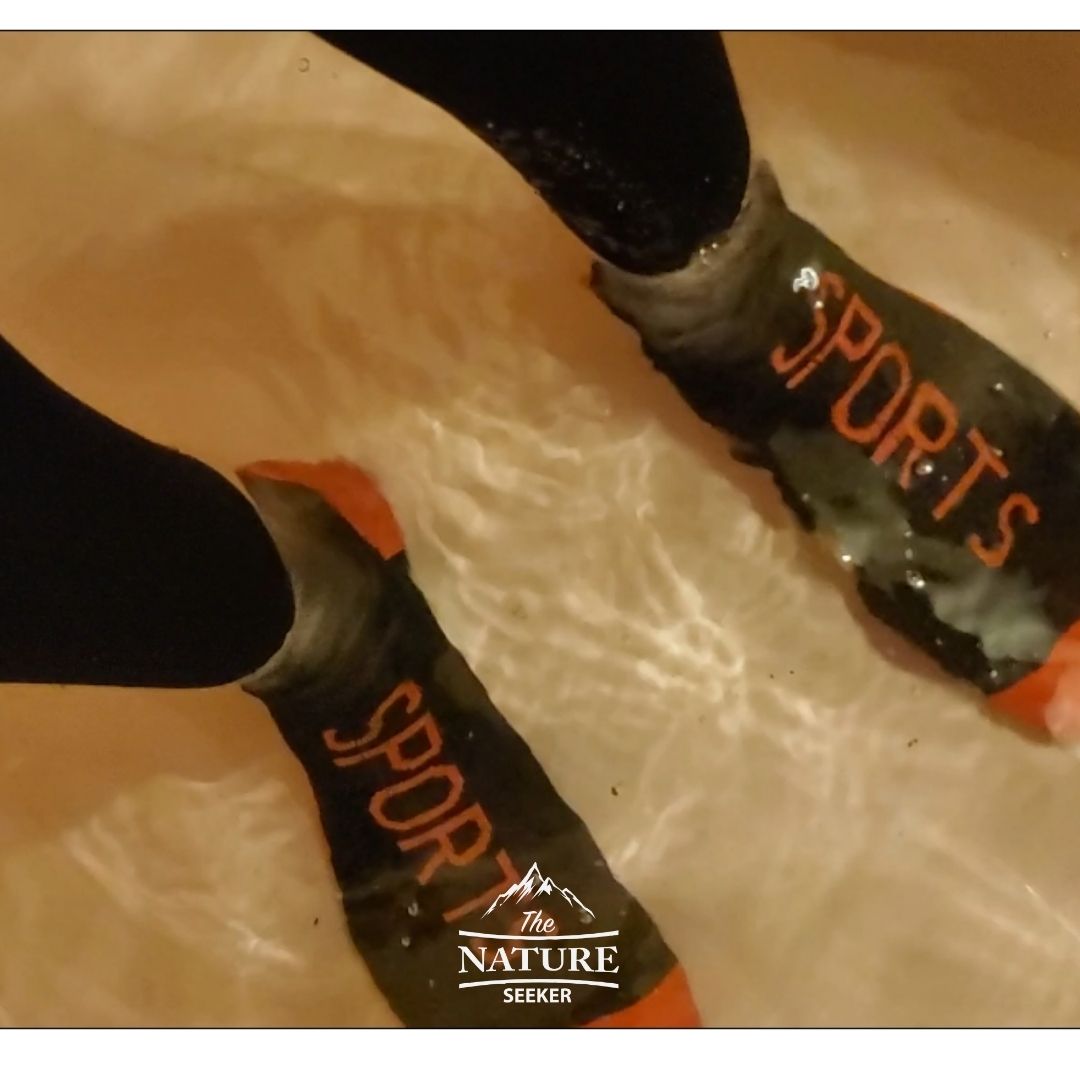 Waterproof socks are one of your best protections against getting wet when hiking in the rain and they will ensure that if your hiking shoes can't keep your feet dry, these socks will. I've had countless occasions during which wearing waterproof socks saved my feet from the freezing rain including:
All of these areas are often soggy during most seasons and when it rains? Forget it. You need these socks to keep you dry, period and they do an amazing job of that. You can literally step ankle deep in ice cold water with waterproof socks on and you'll be fine. Here are some of my recommendations:
Here's an example:
The picture you see to the right is me hiking at Sombrio Beach's hidden waterfall. To get there, I had to walk into a gorge which had a stream in it and it's impossible to get in there without getting wet. Here is that waterfall:
Furthermore, it was also raining when I went there, so that was another problem to keep in mind. To stay dry, all I really had to do was wear my waterproof socks here and in doing so, I was able to comfortably hike in the water (ankle deep) and not once did my feet get wet because of the protection it offered me. And let me tell you, that water was very cold too, but with the waterproof socks I wore that day, I didn't feel it.
3) Waterproof pants or shorts:
Depending on the temperature you're hiking in, it will determine whether you wear shorts or pants, but anything with nylon/spandex combinations is fine. I have waterproof pants for winter hikes in the rain I got from REI and for warmer spots, I'll wear swimming shorts or any shorts that have a good nylon/spandex combination as they're good for protecting against rain. One thing to avoid is hiking in jeans when it's raining, as it's probably one of the worst types of pants for this type of situation.
4) Waterproof shirt:
Generally speaking, you won't find waterproof shirts and will have to wear something on top of that like a waterproof jacket to stay dry in the rain, but there are the next best things such as: Nylon/spandex shirts which typically feel better to take the rain in vs regular cotton or polyester shirts (which I honestly do not ever recommend for hiking in the rain).
5) Poncho: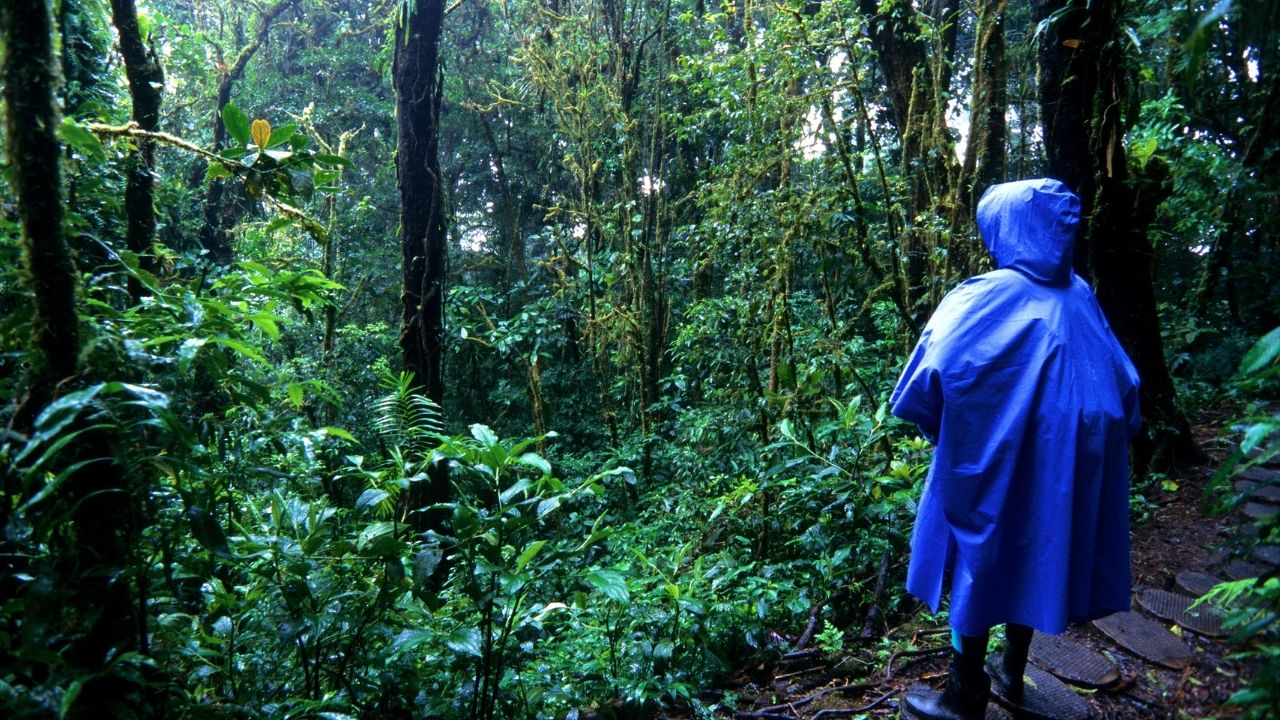 If you are in a situation where you get into a rainy environment and don't have anything waterproof on you, then a poncho will save you from getting wet. A few weeks ago, I was hiking in the rain within the Hudson Highlands State Park area (The Bull Hill Loop trail).
I originally wanted to do a cool hike in that spot (Breakneck Ridge), but massive rain forced me to adjust my plans. While I didn't have an official poncho on me, I did have a giant plastic bag that could cover a chair in my trunk. I took that out, cut out a hole in it for my head and bam, I had a nice poncho.
With that on me, while I didn't exactly look appealing, I took on the hike and let me tell you, that saved me a whole day of ruined plans since I stayed almost completely dry while hiking in the rain with this one.
Now a poncho is even more reliable than what I wore and really cheap to get too, so I would recommend investing in one of these things for yourself since they will keep everything above your feet dry. For your feet, you already know what you need to wear to stay dry (waterproof socks).
6) Waterproof jacket (with a hood):
This is for more cooler/winter temperatures, and in those instances, a poncho won't help you, so you have 2 choices:
1) A ski jacket which is lighter is fine for this (something weather proof works).
2) For winter hikes in the rain, I can recommend no jacket better than the REI Co Op Stormhenge 850 Down Jacket.
This jacket has kept me dry in a lot of different hikes I've done and it offers full upper body protection (including my head). This jacket is very comfortable, and you hardly sweat in it and just as well, it keeps you protected from the rain and many other wet environments.
When hiking in the rain during really cold temperatures, I find that when I wear the REI jacket, nice waterproof pants, waterproof socks and decent hiking shoes, I'm fully protected in those environments and the cold is never really felt, so I feel very comfortable hiking with this gear on.
Here's my personal example on what to wear hiking in winter time:

Also waterproof gloves are recommended for more extreme cold and wet temperatures.
The most important things to keep dry when hiking in the rain:
2 things:
Your feet.
And your upper body (stomach to head).
While I've given you a number of options to offer you full protection, if you ever find yourself in a situation where you don't have all the gear needed for that full body protection, make sure to prioritize your feet and upper body when trying to stay dry. Everything else can afford to get wet, but if your feet go and it's cold, that can lead to serious trouble and just as well, the upper body too.
When hiking in warm and hot temperatures and it's raining, staying dry is easy with a poncho on, but keep in mind that if it's humid, you will get hot underneath it, so sweat is a bit problem to overcome (but if you want to stay protected from the rain, this is important). If the rain isn't too bad, you can omit the poncho and keep the regular waterproof clothing on I suggested, but I'd keep the poncho handy in case the weather gets worse.
And so that's it. That's what you want to wear to stay dry when hiking in the rain folks.
Related articles: