I've had the fortune of not just checking out the Kanarra Falls hike, but also having the trail entirely to myself when I did it and in this post, what I want to do is prepare you for the hike by sharing everything you need to know before you go.
Quick info on the Kanarra Falls hike:
Name: Kanarra Falls.
Location: Kanarraville, Utah.
Hiking distance: 4 miles in and out (1.5 to reach the ladder part).
Difficulty: Moderate.
Family friendly hike? Yes.
Is it dangerous? It's slippery in parts but mostly OK.
Permit required? Yes (instructions coming up).
Rating: 4.5 out of 5 (if the crowds aren't huge).
Recommended? Yes!
The way I'm going to structure this post is by first giving you some preparation basics (what to know before you go basically) and then I'll run you through a little tour of the actual hike so you know what to expect when you go.
5 things to know about the Kanarra Falls trail before you go:
1) You need to get a Kanarra Falls permit and you have 2 options to do that:
A) You can get the permit for $12 per person online on the official Kanarra Falls site here.
B) Or you can "risk" getting it at the start of the trail when you go. The risk with the second one is that most times of the year, the hike is open to only about 100+ people a day and if you get there and slots are filled up, you're out of luck. On the other hand, getting it online will ensure you have a spot.
Now one thing to note is that in my case, when I went, I did get my permit online but when I showed up (which was in late January), there was no one working at the permit station, so I just had to go as it was (keep this in mind).
2) You will get wet, especially as the hike progresses:
The first mile of the hike involves walking along Kanarra Creek and you will be able to avoid getting wet if you want in most parts. But as the hike goes into a slot canyon, and towards the waterfalls, you have to walk through water to get to them.
3) Wear decent hiking shoes and/or water shoes:
There will be parts of this hike where stepping into water is unavoidable and depending on the season, the depth of the water also varies and at times, it can be knee high. Either way, I would recommend good hiking shoes for the hike itself, but for the water parts, I would recommend decent water shoes.
I went through this hike wearing Salomon Speedcross 5 shoes and they worked well for the most part. When I got into the slot canyon and started getting wet, stepping on wet rocks was often slippery for me and the only reason I didn't fall was because I had decent balance that was aided by using my Trailbuddy trekking poles. Wearing decent water shoes like the Body Glove Rip Tide ones would have definitely helped me here though and they are cheap, but will come in handy in these parts.
4) There are 2 waterfalls on this hike:
The first one is the famous one with the ladder you probably see pictures of (It's about 2 miles from the start of the hike), and the second one is about a third of a mile further up the hike. Then you go back down all the way to the parking lot.
5) It's tough to avoid the crowds, but here's why I had it all to myself:
I went here at the end of January when it was literally freezing cold and much of the hike had snow and ice to cross.
I'm not recommending people do that if they're uncomfortable about the thought, but believe me, few people will do this hike during that period and for me, that makes it totally worth doing.
If you do decide to come here in the winter, just know the risks and dangers are increased because you will stepping in ice cold water, risking hypothermia.
One way to avoid that problem is to wear the following gear:
1) First reliable waterproof socks, which is what I did (the Randy Sun Waterproof socks specifically). The ones I wore on this hike reached knee high and kept me dry the entire hike.
2) A good winter jacket. My go to choice is the REI Stormhenge 850 Down Jacket.
In fact, here is a video of me walking through this hike in the water wearing these socks:
Moving onto the Kanarra Falls hike itself (what to expect):
1) First you'll park your car and walk up to the ticket booth:
Here you will either present your reservation to the person working there, or fill out a form and put it in the mailbox. In my case, no one was there and even though I paid online, I wasn't even able to show it to anyone.
2) Then you'll walk uphill for a bit on a dirt road that turns right:
As you turn right, you will see a fence with tanks behind it and the path will continue. You will soon see Kanarra Creek itself and continue following it.
3) The trail along Kanarra Creek will zigzag left to right as you continue:
On some points of the hike, I was wondering if the path was going in a different direction but the basic idea is to follow the main path that parallels along the Kanarra Creek.
4) Eventually you will come towards a canyon (one of two):
The canyon is not a slot canyon just yet but you will continue walking upriver, following the path before you.
5) You will eventually reach a slot canyon (this is the entrance to Kanarra Falls):
From the slot canyon, you will have to get wet here (no other choice). In my case, I had to break through the ice to get into the water. But it will turn into a slot canyon that's about 5-6 feet wide (and large canyon walls).
The waterfall is only about 50 feet away from the entrance here. I will say that this is one of the best Utah slot canyon hikes that I've done and I also think the Kanarra Falls hike in general is one of the best hikes in Utah in my experience as well.
6) Once you reach Kanarra Falls, you have the option to climb the stairs:
The stairs can be slippery so be careful here, but it's a short walk and afterwards you can get a nice look at the canyon from a top.
The picture you see here was taken by me and obviously, it isn't as pretty as some of the ones you see on this spot, but that's because my phone doesn't take good low light photos.
In any case, as you can see the ladder here was metallic and not the wooden one you see in most photos. It might change in the future, but just expect this for now if you go.
7) You can continue follow Kanarra Creek upstream and as you do, about 1/3 of a mile up is when you will hit the next waterfall.
I personally didn't go that far because I was tired of walking through all the ice that day so I decided to turn back, but many people just come here for the ladder part of the hike and then turn around too. Just know you can go further if you want.
From here you can turn around and head back the same way to the parking lot to finish the hike.
Again: I recommend you wear proper things for this hike, especially when it's cold!
I cannot stress how important wearing the right clothing (and bringing the right backpack) made this hike better for me. Most importantly, the waterproof socks are what literally saved my life here. I would NEVER have been able to get this far into the canyon when I went there without them! And here is the list:
Questions about hiking to Kanarra Falls (just in case):
How long of a hike is Kanarra Falls?
The hike to Kanarra Falls is about 1.5 mile from the parking area.
How difficult is Kanarra Falls hike?
The Kanarra Falls hike is generally easy until you reach the canyon area. Then it gets slippery because of the water, but it's not a difficult trek.
Do you need permit for Kanarra Falls?
Yes and the best way to get a permit for Kanarra Falls is online within their main website. You should also do it at least a week before you go because this place is very popular.
Is Kanarra Falls in Zion National Park?
No Kanarra Falls is actually about 30 minutes north west of Zion National Park.
What should I wear to kanarraville falls?
Generally water shoes are ideal for the Kanarraville Falls. I would also recommend waterproof socks because the water is usually very cold, especially between fall and spring.
What others are saying about the Kanarra Falls hike (reviews):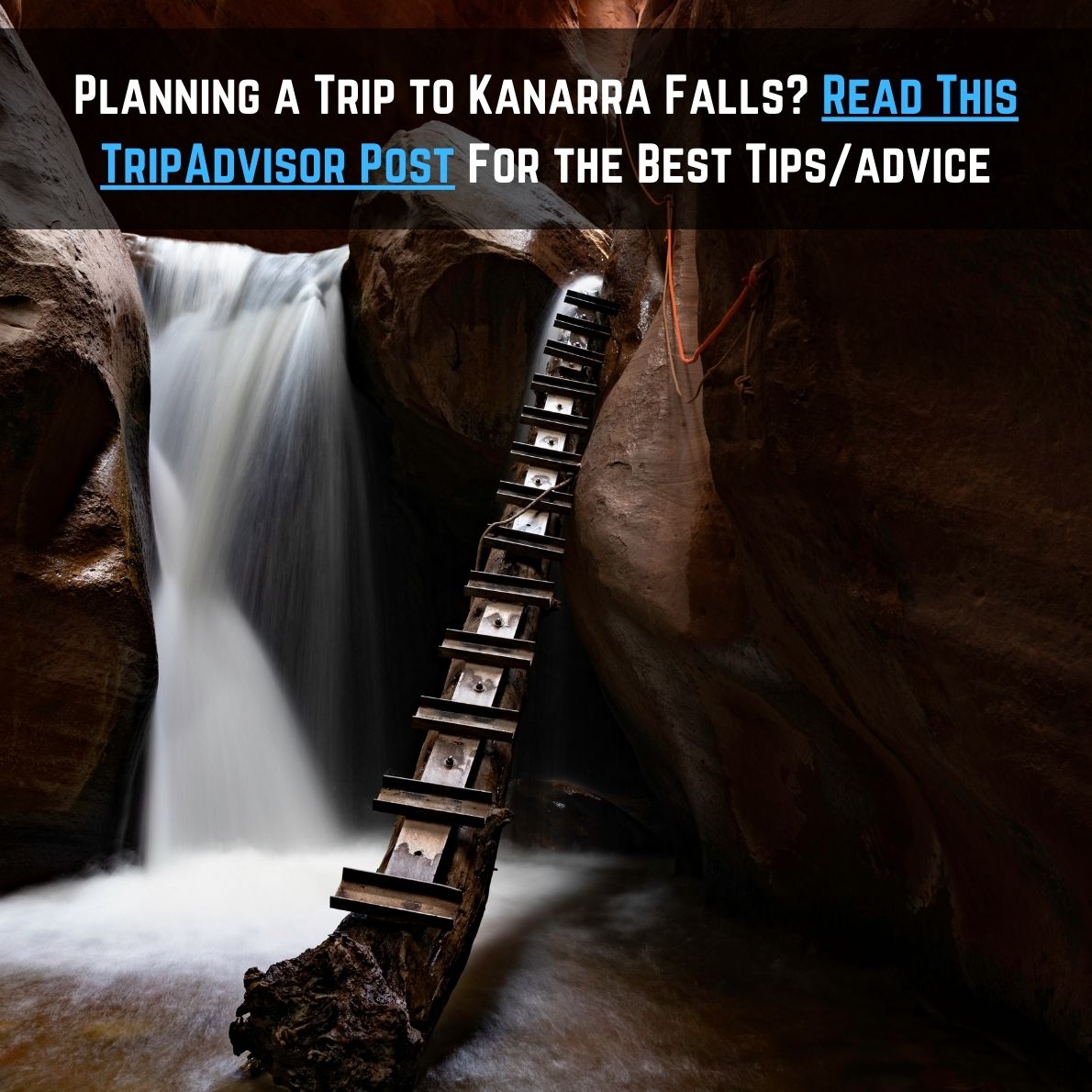 Here's a great Tripadvisor.com post on Kanarra Falls I recommend checking out if you plan on going. It's good to see what others say/warn about it.
Other great nature spots to check out near Kanarra Creek Falls:
1) Zion National Park:
It's only about 30 minutes away from this place and there is much more to see and do there.
There are 2 hikes there which bear some resemblance to Kanarra Falls and they are:
The Narrows. No permit needed here but it is a long hike in the water.
The Subway. It's a long hike and has a slot canyon that I would say is better looking than Kanarra Falls, but it does require a permit (it's difficult to get).
2) I would also recommend seeing the hikes in St. George Utah too.
Overall, I really enjoyed the Kanarra Falls hike, and adding to it that I was by myself there really made me appreciate it more considering how I've seen so many pictures with tons of people there. I really was lucky (or crazy) to go there in January and thanks to the socks I wore, I was able to do it.