In this Trailbuddy trekking poles review, I want to share my personal tale of how they not only became a must have on any hike I do, but how they also saved me (multiple times) on serious trails I was doing injured and how it had not been for these helping me out, I probably wouldn't make it out of those spots!
Basic info on the Trail Buddy Trekking Poles:
Name: Trailbuddy trekking poles.
Company: Trailbuddy.
Price: $30 and up.

See pricing

.
Rating: 5 out of 5.
Do I recommend them? Absolutely!
I used to be apprehensive about using trekking poles in general, but once I got these, and started really testing them, and then on top of that how many times they saved me on trails I shouldn't have been doing, I began to truly appreciate their value and carry them with me every time I'm exploring a new trail now!
They are excellent for anyone, especially those doing difficult hikes and/or trails while they are injured, and if that's the case, having these trekking poles on hand can seriously increase the odds of you not just making it out OK, but also reducing your risk of injuries. Get the Trailbuddy trekking poles here.
My video review of the Trailbuddy Trekking Poles:
My first experiences with the Trailbuddy Trekking poles:
So first I decided to test them on a new hike in the Catskills I've never done called Devil's Path.
It was said to be a pretty difficult hike and I figured it would be a perfect opportunity to try them out there. I also had 2 friends go with me on this hike and they tried it too.
My first try using them was on a flat terrain surface with many rocks, dirt and mud. I didn't notice their benefits in this environment because I wasn't putting too much effort or weight on them, but I could tell they'd be more useful once the inclines and declines in elevation started and I was right.
Once the incline started, that's when I quickly realized why these things are important and it's because of what I explained in the video above:
They take away a lot of the weight off your lower body and make your upper body compensate for it, but this helps your lower body withstand longer hikes.
As a result I was able to do a long incline up with these poles with relative ease, vs other similar inclines without them where my legs got more tired after reaching the top.
But it was on the decline areas where these trekking poles really gave me a lot of appreciation. The terrain we were in was very rocky and difficult to quickly jog through (and not safe for that matter), but using these trekking poles, I was able to:
Navigate down the mountain faster.
I was able to avoid many slips and loss of balance thanks to them keeping me balanced.
I was able to take a lot of stress of my knees and legs from the stomping on the rocks because the trekking poles took most of it.
This all allowed me to finish up the hike feeling less tired, sore or injured and frankly, this all adds to the long term benefits of me being able to hike for longer periods and lengths.
I am wondering if using regular hiking sticks would do just as well, but that's for a future post.
Update: Used the Trailbuddy Trekking poles on multiple hikes (and how they saved me).
Since this review went up, a lot of time has passed, and I have had a chance to use these trekking poles on several hikes and let me tell you: I'm truly astonished by what they've helped me do. Let me explain:
1) I did several hikes in the Minnesota Coast with them:
They helped me a ton when hiking uphill and that's when I really understood how useful they can be. I can honestly say I can run uphill and not get tired (nor my legs) so long as I use these trekking poles (I'm not exaggerating that claim).
2) Harriman State Park (a 14 mile hike):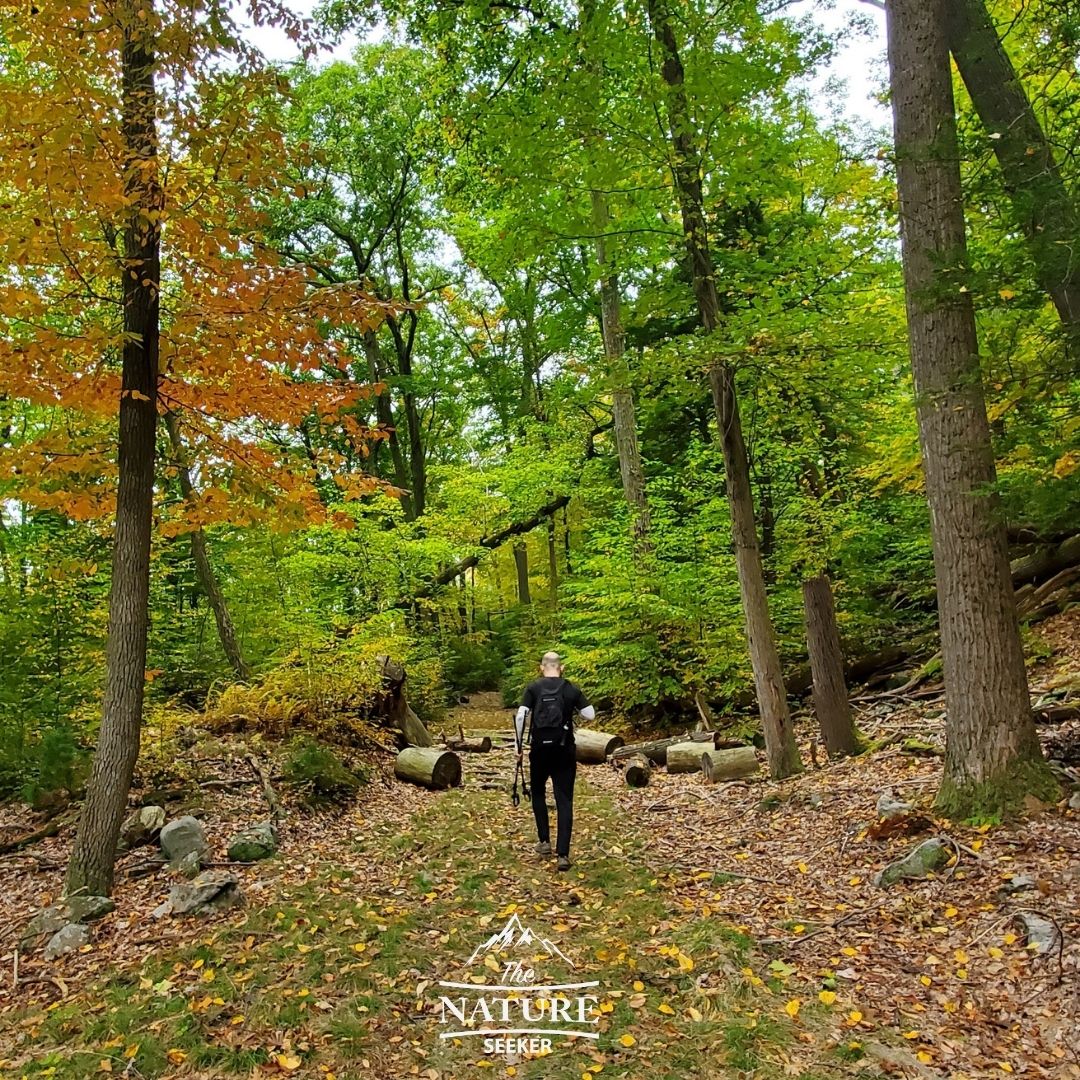 After I came back from the North Shore in Minnesota, I took a month long break. After that, an opportunity to hike through Harriman State Park came up and it would end up being 14 miles.
I wasn't in the best shape when this idea came up, but decided that I'd do it anyway, and I would take these trekking poles with me (image on the right).
Let me just say that if I didn't have them on this hike, my legs would probably be in a lot of pain. I used them whenever I would go uphill and this took a lot of stress of my knees and legs overall. The next day after I did this hike, I hardly had any aches.
These trekking poles allowed me to do a serious hike, while out of shape and still be able to complete it like a boss.
I'm glad I took them with me and as my knowledge of these trekking poles increases, I am convinced they are absolute essentials to bring on serious hikes.
3) The future day hike through all of Devils Path (or similar 20+ mile hikes):
After experiencing how awesome these trekking poles were for me, I immediately knew they would be an essential tool for serious hikes.
For me, the day I hike all of Devil's Path (in one day), these trekking poles are coming with me. Without them, I'm 50% confident I'll complete that hike. With them, I'm 95% confident now.
4) The story of how the Trailbuddy Trekking poles saved me (multiple times):
I checked out hiking spots in Arizona, Utah, California and Oregon, and in every spot I visited, there were many amazing spots to check out.
However, something happened very early in my trip that put everything in jeopardy:
I "over" hiked in Arizona while checking out Sedona. I didn't use the trekking poles for most of my hikes there and by the time I started using it, they helped me get through the pain and keep hiking safely, but the damage had already been done. My knees were messed up and my hip areas were also in serious trouble.
What's worse is that this all happened on my 1st official day of the trip, with nearly 11 days left. Now here's the point in all of this:
I was able to carry on and do the remainder of the hikes I wanted, and it was thanks to these trekking poles. Without them, I guarantee you that I would have NEVER been able to complete those other hikes. They literally kept me on my feet and moving forward and if I would start to feel more pain, I'd simply rely more on using them to take the pressure of my legs.
I cannot tell you enough about how useful these trekking poles were in my situation!
The picture you see here is documentation of my hikes post Sedona. I don't look like I'm in pain and that's because I relied HEAVILY on the trekking poles after I got hurt and they are the only reason I wasn't carried out in a stretcher!
5) Breakneck Ridge (15-20 mile hikes successfully done thanks to these trekking poles):
Breakneck Ridge is a very popular and difficult hike people who live near NYC do and in my case I had trained so much on that particular trail in 2022 that I was running multiple loops around that area (Hudson Highlands State Park) and we're talking about 15-20 mile hikes with 5,000 feet of elevation. And if you've never hiked in NY, there are amazing trails here (that being one of them). See more of the best day hikes near NYC.
On one of those hikes, the weather ended up being horrendous, at nearly 100 degrees on a very sunny day and a 100% humidity on top of that. That was making my hike through this area almost unbearable and it was only thanks to these trekking poles that I was able to finish it.
Trailbuddy trekking poles reviews (Nearly 40,000+

4-5 star ratings

):
One of the things I was very impressed with before getting this product is how not only is it one of the top sellers in the outdoor department on Amazon, but how it also has 38,000+ reviews that are extremely positive. Check the Trailbuddy reviews here.
In all honesty, when I see so many positive reviews on one source, I don't really need to go anywhere else to see that this product is good (and great).
Are these the best trekking poles? More reviews saying they are:
My video review above gets comments from people from time to time and a lot of them are from people who not only used it and loved it, but also began using these exact Trailbuddy trekking poles after trying out way more expensive and "high end" trekking poles that either broke, were difficult to use, or just didn't last long.
These however (according to their own reviews) were way better, lasted longer (and still are very reliable) and they love it.
Last quick questions on the Trailbuddy trekking poles:
Are Trailbuddy poles good?
Yes the Trailbuddy trekking poles are excellent for hikers of all levels. I use it on my serious trail runs and hikes almost every time.
How do you use trail buddy trekking poles?
Think of the trail buddy trekking poles as handles when you walk on stairs. Use them for extra support when you feel there is too much pressure on your legs. They will help reduce that stress.
How do you adjust the straps on a Trailbuddy trekking pole?
The straps on the Trailbuddy trekking poles are easy to adjust as you just need to pull on the handle that shortens or widens the strap.
Conclusions on the Trailbuddy Trekking Poles (a must have if you ask me):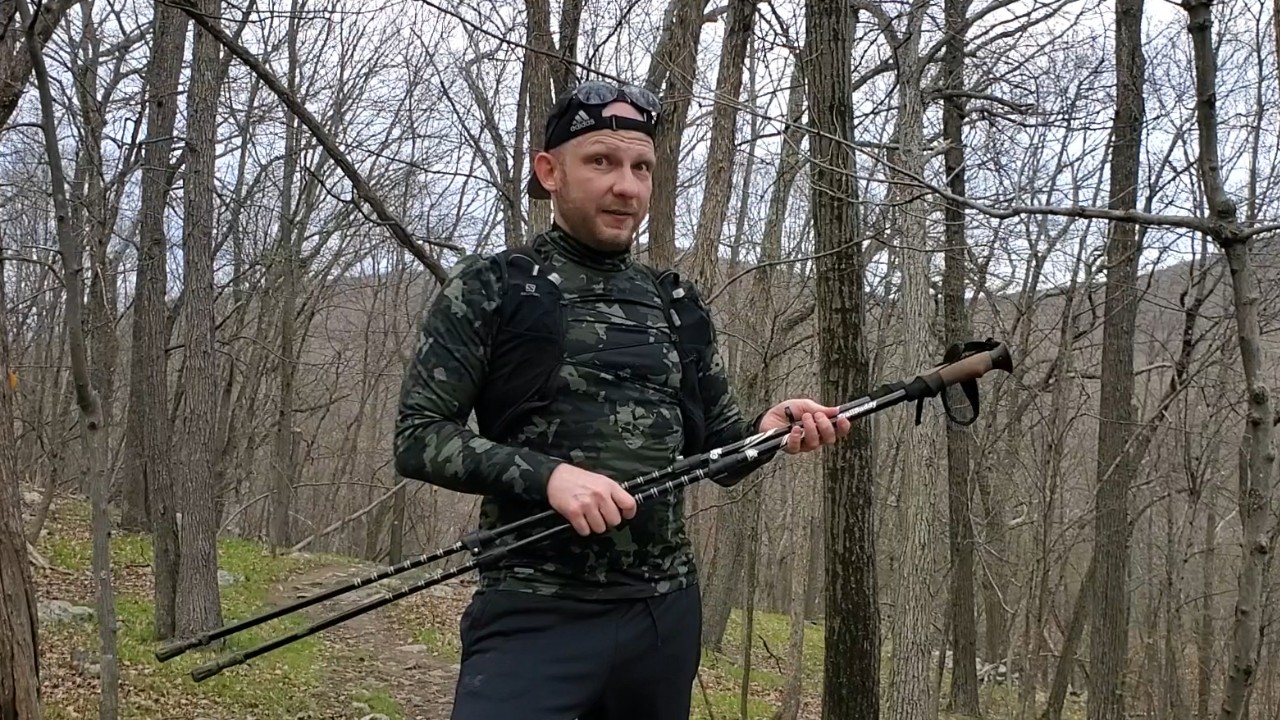 Originally my thoughts on this product were OK, but not excellent. Then I began using them more and more and with each use, my experience on how to use them grew, as well as my realization on how effective and helpful they were for my hikes.
The Minnesota Coast experience was truly the big eye opener for me. It made me realize just how much more ground I could cover in a single day thanks to these.
Then after using them at Harriman State Park (on that 14 mile hike), I was very happy I took them with me. I guarantee I would be a lot more tired if I didn't have them on me that day and again, I did that hike out of shape, so I was glad these trekking poles were with me.
Overall, this is a highly recommended tool. Again, you don't need to use it, but I promise you that you'll be happy to carry it with you. They'll make a serious difference in your hiking experiences.
But overall, if there's 2 groups of people who would really benefit from the Trailbuddy Trekking Poles, they would be:
Anyone with joint issues or just injuries in general around the joints.
Anyone who wants to enjoy long hikes but isn't quite fit for them.
Anyone who wants to cover more hiking distance in a day than they normally would.
There is some technique required to maximizing their effect, but it's easy to learn it and once you do, you'll quickly feel their effect. For me, it instantly takes the pressure off my knees and I get less tired overall.
I can't describe how awesome that feeling is, and I can tell you that you'll probably be astounded when you use the Trailbuddy trekking poles yourself.