If you're thinking about hiking Breakneck Ridge for the first time and are wondering if it is dangerous and worth the climb, I'll tell you since I hiked it (three times).

Let's not waste anytime:
The 6 most important things I learned about hiking Breakneck Ridge:
1) There are parts of this hike that are very dangerous.
2) The main trail (white) is the most popular and it's the one which you take has different difficulty levels. Some are pretty simple and others are pretty dangerous.
The great news is that you can choose which ones to take depending on your hiking level and comfort.
We (my buddy and I) stuck to easy and medium level branches of the white trail the first time we went. The second and third time, I challenged myself a bit more with advanced versions.

3) It is an overall pretty strenuous climb and if you fear heights, you may want to rethink checking out Breakneck Ridge and consider these other alternatives nature sports near NYC. 
4) The best alternative hike to Breakneck Ridge is literally close by called the Bull Hill Short Loop trail and it's within the Hudson Highlands State Park area too.
5) There is a "long loop" trail in Breakneck Ridge and a longer one that's about 9 miles out and back and has you cross a fire tower (known as Beacon Fire Tower), as well as get a nice overlook of New York City in the distance. For more info on this particular hike, see this list of Fire Tower hikes in New York.

6) Overall, I liked hiking Breakneck Ridge and for a day hike near NYC, it's very enjoyable, so I would recommend it to people who enjoy a challenging climb, but not for those who aren't in shape or used to hiking strenuous places.
So with those main points said, let me tell you about my recent hike that I did here and what I took from it. Let me start by saying that I am a resident of NYC and have been for a long time, but I never really took the time to check this place out until recently. 
I've explored places even further from Breakneck Ridge, like:
But I was missing out, because Breakneck Ridge turned out to be a really fun hike you could easily complete within a day.
5 details about the actual Breakneck Ridge hike itself to note: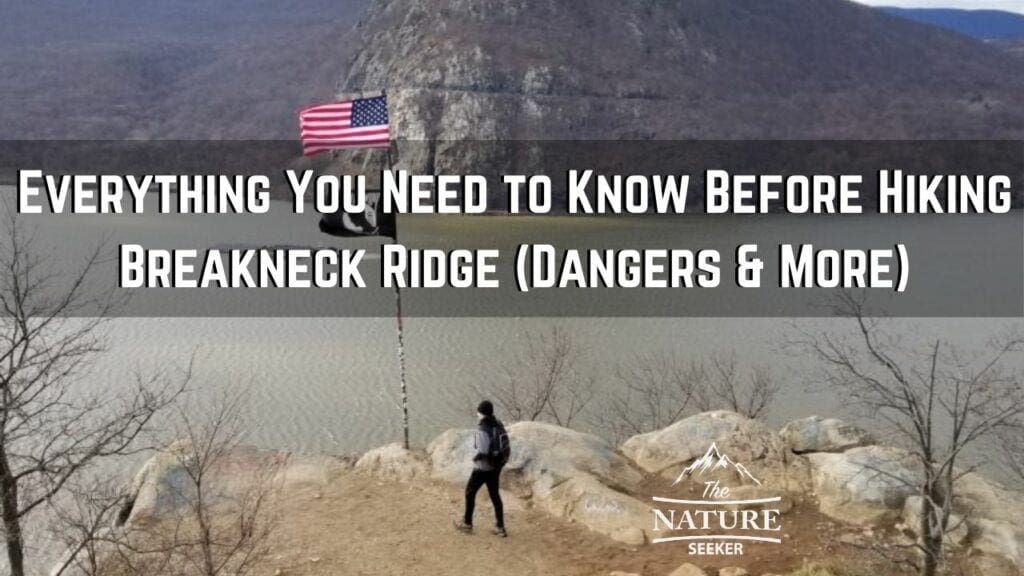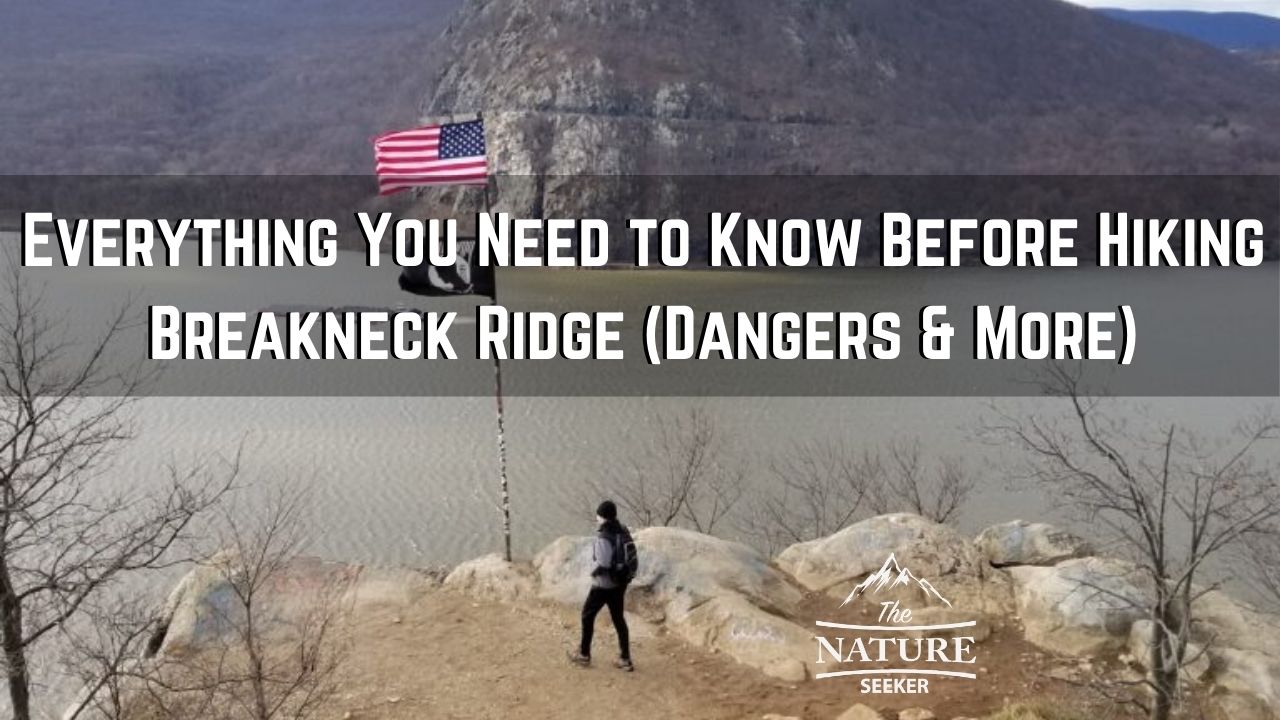 You're going to be climbing up over 1,200 feet to reach the top.

There's multiple trails you'll be able to take after if you choose to (I'll show you the details).

Certain parts of the hike can get very dangerous, but you can choose to hike the more moderate/safer options easily.

It can get very windy in this area, as was the case when we went.

If you're traveling from NYC to this spot (It's a great day hike for NYC residents), start early as it's about an hour drive to reach this spot and getting there earlier helps make sure you find a parking spot.
I'm going to show you everything you need to know before embarking on this trail and choose whichever one is more comfortable for your skill level.

10 other things to know before you start the hike up Breakneck Ridge: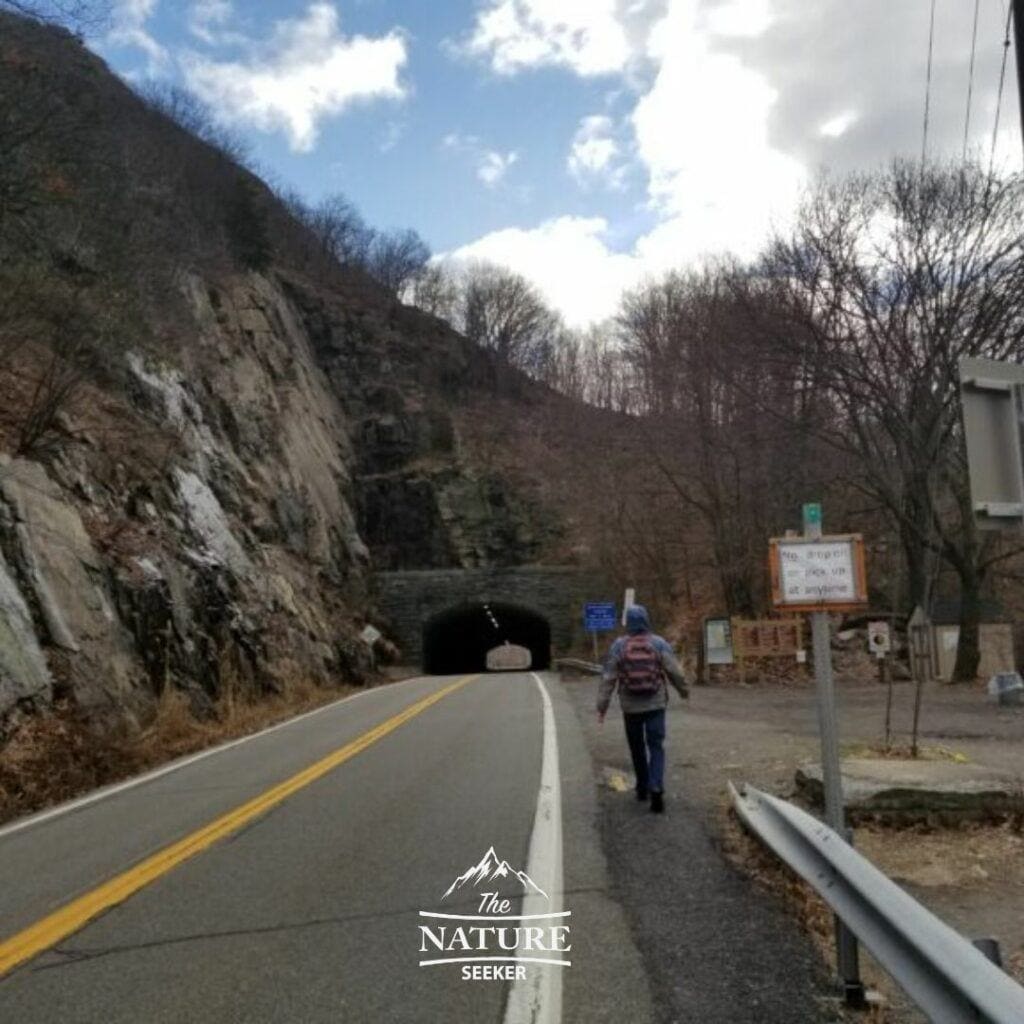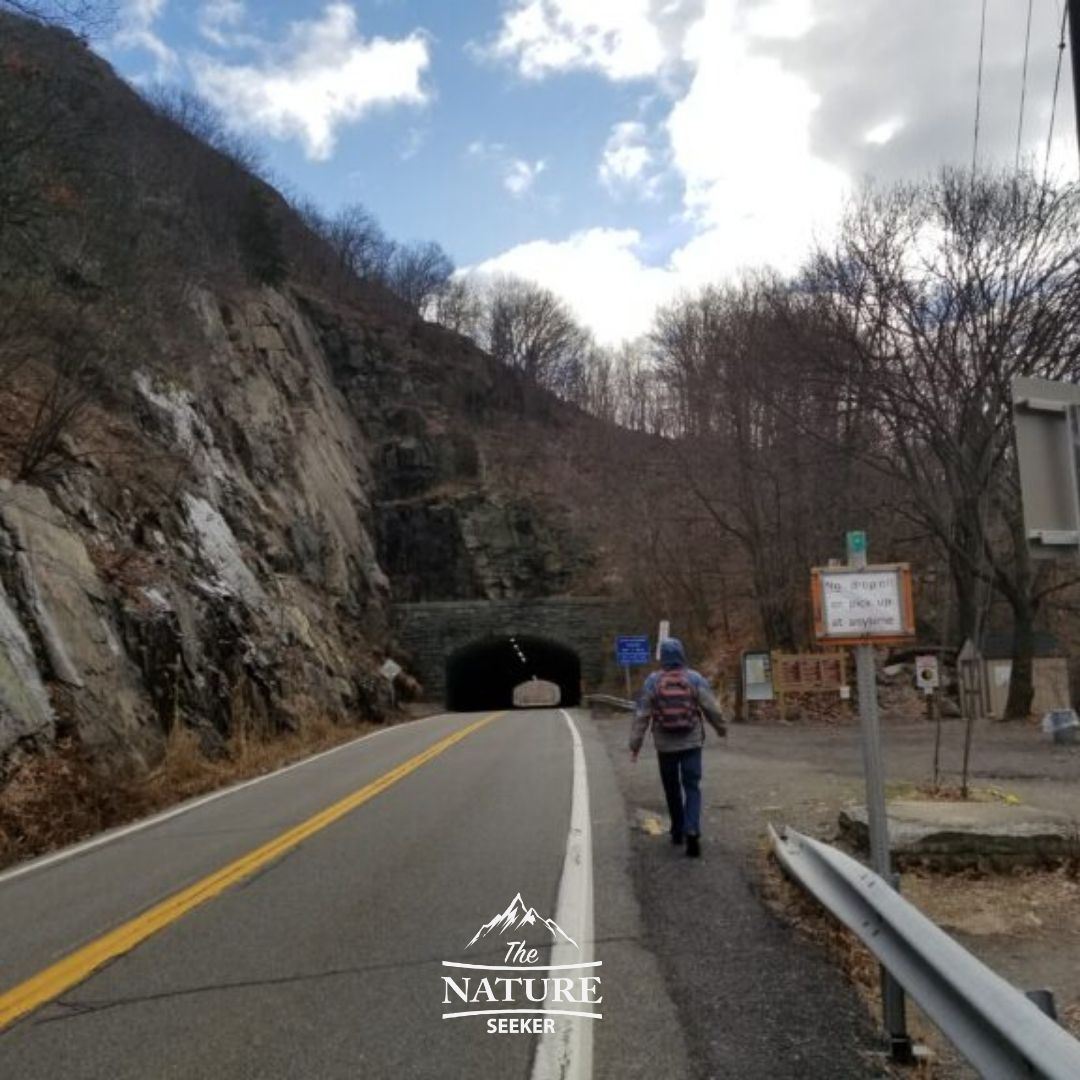 1) There is a parking area about 200 feet away from the start of the hike.
You'll park your car there, and make your way towards the white trail.
2) The white trail is the main attraction and hike of Breakneck Ridge you probably heard about and it started right before you enter a tunnel. On a map it is known as "BR".

3) You'll make your way to the right, and basically hike over the tunnel, and when you return, you'll go around the mountain and walk back to the parking lot underneath the tunnel:
4) Don't worry about missing the start of the trail. Just remember, it's right before the tunnel area you see above and there is also a large sign which represents the start of the trailhead. 
5) The official sign will let you know of 3 ways to do Breakneck Ridge (the short loop trail, all the way to a longer loop).

6) Depending on which one suites your time, will determine which one you do:
In our case, we did the 2 hour "short loop" trail (the sign on the left).
Keep in mind that no matter which trail/hike you choose to do, it will always begin with you starting out on the white trail first (the most difficult and popular).
7) It's just that once you reach the peak of the mountain, you'll be offered the opportunity to head back down the mountain and back to the parking lot via the tunnel I told you about (which is what we did).
This will involve you traveling up the white trail, crossing into the yellow trail, then the green and finishing it off with the red which is easy and has you make your way back to the road.
8) If you have more time and wish to explore more areas, you can elect to do the other trails and some locals told us the 4 hour, Cold Spring trail is highly recommended as it gives you a great view of Manhattan (it's a longer version of the Breakneck Ridge hike basically).

9) In terms of hiking gear for Breakneck Ridge, pretty much any hiking shoes that have good trip will do. For my first hike there, I wore my Ozark Trail Running shoes and they performed perfectly for me. On my second hike on Breakneck Ridge, I used the Salomon Speedcross shoes.
10) If you're worried about getting lost, it's unlikely since this trail is pretty straight forward, but you should ideally download or take a picture of the trail map (which is available at the trailhead of Breakneck Ridge) before you start just in case. Make sure to decide on which version of the hike you wish to do:
Here's a tour of Breakneck Ridge (it gets steep and difficult fast).
There is no working your way into this hike.
It becomes difficult and steep from the moment you step foot onto the trail and it will involve you having to climb through areas like you see above.

I would recommend you take your time especially on these slopes. The faster you try to complete this hike = the faster you'll get tired from it.
I also recommend using the trees for leverage as they helped my buddy and me get to the next steps of this hike on numerous occasions.
Also notice the white marker on the tree in the picture above.
This indicates you are on the white trail and on the right path. It's actually very hard to stray from this trail so it's not something I'd worry about.
These markers appear very frequently as you make your way up and in some cases, you'll be shown white arrows indicating where to go next.
In some cases, these white arrows will guide you through easier versions of the hike and you will also have the chance to choose whether you want to do an easier or harder version. 
Since there are 4 "checkpoints" to Breakneck Ridge, the first one is fairly simple to reach and once you do, you'll be able to take a nice shot of the flagpole and scenic view around it.
Now if you are very tired by the time you reach this first area, take a break. From here, you can elect to go back down, or continue up (and it gets harder if you do).
Personally I loved and welcomed the challenge of continuing so for myself and the buddy that came with me, it was a clear answer: Keep going up!
And the views do get slightly better as you continue up, but it's the challenge of the climb that I found most attractive about the Breakneck Ridge hike.
Now as I said, it gets more difficult and sometimes dangerous, so let me get into the details of where I personally thought that was the case.
The good news is that it's easy to avoid these spots as you'll see shortly, so you don't need to worry about getting stuck there.
Areas of Breakneck Ridge where it gets really dangerous:
There are a couple of areas we saw while climbing that were optional to hike, which in our opinion seemed impossible and just crazy to do (see to the right):
If you're wondering, yes there is a full drop behind those arrows and unless you are an experienced hiker, I would not go into this area.
We decided to stick to the basic version of the hike and avoided places like this.
Keep in mind that despite these options being available throughout your hike, you can still omit them from it and choose which difficulty you wish to take on at Breakneck Ridge.
This flexibility is what makes Breakneck Ridge doable, even for people who have trouble hiking, but in the end, make your own choice based on your level of confidence in hiking.
We went for the more moderate version, and at times tried a few hard versions of the hike to challenge ourselves further.
But easier versions are available nonetheless.
Reaching the "top" of Breakne

ck Ridge (and where to go after):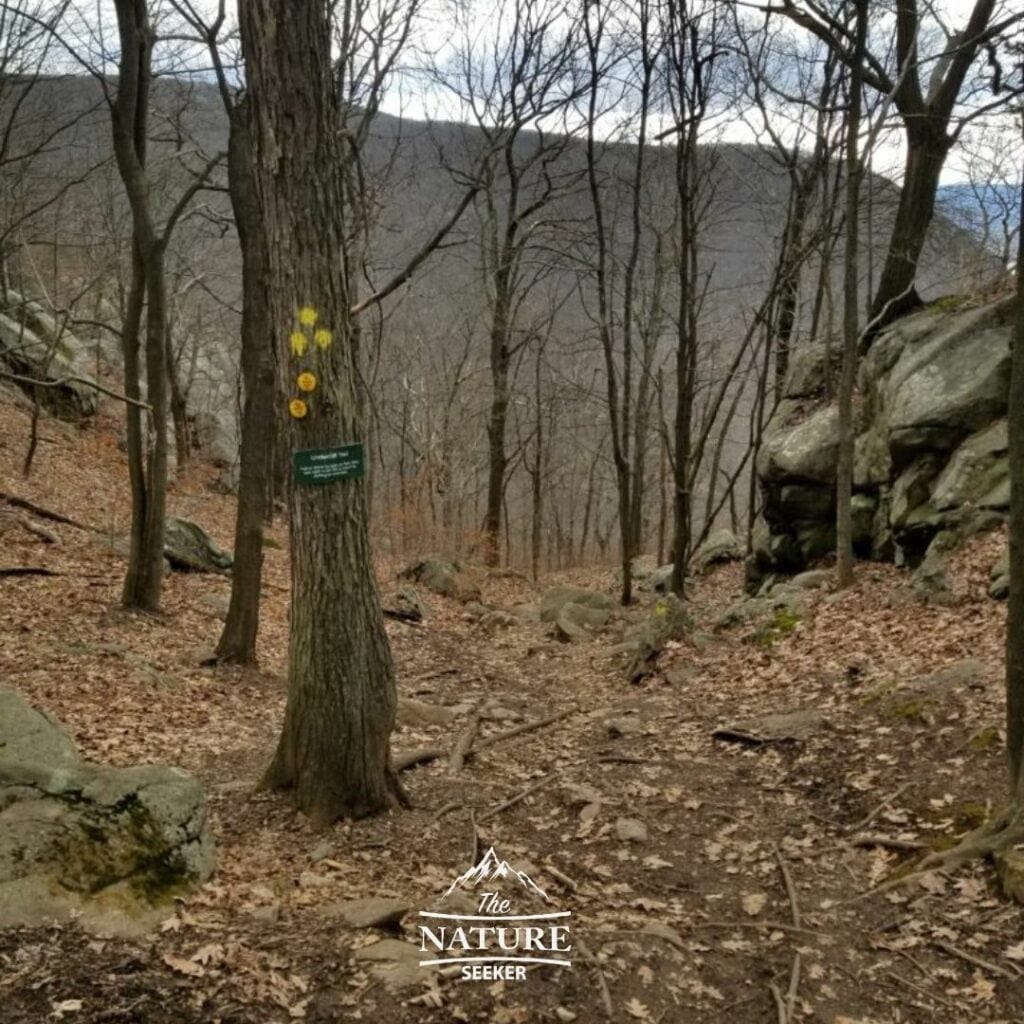 The 4th peak of this mountain has you going through some very shady looking climb. It's steepness reminded me of the rope climbing area in Coyote Gulch which is very similar, but even higher to be honest.
The rocks are very smooth and I was surprised at how well my hiking shoes stood against this, especially with some ice on the trail.
But I would recommend you bring good hiking shoes when you go:
Anyway, once you reach the "top" of Breakneck Ridge, you will have 2 choices:

(1) Go back down (yellow trail), but around the mountain itself (red trail), completing the short loop.
(2) Or go further up Breakneck Ridge to the Fire Tower, before going back down another trail. To do this, just follow the white trail all the way to the end, then you will go back through a loop by following the yellow trail (it's a different yellow trail than the one that's part of the short loop).
Thrill seekers may wish to backtrack down the mountain the same way they came up, but for most people, you'll have 3 choices (as the trail sign indicated).
Like I said before, my buddy and had enough of the hike at that point and just wanted to make our way down (do the short loop), and so the remaining instructions will show you how to do that: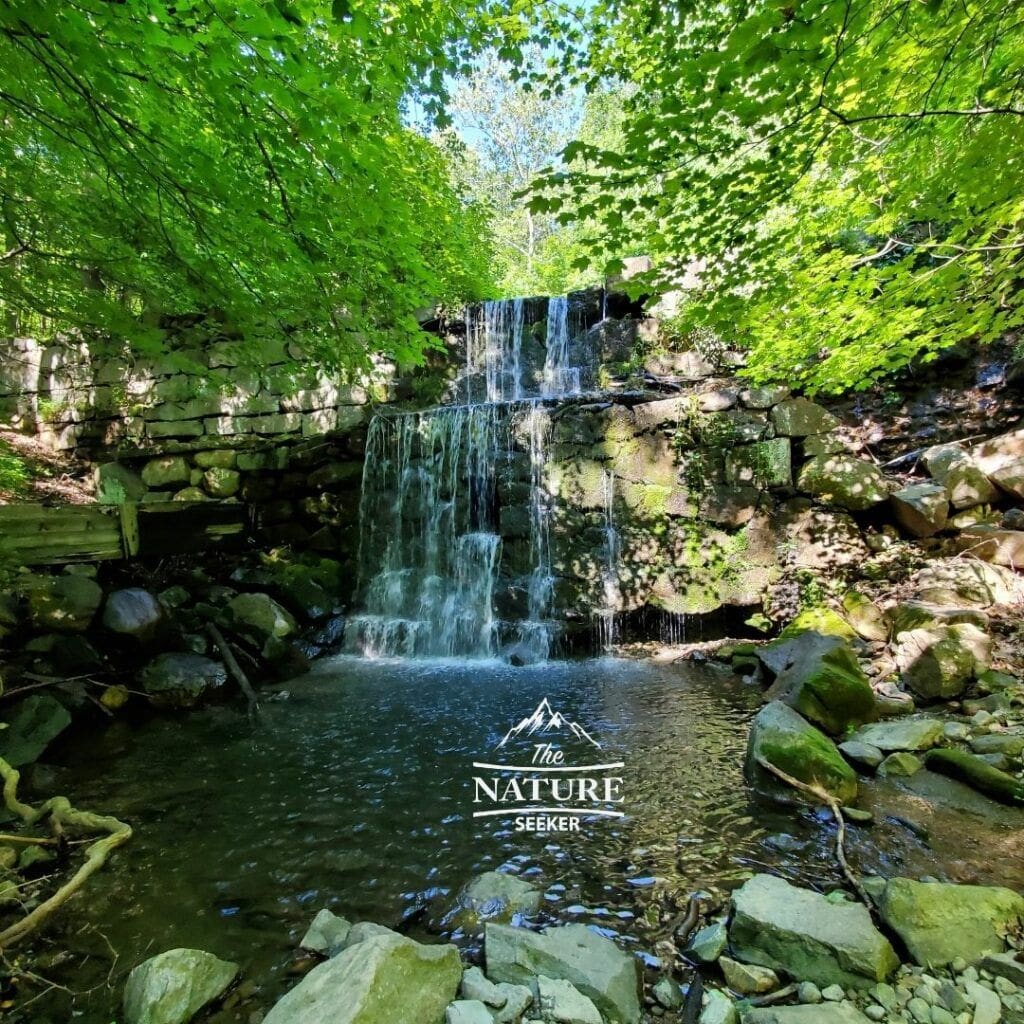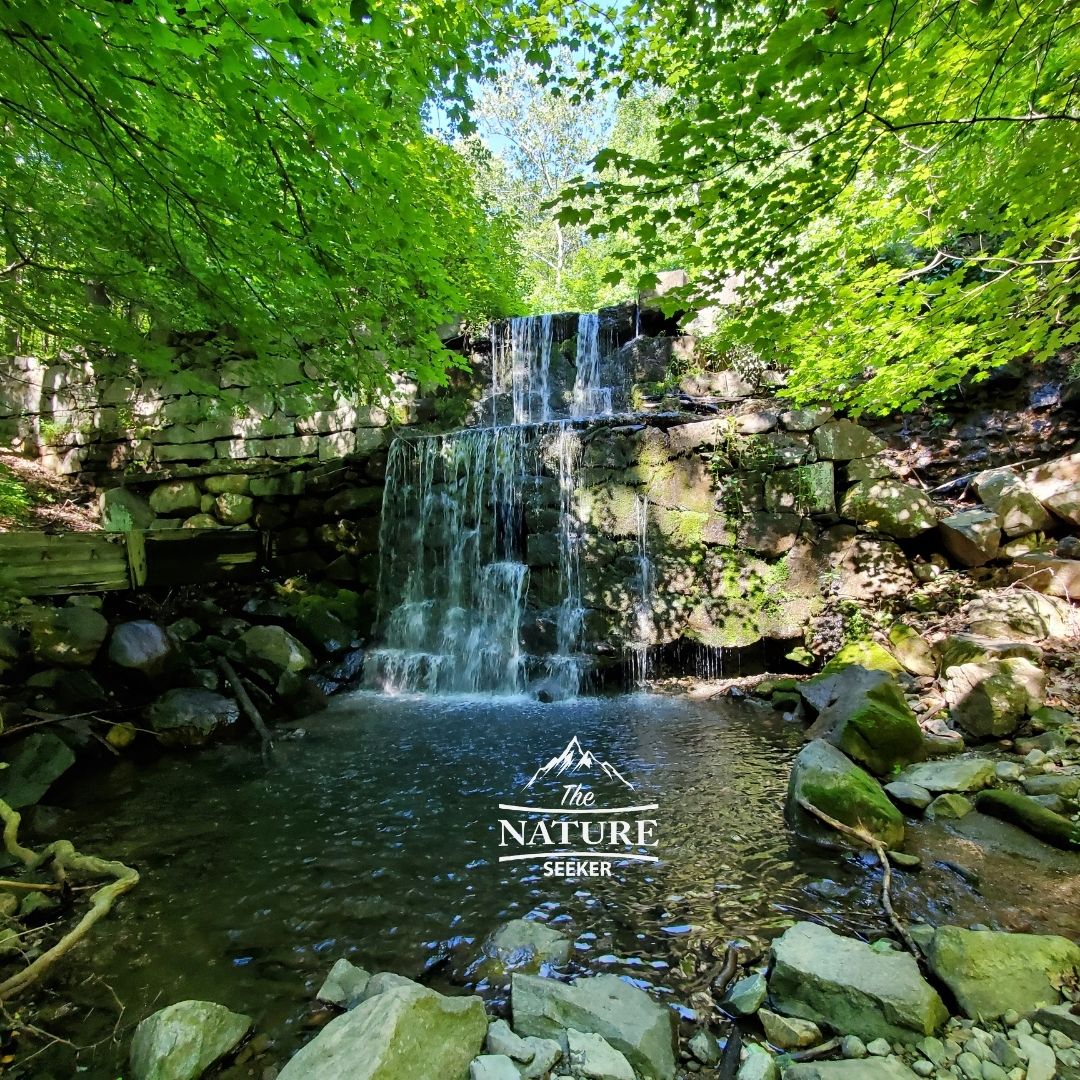 1) First thing's first, you will need to look for a yellow trail marker. Once you do:
2) Follow that marker down the mountain (behind Breakneck Ridge),and eventually you'll see signs for the green trail. 
3) The green trail takes you close to the road and parallel to a river that runs near Breakneck Ridge.
It was actually a very peaceful and scenic hike in this region, despite the winter season and everything looking barren. 
Yet, we still enjoyed this part of the hike. And again, all along the trail, regardless of which one you're on, it's easy to navigate.
4) The last trail (red) will take you back onto the road, which you'll then follow like I said before, go under the tunnel, and back to the parking lot to finish off your hike.
But before you reach the road to do that, do note you'll cross beautiful streams and this beautiful waterfall too:
If you're going to hike up Breakneck Ridge, here's another tip I have to offer: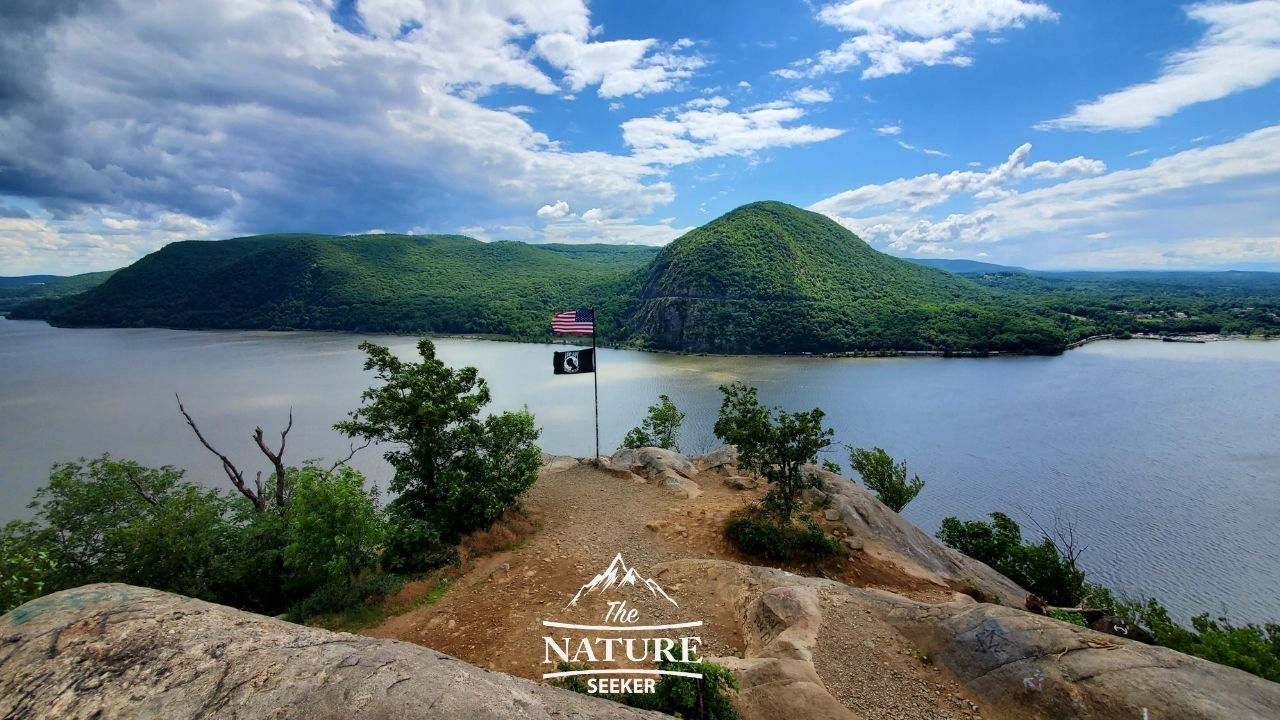 The only thing I'd suggest is doing this hike on weekdays since it is popular and gets packed quickly, especially during summer. This is when it's most beautiful in this area.

In fact, during a second hike on Breakneck Ridge, I went in late June, during the middle of the week and still the parking lot was packed. Never the less, it's worth going for views like this:
Our hike through this area (the 1st one in the winter) was on a Saturday and even despite it being very cold, the parking lot was a little over halfway packed, and this was still early in the morning.
By the time we finished the hike, the parking lot was almost full. Imagine what it looks like in the summer! And if you want to avoid all of that, just go either very early and/or during a weekday.
4 different ways to hike Breakneck Ridge (beginner-advanced levels):
The following 4 trails I am sharing with you all start at the same place which is the official Breakneck Ridge Parking lot.
You will begin on the white trail (BR) and from there depending on your skill level, time and interest, choose to do one of the 4 options. There are actually more trail options available, but these 4 are loops and popular.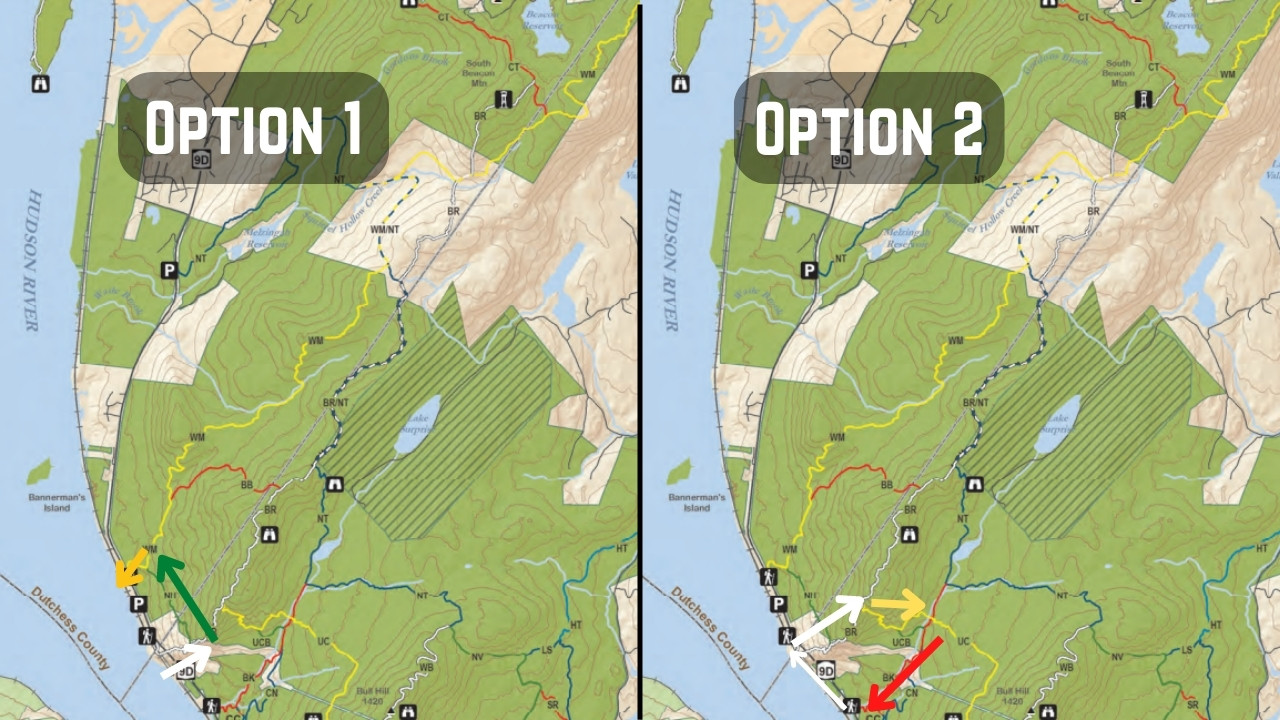 Option 1 (1.5 mile loop. Shortest and easiest):
Start at Breakneck Ridge Parking lot.
Begin on the white trail (BR).
Hike up to the Green trail, make a left.
Follow the green trail to the yellow trail.
Return to the parking lot via yellow trail.
The green trail is relatively easy to hike down on and has steps.
Option 2 (3-4 mile loop. Moderate-hard, but short):
This was the trail I mentioned doing above, but it's more condensed here:
Again, start on Breakneck Ridge Parking lot.
Again, hike up the White Trail (BR).
Pass the green trail from option 1 (go higher basically).
Reach the yellow/white fork. Take the yellow trail down.
When reaching the bottom, switch to the red trail.
Take the red trail to the road, then make a right.
Go under the tunnel and you're back on the parking lot.
Option 3 (6 mile loop and strenuous):
Start on the same parking lot.
Take the same BR trail.
Pass the green trail fork.
Pass the yellow trail fork (basically stay on the BR trail).
You'll reach the summit of Breakneck Ridge.
Eventually, you'll come across the red fork intersection.
Make a left and you'll be on the red trail (not the same as option 2).
Take the red trail down, until you hit the yellow trail (different yellow trail than option 2).
Make a left and follow the yellow trail down to the parking lot of Breakneck Ridge.
Option 4 (9 mile loop, most difficult):
Start on the same BR parking lot.
Follow the white trail (BR) all the way to the end where you'll reach Beacon Fire Tower.
While you are on the white trail, it will mix with other trails (blue, then yellow). Just stay on the yellow trail.
Once you reach Beacon Fire Tower, turn back on the same white trail (now mixed with the yellow trail) down.
When the trails divide, follow the yellow trail to it's end point back down to the parking lot.
Best lightweight hiking gear I recommend wearing for Breakneck Ridge:
Don't bring anything heavy (or a lot) on this hike other than essentials. Wear good hiking shoes and other helpful hiking accessories. This is what will help a lot:
Common questions about hiking Breakneck Ridge:
How difficult is Breakneck Ridge?
There are numerous ways to hike Breakneck Ridge but for the most part, it is a difficult and steep hike especially the first mile from the parking lot.
Are there bears in Breakneck Ridge?
While bears are rare to encounter in Breakneck Ridge, they are there sometimes.
How do you get to Breakneck Ridge from NYC?
You can either drive north on road 9D to reach the Breakneck Ridge trailhead or take a train from NYC to Beacon Station (very close to Breakneck Ridge trailhead).
Can dogs do Breakneck Ridge?
I have seen numerous dogs on the Breakneck Ridge hike, but there are small sections of it where they are unable to go further without getting carried.
And that is pretty much all I can say so far about Breakneck Ridge.
If you have already hiked Breakneck Ridge and have some other tips to share, let me know as well! Aside from this hike, there's other cool hikes around it which I listed in this post on the top Hudson River Valley hikes to check out.