18 Best Hikes Near NYC That Make For Perfect Day Trips
In this post, I want to show you my personal list of the 18 best hikes near NYC that I've found over 2 decades. As a local of the city, I love to travel outside of it whenever possible and find the most amazing trails, and every time I do that, I am amazed at just how many options there are, but not all of them are awesome which is why the list below is filtered to show you the top options.
Most of the hiking trails near NYC I'm sharing with you are great for day hike trips and I'll list how near each one is from NYC as well as other details you need to know (like the difficulty).
Here is my list of the 18 best hikes near NYC for day trips:
Breakneck Ridge
Giant Stairs Palisades hike
Mohonk Preserve's Labyrinth hike
Delaware Water Gap's Mt. Tammany hike
Reeves Brook Loop Trail at Harriman State Park
Dover Stone Church Cave hike
Croton Gorge Dam hike
Kaaterskill Falls hike, Catskills
Monument Trail, High Point State Park
Gertrude's Nose hike at Lake Minnewaska
Sterling Forest Fire Tower hike
Bull Hill Loop Trail at Hudson Highlands
Overlook Mountain hike in Woodstock
Lost City Loop hike at Coxing Hills
Stairway to Heaven Trail in NJ
Lemon Squeezer at Harriman State Park
Popolopen Torne trail
Bontique Crag
1) Breakneck Ridge (great day hike near NYC):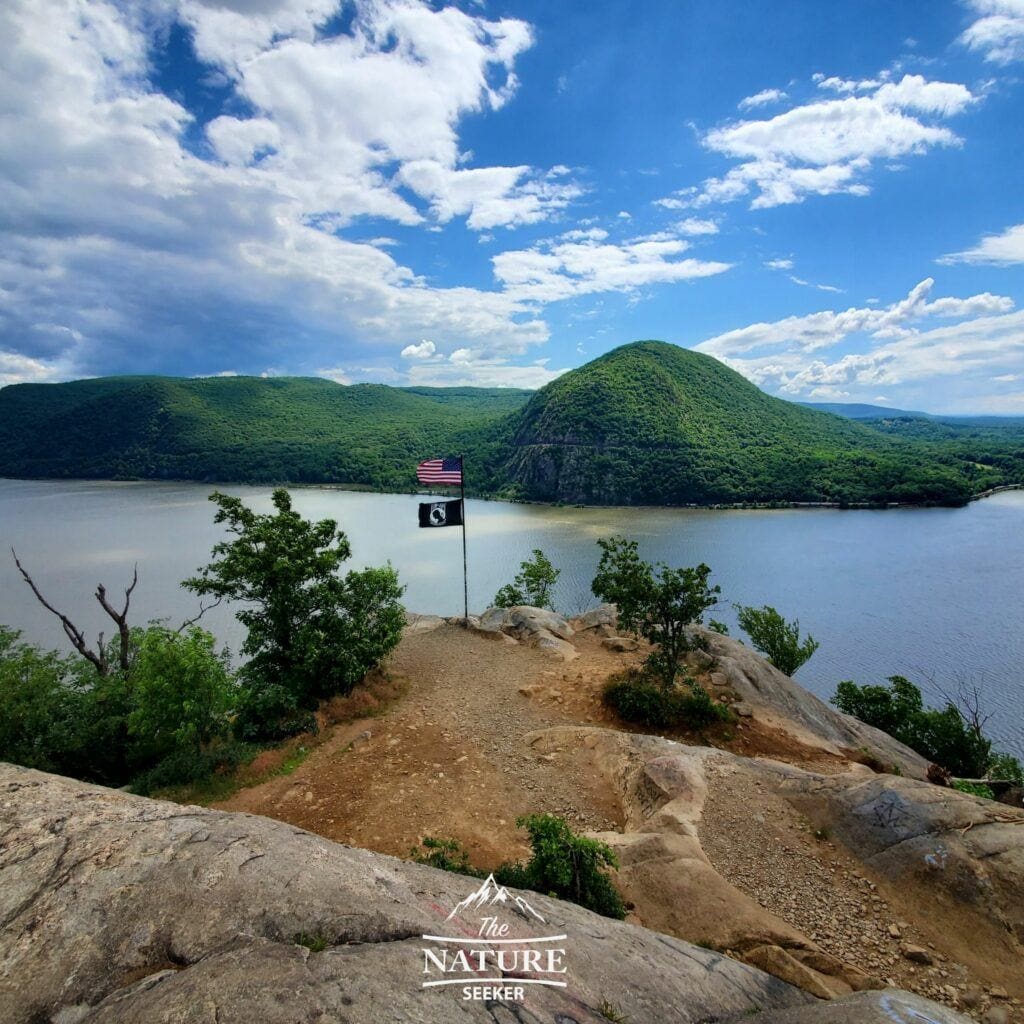 Trail details:
Breakneck Ridge might be the most popular day hike for NYC residents to take. This is a very fun short/long and steep/strenuous hike that many NYC residents actually visit on weekends on day's off. It takes the average person 2-3 hours to hike the main trail up Breakneck Ridge and aside from there, you'll also find some beautiful hiking trails attached to the main one there one of which leads to a Fire Tower.
If you are going for the first time, try to go when it's cold (not icy) or on a weekday to avoid the crowds and go with at least one friend to share the experience. This hike is very doable in one day and by the time you return to NYC, it'll likely be late in the afternoon (provided you start Breakneck Ridge early).
2) Grand Stairs Palisades (closest day hike near NYC):
Trail details:
If you're familiar with the west side of NYC and what the G.W Bridge Looks like, you'll probably know that there are giant mountains there, as well as the Palisades Parkway. However, what you may not know is that there is a cool park above and below those mountains called Fort Lee Historic Park where you will find plenty of hikes and the most popular one on that list is Giant Stairs Palisades and it is one of the best hikes in NJ.
3) Labyrinth hike: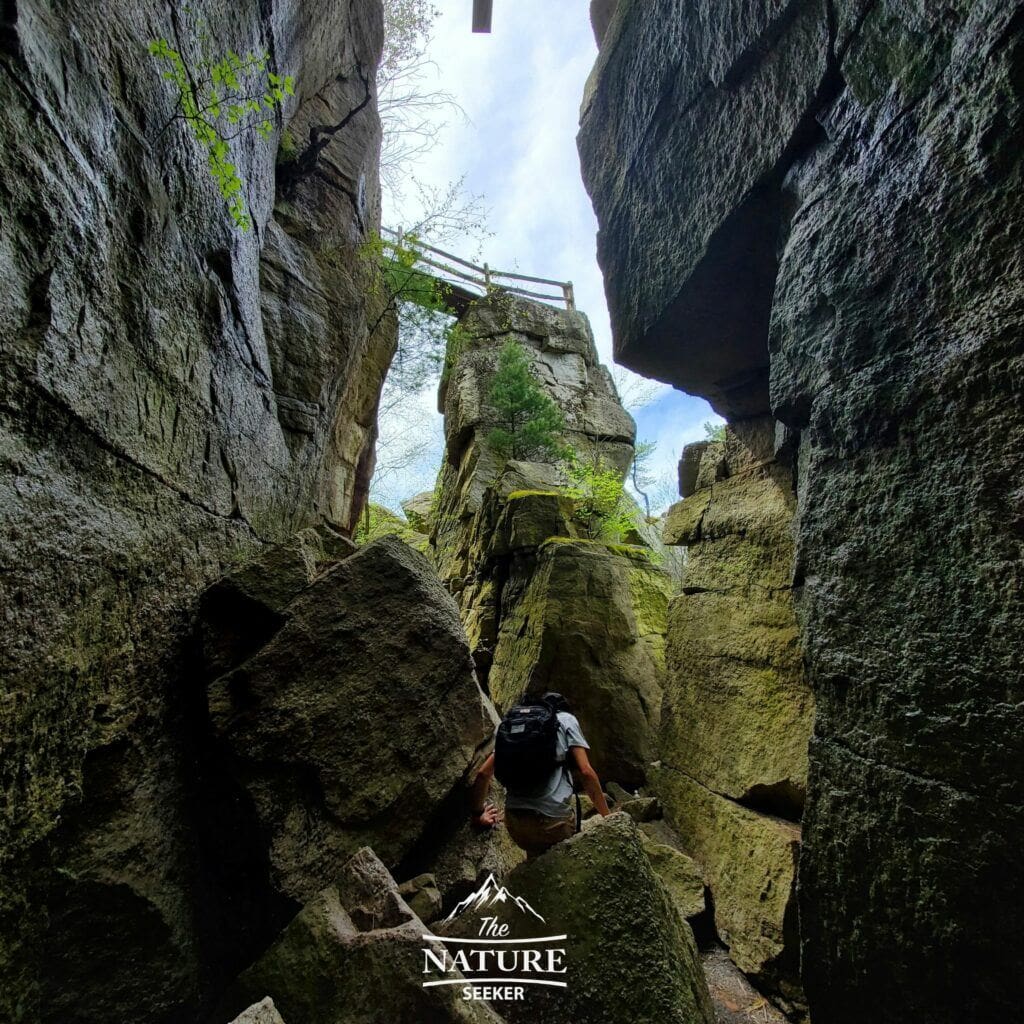 Location: Mohonk Preserve
Difficulty: Moderate–strenuous
Distance: 2 mile loop
Trail details:
The Labyrinth trail is one my personal favorites. This trail is also considered by many to be one of the best day hikes withing 2 hours of NYC.
On this trail, you'll go through amazing gorges, climb ladders and see incredible scenery. I've been on this hike about 4 times and each time, I love it just as much if not more than when I did it before. Before you do this hike though, know that it does involve climbing and going through some dangerous rocks/caves in places, so be careful. Additionally, do note that this is about 2 hours north of NYC, so wake up early if you plan on coming here and that there is also a fee to even enter the park ($35 per person) and a 2 mile hike to even reach the start of it (it's not difficult though).
4) Mt. Tammany trail (Delaware Water Gap):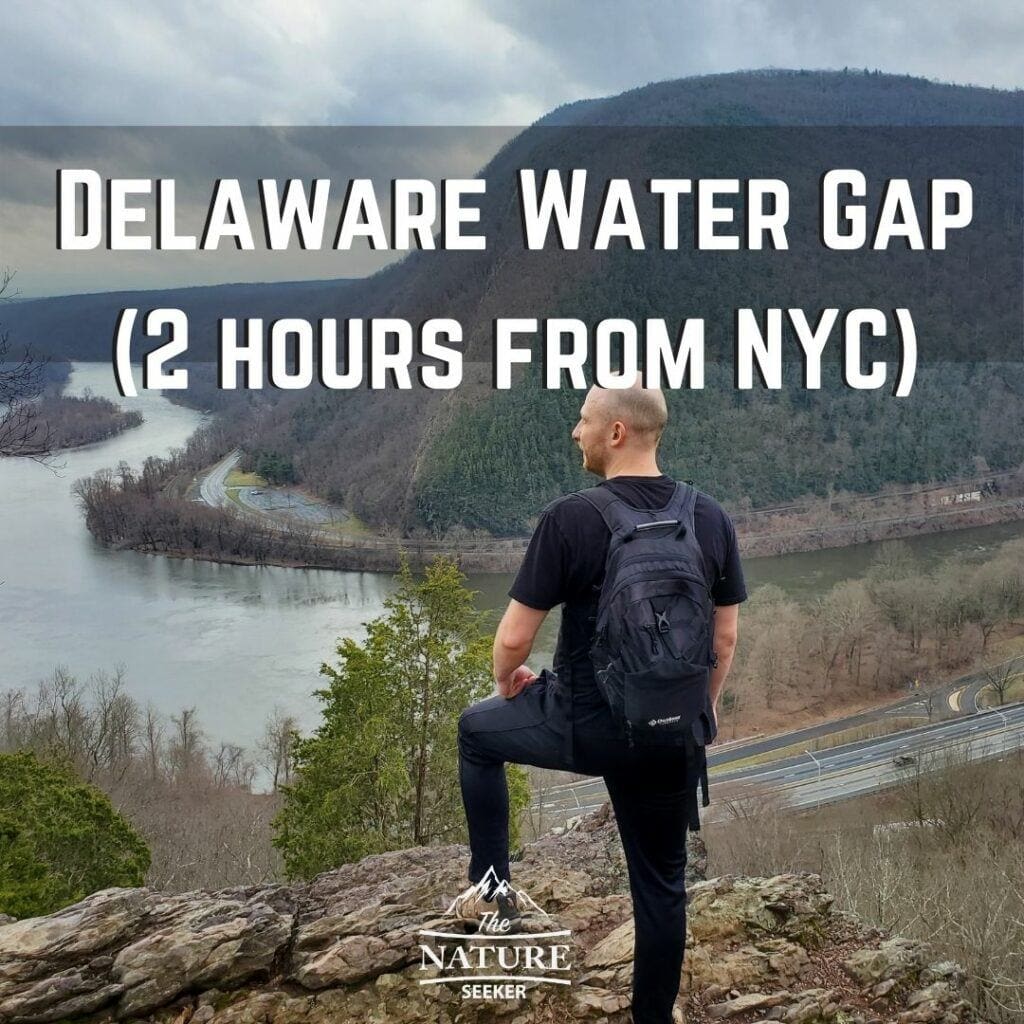 Location: Delaware Water Gap National Recreation Area
Difficulty: Moderate–

strenuous

Distance: 2-4 mile loop
Trail details:
The Mount Tammany hike is a very popular trail New Yorkers do and it's only 2 hours from the city. I've personally hiked it at least 5 times and it's a pretty nice and challenging trail. The hike takes you to a beautiful overlook of Interstate 80 and you can even cross over into Pennsylvannia there. Additionally there's a bunch of other hikes to see in Delaware Water Gap alongside the Mount Tammany Trail, but this is the most popular one.
5) Reeves Brook Loop Trail: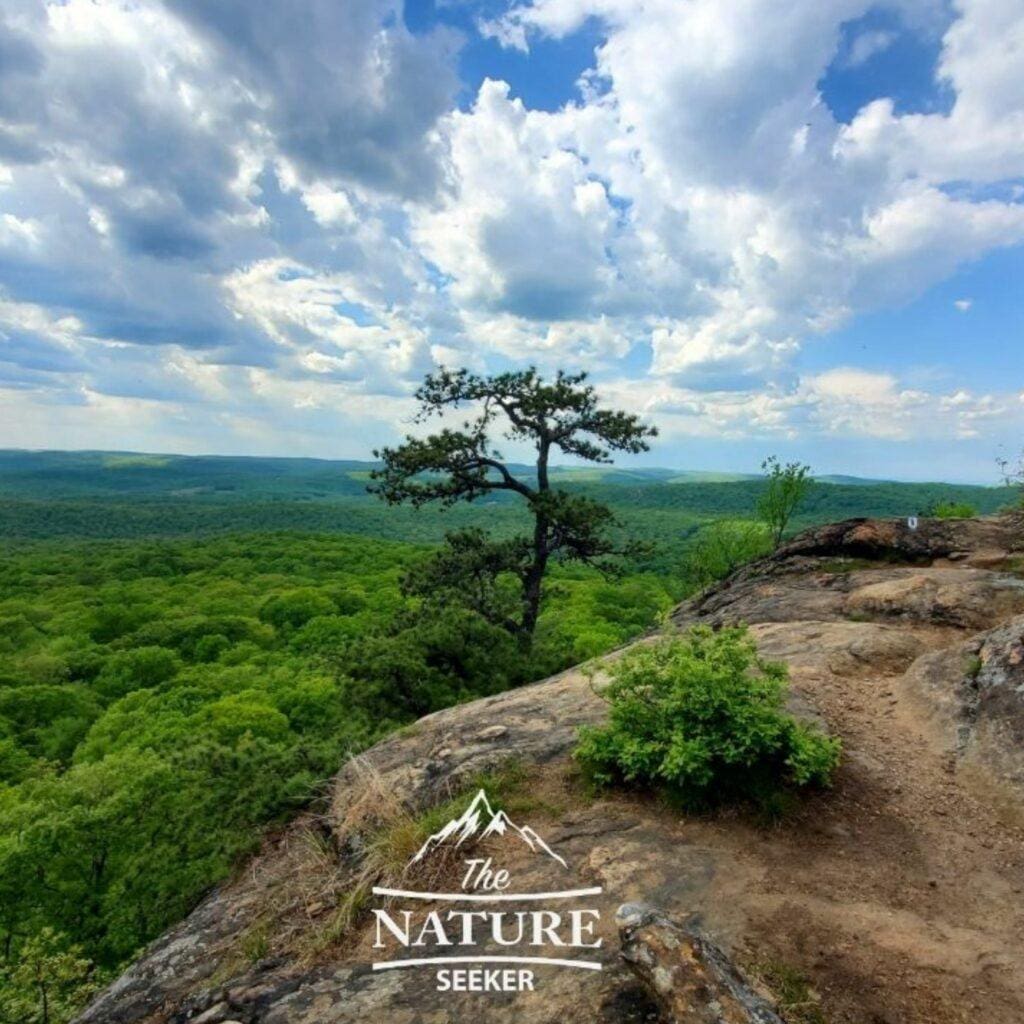 Trail details:
The Reeves Brook Loop trail is one of the most popular hikes people do when the visit Harriman State Park. The hike involves crossing 4 different trail marker colors through a river area, overlook view of the Harriman State Park Mountains followed by a challenging scramble, then a switchback section to finish up. This trail is short but very fun and at times a bit difficult because you can get lost in the woods here, especially during the last switchback section so be careful.
6) Dover Stone Church Cave hike: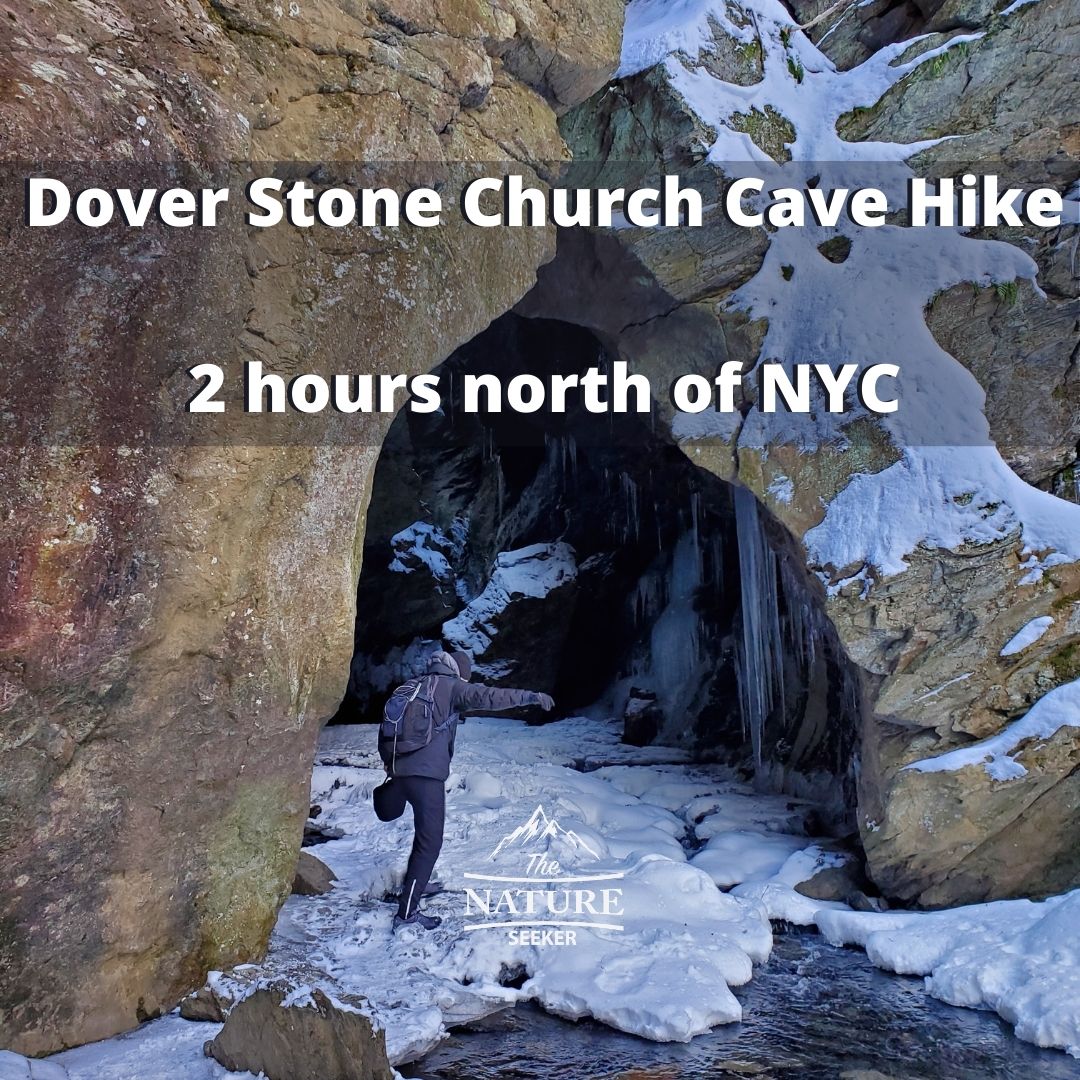 Location: Dover New York
Difficulty: Easy
Distance: 1 mile in an out
Trail details:
This is a nice family friendly hike that leads people through a plains area, into a forest, through a simple stream, then up it to an awesome cave. This cave is beautiful to explore year round and there are also other optional hikes available nearby. Overall, this is a great day hike outside of NYC and if you have extra time, you can squeeze in another one on this list to keep the fun going. In addition to that, if you do visit this place, the cave does have a waterfall inside it, and it's just an overall cool spot to check out.
7) Croton Gorge Dam hike:
Location: Westchester NY.
Difficulty: Easy.
Distance: 1-2 miles in and out.
Trail details:
Croton Dam is a popular spot for locals and NYC dwellers to explore. It's a large and very beautiful dam with a park next to it, and trails going in and out of it. I've visited this area twice and in my opinion the Croton Dam is one of the best waterfalls in New York that I've ever seen, even though it's man made.
Hikes in this region are pretty easy and scenic to explore, but the gem is definitely the dam itself, which you can explore from the top (for free) and from the bottom of it, which does require a parking fee of $10 to enter. There are also several trails over the top of the dam and under it to check out.
8) Kaaterskill Falls hike:
Location: Catskill Mountains NY
Difficulty:

Moderate

Distance: 2-3 miles in and out
Trail details:
Out of all the hikes near NYC that I've done, the Kaaterskill Falls hike is the one I've explored more than any others. It's one of the largest waterfalls in New York State. There are at least 3-4 different ways to reach it and one of the most popular is parking by the Kaaterskill Falls trailhead by road 23 and then hiking up to it.
A plan B hike to get there too (if the first option is closed which has happened before) is to visit the Laurel House Road Parking lot which has a short trail that takes you to the top of this waterfall. There are also additional connecting trails there which lead to the bottom of the waterfall there too.
9) Monument Trail (High Point State Park):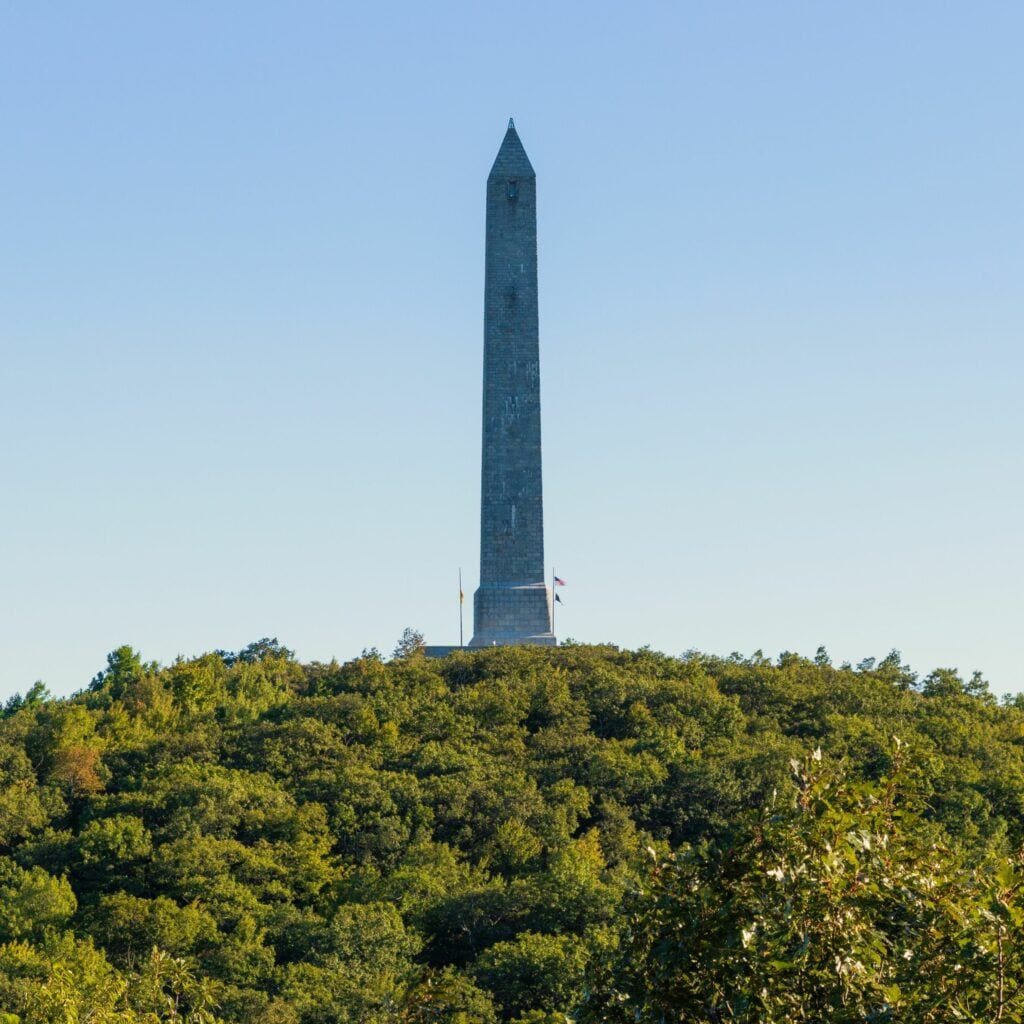 Trail details:
The Monument Trail is a very scenic hike to the top of High Point State Park where you will be able to see the Delaware River, check out the famous Monument itself and also be able to cross through the Appalachian Trail. The hike is pretty long but combined together with the many other things to do in this park can make for a great day trip from NYC to check out.
10) Gertrude's Nose hike: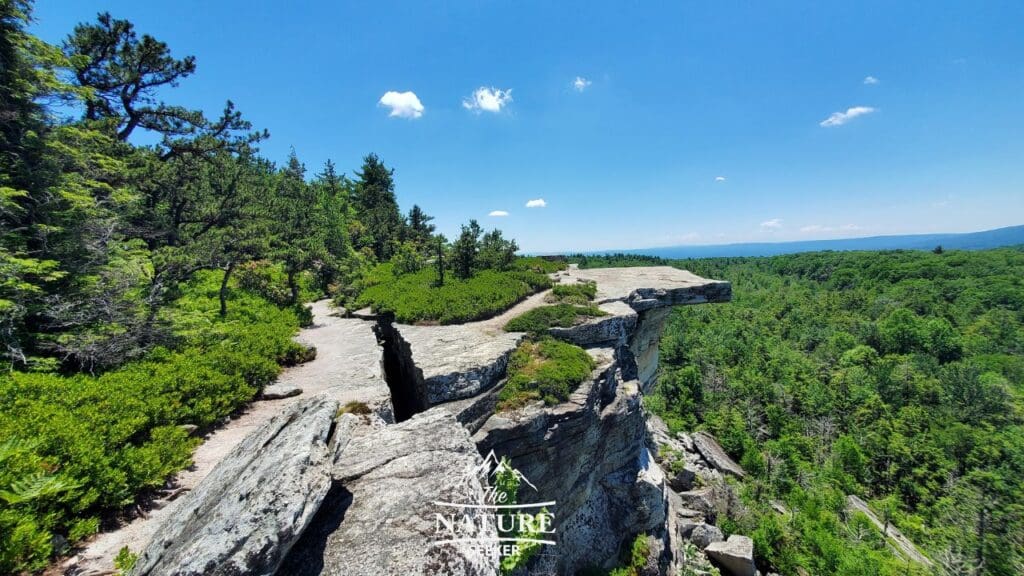 Trail details:
The Gertrudes Nose Trail takes you through some of the most scenic areas of Lake Minnewaska. On it you will be hiking through the upper canyons of the park while overlooking the mountains nearby. The actual Gertrudes Nose is an overlook you reach by mile 3 into the hike before electing to either turn back or continue on a connecting trail to make it into a loop (which is how I recommend you do this hike). 
11) Sterling Forest State Park (Fire Tower hike):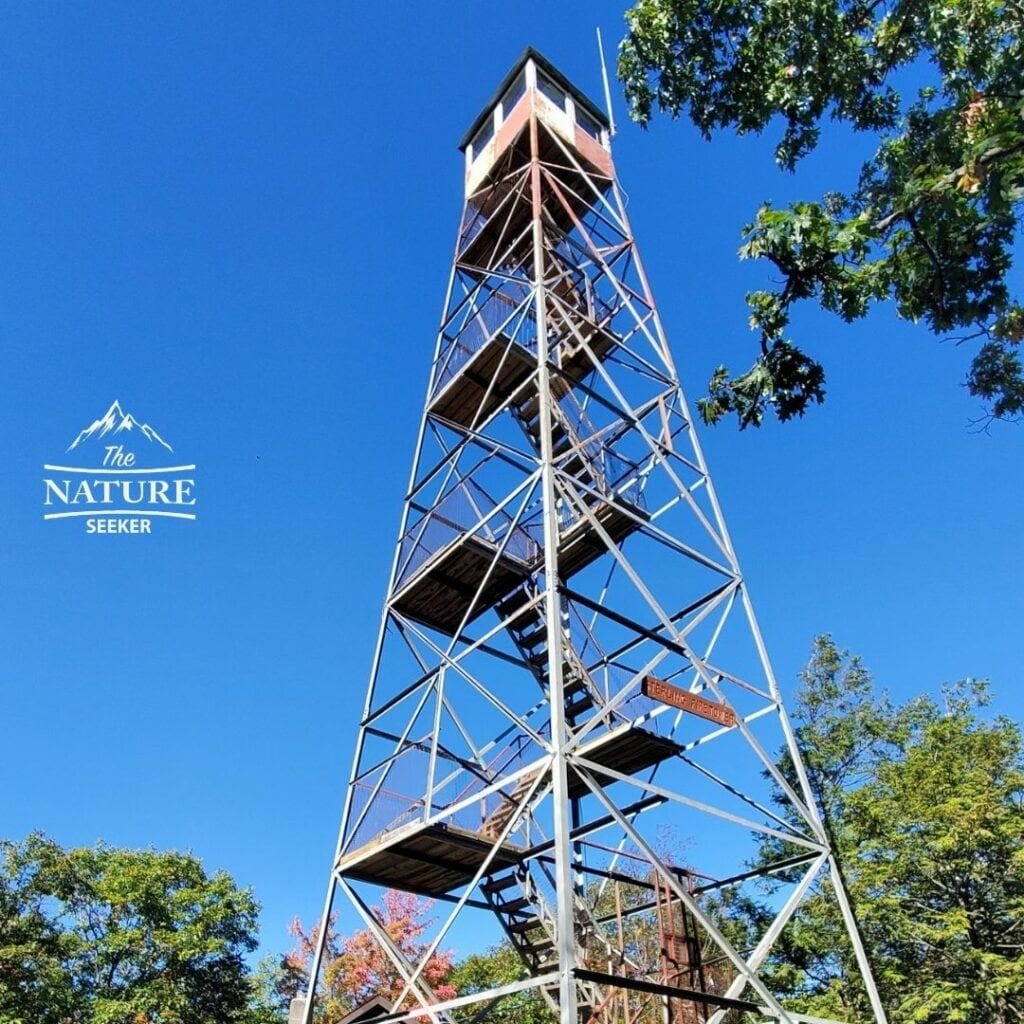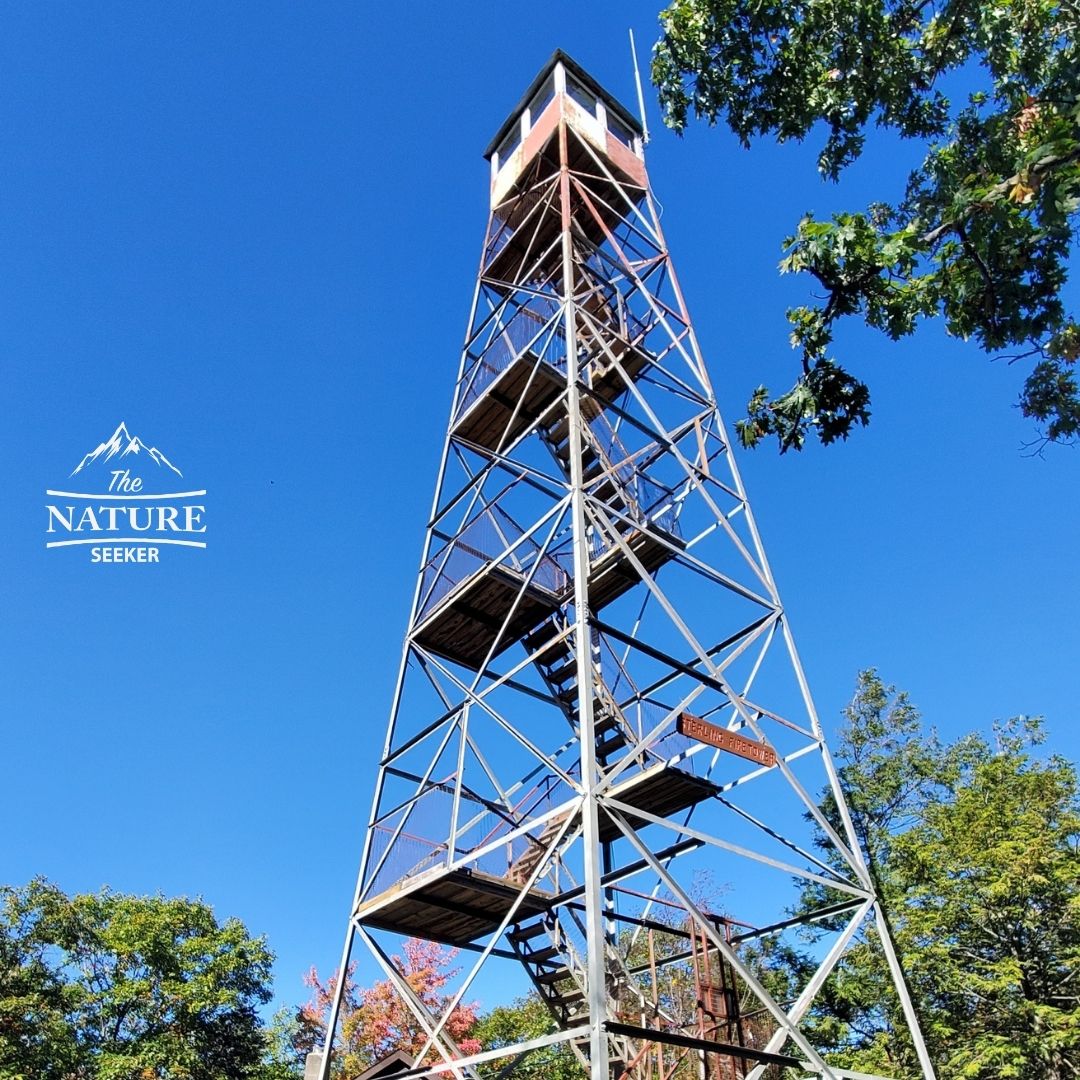 Trail details:
Sterling Forest State Park is an awesome place to explore near New York City for day hikes and in this particular case, one of the most famous hikes in it is the Fire Tower trail. It's one I've personally done before and it has several ways it can be hiked.
The one I elected to choose was is explained in my Sterling Forest State Park article and it basically involves parking on the western end of the park and hiking to it via 3 different trail markers. The Fire Tower is only about 2 miles from there and while it's the only one in this park, there's a bunch of other incredible Fire Tower hikes in New York you can also check out. I will say that the hikes in Sterling Forest State Park are better to do for experienced hikers as the trails aren't as well maintained as some of the others on this list, but at the same time there are way less people in this park so you can more freely explore the trails there.
12) Bull Hill Loop hike: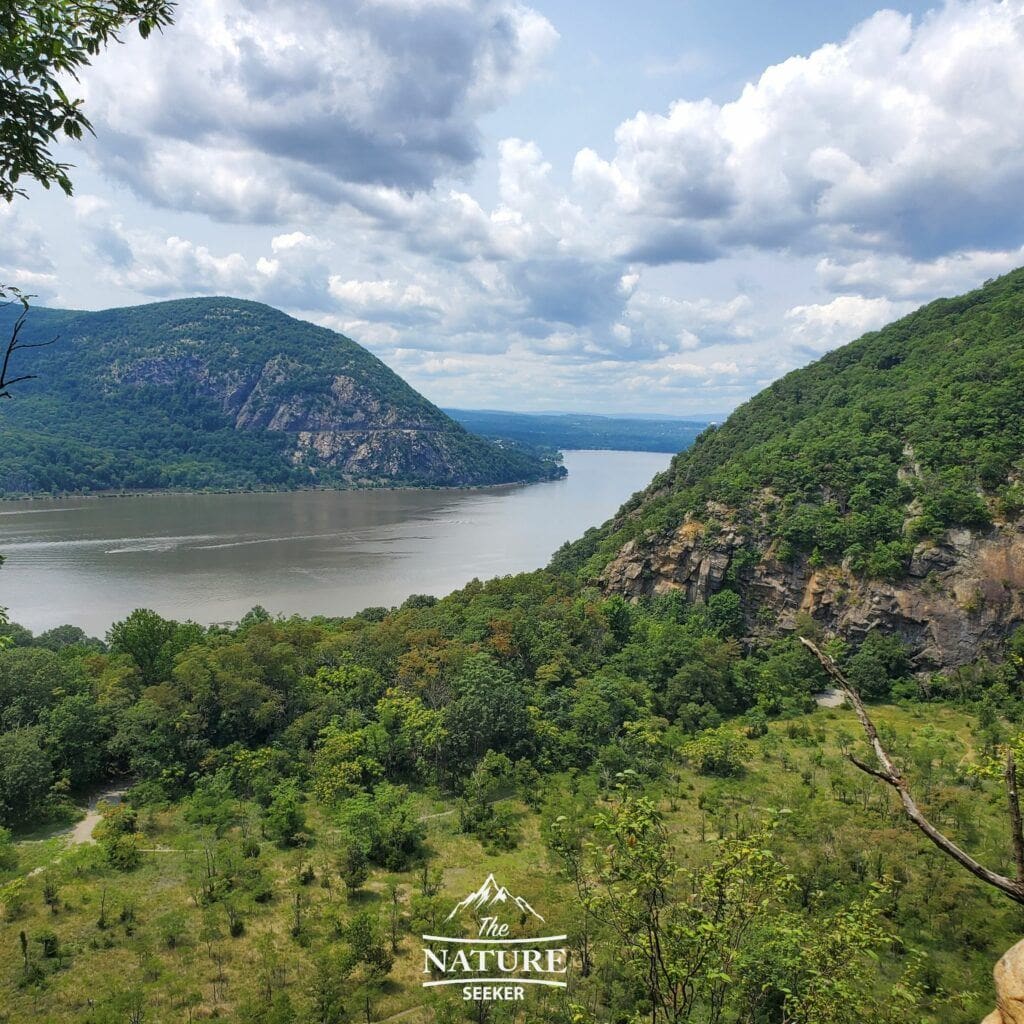 Trail details:
If the Breakneck Ridge hike mentioned earlier in this post is a bit intimidating for you (I can understand why), a great alternative hike to explore nearby is the Bull Hill Loop trail. It's located on the neighboring mountain (south) of Breakneck Ridge and is a really cool hike I've done a few times.
The scenic views are spectacular (better than Breakneck Ridge in my opinion), the hike is easier overall and towards the end of it, you get to explore some amazing ruins of an old estate, making this an all around fun and scenic hike. The tough part of this hike is the start (white trail) which is very uphill, but after that, it's much more manageable and fun. The end of the cool part (where you run into the estate).
13) Overlook Mountain (Woodstock NY):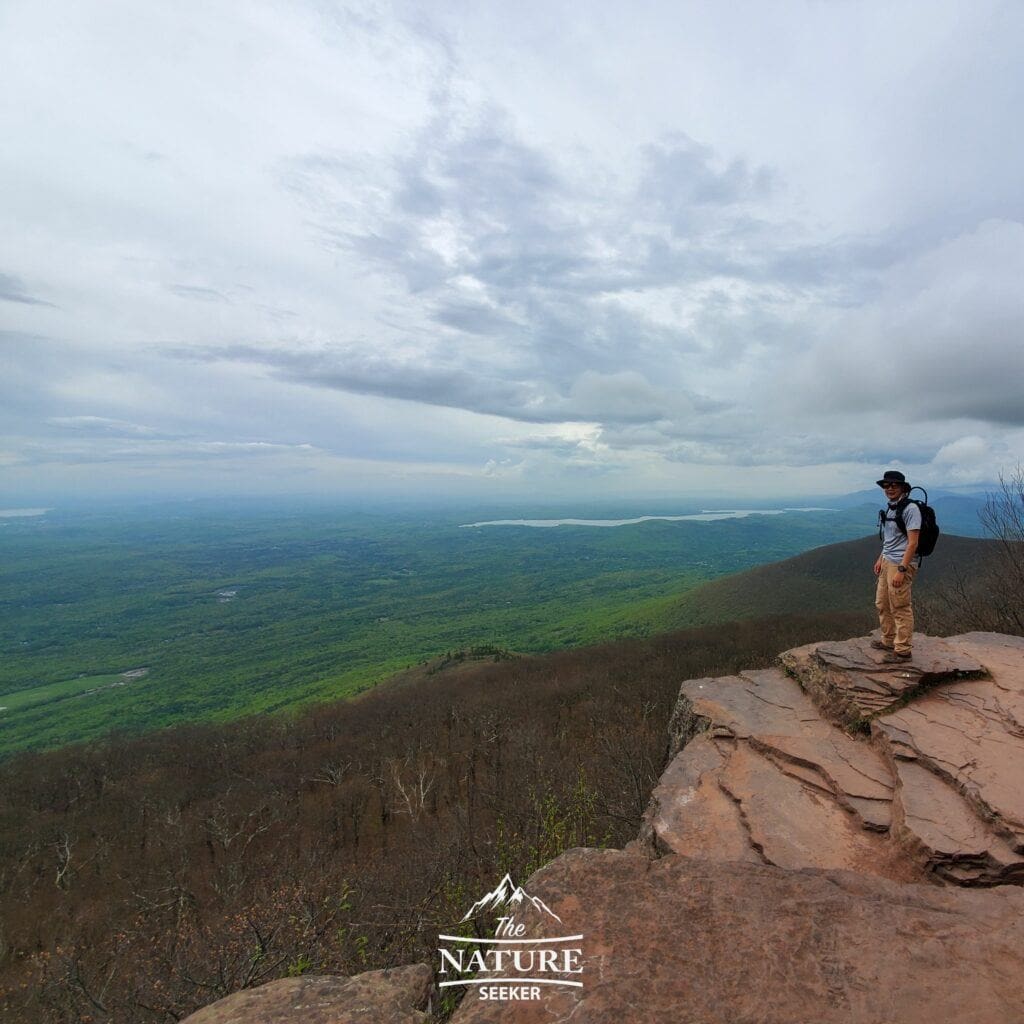 Location: Woodstock NY
Difficulty: Moderate
Distance: 4 miles in and out
Trail details:
Overlook Mountain in my opinion is a fantastic day hike near NYC. While it is a 2 hour drive to reach it, there is just so much to see and do when you get there that it makes for an entire day's adventure when you're there (connecting hikes, checking out Woodstock and much more). It's very scenic when you reach the top and in addition to a Fire Tower overlooking the Catskill Mountains, there is also a cool ruins building at the summit. Getting to the top to see all of this isn't easy, but it's worth the hike.
14) Lost City Loop:
Location: Coxing Hill NY
Difficulty: Moderate
Distance: 2-3 miles (loop)
Trail details:
Lost City Loop is a very nice, scenic hike that takes you to beautiful overlooks with crevices, canyons and other amazing sights. When I came here, I had the whole hike to myself and thoroughly enjoyed it and I do plan on coming back here with other friends just to show off how amazing it is. What's great about the location of this hike is that it's really close to Mohonk Preserve (about a 20 minute drive), and if you start a day hike at the Labyrinth and finish it early, you'll have enough time to do this one too (as was the case for me).
15) Stairway to Heaven trail: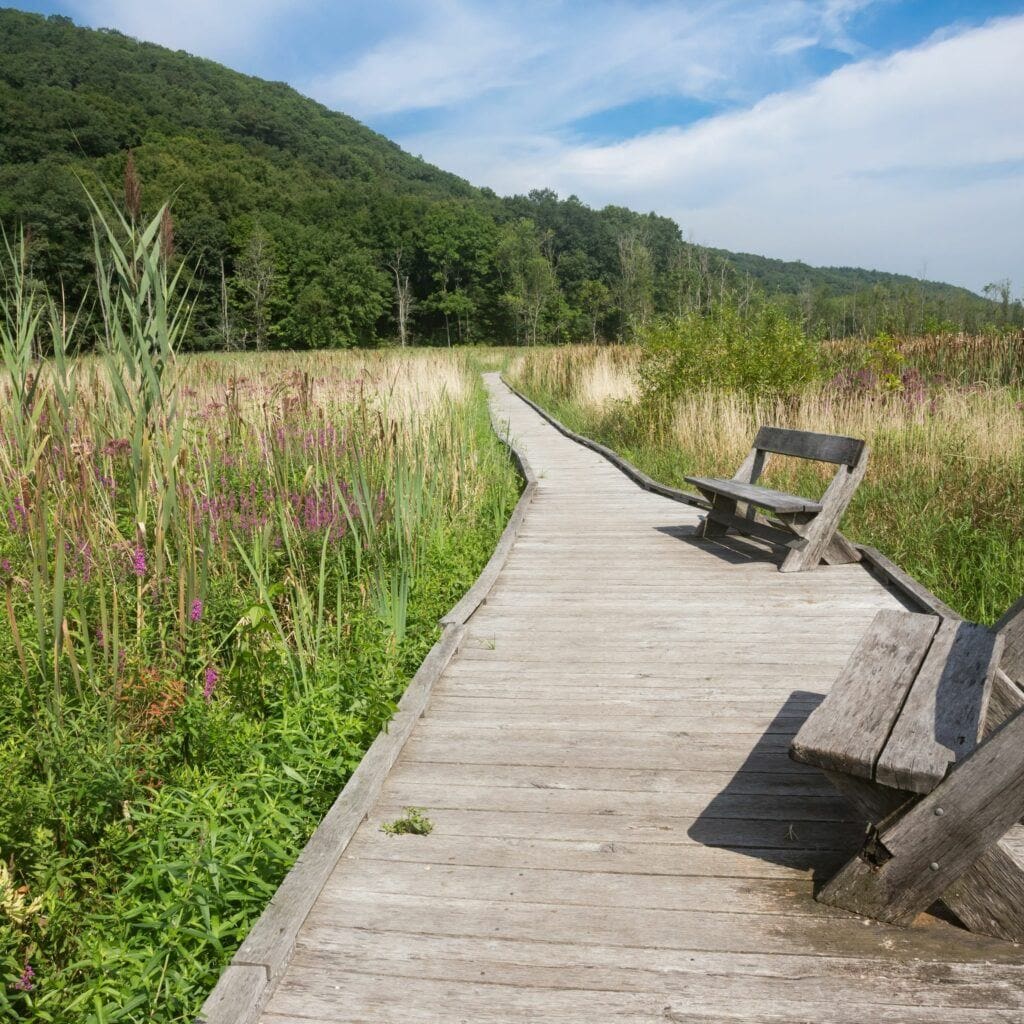 Location: Vernon NJ
Difficulty:

Easy

to

Moderate
Distance: 2-3 miles in and out
Trail details:
Stairway to Heaven is a very popular hike for NJ residents, but it's also another common one New Yorkers do. This hike actually takes you through a short section of the Appalachian Trail and there are at least 3 different things worth seeing on it:
The Stairway to Heaven overlook.
The mailbox next to that overlook where you can leave a personal note.
The boardwalk section of the trail which is south of that that's very scenic too.
16) Lemon Squeezer hike:
Location: Harriman State Park
Difficulty: Moderate
Distance: 3 miles in and out
Trail details:
I've contemplated adding this hike for awhile not because it sucks (it's actually stunning), but because reaching it can be a little annoying and confusing. On this trail you will cross a lot of boulders and have to do a bit of scrambling, but the experience and scenery of this hike is worth it if you are into these things.
The details of how to get to this trail is explained on the Lemon Squeezer Appalachian Trail post I wrote and yes you will also be on the same Appalachian trail for this hike as you are in the Stairway to Heaven option above, but the difference is that this part of it is further north of the Stairway to Heaven.
17) Popolopen Torne trail:
Location: Near Bear Mountain State Park
Difficulty: Moderate
Distance: 6 mile loop
Trail details:
The Popolopen Torne trail is another incredible day hike near NYC. It combines a pretty challenging hike (some rope areas) with incredible views of not just the Hudson River, but also Purple Heart Memorial Bridge and at the end you will find a flag with many props next to it for veterans. This trail can be tough to find but the official name is the Popolopen Torne trail.
18) Bonticou Crag Trail: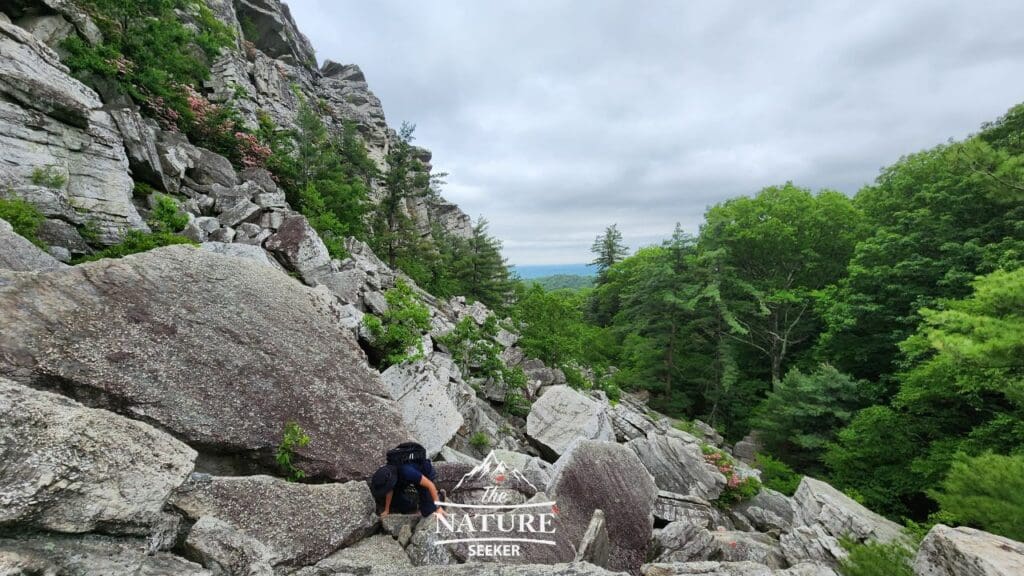 Location: Mohonk Preserve NY
Difficulty: Moderate
Distance: 3-6 mile loop
Fee: $15 for parking
Trail details:
The Bonticou Crag trail is another hike in Mohonk Preserve that I recommend all New Yorkers try especially those who enjoy scrambling giant boulders which this hike is famous for. It's very challenging but in addition to that you will also get to see some nice views of Mohonk Preserve and also have the option to add an additional 3 mile trail to this hike which takes you to a place called Table Rocks.
Questions about these hikes near NYC:
Is there anywhere to hike in NYC?
Absolutely. Inside NYC, there are popular parks like Prospect and Central park where you'll find hikes available, but you can also find tons of hiking trails near NYC as well like Harriman State Park and Delaware Water Gap.
How can I hike without a car in NYC?
There are many day hike trails you can explore outside NYC like in Hudson Highlands State Park and Bear Mountain State Park. You can reach these places by train.
Are there mountains near NYC?
Yes, the closest mountains near NYC are across the Hudson River in Fort Lee Historic Park. After that, the closest mountains are in Harriman State Park, then north of that the Catskills.
How far are the mountains from NYC?
20 minutes if you cross the George Washington Bridge (Fort Lee Historic park has mountains). The best mountains after that are north of NYC and about 1 hour away.
If you have any specific trails you'd like me to consider adding to this growing list, I'd love to know your recommendations below!