I've done the full hike up Mount Tammany Trail 4 times so far and this article is really meant to help those planning to do it for the first time understand what to expect.
Most people who hike up the Mount Tammany Trail do it because it's popular, and most of those people (at least from my run ins on the trail with them) don't really do much research ahead of time (They just do it on a whim).
The problem with this is that the hike is difficult for most people and without knowing what's expected of you physically, what to bring and so forth, you are going to make this experience much more difficult than it has to be and I've seen enough people suffer on this trail who didn't need to, so just take the time to read this first, make the proper adjustments before going and you'll enjoy this hike much more!
Quick info on the Mount Tammany Trail:

Name: Mount Tammany Trail.
Location: Delaware Water Gap.
Hiking distance: 3-4 miles (loop and other options available).
Difficulty: Hard.
Hike rating:

3 out of 5 stars.

Recommended hike? It's worth doing once for the views but the hike itself isn't all that fun and there are better alternatives around the Delaware Water Gap area in my opinion.
Although I've done this hike a number of times, I personally don't go out of my way to come here unless it's with new company that's never been here. It's a fun one time hike in my opinion.
What is the Mount Tammany trail?
It's likely the most popular hiking trail in the entire Delaware Water Gap region. There's also a lot of people who come here from other states and just as well, it's a popular day hike near NYC (about 2 hours from it).
One of the main things about this hike which makes it so popular is that you get great views of the Delaware river and it's also famous because the entire region is between NJ and PA.
When people visit Delaware Water Gap, it's either to see this specific region and/or to hike the Mount Tammany trail.
Understanding the Mount Tammy Trail (map and directions):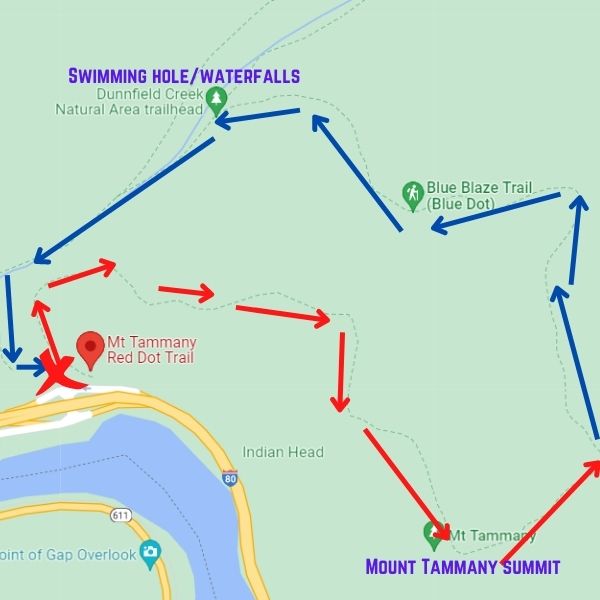 There are a number of ways to do this short (but tough) hike. Here they are:
1) The most popular/classic option:
You start at the official Mount Tammany Trailhead (red dot trail) take it up to the viewing area, then do the blue blaze trail (blue dot) back down which leads you close back to the starting point. Overall, this is about a 3-4 mile loop.
2) Some people do the classic option backwards:
Start at blue, then work your way down on red).
3) Some people choose to do the in and out trail:
Walk up the red, then come down the red).
Which should you do? The classic option is the best one for first time goers as it's a good mix and reward of difficult/moderate trails and on the end of the blue, you'll come across waterfalls and even a swimming hole.
For me, when I finish the red trail, I'm tired and sweaty, so to finish on the blue trail (which is much easier to hike down than the red), and then to be met with an opportunity to take a dip and cool off is a great end to the hike (although that swimming hole is about 1/2 away from the official end point).
1) Parking: Where is the trailhead to Mount Tammany (

red dot

) located?
It's right off the road (I80). Here is the GPS coordinate to it.
There is a parking lot with picnic tables and a sign to indicate you're there (red dot trail, and it says Mount Tammany).
The parking lot to my estimate fits about 30-40 cars and does fill up quickly depending on when you go.
My suggestion is to arrive on a weekday as you will most likely find a lot of open spots and/or if you go on a week, do it super early before the parking lot fills up (it's usually packed before 12).
Now if you do arrive and it's filled up, the good news is that the same road leading into it goes further and there will be another parking lot available only 30 seconds away.
It's a plan B but ideally park on the first parking lot.
Once you do, the Mount Tammany sign is hard to miss.
2) Starting out the

Mount Tammany trail

: It's not easy!
The moment you begin the trail, there is no "warm up" or anything. You start on steps and work your way up. In fact, I would say for the first 1/2 a mile, the incline is steep 90% of the time and you had better be prepared (do a lot of stair master workouts!). This is honestly the part of the hike which gives it the strenuous rating.
Is it something that's impossible? Of course not and most people do fine on this, but it isn't easy for the majority of people who do it.
What if you're injured? While I don't suggest this trail for those who have joint issues, if you're really set on going, I would suggest bringing trekking poles to make it easier. You can get great ones for cheap prices and the one I have in mind is called Trailbuddy Trekking Poles (highly recommended).
How much stuff should you bring with you on this trail? You really don't need a lot other than water and maybe a few snacks. Don't pack heavy for this hike because it'll only make the incline harder. And depending on when you go, you should bring at least 2-5 bottles per person. The warm/hotter it gets during the day, the more water you should bring.
You can probably fit all of this (and more) into light but comfortable trail running backpacks like the Salomon Hydra vest I usually use.
3) Making your way up to Mount Tammany (first 1/2 mile):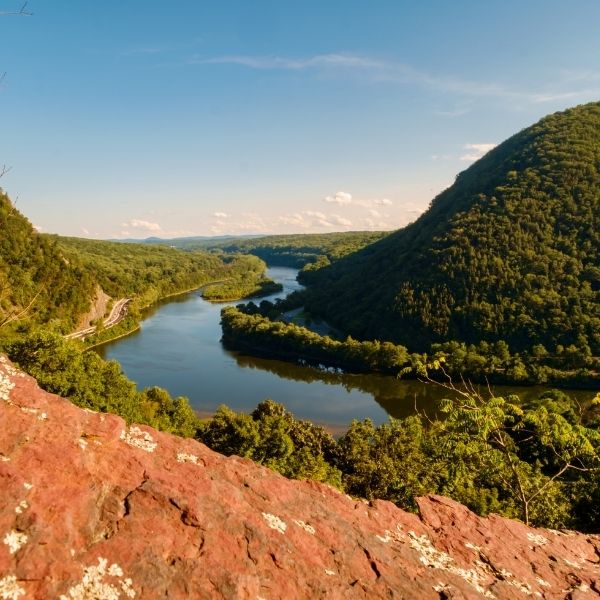 It won't be long after you start the hike before you hit the first overlook and it is very beautiful, but the trail will mostly zigzag for 1/2 a mile before you begin the even harder scramble further up.
While you are on this scramble, do not that the trail markers may be more difficult to spot but you should be OK if you go when there's a lot of other people. Sometimes they'll be on rocks and other times they'll be on trees.
Getting lost on this trail is not something that happens often and if you are worried about this, check out my getting lost in the woods article for basic trail reading concepts to keep in mind to avoid it.
Now again, I have to point out that the first 1/2 mile is usually the most difficult for people as there's a lot of incline mixed with scrambling to do.
But at the very least it isn't long before you start before you reach this beautiful overlook and for what it's worth, the main summit overlook that comes after is also as beautiful if not more so.
4) Reaching the summit (main view of Mount Tammany):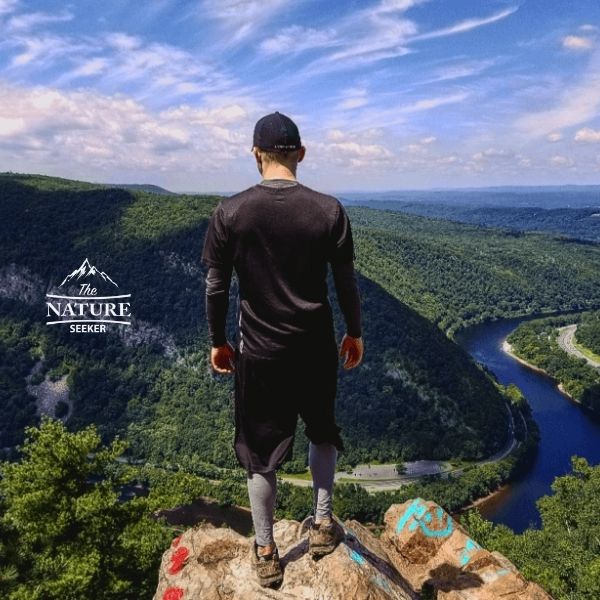 Once you finish the incline and the hike flattens out, you'll get a nice break for awhile until you reach the official summit and overlook of Mount Tammany.
Once you do, it'll be a pile of giant white boulders and you can usually tell you're in the right place because there's always a lot of people there.
You can elect to remain at the top or take the boulders a little bit further down (scrambling required) to reach an even nicer overlook and view of the interstate and Delaware River.
That's actually where this particular photo was taken. From here, it's impossible to go further.
Keep in mind if you go down there, you will have to scramble back up and that can be tiring, especially considering you just finished hiking up the red trail (your choice).
On the good side though, if you do go down here, there won't be as many people so you may find more opportunity to take nice photos without anyone interrupting you.
5) Completing the Mount Tammany Loop trail: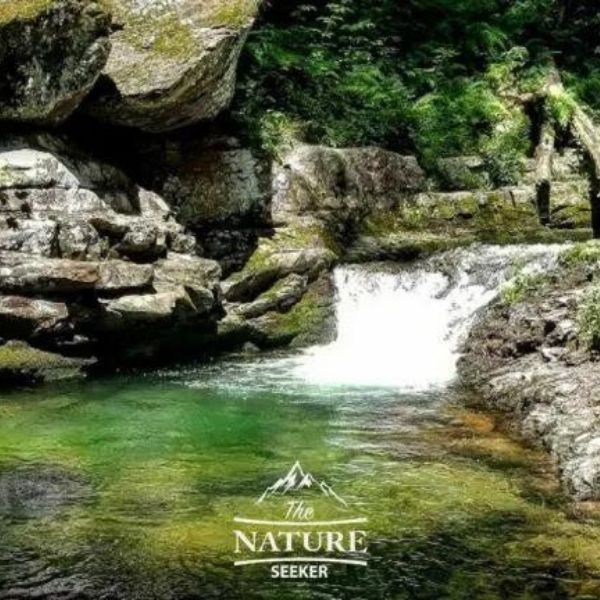 After you reach the summit, you can either turn back around and head back down the same red trail or do what most people do which is turn left at the summit. This will take you through a 1/4 mile trail which honestly doesn't even look like a trail, but it will meet up with the blue trail.
When you reach the trail marker for the blue trail, you'll turn left and take the blue trail down. This will go on for about 2 miles. The path is a steady decline which for people like me is very welcome after the annoying incline of the red trail. I personally ran down this trail but that might be a bit much for some so you can just take your time here.
You'll reach the 2 mile mark around the time you hit the swimming hole and waterfalls next to it. That's a personal favorite of mine on the whole hike to stop at, take a dip and freshen up. Once you pass the swimming hole, you'll cross a bridge and continue on the blue trail.
You'll even cross another fork which turns to a green trail, but you'll ignore it and keep taking the blue trail down. You'll pass by some nice gorges and another bridge about 1/2 a mile after the waterfall/swimming hole. This will take you a large parking lot that is actually that plan B parking lot I talked about in the beginning of this post.
You're going to want to stay to the left of that parking lot and what you'll look for is a sign for the same red trail to Mount Tammany. When you do spot it, it'll take you up a short flight of stairs, then down and on the other end is where you'll come to the same parking lot you started at.
This will complete the Mount Tammany loop hike.
What sort of gear is good for the Mount Tammany trail? I'll usually take these things:
More questions before you hike the Mount Tammany trail answered:
How long does the Mt Tammany hike take?
It takes most people about 3 hours to hike Mt Tammany.
Is it hard to hike Mt Tammany?
There are 2 trails that go up to Mt Tammany, red and blue. The red trail is hard to hike up while blue is more moderate.
Where do you park for Mount Tammany Red Dot Trail?
There is an official parking lot called Mount Tammany Red Dot Trail on Google maps which will take you straight to the official trailhead.
Is Mt Tammany trail open?
Yes the Mt Tammany hiking trail is open.
Are dogs allowed on Mt Tammany trail?
Yes you can bring dogs to your hike on Mt Tammany.
Other things to do after you finish the Mount Tammany trail:
For most people, completing this hike is enough, but keep in mind that this is part of the bigger Delaware Water Gap area and I would highly recommend taking at least half a day to explore the many beautiful spots there (read up on my Delaware Water Gap article).
There are many other connecting trails to the Mount Tammany hike you can do, but if you're just going for your first time, stick to the loop route I showed you and that'll be more than enough. Thanks for reading and if you do this hike, I'd love to hear how it went!