In my experience, the best hiking trails in NJ are very hard to find (most are boring), but the good news is that I've filtered through the available ones and want to share 13 that I think you'll really enjoy.
Now I just want to say that there are tons of sites offering their list of the best hiking trails in NJ (or other states) and most of them are robotic and give advice on which hikes to see that I would honestly rate a 1 out of 10. It just seems like they're trying to add any content they can for views and I'm not that type of person.
If a hike is boring, I'll say it. If it has value, I'll say it and that's because I'm a picky hiker and love to find the best nature places I can for maximum adventure. That's of course a subjective thing, but my tastes often vibe with my readers/viewers (feel free to disagree below).
And because I've seen some truly stunning places across the US, including in neighboring states like New York (where I live), I sort of developed a "standard" of what I like to see on a hiking trail and when it comes to New Jersey, that's just tough to find.
Maybe it's the terrain, or maybe it's just the location of that state, but in my opinion it's really tough to find amazing hikes in this state. Yet they are there, and with this list you'll see, they have a lot to offer. Feel free to add to it in the comments if I miss one and if it's warranted, I'll happily add them.
Here are my 13 best hiking in NJ to explore: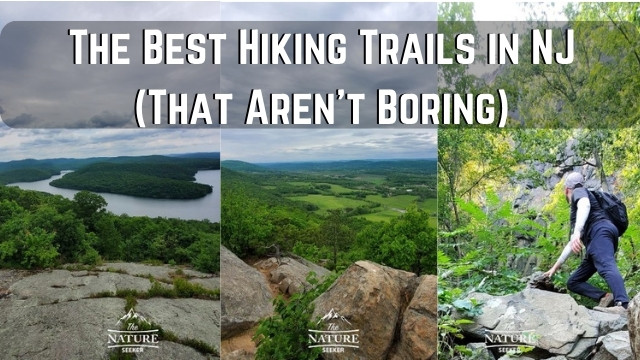 Stairway to Heaven trail.
Giant Stairs Palisades trail.
Mount Tammany trail.
Monument Trail at High Point State Park.
Long Pond Ironworks State Park (south trail).
Sourland Mountain custom loop trail.
Watchung Preserve white trail.
Fairy Trail at South Mountain.
Batona Trail.
Cedar Swarm trail at Wawayanda.
Historic Smithville Park trail.
Dingman's Creek Trail.
Blue Mine Loop at Norvin Green State Forest.
List will be updated with new hikes (feel free to add your suggestions below!).
1) Stairway to Heaven trail:
Location: Northern NJ.
Distance: 2-3 miles.
Difficulty: Moderate-hard.
Description: This is considered a top 5 hiking trail in New Jersey and after I did it I can see why.
When you do this hike, it's in an out and you can do it in one of two ways:
Option 1 involves going up to the actual Stairway to Heaven which is on the Appalachian Trail.
This takes you to a nice overlook and a famous icon which is a mailbox that people leave notes in.
Option 2 is a flat walk across a swamp and other beautiful spots (also the Appalachian Trail). I've done both and I enjoyed option 2 more.
Here are details on the Stairway to Heaven hike. Also the views/area surrounding this area are nice too.
2) Giant Stairs Palisades trail: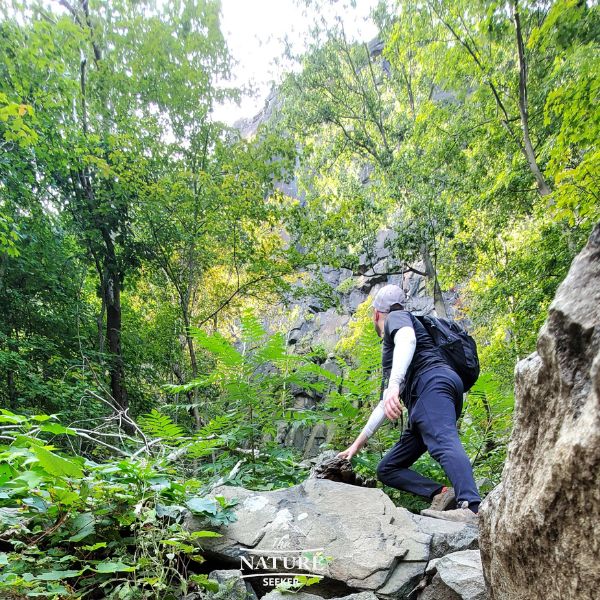 Location: Fort Lee Historic Park.
Distance: 4-5 miles (loop).
Difficulty: Moderate–hard.
Description: This is also another top 5 hike in NJ based on what I've heard (and done).
The actual "giant stairs" of this hike are basically huge boulders you hike and scramble on through while passing by the Hudson River.
You will see great views of NYC across it, and the hike begins at a parking lot and on the Long Path trail. You'll hike down to the base of the water and work your way back up.
The hike isn't easy and I wouldn't recommend it if you're injured, but you do get some very nice views (and even a waterfall if the water level is good). Learn more about Giant Stairs Palisades here.
I did this hike once and recommend you bring some decent hiking gear.
3) Mount Tammany trail:
Location: Delaware Water Gap.

Distance: 3-4 miles.

Difficulty: Moderate–hard.
Description: Mount Tammany trail is possibly the most popular hike you'll hear about or hike in Delaware Water Gap.
I've done it a few times and it's pretty difficult when you're on the main trail (red dot trail). But the views when you summit the mountain are awesome.
There is also another connection to the trail (which makes the loop) which is nice too in views that also has you cross a waterfall section and nice swimming hole.
My recommendation is to do the loop to get the full experience of the Mount Tammany hike as well as the surrounding area. The first part is tough (and scenic) while the second part of the trail is boring at first, but then very scenic towards the waterfall/swimming hole part. More popular NJ hikes based on Alltrails.
4) Monument Trail Loop at High Point State Park: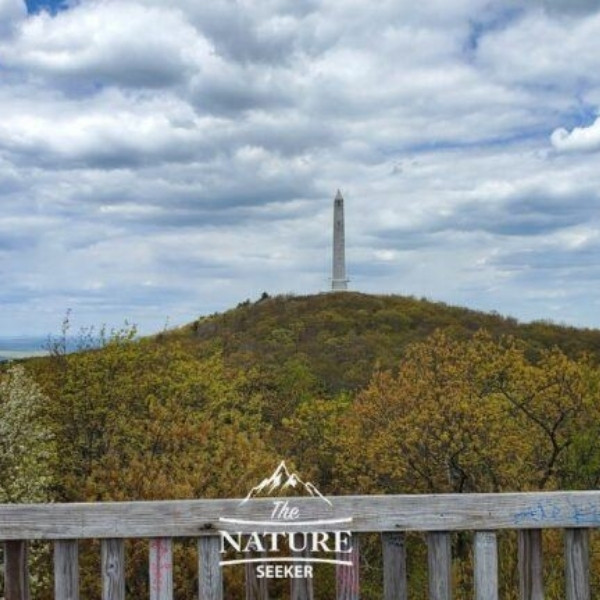 Location: High Point State Park.
Distance: 3-4 miles.

Difficulty: Moderate.

Description: High Point State Park is in my opinion the best looking park I've seen in all of New Jersey and considering how I am picky about this, that's saying something.
This place is amazing in my opinion, very well taken care off and there's a lot of hiking trails available including the Appalachian Trail.
But the most popular go to trail here would be Monument Trail Loop which is a red/green trail you can do.
There are other colored trails here, and honestly it's great for many different levels of hikers. I'm recommending this one because you get to check out the actual monument in the park which is very nice (and the views are too).
5) Long Pond Ironworks State Park (south loop trail):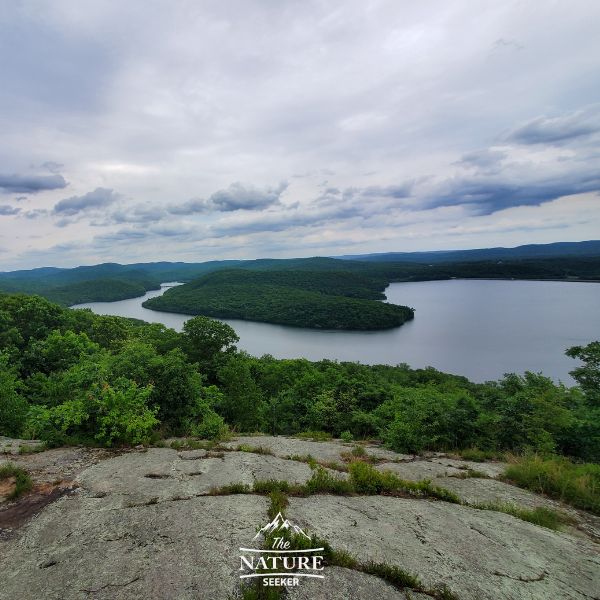 Location: Long Pond Ironworks State Park.
Distance: Up to 10 miles.
Difficulty: Moderate to hard.
Description: I've hiked large chunks of hiking trails at Long Pond Ironworks State Park and in my opinion the best views and trails are on the southern end of it.
The loop trail I did in this park is not a famous one and in fact it's hard to even find any recommended trails in this park because it's not well known about.
In my case, I made a customized loop trail because I had to figure out how to get back to my car, but it ended up being an interesting one as it mixed together several different trail colors in this park including the famous Highlands Trail.
This will get you good views of the area and some challenging trails to conquer.
Here is the map of the trail I did: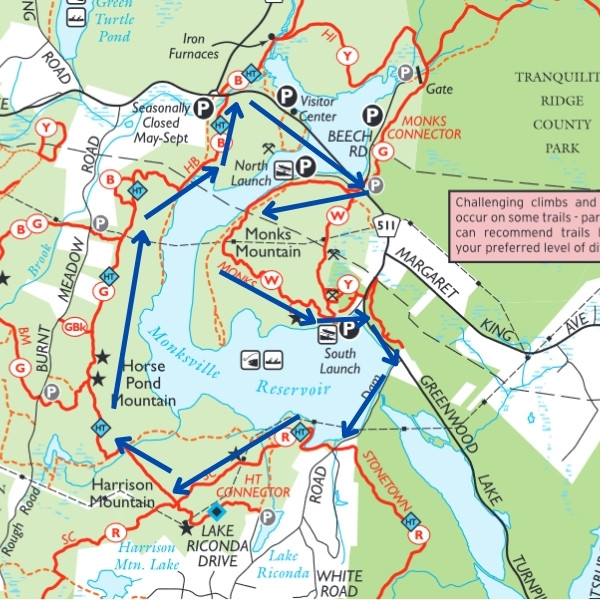 I have also tried exploring the north section of the park but that was extremely boring and I almost ran into a rattlesnake. The only "good part" of that trail is that the park merges together with Sterling Forest State Park, so you cross state lines in NY and it does look good there in parts.
Note: There are rattlesnakes on the trails here (I almost ran into one).
6) Sourland Mountain Preserve loop trail: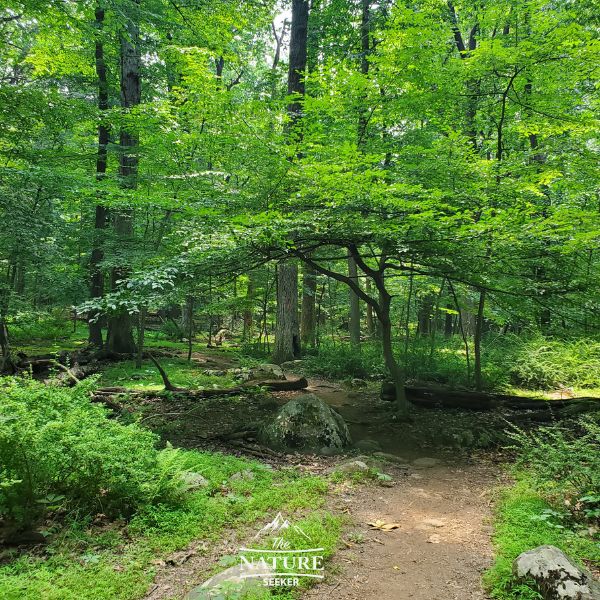 Location: Sourland Mountain Preserve.
Distance: About 9 miles.
Difficulty: Moderate–hard.
Description: I've only hiked at Sourland Mountain Preserve once and honestly the only reason I added it to this list was because it has a lot of variety of adventures to offer.
Views wise, I wouldn't say this place is amazing, but when I came here, I made a custom loop trail from the main map which you can find on my Sourland Mountain Preserve article. It's 9 miles long.
This allowed me to explore most of the area and see the sights (scrambles, boulders, and some decent views in parts).
Again, Sourland Mountain Preserve isn't my top choice or even a top 5 for hiking trails in NJ, but it still has stuff to offer.
7) Watchung Reservation (white trail):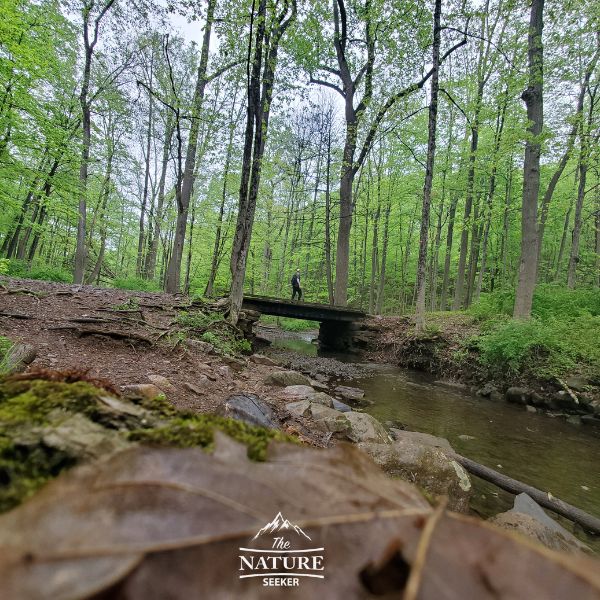 Location: Watchung Reservation (near New Providence NJ).

Distance: Up to 6 miles loop.

Difficulty: Easy.
Description: Watchung Preserve (or reservation) doesn't have much in terms of challenging hikes, but it has great views and historic sites to explore and that's several reasons why I recommend you come here.
I explored much of this park when I drove by and I'm happy I did. It's very serene here and I just enjoy the simple hikes and walks I did in this area (there's also some historical spots to check out).
There are varieties of trails, including a purple one, but the white trail would give you the best views in my opinion of the area.
I also recommend the scenic drive and other activities you can find here (that's an awesome activity too).
8) Fairy Tale trail at South Mountain Reservation: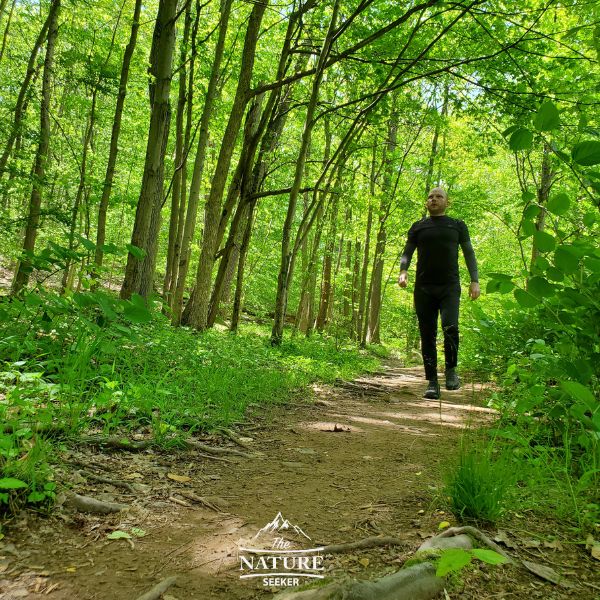 Location: South Mountain Reservation.

Distance: 1 mile loop.

Difficulty: Very easy.
Description: South Mountain Reservation is about 20 minutes from Watchung Preserve and has similar views/trails to offer.
I actually think there's more to see in South Mountain overall in terms of hikes  than in Watchung Preserve, but in this case what I'm talking about is the Fairy Tale trail which is a short, but Easter Egg type trail where you find little miniature houses on the trail.
It makes for a good family hike or even date if you go here. Trail runs are also popular in the park.
Additionally, South Mountain has a few waterfalls and nice places to explore all around.
9) Batona Trail:
Location: It begins at Pine Barrens and ends crosses 2 state forests.
Distance: 53+ miles.
Difficulty: Very hard.
Description: This is one of NJ's longest hiking trails and while you can hike sections of it, the reason I put it on this list was also because of the variety it offers.
It crosses 3 different parks in the state and also has you walk through MOST of the Pine Barrens which is a famous region of NJ state (good for historical exploration, not much on hikes though).
Since this is a thru hike (takes more than one day basically), if you do plan to do it while camping, it will usually take you several days to finish it.
Some people do this hike in 2-3 days. I believe there are camping areas on the way and/or hotels.
10) Cedar Swarm trail at Wawayanda: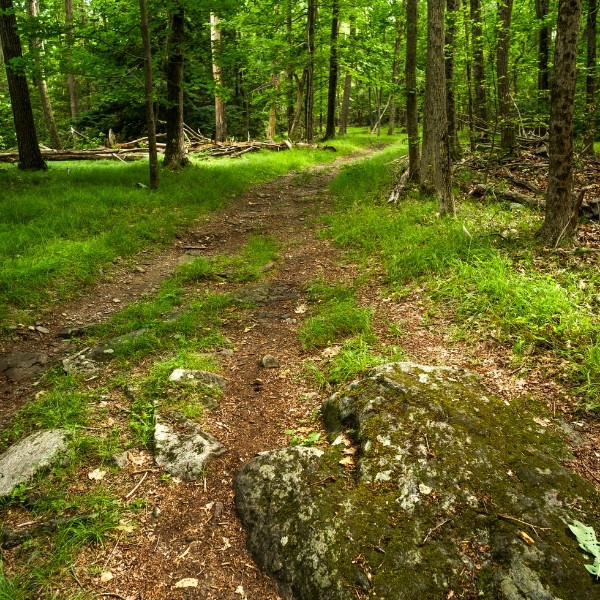 Location: Wawayanda State Park.
Distance: 8-9 miles.

Difficulty: Hard.
Description: I have not yet explored Wawayanda State Park and this trail included.
But when researching possible future hikes in NJ, this came up and it caught my attention because it features a boardwalk hike through woods and swamps that I honestly would never imagine liking, but after doing that when I went to Stairway to Heaven, this hike got me curious.
In fact, Cedar Swamp trail is very close to Stairway to Heaven and has connecting trails to it, but in this case, you're looking at a 8-9 mile loop through flat lands and swamp lands of this park (mostly).
You can also drive from one place to the other (it's literally 1-2 miles by car).
11) Historic Smithville Park trail: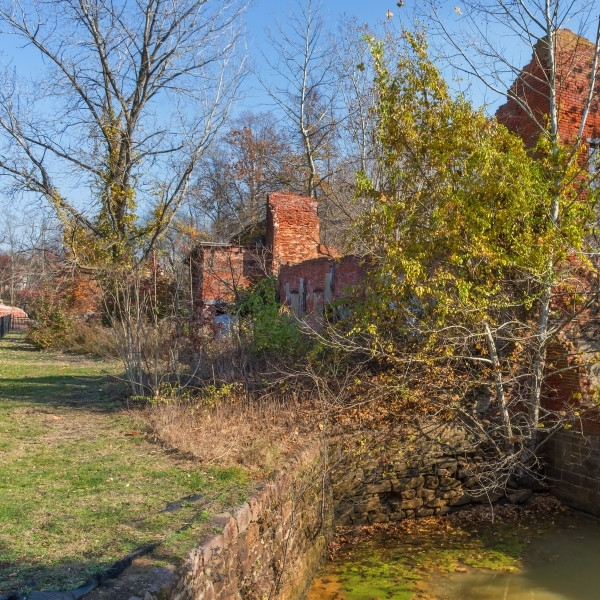 Location: Historic Smithville Park.

Distance: 4-5 miles.
Difficulty: Easy.

Description: This park offers a lot of variety for not just hikes, but also museum type experiences (outdoors).
For hiking trails, there are swamp hikes, flat land walks and generally easy trails to check out.
This is located in the Pine Barrens too, and there's a ruins part in this park (which I included an image of to the right) I actually wanted to find when I came here for the first time, but I couldn't find the exact spot it was at.
Now at least I know (and you know too). If ruins interest you, there are other parts of the Pine Barrens which have that, but I believe this is the most famous one in the area.
12) Dingman's Creek Trail: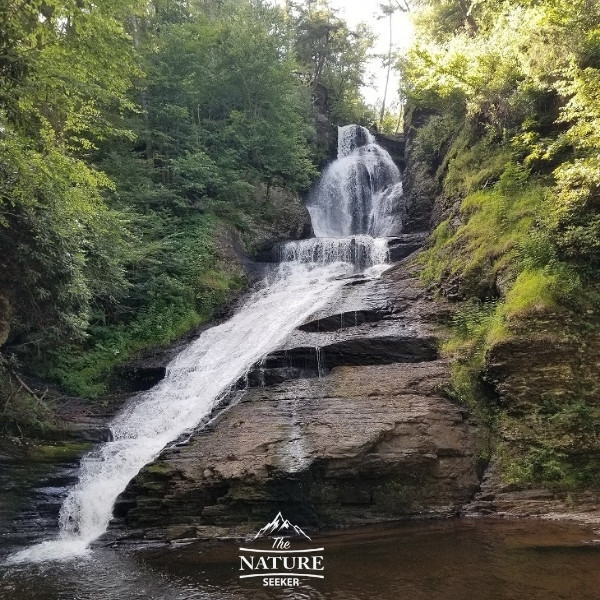 Location: Delaware Water Gap (northern end).
Distance: 1 mile in and out.
Difficulty: Very easy.

Description: There are 2 major waterfalls on this trail and it's entirely on a boardwalk, making it very easy to walk on.
You will park at the parking lot to it and first cross one called Silverthread Falls, and about 1/4 miles reach Dingman's Falls which is a huge and beautiful waterfall.
Hiking trails are located nearby, so I don't even know if you can classify this particular walk as a hike but even the boardwalk itself is nice as there are views everywhere.
Overall, this is a great place to explore for simple hikers in my opinion and I personally enjoyed it too.
13) Blue Mine Loop Trail at Norvin Green State Forest:
Location: Norvin Green State Forest NJ.
Distance: 5+ miles (loop).
Difficulty: Moderate in my opinion.
Description: Norvin Green State Forest is a place I missed while driving through NJ but after seeing some pictures of it pop up, I had to see more because I was very impressed by the things I saw there. The main hike in my opinion worth trying here is the Blue Mine Loop Trail, one I am seeking to try myself soon. 
This hiking trail gives you a great tour and experience of the Norvin Green State Forest in general and has some nice things to see on the 5+ mile loop trail including:
2-3 different mines, the Blue Mine being the most popular (and scenic).
A great overlook called Wyanokie Hi Point (great views of NYC).
Some nice scrambling and challenging trails.
Scenic spots, bridges and overall a great hiking experience.
There is also a great area by a lake near this place to kayak.
Want to add to this is list of the best hikes in New Jersey?
As I said before, I'm totally open to your hiking suggestions, but again I am picky so if the hike looks boring or if there's not much to see or do, I won't include it on the list, but I'm happy to leave the suggestion in the comments either way!
Want to know what the best gear is to hike these trails in NJ?
Here are my top suggestions:
More questions about hiking in NJ:
How many hiking trails are in NJ?
There are nearly 1,500 known hiking trails across NJ state.
How long is Appalachian trail in NJ?
There are a little over 70 miles of hiking on the Appalachian trail in NJ.
Any better hiking trails outside of New Jersey? Yep, here's dozens of options::
I'm biased about hikes and I'm not ashamed to admit that. If you live in NJ, but are open to exploring hikes outside the state, then I have numerous suggestions for you that are much better than even most of the options on the list here:
My personal likes in New York are these

day hikes near NYC

(some are actually on this list).
Not too far from many of the hikes on this list is

Harriman State Park

, it has better hikes.
I also recommend these Hudson River hiking trails too.
I also love the

Catskill Mountains

for hiking trails.
Optionally, there's

Finger Lakes

to consider in NY (several hours northwest of NJ).
If you are OK with doing overnight trips, go even further in NY and do some Adirondack waterfall hikes.
For Pennsylvania, the best option so far would be Allegheny National Forest.
Then there's also Vermont with places like

Green Mountain National Forest

and places like Smugglers Notch to explore. Amazing areas with incredible hikes, waterfalls, views and enormous mountains!
That list right there gives you well over 50 different hiking trails and a dozen plus different areas to explore that are in my opinion way more scenic than any hiking trail you'll find in NJ. And wherever you travel, use my how to find easy hikes near me guide to discover even more options.
If you check out even one of these other suggestions, you'll see why I am not the biggest fan of NJ hiking trails and prefer these.
You can easily do day trips out of NJ (depending on where you live there) to NY and explore them. For Pennsylvania, I have to explore more of it to offer more suggestions (more to come basically!).