The awesome thing about Delaware Water Gap is that it has a diverse range of outdoor activities you can partake in and I'll show you 11 things you can do.
Here is just 1:
It's one of the most popular scenic overlooks at Delaware Water Gap: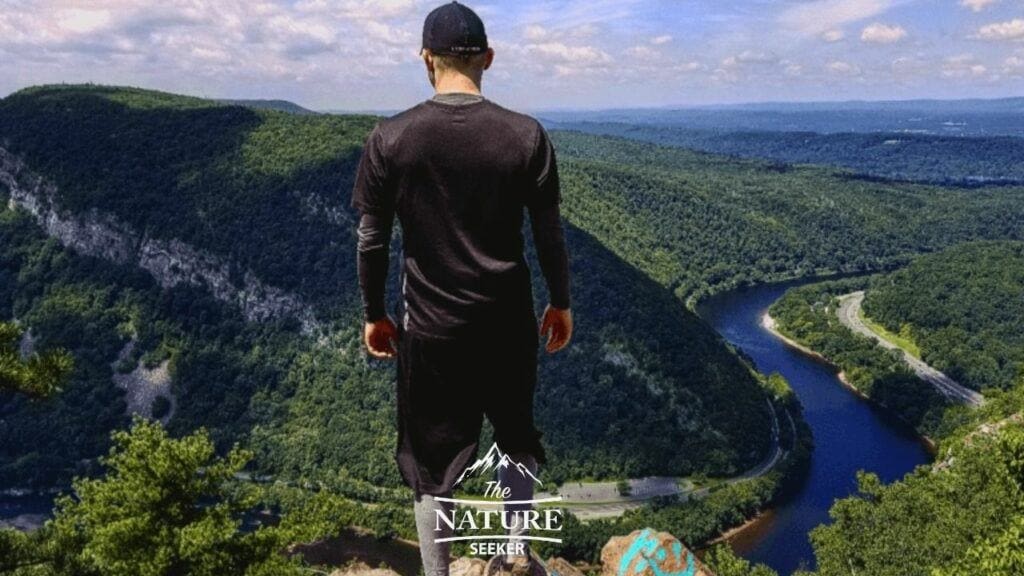 Last weekend, I finally did an "official" trip to this area with a few friends.
I had visited and passed through this area several times as a kid and tried a number of different activities.
But the last one I did was much more immersive and I truly got to enjoy some of the best things Delaware Water Gap has to offer.
Living in NYC, this place is only about 2 hours away and is highly recommended especially if you want to get away (here are the best day hikes outside of NYC, including Delaware Water Gap worth trying).
I was able to fit in a bunch of activities into a single day, most of which will be written up in this list of 11 things.
So let's get started.
Here is a summary of the 11 things to do at Delaware Water Gap (the list):
Camping.
Kayaking the Delaware River.
Hiking Mt. Tammany trail.
Driving route 209 for more adventures.
Staying at the Pocono Mountain Villas.
Exploring Bushkill Falls.
Exploring Silverthread Falls.
Also exploring Dingman's Falls.
Raymondskill Falls.
Checking out Milford, PA.
Checking out High Point State Park.
Let's begin with the location of Delaware Water Gap: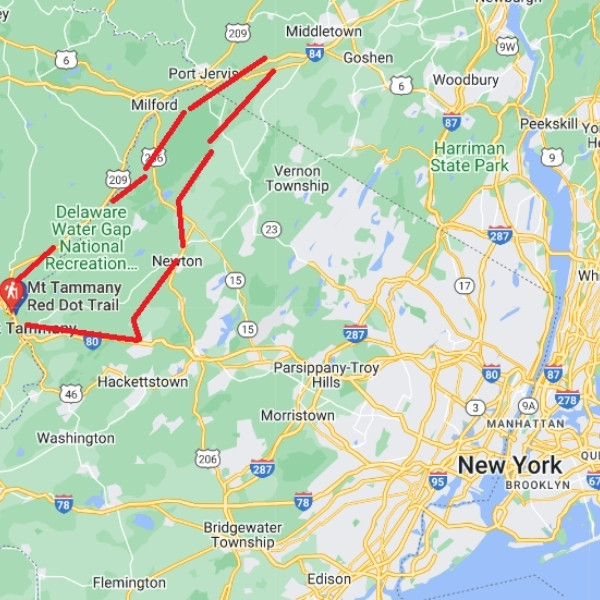 Now as you can see from the map, there is a whole green area (outlined in red) which stretches north for about 30 miles, but the official location of the "gap" is in Pennsylvania (not Delaware state!).
I also know a few people who think that NY state is connected to it (it's not).
I recommend starting your trip to this spot in the southern end (where you see it says Mt. Tammany Trail) as shown on the map above, and working your way up like we did.
This region crosses through the Appalachian Mountains too so if you enjoy long hikes, you'll find one of the longest ones in the world here.
But the reason I recommend starting here is because the things I recommend doing are best to be done in order from south to north.
Some of the best hikes are in the south, but some of the best places to see and explore (sight seeing basically) are in the north part of the Delaware Water Gap region.
Here are the 11 things you need to do at Delaware Water Gap:
The following are the things I did when there (throughout the years):
1) Camping out in the regions close to the gap:
Since it's the most scenic area, you will find plenty of camping areas there and the last time I was in a camping area there was years ago, but many of the spots are close to the river so you can enjoy great views. I also assume if you're going to camp there, that you need to reserve in advance, since this spot is pretty popular, just like North South Lake in the Catskills.
Here is info on camping in the Delaware Water Gap region.
Warning: Just a heads up, when I was there as a kid, I found more than a few snakes there. Be careful there and watch out for ticks too just in case.
2) Kayaking through the Delaware River:
Since the Delaware River literally crosses through this area, you can enjoy water activities there. Kayaking is certainly one of them, but you can also try tubing and canoeing, especially during the summer. Going through the actual "gap" area is very scenic! 
3) Hiking obviously. Try the Mount Tammany trail: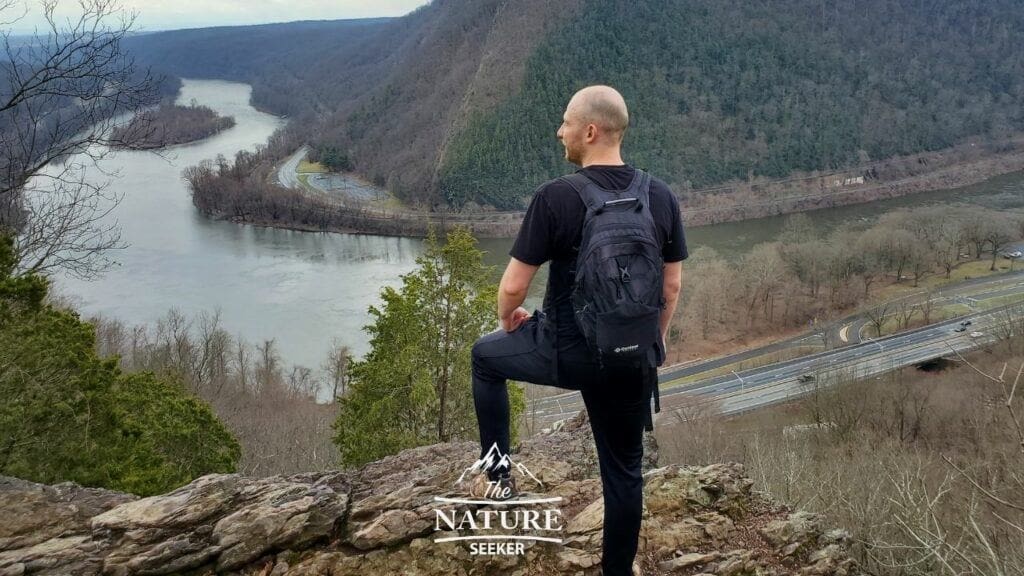 Prior to going to this spot, my friends and I brainstormed which hiking trail we wanted to do.
We wanted something that was short, that wouldn't take up too much and would also allow us to have more time leftover to explore more of this region and the Mount Tammany trail was the one which came up as being most scenic and popular and indeed it was!
We found 2 parking lots leading to this trail and overall, there are 3 hikes to the Mt. Tammany trail:
A red one, which is considered medium to hard and that's what we started with. It's a little over a mile and short if you're in shape. This is the place you see me standing at above (the backpack picture, which by the way is called Outdoor Products Hydration Pack).

And it leads to beautiful overlooks like the one I posted above and then a blue one which is the longer route (several miles), and leads to scenic spots like this: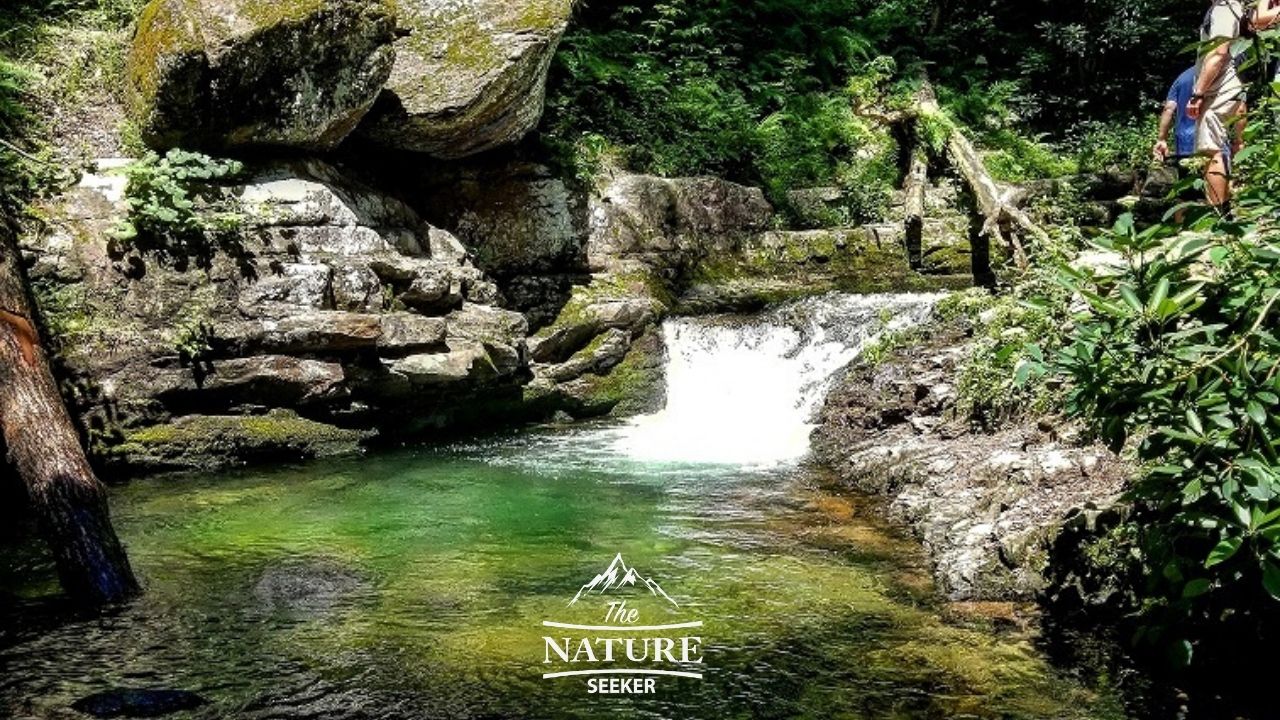 Then there's a green trail which we didn't try out, but it connects with the blue one towards the start of it, then heads out elsewhere.
Here's how we were advised to hike the Mt. Tammany trail:
Start with the red one and work your way up to the summit where you'll see the views I did at the top of this post.
Then right at the summit, as long you continue on the red trail, it'll interconnect with the

blue trail

.

Take the blue trail down and you'll hit that swimming hole we found a few miles down. 

This approach gave us a great hiking experience and being able to explore a lot of nice places in the Delaware Water Gap.
4) Take route 209 to see many of the waterfalls in this region:
We asked some local rangers what to do after we finished hiking Mt. Tammany and our goal was to see waterfalls and enjoy scenic views, not really hike anymore and they suggested we take route 209 which is located on exit 309 on Interstate 80.
While this road is pretty boring and isn't really scenic (I have a list of scenic roads near New York state here and see a list of other scenic drives in North America here you can check out for that), it is the central road that'll allow you to see many of the other beautiful waterfalls and many other trails in the Delaware Water Gap.
For about half the length of the road, you'll pass through towns and uneventful places, but the other half will take you back into the Delaware Water Gap and you will see signs for many waterfall areas.
5) Consider staying at the Pocono Mountain Villas if you plan a multi day trip:
When I was younger, this is where my father would take me. We would go with his friends, and their kids, and this area is right off the 209 route and allows you to enjoy most of the beautiful spots located within the Delaware Water Gap. 
There were many hiking trails near this spot, horseback riding stables and more activities to do, including the 10 on this list. Now you'll find other villas and areas to stay at there too, but this is where I used to be when I visited. It gets mixed reviews today so keep that in mind.
6) Check out Bushkill Falls: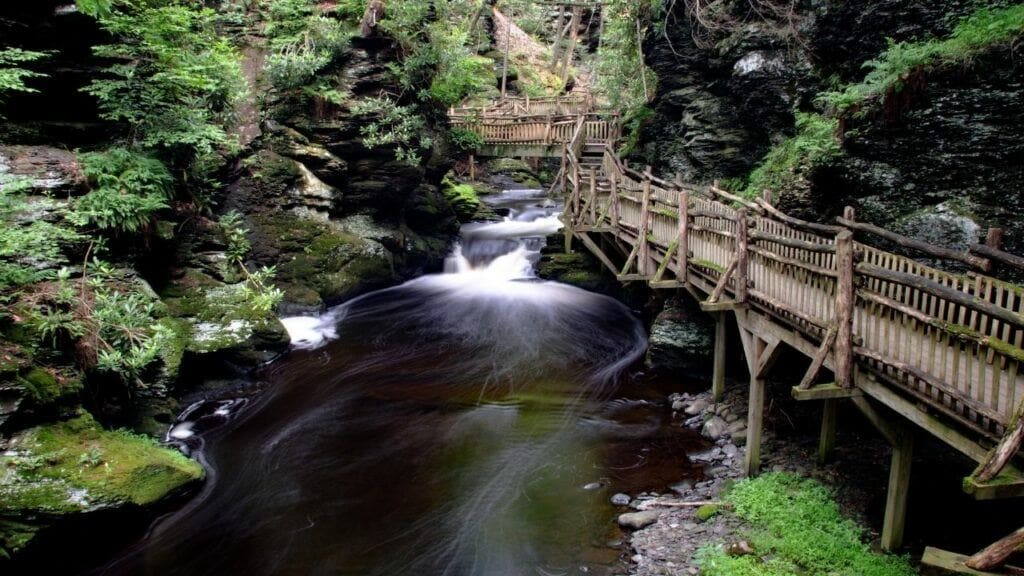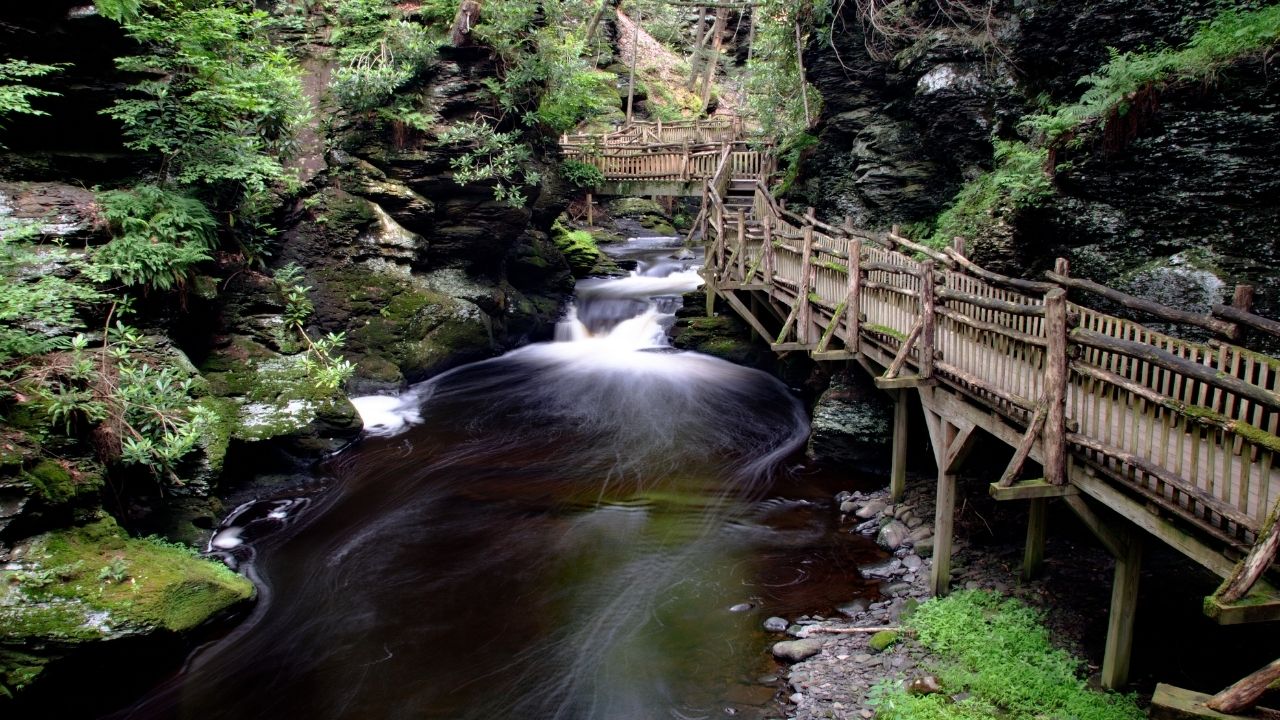 As far as I know, Bushkill Falls is one of the most popular waterfall spots in this region and I did check it out years ago when I was staying at the Pocono Mountain Villas.
This area is a scenic walk across a nature trail which is easy to go through and there's steps and walkways made for people to enjoy the falls.
I don't have a picture of Bushkill falls to share on this post yet (but I will show you others), because we decided not to visit this spot due to us being tired from the Mt. Tammany trail and we decided to stick to waterfalls that had short hikes to reach them.
One thing to note is that the hikes here are pretty much for beginners so if you're looking for challenging stuff, this might not be the best place for that, but it is very scenic.
7) Visit Silverthread Falls:
Here is what it looks like (it's over 100 feet tall):
If you're not into long nature walks and just want to see scenic spots VERY quickly, this is where I'd stop at.
This waterfall is literally about 200 feet away from the parking lot and the path to it is a wooden walkway.
I assume it's called silver thread because of how skinny it is, and because from a distance, it looks like a skinny string thread. 
But it is closed off so you can't really hike to it, but you can see it from a distance and while it's skinny, I have to say it's very beautiful.
The picture I took could have been better, but if you do visit and see this waterfall, you'll probably get a much better view of it in real life!
And fortunately, this isn't the only waterfall you'll see on this trail. There's another, which is even large and probably even better looking.
It is called:
8) Dingman's Falls:
Dingmans Falls is about 1,000 feet away from Silverthread Falls and on the same wooden trail that is easy to walk on.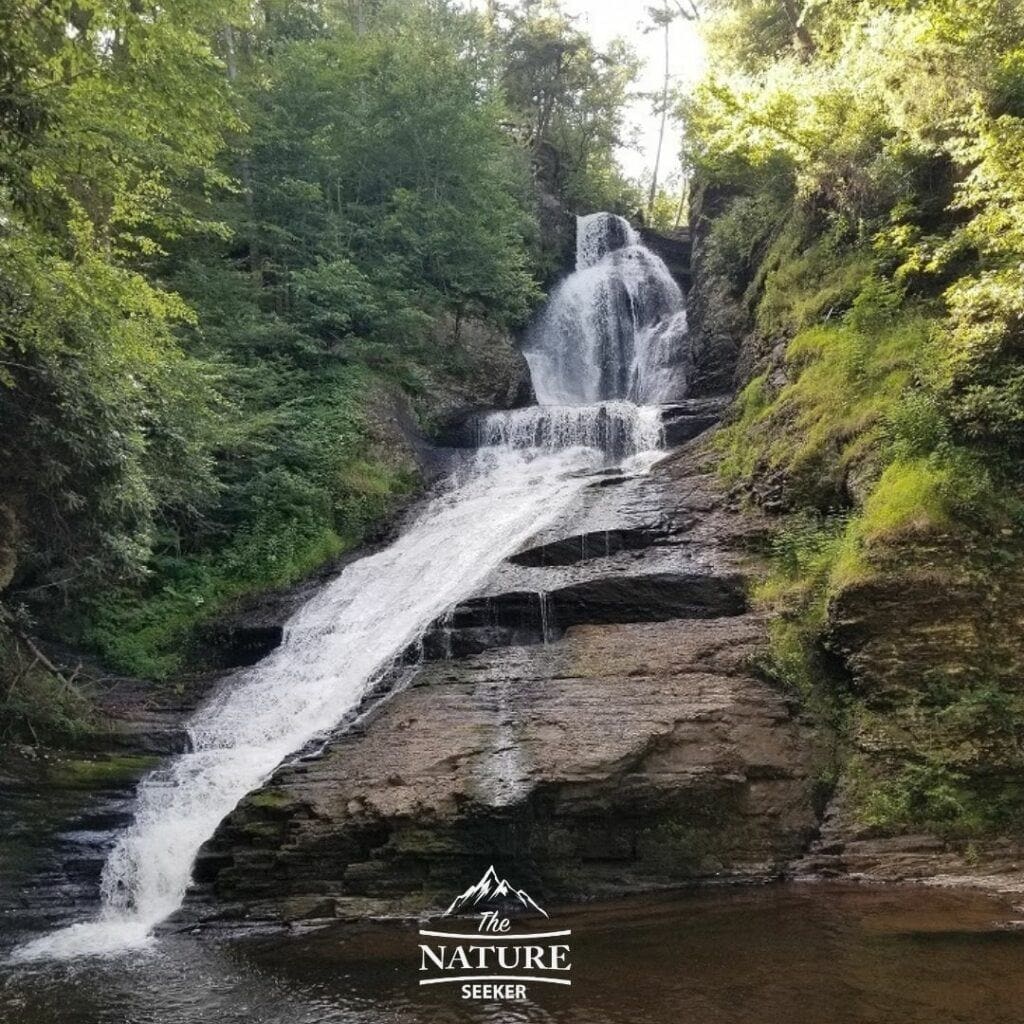 Sadly, like Silverthread Falls, this falls is so inaccessible. 
It is only viewable from the viewing area near it and here's how it looks:
Unfortunately access to get very close to this waterfall is blocked and that picture I took was about 30 feet away from it.
But it's still quite a sight as you can see:
Now I want to make a suggestion and that is, if you enjoy going up waterfalls and getting close to these types of spots, then you can explore places like the Catskills in New York, which offer a lot of awesome adventures.
As much as I liked the things I saw in the Delaware Water Gap, the limits on what I could see and get close to was a deal breaker in some cases.
But anyway, despite the limits, I still enjoyed seeing Dingman Falls, as well as the other areas on this list.
So let's continue:
9) Check out Raymondskill Falls:
As we continued north along the 209 route, the last waterfall we were able to see before heading back home was Raymondskill Falls, which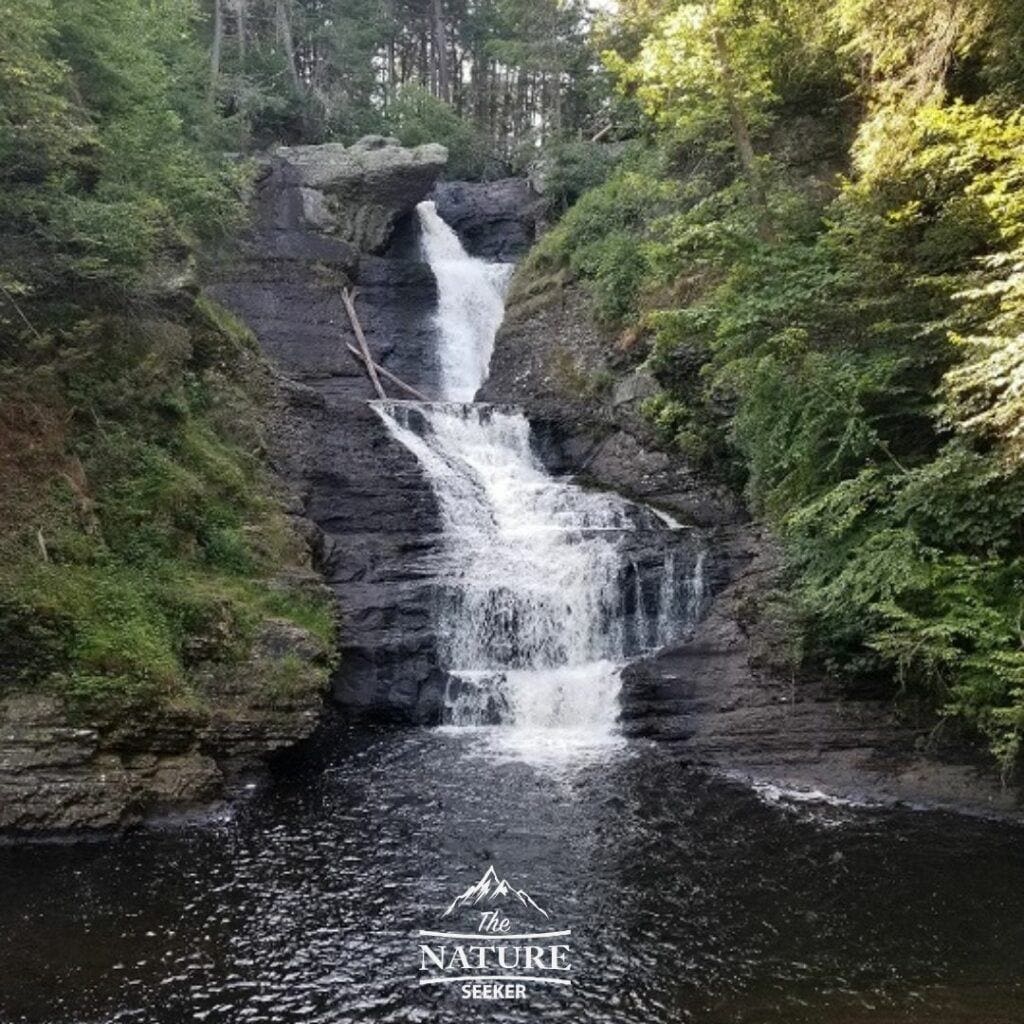 is over 100 feet tall as well:
There is a very short hiking trail to this spot as well and it loops for about half a mile, but there's 2 overlooks to this trail, one which takes you to the top of the falls, which wasn't very scenic, and a bottom one which is the area where I took this following picture.
As with the other waterfalls, access was blocked off and you could only see it from a scenic overlook, obviously because it's dangerous to get close to it.
But this was also a very scenic falls and the hiking trail to this spot is very short, but a bit steep.
I was the only person who hiked down to this falls since my friends were too tired from the other things we were doing but the trail to this area is very beautiful and worth exploring. 
In my case, I just wanted to see the waterfall, the picture and head back to the car.
And the trail walk, and taking the photo of this waterfall was accomplished in under 15 minutes! Of course I was dashing through the trail.
Had I walked, it would probably take me about 20-30 minutes to reach this waterfall.
10) Check out Milford, PA:
This is a very nice town that I've passed through numerous times and it has nice restaurants. It's a good place to end a day trip or visit it if you're hungry. This town is very scenic, and is probably the most beautiful on the route 209 path.
And that concludes the day trip I had in Delaware Water Gap and the 10 things you should consider doing if you visit too!
11) Explore High Point State Park: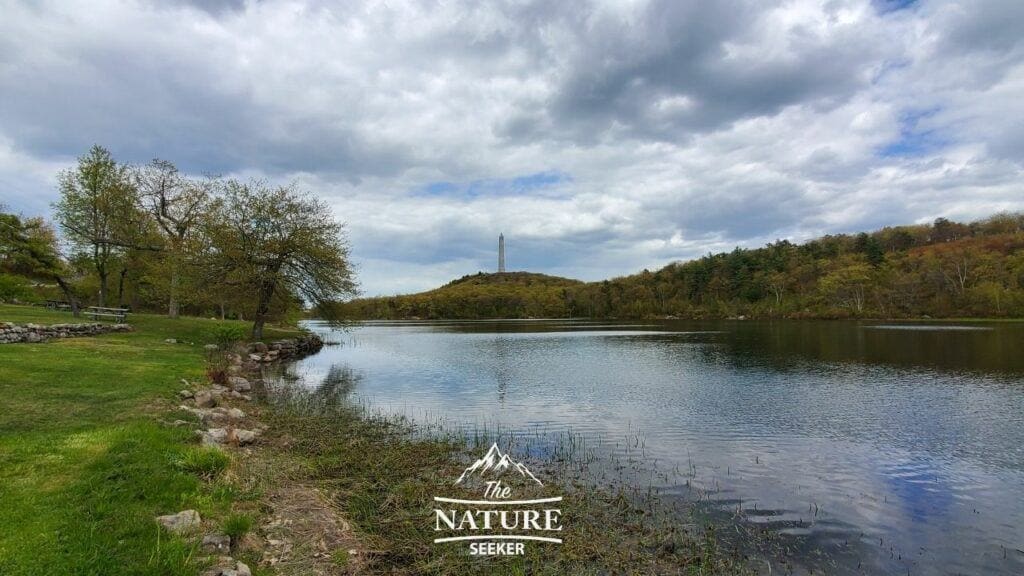 I recently learned about this amazing park and had the chance to visit it and I highly recommend seeing it! There's literally a day's worth of activities to do in High Point State Park, and I've included an article to a post showing that, but here's what you need to know:
High Point State Park is at the northern most tip of the Delaware Water Gap area and has the highest point in the area you can explore, which has some of the best hiking trails in NJ, a beach, and the most notable feature which is a giant tower at it's highest point.
High Point State Park is actually in the New Jersey side of the Delaware Water Gap and I highly recommend exploring this park if you get the chance! In my opinion, it's a great way to finish your exploration of this region.
For any hiking trips to Delaware Water Gap, I recommend the following things:
Most common questions about Delaware Water Gap (and answers):
What is the Delaware Water Gap known for?
Delaware Water Gap is mainly known for being a very scenic place for boating, hiking, camping and exploring beautiful parts of NJ and PA.
Can you swim in the Delaware Water Gap?
Yes, there are numerous spots in Delaware Water Gap where you can swim. Avoid the main river areas though as the currents are very dangerous there.
Is the Delaware Water Gap a hard hike?
There are many hikes in Delaware Water Gap and Mount Tammany is the most popular. That hike is considered difficult.
Do you have to pay to get into Delaware Water Gap?
No, but there are places within Delaware Water Gap where paying to enter is require like camping spots or Bushkill Falls.
8 places to visit near Delaware Water Gap: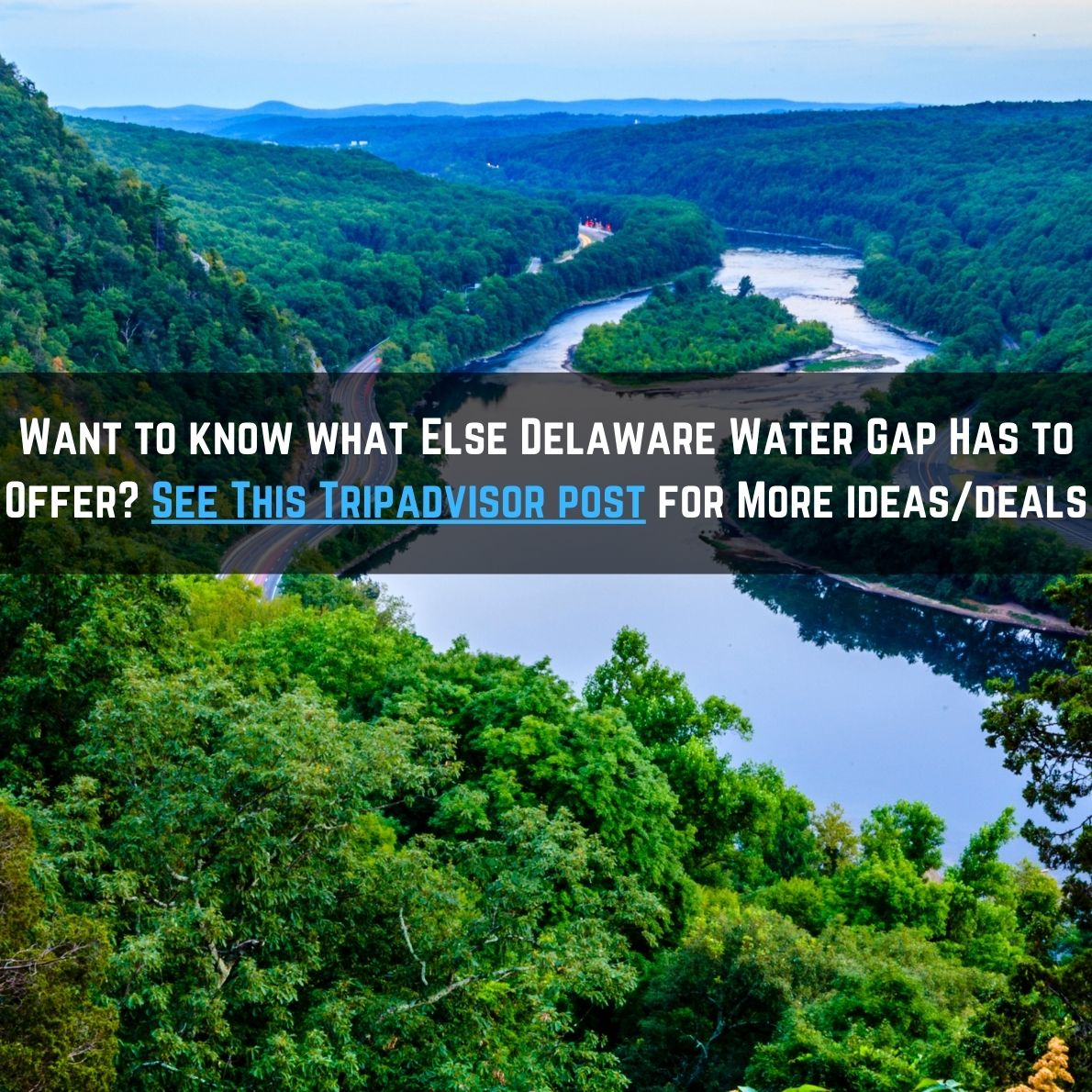 If you are a NYC resident of it like me or live close by to the Delaware Water Gap, and want to know of more places to visit nearby, I have several suggestions:
One last thing: You will also find a lot of additional ideas on what to see in Delaware Water Gap via Tripadvisor here. Enjoy!