Very recently, I explored High Point State Park for the first time and I was floored by how awesome this place is. I managed to squeeze in a number of adventures in a short period of time while there that I'd like to share with you.
If you're thinking of visiting this place, let me just say you absolutely should and furthermore, these 5 things will make your first visit to High Point State Park feel "complete" as though you saw everything this place has to offer!
What is High Point State Park?
High Point State Park is a small but popular park located in New Jersey and is part of the very famous Delaware Water Gap National Recreational area.
What makes it most popular is the famous monument in this region you can drive up to (one of the things I recommend doing) among several other cool adventures you can explore by yourself, or with friends and obviously family.
How I discovered High Point State Park NJ:
I used to travel once or even twice a week to New Jersey for PT and during warmer seasons, I'd make it a goal to follow up from those visits by going on a hike afterward and each time, I would try to cover a new park, trail or region, at least ones that were within 1-2 hours distance from the PT place.
Over a period of several months, I managed to explore many new hikes throughout NJ thanks to this habit I developed and one of the best places I ended exploring during that time was High Point State Park.
Though I had a short visit there, because I cover a lot of spots in one area quickly, I was able to do a lot of things in that park (hikes, scenic overlooks, drives and more) within a short period and thus the list I'm giving you is a compilation of the best things to do there.
The good news is that High Point State Park isn't very large so even with a few hours time, you can really see and do a lot in the park depending on your goals. I would even say one day at this park is plenty.
But for the specifics of what those things are, let's get to that.
The 5 things I recommend doing at High Point State Park NJ: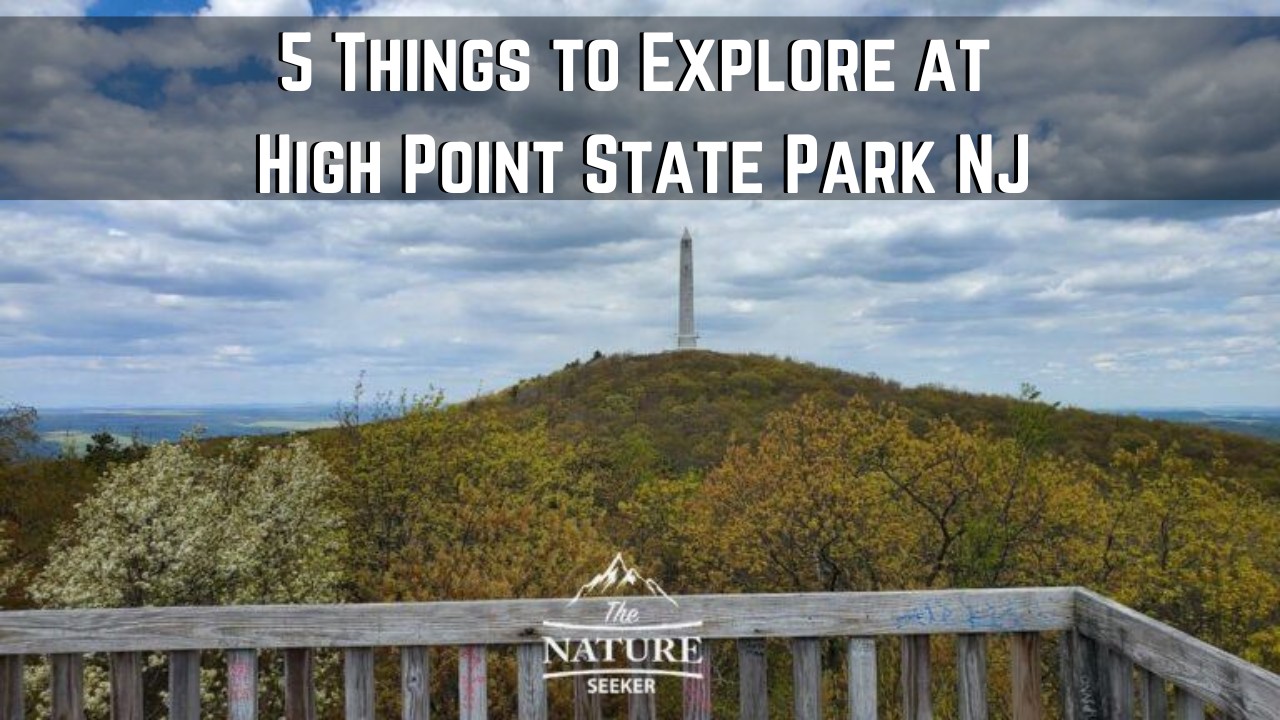 Start with the scenic drive around the park.
Hike the white trail in the park.
Drive up to the famous Monument (or hike to it).
Try the Kuser natural area trail.
Explore Lake Marcia in the park.
This park has several family friendly places, as well as fun activities for hikers and explorers alike, and these 5 activities will encapsulate fun for everyone.
So if you're coming to this park for the first time, get your list ready, because this will make your visit there very satisfying!
1) Do the scenic drive around High Point NJ first:
As soon as you enter the park, you will see a sign for the scenic drive and I strongly recommend that the first thing you do when you go to this trail is that drive.
The scenic drive itself is only about 10-15 minutes around the park if you don't stop, and in my opinion the best way to do it is counter clockwise where you'll first go up to the high point areas, see the Monument from a distance, then actually drive to it, then work your way down that area and around the other parts of the park (lake and other scenic spots).
By doing it this way, you will first cover the most famous areas first at the top of the park and then work your way down to the lake where the views in my opinion get even better.
2) Hike the white trail in High Point State Park (it's the Appalachian Trail):
This trail cuts through the park and you can also see signs for trails that lead up to the Monument (I believe it's the blue trail). But the white trail is the largest one in the park and is actually the very famous trail that takes you through the Appalachian Mountains.
Do note: This is not a loop trail and it won't take you around the park. Unless you are hiking through the literal Appalachian Mountain trail, do not keep following it out of the park!
Be ready to switch trails, otherwise you will risk getting lost in the woods. Also be sure to use navigation apps for additional safety (Alltrails).
But in my case, I found parts of this trail to be very exciting to hike through and I really enjoyed it, although it was pretty brief.
You'll also cross cool Observation Decks like the one you see here. There is also a "Monument Trail" which is one of the best hiking trails in NJ in my opinion.
3) Drive up to High Point NJ (where the famous Monument is):
The High Point State Park Monument is the most popular attraction and the great news is that you can reach it by foot or by car. Do note that the scenic drive mentioned earlier also goes here.
Once you reach the top where the Monument lies, you will be in an area of the park known as Highpoint NJ which is the highest point in the state.
I recommend if you're tight on time to just drive up to it and enjoy the views there for first time visits.
And if you like hiking and have time, there are at least 2 trails that lead you here (blue and white).
One of them is actually the Appalachian Trail and the other is some local trail that runs through the park (download a map or check ahead of time to be sure).
4) Explore Kuser Natural Area (another great High Point State Park hiking trail):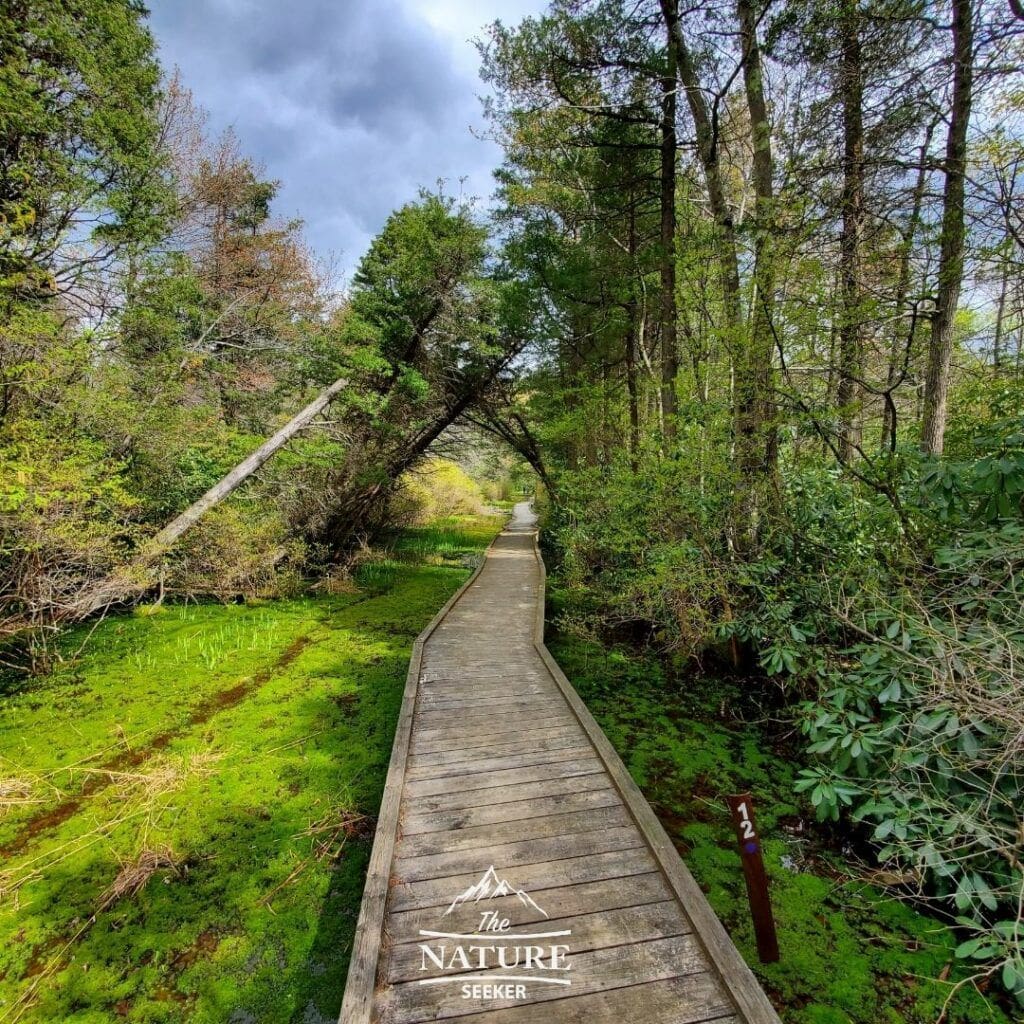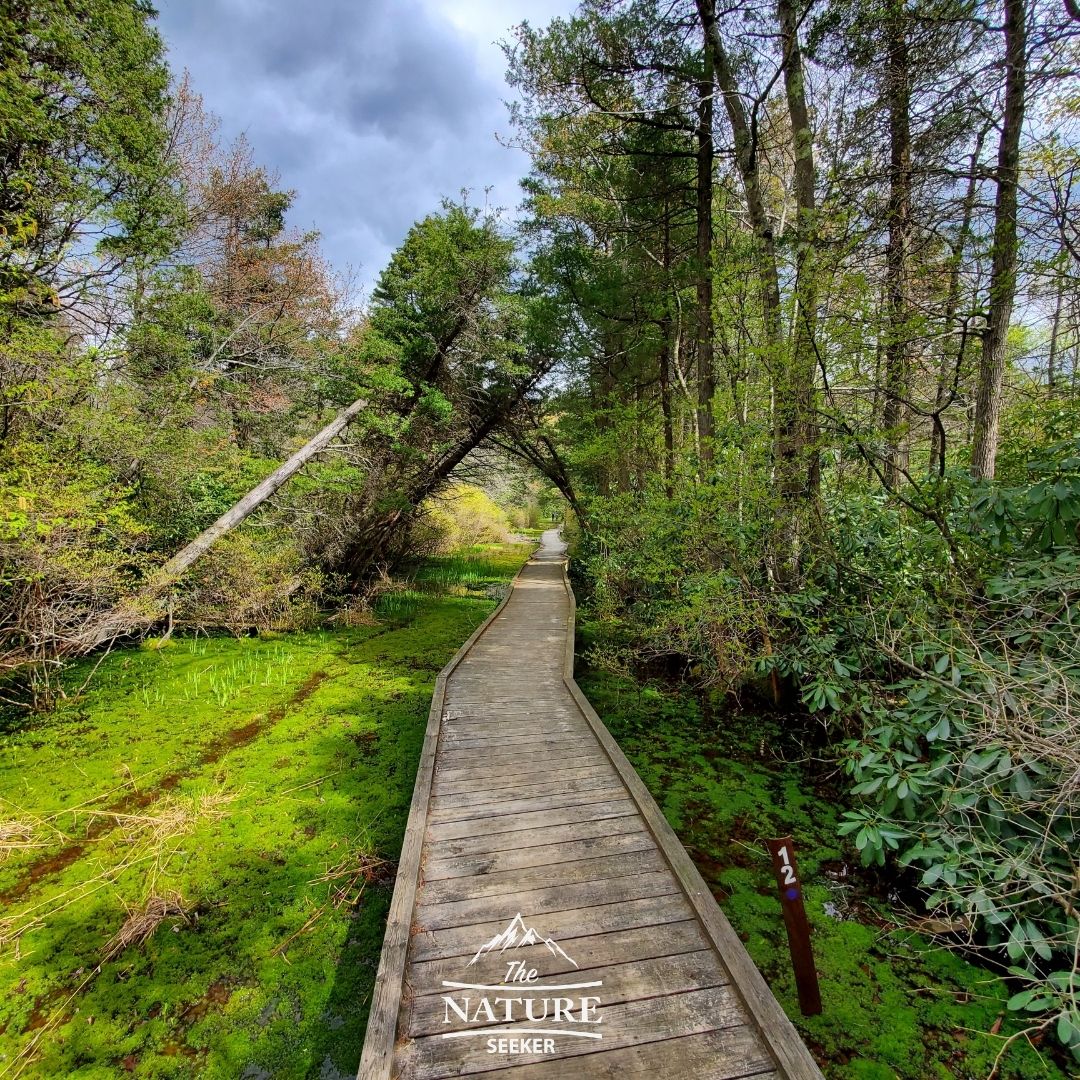 Before exiting out of the park, I saw another road leading away from the loop drive and decided to take it.
It was short, but it took me to a parking area and a trail head for this hike that is only 1.5 miles long (it's also a loop) and so I decided to try it.
It's a pretty cool, beginner friendly hike through a swampy but scenic area.
In fact, some of these areas remind me of areas of Leffis Key in Coquina Beach and even some spots in Mont Tremblant in Canada.
There are some really nice spots like a bridge that goes over the swamp.
Overall this hike is easy for most people to do. The only thing is, it's limited to the trail as you can't go inside the swampy area (it's protected and illegal).
There is a blue trail available within this loop that I said earlier might lead to the Monument, but be sure to check before you embark on it (it's easy to get lost in these situations).
5) Explore Lake Macia (great views of the High Point Monument):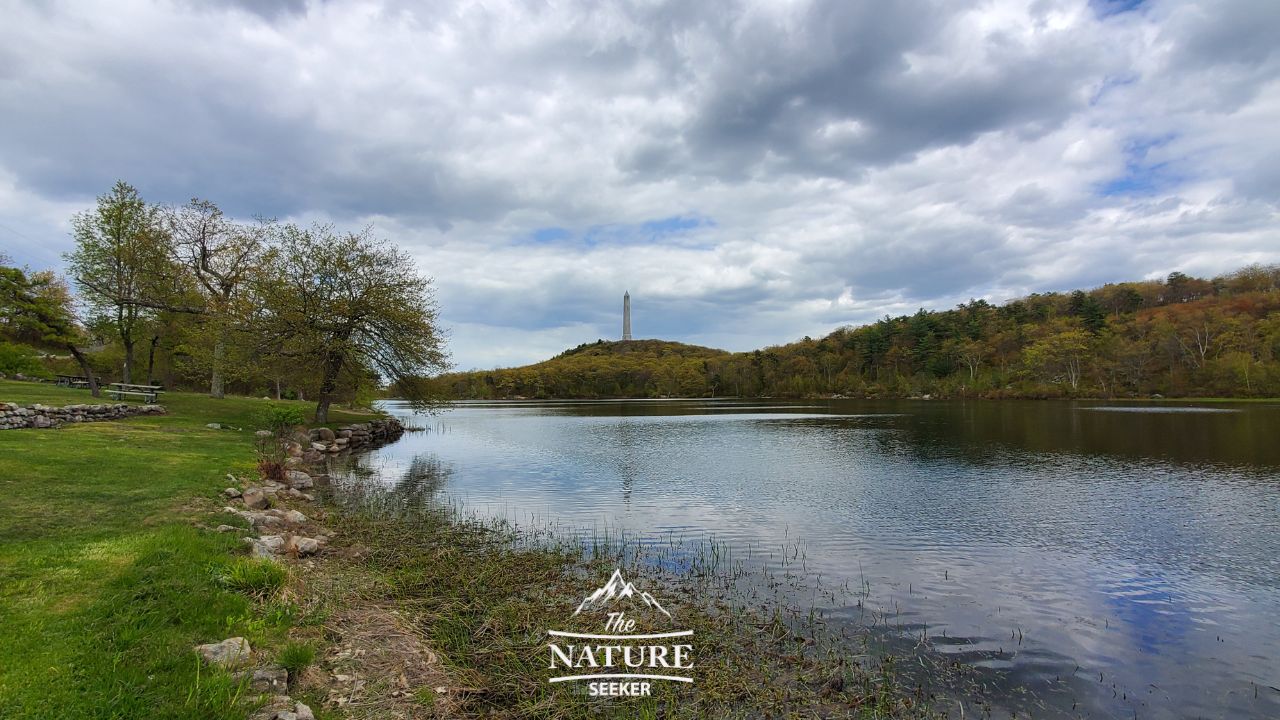 This is the main lake in the park you can find plenty of activities on, including a beach to swim at, nice scenic overlooks and even scenic hills to take great shots from.
From this part of the park, you can also see the Monument in the distance, making for some nice panoramic shots.
I came to this park in late fall and it was almost completely empty, so being in this spot, albeit for a short time and enjoying the silence was a really nice experience for me.
And just as well, the meadows here are also really nice if you just want to relax.
Questions you may have before visiting High Point State Park:
How much does it cost to go to High Point State Park?
Free and up to $90 per person. It depends on the season you visit High Point State Park.
Can you swim at High Point?
Yes there is a swimming area in Lake Marcia at High Point State Park.
Is High Point free?
Sometimes it is free to enter High Point State Park. You should check their main site to see what the fees are. I visited this park in the winter season and got in for free.
Are there bears in High Point State Park?
Yes bears can be found in the High Point State Park area but it is very rare.
Is High Point State Park dog friendly?
Yes, dogs are allowed in High Point State Park.
Other fun things to explore at High Point State Park:
Within these 5 locations of High Point State Park, you'll also find:
Camping sites.
Picnic tables.
Houses with amenities (food).
Playground for kids.
There is also a ski area.
And more.
There is also another beautiful lake about 10 minutes outside of the park but technically within it's regions called
Sawmill Lake
where you can launch boats (there is also a very neat waterfall here too).
Overall, High Point State Park has to be one of the neatest parks I've ever seen and the only ones which come close to memory are Sand Bar State Park or Whytccliff Park in Vancouver.
This place is well taken care of and a very cool place to visit, even if it's just for a day. The potential for great hiking experiences is also good and that's not something I can often say about the hiking trails in NJ unfortunately.
The 5 activities I managed to do there in a short time made my trip there very satisfying and I will be sure to return to redo them again in the future.
7 things to do near High Point State Park NJ:
There are several parks and great hikes within 20 minutes to 2 hours away from High Point State Park you can also explore and here are my top 5 picks:
1) Delaware Water Gap. This is literally in the same region as High Point State Park, but the further south you go, the more of the Delaware Water Gap you'll see. Aside from there being many waterfalls and things to do there, there is also a very popular trail called the Mount Tammany hike to try.
2) Stairway to Heaven trail. This is a highly popular trail that is very close to High Point State Park. You can either drive to the Stairway to Heaven hike from High Point Park which is about 20 minutes, or you can literally hike from High Point State Park on the white trail to this area as it's literally the Appalachian trail.
3) Harriman State Park. This is one of the best state parks in New York. It's 2 hours east of High Point and has many hiking trails. In fact, some of the best day hikes near NYC are in my opinion located within Harriman State Park.
4) Long Pond Ironworks State Park. This is also a good park you'll find east of High Point. It's small, but there's a museum, hiking trails, boating and more to do there. I personally like Longpond Ironworks State Park.
5) Ringwood State Park. It's 10 minutes from Long Pond Ironworks State Park and is a much more mellow type of park to check out with castles and beautiful botanical gardens.
6) Sourland Mountain Preserve. This is a popular hike in southern NJ that honestly I am not a big fan of, at least for hiking. It's a pretty decent spot for mountain biking in NJ but overall, I did hike at Sourland Mountain Preserve and I did not enjoy it there.
7) Upper Delaware area: If you continue along the Delaware river north, you'll come across this area. You can find many hiking trails here, as well as kayaking spots and even scenic drives like Hawks Nest.