Coquina Beach is one of the most beautiful beaches I've ever visited in Florida and there are 10 reasons why I say this. 
Here's 10 reasons Coquina Beach is one of the best in Florida:
It's very peaceful (very few people go there).
Anna Maria Island is awesome for tourists to visit.
Plenty of wildlife there (dolphins, manatees).
The sunsets at Coquina Beach are epic.
Plenty of water sports and exotic destinations are available.
The bay across Coquina Beach is very beautiful.
Leffis Key Park is a wonderful park to explore (right near the beach).
The scenic drive known as Longboat key rocks.
There's tons of beautiful places to stay at near this beach.
Plenty of entertainment spots are available near Coquina Beach.
While many beaches in Florida are amazing, to me, this one is the best for these 10 reasons and more importantly, above all else, for sentimental reasons.
Here's why:
My history with Coquina Beach and why it's so special for me:
This location is very nostalgic to me because I have been visiting it and enjoying the 10 activities I will be laying out for you, for years. 
Since I was 6, I would visit Florida anywhere from several weeks to even a whole month with my grandfather. And every time we would visit, this location would be the one we would most frequently check out.
And while we did also explore MANY other beaches along the gulf coast, Coquina remained number 1 for us, because of the 10 reasons I'll give you.
Sadly, my grandfather passed away several years ago, but I kept up the tradition in visiting this place every time I would come down to Florida. 
Every time I am there, the nostalgia of the adventures I would have there with my grandfather come flooding back to me and I want to share with you all the awesome experiences this place has to offer.
But aside from my personal love for this place, it's also an amazing area for anyone.
Who Coquina Beach is perfect for:
1) People who enjoy scenic experiences and just want to relax.
2) People who enjoy adventures (jet skiing, scuba diving, parasailing, kayaking, paddle boarding, ect…).
3) People who enjoy seeing sea animals (it's quite safe there). 
4) People who enjoy sunsets (See more sunset pictures below).
5) People who want to spend a relaxing, fun time with their families.
6) People who enjoy great food and restaurants near the water (there are plenty of those here).
7) People who enjoy scenic drives on the coast. I assure you, this place has that too! 
8) People who enjoy partying on sandbars (yep this location has it too). 
But these actually aren't the official reasons I wanted to give you to visit this spot. They will be coming up very shortly though.
Where is Coquina Beach located (Aka Bradenton Beach)?
This place is accessible from 2 roads, both of which offer their own scenic views (which I'll get into).
But I prefer sticking to the area (green) where there's less people and more peace. Here is the map location. It is located in Bradenton Florida, on the gulf coast side of the state, specifically in Manatee County. Bradenton is very well known, but it is near Sarasota if you need reference.
10 reasons why Coquina is one of best beaches in the gulf coast of Florida (details):
You will likely find more than 10 reasons, but let me give you mine:
1) It is a very peaceful beach overall:
I personally do not like any spot that has large crowds and areas where swimming and enjoying the nature is hard.
Usually most of the better known spots in the gulf area (like Siesta Key, Turtle Beach and others) have too many large crowds and I find it's difficult to listen to the waves and enjoy the scenery. Here however, this is not a problem, especially if you get to this spot early.
But if you are the sort of person who loves crowds, this place has it too, just nearby (which is number 9).
The walk from the parking area to the water is extremely short and there is a forest in most of the areas there where you can hide from the sun in if it gets too hold or dangerous.
Overall, one of my favorite memories is sitting on the beach early in the morning or around sunset and enjoying the scenery there. It's very peaceful.
And this picture basically shows how few people there are in this location (which I love!).
While weekdays are usually the best times to visit this location, even on weekends, you will find that there aren't that many people either, except when there's a holiday.
2) Anna Maria Island is gorgeous: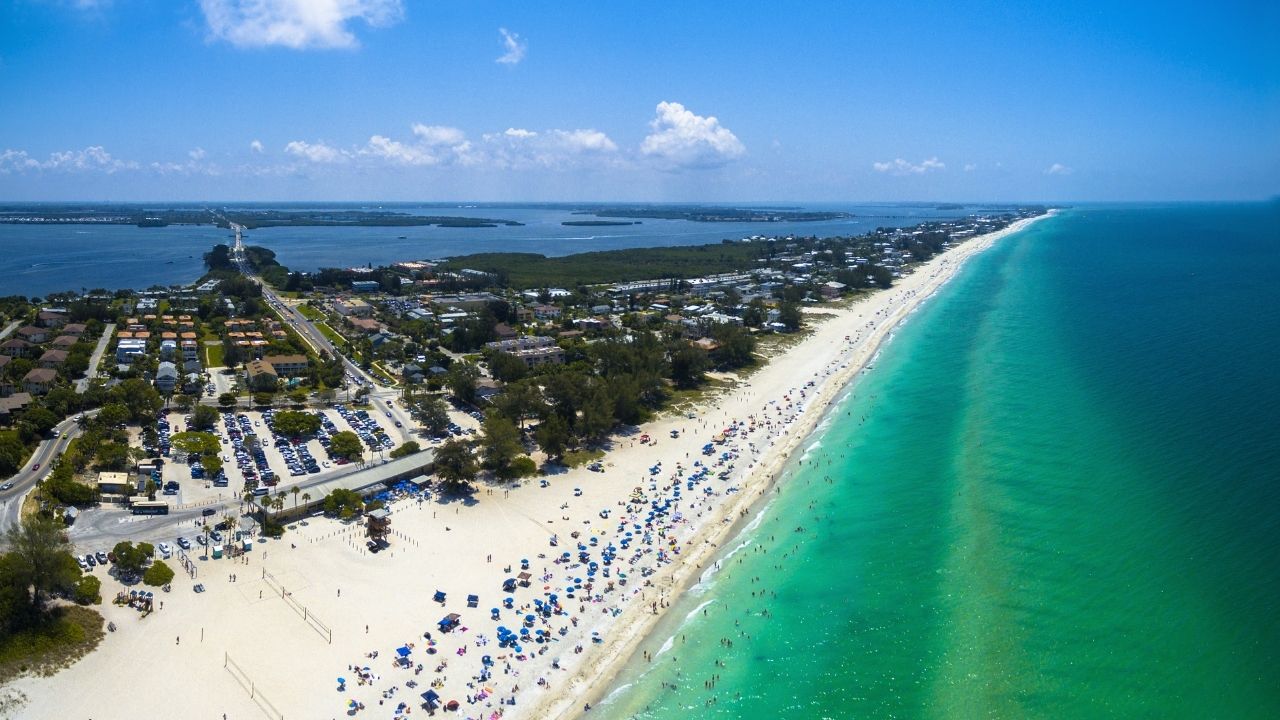 This is the spot most people who visit this location go to. Anna Maria also has it's own beaches and entertainment areas, as well as wildlife.
3) You'll find lots of beautiful wi

ldlife in Coquina Beach (mostly the good kind):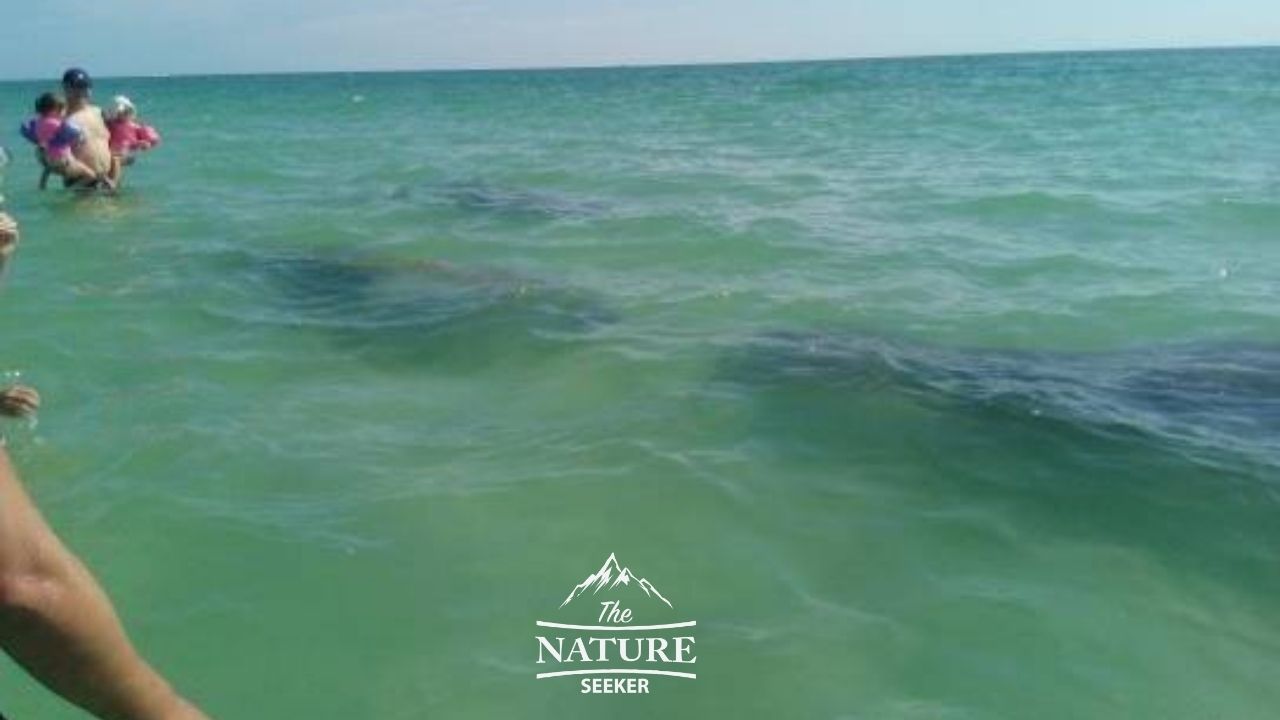 Now I know most people will probably think of sharks when I say wildlife, but as far as I know, Coquina Beach has had VERY few sightings over all the years I've been there.
The reason why is because there are many dolphins there which are known to keep sharks away.
You'll also find manatees (I've had numerous run ins with them, they are very peaceful), sting rays, manta rays, all sorts of wild birds, and more.
Here's an actual encounter I had in 2016 with some (manatees):
I'm not recommending you touch them if you see them, nor would I recommend you disturb the wildlife, but as you can see, there's lots of opportunities to get close to these beautiful animals (of course, be safe).
4) The sunsets in Coquina Beach are something else: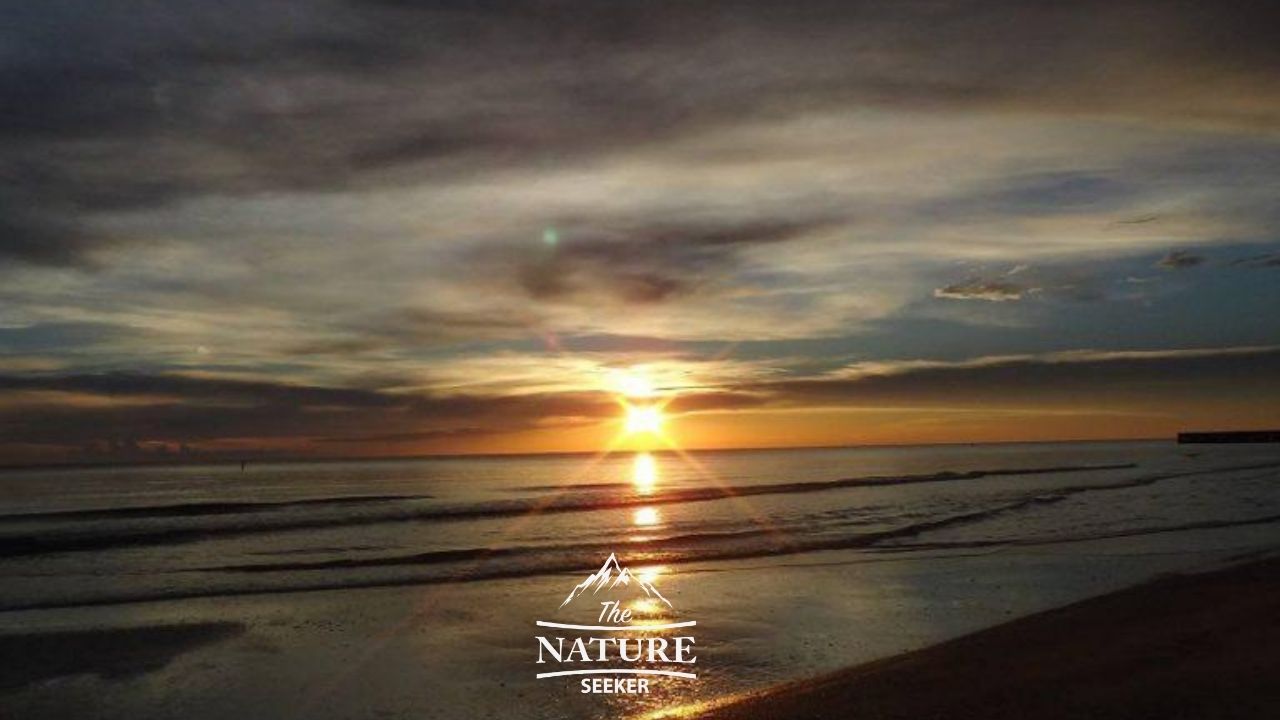 It's obviously true that you will have beautiful sunsets in just about any beach in Florida, but with all the other things I have come to enjoy about this spot, adding an unforgettable sunset only makes it better.
Before camera phones, I used to take pictures with old school cameras and I still have a shoe box filled with old pictures of sunsets I used to take when I would visit this spot many years ago.
I've seen amazing sunsets like in Gros Morne National Park and the Pacific Northwest areas, but to this day, this spot in Florida has some of the best ones.
I'll be adding a few more as this post progresses, because over the years, I've had the pleasure to witnessing more than a few of them!
And keep in mind, all these sunset photos were taken during different dates.
It just shows how amazing it is here.
I just wish I could show you the photos I had before camera phones came around.
They were also amazing, but here are others I've taken on my phone:
Now you do have to "time" the sunsets in this region, because they won't always be this beautiful.
My advice is to come here between the fall and summer seasons (before August).
Sometimes cloudy or stormy days can prevent sights like these and there are also times where these very same conditions open up enough space for the sunset to set in a way that'll create the kinds of photos you see.
5) Plenty of water sports available:
Jet skiing, parasailing, kayaking, paddle boarding, scuba diving, fishing, partying on a large sand bar and island hopping with boats, kayaks and so on.
And speaking of Kayaking, if you're in this area, 30 minutes away, you'll find a place called St. Petersberg, where there are awesome kayaking trails like these.
And as for the places you can explore on these things:
6) There's the beautiful

bay next to Coquina Beach: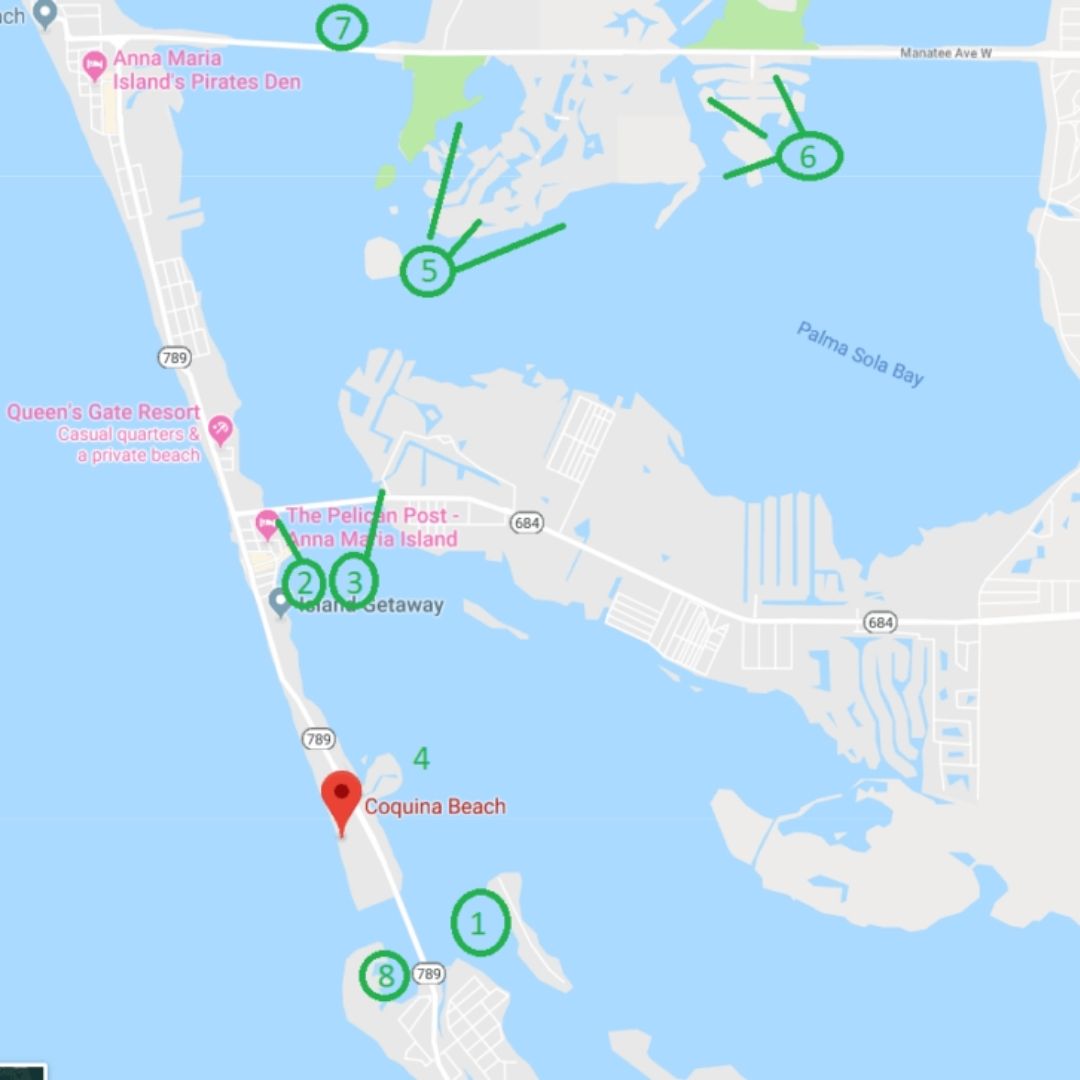 Just being able to ride jet skis, kayaks and boats would be boring if it was in open water and there was nothing to see.
Thankfully, Coquina Beach and the bay next to it has plenty of exotic spots to explore, including the ones I've labeled on the map below:
1 This is the sandbar area. The whole circle I put up is a place that many boats and people stop at and party in. I kayaked here, got off on the sandbar and walked around quite a bit. It's very enjoyable here.
2 and 3 are spots where you can rent boats, kayaks, jet skis, mopeds, and more.
4 is Leffis Key, a very beautiful and small park.
5 is a scenic area you can paddle board or kayak to. It has small islands that are spectacular to view.
6 is pretty much the same as 5 but it is known to have more wildlife like manatees there.
7 is an area further north of the bay that has other beautiful views, one of which is Skyway Bridge in the distance.
8 is an island you can see while driving on the bridge from Coquina, but it is accessible on boat or kayaks. And you can stop there and enjoy scenic walks or even camp out and have a party there.
Now I did list the activities you can do and most of them you'll be able to do here. I have jet skied, paddle boarded and kayaked across many spots on this map and I have to say, if you want the most freedom, rent a kayak (there's several spots along the beach where you can do this).
You can legally go through most of the places in the bay with a kayak, whereas with a jet ski, there are many restrictions, no wake areas and wildlife refugee areas that you can't go on a jet ski with, but with a kayak you can (or paddle board).
Here is a picture of the Sandbar area you'll find by Coquina Beach: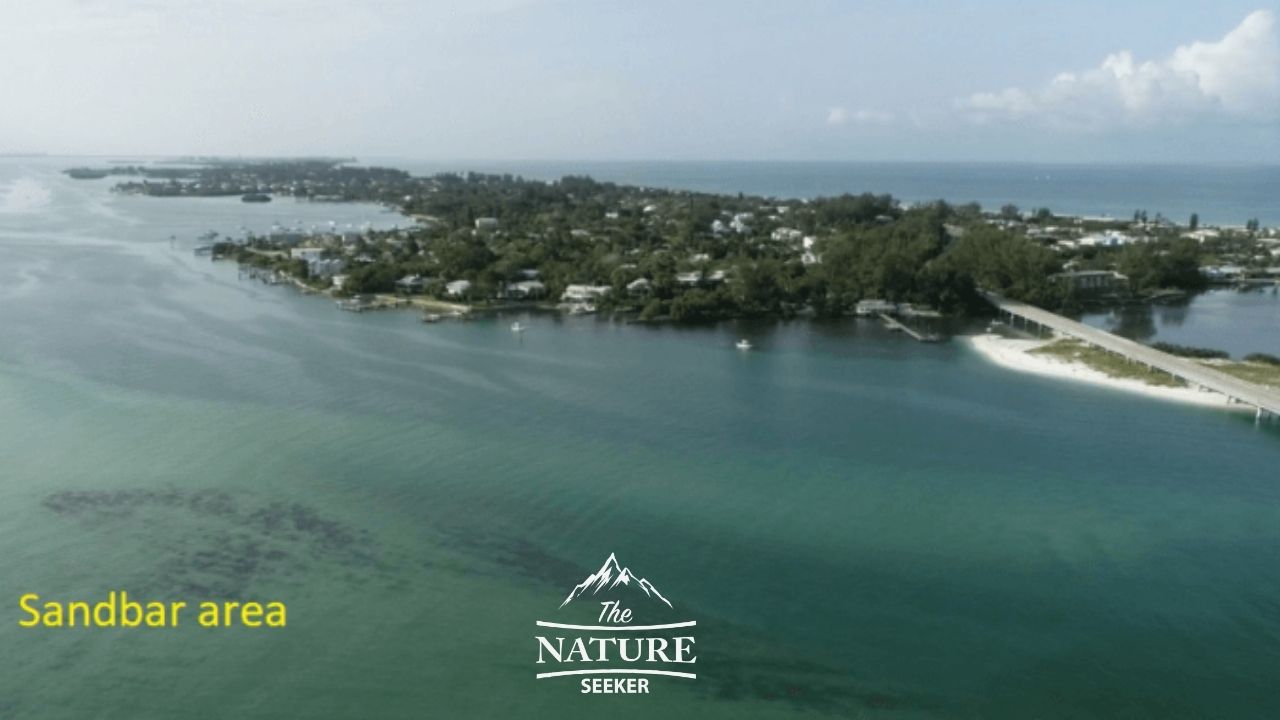 7) Leffis Key Park:
Leffis Key is a park right on the other end of the beach, which has great, short scenic walks and great views of the bay. You can also see a lot of wildlife, ranging from crabs, different types of birds and other sea life.
If you like these types of places (other than beaches), see this list of exotic places in Florida, as it has a lot to showcase!
8) Longboat Key (A beautiful scenic drive):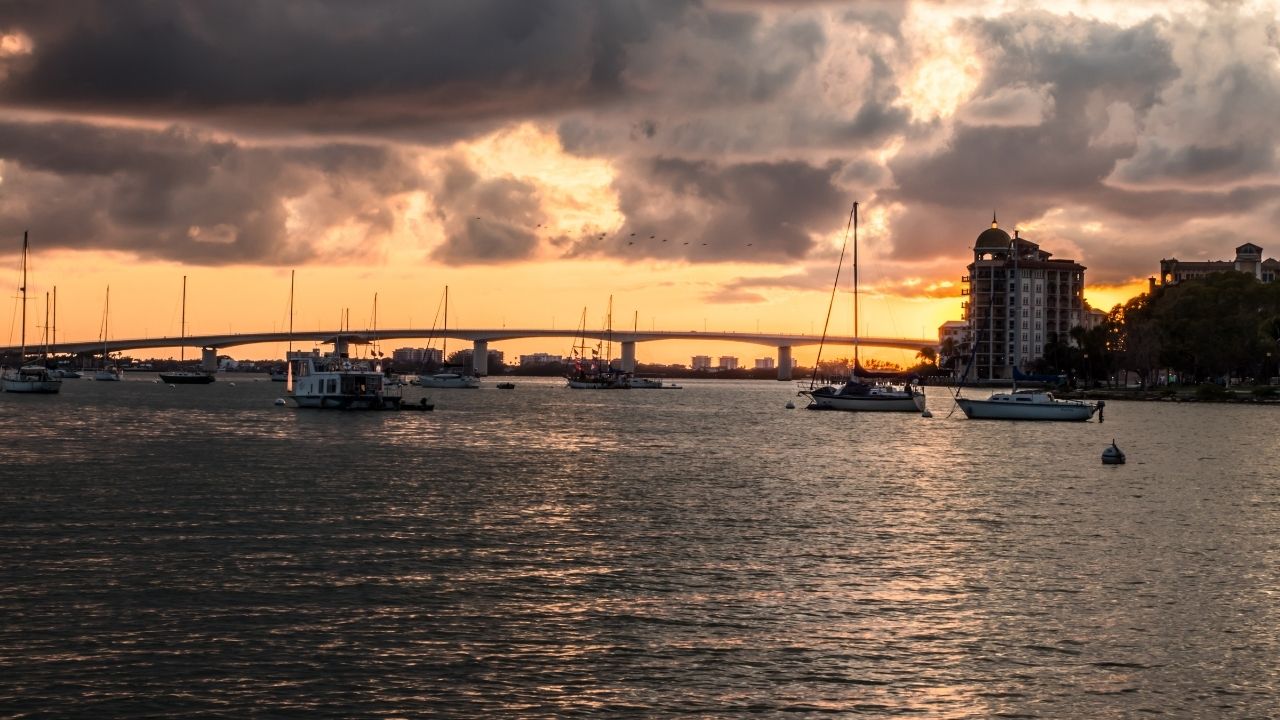 If there is one scenic drive I do over and over again when I'm in Florida, it's Longboat Key.
Heading south from Coquina, this path takes about a good 30-40 minutes to cover and on it, you'll see plenty of other beaches, resorts, restaurants and more. Into scenic drives? Here are plenty across North America.
I personally recommend renting a moped and going through it on that and stopping off at St. Armand's Circle, an entertainment spot at the end of Longboat Key where you will find plenty of shops, restaurants and entertainment spots (as well as other bays and spots to swim, such as Lido Park).
9) Beautiful resorts are available all along the Coquina area:
If you reserve it early, you can stay at one of the many beautiful hotels, motels and resort locations that are on the road all along Coquina Beach. If you can't find anything or it's all filled up, I would recommend either checking spots in Anna Maria Island or on Longboat Key.
10) Entertainment is everywhere in the Coquina area:
There's a lot of restaurants on this island and other things such as marinas, mini golf, tourist stores, ice cream shops and SO much more.
Like I have said before, I've visited many beaches on the gulf coast and I will make a list of the most beautiful areas I have seen, but if you're in Sarasota or Bradenton, Coquina is a must see and in my opinion it is one of the most beautiful spots on the gulf coast of Florida!
Questions about Coquina Beach answered:
Can you swim at Coquina Beach?
Yes, most of the beach areas across the beach are accessible to swimmers.
Does Coquina Beach have sharks?
On rare occasions sharks have been spotted in Coquina Beach, but you're more likely to encounter dolphins, manatees and stingrays.
Does Coquina Beach have free parking?
Most of the parking spots on Coquina beach are free.
Have further questions about this beach? Ask me below!