Several months ago, 2 friends and I took a road trip from New York City all the way up to Gros Morne National Park in New Foundland, with no prep work or idea of what we'd find. The trip was very impromptu and we only had 5-6 days to do everything we wanted to do.
The trip was crazy, and the details of it are covered in this road trip across eastern Canada post, but it was very fast paced and in the span of 5-6 days, we traveled over 3,000 miles and saw plenty of beautiful spots. However:
The goal was to see Gros Morne National Park, and here's 10 things we learned (summary):
These 10 things were learned after the trip was done:
Avoid taking the Ferry to New Foundland.
You can fly into New Foundland and travel to Gros Morne on car after.
There's only 2 roads in all of New Foundland to get to Gros Morne.
Don't just stick to Gros Morne National Park, there's more to see outside of it (I'll show you below).
The main attraction of Gros Morne National Park is Western Brook Pond (that Norway looking spot).
Visit Tablelands, it is part of Gros Morne.
Find time to check out the high and low tides there (they are spectacular).
Know when to visit Gros Morne so you see the Northern Lights (yes they are there).
Beware of the moose (there's many).
Make sure to check out Trout River, next to Gros Morne (it is a beautiful coastal spot).
I'm going to detail every single one of these things we saw and show you some of the awesome photos we took and the adventure we had visiting Gros Morne. Learn from my lessons going there without planning, so when you do it, you won't lose out like we did in some cases!
The 10 things we learned about Gros Morne National Park (details):
Trust me when I say, that if you read these things, you will enjoy your trip there even more than we did (and avoid the annoying negative things we experienced too).
1) Avoid taking the Ferry to get to New Foundland. Here's why:
Gros Morne National Park is in this province, and if you wish to get to there from the south like we did, you need to take a Ferry from a place called North Sydney and register your car and your group in advance.
We did and the RIGHT move was registering for a night ferry since we would get to New Foundland in the morning and not waste anytime continuing our trip.
But here is why I don't recommend it:
The ferry ride itself is about 7-8 hours, and unless you register a cabin, you're likely not going to have a very pleasant experience.
On the boat ride there, we slept in seats and on the carpet floor. The heater was also turned on very high so it wasn't very pleasant, not to mention all the snoring for all those hours.
The food wasn't that good either, and overall, it's an experience I do not wish to repeat (but we had to on our way back so we could get home). Trust me, register a cabin on the ferry if you go and you may have a better experience than we did.
And on the ferry ride back, it was even worse, there was basically no heater and we were all freezing for hours before we finally got back.
And so in hindsight, the ferry was a mistake. And thus this brings about the second thing we learned:
2) Fly in to New Foundland (There is an airport there).
We didn't know that New Foundland had an airport (St. Johns), but it does exist and it's located on the eastern most part of the province. Use that instead of the Ferry, unless you enjoy masochism. 
3) There are only 2 roads which lead to Gros Morne National Park.
The road from the south where we came in from and the road from the east from where the airport is so you really can't get lost there.
The road to this park will take you through some small and relatively large towns, some of which are inside the park such as Norris Point and that place has a bunch of accommodations from hotels to restaurants. There's also beautiful waterfalls like this on the way:

4) Visit spots outside of Gros Morne (because there's lots to see too):
We also very much enjoyed the coast area in this spot, because it had beautiful beaches and incredible sunsets. Here's one from Rocky Harbor, near Norris Point: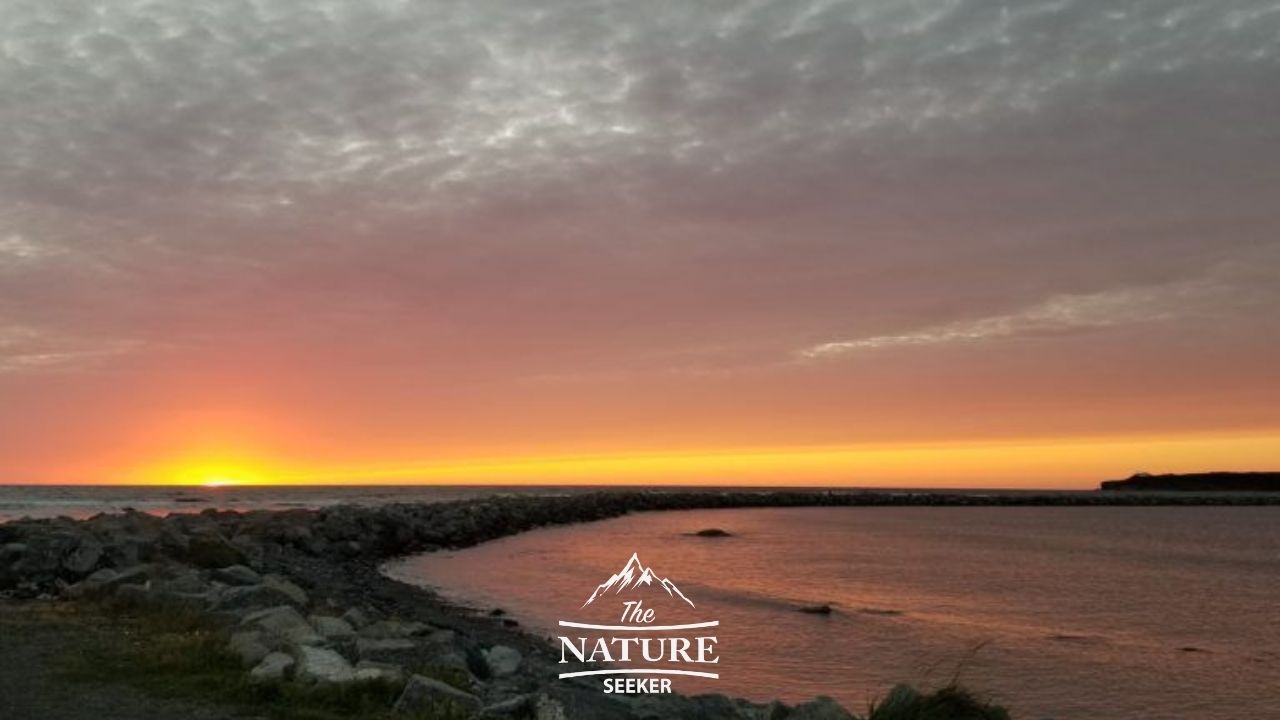 And if you like sunsets, check out my Pinterest channel where I have a whole board on them.
5) Go to Western Brook Pond (this is the spot everyone talks about):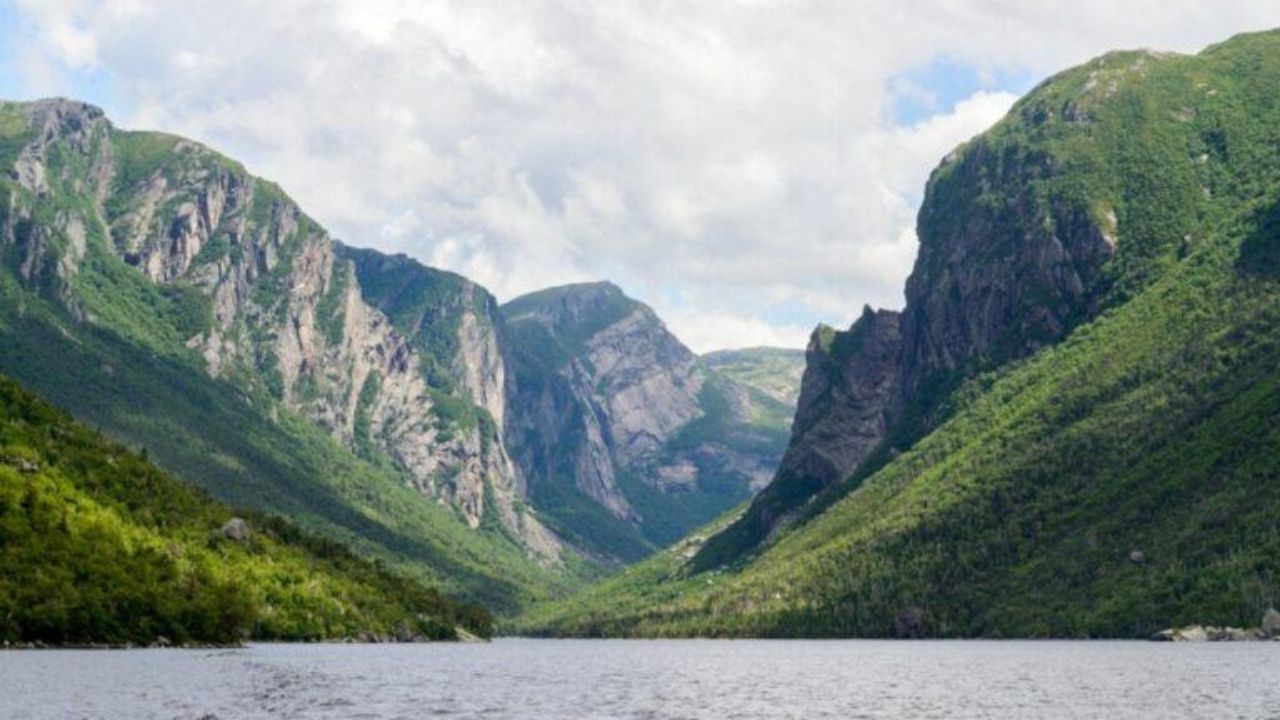 The truth is, most people visit this place for a specific location called Western Brook Pond (it's the most famous).
It is a gorge that has gigantic Fjord mountains and a boat ride you can take in between that gorge as well as see plenty of waterfalls from these mountains as well as a scenic view that is the most advertised location in this area.
There is a famous photo of this spot that circulates the internet and it took me awhile to actually find out what the name of this place actually was and it's literally the overlook at Western Brook Pond.
But that information was annoying to find, and now that you're reading this, you now know it too! But anyway:
Here are beautiful photos of Western Brook Pond (and important lessons we learned about it too) we took while we were there including this one: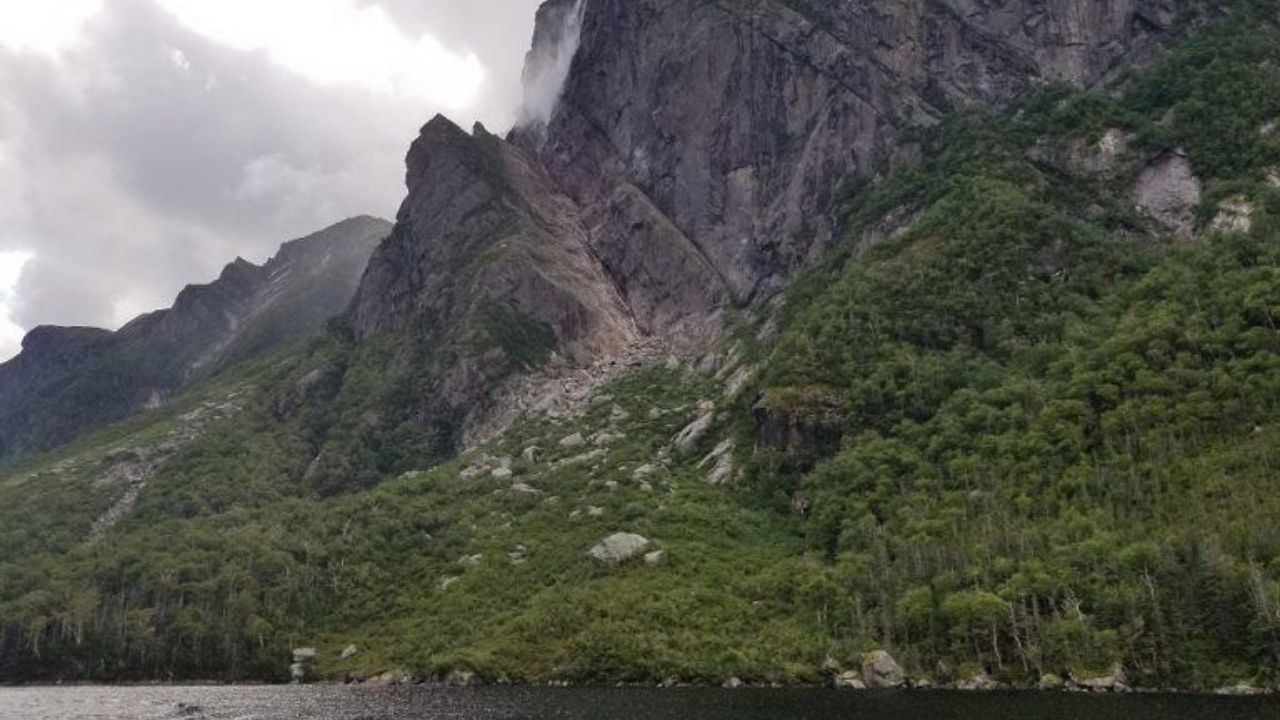 6) Gros Morne has a "desert" called Tablelands (check it out!):
A huge chunk of Gros Morne National Park (the southern part) is apparently made up of post volcanic landscapes and hardly has any life there.
So basically this section of the park literally looks like a desert with mountains and trails there too, and right next to it, is the other section which is the green area.
This is a unique combination of nature that I've never seen in any park I've visited and if you go on the road through the park into Tablelands and hike it, you'll see a distinct separation of this nature, as though you're in 2 different worlds.
Here's what I'm talking about:
7) The high and low tide experience is incredible (see it at the bay in Gros Morne):
Something I didn't see talked about when I was looking into this park was the high tide experience.
One of the things that apparently makes Eastern Canada worth visiting is the fact that some of the biggest high tides happen in this area, particularly Nova Scotia's Bay of Fundy, but while that place was further south east of us, it also apparently takes place in Gros Morne National Park as well!
Basically a large section of it fills up with water whenever the high tide comes in and it looks amazing.
Unfortunately it's something we missed, but it was pretty obvious to see how amazing it could look as we drove through bay areas that were clearly at one point filled with water, but completely dry to walk on.
I cannot imagine how awesome the experience would be to see this place fill up with water during high tide, and I would highly advise you see it if you get the chance.
There's even hotels in these spots where you can see this happening up close.
I've included a link to the map, but you can see the specific sections below. We were even told whales swim in these areas: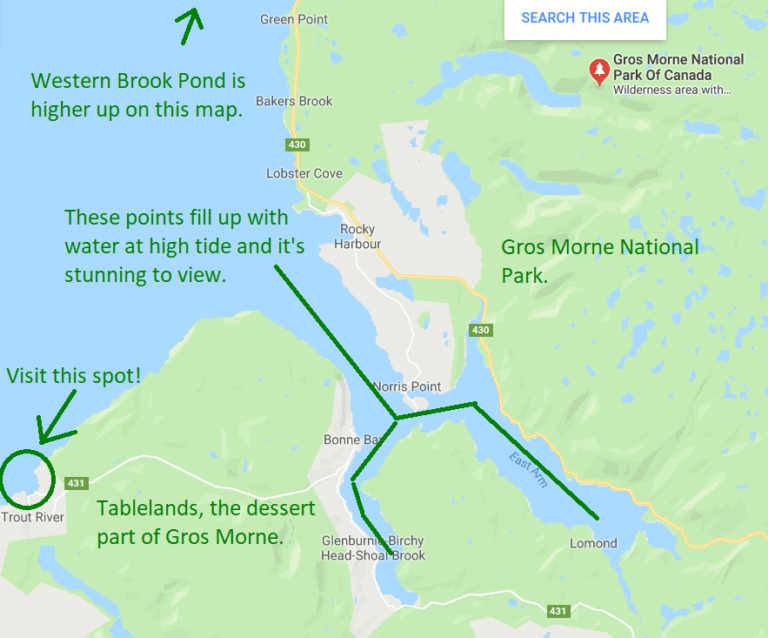 8) You can see the northern lights at Gros Morne National Park (but you have to time it right).
Our trip took place in early September, and there are images on Google which show that Gros Morne does have northern lights arund that time, but apparently they happen more frequently closer to the winter there, and if you can time your trip to this park in October and up, then you have a good chance of seeing them.
Sadly in our case, we weren't there at the right season and if you really want to have a strong chance of seeing these lights in this province, head further north to St. Anthony.
That town is said to have good chances of seeing them, but it is 400 km away from the park, so plan wisely. Otherwise, you can see the lights within the park, but it has to be during wintertime.
If you have the option and love mountains and want to see the Northern lights, there are 2 options:
Iceland, which I will visit and document one day.

And the Canadian Rockies, where places like Jasper and Banff have them after Sepember.
9) There are many moose in this area (drive and hike safely).
I've never seen so many warning signs for them until I hit this area. If I were you, I'd only travel during the day and keep your eyes open anyway. 
10) Visit Trout River! It's outside the park, but is gorgeous!
One of the last locations my buddies and I visited before leaving the park was Trout River, a cove like location similar to Rocky Harbor and it is located south west of Tablelands.
It's officially not part of Gros Morne National Park, but the landscape is amazing and worth the visit. Basically the cove itself is a beach with large cliffs, wild sheep and great restaurants:
I've compared the views in Trout River to some spots I saw on the California coast as well as the Oregon Coast, although I'd say the coastlines in those states are better in every way.
Yet if you visit Gros Morne National Park, I assure you that you only stand to gain great views and experiences by hiking to Trout River.
And for hikes in Gros Morne, these products should have you covered and ready:
Questions about Gros Morne National Park:
What is so special about Gros Morne National Park?
There are several features which make Gros Morne very special including the volcanic rock area of it, seeing the northern lights, the high and low tides, and the fjords of Western Brook Pond.
How many days do you need in Gros Morne National Park?
Generally if you spend 2-3 days in Gros Morne National Park, you should be able to see and do most of the main activities there.
Is Gros Morne worth visiting?
Gros Morne is beautiful but generally speaking, there more southern provinces of Canada (Nova Scotia and New Brunswick) have more to offer in my opinion.
How hard is the Gros Morne hike?
The popular hike in Gros Morne to the famous overlook is about 5 km one way and is pretty strenuous. You are also required to hire a guide beforehand.
Overall, would I recommend checking out Gros Morne National Park?

For a one time visit, it's a pretty awesome spot to visit, so yes.
And considering we literally only spent 1-2 days there, we didn't get a chance to explore it as much as we wanted, but the lessons we learned and from what we saw, we really did enjoy the experience.
I would say there's better parks I've been to and recently, taking a trip to the Pacific Northwest of the U.S, on the opposite end of Eastern Canada, it really made me wonder if I had a choice to revisit the areas there or Newfoundland, the answer would easily be the west coast.
Gros Morne National Park as of now is a one time visit for me personally and this is mainly due to the logistics of reaching it. I have been fortunate enough to visit other spots in Canada that I also find to be a bit more adventurous such as:
I'd recommend all of these places above Gros Morne National Park, not just for the better views, but the easier logistics of reaching them, but that's my personal opinion.