If you're visiting Vancouver and decide to go outside of it to visit new spots, a must see place is Whytecliff Park, especially if you're into nature.
It's only about 20 minutes outside of Vancouver and this article will show you the beauty of this small, but gorgeous park that has many little but epic adventures you can do.
Here are the 7 things you can do in Whytecliff Park:
Hiking.
Beautiful beach walks.
Picnics.
Walking across the park onto other islands during low tide.
Scuba diving.
Kayaking.
Bonus: Explore Lighthouse Park.
Now aside from that, just exploring this park is highly recommended, especially if you're looking for places to hike and explore that are close to Vancouver.
This is a small park, but not many people know about it, let alone it's beauty so if you don't like crowds, this park is a must see.
Why Whytecliff Park is so special to me:
I visited Whytecliff Park all the way back in 2005, when I was only 18 years old during my first trip to Vancouver. 
At the time I had relatives who lived in the Vancouver area who invited me to see them for a few days and since they love nature too, this was one of the places they took me to.
I'll never forget how beautiful and clean the city was itself, but it was when they took me to see Whytecliff Park, that was when I was truly amazed.
I believe that place may have triggered something in my mind that made me feel infatuated with nature, all the way to today.
Luckily, I've been able to dig up the old pictures I took when I went there so I'd like to share what you can experience there and/or if you decide to visit the greater Vancouver area, to absolutely stop by this park:
When I first saw this specific spot, I made a promise that I would one day return and in 2019, I did, during a western Canada road trip I did.
On that road trip, I began by visiting:
Oregon's famous Columbia River Gorge,
Before exploring a bit of Olympic National Park,
Then ferrying to Vancouver Island, where I explored Sombrio Beach's waterfall.

Then a few days after, I went to Vancouver itself.

Then while heading up to Whistler where I made sure to visit Whytecliff Park.

And after that, I proceed to go all the way to the Canadian Rockies in Alberta. 
But despite the awe of all those places I saw on my trip, Whytecliff Park still holds a very special place in my heart and going back there once more was truly nostalgic.
Where you'll find Whytecliff Park on the map:
As I said, this place is very close to Vancouver so if you're visiting, going here shouldn't be a problem. It's actually a very small park, something that I realized when I went back there the second time, but the beauty that originally drew me to this place was still there and I will go back when I get the chance again.
The 7 activities you can do at Whytecliff Park (explained):
I mentioned them above, but I'd like to get into more details on them here:
1) Hiking:
Despite being a relatively small park, you'll find some beginner level and challenging hikes in this area.
In fact, while going through my old pictures the first time I went there, I found one where I went up to the top of one of the rocky hills in this park, with steps drilled into it:
Even at 18, I had that urge to climb and hike beautiful areas and naturally when I saw the beauty of this park, I had to do as of it much as possible!
While I did that hike, my relatives took a photo of me from the overlook.
And the picture you saw above was another iconic spot in Whytecliff park you can walk down to.
This area is a small gorge with beautiful scenery that I re explored when I returned many years later:
2) Beach walks.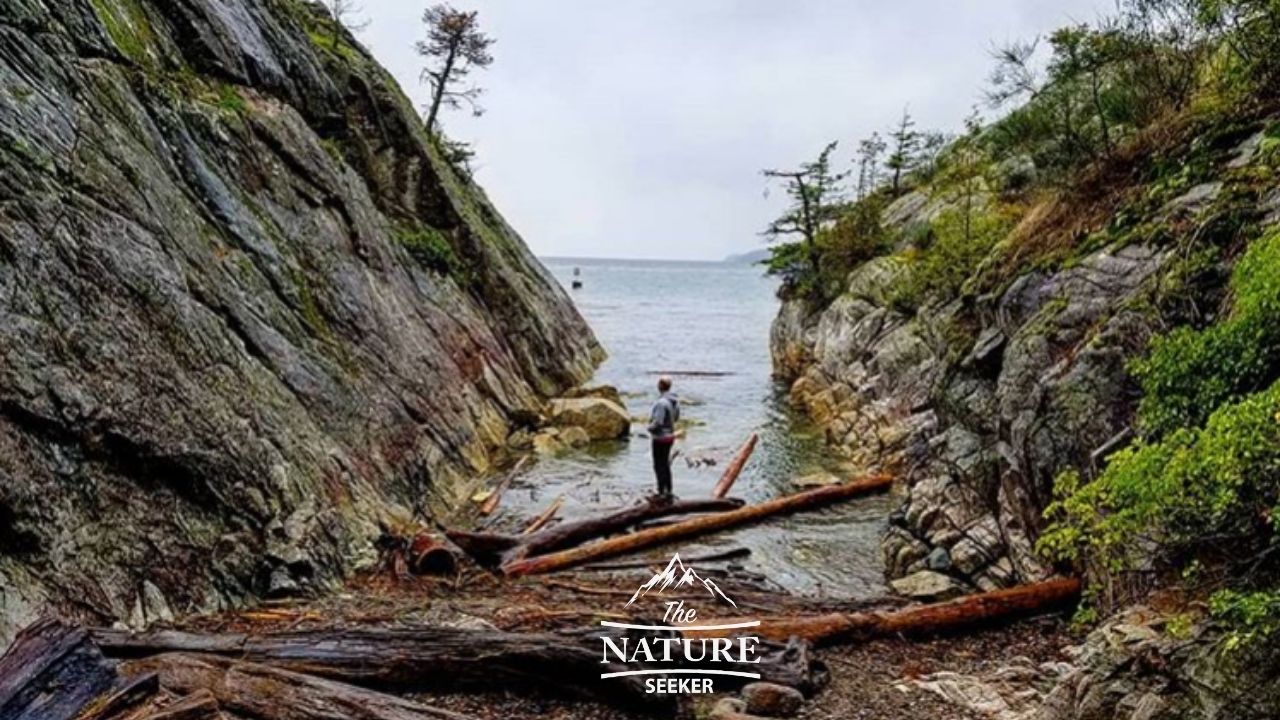 The beaches in this park is stunning, the water is clean and the scenery is magnificent. And the thing is, this park may have cloudy or rainy weather often, but I have found that no gloomy weather affects the beauty of this place.
In fact, I found that the more cloudy the weather here, the more beautiful the nature looks.
3) Picnics. 
Provided the weather there is good enough for it, the peace and scenery of this park is perfect for picnics.
It's quiet, tranquil and almost other worldly.
4) Walking to the other islands near Whytecliff park (during low tide).
This aspect of the park and the western Canadian area stunned me when I first heard about it, but during low tide, certain spots, particularly in this park are so shallow and even ascended to the point that you can just walk across one island to another.
If you're going to do this, always make sure to check when the low tide will actually be at it's peak before going and of course, time it so that you can get back to your original destination before high tide traps you.
5) Scuba diving.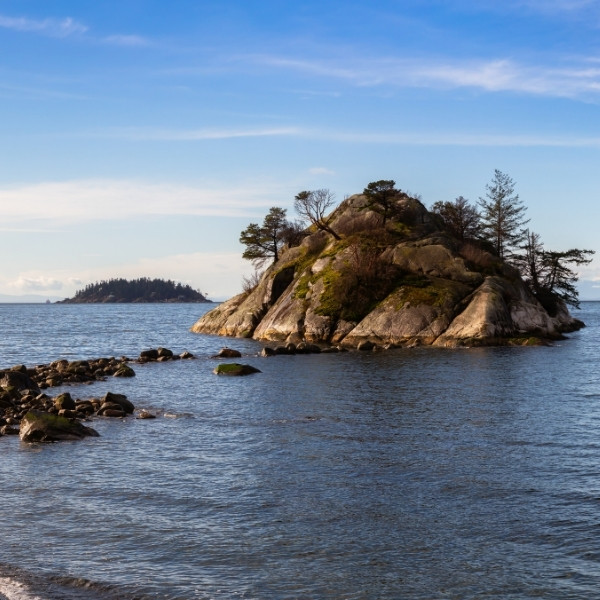 I never did it, but I found out that Whytecliff Park has that option available.
Considering all the animal life that is in this area (whales, dolphins, killer whales, seals, ect…), it would certainly make for a great adventure and considering how awesome the nature looks on land, I can only imagine how awesome it looks below the water there.
Additionally, this park is located near a very nice looking neighborhood and island so the scenic drives you can around this spot are also plentiful.
6) Kayaking and paddle boarding:

It's very beautiful and scenic to kayak around this area and if the tides are too high to walk over to other islands, then kayaking is your plan B.
7) Lighthouse Park:
This area is right next door to Whytecliff Park and is excellent for cool hiking trails, amazing views and more.
Should you wear anything special for hiking at Whytecliff Park?
There are no difficult hikes at this park whatsoever (unless you get creative which is what I did), but if you are interested to know what I would bring for a hike (if you go here or nearby which is what the next section explains), then this is what I'd take with me:
Question about Whytecliff Park:
Can you swim at Whytecliff Park?
Yes there is a beach available to swim at in Whytecliff Park. In addition to that, there is also scuba diving.
Is Whytecliff park dog friendly?
Yes, you can bring dogs and even take them off leash in this park.
Nearby attractions to Whytecliff park I recommend exploring:
1) Other things to consider is going further north and basically repeating my Western Canadian road trip itinerary.
2) If you have the time and a few extra hours, be sure to visit Whistler and Shannon Falls that are about 1 hour away from Whytecliff Park (both are north of it).
3) Overall the whole area near and surrounding Whytecliff park is worth exploring if you're into nature and I hope you get a chance to do it. I loved both of my visits to this small, but adventurous area and I'm certain you'll feel similarly if you visit it too.
There's so many areas near Vancouver worth seeing, including in it, but sometimes the most overlooked places, such as this one are easy to miss, considering how small it is, but I hope you'll take the time to visit this park. Even spending a few hours there is worth it.