16 Best State Parks in New York That Rival National Parks!
This article covers what I consider to be the 16 best state parks in New York to explore and I'll tell you something, some of the ones on this list and their beauty actually rival some of the national parks I've personally seen across the country (I'm not joking) and you can tell me below if you agree or not.
While New York State has no official national park, it does have tons of state parks and while I haven't explored all of them, I have seen enough to filter through which are worth visiting and which are not and of course the list provided here is going to show you only the best ones that are perfect for hikes, family travels, mountain biking, swimming and whatever other outdoor adventures there are.
I've lived in New York City for nearly 30 years now and I'm shocked by how beautiful this state can be if you know where to go and some of the pictures I post on this site or on my Instagram, while taken somewhere in this state sometimes have people asking me if it's a national park or not even knowing that it's located in NY state! And when you see this list, you may find yourself double checking if it's really here or not!
Here is my list of the 16 best state parks in NY (used to be 15):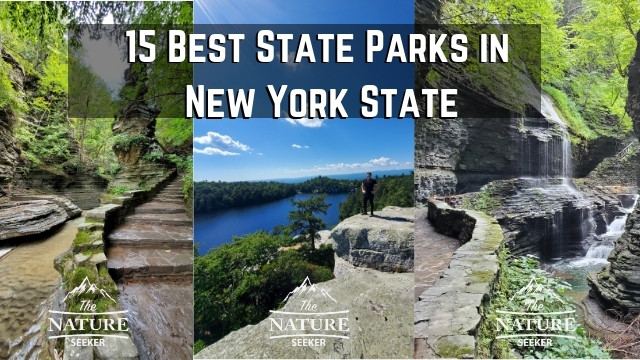 Letchworth State Park.
Robert H. Treman State Park.
Watkins Glen State Park.
Buttermilk Falls State Park.
Harriman State Park.
Taughannock Falls State Park.
Lake Minnewaska State Park.
Green Lakes State Park.
Stony Brook State Park.
Allegany State Park.
Filmore Glen State Park.
Thacher State Park.
Robert Wehle State Park.
Hudson Highlands State Park.
Schunnemunk Mountain State Park.
Taconic State Park.
Quick Q & A info on state parks in NY:
How many state parks are located in New York?
Officially 180.
What about national parks?
There are no national parks in NY, but there are a lot of preserves, conservation areas, reservations and other places that sometimes get mistaken for state or national parks.
Are the Catskill Mountains or Adirondack Mountains a state park?
No, these regions as DEC regions and I wish I could have added a bunch of places to this list from them because both the Catskill Mountains and Adirondack Mountains on their own have so much beauty and adventures to offer, but because this list only sticks to state parks, we're keeping it strictly focused on that.
Can you camp in every state park on this list?
Yes, there are options in every one and if they are filled up, spots are available close by.
1) Letchworth State Park (one of my favorite state parks in New York):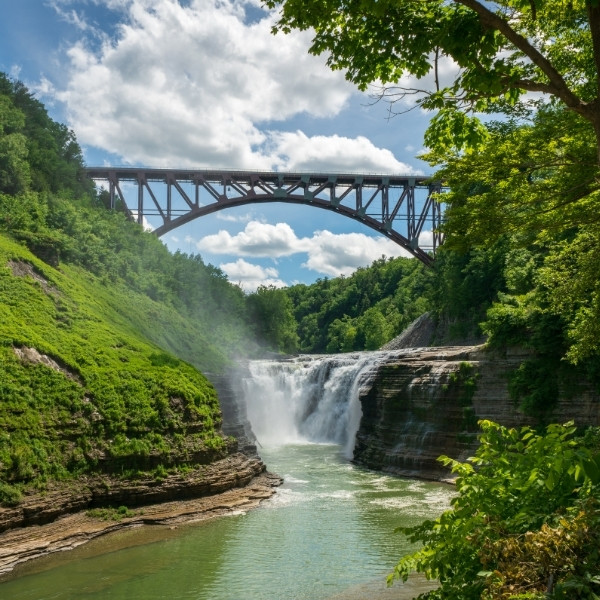 Letchworth State Park is in my opinion one of the top 5 state parks in all of New York State to check out for a lot of reasons, most of which revolve around the diverse beauty of this park. There are 2 main and giant waterfalls to check out in this park which are very scenic and for the most part, this park and the explorations here are family friendly.
One of the other things I really liked when I went here is how neat and polished the park was. This is honestly one of the cleanest and neatest parks I have ever explored and it actually felt comfortable just being there.
You have clean roads, nice mowed grass in most parts and at the same time sections of the park which are more wild and better for hikers and adventurers to check out. There's also a nice hotel in the area with great scenery all around.
2) Robert H Treman State Park: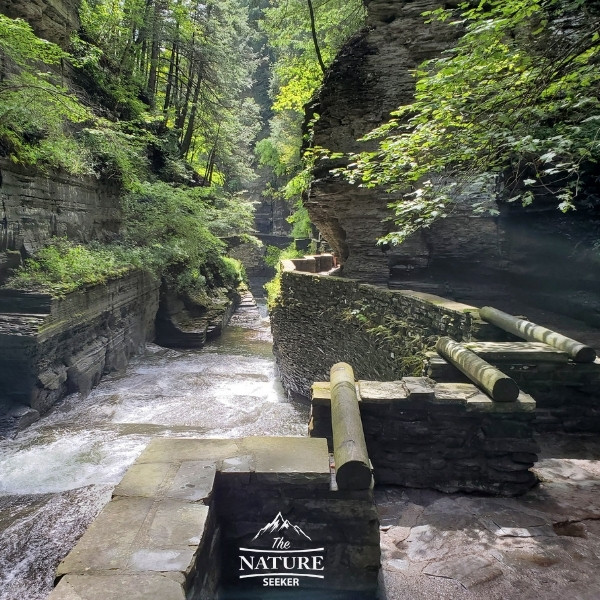 One of the things I absolutely love to explore in nature are gorges, waterfalls and hikes along them and this is exactly what you get when you visit Robert Treman State Park. It has numerous trails, but the most popular is the gorge trail which is a few miles long and that takes you past a bunch of waterfalls and beautiful scenic spots, one of which (towards the northern end) is a rocky but polished stone gorge that looks like it's been carved out by man and that's why I included this as the main picture for showcasing this park.
Of course, hiking trails for all levels are available here too, as is camping and swimming. The park isn't very large, but it is very scenic and worth visiting for a multitude of nature explorers (casual or serious ones). I do know there is some sort of waterfall in the area here where swimming is allowed but that's something you may have to check out on your own because I didn't see that when I went here, only heard about it after I finished checking this place out.
3) Watkins Glen State Park:
Watkins Glen State Park is in some people's opinion the most scenic/beautiful park in the entire NY state and it's hard to disagree with that opinion especially if you've been there. I have 3 times so far and each time (see my Watkins Glen State Park photos), I just can't believe that this place exists. It also has it's own gorge trail, but it's a lot more scenic than in Robert H. Treman State Park and is great to explore for the family.
It's also located near the giant Seneca Lake with tons of other things to explore afterwards, including some of the most beautiful waterfalls in Finger Lakes. Absolutely go to this park if you ever have the chance. I honestly think the views in this park are better than some national parks I've seen in my life and in fact, I've compared the beauty of Finger Lakes to be better than the Grand Canyon (a national park).
When you visit this place, you'll understand why I said this and if you are planning a visit to Finger Lakes, this has to be on your list and possibly the last place to see because it might very well be the best one.
Side note: Here is a list of the best waterfalls in New York State.
4) Buttermilk Falls State Park: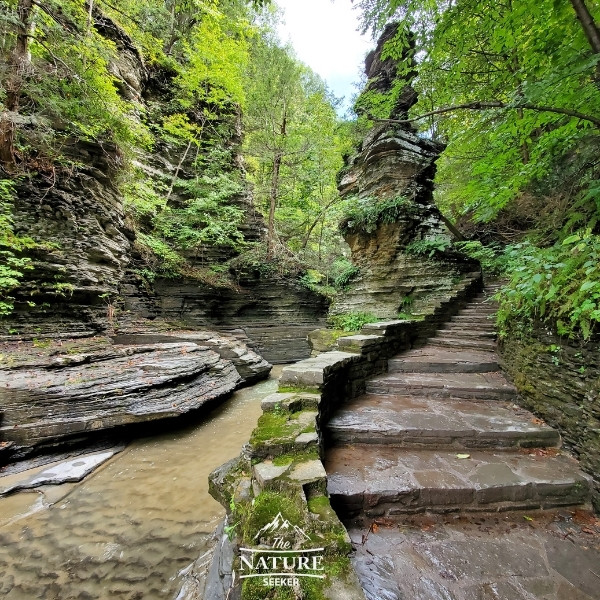 This park is also close to Watkins Glen State Park and Robert H. Treman State Park so if you can explore all 3 of these places in one day like I did when I went to Finger Lakes, then you have a trifecta day trip as far as I'm concerned because it'll feel very complete and if you are just seeking to relax in any one of these parks, they all offer that too.
Buttermilk Falls State Park is like a blend of the stuff you see in Watkins Glen and Robert H. Treman with a nice gorge trail, a lake, and a giant waterfall with a swimming area near the parking lot. I thoroughly enjoyed exploring this place and highly recommend this state park which too rivals a lot of national parks in my opinion.
Aside from the gorge trail, there's just a lot of other stuff in this park that's a mix of active exploration or just passive scenic viewing available. If you wish to enter the parking lot, I believe there is a $15 fee to do so, so make sure you have money ready (I believe only cash is allowed here).
5) Harriman State Park:
This is one of the closest upstate state parks you'll find near NYC and one I've explored over the past few years and enjoyed doing so. For the most part, much of Harriman State Park and the nature scenery there is OK with giant hills, some mountains, a lot of lakes and so forth, but the reason I include it on this particular list is because in my opinion this park is full of secret gems such as:
Abandoned mines which you have to hike deep into the park to find.
Remote lakes which are only accessible through hiking to them (makes for less crowds).
A lot of other gems like the

Lemon Squeezer hike

which I love exploring.
And a lot of other activities which you can check out.
This park is also perfect for day hikes near NYC or just casual relaxation on the many lakes that are there and accessible by car, but if you enjoy hiking and Easter egg hunting for things like mines and other gems, this is the park you have to visit!
6) Taughannock Falls State Park: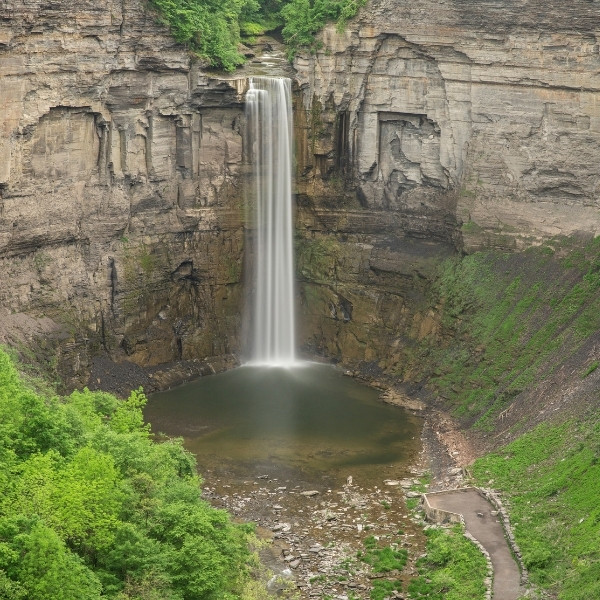 This is another one of the plethora of gems in Finger Lakes. In fact, Taughannock Falls is itself one of the most popular waterfalls in Finger Lakes and the state park within which you'll find it is also very nice. There's a lot of hiking trails, including the main one which takes you to a bottom view of this giant waterfall (100+ feet high).
Just as well, there are a lot of simple places for viewing this waterfall and gorge behind and after it if you're more into casual strolls and not so much hiking. I've been to this place once and the waterfall is indeed a great sight, especially if you go here in the autumn!
Nearby you will also find vineyards and a lot of different types of things to see and do. The waterfall hike here is just the start of what you can explore in this state park and you can easily do an entire day trip here and it wouldn't cover all of those activities!
7) Lake Minnewaska State Park: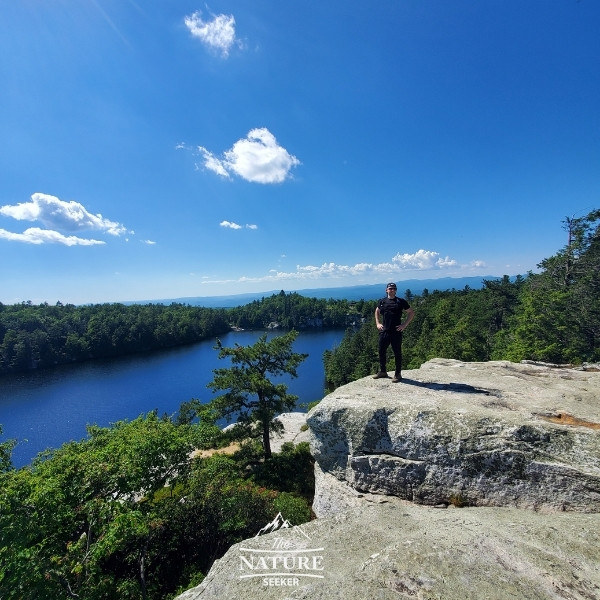 I used to avoid going to this park because from a distance, it didn't seem like there was much to see, but just like with Harriman State Park, I underestimated this state park and after exploring it a few times and really diving deep into the hikes and other activities there, it absolutely deserves a spot on this list.
Lake Minnewaska State Park is also located in upstate New York and is a very scenic place for a ton of different adventures. For me, the most notable are the hiking trails, especially to Gertrude's Nose and Lake Minnewaska itself which is very scenic and something you can hike to, or just see from a distance.
There's tons of things to do in this park and the beauty here is up there in terms of what I consider breathtaking. And if you do go here, there is a neighboring area called Mohonk Preserve which is not a state park, but it has a lot of beautiful spots to see there too, with similar nature trails and explorations like you'd find here (It's worth exploring, trust me).
8) Green Lakes State Park: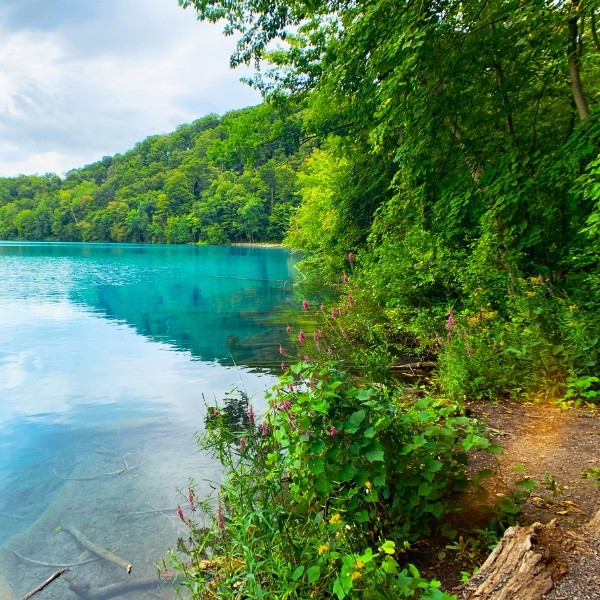 This is one of the state parks I have not yet visited but I have a regular hiking buddy who has. The key feature to this park and why you want to go here is the Green Lake itself. What makes it so special is how clear and bright blue the water is (as you can tell from the photo).
In fact, I'd go as far as to compare the color of the water you see here to the type of water you would find in places like:
The Swiss Alps.
The Canadian Rockies.
Some of the best parks in the Pacific Northwest.
You can't swim everywhere here, but you can boat on top of the lake and do some of the hiking trails nearby. Again this park is one of the many examples of why New York State has so much to offer. Show them a picture of this and it would likely be tough for the person to guess this is actually in NY!
9) Stony Brook State Park: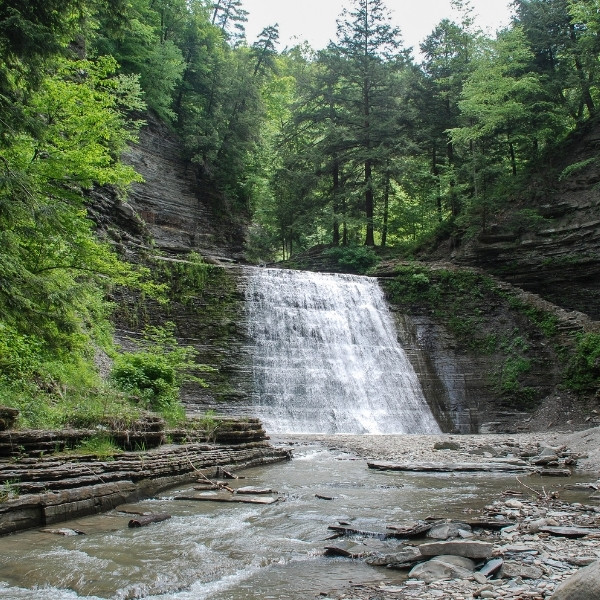 This is another very scenic state park in NY that has a lot to offer but the 3 main activities here are:
Waterfall sight seeing and swimming holes (there's an upper, middle and lower falls).
Hiking across the gorge trail that takes you to these falls.
Camping.
Again, the whole gorge/waterfall mix is something I personally find to be one of the most scenic things you'll ever see in nature and this park has a lot of that, much like the 3 Finger Lakes state parks I talked about earlier. And once again, one of the key things here is a small but super scenic swimming hole by the Lower falls here which I would recommend checking out (picture provided). Stony Brook State Park is about 1 hour west of the Finger Lakes area but is worth visiting if you're heading through or in that direction for whatever reason.
10) Allegany State Park:
This is an awesome state park which actually runs through both New York and Pennsylvania State (but then it's called Allegany National Forest). Anyway, this park's mountains are huge, but there are a lot of scenic trails to explore for all sorts of hikers.
One of the 2 key things that in my opinion makes this state park amazing is first the large amount of things you can aside from just hiking, and the second is the actual hikes and terrain of this park which include a lot of boulders and caves, something which you start to notice the more westward you go into New York State.
This particular type of terrain is hard to explain unless you've been there, but it's very unique for this part of the states, and the great news is that you get a great tour of it in this state park. If you want to know more on what I'm talking about, here's just a few parks that have this type of nature:
11) Filmore Glen State Park:
Flimore Glen State Park is stunning and looks like it's an enchanted forest. I know that type of description might be common to see, but seriously, this park deserves it. Like the other gorge/waterfall parks I've already noted on this list, add this one to it too.
There are many waterfalls to explore in this park and the scenic views of the gorge trail feel much more wild vs polished like in the other places, and that might be more to your liking. In any case, the main waterfall hike here is to Filmore Glen which looks a bit like Kaaterskill Falls in some ways.
Yet this park's beauty is on one hand familiar with the other parks in this state, but unique in it's own and you'll see that when you go here. You'll find this park within one of the main lakes of Finger Lakes (North east of Ithaca).
12) Thacher State Park: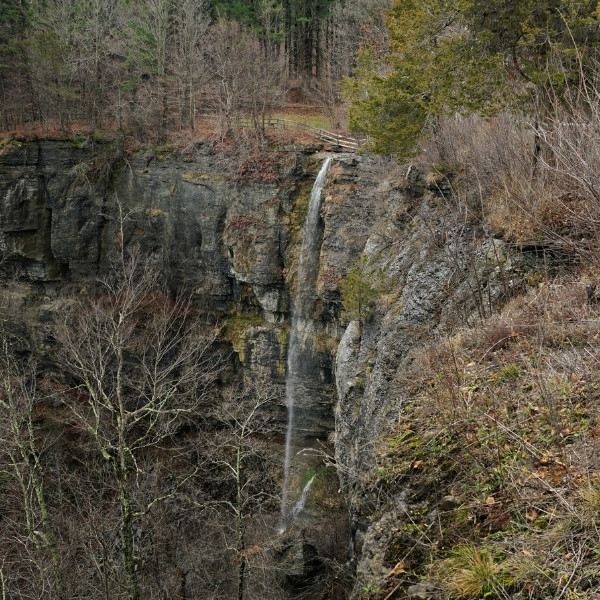 This is a state park in New York I've only recently discovered and I'm stunned by how beautiful it is. Some of the key features that make this place worth visiting are the:
Amazing scenic views all around.
How clean and organized the park is.
The amazing waterfall and cave hike (main attraction).
The giant boulder hikes, cliffs and views of them.
This is an awesome park for a day trip to explore whether you're into hiking or perhaps interested in a family trip. It's not far from Albany either (It's located about 1 hour north west of it). The photo of this place isn't exactly amazing here, but if you Google the name of this park, you will understand why it's worth visiting and why there's a lot to see here too. This is technically considered to be located in the upstate park of the state too.
13) Robert G. Wehle State Park: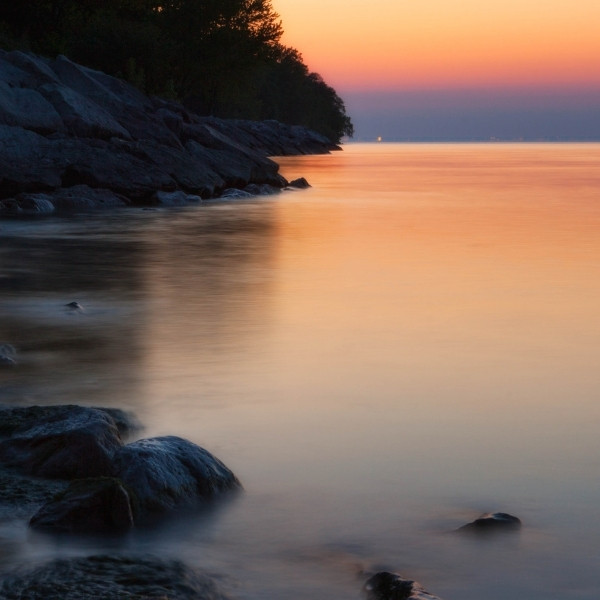 This park is right next to Lake Ontario and while it is pretty small, there's several reasons I recommend coming here:
First, you get great views of Lake Ontario itself.
Second, there's cliffs next to the water that look like something you'd see on the Pacific Northwest, particularly places like

Cape Flattery

(I got that nostalgic feeling when I saw this). Seriously, do a Google search for Cape Flattery and this park and tell me they don't look similar!
Third, there's lots of casual activities here for having a nice day off (walks, a bit of hiking, courts and a lot of amenities).
Fourth, the nature terrain in this park like much of the northern end of New York State has tons of cliffs, beaches and scenery that you would never believe are actually in New York.
Again, I've traveled across the Pacific Coast Highway (on the west coast) specifically because I wanted to see these types of terrains and while they are stunning (like the Oregon Coast and Washington Coast), I was shocked to learn that New York also has a lot of this in this particular region and this state park is one of the many places you'll find that at!
14) Hudson Highlands State Park:
This state park is very popular for NYC residents because it's about an hour away and close to Harriman and Bear Mountain State Park (which I didn't include on this list because in my opinion it's not that great).
But for this state park, the reasons I recommend exploring it are because:
You get amazing views from several angles of the

Hudson River Valley

.
There are beginner-challenging hikes here like

Bull Hill Loop Trail

and

Breakneck Ridge

.
You get awesome views of NYC (considering it isn't cloudy).
On a cloudy day, you will see the clouds pass over the hills/mountains of the Hudson River which make for stunning scenery too!
I have been to this park several times and go here to prepare for tough hikes, but at the same time, I also very much enjoy the hikes and scenery here. In terms of the hiking, there's a lot of elevation gain, and even a cool Fire Tower to check out.
15) Schunnemunk Mountain State Park:
Although the name of this park is hard to pronounce, there is a lot to see and do here. I've visited this place twice and though it's small, there's a lot packed into the park to see and do. Here's just a few of the activities:
Exploring the hikes here (The Long Path hike is here).
The main train bridge is great to sight see.
There are awesome plains nearby which are very picturesque.
Also the nearby town has a lot of great food and stuff to see.
I haven't seen it yet but there were rumors of a nice waterfall hike in the area.
And much more.
You rarely see a lot of people come here because this park isn't widely advertised and I think it's also because it's close to Hudson Highlands State Park which normally gets all the attention, marketing and traffic, but it doesn't mean it's not worth seeing because trust me, it is!
16) Taconic State Park: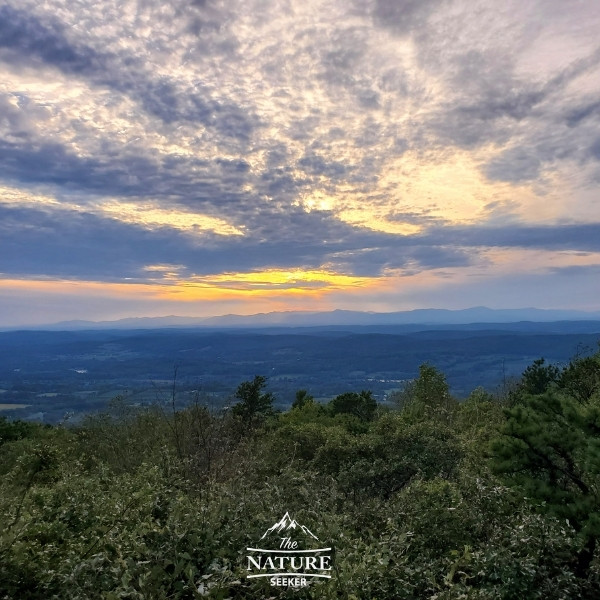 This (Taconic State Park) is the most recent state park I discovered and at first I thought it was in Massachusetts because of the map location. Turns out, it's actually in NY state and just as well, it actually passes into Massachusetts and even Connecticut. Aside from that, there are many things about this park which make it worth mentioning in this list:
Awesome and simple hikes.
Great overlooks of the Catskills (Sunset Rock hike).
It's great for camping/cabins.
It has a historic area to explore.
Lots of great family activities available.
Awesome waterfall called Bish Bash Falls.
And more.
I am very glad I found this park and happily add it to this list!
More questions and answers on New York State Parks:
What is the most famous State park in New York?
The most famous state park in NY varies between Niagara Falls State Park to Watkins Glen and Belmont State Park.
Do senior citizens get into New York State Parks for free?
Yes but only if they are at least 62 years old.
Are NY state parks free?
Many state parks in NY are free to visit, but others like Bear Mountain State Park or Watkins Glen State Park require you pay $10 or more per car to enter.
Do you need a pass for NY state parks?
It depends on which NY state parks you wish to visit. Some are completely free to enter while others have a fee to enter. If you decide to visit a series of parks which have an entrance fee, then it's better to get a NY state park pass.
How much is NY state park pass?
$80 which gets you unlimited access to any NY State Park with an entrance fee and it's available for 1 year.