If you look at Presque Isle State Park (In Marquette, Michigan) on a map, it's hard to think such a small place can hold so many beautiful gems, but after visiting it on a whim, I'm glad I made the stop there, because it's a stunning park to check out (and you'll see why).
In this article, I want to share the many different things you can do in one day at Presque Isle State Park and why I highly recommend you consider checking this place out if you're exploring the Upper Peninsula of Michigan. Because it's so small, there's a lot of activities you can fit into a single day there.
Here's 8 different things to do in Presque Isle State Park Michigan:
Drive around the park (Peter White Drive).
Check out the Presque Isle Lookout.
Check out the stunning Black Rocks beach.
Kayak around Presque Isle State Park.
Check out the cliff diving area at Black Rocks.
Check out the Presque Isle Harbor Breakwater lighthouse.
Do the Presque Isle Pavilion trail and bog walk (2 trails).
Finish the day at Sunset Point.
On this list, I was able to do about 4 things, and considering I only had an hour to spend at Preque Isle State Park when I arrived (close to sundown), it's not a bad number of things to fit into such a small time frame!
Either way, I'm still stoked by the amazing experience I had in this park, despite it being a very short visit.
How I ended up at Presque Isle State Park:
It was the third day of my road trip from New York City to the Minnesota North Shore and during that day, I was exploring the Upper Peninsula of Michigan.
Before I finished the day's trip at Presque Isle State Park, I had explored Pictured Rocks National Lakeshore with my buddy, and after doing so, we saw that we had a little bit more daylight left to check out one more scenic place west of us (before the sun set).
My buddy opened up his GPS and saw that Presque Isle State Park was the closest thing we could reach before sundown and so that's where we went. This particular stop was never planned and just came up as something that looked cool to explore (and it turned out to be so much more).
Quick information on Presque Isle State Park (map included):

Where is Presque Isle State Park located?
In Marquette, Michigan. There's actually another park with that same name in Eerie, Pennsylvania, which is ironically where I stayed on the second night of my road trip (but I didn't know such a park was there too).
How big (small) is Presque Isle State Park?
It's actually very small at a little over 300 square acres. To be honest, it's one of the smallest parks I've ever visited in my life (it's also one of the most beautiful).
Is it crowded in Presque Isle State Park?
Yes. When we got there, it was hard to find parking, even though it was a weeknight. This park is located right by the town of Marquette and the University of northern Michigan, so it's pretty close to civilization.
Is there a fee to enter the park?
Nope!
Now let's move onto the things I mentioned above (what you can do at this park):
1) Drive around the park (Peter White Drive):
There's only 1 road in this park and it's called Peter White Drive. I don't have any pictures to share with you of this because when we got here, the sun was already setting to a point where it was dark there. But this park is well lit in places, and it's nice to explore it.
Either way, we did the full drive around the park, and stopped along the way to see what else it had to offer.
2) Stop at the Presque Isle lookout: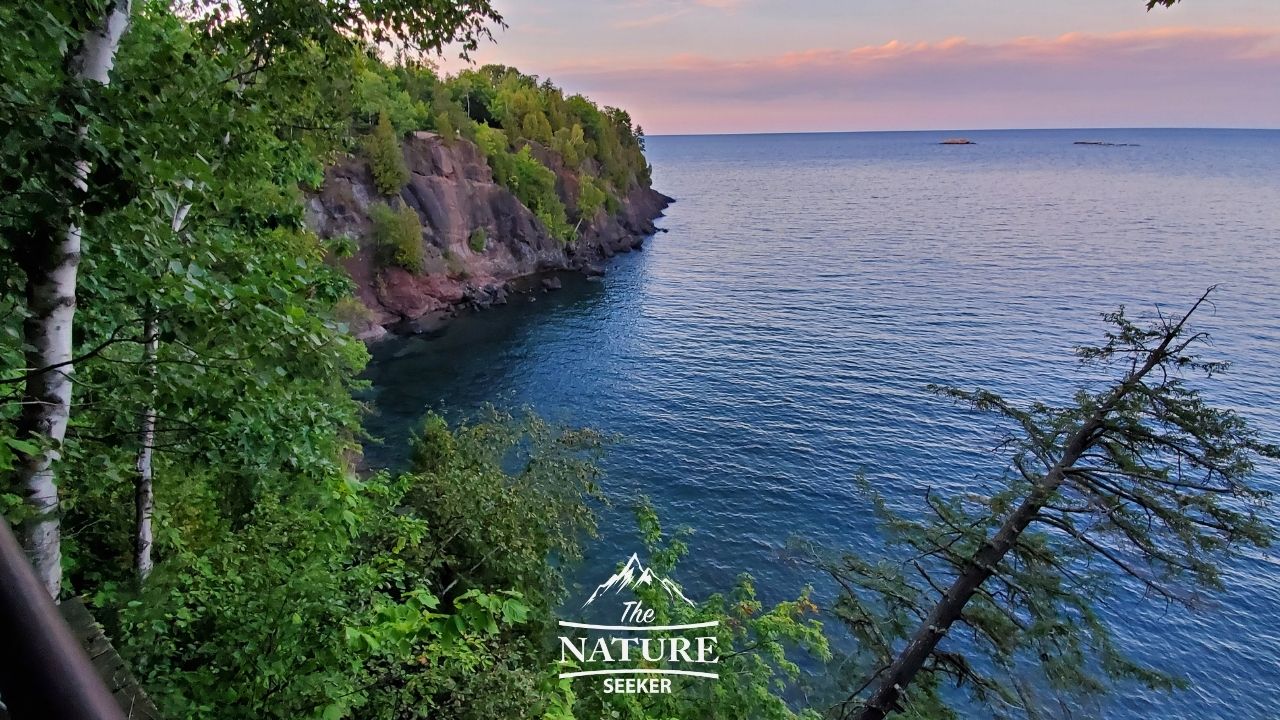 When my buddy pulled up Presque Isle Park on his GPS, the images he saw were of this particular lookout and this is actually what attracted us to this park in the first place.
While you're driving on the main road, you'll see a small parking area for a few cars for this spot.
From there, you'll take a short walk to the lookout and see giant cliffs to your left (north) and Lake Superior everywhere else. For us, the views there weren't really that amazing, but it's also because it was getting pretty dark there.
Fortunately, the next thing on this list changed that.
3) Check out the Black Rocks beach:
As we proceeded further on the scenic drive, we passed what I consider to be one of the smallest and most beautiful beaches I have ever seen in my life, which I later learned is Black Rocks beach.
Out of all the places I'd seen in this park, Black Rocks beach was my favorite by far and luckily, because it's on the western end of the park, and the sun was setting in that direction, it lit up the beach enough to get a nice experience there.
There are nothing but rocks on the actual beach and the surrounding area is like a beautiful cove with cliffs to enjoy. I got some awesome Oregon Coast and Washington Coast vibes being in this area and I fully intend to return one day to enjoy the scenery at this beach!
4) Do some kayaking around Presque Isle State Park: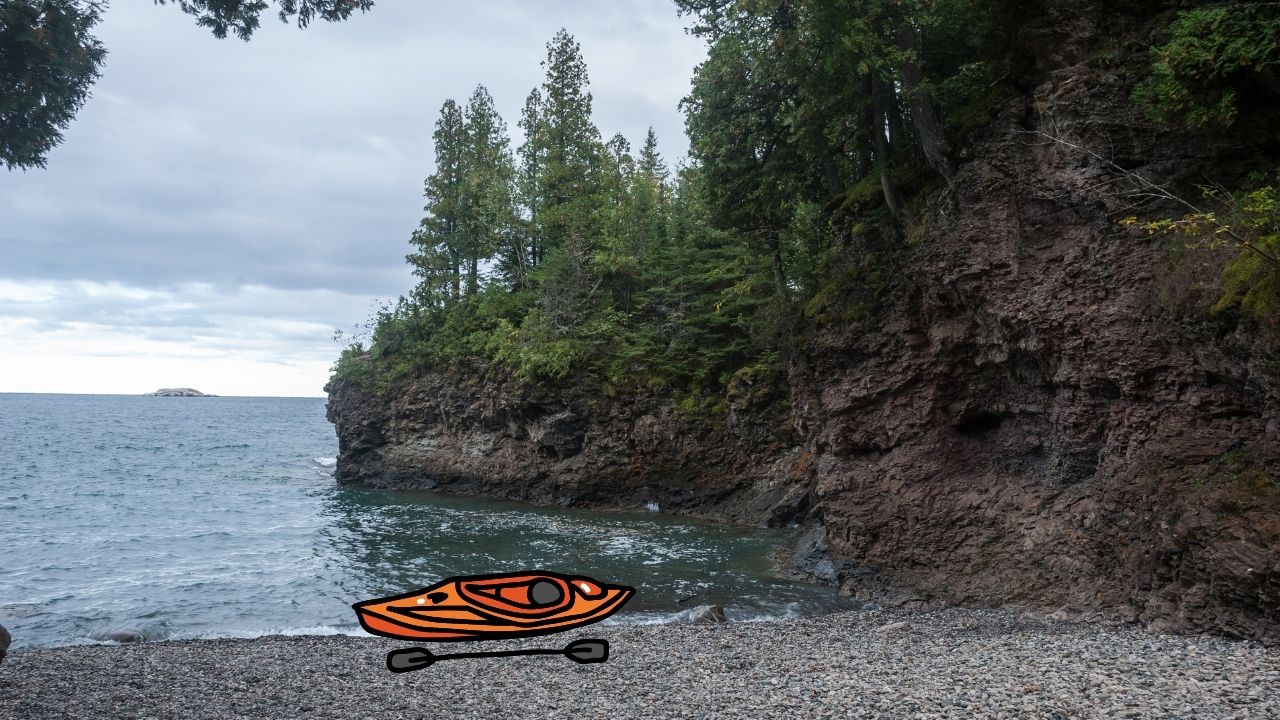 The same Black Rocks beach I adore in this park so much is also kayak accessible.
And considering the waters are calm enough, being able to kayak around this park and Lake Superior is a must if you're someone who enjoys such an activity.
It'll give you a different perspective of the park and views that few people will ever really be able to do.
I personally wish I had a kayak on me when I went here, because I would instantly take the opportunity to it here.
5) Check out the cliff diving at Black Rocks:
While standing on the beautiful beach, my buddy and I noticed that about 50 feet away from us, there was a line of people standing by the edge and cliff jumping into the water.
This is another awesome activity available at this park.
We didn't walk to the actual cliff because we didn't want to get in the way, but I suspect the views of Black Rocks beach are also amazing from that point as well.
The cliff jump itself is about 20 feet high from what I saw and the water is obviously deep enough to be safe for jumping (watch out though).
6) Check out the Presque Isle Lighthouse:
The full name of this place is called Presque Isle Harbor Breakwater lighthouse and I have to be honest, while I saw it from when we were driving into the park, I had no idea there was a path that actually takes you there.
This lighthouse is east of the park and there is a rocky path available to it. You can basically do a "hike" to the lighthouse when the weather permits and get a great workout out of it.
At the same time, being around this spot during sunset is its own reward and that actually happens to be one of the other things I recommend you stick around for in the park.
7) Do the 2 hikes at Presque Isle State Park:
Those 2 are Presque Isle Pavilion Trail and the Bog Walk. Each is only about 1 mile long, but the views you'll get there are pretty amazing! The bog walk is more sea level stuff, while the Pavilion trail has you seeing the cliff views of this park (and the surrounding areas too).
There is also the option to just walk around the park through the scenic drive too.
8) Finish your trip at Sunset Point: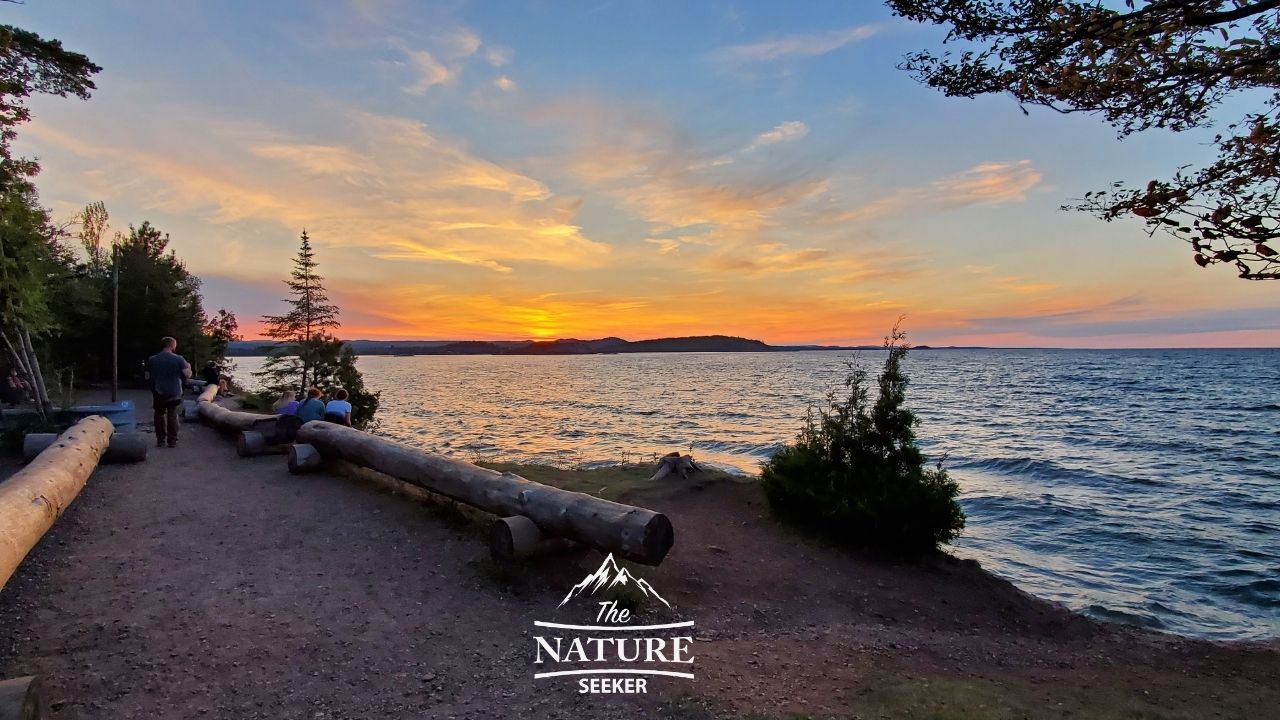 This is where my buddy and I finished our short trip to Presque Isle State Park. This area, out of all the others had the most cars packed and for good reason. It's a famous area for checking out the sunsets and considering this area is on the west side of the park, you'll get some truly amazing views of the sunsets there.
For us, we were fortunate to find parking and enjoy an amazing view of the setting sun over the mountains beyond the giant lake. I imagine every single day in this spot is an amazing sight to behold, but either way, finishing your day trip at this area is a great way to conclude it.
From there, my buddy and I drove out of the park and into town to eat at a nice restaurant, before driving further west into the Porcupine Mountains.
And there it is, an entire one day itinerary to the beautiful Presque Isle State Park! Another thing to consider is barbecue and picnics (which this place also has a lot of space for).
Note: Sometimes you can see the northern lights from this area.
5 more amazing destinations near Presque Isle Park Marquette to see:
1) The Porcupine Mountains which are about 1 hour away.
2) I would highly recommend seeing more of the Upper Peninsula of Michigan as there are more spots like Presque Isle Park to check out.
3) I mentioned earlier how I was originally planning in on visiting the Minnesota North Shore and that's exactly what I did a day after I went to Presque Isle and there are even more amazing places there to see.
4) I also recommend Pictured Rocks National Lakeshore (west of Presque Isle) and it has larger cliffs there than Presque Isle Park.
5) There's actually another small but cool park I saw in Wisconsin shortly after Presque Isle and that's called Amnicon Falls State Park.
I hope this article helps you enjoy this park as much as I did (and even more).