There's many things to do at Amnicon Falls State Park and the great news is that most of them can be fit into a simple day trip there.
I discovered this amazing place while traveling through Wisconsin on our way to the Minnesota North Shore. As we were driving there, we would make stops on the way if they were warranted, and in this case Amnicon Falls State came up along the way and my buddy and I decided to check this place out.
Let me tell you that was a stop worth making because despite this park being pretty small, the views, the nature and the things you can do there are vast in all regards and in all honesty, I was very pleasantly surprised by everything I did and saw at Amnicon Falls State Park.
In one day's time, even if you're just passing through, there's a lot of stuff to see and do here which I want to share with you.
Here are the 5 things to do at Amnicon Falls State Park:
Check out the main 2 waterfalls.
Cross the scenic bridge over the waterfalls (and hike under it).
Have a nice BBQ and picnic experience there.
Hike down the river (2 popular hikes are available).
Camp out in the park (several spots are available).
Now some of these things like camping would probably involve an overnight trip, but even if you are camping, you can still easily do the other 4 activities in one day at this park and that's because everything is so close by.
Furthermore, this park is very "polished" and the trails are geared towards beginners. Basically it's very hard to get lost in the woods here, considering how close everything is (but you should still use caution).
1) Check out the 2 main waterfalls at Amnicon Falls State Park:
So there are several waterfalls in this park, but the 2 main ones are:
Amnicon Falls (obviously).
And the waterfall before it.
There's a bridge separating them and this is the first thing you can explore. These 2 falls are right by the parking lot so it's easy to reach. Now you can go around each of these waterfalls, and there's also a giant gorge that Amnicon Falls flows into that I recommend exploring as well.
There's trails, rock clusters and boulders you can stand on to enjoy the views (not sure about swimming though, but certainly no cliff diving).
2) Cross the scenic bridge between the waterfalls: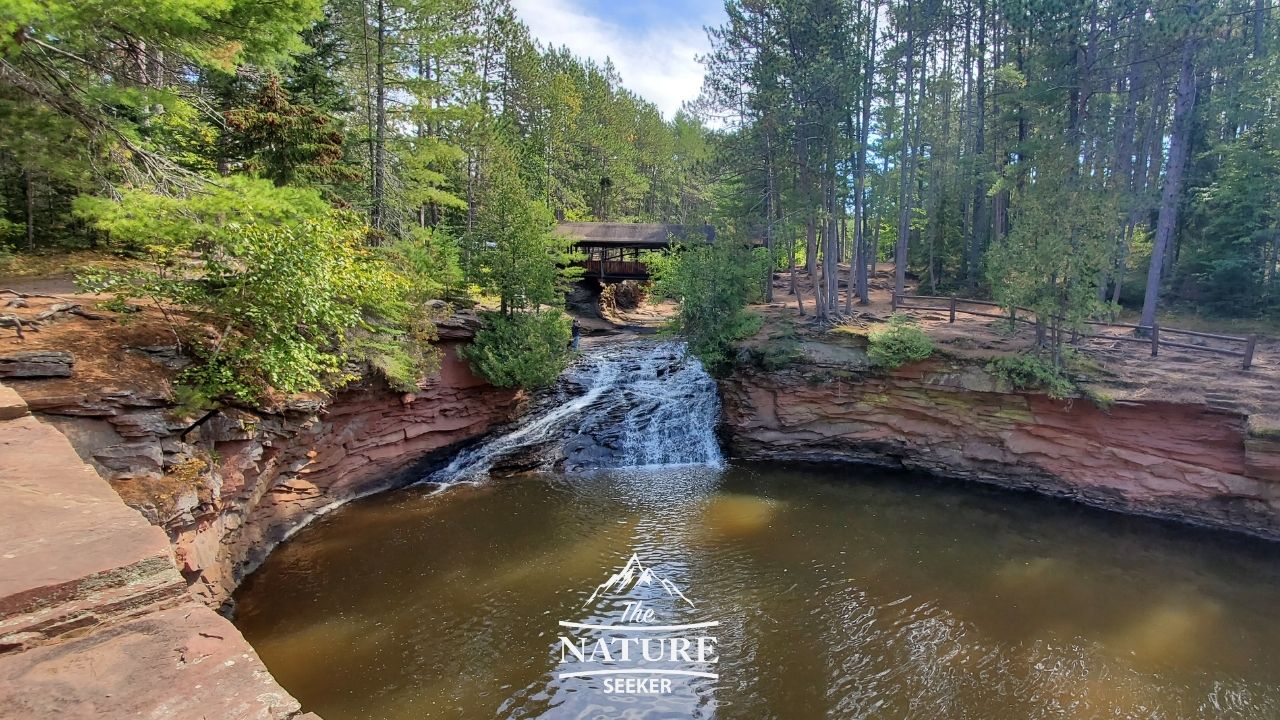 Honestly this bridge is what originally got my buddy and myself interested in coming to this park. There's something about this bridge that enhances the scenery of this park and when you cross it, you'll probably understand why.
It's also a very photogenic bridge from the outside to take pictures of.
I recommend crossing the bridge itself and walking underneath it which is allowed.
I enjoyed both of those experiences and even though I enjoy long, challenging hikes, these simple little, but scenic things really make trips like this worth it.
3) Have a nice BBQ and picnic experience there:
There's plenty of spots for this surprisingly at such a small park, so if you're into this kind of activity, definitely check out Amnicon Falls State Park for this.
4) Hike down one or more of the Amnicon Falls State Park trails:
My buddy and I did some impromptu hike down the river for a bit (this is where one of the photos was taken), before crossing it and returning to the parking lot, but there's 2 trails available if you go by what Alltrails says.
Both are easy to walk on and will give you great views and hikes through this small, but awesome park and they are:
Amnicon Falls and Snake Pit Falls trail loop.
Amnicon Falls and Campground trail Loop.
You can also walk underneath the covered bridge and get some amazing photos there too.
If you intend to do either of the first 2 hiking trails, make sure to first load up Alltrails to be sure you're going in the right spot.
This isn't a park where you'd likely get lost, but just to be on the safe side and Alltrails might be able to show you more options of what else there is to see near the area (or near it).
5) Check out the Amnicon Falls State Park campground: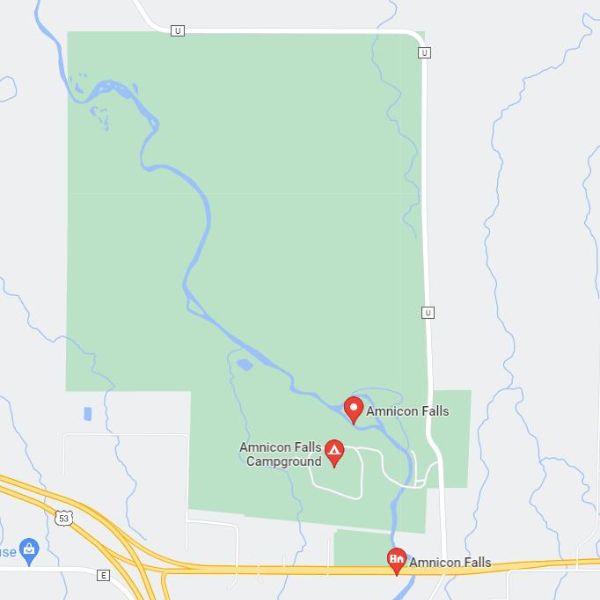 After we finished hiking through the park, my buddy and I decided to drive a bit further into the park to see what else there was and this had us passing by the campgrounds.
Here is a Amnicon Falls State Park map and area where you'll find the campground area:
There aren't that many spots available there, but they are very close to the river (and the falls), so if you're into the camping experience (I personally am not), this is a great place to do that at!
If you'd like to reserve a camping spot at Amnicon Falls State Park, here is a link to the official page.
There are also reservation links to 2 other state parks:
1) Brule River State Forest (good for kayaking). I've personally never been there though.
2) Pattison State Park. I've also never been there, but it does have a lot of beautiful trails and waterfalls to explore.
Either way, you have at least 3 options now.
Questions asked about Amnicon Falls State Park:
Can you swim at Amnicon Falls State Park?
Yes there are spots in Amnicon Falls where swimming is allowed.
Are dogs allowed in Amnicon Falls State Park?
Only on the campground, but not in the main park unfortunately.
How many falls are there are Amnicon Falls State Park?
There are 2 main waterfalls (best ones), but 4 in total.
6 things to do near Amnicon Falls State Park (info-graphic included):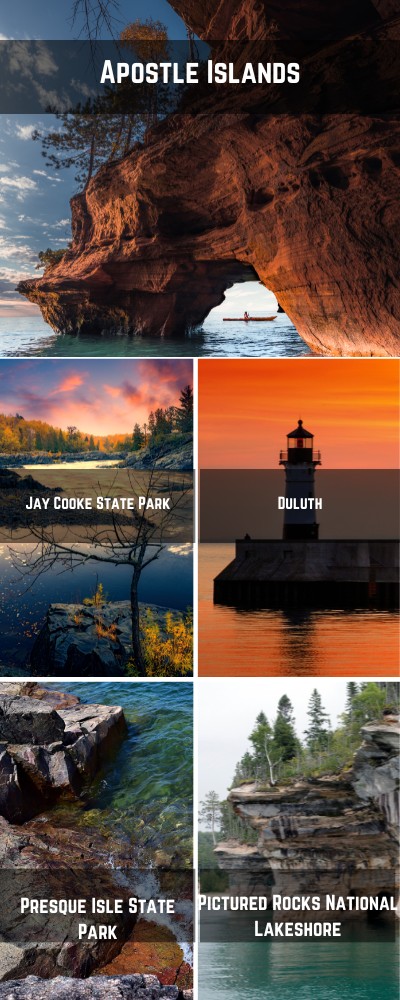 There's actually tons of awesome spots in all directions to check out, but here are my top choices:
1) For starters, the Apostle Islands are a must:
I missed this, but it's by the coast (about an hour drive or less) and has you checking out lake caves (by Lake Superior).
2) Jay Cooke State Park:
It's west of Amnicon Falls State Park and has some nice rivers and hikes available (lots of bugs though, so beware).
3) The city of Duluth, MN:
I stayed there for 2 nights on my North Shore Minnesota road trip. Beautiful city in the day, but really empty at night (I'd be careful).
4) Pictured Rocks National Lakeshore:
If you're traveling east of Amnicon Falls State Park, definitely take the time to stop at Pictured Rocks National Lakeshore. It's a beautiful park with a lot to see and explore.
5) Presque Isle State Park:
Presque Isle State Park is in the Upper Peninsula of Michigan. It's also very small like Amnicon, but in my opinion has better views and more things to explore.
6) Presque Isle River Falls:
It's not in the same area as Presque Isle State Park. It's located in the Porcupine Mountains of Michigan and is also a small but very scenic park with many beautiful waterfalls, swimming holes and tons of scenic spots to enjoy.
2 other "small parks" like Amnicon Falls State Park I recommend you check out:
These 2 are in completely different locations in the states, but they are also very scenic and small parks with a lot to offer (this is based on the ones I've explored). I decided to add this in because I've found several places that are small, but have so much to offer on my trips and just want to share this with you:
1) Clove Lakes Park. You'll find it in New York (Staten Island). This small little park has bird watching, beautiful lakes, waterfalls and many more activities packed into one small area. It's not a park you'd think was in NYC, but it is.
2) Mossy Cave. It's right next to Bryce Canyon National Park and is SUPER easy to miss. It's almost like a hidden little park next to the national park, but is very scenic, has caves to explore, a muddy waterfall and much more!