I have to admit, I didn't expect the Upper Peninsula of Michigan to be so amazing and have so many beautiful places to see and in hindsight, I wish I stayed around this region longer to do just that. But never the less, I did see a lot and in this post, I want to share 7 of the best places to see there.
My 2 day road trip I did through Upper Peninsula of Michigan (prelude):
I recently finished exploring much of the North Shore coast (Minnesota), and to get there, I started in New York City.
However, I rushed seeing a lot of places in between those 2 destinations, one of which was the Upper Peninsula of Michigan, which I explored (and rushed through) over a 2 day period.
However, there were numerous beautiful places I saw while I drove through there (and more places I later learned existed in hindsight). And so I have compiled them all in this list, so you will be able to check them out and more carefully plan a road trip through this region than I did.
Here are the 7 best places to see in Upper Peninsula of Michigan:
Mackinac Island Arch (natural bridge).
Pictured Rocks National Lakeshore.
Scott Falls.
Presque Isle Park.
Porcupine Mountains Wilderness State Park.

Presque Isle River Waterfalls Loop Trail.

Superior Falls.
Bonus: Eben Ice Caves.
I was able to see 6 of the 7 places on this list in a matter of 2 days and while I rushed, you certainly don't have to. In my case, I just had a few places I wanted to see, but this area has so much more to offer that you should take your time.
Before we start, here's some basics about this region:
What is the Upper Peninsula of Michigan?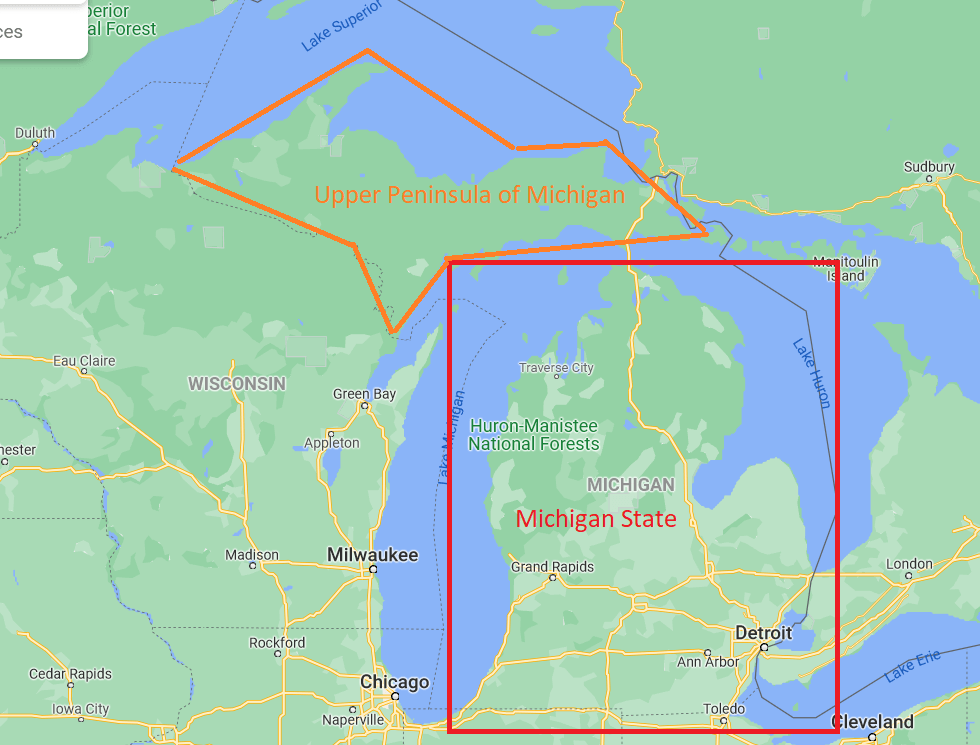 Michigan state is basically 2 areas, the southern end which most people know about and the top end which is connected to Wisconsin.
The top end is huge and that is known as the Upper Peninsula of Michigan as you can see in the orange outline.
In that area are many beautiful areas you can explore (such as the ones on this list).
Before I get there, let me just say that this particular area of Michigan has A LOT to explore folks, not just the 7 places I'll be sharing.
So the more time you have to check out this area, the more of it that I would take to do just that.
I personally missed a lot of good spots that I mention in this post, and will be sure to make up for the next time I go here.
1) Mackinac Island's Arch Rock:
Mackinac Island is a very small island that you can access by ferry once you enter the Upper Peninsula of Michigan (from the main Michigan state itself).
It has a lot of attractions to check out, including trails, caves and so forth, but the main thing in my opinion would be Arch Rock.
In my case, I actually realized I missed this spot because I figured the main attractions of the Upper Peninsula of Michigan were in the northern end of it.
But hopefully, you won't make my mistake!
2) Pictured Rocks National Lakeshore: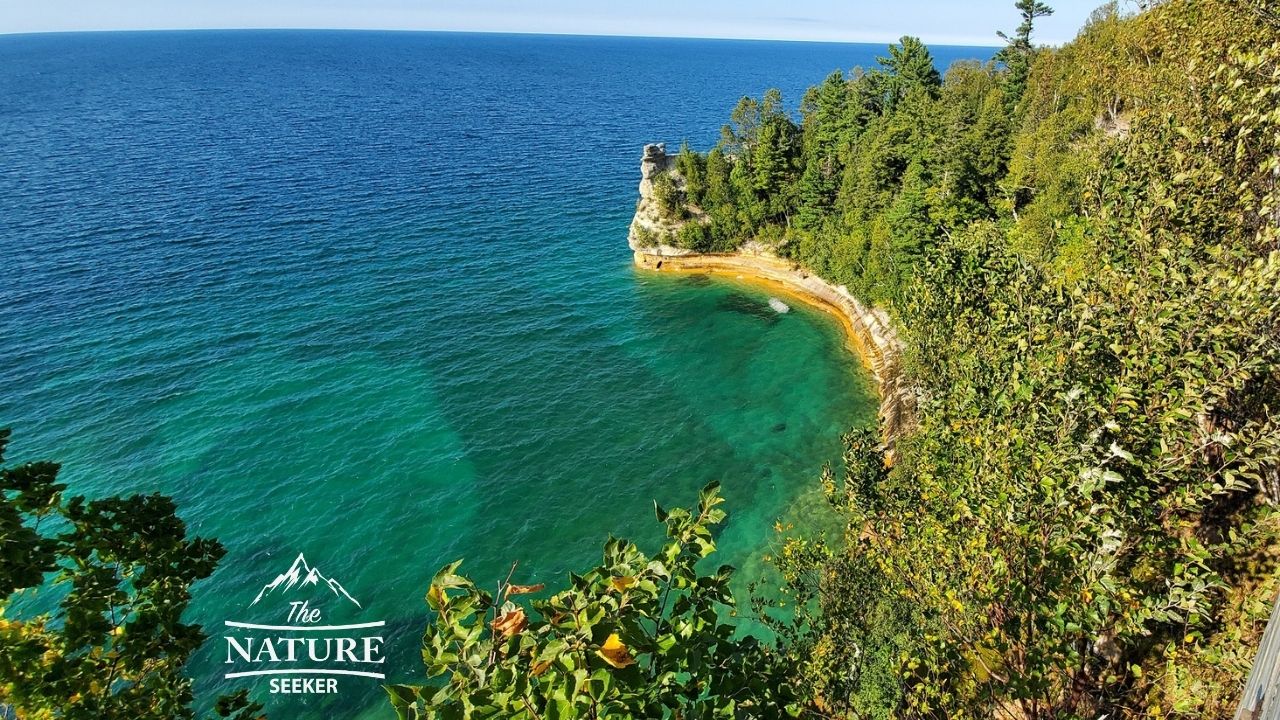 The golden jewel of the entire Upper Peninsula of Michigan has to be Pictured Rocks National Lakeshore and it was the main attraction I wanted to see during my road trip.
This is a national park area that spans for over 20 miles across the shoreline of Michigan.
On it, you will find tons of awesome things to explore, from beach waterfalls, to kayak adventures and much more.
See my post above on what to do in this beautiful park but for sure, if you visit the Upper Peninsula of Michigan, this has to be your main go to spot.
3) Scott Falls: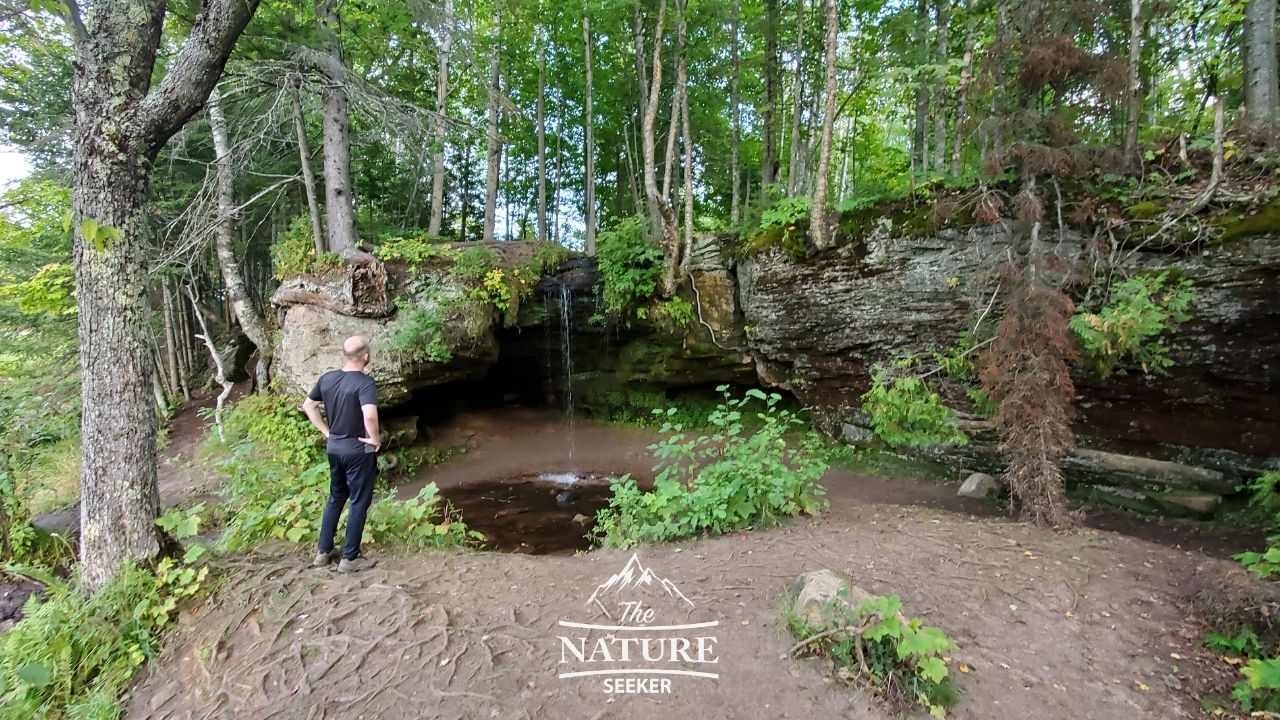 I consider Scott Falls to be a small but cool "Easter Egg" in the Upper Peninsula of Michigan.
It can be found on your GPS and is identified as "Lake Superior Historical Marker Scott Falls".
It is a beautiful waterfall right off road 28 and it's really easy to miss. In our case, we accidentally saw it while passing by and of course, we had to stop to check it out. A trail is available around the waterfall, but be sure to stop here.
And right next to it is a cool little beach you can also explore if you like.
4) Presque Isle Park:
Presque Isle State Park is a very small, but extremely scenic park I highly recommend checking out. They have beaches, cliff jumps, cliffs and beautiful areas to check out the sunsets, which is when we arrived there.
We didn't have much time, but we did get to see a number of things at this park before heading off to the town nearby to grab supper.
An interesting coincidence to note is that the picture you see above (of me by the beach) is at this park and it's also an area I remembered seeing on Google well over a decade ago (possibly 2) and I never knew what this area was. What an exciting feeling it was when I realized this same beach was what I had "wished" I saw all those years ago and it finally came true there and then!
5) Porcupine Mountains Wilderness State Park (Lake of The Clouds Overlook):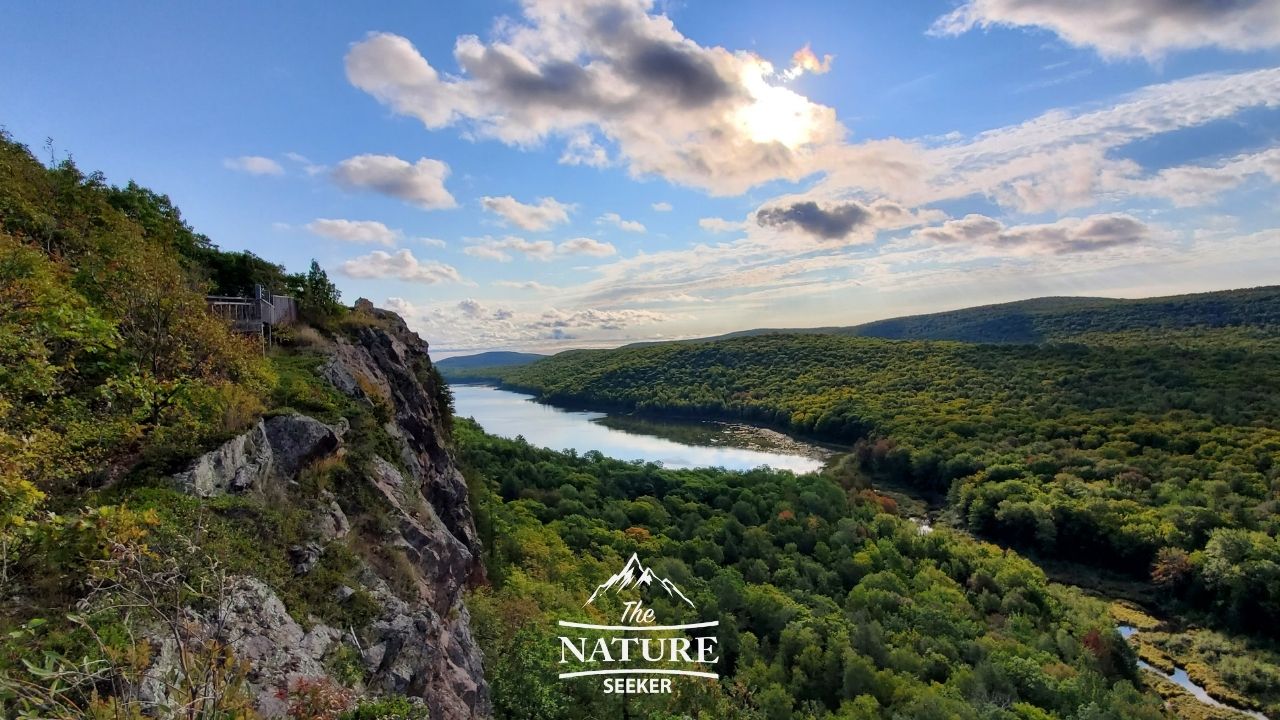 After the first day of my road trip to the Upper Peninsula of Michigan, my buddy and I stayed at a hotel in the Porcupine Mountains and in the morning explored and drove around the whole area, stopping by and checking out certain spots.
The first place we saw was a beautiful overlook called Lake of The Clouds. It's easy to reach and quite a sight.
You just have to park in the main parking lot and walk about 100 feet to reach this overlook.
It kind of reminded me of the type of stuff I see in the Catskill Mountains (although they are bigger).
6) Presque Isle River Waterfalls Loop Trail: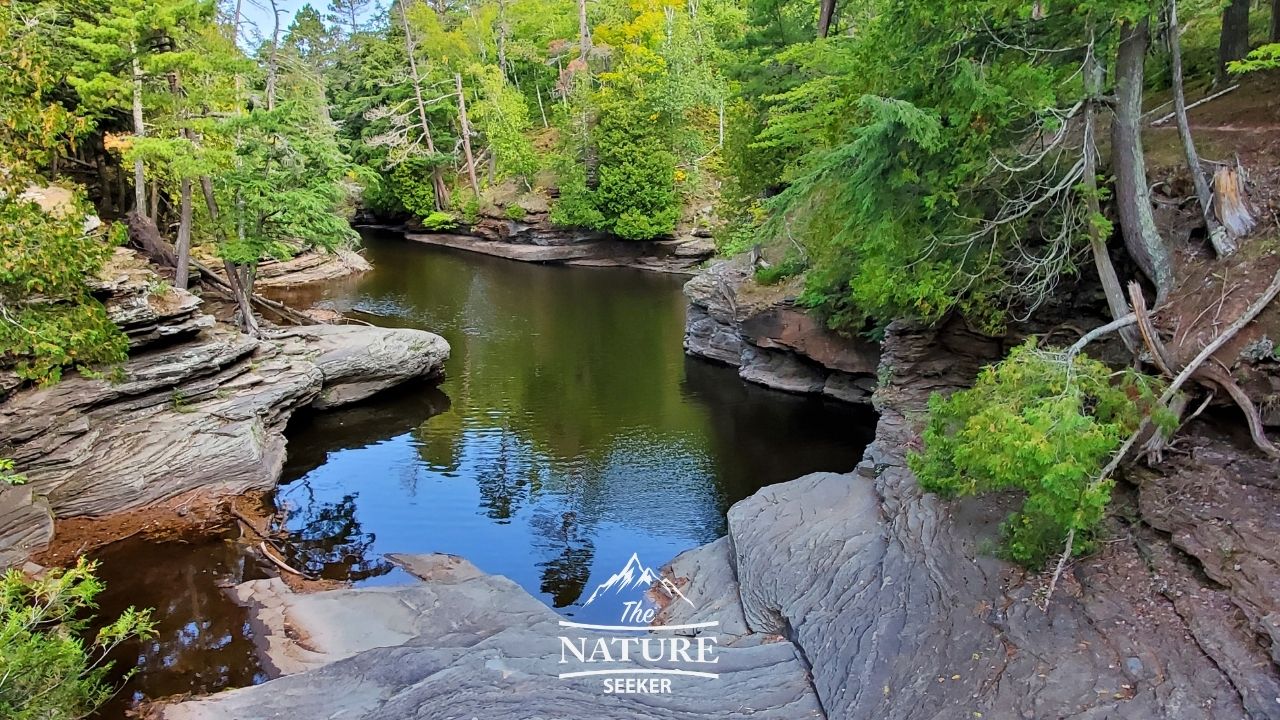 After checking out Lake of The Clouds overlook, my buddy and I drove through the Porcupine Mountains and on the way saw signs for a waterfall trail area.
We checked it out, and there was a beautiful trail to walk which took you down steps, across a beautiful bridge, arch rocks, sea caves and an awesome view of Lake Superior in parts.
This was definitely a very scenic area to check out that reminded me a lot of the Oregon Coast (but different in certain ways).
It's also a very interactive park because there's so many things to do in such a small place.
7) Superior Falls (Legion County State Park):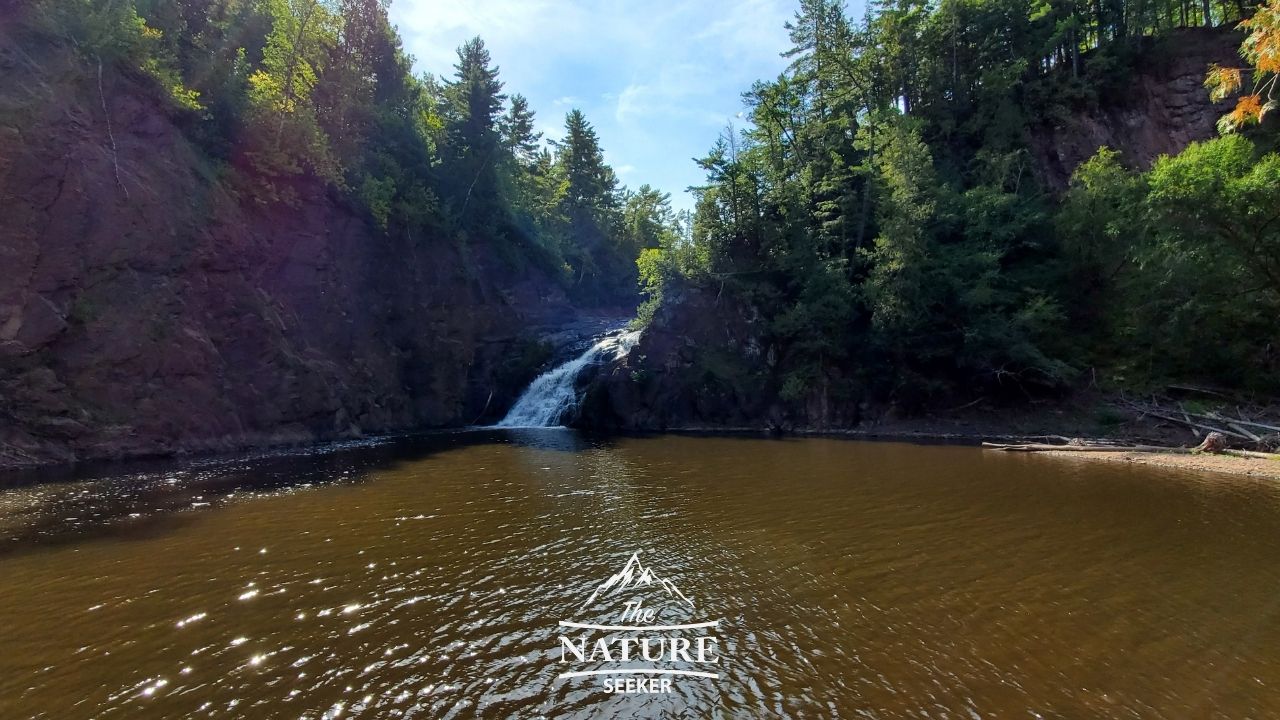 The last spot my buddy and I saw on our road trip through the Upper Peninsula of Michigan was this small, but also scenic park.
There are 2 things worth noting here that make it worth visiting:
There are giant red cliffs here (east of the waterfall) and a cool trail that takes you behind an electric station and to a beautiful waterfall with giant gorges around it.
The second trail is what takes you to Superior Falls and there are some interactive things to do there like hiking, climbing and if the water level is low enough, going over to the other side of the waterfall.
8) Bonus: Eben Ice Caves
There are certain parts of the Upper Peninsula of Michigan which are best to check out in the winter time (or at least before spring begins) and one of those places happens to be the Eben Ice Caves.
It is a gorge/cave area where every year (during winter), the ice formations over it cover it up almost entirely and basically cover that cave from the outside.
There is a trailhead known as the Eben Ice Caves trailhead which will take you to this place. It's only about half a mile to it, but it will likely be in snow covered areas.
Once you get there, the scenery is beautiful and I have also seen this area photographed at night with lights pointing towards it (or from the inside), making for amazing colors and views to check out.
Since there's a lot of hiking involved, here is gear recommendations that'll really help you:
Continuing to Wisconsin: One more beautiful sight to note!
If you're continuing west like we were, I strongly recommend you take the time to explore the beautiful Apostle Islands National Lakeshore. It's basically the equivalent of the Pictured Rocks National Lakeshore area (in Michigan), but this one is in Wisconsin. And then there's also Amnicon Falls State Park (another gem!).
For us, we really wanted to stop here, but couldn't find any good kayak rental areas that were available. We figured we would likely get our chances to explore this kind of area in Minnesota's North Shore (but didn't in hindsight).
Anyway, those 7 places are certainly the tip of the iceberg when it comes to the best spots to check out in the Upper Peninsula of Michigan, but most of them are very popular areas (and for good reason).
Definitely make most of your trip to this area be focused on Pictured Rocks National Lakeshore. This is where you'll find the best spots of the Upper Peninsula of Michigan.
And if you're someone who knows this area well and doesn't mind sharing some recommended spots to see, definitely let me know 🙂