Vermont State has a lot of beauty worth seeing and I'd like to give you a suggestion if you're planning on visiting it: Check out Smuggler's Notch State Park and Stowe Mountain, especially if you love scenic drives, nature scenery and enjoy the outdoors.
I discovered Smuggler's Notch State Park accidentally during my first road trip in the area and have hiked Stowe Mountain 2 times. Both these locations are gorgeous and a must see and I'll show you why.
I have an interesting prologue story that leads to visiting this place (it's short)…
Basically a buddy of mine and I were headed up to see Ausable Chasm which was technically west of the location I'll be talking about here and after we finished checking it out, we went further up north, saw Lake Champlain, mountains beyond it (which would officially put us in Vermont) and decided to check them out. 
While we considered returning back to Ausable Chasm if things were boring there, our trip and what we saw put us on an unforgettable trip to the north eastern states. Basically our first destination IN Vermont was Sand Bar State Park, followed by Smuggler's Notch State Park and the way we passed through it and Stowe Mountain (which is part of this park) was through an amazing scenic road known as "Mountain Rd", which officially is route 108. 
So I'd like to talk about what we saw on this road, why you need to visit this place, even if it is just a simple drive through and why I will definitely be coming back to it…
1) The scenic road itself in Stowe is itself worth the trip.
Our original plan was to go through this park and the only road available was route 108.
Then after exiting, we planned on visiting Montpelier (the capital), but besides that, once we actually entered into the state park, the sights flooded around us and we couldn't help but slow down to 10 miles per hour just to digest all the beauty we were seeing…
And honestly, you NEED to drive slow here if you're to enjoy the view, because the road itself is VERY short, and at times, there's literally 1 lane available for 2 way traffic: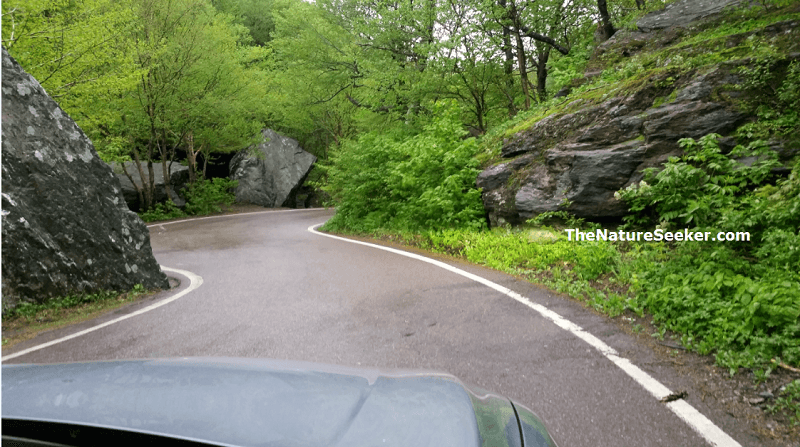 The road itself will take you about 30-40 minutes to cross if you're headed slow, but there are several areas you can stop in to enjoy the view. I think in hindsight we were really fortunate with the weather as it was actually quite misty and a bit rainy, but one thing I learned is that this type of weather actually enhances the greenery of the nature, especially in the mountains.
It felt like an enchanting experience, dark, yet light at the time with a lot of emerald colors when you take into consideration how the nature shines there.
The rain also caused a lot of waterfalls to be seen in the distance, a top many of the mountains we passed through. We were also extremely fortunate that there wasn't a lot of traffic at the time we visited this place, so we had a chance to stop several times, and really take in the silence there.
2) Stop at this rest stop on Stowe, you really can't miss it:
Upon driving through this place, you will, on the road be able to see this major rest stop. Stop there, trust me (and also, do the hike that's there, it's one of the most beautiful hikes I've ever done):
Now I tried to find this location on Google, but it's not listed, so I took a screenshot of the scenic road that led us to the place above and I marked down where it should be. Even if it's not precise, you can't miss it:
As you continue down the 108 road, you will hit Stowe Mountain, be able to hike and ski there and have access to nearby areas like Mt. Mansfield.
We watched the mist pass by the top of the mountains in the image above, and because of the rain, there were many little rivers forming, including on the actual mountains so you could actually see waterfalls forming.
Here is the location of the whole area by the way:
3) The hiking trails. Do them if you have time.
The good thing about the above rest stop is that you can park your car there and and it's a great "central" area to find hiking trails from. I did see one car off the road parked. I guess there were people who left it there to find a trail.
Anyway, we didn't have time to check them out because the sun was setting and because it was wet and we weren't wearing the right hiking shoes, it would be dangerous. Never the less, this is on my list the next time I go through there.
You can see some of the trails while driving through this road and they are very alluring. I imagine the view from the top is also something to enjoy. I think I read that Stowe is around the 3,000-4,000 foot elevation, not bad!
Now I do want to say that if you seek high elevations, you may want to visit Vermont's neighbor state, New Hampshire, which we did the next day. You'll find places there like Cannon Mountain which go over 4,000 feet and others in that area which go even higher!
4) Visit the ski lodge there.
As you're ending route 108, you will inevitably cross a ski resort called "Stowe Ski Resort". How I wish we could have visited it. From the road, it looked like a fairy tale place to visit (with ski lifts…), but yeah, if you ski or do snowboarding, that's the area you'd want to go to, but even if you're visiting off season, like we did, stop there.
If this ski resort looks as good from the inside as we saw it from the outside, then you can't go wrong…and if you do, tell me how it was!
Ah the location.
Here's where you'll find Stowe Mountain and Smuggler's Cove:
We entered this park through the north end and I found it to be more interesting this way, because as you make your way down, you can visit the resort at the very end to relax, vs backtracking and doing this road twice (which would actually be worth it given the views!).
Overall, if you're not much of a hiker, but love nature and driving through it, the people who made road 108 should be thanked because you can get a great view of the area by literally going through the middle of this state park and catching some awesome views while still enjoying the comfort of your car. Although if you are into hiking, do the trails! 
Also note that there's great hotels near this park as well. We stayed at the Marriot, not far from the park and interstate 89 and it also took us straight into Montpelier. 
As I said before, we also revisited this place on a second, very scenic road trip we did a year later and though there are many beautiful places my buddy and I have seen across the U.S, Vermont, Stowe Mountain and Smuggler's Notch are always on our return to list!