If you're into road trips and jaw dropping scenic drives, you are on the right page because I'm going to show you 11 of the most beautiful ones in North America that I have done. Here's one of them (and I'll show you where it is):
Now anyone who has traveled across North America knows that there's more than 11 (Way more!), so here is what you need to know before you read the following list of scenic drives I put up:
1) This is my personal list of drives. There is no order to which one is best or worst. They are all across North America so if you find yourself in a location where one of these places is listed, mark it down and go there, you will not regret it!
2) I have personally done them all and the photos you see are made by me. You can also view more on my Instagram page.
3) Since there ARE more than 10 and I do travel a lot, I will be writing more top 10 articles like this and linking to them when they are up, so the list will keep getting bigger and offer you fine folks many choices to choose from (all of which are epic, trust me).
4) If you have been to any of the places I'm going to list here or have personal recommendations for other places you think are worth looking at, I am all for it, just let me know the location below!
The 11 most scenic drives in North America (A list that will keep growing):
Originally I had 10 drives, but the more of them I do, the more this list will grow and now I have added one more (the Icefields Parkway).
11) A scenic drive in Zion National Park.
When I went to Zion National Park for the first time in 2017, the first thing that blew me away (and took my breath away and almost had me crash a few times) was the drive through their scenic roads, of which there are 2:
Route 9.

And Zion Canyon's Scenic Drive.
Here are some of the pictures I took while on these scenic roads: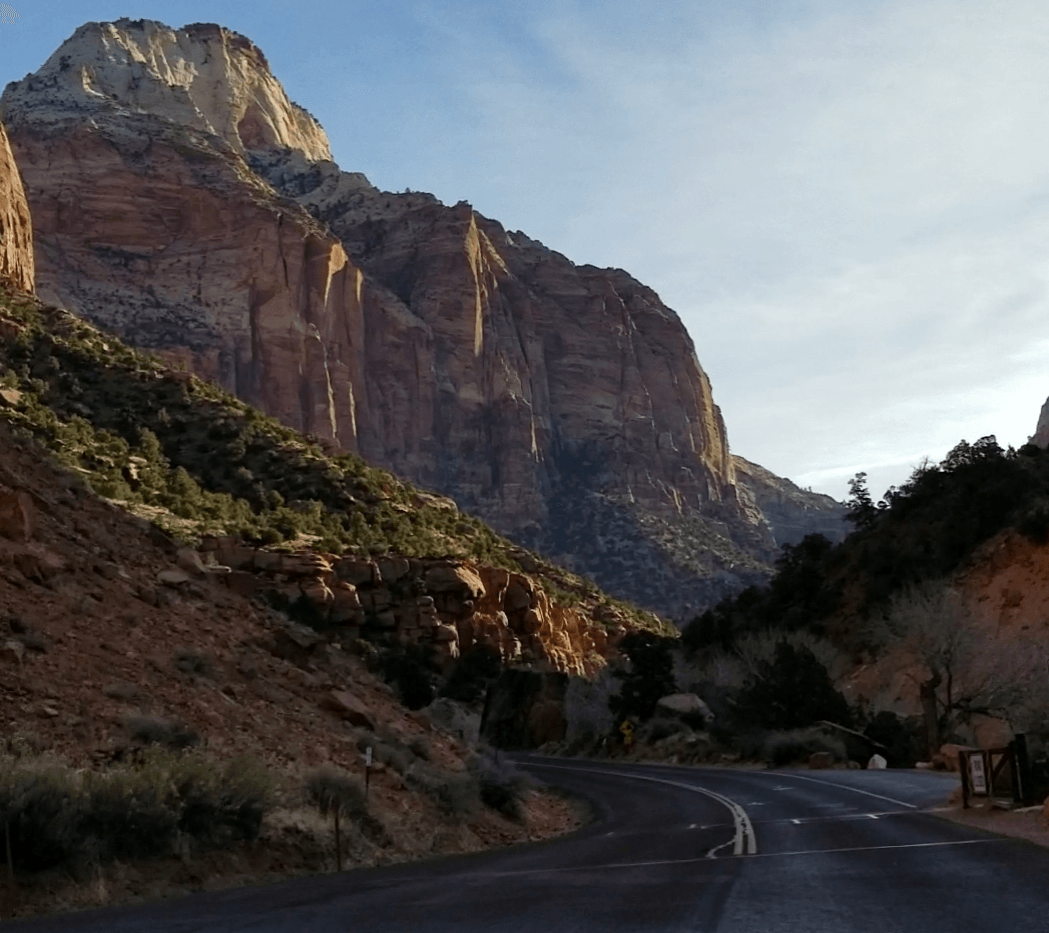 And this is also where I took the photo from above: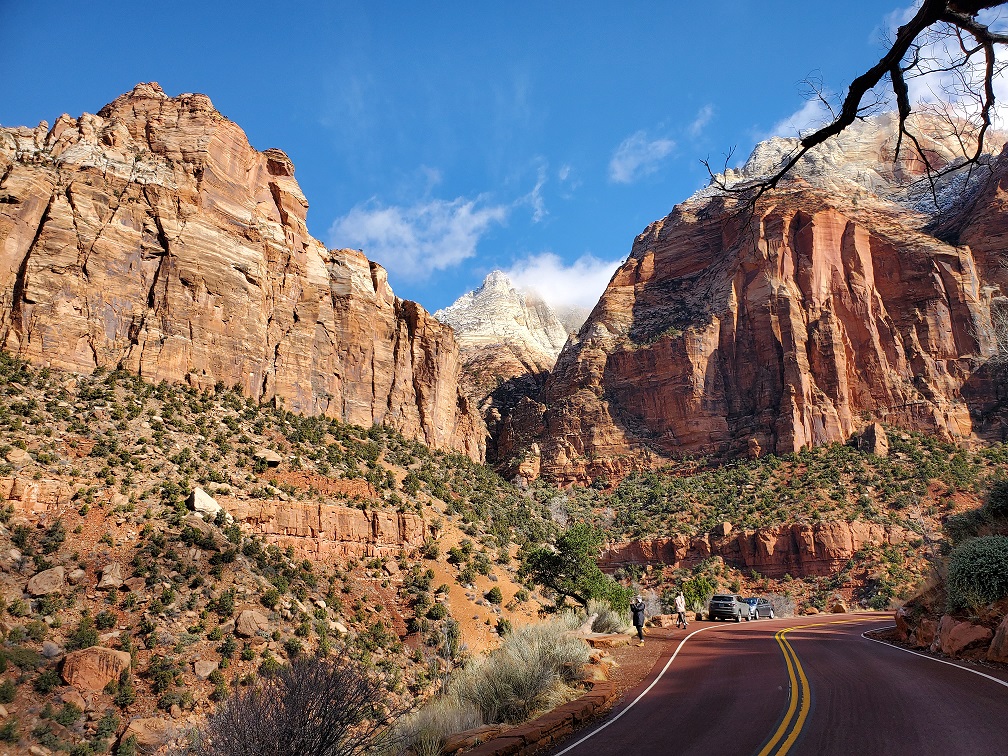 I'm telling you folks, there are no words or pictures to describe this drive. You NEED to do it (It's in Utah, a few hours from Las Vegas) and you will understand and if you have already done it, tell me about it below! Here is another one: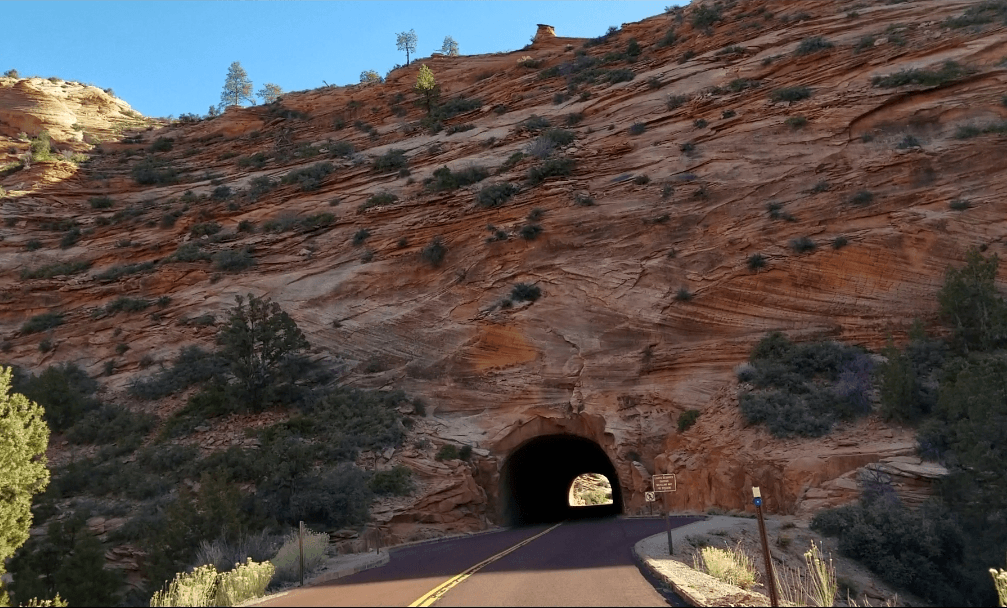 I can't tell you how many times I almost crashed when I first got there with my friend, because it was so beautiful, quiet, and we felt engulfed by the mountains that were there. Believe me, the drive through Zion National Park's 2 main roads I listed is a MUST and each road, while short (takes about 30 minutes or so to pass each one), is unforgettable. Here is a map: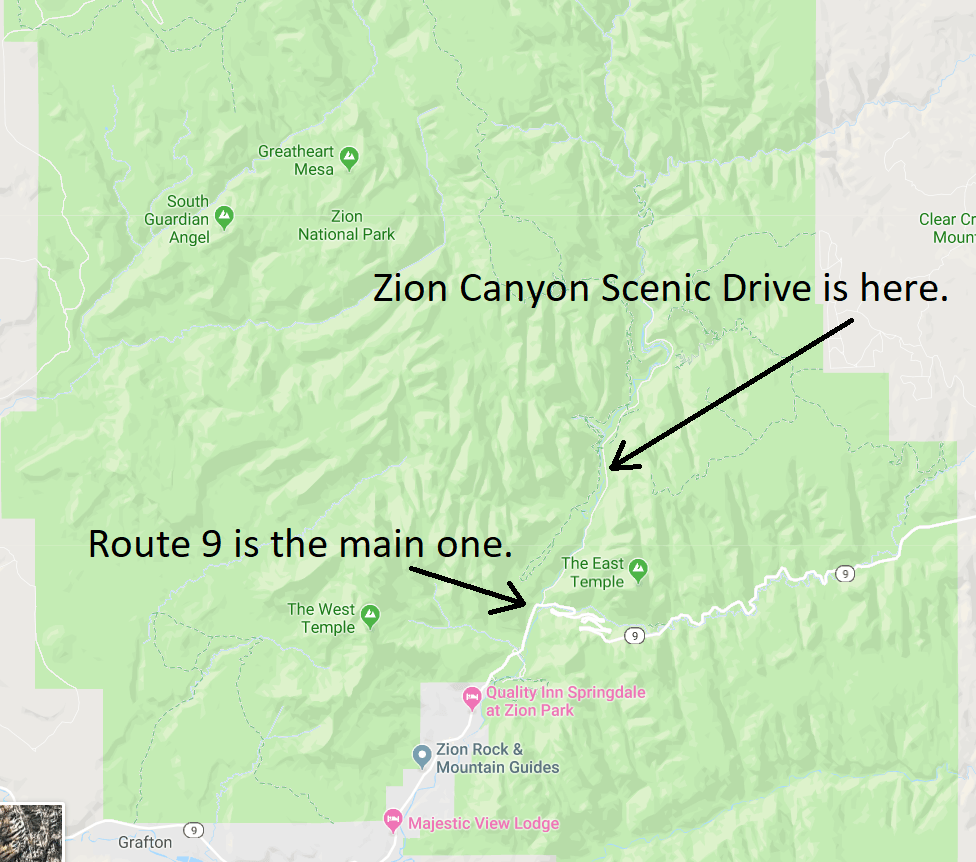 10) Blue Ridge Parkway. 100's of miles of scenic drives and views.
While Zion was close to the western end of North America, Blue Ridge Parkway is on the opposite (east) end.
It is a road located within what are known as the Blue Ridge Mountains (They stretch from Virginia down to Georgia), which is also known as the southern part of the Appalachian Mountains and offers a number of beautiful areas to pass by, the most important being Blue Ridge Parkway, which as I've said before in earlier recommendations of it, basically takes you through the heart of all of the Blue Ridge Mountains…


Unlike Zion's roads which take less than an hour to cross, the ones here stretch for 100's of miles and can take you days to finish and that's considering you don't stop over and over again to see the amazing sights and hike the many trails there.
I traveled through this area on a 6 day road trip in 2018 and I loved it.
9) California Coast (Route 1). 800+ miles of scenic views/roads.
Very few areas compare to what I'm about to share with you and that is the drive along the California Coast (Route 1). There are 3 particular parts of it that I completed:
Big Sur (HIGHLY recommended, it's just indescribable there).
Fort Bragg all the way up to Oregon.
The Redwoods and that has it's own path you can take.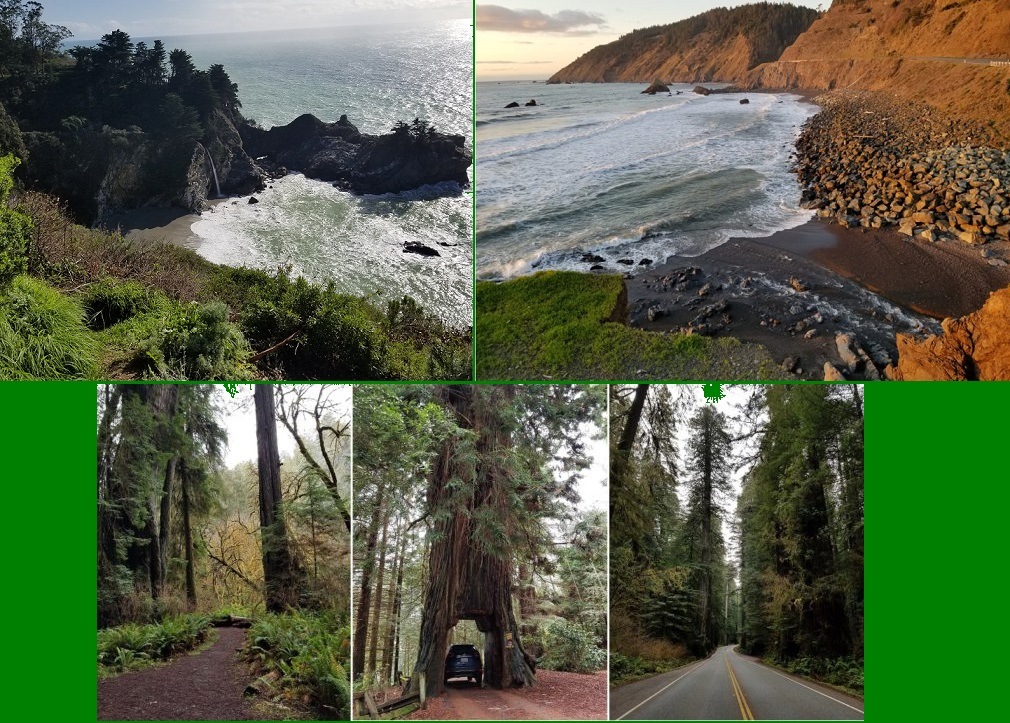 I didn't do ALL of the California Coast, but I did drive through 100's of miles of it (altogether, it's about 800+ miles of coastal roads) and these 3 spots are enough to satisfy any road trip and person seeking incredible nature views, believe me. These areas all have a bunch of parks, camping spots and are perfect for road trips.
8) California's Interstate 5. 500+ miles of scenic drives and views!
I was in Los Angeles for one night and was supposed to head to Modesto (several 100 miles north). To get there, I had to go through Interstate 5 and I have to tell you, I had to stop a number of times to takes pictures because, well, it was just too beautiful to not stop and appreciate.
Here are a few of the photos from that location. The first is one of the first stops I made which was at a location called Pyramid Lake:
And then as I was continuing up Interstate 5, I had to stop, hike and get this amazing shot of the highway there:
7) Another California location: Route 133, Interstate 580 and Route 84.
Let me explain why I listed 3 locations for this choice…
I was staying at Modesto for 2 nights at a friends house and was planning to visit Big Sur from there. The trip would take me 2-3 hours to reach and while headed to Big Sur, I had crossed these 3 locations, each of which was VERY scenic and highly recommended. See why:

6) Oregon's Route 30 (It's also interstate 84 called Columbia River Gorge):


East of Oregon (not far from Portland) is an area known as Columbia River Gorge, which is a beautiful area across a long lake that divided Oregon and Washington State.
Along this road (Route 30, aka Interstate 84 and also Historic Columbia River Highway, which is parallel to these 2 roads) are MANY viewing areas, including one of the biggest waterfalls in all of the United States, Multnomah Falls. Here is the beauty of Multonomah Falls: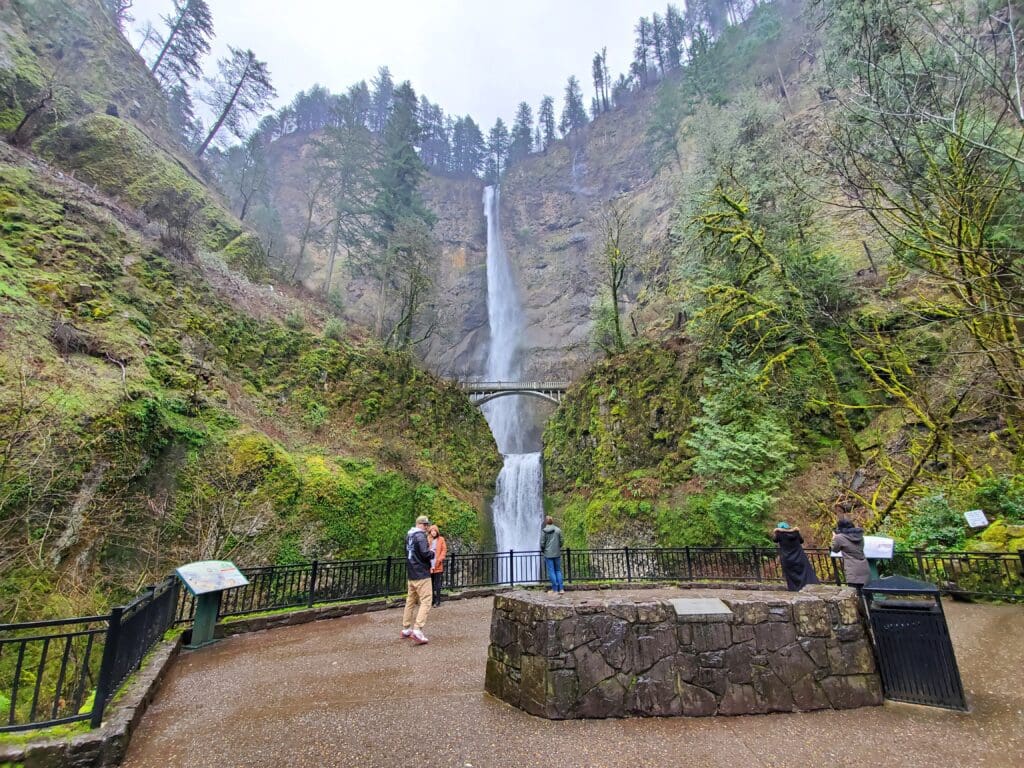 Now this area has way more trails, and scenic spots like this, and many of them are right off the road 🙂
And also when traveling across the west coast, I documented my west coast road trip here.
5) Red Rock Canyon & Mt. Charleston (Route 157).
Both these locations are connected by a single road, and a very scenic one at that. It is route 157 and it basically takes you through the dessert near Las Vegas, and has many beautiful mountain ranges to see.
Most of those are in Red Rock Canyon, but if you go further west, you will hit Mt. Charleston and the mountain ranges there, and it is there that the nature and the roads change from a dessert look to more green lands.
Here is a picture I took there:
And when it comes to the map, here is the screenshot of how to get there (from Vegas):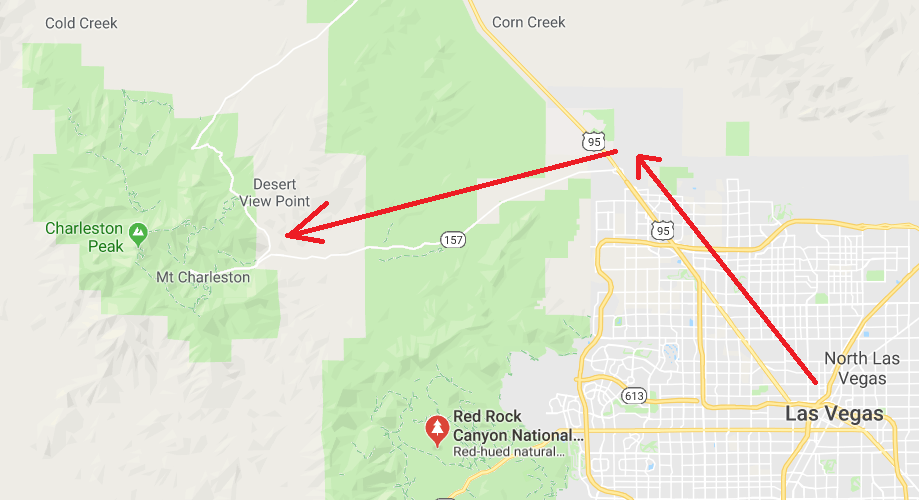 4) Back to Oregon (the Coast). Highway 101. 400+ miles of views you'll never forget.
If people were to ask me….
Vitaliy, what is the most scenic drive in America?
One would have to be insane to NOT list Oregon's coast and being that I drove through there, I must say, it is a contender as being the most beautiful drive I've ever seen in America (even though the others are incredible still, including the California Coast). It should be #1 on this list, but remember, there is no specific order to it.
Pretty much ALL of Oregon's Coast is scenic and road 101 WILL take you through it's most beautiful spots. Here is one of those places: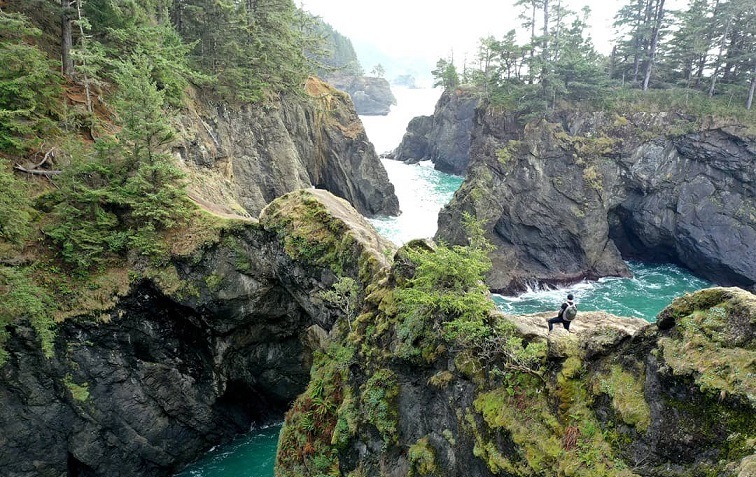 Would you believe me if I told you that this location is right off the 101 road in Oregon? Yep, it's true (It's called Natural Bridges) and so are so many other locations on the coast in this state you can simply view from your car while on a road trip. This whole area will take you across 100's of miles of these types of views.
If you'd like to get more info on the best spots in Oregon's Coast to check out (including scenic ones), here is a list of places to see on the Oregon Coast.
3) Cabot Trail (It is the name of the scenic road).
The Cabot Trail in Nova Scotia is in North America, but it is specifically in Nova Scotia, Canada. While my friends and I rushed through it, it still took us nearly a whole day to do. We were on that scenic drive after doing a road trip to Gros Morne National Park. Here are some photos from our drive: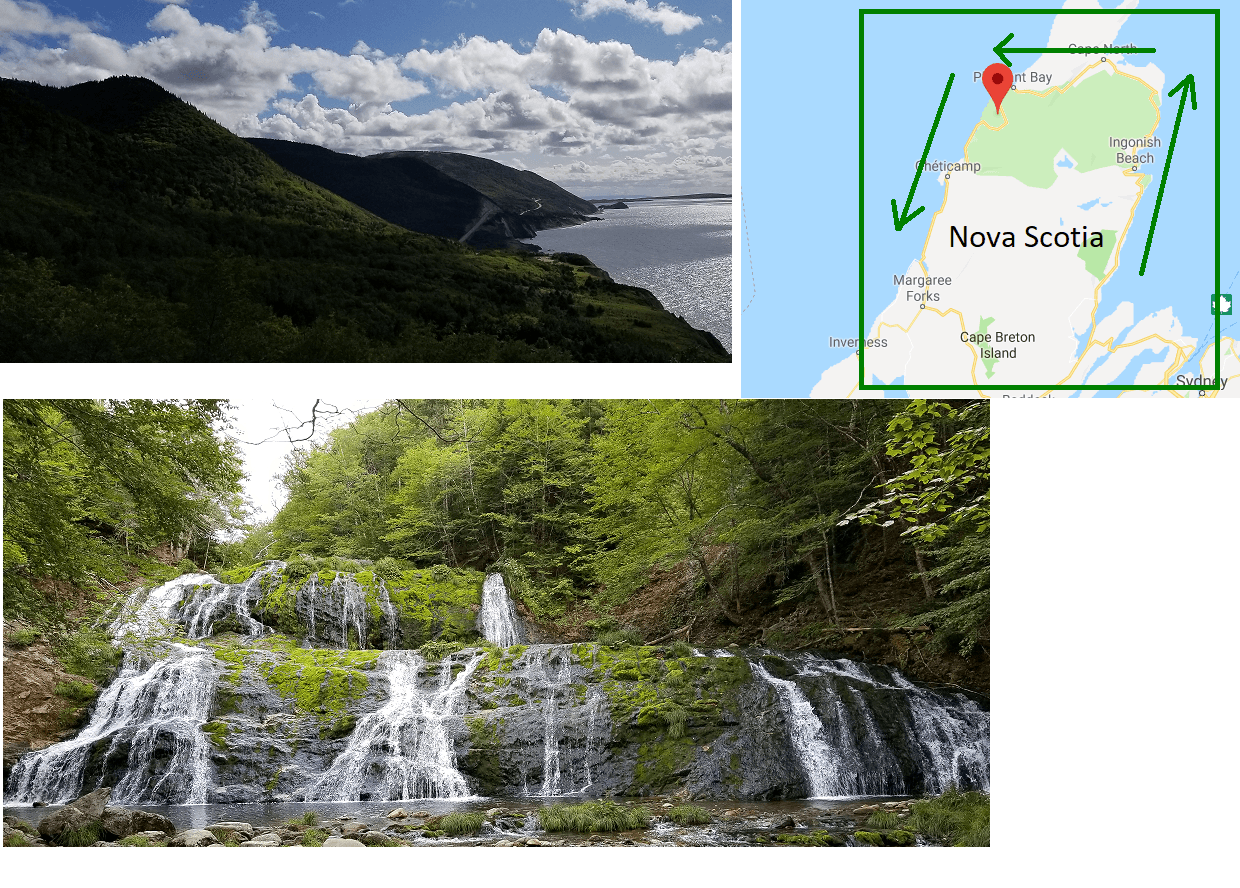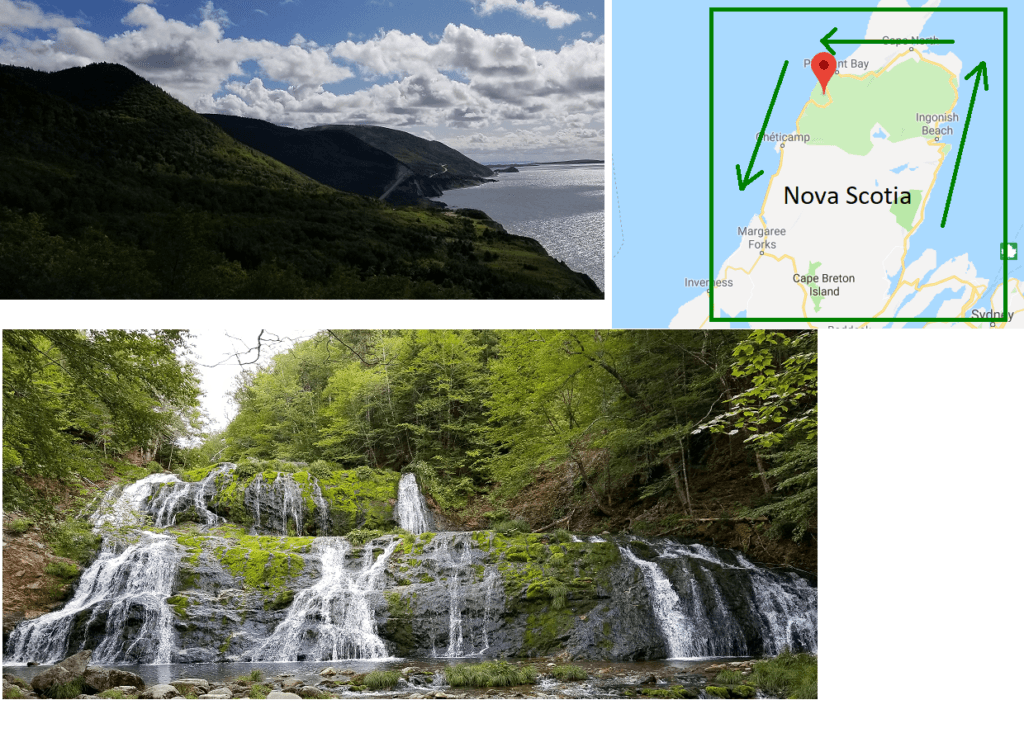 2) Finger Lakes, New York State. Hours of scenic drives!
There are a ton of scenic roads in New York State, but the one I want to recommend to you on this list is in the Finger Lakes area, and there's more than one there.
Now Finger Lakes has 5 lakes you can check out, each of which offers their own scenic road you can travel through, but the one I was visiting was on the western end, Seneca Lake, and in that spot are a lot of viewing areas and long roads to check out.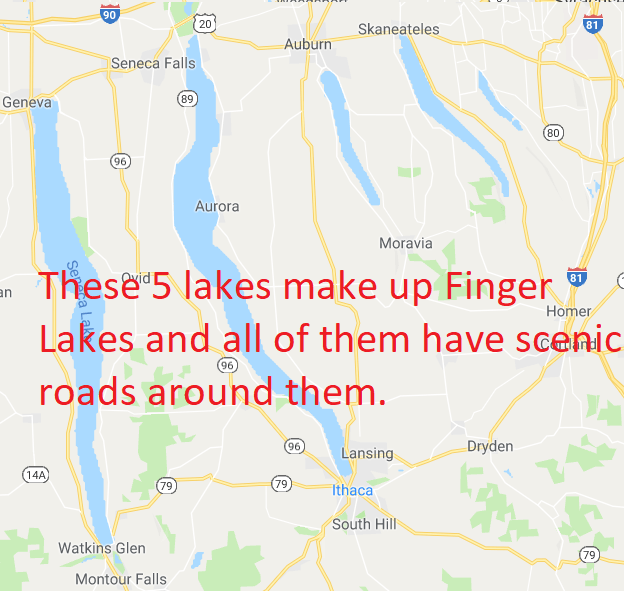 The roads that are worth seeing on that lake and in the Finger Lakes area are:
If you choose to go through all 5 lakes, you can expect it to take a couple of days, but it's worth the road trip. We were able to enjoy one of the most popular spots there.
1) The Icefields Parkway.
This scenic drive is in the Canadian Rockies and is probably the one on this list that is not in the United States, but we are covering North America, so it needs to be mentioned. I traveled through this area during a road trip through western Canada and I will never forget it. Just to be sure, I'll come back 🙂
Here is a preview of what the Icefields Parkway has in store for anyone driving through it: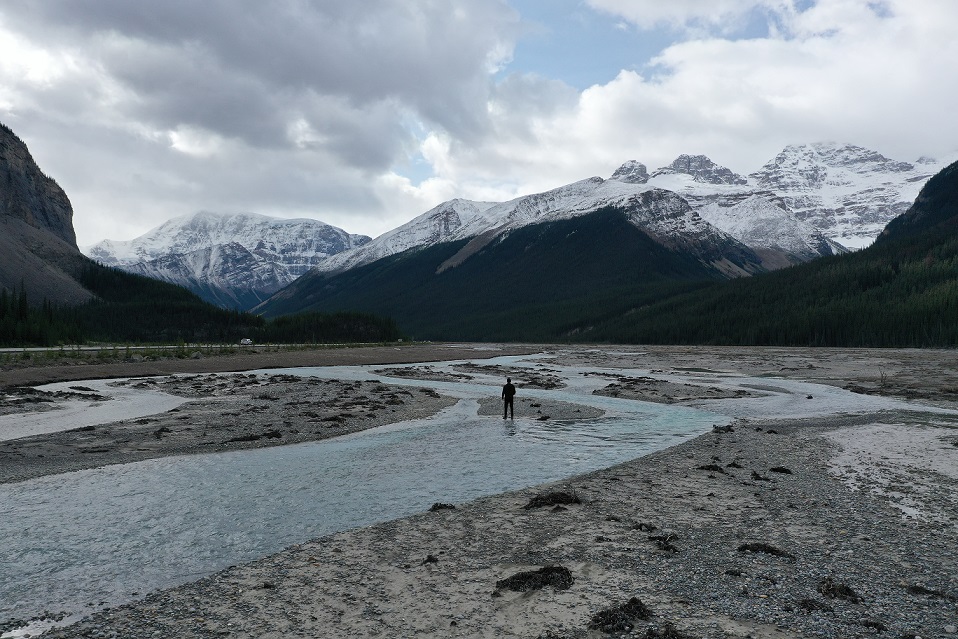 With over 200 miles of views like these, you'll have days worth of driving and stopping and even then, you're unlikely to see all the beauty this area has. But with the few days I had to go through this region, I have to say, it is one of the top drives I've ever done and I think it will be the same on your list too! 
And there's the first list of 11 scenic drive in North America!
As I have said, I WILL be adding more top 10 drives as I go through them personally and again, if there any spots on this list you enjoyed and visited, let me know, but if you know of other places equally or even more beautiful, please let us all know!