There are probably 100s of things to do in Daniel Boone National Forest as it's an incredibly large and beautiful area to explore in Kentucky but if you're just traveling through it for the first time, I'm going to share the 5 best spots to check out there.

Let me quickly share my experiences with exploring Daniel Boone National Forest:
The truth is my visit to Daniel Boone National Forest came about with 0 planning ahead of time and only lasted for one day, which had me have to quickly figure out what to do there to make the most of it.
What happened was that I was doing a road trip through the Blue Ridge Mountains and on the second day of that trip, we decided to exit them and see what else was close by. At the time Daniel Boone National Forest seemed like the best idea, but we didn't know what to see there.
As I started to do research, I quickly learned that Daniel Boone National Forest isn't that easy of a place to explore because the map listings and information (at least when we went) were wrong several times. This had us go into the wrong locations and then have to ask locals for advice.
Fortunately, while the day trip to Daniel Boone National Forest started off bad, it ended up being amazing because we were able to make the right adjustments and see the most popular spots and this article is going to help you with properly planning a trip there in case you run into the same issues we did.
The first thing I want to cover is a map of the region and why it's important to know before you go here.
Here's Daniel Boone National Forest map for reference (why this is important):

As you can see, it's quite close to the Blue Ridge Mountains (a few hours west of it) and you may notice a GPS spot on the southern end of it.
Well that GPS spot was our original destination we set when we discovered and were headed to Daniel Boone National Forest, and at the time that was supposed to lead us to amazing natural bridge.

But when we arrived, it turned out that this was not the natural bridge we were looking for. In fact, this spot ended up being some back road area that didn't have anything to see and to add to it, we had no reception either.
Fortunately there was a town nearby where we could figure out what went wrong and make up for the problems and that's where went next.
Luckily the locals there suggested where to go, and that eventually led us to see the best spots in the region and ironically enough, we still got to see what we originally wanted to see, but it was in a completely different area of Daniel Boone National Forest.
What we learned was that the upper half of Daniel Boone National Forest is where the best places are. The southern part is way more remote and while there are many things to do, for your first time, you're going to want to focus on the upper part of it and that's where this list mainly centers around.
5 things to do in Daniel Boone National Forest Kentucky:
Explore Eagle Falls.

Go to Natural Bridge State Park (The Skybridge).
Explore hiking trails at Red River Gorge.
Do some cliff diving and swimming at Red River Gorge.
Check out the amazing scenic overlooks at Red River Gorge.
The following list I'm sharing here begins from the southern most part of Daniel Boone National Forest and heads north (which is how I explored this area) and again, the top attractions are in the upper half of it.
And regarding that, I also want to be specific which is why you need to know the following:
The 2 main Daniel Boone National Forest attractions to see: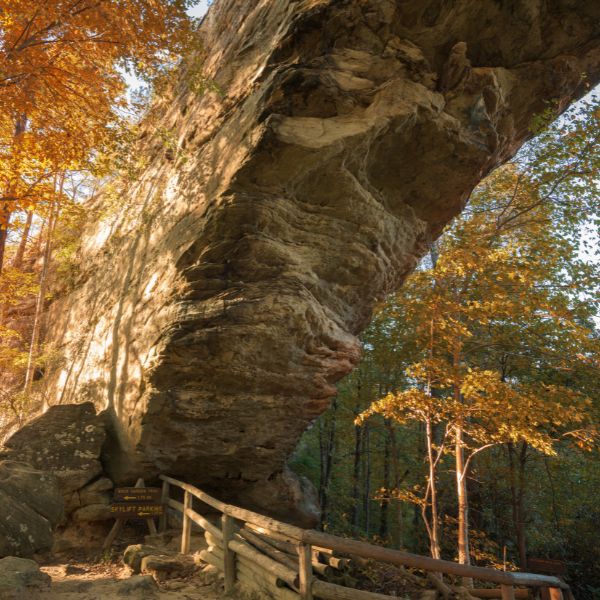 The main thing to understand about this list is that the best things to do in Daniel Boone National Forest (for first time visitors) are:
To see the Natural Bridge area (It's called Skybridge).
And explore Red River Gorge.
I promise you that these 2 areas will make your trip to Daniel Boone National Forest unforgettable as these 2 areas:
Lead to the most popular destinations in the entire area.
The best hikes, swimming areas, waterfalls, caves, natural bridges, arches are in this region (especially Red River Gorge).
And again these 2 regions of the national forest are in the upper half of it (northern part) as I said earlier.
There are also many areas here and throughout the Daniel Boone National Forest area where you can camp out (including Red River Gorge where it's most popular).
What to do in Daniel Boone National Forest (details on the best spots):
Right now, I'll be discussing every spot mentioned above and it's important to read about this because what you may encounter is GPS issues finding those areas like we did. I want to make sure you avoid that.
1) Eagle Falls (one of the best Daniel Boone National Forest waterfalls):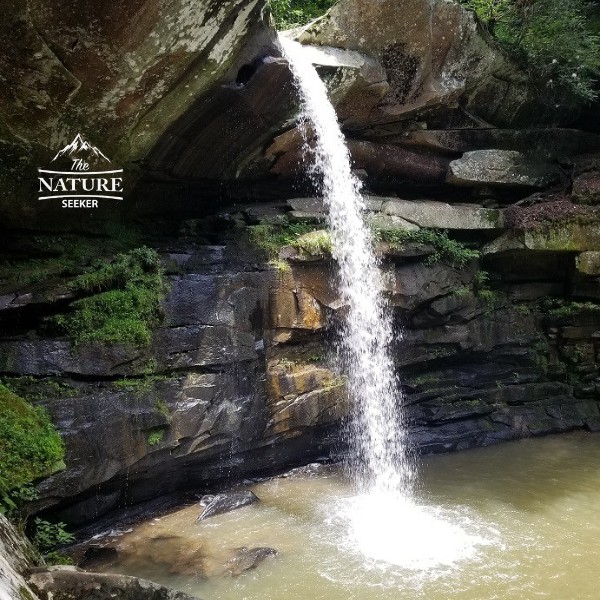 Before I explain why I love this spot, there's something you need to know about Eagle falls and that is that this specific waterfall in Daniel Boone National Forest may (incorrectly) have 2 identities if you look for it online:
Eagle Falls which is the waterfall you see here (southern area).
Flat Lick Falls which looks similar but is in the northern area of Daniel Boone.
The thing is both of these waterfalls look alike and if you look up one or the other, you may actually see the wrong images.
In other words, if you look up Eagle Falls, you may see photos of Flat Lick Falls instead and vice versa.
And as a result, you may be in say the southern area of Daniel Boone, see the wrong waterfall listing, and head in a completely different direction and this is yet another example of the confusing situations you may encounter in Daniel Boone National Forest.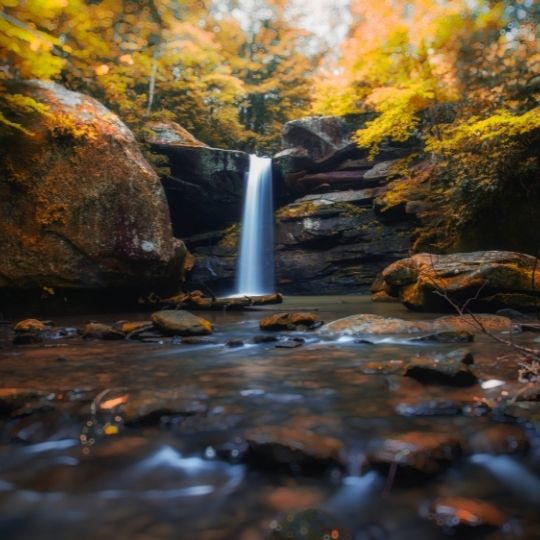 But anyway, onto Eagle Falls:
It was the first place I discovered with my buddy in the southern region of Daniel Boone National Forest and it was only thanks to speaking to the locals who mentioned it (after we realized our GPS led us the wrong way).
And thankfully that was an awesome decision as Eagle Falls has so much to offer besides the waterfall. There's an awesome hike, swimming, caving and much more to explore here!
A quick mention about Flat Lick Falls (I still recommend you visit it):
If you do decide to visit this waterfall, remember, it's in the northern part of Daniel Boone Forest.
Here is the location of Flat Lick Falls. And again, be prepared to see literally see photos of Eagle Falls there (years after I ran into this problem, I still see the same wrong images).
But you can organize an itinerary where you start in the south, see Eagle Falls, then go through the rest of this list since it works it's way up northern, and then see Flat Lick Falls later.
Circling back to the topic: Eagle Falls was honestly one of my favorite spots to find in all of Daniel Boone National Forest.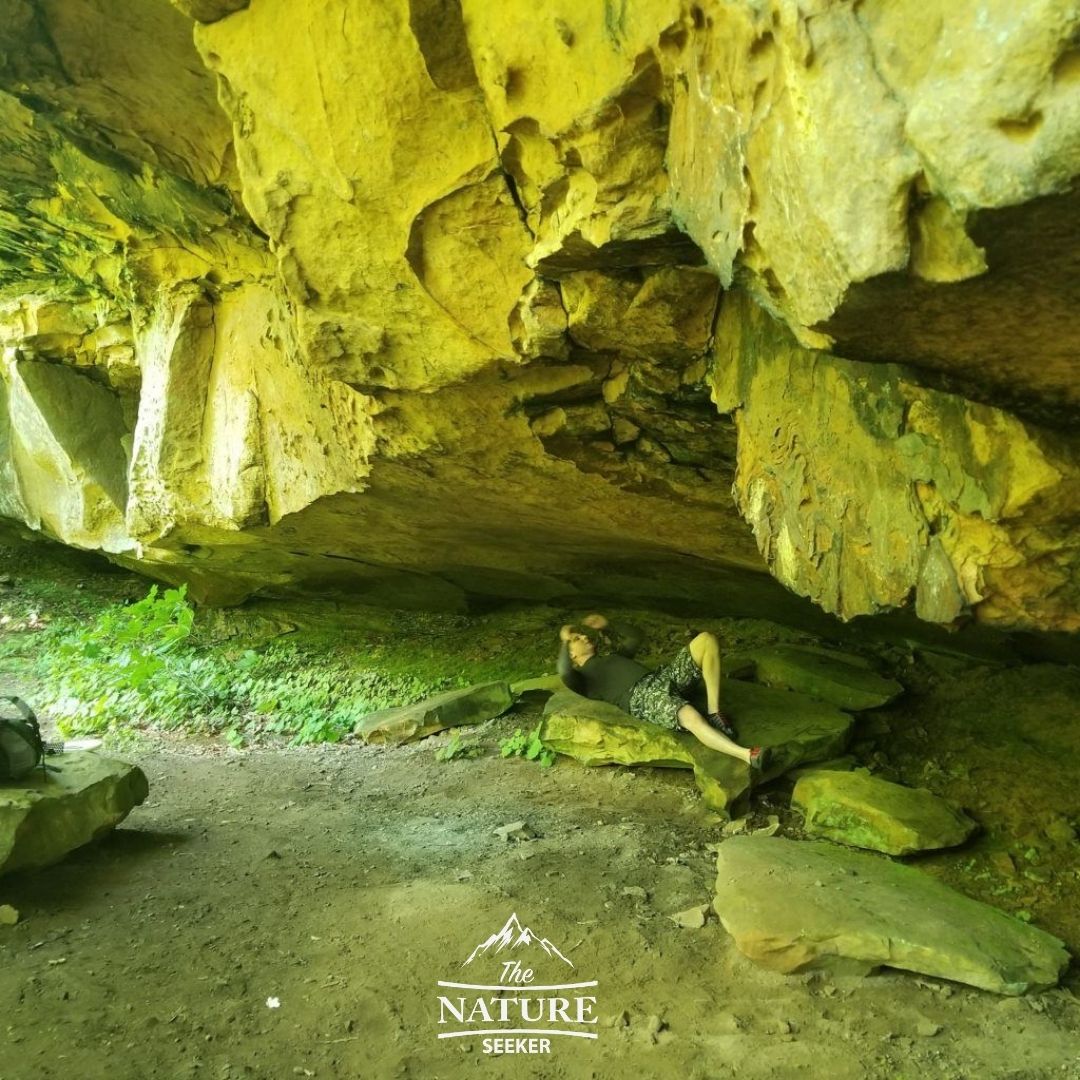 Considering how hot the weather was, swimming in this place was extremely refreshing and the whole area is in a forest anyway, so we had nice shade the entire time.
Like I said, there are awesome hikes there, especially down to the waterfall area where you will find caves like this:
Now another interesting thing happened while we were hiking into Eagle Falls which coincidentally added to our day in Daniel Boone getting even better and here's what occurred:
While we were there, we met another local who visits that waterfall and asked him about the Natural Bridge we originally wanted to see in Daniel Boone State Park.
He told us he didn't know of any area where we were that had it but he did recommend we go further north through Daniel Boone National Forest as the sights there were much better (it's one of the reasons why I suggest focusing on the northern part of this region).
Being that we were going to go north anyway and our GPS was unreliable, we decide to take the advice of the local and head in that direction and that turned out to be the best decision we made because that ultimately led us to the main attraction we originally wanted to see and that is the next thing on this list.
2) Natural Bridge State Park KY (Where you'll find the famous natural bridge):
So this place has several names which adds to the confusion of why it's hard to find:
Natural Bridge State Park (the main name).
Skybridge State Park.
Sandstone Bridge.
After traveling for a few hours from Eagle Falls, we coincidentally started seeing signs for natural bridge and Skybridge and at the time we didn't know that this was in fact the same attraction we were trying to find when we first entered Daniel Boone National Forest but as you know, what we originally thought was the right spot for this turned out to be wrong.
Note: To get to this natural bridge, you need to enter Natural Bridge parking lot into your GPS, otherwise it'll take you into a completely different part of Daniel Boone National Forest like it did for us. Once you get there, expect to see a lot!
I'll also be making a new article on exactly what to do near Natural Bridge State Park because there's actually many other natural bridges, arches and amazing hikes very close to it.
Want to see more sights like this natural bridge? 8 other regions in the US where you'll this: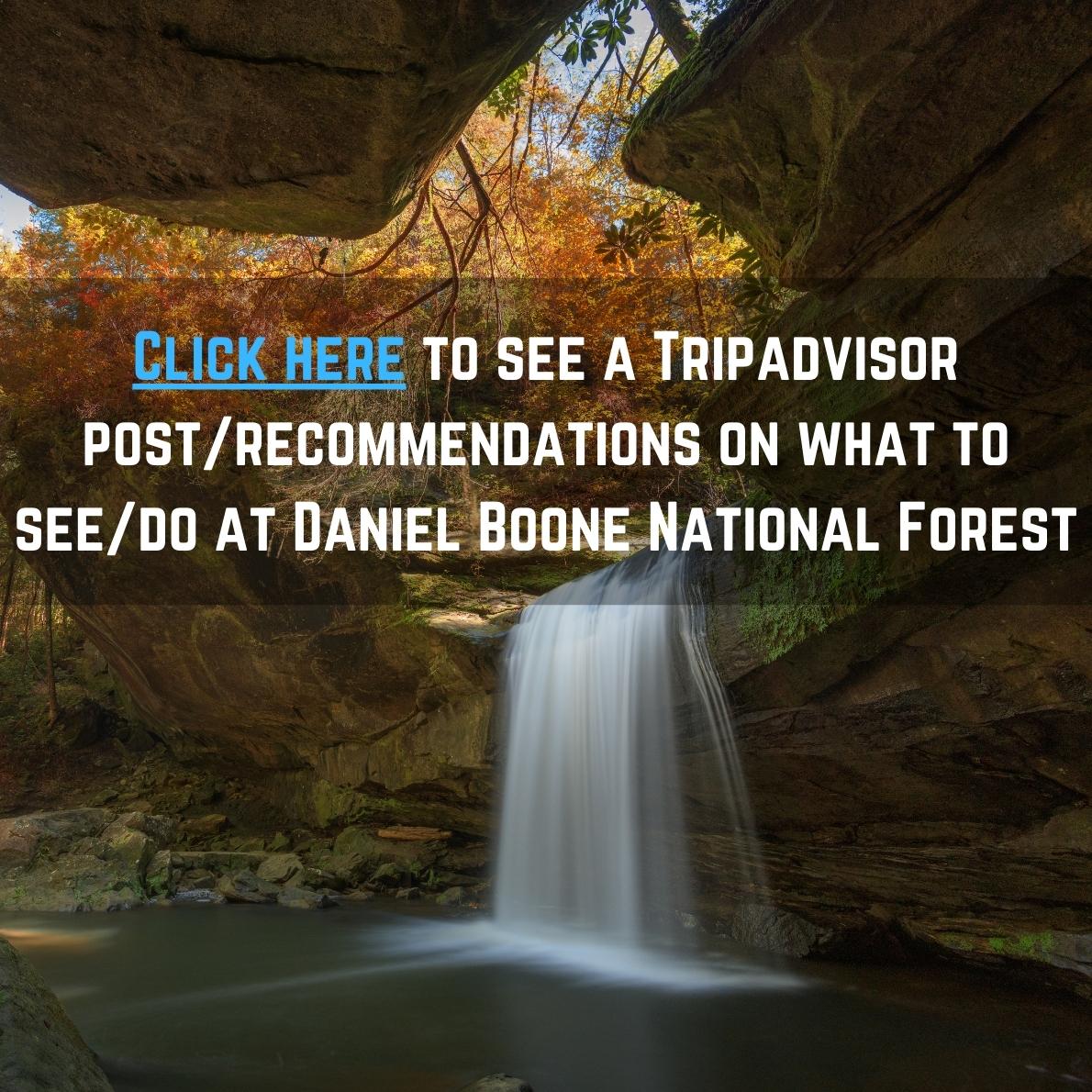 1) Jacob Hamlin Arch. It's even bigger than the Natural Bridge in Daniel Boone National Forest and it can be found in Coyote Gulch.
2) Many natural Bridges on the west coast. There's also other natural bridges across the Pacific coast highway, and this includes ones all throughout the California Coast as well as the Oregon Coast (the most famous is Natural Bridges Oregon).
3) Natural Bridges near Red River Gorge. Red River Gorge is right by Natural Bridges State Park KY and many of the hikes there are part of it.
4) Capital Reef National Park: It at least 3 natural bridges you can check out. They are Hickman Bridge, Cassidy Arch and Druid Arch. You can find more info on these in my Mighty 5 National Parks post.
5) Arches National Park (most options in the US): Arches National Park probably has the most amount of arches and natural bridges you'll find in the entire world.
6) Rainbow Bridge Arch. It's one of the best hikes in Utah and also the biggest natural bridge in the United States. More on Rainbow Bridge.
7) Devils Bridge. You'll find this one in Sedona, Arizona.
8) Vultee Arch in Sedona (another awesome natural bridge).
3) Hike and drive through Red River Gorge: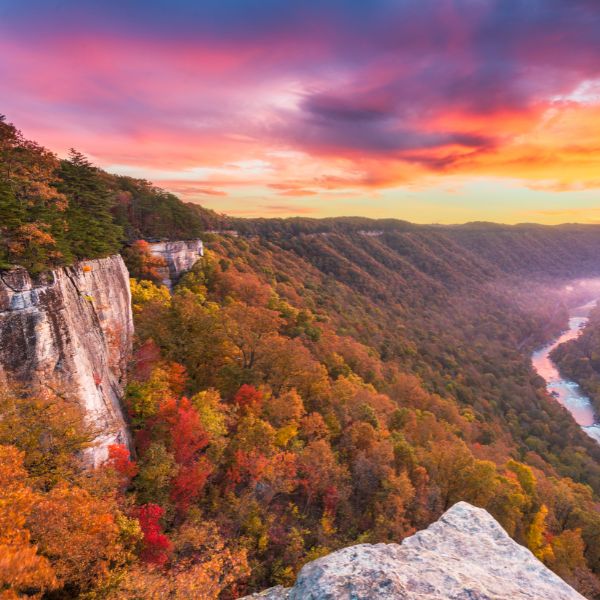 This area is literally 10-20 minutes away from natural bridge state park and has a number of fun things you can do there. Firstly, the whole area is shaped in a circle and has a road you can drive around (in a circle). Within that circle are several paths you can take with your car to view amazing outlooks.
If you just want to drive, you will find caves, exits to scenic drives, roads and even trails to outlooks. Here is one of the spots we drove through:
That is a cave with a road inside folks! It is one lane only, so you need to take turns to get through it. But these beautiful areas are all over the Red River Gorge area. 
The remainder of the spots on this list will be in the Red River Gorge area. We just didn't have enough time to explore the rest of the Daniel Boone area and had to make our way back to the Blue Ridge Mountains the next day.
So we figured we could get the most out of our day by just spending the last few hours we had (sunlight) to explore Red River Gorge.
4) Cliff diving and swimming at Red River Gorge: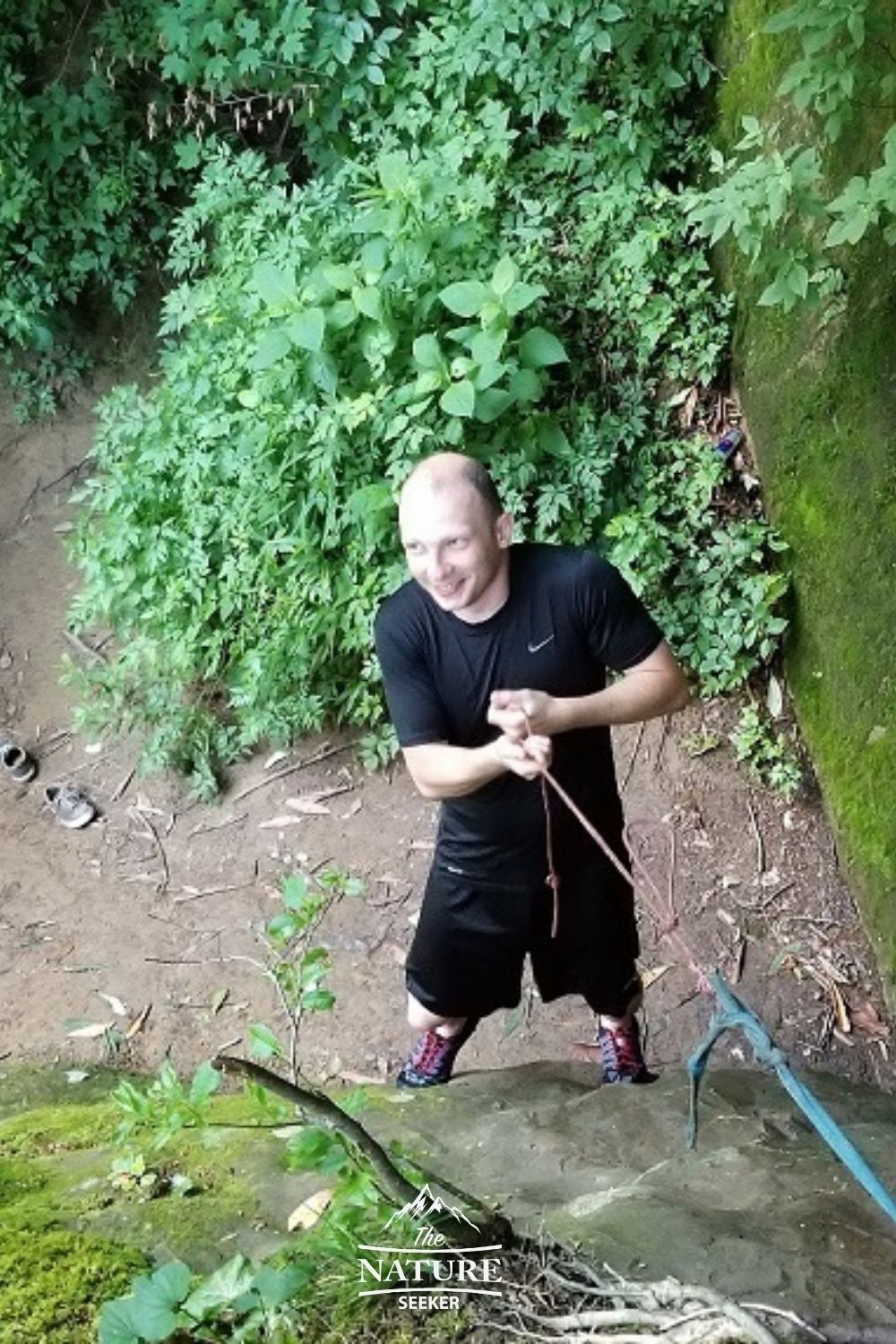 As you go through the circular road in this location, you will half the time be parallel to the Red River itself.
There will be opportunities there to find giant boulders to park near, climb up and jump from. 
Warning: Now I do recommend you be very careful with cliff jumping anywhere and in our case, the water was very dirty and we couldn't see the bottom so when we found a good spot to cliff jump, we first got into the water and tested to see how deep it was.
When we saw it was safe, only then did we climb up the boulder and jump from it.
Well in all honesty, my friend jumped, I was too scared.
As much as I love cliff diving and do it often in places near me like in the Catskills, this was just too risky to attempt (My friend didn't think so though).
But we did swim and if you're wondering why we would swim in murky water, the answer is that it was very hot that day and we needed to do anything possible to freshen up.
Even swimming in murky water was better than sitting in a car all day or hiking while sweating. And it certainly was a refreshing (but dirty) swim.
5) Enjoy the beautiful overlooks of Red River Gorge: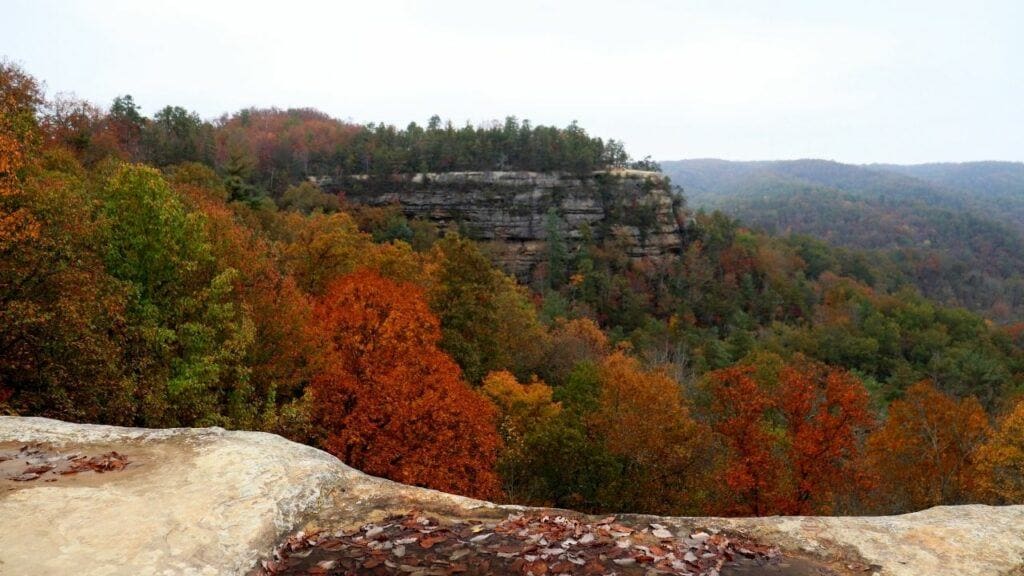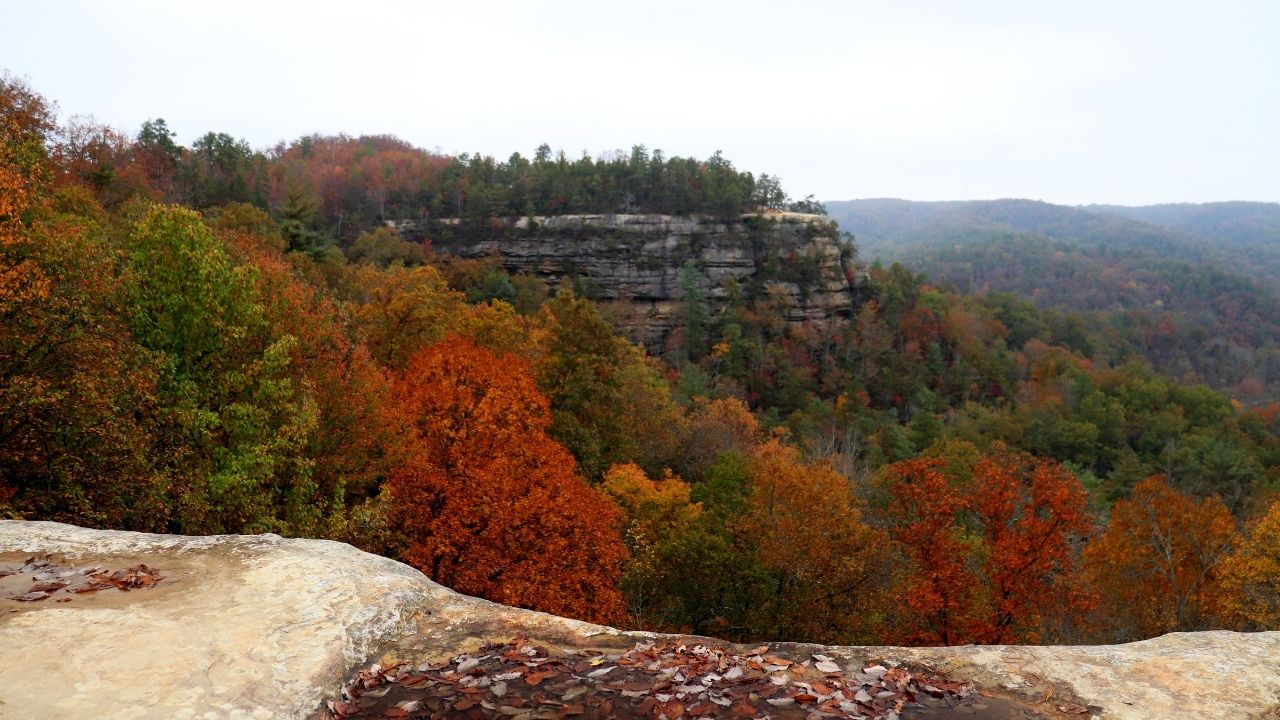 Scenic overlooks are plentiful at Red River Gorge and as I said, you will see plenty of signs for trails that you can enter into with your cars.
Some trails here are pretty short from the parking lot and will take you to some truly breathtaking views and overlooks. Others will connect to longer trails that take you down to the base of Red River Gorge.
We chose the Chimney Rock trail, which led us to a parking lot, from which we walked about a quarter of a mile to the overlook.
This was one of the shortest walks we had left before the sun set, so we had to go with one that would allow us to see one last sight in Red River Gorge and Daniel Boone National Forest, before we continued on our trip.
Note: Beware of the horrible sweat bees in Red River Gorge! When I was there during the summer, it was an awful experience (bug spray might help with the sweat bees).
What about Red River Gorge waterfalls? Yes here are 3 popular ones:
Creation Falls.
Copperas Falls.
Rock Bridge Falls.
What to bring and wear when hiking in Daniel Boone National Forest:
My friend and I went here during the summer and at times, it was very hot in this region. There were also places where in addition to hiking, we also got wet, so the gear I recommend bringing with you to this region (other than bug spray) reflects all of these experiences:
My thoughts after visiting Daniel Boone National Park: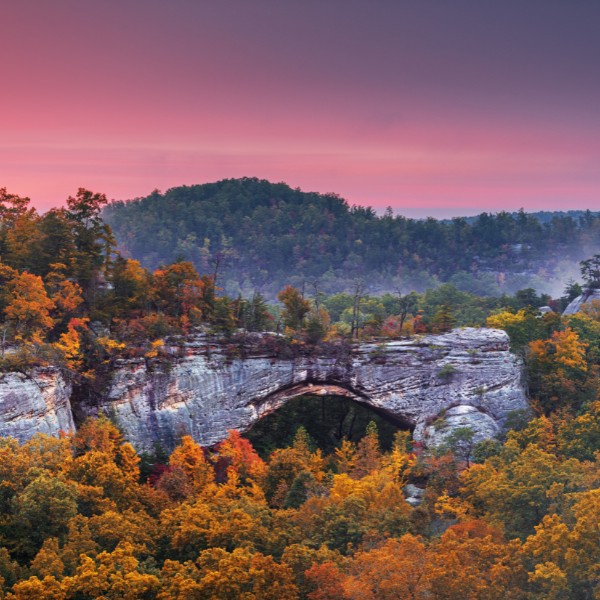 Aside from the bugs at Red River Gorge and incorrect GPS listings, our visit to Daniel Boone National Forest was pretty awesome! And there will be future explorations of this region when I get the my next chance to do it.
While we only had enough time explore Daniel Boone National Forest for one day, we took a risk breaking from our trip through the Blue Ridge Mountains, but it allowed us to see the beautiful spots you saw in this article and it was well worth it.
The change in scenery, the change in landscape and the impromptu change of plans to explore a place without any prior prep was a really fun adventure overall.
And of course, being that this place was so huge, obviously, we could have seen a lot more, but for a day trip through this region, we really did cover a lot of places and all of them are highly recommended for you to see as well.
If you're someone who knows what to check out at Daniel Boone National Forest and don't mind recommending some awesome hikes, waterfalls or adventures there, I'd love to hear your thoughts below!
Update: I found an awesome individual on Instagram named Max who explores Daniel Boone National Forest regularly. He shares a lot of the locations he's found there and I wish I had known about his page earlier. Either way, here is a link to his Instagram here so you can find more places to explore in the region.
Frequently asked questions about Daniel Boone National Forest:
These are the most common questions I've seen about the area (and the answers):
Is Daniel Boone National Forest worth visiting?
Absolutely! It has amazing hikes, waterfalls and scenery that is breathtaking for tourists and adventure seekers alike.
Can you drive through Daniel Boone National Forest?
Yes! There are numerous roads that run across Daniel Boone National Forest.
Is Red River Gorge part of Daniel Boone National Forest?
Yes, although on a map it doesn't look connected, Red River Gorge is classified as part of the national forest.
5 things to do near Daniel Boone National Forest: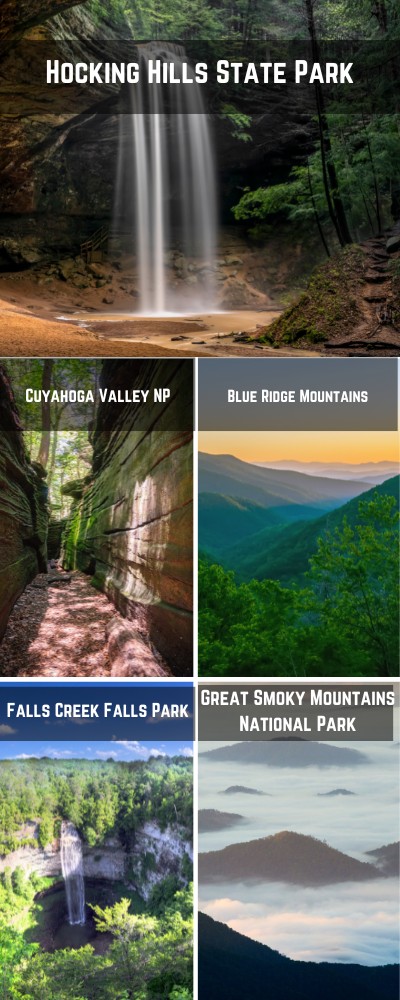 While Daniel Boone National Forest is stunning in many spots and I totally understand that I probably only explored 1% of it, let me tell you that outside (and not far) from this area are other beautiful spots you can (and should) explore. Let me give you a few examples:
1) The Blue Ridge Mountains (2 hours east):
The Blue Ridge Mountains are a few hours away from Daniel Boone National Forest but present many beautiful areas you can explore (millions of acres that is). There you will find the Appalachian Mountains, trails, waterfalls, scenic drives and tons of other beautiful spots to explore and the area looks very different than Daniel Boone National Forest.
2) Cuyahoga Valley National Park (5 hours north):
Although Cuyahoga Valley National Park is very far from Daniel Boone, it's very beautiful as its terrain is very similar looking. If you really enjoy your trip to Daniel Boone National Forest and want to see more places like it that are similar (and just so happen to be headed north anyway), I would strongly recommend you visit this national park (I visited it and loved it). It's a bit more crowded due to it's popularity, but you'll quickly see why.
3) Hocking Hills State Park (2 hours north):
Hocking Hills State Park is insanely beautiful and if you have to choose between Cuyahoga Valley or Hocking Hills State Park, go with this park instead, because there is a lot to do, in a smaller space and so much to see. The terrain has many gorges, some natural bridges too and areas that are just too difficult to explain unless you see it for yourself!
4) Falls Creek Falls (2 hours south):
This is an incredible park in Tennessee that has great waterfall hikes and incredibly scenic views in general.
5) Great Smoky Mountains National Park (2 hours east):
Great Smoky Mountains is part of the Blue Ridge Mountains area, but since that area is so large and there's lots to see, I would recommend checking out this national park as it's probably the best and closest place within that region that's also near Daniel Boone National Park (or national forest).