Blue Ridge Mountains was a spot I've wanted to see out for years and in July of 2018, on a crazy Appalachian Mountains road trip, I finally did.
And I'll be sharing with you the top 5 things I found you can do at the Blue Ridge Mountains.
Let me just mention a few very basic things about it beforehand that are actually not very well known, and that is surprisingly because the information online is pretty brief and broad.
It's unfortunately a common issue I find with many of the places I want to visit and it's one of the reasons I made this blog, to correct that issue basically!
Most of the things I had done in the Blue Ridge Mountains during my road trip there was spontaneous, and that's because we couldn't find good enough information beforehand to use. 
Had we had good resources to use, this list would likely be a lot bigger and it will be when I revisit this region again in the future!
But until then, let me share the 5 places I know you'll love seeing too there.
Here are the 5 things I highly recommend you do at the Blue Ridge Mountains:
Drive through the Blue Ridge Parkway.
Stop in one or more of the scenic stops off the Blue Ridge Parkway and enjoy the views.
Check out Great Smoky Mountains National Park.
Stop at the town of Gatlinburg, right near Great Smoky Mountain Park.
Check out the many waterfalls across the Blue Ridge Mountains.
Before I get into these things, let me explain some important things about the Blue Ridge Mountains just to give you some background since this is a very famous area after all:
First, what are the Blue Ridge Mountains? 
It is basically a very long mountain range that is the southern most part of the Appalachian Mountains, within which also lies one of the longest, most popular hiking trails known as the Appalachian Trail.
Where are the Blue Ridge Mountains lo

cated? The map: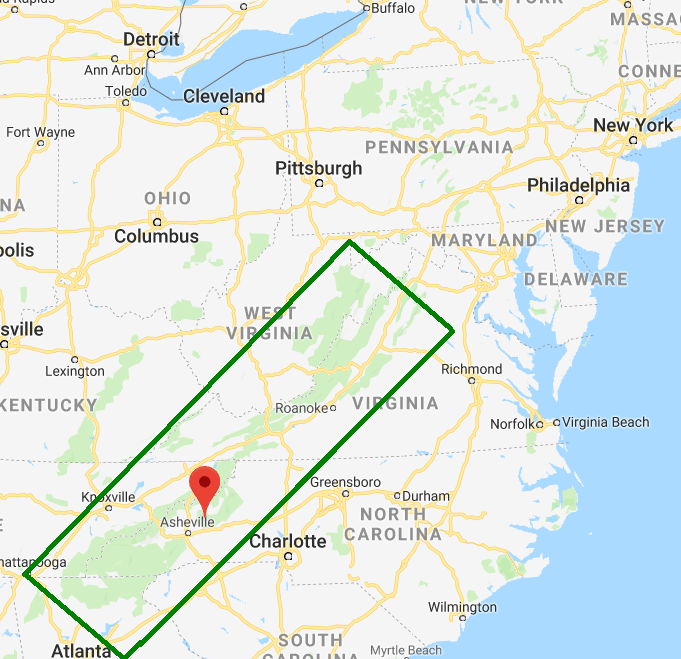 They are located mostly within Virginia State, and stretch all the way down to Georgia state.
Here is a map of the Blue Ridge Mountains region:
In addition, the Blue Ridge Mountains are also part of the Appalachian Mountain range, but those stretch further, all that way into New Foundland and Labrador (provinces in Eastern Canada), where you'll find amazing parks like Gros Morne National Park, Bay of Fundy and the Cabot Trail, and those particular areas have mountain ranges which also are part of the Appachalchians. 
At least 50% of the Appalachian Mountain Trail (not road) goes through the Blue Ridge Mountains.
When you combine the Blue Ridge Mountains with the rest of the Appalachian Mountains, here is how it looks on a map: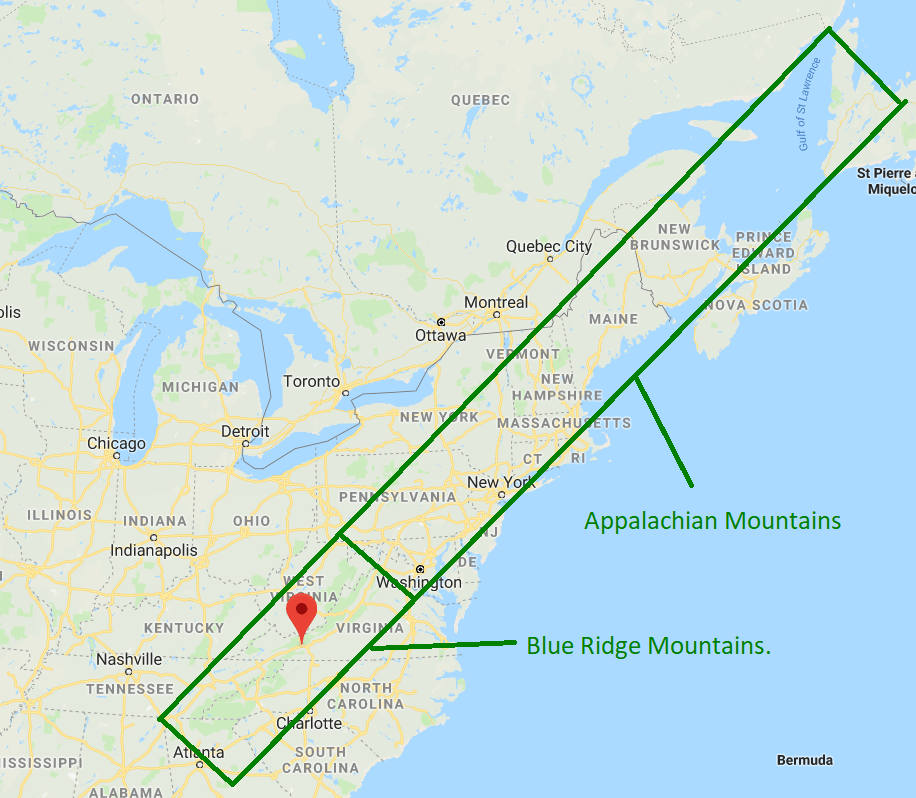 I'll be doing a list of things to see along the greater Appalachian area in a future article, but for now, we'll stick to only this section of it. 
Update: I have created an article describing things you can see, hike and drive through (scenic areas) within pretty much most of the Appalachian Mountain Range here.
How long is are the Blue Ridge Mountains?
Estimates say it's between 400-600 miles and within that length is a main road which goes through all of it (the Blue Ridge Parkway which is one of the things I recommend you do when visiting this region of the US).
Ever wondered why this place is called

Blue

Ridge Mountains?
It's because when you stand at the top of many of the areas and look out into the distance, the mountain ranges there have a blue color the further out you look.
I don't exactly know why that is, but it's beautiful to see the mix of green nature start to blend with a blue hue the further out you look.
An example of the beauty and that "

blue

" you see in the Blue Ridge Mountains: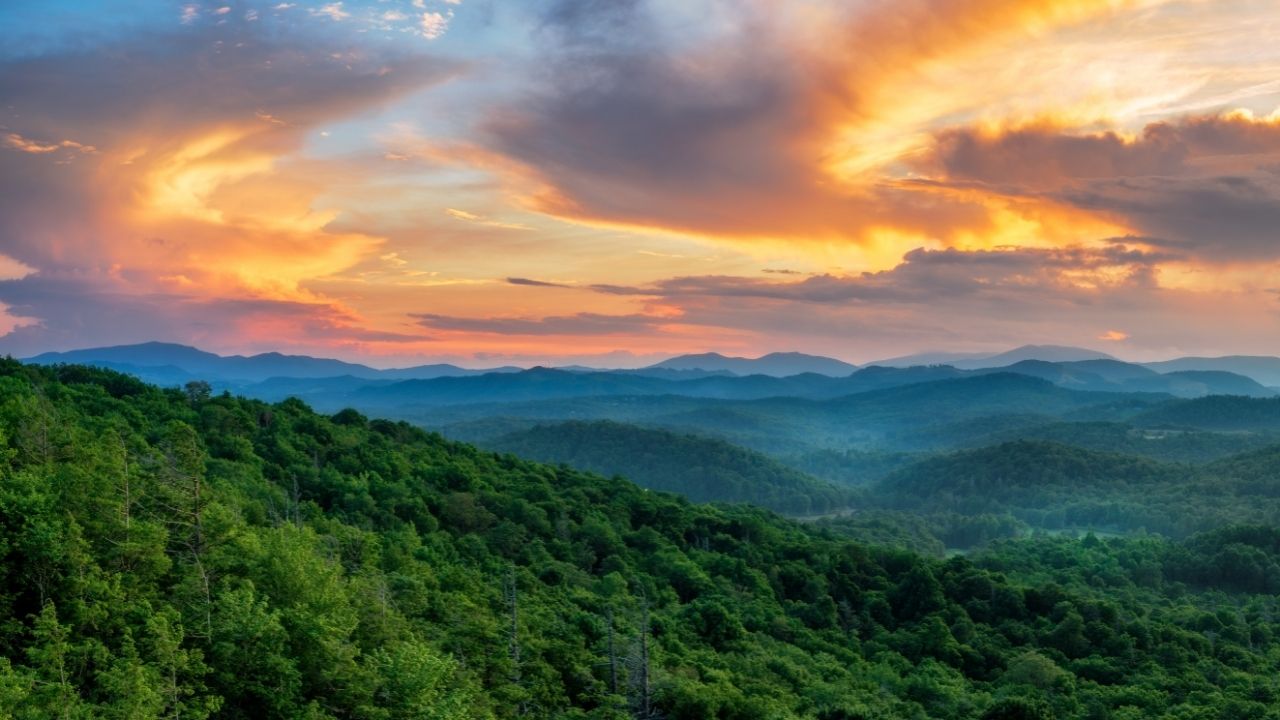 This is the type of scenery you'll see through much of this region and it's really an awesome sight (at least at first, it gets repetitive after awhile though).
How my trip through the Blue Ridge Mountains happened:
A buddy of mine who came to visit me in New York City a few years back had been interested in seeing some great hiking trails, so I took him to a place I still visit frequently, and that is the Catskills.
He enjoyed it so much, he then told me about The Blue Ridge Mountains which he has visited a few years before and said it had similar views.
When he mentioned this location, it was the first time I had heard of it and because he said it had similar views, we decided to plan a trip there.
But the planning wasn't concrete, and we went back n forth talking about taking a trip through this area for YEARS and we finally did it in 2018 (but first we did this amazing road trip through the eastern United States). While my buddy lives in Fort Lauderdale Florida, and I live in NYC, I do visit FL once a year because I have family there. 
When I visited it in July, we finally decided to make this trip happen. I was in the Sarasota area and the plan was for me to drive up to Atlanta, and him to fly into Atlanta from Fort. Lauderdale early in the morning. This would end up saving us nearly a day to spend more time enjoying this area.
I had to drive through the night to pick him up at 8 am, but it worked out. He flew in, got into my car, and we took off. From Atlanta, it takes about 2-3 hours to get to the official start of the Blue Ridge Mountains and there's many roads you can take into it.
I recommend you pick out one of the locations on this list and mark it down on your GPS because it'll help you get see the best sights (as we found out).
What followed was a day inside this area, which we really enjoyed but decided to steer away from and into another location very west of it, which was Daniel Boone National Forest and after that, we made our way back east, into the northern part of the Blue Ridge Mountains in West Virginia and Virginia.
Now with all this said, let me give you the 5 spots I recommend you check out along this area:
What to see in the Blue Ridge Mountains, 5 breathtaking spots:
Firstly, because this whole area is so huge, there's tons of roads and places to enter it from.
Most people enter from the north or south (we entered from the south), but with all the choices there are, not all of them lead to scenic areas (you have to basically ask locals where they are if you get it wrong).
So the first spot on this list is what I consider the best central area to start from, and it doesn't matter where you enter the Blue Ridge Mountains from, make this the first spot you mark on your GPS, because once you enter it, everywhere you go from there (north or south) will take you through the best spots along this whole area and that is:
1) The famous Blue Ridge Parkway drive: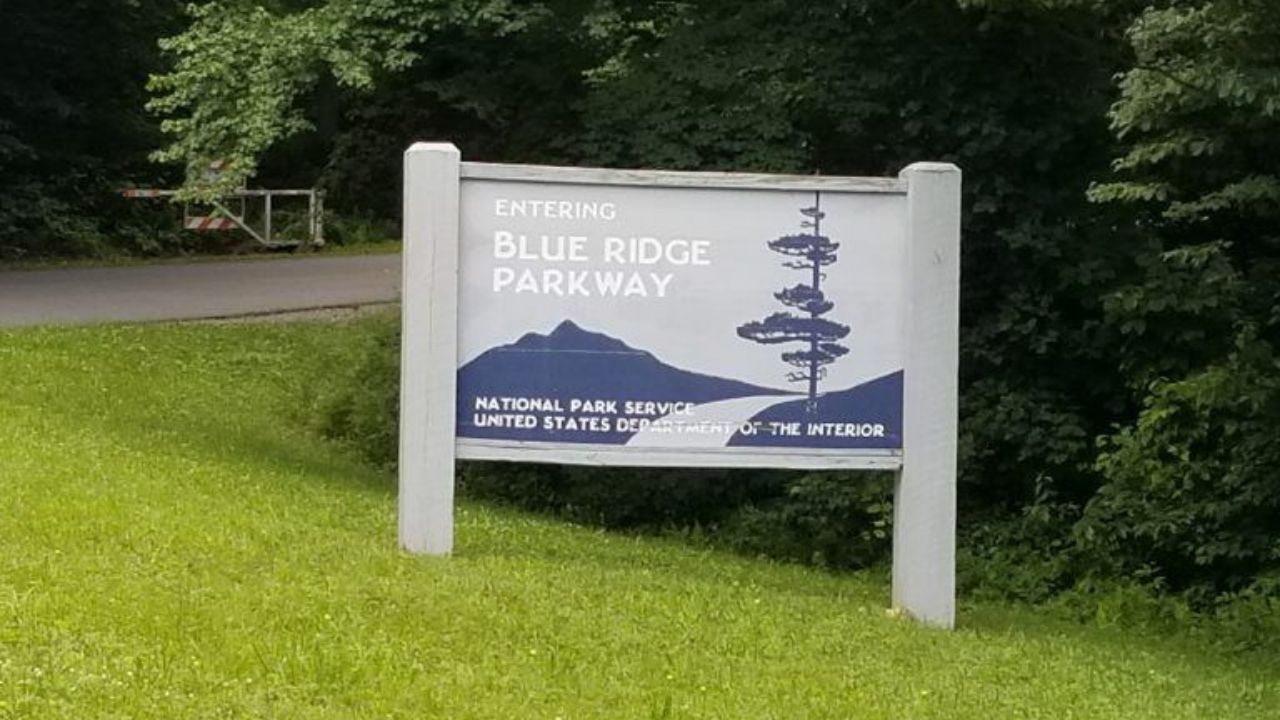 Blue Ridge Parkway is one of the most famous scenic roads that basically runs through the middle of the Blue Ridge Mountains and basically offers you a VIP look into the most popular parts of this whole mountain range. The Blue Ridge Parkway is also in my opinion one of the best scenic drives in North America (based on the ones I've done so far).

If you're doing a road trip through this range, start by entering it through this road, because you'll see PLENTY of signs for scenic spots within it.
If we had known about this area, we would have saved hours on our trip and skipped to the best looking locations, quickly. The only downside is that you can't drive fast while there, because the road is very winding.
But now that we do, we are sharing this info with you readers 🙂
2) The masses of scenic stops and viewing areas on the Blue Ridge Parkway road: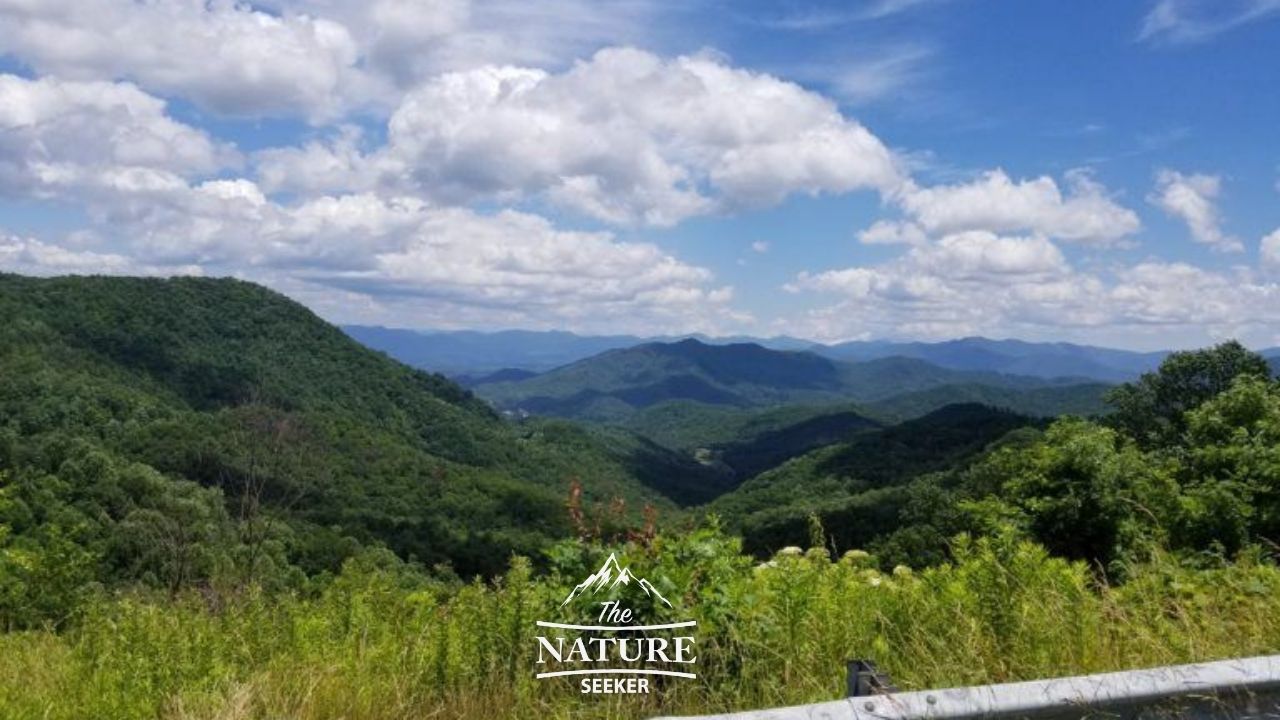 While on Blue Ridge Parkway, you will simply have too many areas you can stop at to enjoy the views.
There's a stop every minute or so on this road that will usually allow you to park your car and take a look at the views.
Most of the photos I took were on these scenic stops and that itself can make this list grow to over a 100 different places you can see, but I'll let you decide which stops on this road are most beautiful to you.
The bottom line is that if you wish to enjoy the most beautiful areas in the Blue Ridge Mountains, hope into the road there, and let it take you to those spots (you won't be able to miss them).
3) Visit Great Smoky Mountain National Park: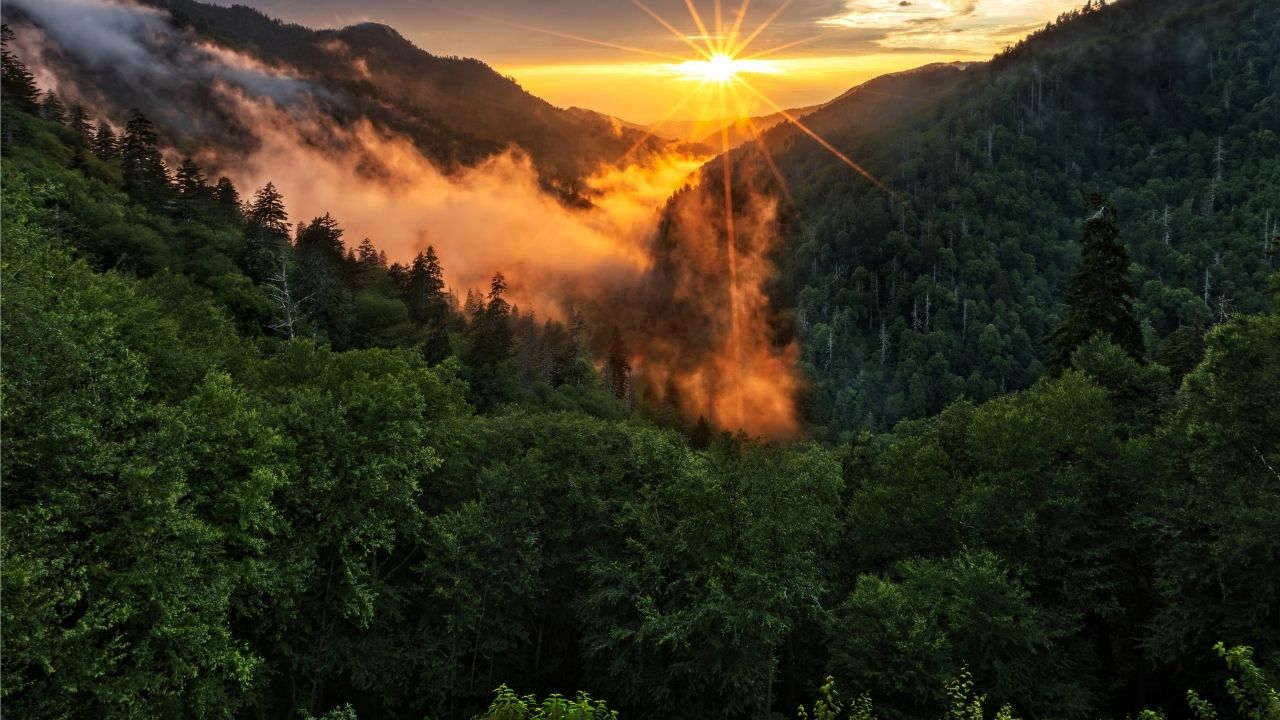 The scenic road took us through one of the first national parks I'd ever been to and that is Great Smoky Mountain National Park.
The reason it is called that is because of the high elevation there and the clouds which cover the top areas, giving it that affect, especially during early mornings and whenever rain passes through.

Anyway, the area in these parts is gorgeous. As you drive along the road within this park, you feel like you're being swallowed whole by the mountains there, as they are huge. Within the park are also many trails you can hike on, and scenic areas in general you can see.
I really enjoyed this park a lot and I also did a comparison between it and the Grand Canyon (among other famous national parks), and in all honesty, Great Smoky Mountain wins.
4) Check out the town of Gatlinburg: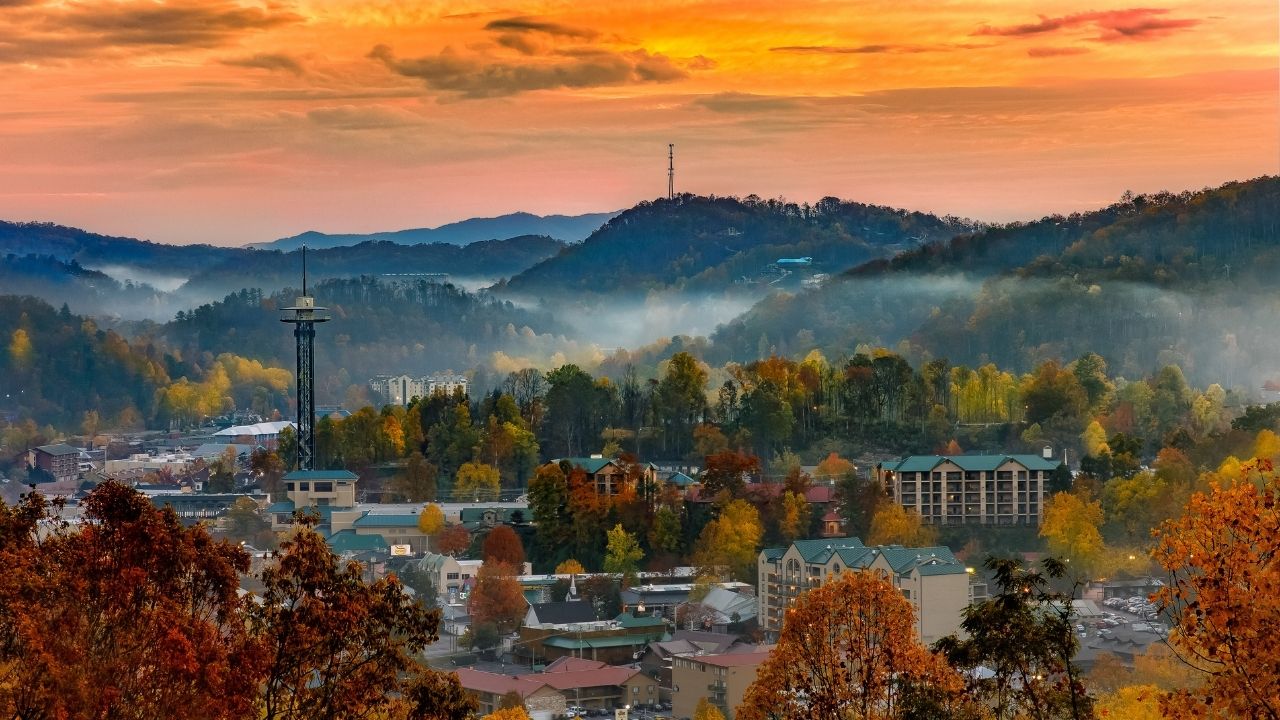 I'm honestly not much into towns, but while we were driving, it was getting late and we needed to stop somewhere. Gatlinburg came up on our list of suggestions and it was recommended by the locals and honestly, I am glad we went there. It is a beautiful, but small town that is right next to Great Smoky Mountain National Park.
It has many amenities such as hotels, supermarkets, restaurants, and entertainment areas to check out. I was very happy with this spot and when we got there, even though were tired and wanted to call it a night, we were just drawn in by all the things available to see there and decided not to miss the chance. We're glad we checked it out.
5) Explore the hiking trails and waterfalls across the Blue Ridge Mountains: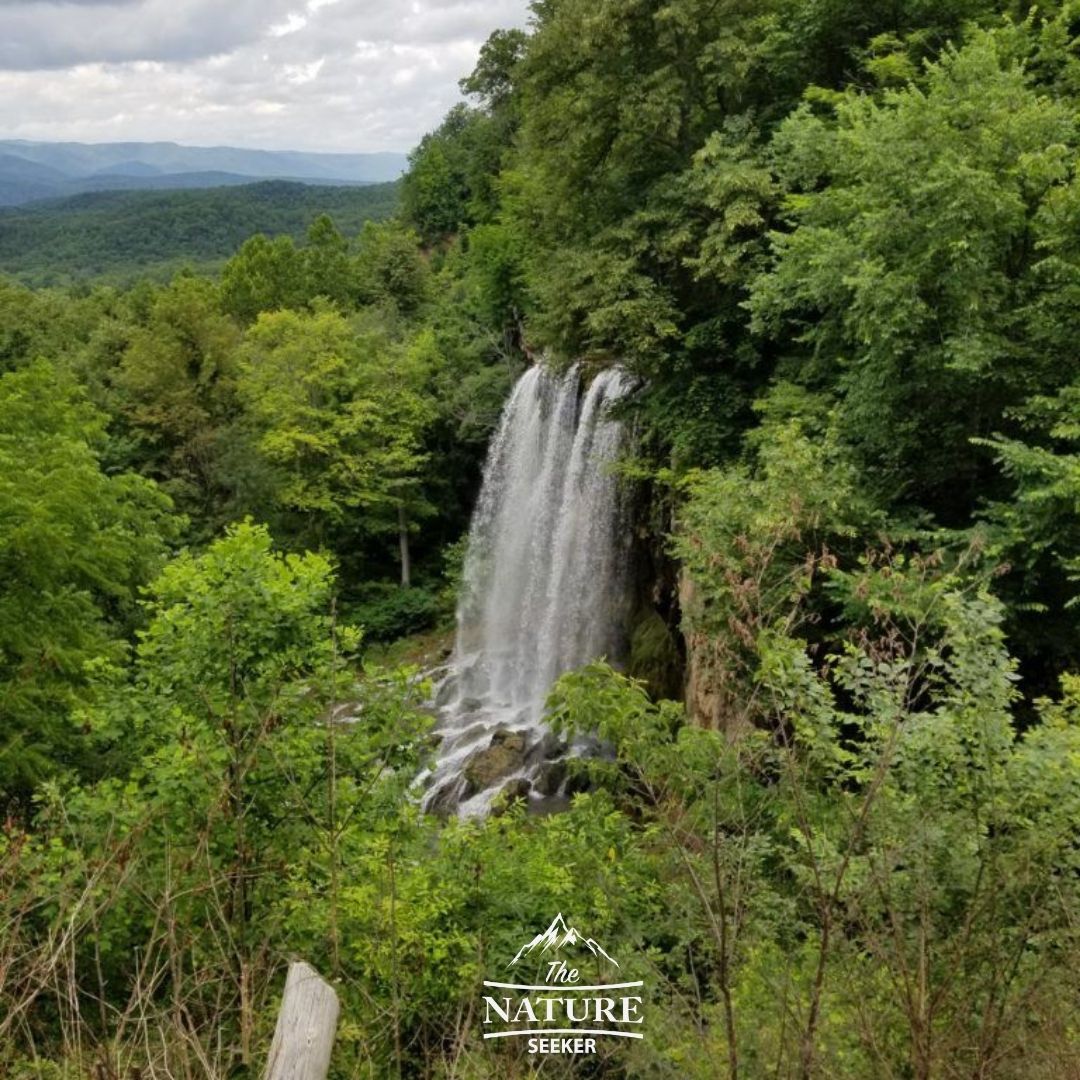 There's plenty of trails and waterfalls to explore all across the Blue Ridge Mountains. Many of the trails found in this region are part of the Appalachian Trail, but there are also many day hiking trails available off the main Blue Ridge Parkway Road.
As for waterfalls, there's also many worth exploring and most of them can also be found off the road. Some require parking off the road and following short trails to reach them, like this one you see to the right calling Falling Spring Falls:
Falling Spring Falls has it's own trail to check it out, but you'll find plenty of signs and opportunities to see a lot of waterfalls along the road anyway, and in case you need to pre-select a list of them to check out before hand.
Just Googling waterfalls in this specific vicinity will bring up a ton of pictures of them and you can select which ones you think are most beautiful.
Then mark them down on your GPS and let it take you there.
What I took from my trip in the Blue Ridge Mountains:
Overall, the ride through through many of these areas was exciting, but you may find yourself in the same situation we did:
We actually got bored of driving on the main parkway road after awhile. Even though there wasn't much traffic there (It was very surprising considering this trip was in July), we found the road to be very repetitive. 
It just winds again and again, the speed limit there is pretty slow (there's no rails in many areas and it's very high up, so be careful). 
We kept seeing the same kinds of beautiful views, but eventually, seeing the same things got boring, and we felt that we needed to change things up, and so we did.
This is why we decided to shift northwest into Daniel Boone National Forest, which is in Kentucky and that was an enjoyable experience that I will document later on this blog.
But we did return to the Blue Ridge area 2 days later and finished most of the northern area, before heading into the western side of New York and Finger Lakes, which is another spectacular spot I recommend you stay tuned for on this blog, so you can see what we saw (amazing stuff!).
Anyway, if you've had the pleasure of traveling through the Blue Ridge Mountains like we did, be sure to let us all know what you thought about it and if you enjoyed it like we did!
And again, when I did this trip, I didn't document all the other areas we saw in the Blue Ridge Mountains, but in this road trip through the Appalachian Mountains post, I included many more spots we found.
And with this same friend that I did this trip with, we also did other another road trip through Eastern Canada a few months after, but this time to more eastern areas of the Appalachian mountains, all the way into eastern Canada, and we visited places like Nova Scotia and New Foundland!
And thus, that trip basically helped us complete just about the entire Appalachian Mountain range!