Obviously you've come to this post because you're thinking about visiting Natural Bridge State Park in Virginia and while it's mostly a good area to check out, what I learned after exploring it is that for some people it may be a little overrated, so the point of this article is to help you understand what to expect if you do go here to have the best time possible (as well as what other places have attractions like this in the US).
Quick info on the Natural Bridge State Park in VA:
Name: Natural Bridge State Park.
Location: Virginia.
Fee required? Yes $9.
Family friendly park?

Yes

.
Dogs allowed? Yes.
Good for hiking? Not really.
Things to do: Nature walks, museums, cave explorations, some hiking, rock collecting and more.
Rating: 3.5 out of 5.
Recommended? This place is great for general tourists, school trips and family day trips, but other than the Natural Bridge attraction and a cave attraction nearby, this park all that amazing in my opinion if you're into hiking and more active outdoor stuff and for the latter, there are way better attractions (other natural bridges like this) in the US worth seeing which I will talk about in this article.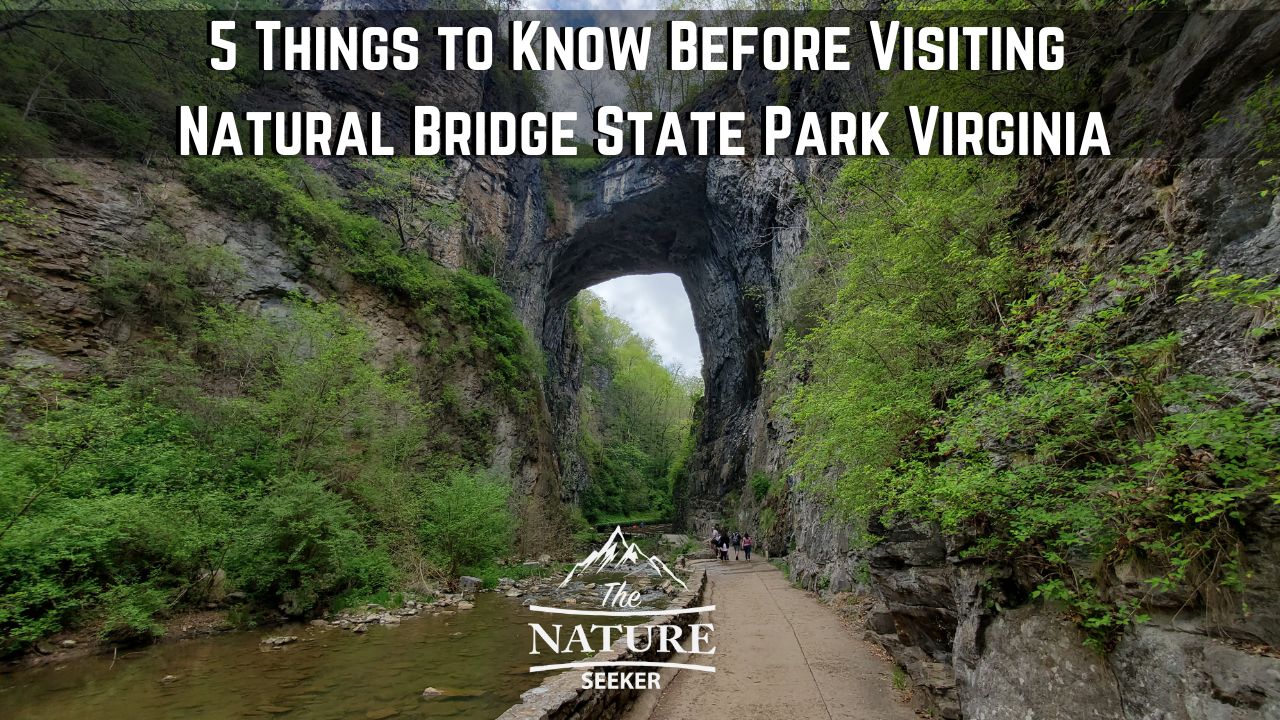 Things to know before visiting Natural Bridge State Park:
The park is limited on when you can visit (10 am through 5 pm).
You can only see the giant natural bridge from underneath (no way to get on top of it).
There are actually several sections to the park (only 1 of them takes you to the Natural Bridge).
I would recommend checking out the cave attraction near Natural Bridge State Park if you have time.
There are other natural bridges across the US, some of which have more to see and do than Natural Bridge State Park in VA.
What to expect from visiting Natural Bridge State Park (a guide for your first visit):
1) Entering the park:
In order to see the Natural Bridge itself, you first have to go through the visitor center and pay for a ticket ($6 and up based on age). There is a very large parking area right outside of the welcome center and once inside, there is also a shop, cafeteria and bathrooms available.
2) Reaching the Natural Bridge:
Once you pay for a ticket, to your left will be steps taking you down into a basement level of the visitor center. That leads you outside and to the official start of a "hike" to Natural Bridges which is only about 0.1 miles away from that spot.
You will walk down more steps (about 100 feet) and turn right. There will be another welcome station in that area (gift shop and bathrooms available there too) where you will show your ticket before going further. The natural bridge is about 200 feet from that spot and there is a paved walkway that takes you to and underneath it.
3) Going past the Natural Bridge and exploring more areas behind it (Cedar Creek Trail):
There is one main hike in this park and it's called Cedar Creek Trail. It very simple and easy to navigate on (the only hard part is walking down the many steps to get to the base). It starts from the moment you enter the park, takes you underneath the natural bridge and goes about another 1/4 further behind it. After you pass the natural bridge, you will also come across a few other attractions including:
A small farm.
An amphitheater.
Saltpeter Cave which you can only walk up to, not really go inside.
An upriver walk/hike along the Cedar Creek (same river which passes underneath the Natural Bridge).
Lace Waterfall (which you can only see from about 50 feet away).
The Cedar Creek Trail is about 1 mile one way and it ends at Lace waterfall before you turn back and return to the Natural Bridge State Park visitor center.
Note: This is the only available trail to take you inside the park and to the natural bridge. There are many other things to do nearby, but if you want to see the actual natural bridge, you'll want to do the Cedar Creek Trail.
5 more things to do in Natural Bridge State Park VA (right by it):
Once you finish exploring the Natural Bridge via the Cedar Creek Trail, there's actually a bunch more things to explore (this was what I meant when I said there's sections to this park) and this list is going to help you identify which of them is best suited for you:
1) Natural Bridge Speedway (3 minutes away):
You can see dirt car racing events here.
2) The Natural Bridge Zoo (2 minutes away):
There is a petting zoo and lots of different animal sights here.
3) Virginia Safari Park (10 minutes away):
You can actually drive through a safari experience here, a great option to check out after seeing Natural Bridges.
4) Monacan Walking trail (2 minutes away):
This is a very simple walk where you can see views of the Blue Ridge Mountains.
5) The Caverns at Natural Bridge:
This is the next best attraction I recommend you check out next to Natural Bridge itself. It's a paid tour you take into a cave area to see rock formations.
If you end up having to wait for your tour, there is an option to do a hike right by it called the Buck Hill Trail which is about 2 miles. But in my opinion it's actually one of the worst trails I've ever done in my life. It is a hike, but it's extremely boring, not very scenic and in my opinion it's also easy to get lost in the woods here because there are forks here with the same colored marker that lead in different directions.
The only reason I did it was because I was under the impression that the hike would lead me to the Caverns, and after finishing it and not seeing them, I went back to the starting point and asked the staff where it was. It was only then that they told me it's a guided tour that is only available at certain times (I was not happy with them because of this). Long story short, skip that hike and just arrive to the Caverns when the tour is actually starting (you cannot go in alone).
Other Natural Bridges worth checking out around the US:
While I like the actual Natural Bridge in Virginia, I also think you can get better experiences with the many other natural bridges across the US and fortunately, because I've explored a lot of them, here are some of my top recommendations:
1) Twin Arches, 2 natural bridges (Tennessee):
The Twin Arches Trail is in Big South Fork and it's fairly simple to do. While these natural bridges are not as big as the one in Virginia, you can do more here in terms of exploring them and there is a much more fun hiking experience here.
2) Natural Bridge Resort (Kentucky):
This is located in Daniel Boone National Forest and it's an extremely popular spot in that region (located in Kentucky). It's also not as big as the one in VA, but it's still gigantic.
3) Natural Bridge State Park in Red River Gorge (located in Kentucky as well):
This is probably the most fun one to explore because it's very similar to the one in VA in terms of popularity, and there actually being much more things to see and do there including a ski lift that'll take you up to that natural bridge. Then after that there is also the Red River Gorge area right by it where you can also find other natural bridges including one called Gray's Arch (also huge).
4) Arches and natural bridges across Utah:
You probably won't find any other state which has more of them than Utah. Here's a few posts I've made on the topic which will make it easy to find:
5) Arches across Arizona:
Most notably the ones in Sedona:
It's also important to know that there's other places around the US with the same exact name (Natural Bridge State Park) but the most popular one is the one you read about in VA. Here are pictures of some of these places:
Other questions about Natural Bridge State Park:
How much does it cost to see Natural Bridge?
It costs anywhere from $6 and up depending on your age to enter Natural Bridge State Park in Virginia.
Is Natural Bridge State Park worth visiting?
Natural Bridge State Park is great for family trips, but if you're more into hiking trails this is not the best place for that.
Is Natural Bridge free?
No, to visit Natural Bridge State Park you have to pay an entrance fee of $6 or more.
How long is the walk at Natural Bridge VA?
It takes about 10 minutes to reach the Natural Bridge from the welcome center.
Thanks for reading this article on Natural Bridge State Park in Virginia! If you have any questions about exploring it or anything about the other recommendations I mentioned, you can ask about it below!