A Guide to Hiking The Twin Arches Loop Trail in TN
In my opinion, the Twin Arches Loop trail in TN is one of easiest and best hikes to try in all of Big South Fork. Being that I personally did it recently, I want to share with you a guide on what to expect from this hike.
Quick info on the Twin Arches Loop Trail:
Name: Twin Arches Loop trail.
Location: Big South Fork, Tennessee.
What is it? A short hike to 2 gigantic arches right next to each other.
Hike distance: Under 1 mile loop.
Difficulty:

Moderate

.
Family friendly hike? Mostly, but I wouldn't recommend it if you have dogs or injuries.
Rating: 5 out of 5.
Recommended? Yes! I love arches and the Twin Arches you find here are absolutely incredible. You can even walk on top of them both.
Before you hike the Twin Arches loop trail, here's a few things to know:
It's a short hike, but there's many steep steps (with handles). This is why I said it's a moderate hike.
Most people can do this trail easy, but if you have small kids, injuries or dogs, the steep steps might be too difficult for them.
There are connecting trails to this hike. If you have a good trail app (

Alltrails

), you can navigate multiple trails here.
Reaching the trailhead involves a short drive on a rugged road (ideal for AWD vehicles, but you can do it in a sedan).
The loop trail will take you over the top of both arches but the views aren't that good though.
You don't need to wear hiking shoes or any special gear (it helps) but overall the trail is easy to walk on with any casual wear.
Try to do this hike close to sunset because the sunlight will shine through both arches making it look even more beautiful (that's when I did this hike).
A guide on hiking the Twin Arches loop trail (from start to finish):
1) First, you will need to reach the Twin Arches trailhead:
I have included a link to the Twin Arches trailhead here in case you can't find it. Wherever you are coming from, you will first cross a sign saying you are entering Big South Fork, and then you will follow the road after which will become a rugged gravel road. It'll take you about 15-30 minutes to reach the trailhead from the Big South Fork sign. You will also see signs for Twin Arches as you get closer to it. Once you reach the trailhead, you'll begin the hike right after.
2) About 0.2 miles into the Twin Arches Big South Fork trail, it'll split:
There will be a sign to turn left to reach Twin Arches which you will follow. Later on you will return from the loop trail from the right end of this fork (it takes you to the top of the arches). Shortly after turning left, you will reach the first series of steps.
They go very far down and are very steep and this is one of the areas where it might be too difficult for dogs, kids or anyone with injuries to get through. Now based on this picture, it doesn't seem like a big deal, but in reality the steps here are pretty steep: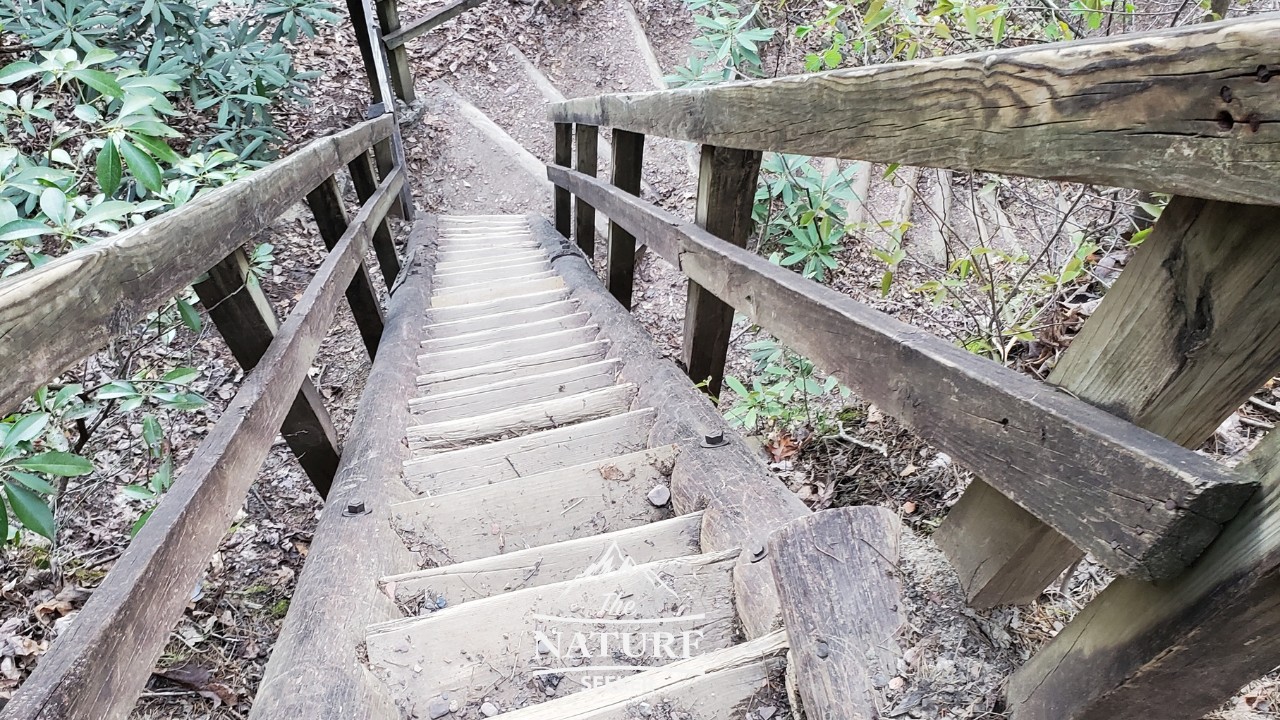 3) About another 0.1 miles after, you will reach the North Arch: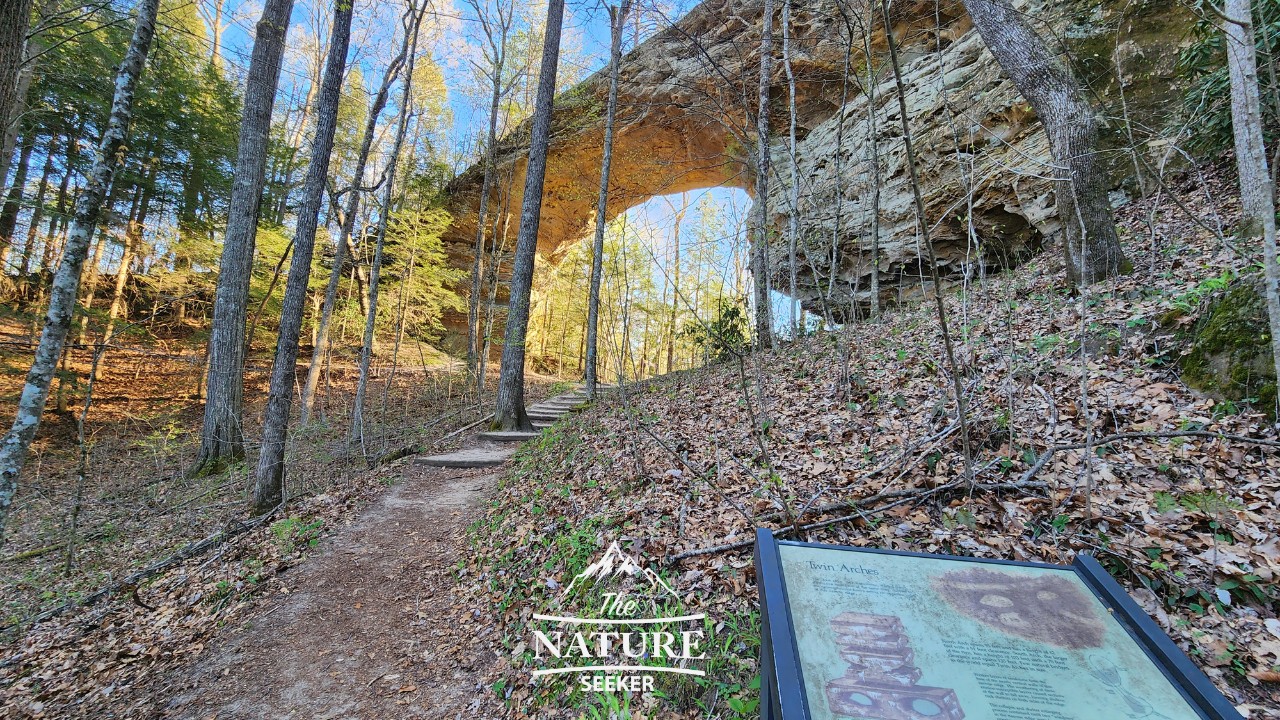 It's very easy to see this arch in the distance. You can obviously go underneath it, take your time exploring it and overall it's very scenic. Other than the next arch next to this one, there are many other arches like this you can find throughout the US:
For starters, there's a place called Grays Arch trail in

Red River Gorge

.
Then there's the Natural Bridge State Park in

Daniel Boone National Forest

(looks a lot like the North Arch).
Then there's an even taller in Virginia's Natural Bridge State Park (not the same as in Daniel Boone).
Another option to consider is the countless arches and natural bridges in the southwest states such as Arizona, like

Devils Bridge Sedona

which has a lot of these and

famous arches in Utah

. I also recommend you visit

Arches National Park

(also in Utah) as you'll find the most amount of arches in one park there.
4) Stay left of the trail to cross over into the South Arch: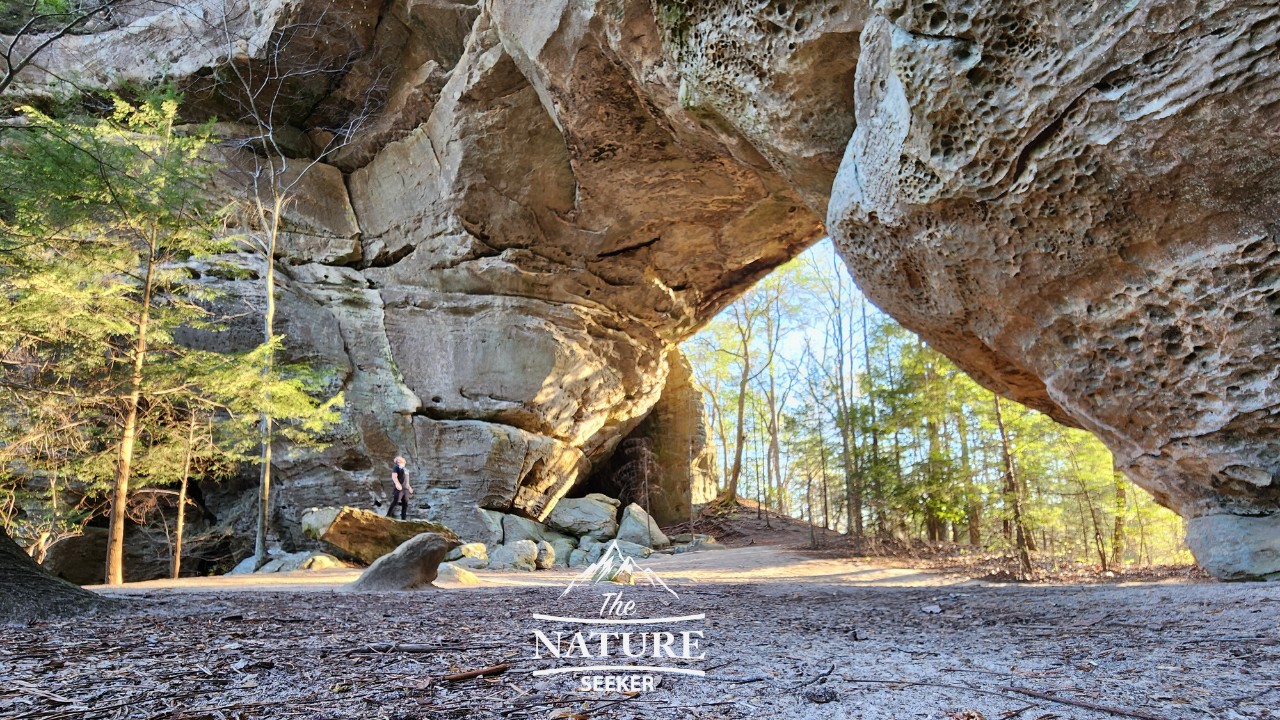 South arch is literally about a few 100 feet from North Arch and it's easy to reach. Before you do it though you will see steps indicating you can return on the Twin Arches loop trail to the parking lot. Skip that for now, cross over the steps and to the South Arch first. This arch was just as amazing as the north one and I had a blast staying there and having it all to myself. There is a trail from south arch which goes to Charit Creek Lodge, but that's only if you're staying there.
5) Finishing up the Twin Arches Loop trail:
Once you're done exploring south Arch, go back to those steps that take you to the top of the arches, stay there for a bit, but then follow the signs back to the parking lot. One thing to know is that once you're on top of the arches, there are a few other spots with more stair climbing involved. But once you do that, you will cross that same fork that you initially did 0.2 miles into it, but you'll come from the left side this time. And that's it, you finished the Twin Arches loop trail! And again I have to say that it's one of the most amazing hikes I've done in Big South Fork.
Other questions about the Twin Arches loop trail:
How long is Twin Arches trail in Tennessee?
The Twin Arches trail is very short, at under 1 mile total.
How tall are the Twin arches?
The Twin Arches are both very tall. North Arch is over 50 feet high while the South Arch is slightly over 100 feet high.
More to see around the Twin Arches trail:
Although the Twin Arches loop is relatively easy to hike and navigate, I would still recommend you have a map or use a maps app before you go in case you want to see more places around there or lose phone signal and need to know which trail to take.