How to Hike The Honey Creek Loop Trail in Big South Fork
I've personally hiked the entire Honey Creek Loop trail in Big South Fork and while it's easily one of the top hikes in the area, a lot of the information I personally saw on it and what I experienced were 2 different things and if you're not properly prepared for this hike, you may have problems which is why I am going to share 5 things to know as well as a guide on what to expect as you do this hike so you're not unpleasantly surprised like I was.
Quick info on the Honey Creek Loop trail in Big South Fork:
Name: Honey Creek Loop trail.
Location: Big South Fork Tennessee.
Length: 5.5 to 6 mile loop.
Difficulty: Moderate to hard.
Rating: 5 out of 5.
Recommended hike? Yes, this trail has so much to offer, from caves to rope climbs, waterfalls and incredible scenic gorges overall, but you should only do it if you are good at navigating trails (or have a reliable map app) and are in good shape, because this trail is easy to get lost on and it is pretty difficult in parts.
The 5 things to know before hiking the Honey Creek Loop trail (map included):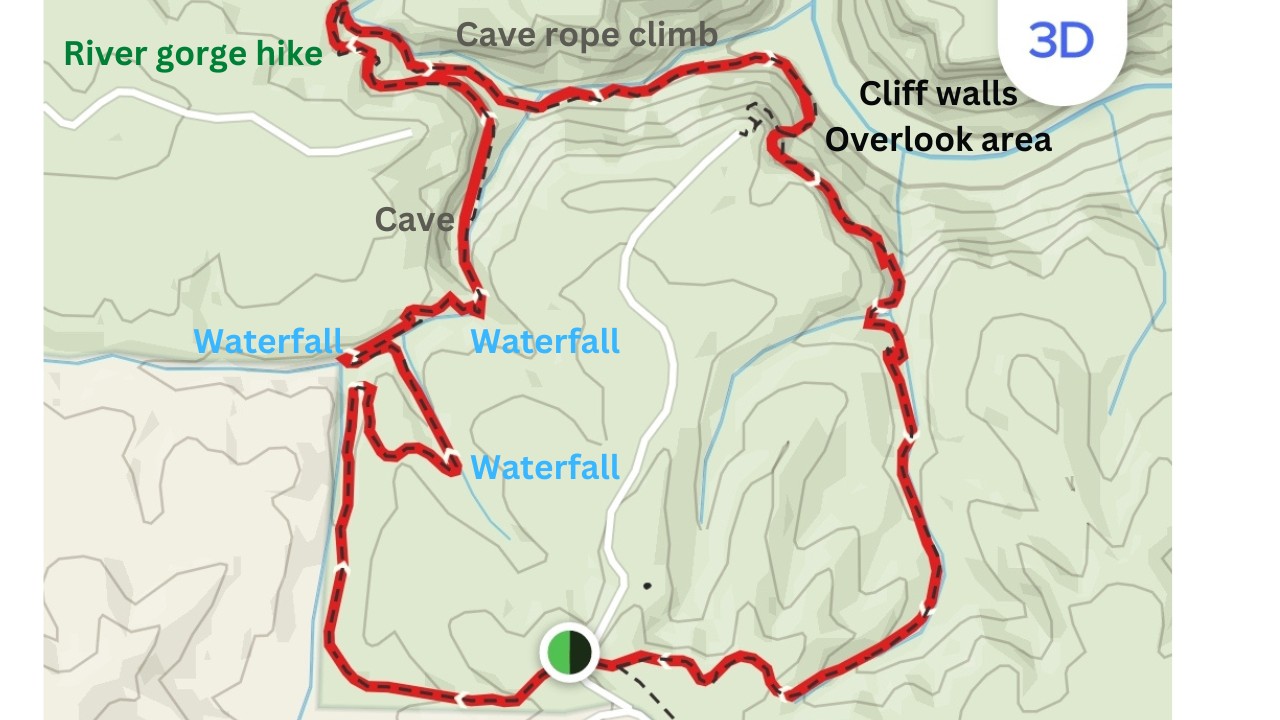 1) The whole Honey Creek Loop Big South Fork trail is about a mile longer than many sources say:
I've seen some sources say it's about 5 miles but my app told me I did about 5.8 miles in total. Be prepared for that.
2) It's very easy to get lost on the Honey Creek trail:
You're going to follow 1 main trail marker which is a teal colored marker.
There are also often orange arrows in between these markers pointing you in the right direction. But that is sometimes easy to miss.
In my case, the main trail sometimes cut off, and/or mixed in with other things I thought were trails. You have to know how to not get lost in the woods. I was able to use a trail app to get out of the difficult spots and sometimes had to bushwhack through areas.
3) There are connecting areas to the hike which take you to beautiful waterfalls:
You can go a little off the trail to reach them and they are mostly on the creek/water areas. However, do note that sometimes you will need to backtrack to the main trail to make sure you don't get lost.
4) You can honestly skip the Honey Creek Overlook area:
Part of the loop involves (as an option) to go to the Honey Creek Overlook. If you're doing the full loop hike, including the overlook will involve having to walk up a bit more elevation for what is in my opinion a boring overlook. In other words: Skip it. Once you finish the Honey Creek loop Big South Fork hike, you can drive from the trailhead to the actual overlook and determine if it was worth it. For me, I was glad I skipped it.
5) This trail can be navigated clockwise or vice versa:
I did this hike in a clockwise direction and there is more elevation gain in my opinion this way, so if you're not into that, perhaps counterclockwise is the better way for you to do it. In terms of views, if you do it clockwise, there is more diverse scenery on the first half of the trail with caves, waterfalls and ropes, whereas the other half of the hike is more a scramble through giant gorges and areas with lots of creek/river crossings.
What to expect when hiking the Honey Creek Loop trail (a simple guide):
This follows the clockwise trail route I took when doing this hike and I'll just explain basic things to keep in mind, what to expect overall and where you may want to be careful.
If you do the counterclockwise trail option, just follow the following directions from the bottom up.
1) First you'll start at the Honey Creek Big South Fork trailhead:
There is an official trailhead here for the Honey Creek loop. Right on the parking lot will be the trailhead sign and if you take the trail down, you will be on the clockwise version of the trail.
If you choose to do the counterclockwise option, you will have to walk across the parking lot and see the trail marker there, then walk up. The road does also continue further to the Honey Creek Overlook, but that's for after you finish the hike (you'll just drive there after the hike). You should also have a good cell phone signal here.
Note: Before you begin this trail, make sure you have a map or a trail app installed. I used the Pro version of Alltrails and downloaded the map for this and it really got me out of several tough spots on the hike where I would be lost without it.
2) For about the first mile, you'll just walk on a simple trail:
Before this trail really gets good, you will first have to do a regular trail walk (or run) and the good news is that this is easy to follow. I personally recommend you wear hiking or trail running shoes for this hike. Me personally, I wore my Salomon Speedcross 5 and I was perfectly fine for most of the hike (some water spots later are slippery).
3) After 1.5 miles, you'll see a side trail to go down to a beautiful waterfall area:
It's not difficult to miss. As you walk on the trail, you will see an obvious side path leading into a gorge area and you'll hear a waterfall too. You can take it down to see the waterfall, but then you'll need to backtrack to get back on the path (it's not far).
I do believe there is also a way to continue on the same river/creek further to reconnect with the trail, but I played it safe and just got back on the same trail path as the creek path was very slippery. Shortly after you continue on the trail, you will come across an easy rope climb (there are several of them on this trail).
4) About 2 miles in, you will come across Ice Castle Falls (then it gets confusing):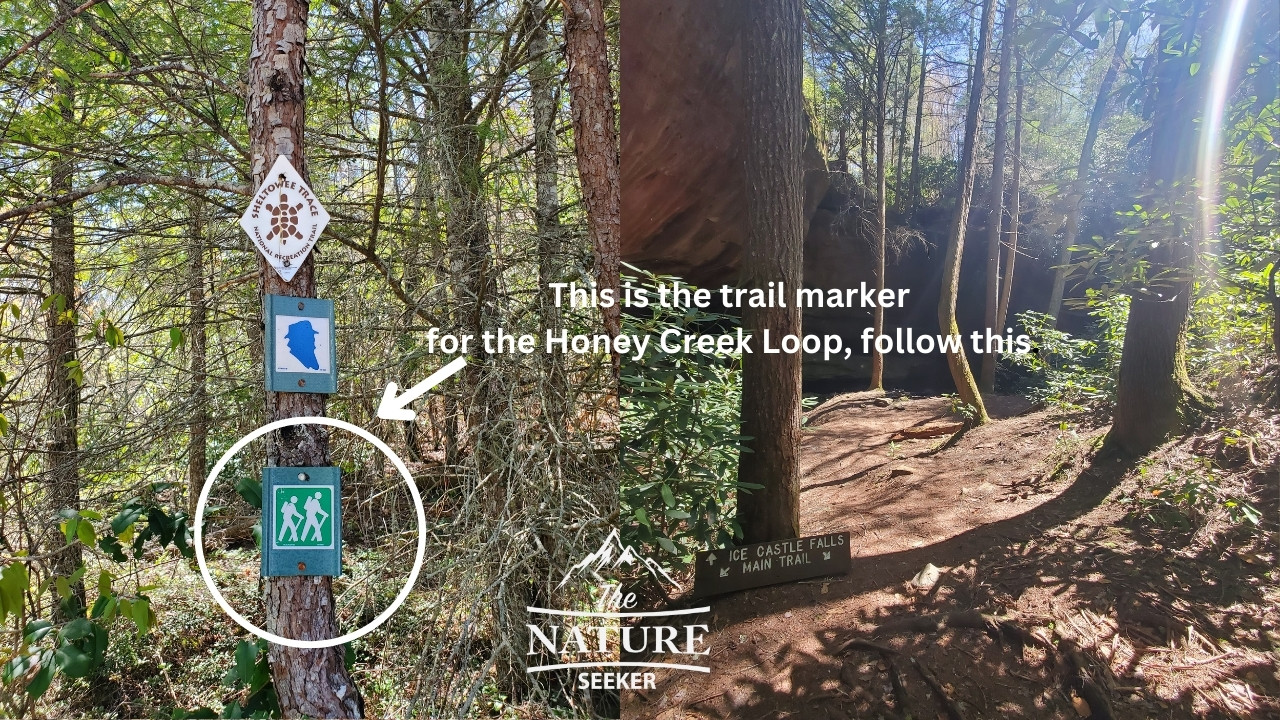 The trail will take you down there and you will see this beautiful gorge waterfall. Afterwards, the trail will continue along the creek and there will be a section where you'll cross it, go slightly up, then down into the same creek area.
From here, it may get a little bit confusing as you actually have to "crawl" through the rock area here to continue on the trail. I actually didn't realize this was part of the trail until I backtracked a few times to be sure, but you will see those orange arrows pointing there and after you scramble through the rocky area, the same teal trail sign indicating you are going in the right direction. Basically you will just be following the trail parallel to the creek. I also found a good map here for the trail.
5) Entering the iconic cave waterfall:
As you pass through the rocky scramble area, you will turn left and walk across the creek and see a beautiful small waterfall in a gorge area which you will be able to walk up to. This area was what I saw pictures of that attracted me to try this hike. I stayed here for at least 20 minutes enjoying the sights and I recommend you do too. From there you will continue up the trail and further into the Honey Creek Loop.
6) Entering the large cave area after:
About 1/2 mile after the cave waterfall, you'll walk past a gigantic cave area which is another iconic spot on this trail and in Big South Fork as a whole. I loved this area and it very much reminded me of a similar attraction called Ash Cave Hocking Hills which is located in Ohio, in a place called Hocking Hills State Park, but that place is extremely crowded and in the case of the Honey Creek Cave here, I was completely alone in there which I loved!
7) Reaching the halfway part of the Honey Creek loop trail (and not getting lost):
Shortly after the large cave area section, you'll come across a fork which will say there is a parking lot if you go up, but you will want to turn right to continue the loop (remember to use a trail app so you don't get lost). The following 1/2 mile section of the hike was where I personally found it easy to get lost so be very careful here! You will basically work your way down and somewhat follow a parallel path to the earlier trail, but it will be further down in the hike and then it will deviate from it and have you heading in a more loop trail back to the parking lot.
8) Entering the next cave rope climbing area: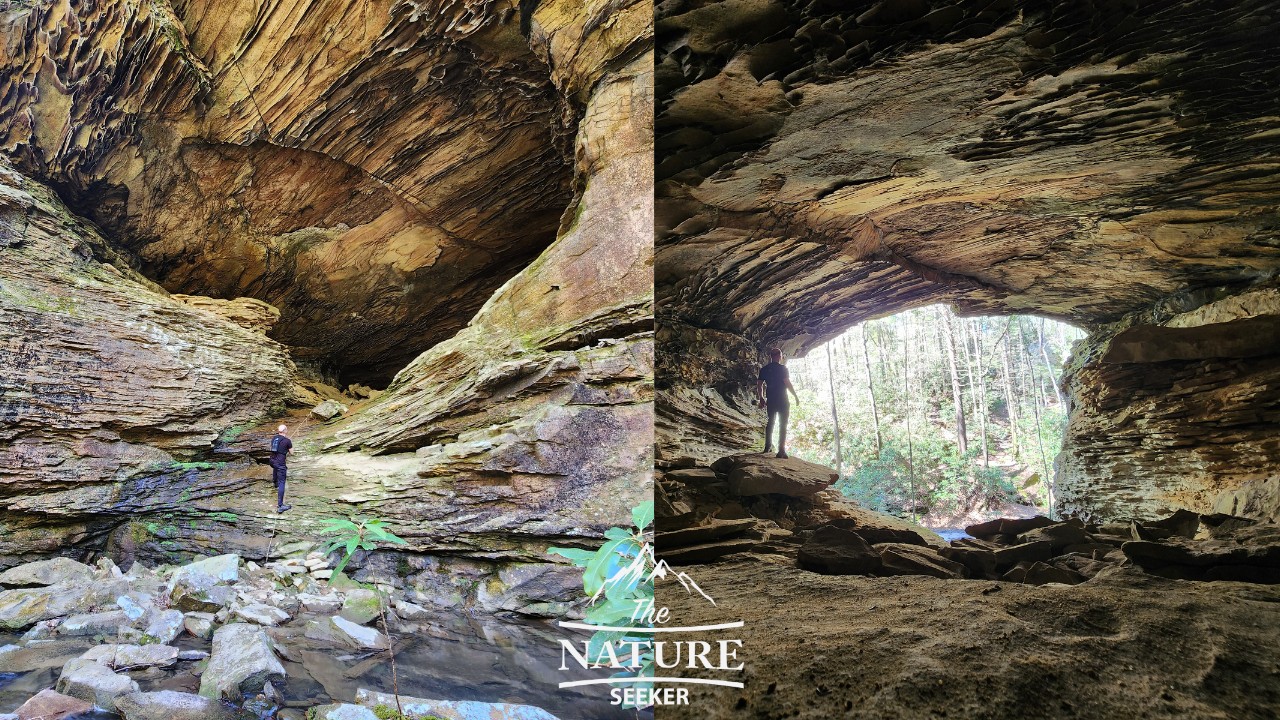 Another famous icon of this hike is the cave area you will find with a rope tied to it. This will be about 1/4 miles after you were in the fork area from earlier. I do recommend checking out this cave, but once you do, the key is to follow the creek further down and you will (scarcely) see a mix of the teal and orange trail markers along the way. It's also very easy to get lost here, so be careful.
But for the next 1/2 mile, you will be going and up down parallel to the creek (a different one than from before) and you will have to go through some tight gorge spots. I would just walk carefully here and make sure you're on an actual trail (make sure to check your map often).
9) Reaching the giant cliffs area (near the Honey Creek Overlook):
The next tough section of the hike will be when you get close to the Big South Fork Cumberland River area. Most of the incline of the entire hike will be here but the good news is that you will see beautiful cliff gorges here.
This is also where you will have the option to walk up to the Honey Creek Overlook. Do that only if:
You are tired of doing the trail, because you will still need to hike about another 2 miles. Then you'll just walk up the stairs, see the overlook, then follow the road for about 1 mile to the trailhead and finish that way (it'll make the hike easier and 1 mile shorter). Unless that is the case, skip the overlook, and continue along the trail loop. You'll follow a few more gorge areas.
10) Finishing the Honey Creek loop trail:
Once you finish the last gorge hiking areas, you will come out to a regular hiking area and finish the last mile that way. It'll be the same kind of terrain as when you started on the trail and it'll slightly go up in elevation before going down and circling you back to the area where you parked. This is where you'll finish the hike. From here, you will have the option to drive to the Honey Creek Overlook which I did. I didn't actually like the overlook and personally thought the actual hike was way better (as was the scenery).
Other questions about the Honey Creek Loop trail in Big South Fork:
How long is Honey Creek loop?
The Honey Creek Loop is anywhere from 5 to 6 miles.
Is Honey Creek Loop a difficult trail?
The Honey Creek Loop trail is mostly a moderate trail but it is difficult in several areas and it's easy to get lost sometimes.
Conclusions on the Honey Creek Loop trail:
I understand why this hike is considered one of the top ones in all of Big South Fork. It really has a lot of gems all throughout regardless of whether you're doing it clockwise or counterclockwise. Despite it being easy to get lost sometimes, I highly recommend this trail and for me personally, it's easily a return hike in the future which will be even more fun because I will be way more familiar with the trail then.
I hope this article helps you enjoy the Honey Creek Loop and if you have any questions, let me know!