10 Best Things to do Cheaha State Park Alabama
There are many things to do in Cheaha State Park and the beauty is that all of them are very closely located to one another, within the area itself meaning you don't have to drive far to enjoy them so whether you're passing through like I was for just a day or wanting to stay there for a few days, this place has at least 10 activities you can check out when you go and I'm going to show you what they are.
Quick info on Cheaha State Park:
Name: Cheaha State Park.
Location: Alabama, near Talladega National Forest.
Things to do: Hiking, camping, RV, cabins, historic exploration and more.
Family friendly park? Yes.
Dogs allowed? Yes.
Rating: 5 out of 5.
Recommended place to visit? Absolutely! I personally explored Cheaha State Park a few weeks ago and honestly had no idea this park existed. I was just exploring Alabama and looking for cool places and this was one of the highest rated parks I found (and for good reason). I really enjoyed exploring this area and highly recommend it for the 10 things you can do there.
10 things to do in Cheaha State Park:
Check out the Fairy Garden.
Stay in one of the camping, motel or lodging spots.
Bike ride.
Visit the Bunker Observation Tower.
See the Amphitheater.
Do the Bald Rock hike.
Do the Pulpit Point hike.
Go to Cheaha Lake.
See the Cheaha State Park waterfall.
See the sunset from the Vista Cliffside Restaurant.
A map of Cheaha State Park and important things to know:
Cheaha State park is actually pretty small but located around the highest elevation within Alabama.
To enter the park for a day, you will need to go to the visitor center (right by the entrance) and pay $5.
The entire park is on top of Cheaha Mountain.
For the above Cheaha State Park map, I indicated which activity (below) you will find on that map.
There is one main road (called Bunker Loop) which takes you to a majority of the things above, making it very easy to access them. This is actually how I personally explored the park. I'd go to one spot via car, check it out then get back to my car and drive further.
1) Check out the Fairy Garden:
This is one of the attractions inside Cheaha State Park which you can find right next to the visitor center. It isn't a large garden, but it has nice mixes of plants, flowers and figures (castles and fairies) inside to check out.
2) Camping, cabins, RV and lodging spots in Cheaha State Park: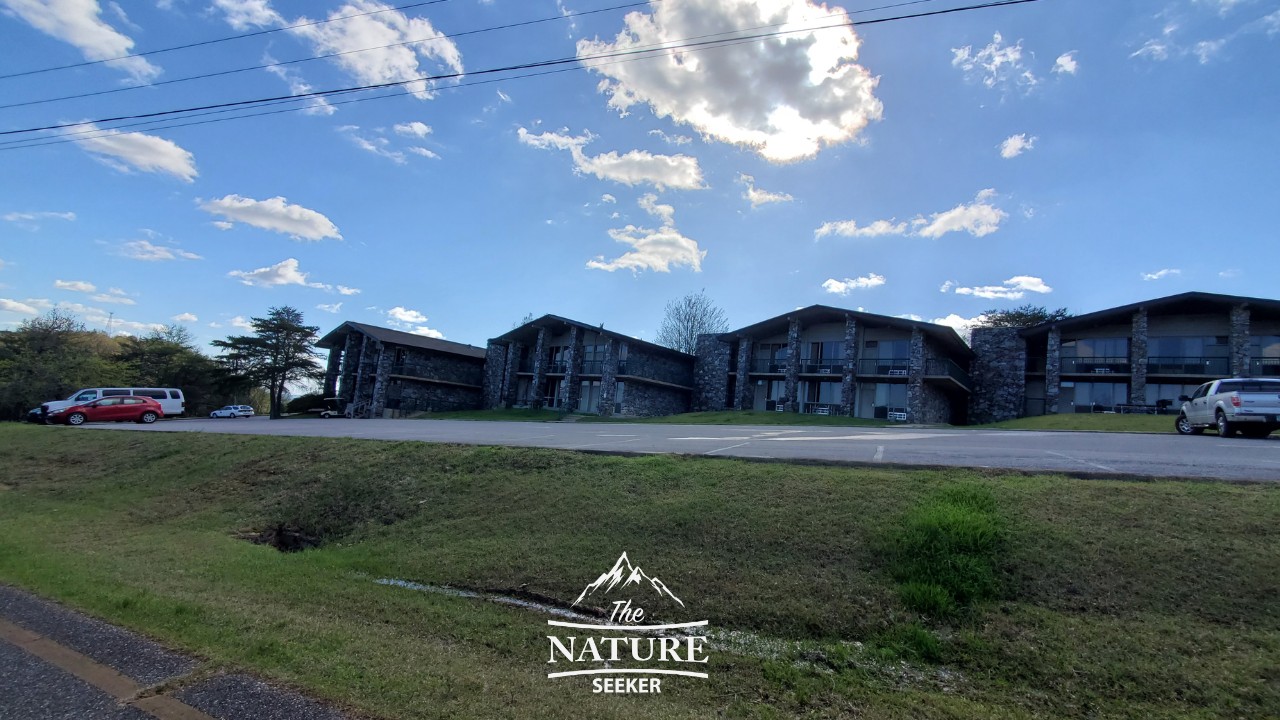 1) There several campgrounds inside Cheaha State Park and yes they have to be reserved for. Here is a list:
Upper Campground (located inside the park).
CCC campground and Lower Campground (located by Cheaha Lake, outside the park).
2) For motels, there is only one and it's called Cheaha Lake Motel.
3) Cabins are also available inside the park and there are at least 10 on the western region of the park.
4) There are also 5 Chalets in the area.
5) Additionally, there is also an RV area within the park.
3) Bike ride throughout Chea State Park:
There are people who bike through the main Bunker Loop road when they stay there, but just as well the road right outside the park (road 281) is beautiful for doing that too. In fact, I would recommend it if you enjoy bike riding and are staying more than a day in the park.
4) See the Bunker Observation Tower: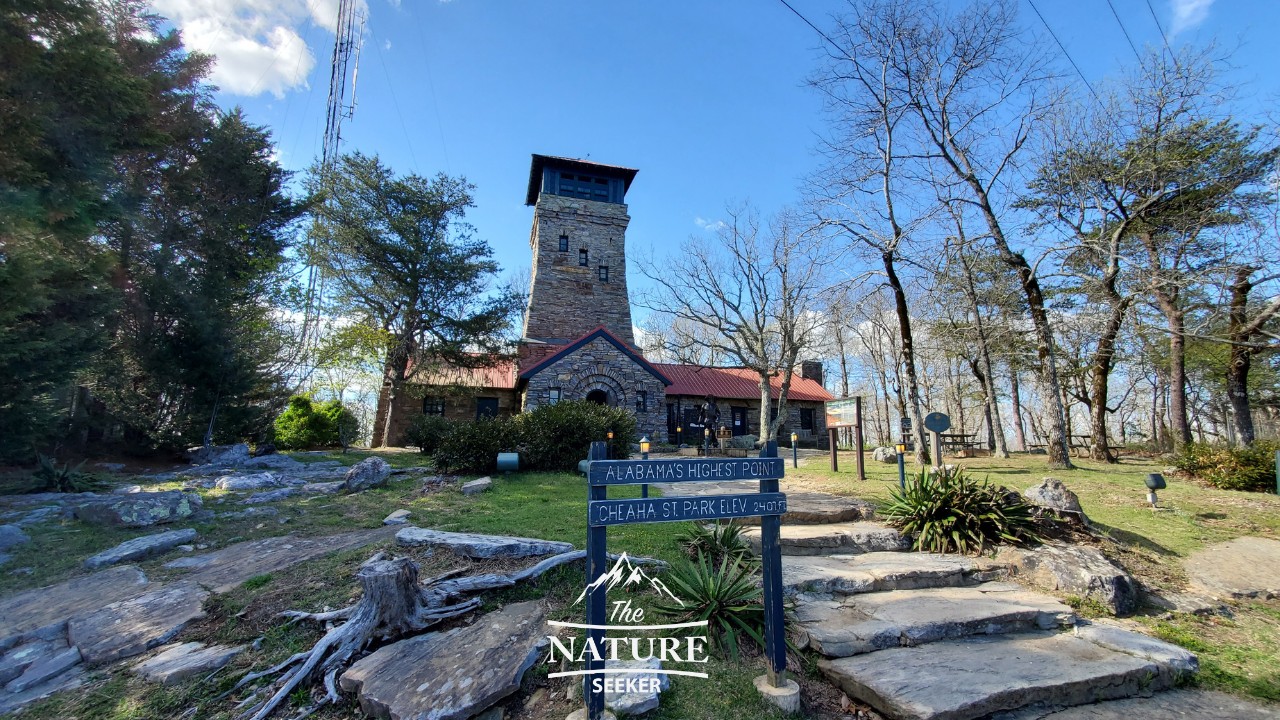 While driving on the Bunker Loop road you will find this area on the eastern end of the park. This Bunker Tower is basically a museum like attraction which you can go inside, walk up the stairs and enjoy decent views of the park from. I will be honest though, aside from the tower itself being nice, the views of the surrounding area weren't that interesting for me and it was much nicer to see them from the hiking trails in the park which I'll get into shortly.
This particular tower reminded me of a similar area (in New Jersey) called High Point State Park which is the same kind of park (highest elevation in a state) and with a similar type of tower (it's actually bigger there).
5) See the Amphitheater in Cheaha State Park Alabama: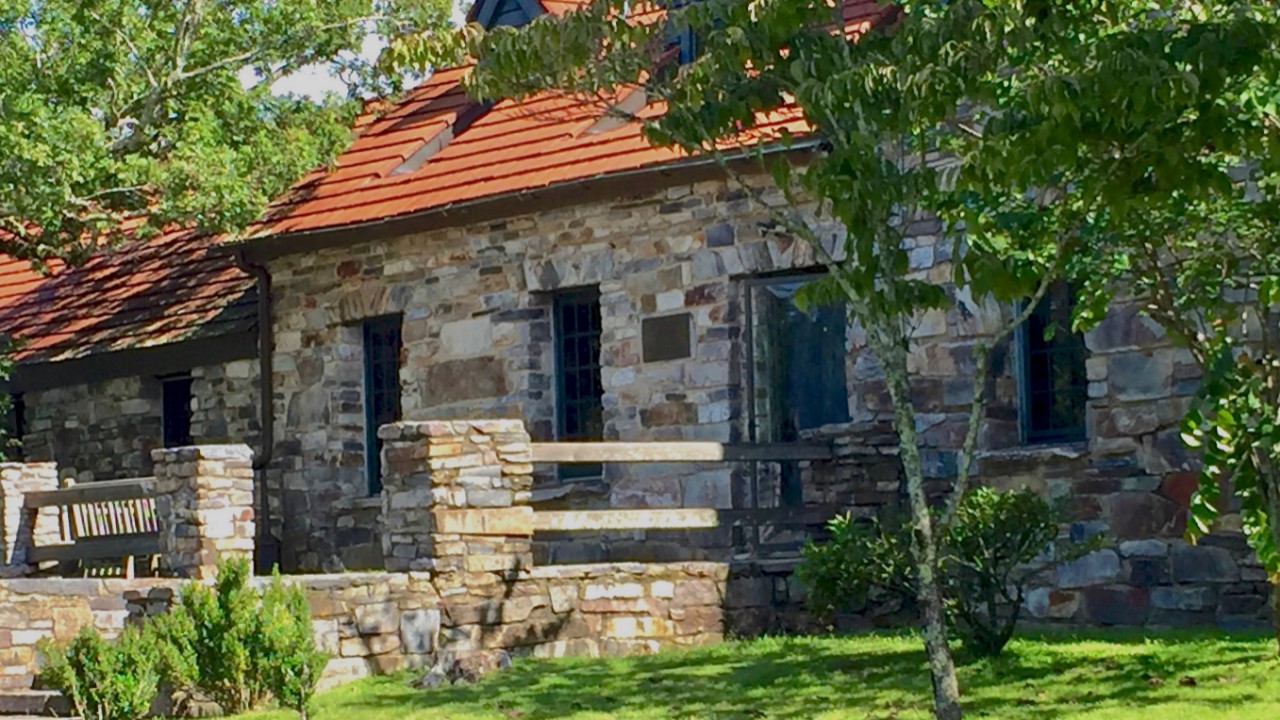 This attraction is located right by the Bunker Observation Tower, and you can visit it from the same parking lot that takes you to that Tower. I'm not sure about the events that go on there specifically but if you're staying in this park for several days, especially during warmer seasons, there may be events that go on at night there worth seeing.
6) Hike to Bald Rock: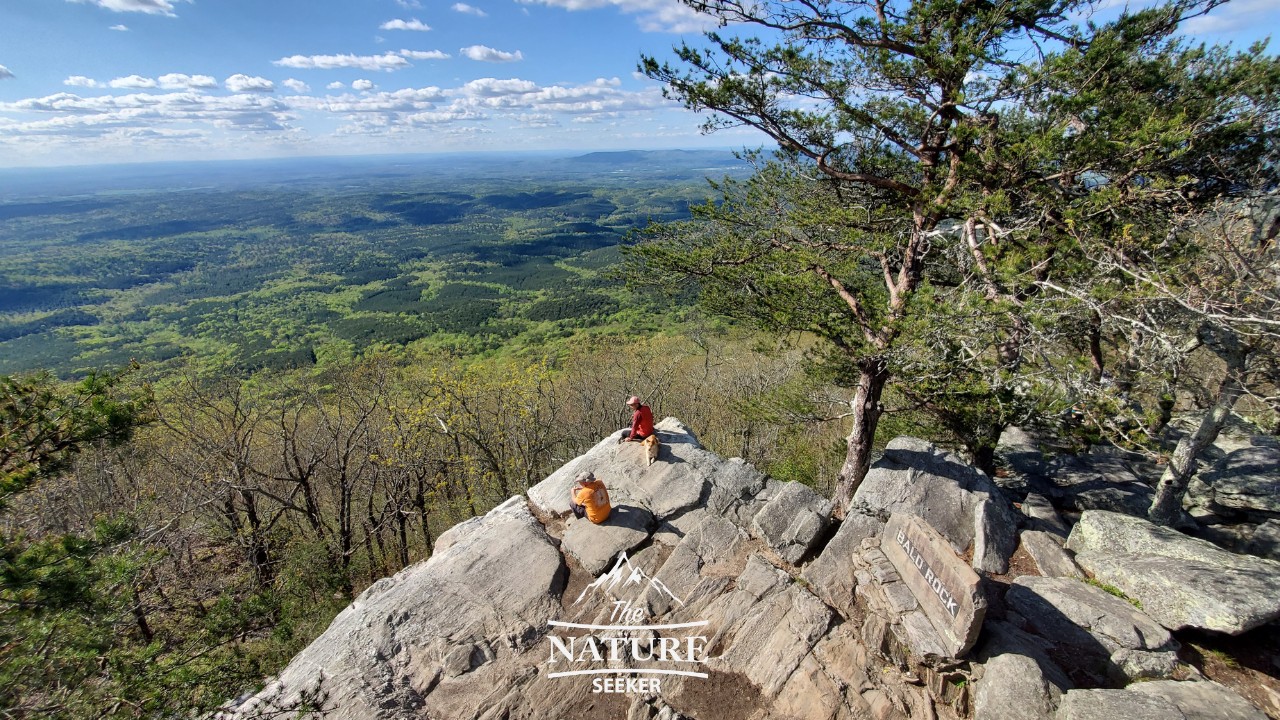 Bald Rock is probably the most popular hike in Cheaha State Park. It's a beautiful overlook located in the northern end of the park off Bunker Loop road. There are 2 ways to do it:
You can walk on a boardwalk to the overlook.
You can take the trail right next to that boardwalk instead (the trail does continue beyond the boardwalk area).
There are bathrooms right by the start of this hike as well as a group lodging building nearby. If you enjoy these kinds of hikes and overlook, I can tell you that this is very common the further northeast you go from Cheaha State Park, namely to the Smoky Mountains, then the Blue Ridge Mountains and all the way up to the Catskill Mountains, where there is actually a destination called North South Lake which is very similar to Cheaha State Park in terms of having many activities close by on a mountain, and all of these areas I just listed have way higher elevations.
7) Do the Pulpit Rock hike: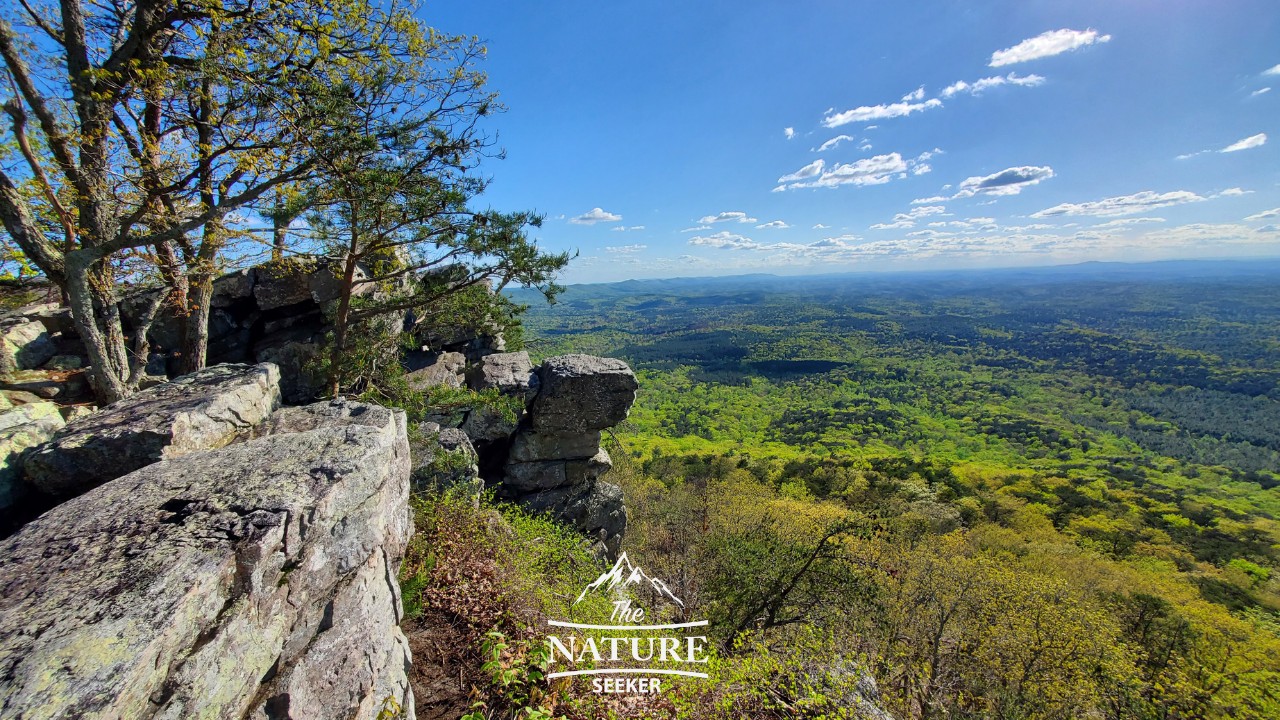 This is the next hike I tried after exploring Bald Rock. It's another short half mile hike that actually starts around one of the cabins regions in the western side of the park. There is a small parking lot and then a red trail which goes a bit down before coming out to another amazing overlook area. It's about as good as the Bald Rock overlook, but there's more elevated hiking involved here (no boardwalk).
8) Check out Cheaha Lake:
This is a small lake which is outside the park area (2 minute drive), and it is a great spot to check out if you're staying there for a few days. On this lake you can obviously swim, do some diving, picnicking and more and it's a good way to mix up the type of things.
9) Do the Cheaha State Park waterfall hike (best hike there in my opinion):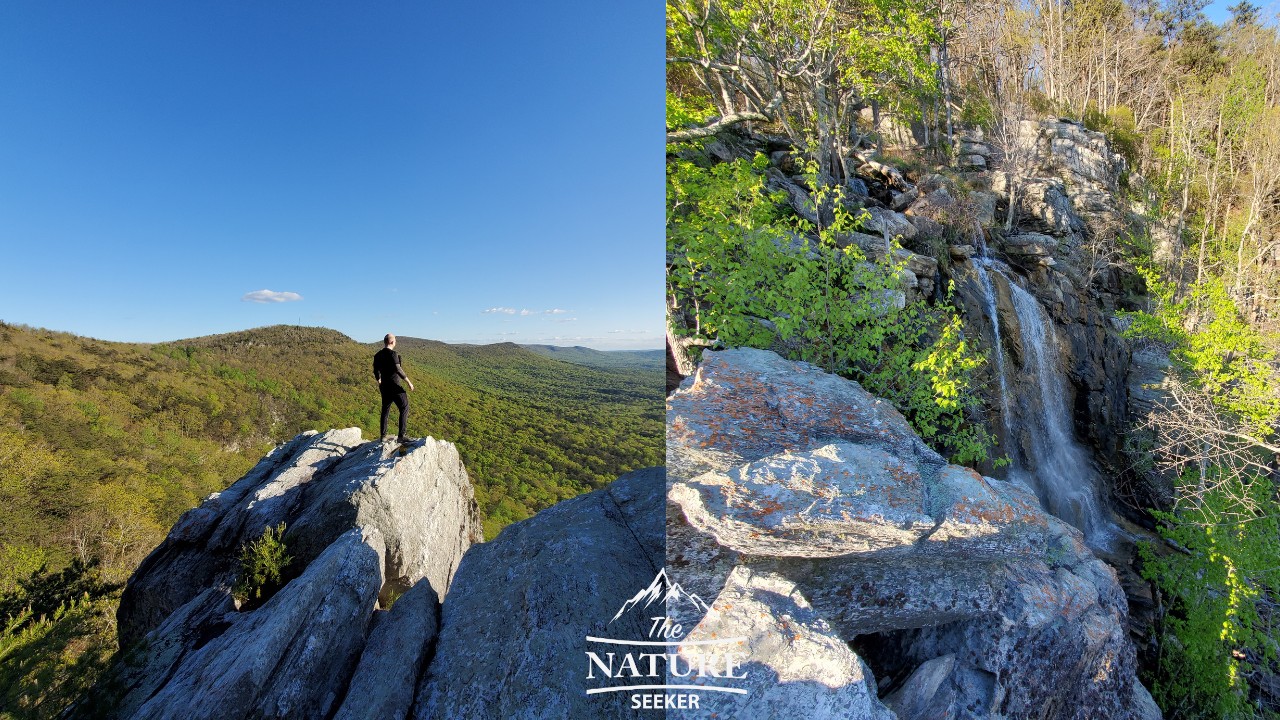 This is another hike I was recommended to check out from the visitor center and I personally thought it was the best one by far. It's short, but annoying to access because there is no public parking lot around the trailhead. You need to park by the motel area and then walk there (the trailhead is behind cabins 8 and 9). I listed it on the map above.
Anyway, the hike is very short at about 1/4 miles total which takes you to a large waterfall and rocky ledge area and this is a famous spot that I've seen pictures of with regards to this park. You can hear the waterfall and somewhat see it as you are on the trail, but to get the best views of it, you would need to hike onto that ledge which I would recommend being very careful about as there is an annoying short scramble involved to do it and the rocks were pretty slippery when I went. Although wearing reliable trail running or hiking shoes is recommended here, you need to use your hands to hike to the overlook.
Note: There are a few waterfall hikes outside the park, but this is the only one I know of that is inside it.
10) See the sunset from Vista Cliffside Restaurant: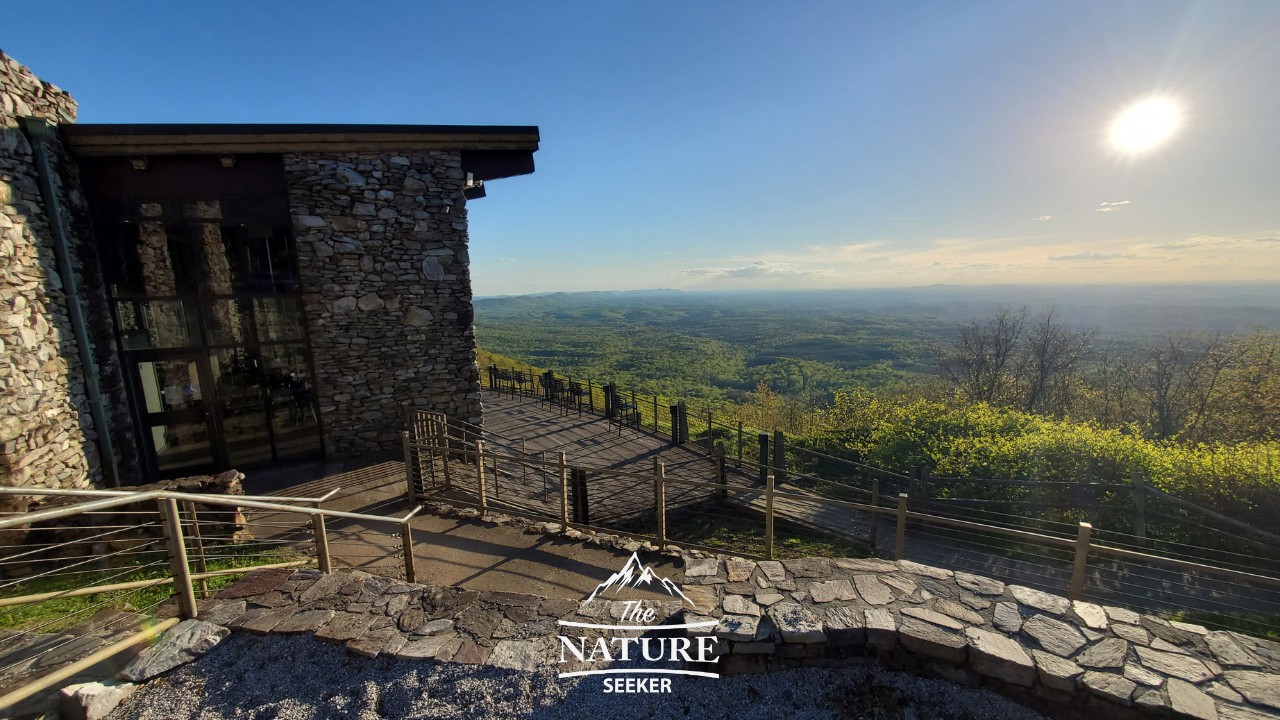 The Vista Cliffside Restaurant is located right by the pool and motel and although it's closed, the good news is that there is a balcony area that you can go to and sit. That area is on the west side of the park and gives you amazing views with or without the sunset, but obviously it's best to check it out for the latter.
One thing I do want to mention is that you can also see great sunset views from the above waterfall hike as it's also very close to the same area.
Things to do near Cheaha State Park:
The closest area is Talladega National Forest (you can explore a lot here).
I also recommend

Big South Fork

(2 hours away).
There's an area called Providence Canyon State Park (it's in Georgia) and I would only visit it if you're headed to that state. You can also see my Providence Canyon State Park photos to help with that.
Other questions about Cheaha State Park:
How much does it cost to go to Cheaha State Park?
The entrance fee for Cheaha State Park is $5 per person.
What is Cheaha State Park known for?
Several things including being the highest spot in Alabama, having historical attractions and overall being a popular destination for camping, hiking and outdoor experiences.
Are there bears in Cheaha State Park?
Yes bears do come around Cheaha State Park, but not often.
Overall I hope this post helps answer your questions about the best things to do in Cheaha State Park and whether you decide to visit it for a day or longer, that you enjoy it because it really is an incredible park!