11 Providence Canyon State Park Photos Plus Visitor Guide
Here are some really cool Providence Canyon State Park photos I want to share with you from my visit there in 2023. If you don't already know, you'll find this place in Georgia and it's one of the most popular places to visit there.
Providence Canyon State Park can be explored 3 different ways:
From the top (great overlooks).
From the bottom (there's only 1 main hike and it's good).
Camping (you won't see the best sights in the campgrounds, but it's still a nice experience).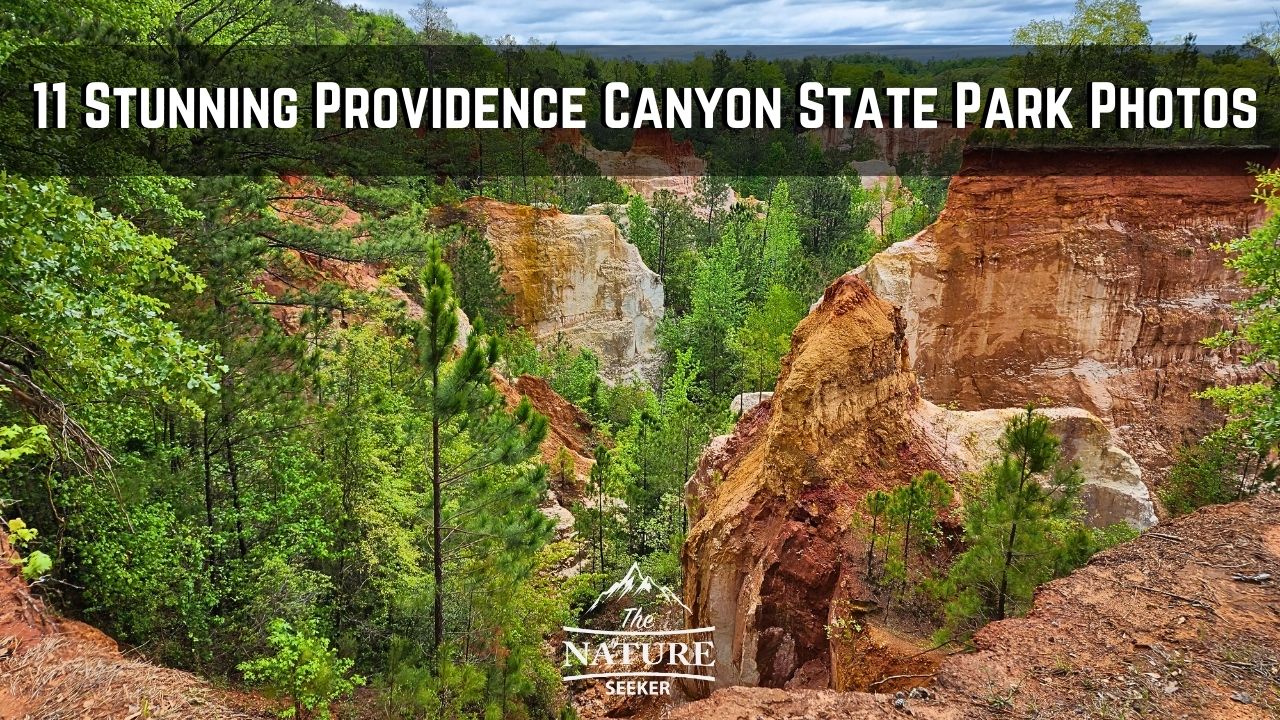 The following photos of Providence Canyon State Park were taken from the top and bottom areas (I had no intent to camp there) and the good news is that you'll get the best views from those 2 areas of the park anyway.
1) Here's an example of one of my top Providence Canyon State Park photos:
Picture info:
The hiking in this park starts at the top where you walk onto a main trail which takes you down to place like you see above. There are numerous canyon walls that you'll pass and many forks throughout the main trail which takes you through this. This is one of the first 5 canyon areas you will pass through on the hike. The very top areas where you see the trees above are actually overlooks from which you can see into this area.
2) Here's one of the photos of Providence Canyon State Park from the top:
Picture info:
Here's an example of how Providence Canyon looks from the top areas. If you look towards the righthand side of the picture, you may notice some people at the base. This will give you an example of how large (or small) the canyon area is in this park. In my opinion you are missing out if you don't explore both the top and lower areas of the park and in the lower ones, you will be able to get far closer to these amazing sights.
3) Next we have a photo showing an example of restricted areas in this park: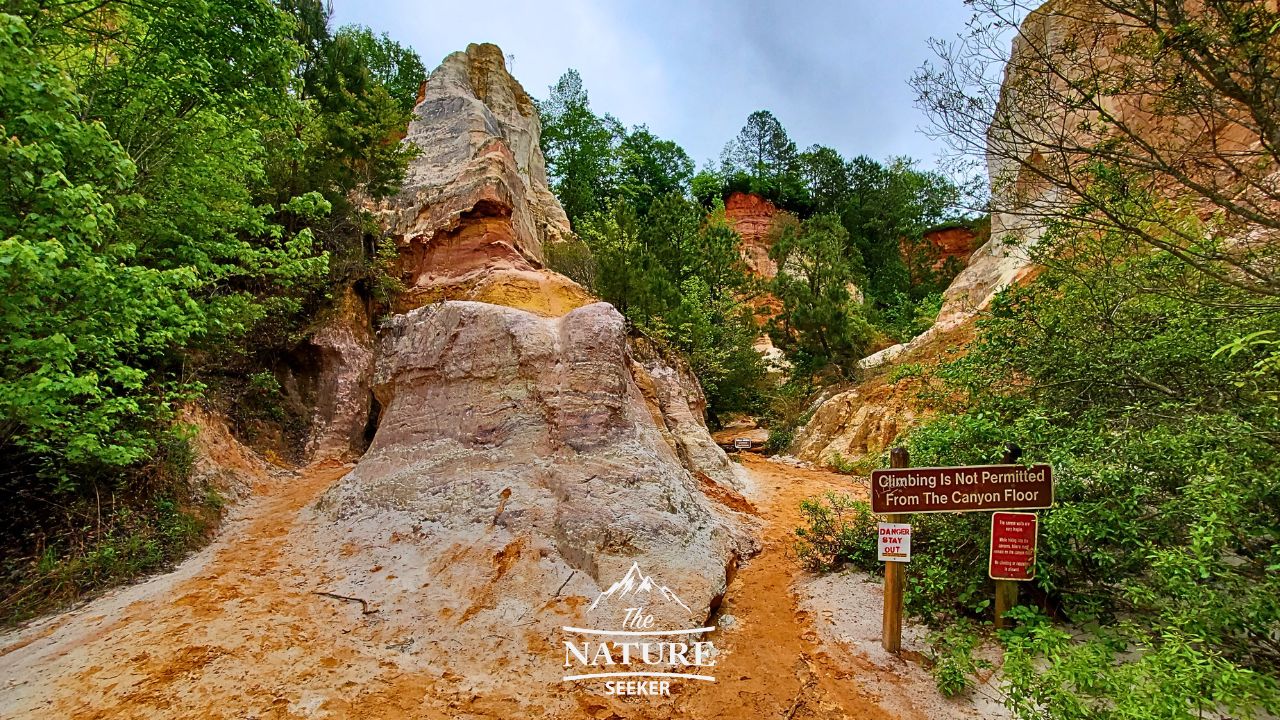 Picture info:
You're going to see a lot of these types of restricted signs throughout Providence Canyon. While you will be able to walk in between many of the canyons, you're not going to be able to climb or hike up most of them (there are very few exceptions). Be aware of this if you decide to go and read up on my things to do in Providence Canyon State Park post which explains this. Most of what you can do in this park is sight seeing vs more immersive hiking.
4) Here's a few Providence Canyon State Park photos that I've never seen anyone show: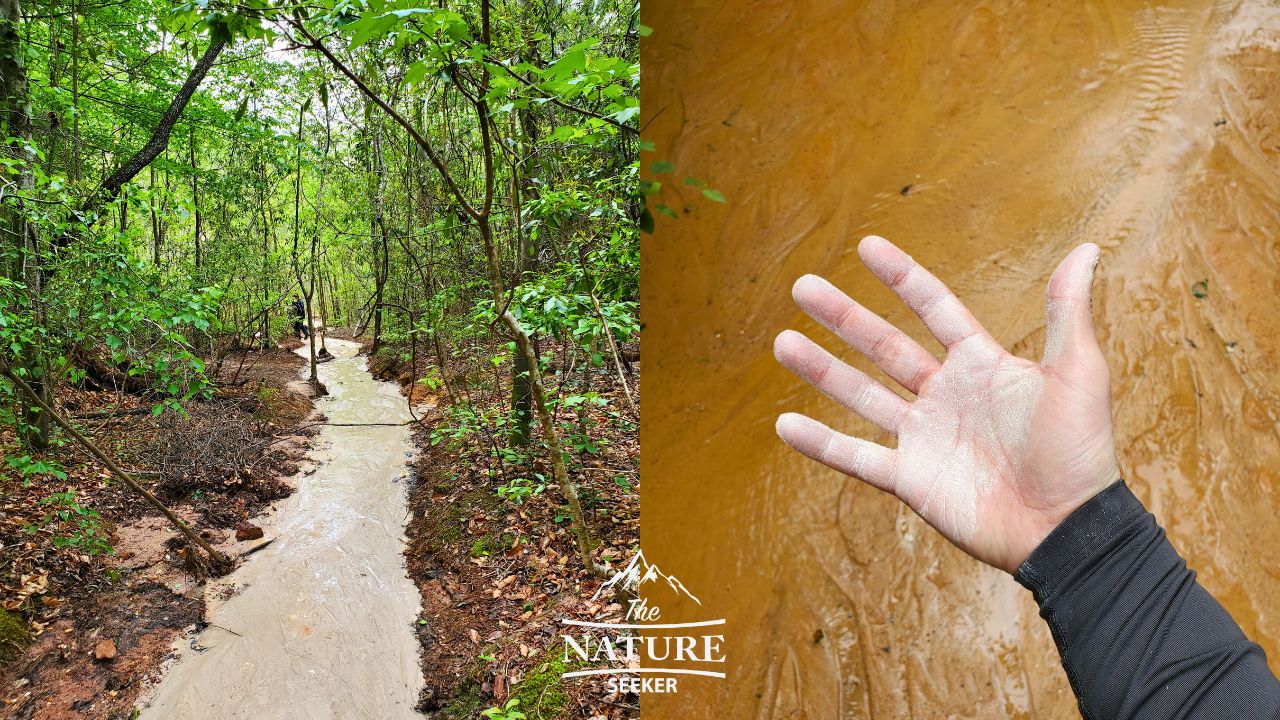 Picture info:
These 2 photos show the kind of sand you will find in this park. There's different colors of it (red/white/peach) and in this case I was on a trail headed to one of the canyons before checking out the ground. At the time I was there, it rained earlier which is why you may notice how the trail looks like it's shining. And when had the sand on my hand, it was also sort of glittery or glowing which I thought was a very cool experience.
5) Next here's a picture of the forks throughout Providence Canyon's main trail:

Picture info:
In the above picture, I want to point out 2 things:
Notice the different sand color for starters vs the more peach looking sand color from the earlier photo.
Also notice the 2 forks. If you've never been to this park before this may seem like these are 2 entirely different trails when in fact they are actually part of the same main trail that loops around the park. While there are more forks like this on that trail, you will walk into each of them, hit a end, then turn back and either see the next fork's trail or when you finish, you'll just return and continue on the main trail.
6) Next we have a photo of the Providence Canyon State Park welcome center:
Picture info:
This welcome center is required to enter if you wish to hike down to the bottom of the park. I strongly recommend you get a map of it there (or find it on Alltrails) and just ask the rangers there any questions and recommendations about what to see. There is a very large parking area by the welcome center, but you will have to drive about 10 minutes to it from the official entrance into the park (and yes you do have to pay to enter Providence Canyon, it's $5). 
7) Next we have another trail photo from the bottom area: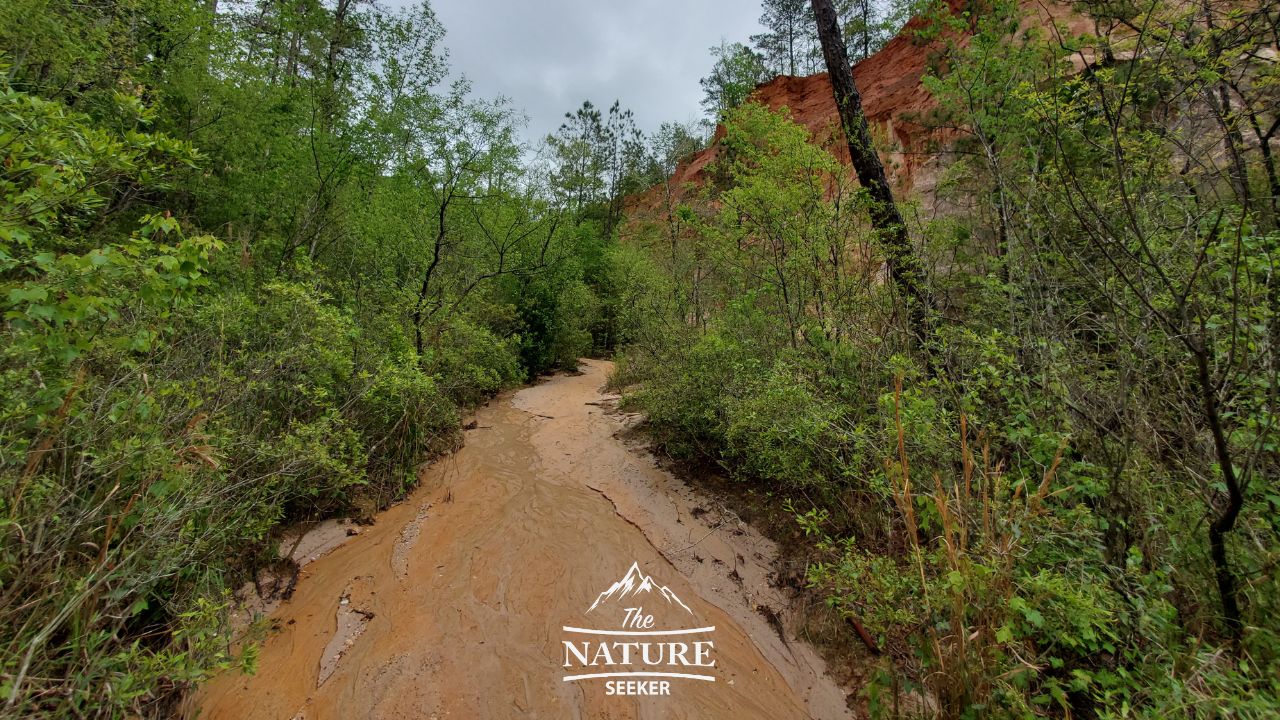 Picture info:
Again notice how different the sand looks from the earlier photo. This is the same sand you saw on my hand and while it looks darker in the picture, when you pick it up, you'll actually discover that the top layer is actually the darkest while underneath the sand gets much more lighter. 
8) Now onto pictures of the rest areas at the top of Providence Canyon State Park: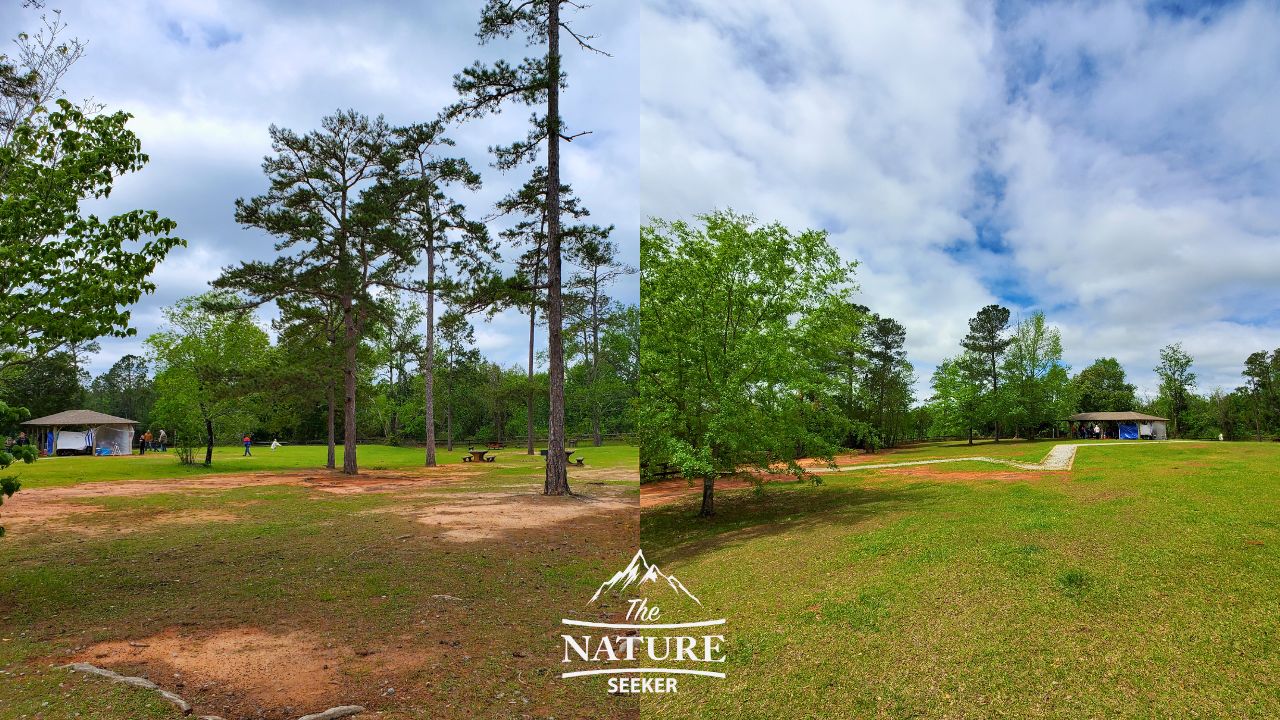 Picture info:
This area of the park is located between the entrance and welcome station and it's a great resting area for families or just staying at in general. You can also see great views from the top there into the canyon and some of the photos you saw earlier were taken from this particular area of the park.
9) Here's an example of the kinds of overlooks available by the picnic areas:
Picture info:
Because the rest and picnic areas are so close to the edge of the canyon, it's easy to find photo opportunities like the one above. There's even an upper trail by the area this photo was taken which is also part of the same loop trail. Normally a lot of people finish at the top of the trail so it's common to see hikers walking past you in these areas.