In this post, I want to show you some of the best Watkins Glen State Park photos I've taken specifically from it's main Gorge Trail and at the same time provide a type of "tour" of the area to help you understand what to expect when you go there.
The Watkins Glen State Park Gorge Trail is the most popular spot people visit in this park. It's only about 3 miles in and out and there are parts of it which require walking up many stairs. At the same time, once you finish one end of it (1.5 miles), there's actually another 1.5 of the park which most people don't even know about that has an additional (secret) waterfall that I'll also be talking about.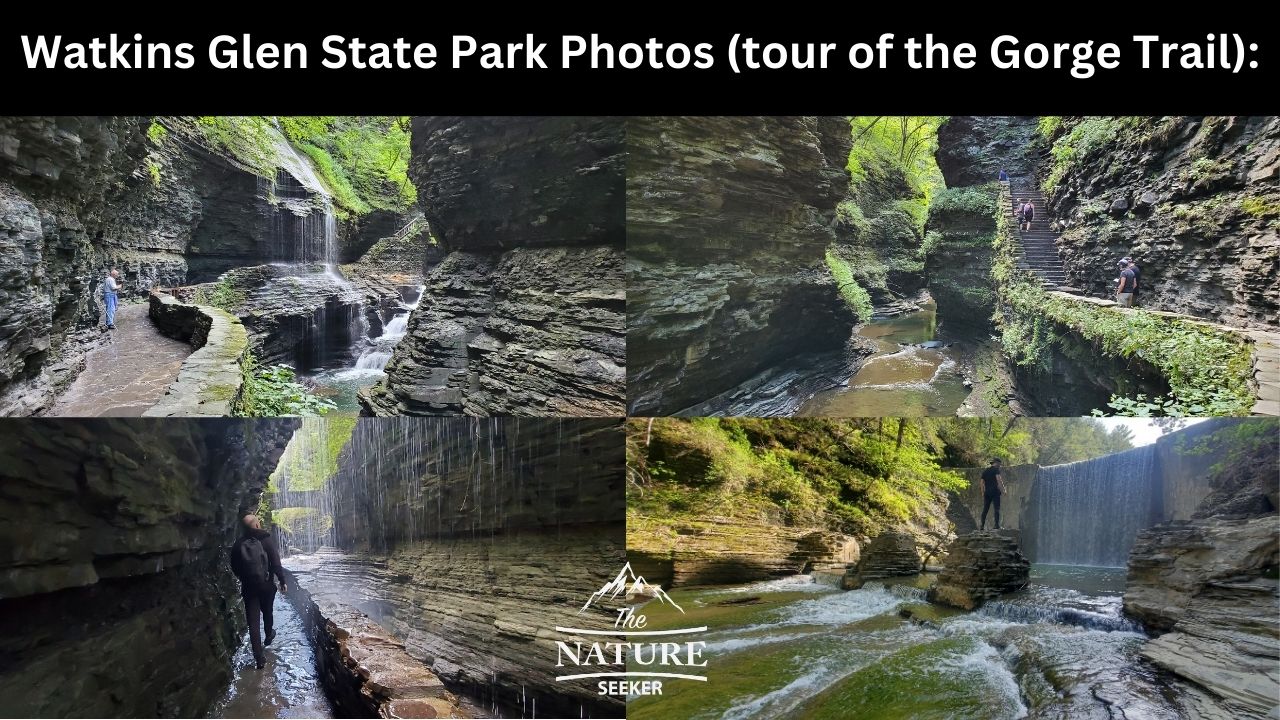 Let's start with the first Watkins Glen State Park photo (a map of the park):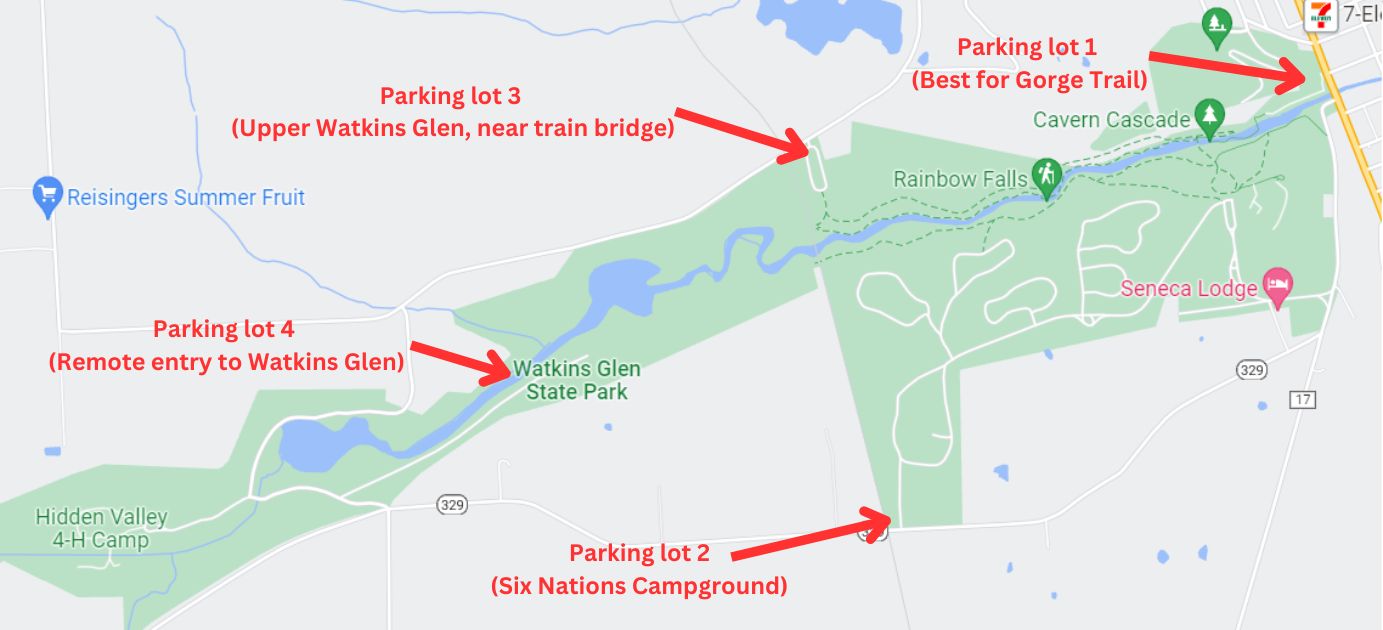 This is important because there are actually 4 different entrances to Watkins Glen State Park:
The eastern entrance (the best one to tour the Gorge Trail, it's $10 per car).
The Six Nations Campground ($15 entry fee and I only recommend it if you're actually camping there).
A northern entrance to the park (basically at the end of the Gorge Trail).
And finally a western entrance to the park (but it's much more remote and not recommended).
To start your trip through this area, begin at the eastern entrance to Watkins Glen State Park. Once you park your car, you'll simply walk upriver towards the waterfall in the distance and begin your hike.
Watkins Glen State Park photo 1 (the entrance to the Gorge Trail):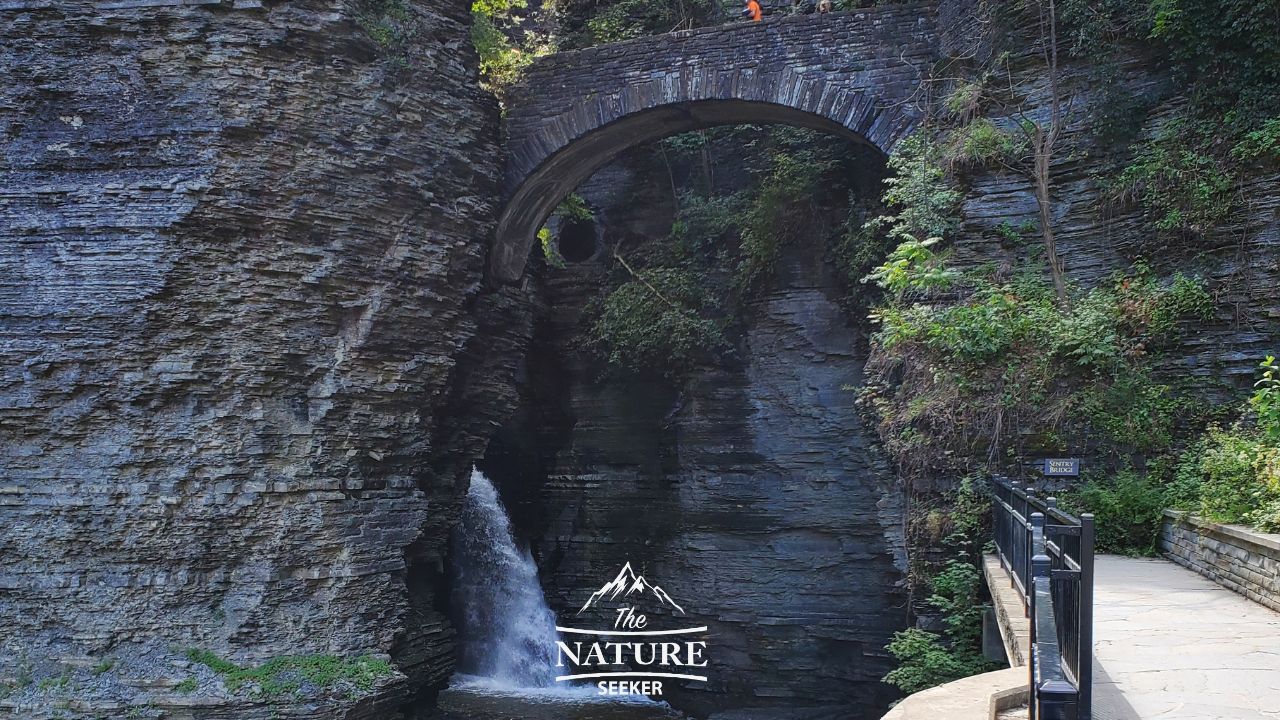 This is the first of many major waterfalls you'll see on the Gorge Trail and there is a bridge right over it (Sentry Bridge). What you're going to want to do is turn right by that waterfall, walk up several steps and enter into a small tunnel. This is where the Gorge Trail officially begins.
Once you go through it, you'll pass the bridge overlooking the waterfall from the entrance, and continue up (west). There will be a connecting trail to your left, but you'll want to stay to the right to continue on the Gorge Trail.
Reaching the Cavern Cascade Waterfall: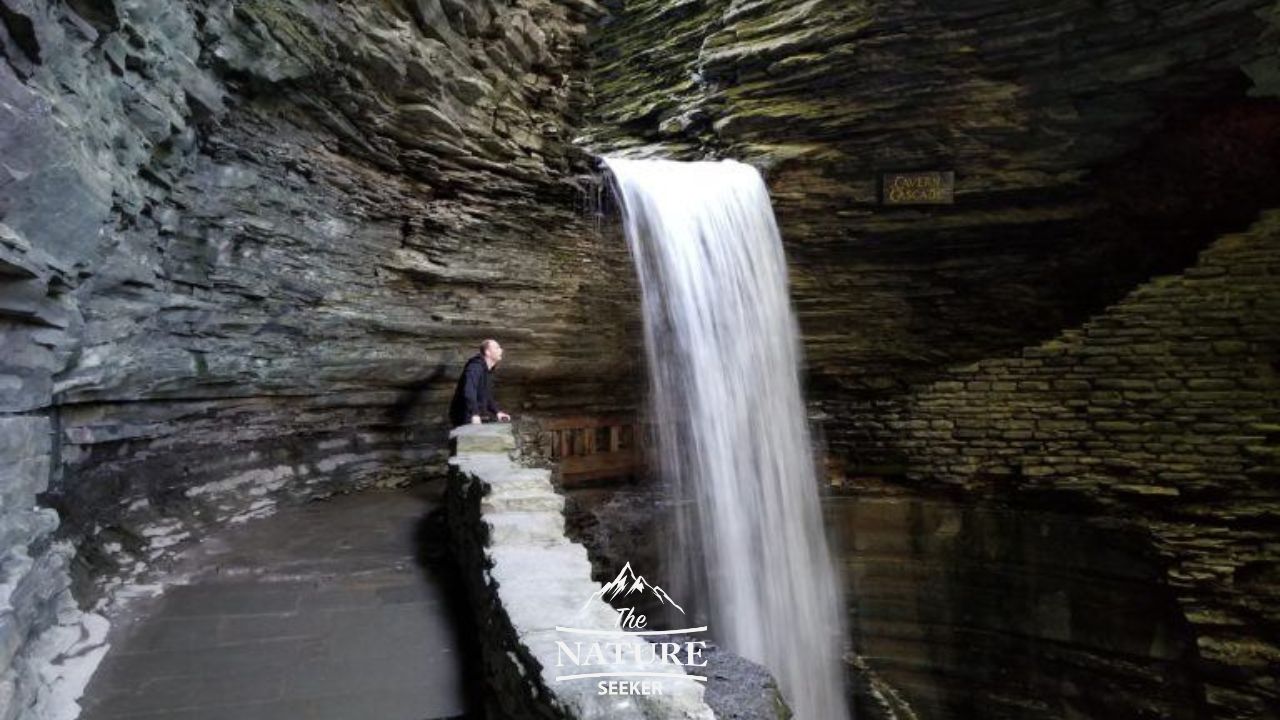 The Cavern Cascade waterfall is not far from the entrance to the Gorge Trail and it is one of the most iconic in Watkins Glen State Park. It is a 50+ foot waterfall which you can walk under as the Gorge Trail circles around it. Followed by that you will walk into another tunnel, up more steps and continue.
Continuing on the Gorge Trail (more Watkins Glen State Park photos):
Once you pass the Cavern Cascade waterfall, you'll be on a more flat part of the trail for a little bit, seeing a beautiful Gorge around you, small rivers and waterfalls by them, and amazing rock formations like you see above. You will continue on the walkway for about another 500 feet. There will be another bridge you'll cross and this happens a few times along the Gorge Trail, taking you from the left to the right a few times.
Reaching Rainbow Falls (the most famous waterfall in Watkins Glen):
As beautiful as the other waterfalls in this park are, none in my opinion compare to the beauty of Rainbow Falls which you will reach at around the 75% part of the trail. Right before you do, you'll see several "swimming holes" next to it. I recommend stopping before you get to Rainbow Falls to get some amazing photos of it. You may likely encounter a lot of people on the same Gorge Trail so there may be a period where you will have to wait.
Rainbow Falls is popular for good reason and it's one of my favorite waterfalls in Finger Lakes and as well as one of the best waterfalls in New York too.
Walking underneath Rainbow Falls:
Not only can you get amazing photos of this waterfall, but you can also walk underneath as there is a tunnel available to do that. While you walk underneath Rainbow Falls, you will see it shower over you and that is an amazing experience to try. Here is another Watkins Glen State Park photo of me doing that: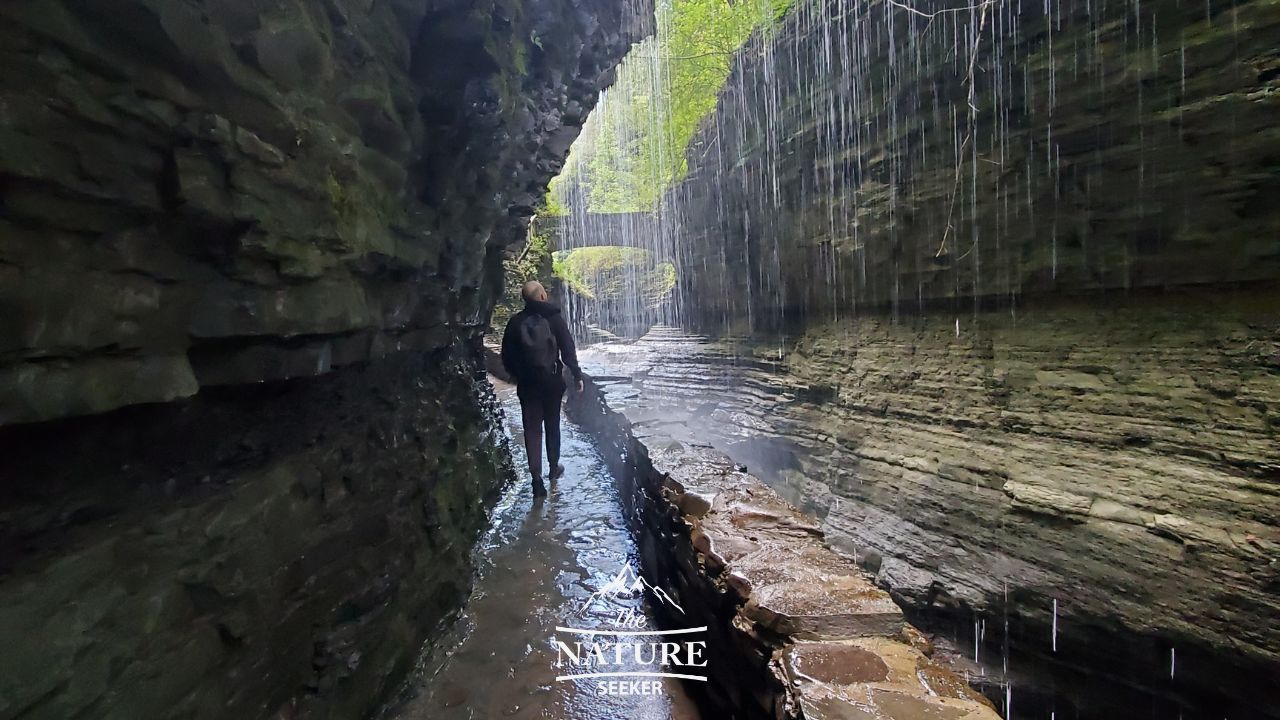 Walking past Rainbow Falls:
After you pass the tunnel area, you will see another bridge past the waterfall. As you walk on it, make sure to turn around and look at Rainbow Falls again because you're going to get another great angle of it from that viewpoint:
Hiking past Rainbow Falls (more photos and what happens next):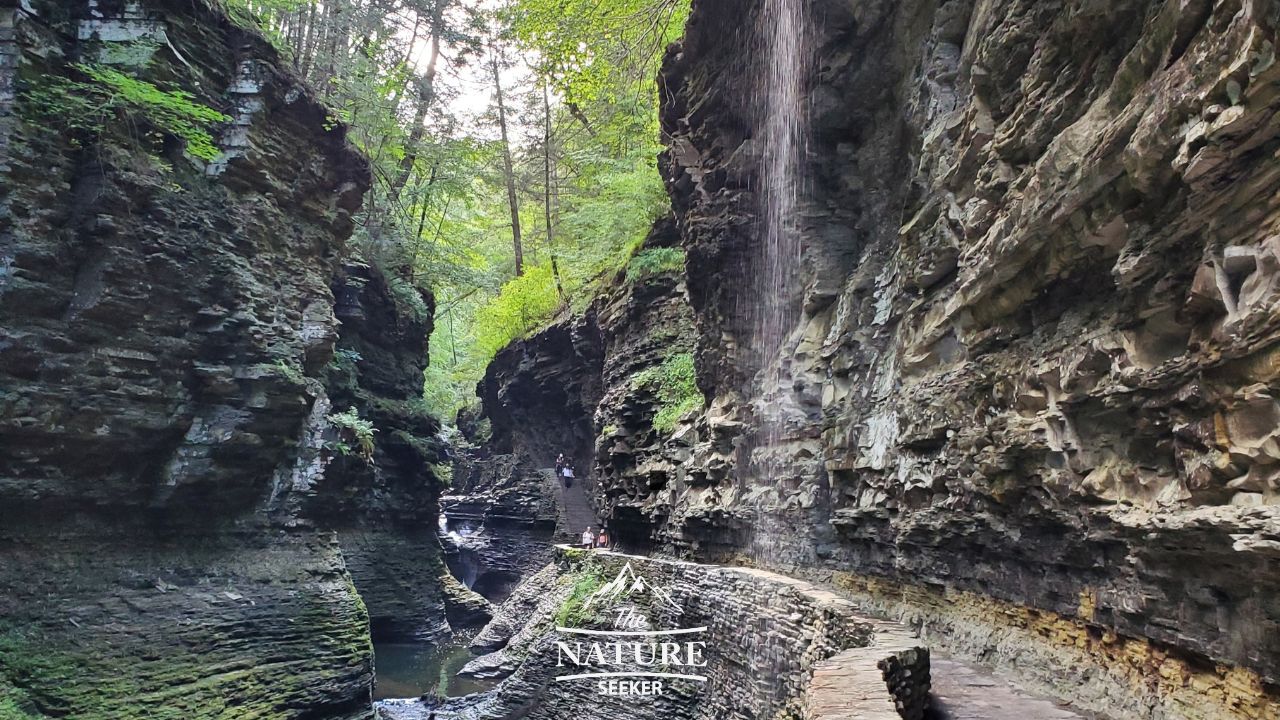 For many people, reaching Rainbow Falls is when the best parts of Watkins Glen end but there is another 1/4 mile walkway available that I strongly recommend checking out. You will now be on the right side of the Gorge Trail and pass another look alike to the Rainbow Falls. As far as I know there is no name to this waterfall, but it is much tinier than Rainbow Falls, but also taller.
Reaching "the end" of the Gorge Trail (and why you shouldn't turn back just yet):
Notice the red line in the map below. That represents the official Gorge trail area, but there is another 1.5 miles after it (blue) which leads to another amazing waterfall most people miss and here's how it looks on a map: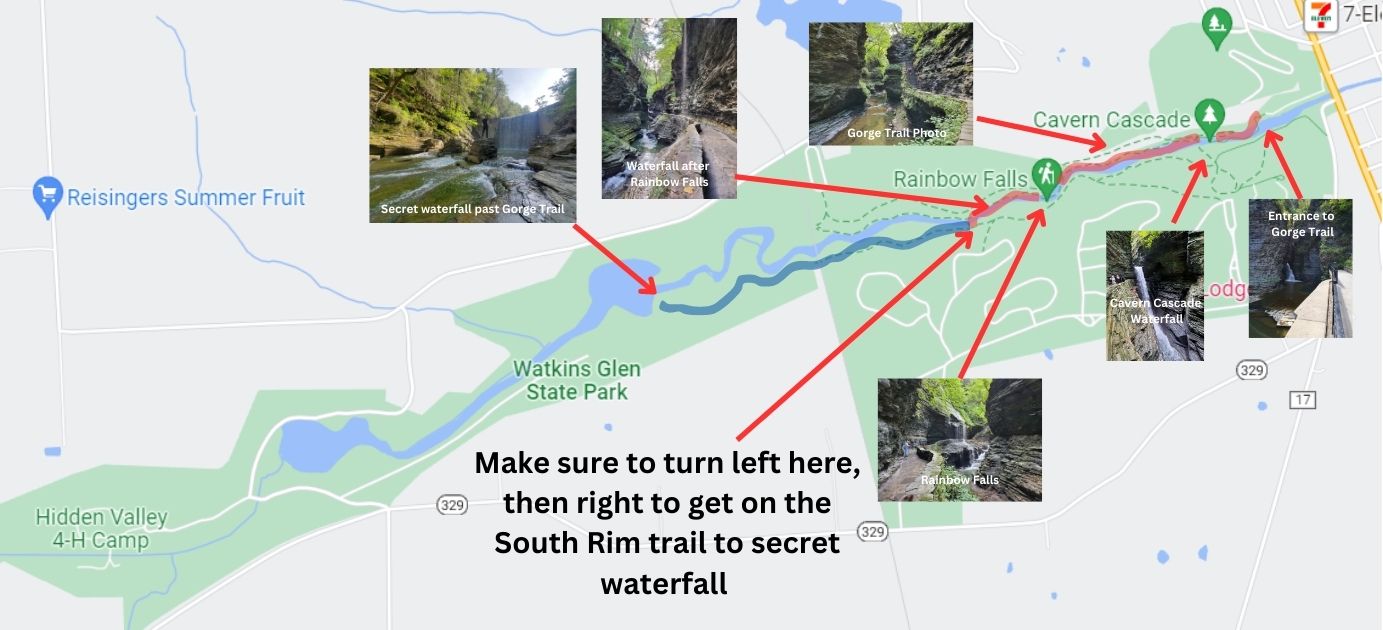 Past the Rainbow Falls look alike I mentioned, the Gorge Trail continues for about a few 100 more feet before the rivers and waterfalls subside and turn into a mellow steam. Around this section of the trail, you are close to the 3rd parking lot I mentioned above and there is a staircase called Jacob's Ladder which takes you up there. Right past it is an amazing train bridge too.
It is at this point that the Gorge Trail for most people "ends" and they either turn around and walk back down the same way or take the above Rim Trail back down to the parking lot (which doesn't involve as many steps). But this is where you may be making a huge mistake (missing out that is).
You see around the time that most people turn around here, there is actually an additional part to the Watkins Glen Gorge Trail that most people miss out on and here is how it works:
Around the Jacob's Ladder area which most people assume is the end of the park there is actually an additional add on trail called the South Rim Trail. It is on the left side of the Gorge Trail (at it's end) and it takes you up and under the train bridge, past Jacob's Ladder. From there you will be on a much more traditional hiking trail that zig zags close to the Glen Creek River (the same one which runs into Watkins Glen State Park). You'll be on that trail for one more mile.
The South Rim Trail will take you to the biggest waterfall in Watkins Glen State Park (that most don't even know about):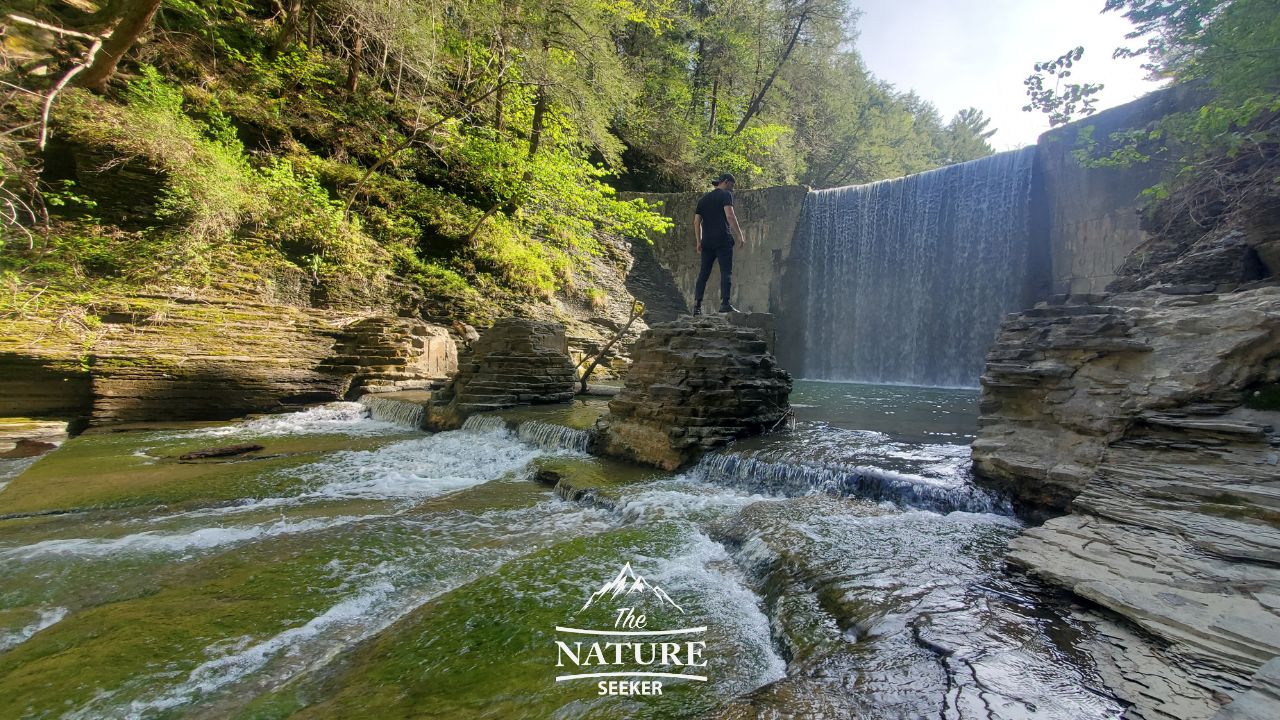 It is about 100 feet high and you can see it from the trail, but also hike down to it which requires a scramble. Whether you see it from the top (bottom has better views), this is how you get the most out of your time in Watkins Glen State Park.
Once you're finished, you can simply hike back on the South Rim Trail, back to the same Gorge Trail, then down to the parking lot. Over the years that I've done this, I've collected countless Watkins Glen State Park photos and you will have the same opportunity to do the same thing when you go on this path too.
See more things around

Finger Lakes

.
You can also get more info on Watkins Glen State Park.
I also strongly recommend the Gorge Trail in another nearby park called Buttermilk Falls State Park (it's just as photogenic as the Gorge Trail in Watkins Glen).
Thank you for checking out this post and my Watkins Glen State Park photos! I hope that they in addition to the map with the references help you have an amazing experience here.