Finger Lakes has some of the best waterfalls you'll find in New York State and in this post, I'd like to share what I consider to be the 11 best ones worth exploring if you decide to go there.
This list is in no particular order, and the Finger Lakes region is so huge that there's way more than just 11 waterfalls to explore, but it is going to give you a good idea of what you can find in this amazing part of New York State.
Here are the 11 best waterfalls you'll find in Finger Lakes:
Hector Falls.
Triphammer Falls.
Glenora Falls.
Shequaga Falls.
Taughannock Falls.
Rainbow Falls.
Ithaca Falls.
Robert H. Treman waterfalls.
Wells Falls.
Buttermilk Falls.
Cascadilla Gorge Falls.
All of these waterfalls are found in the Finger Lakes area of New York, particularly Seneca Lake and Ithaca, so the good news is that if you're visiting Finger Lakes for one day, you can probably see most of them. Here's info on each waterfall:
1) Hector Falls: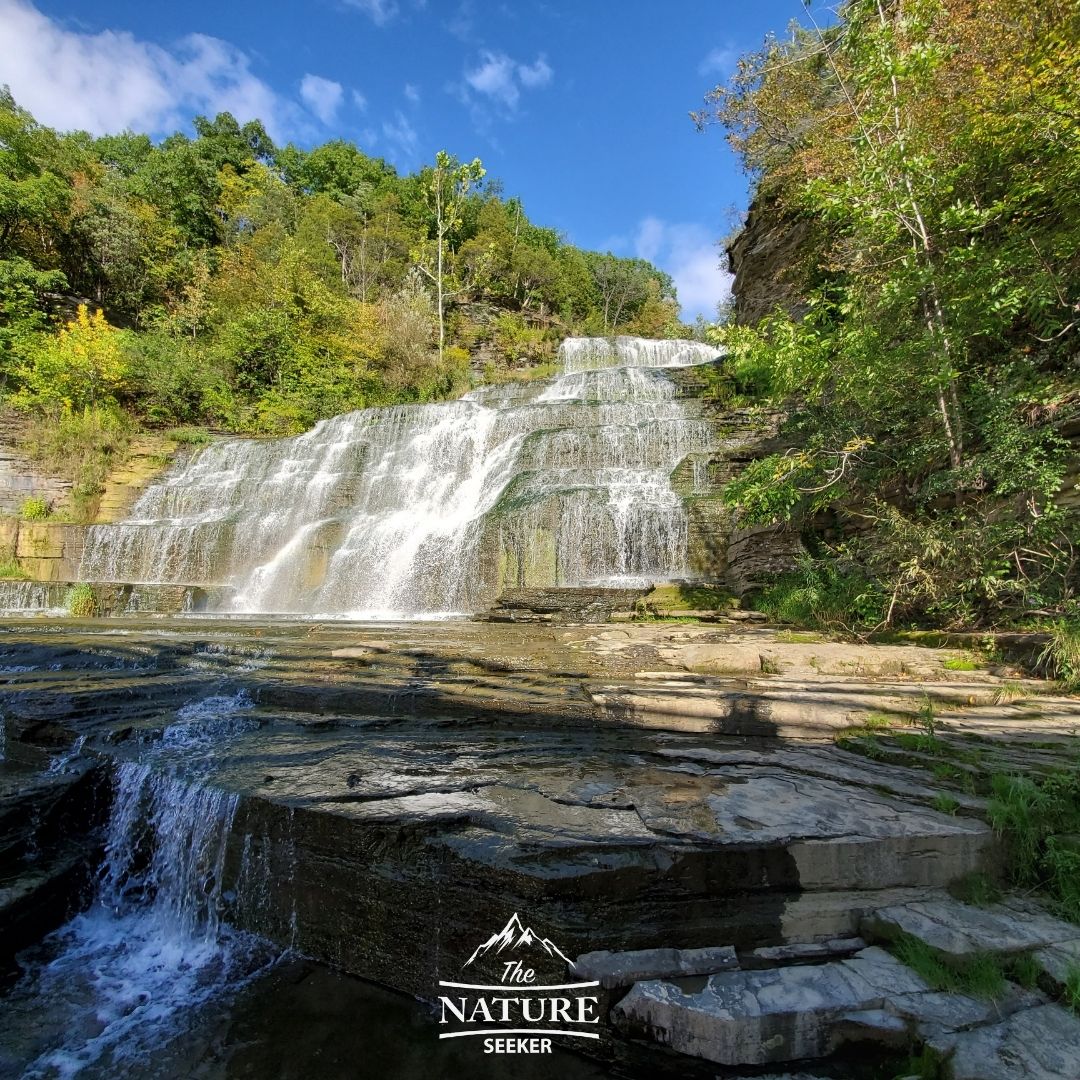 Where to find it: You'll find Hector Falls on the southern end of Seneca Lake in Finger Lakes.
Height: It's a cascading falls that's over 200 feet.
Description: It is a beautiful (off the road) waterfall that is hard to miss and you can also hike down to it (it's literally under the bridge by the road).
The first time I visited Finger Lakes on my Appalachian Mountains road trip, I accidentally stumbled onto this beautiful waterfall.
Parking is available right by the falls, but it is limited in space to about 3-4 cars. I've been fortunate enough to find parking here both times that I've visited this waterfall.
When you stop here and hike down to it, you'll find it continues on and on downstream and enters into Seneca Lake.
And if you want to truly see how big it is (it's over 200 feet of cascading waterfalls), then you can do so on the opposite end of Seneca Lake, for which there is a nice overlook available for.
But you do have to do a 20-30 minute drive for that.
2) Triphammer Falls: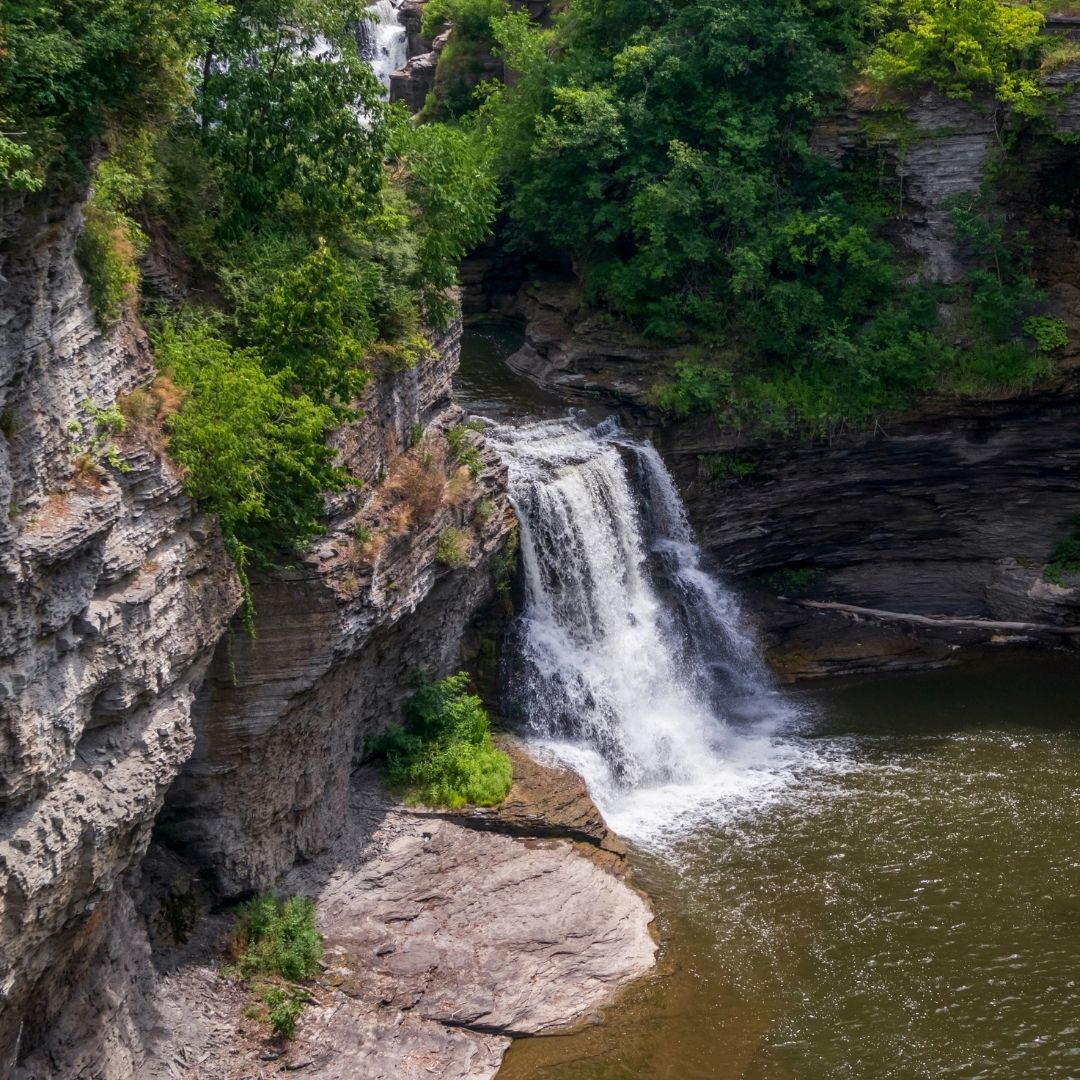 Where you'll find it: Ithaca, NY.
Height: It's 2 falls, each about 50 feet.
Description: This is a dam and man made waterfall, but because of the way it looks, flows and is available to explore, it is highly recommended to tourists.
It's about 100 feet in width, and while the size of the falls isn't as large as some of the other ones on this list, it's still a beautiful sight to check out, especially in the fall (as is all of Finger Lakes for that matter).
I only saw this waterfall once on Pinterest and have always wanted to come here. Sadly, when I got my chance to visit Finger Lakes, I ended up exploring a different waterfall with similar characteristics and only later found out it was a different one (it's on this list by the way).
Never the less, Triphammer Falls is an absolute must see waterfall if you go to Finger Lakes. There's a stunning combination of nature, a dam and an old, abandoned building next to the waterfall itself which makes for some cool scenery to explore and take pictures of!
3) Glenora Falls:
Location: On Seneca Lake (western end).
Height: About 100 feet.
Description: Glenora Falls is one of the few waterfalls that's located inside one of the towns you can cross on Seneca Lake.
It's a little bit north of Hector Falls (but on the opposite end of Seneca Lake).
A lot of tourists and locals do parties there (including weddings) and for obvious reasons.
I personally have not yet visited this particular waterfall and funny enough, it's for the same reasons I haven't visited Triphammer Falls yet and that is:
I found another waterfall that I thought was this one, and just like I did with Triphammer, I didn't know it existed until after I finished my trip to Finger Lakes.
So of course, this waterfall will be added to my personal list and it should also be added to yours!
4) Shequaga Falls: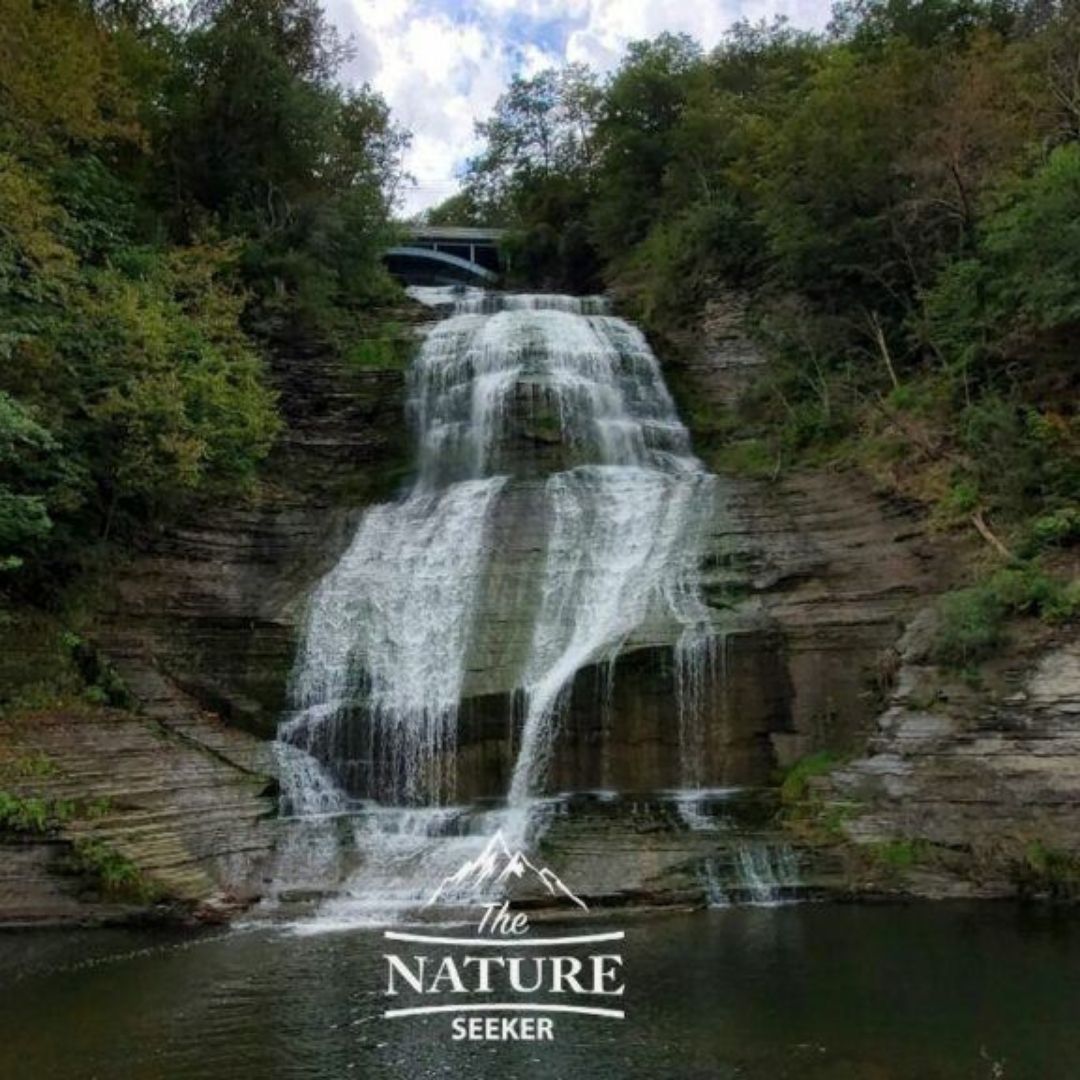 Location: Montour Falls (not far from Seneca Lake).
Height: About 100 feet high.
Description: Shequga Falls is the waterfall I thought was Glenora Falls and just like that one, it happens to be another "in town" waterfall you'll find and at the same time, it's about the same height as that one. It's no wonder I thought they were the same!
There's no swimming allowed at this falls, but you can walk up to it (there's railings protecting you from getting in). Be sure to check out the town when you're there too.
And if you have time, there's another waterfall a few minutes away from Shequga Falls that's called "Aunt Sarah's Falls".
It's also huge, but in a much less populated part of Montour and if the main falls (this one) is too crowded, Aunt Sarah's Falls might be a good plan B waterfall to visit.
5) Taughannock Falls:
Location: Ulysses, NY which is on the north eastern side of Seneca Lake.
Height: Over 200 feet.
Description: Taughannock Falls is pretty amazing and there's gorges, hikes, and large parking lots available around this area where you can go and explore the region.
I've only visited this waterfall once, but being that I am signed up for newsletters and Facebook groups which talk about waterfalls in New York, I can tell you that this one comes up quite often.
There's 2 ways to get a great view of Taughannock Falls:
One is to check out the viewing area (right by the parking lot).
The next is a 2-3 mile in and out hike that takes you to the bottom of the waterfall.
Aside from this attraction, there are also cool hiking trails to explore deeper into the gorge that this waterfall runs into.
6) Rainbow Falls (gorge waterfall):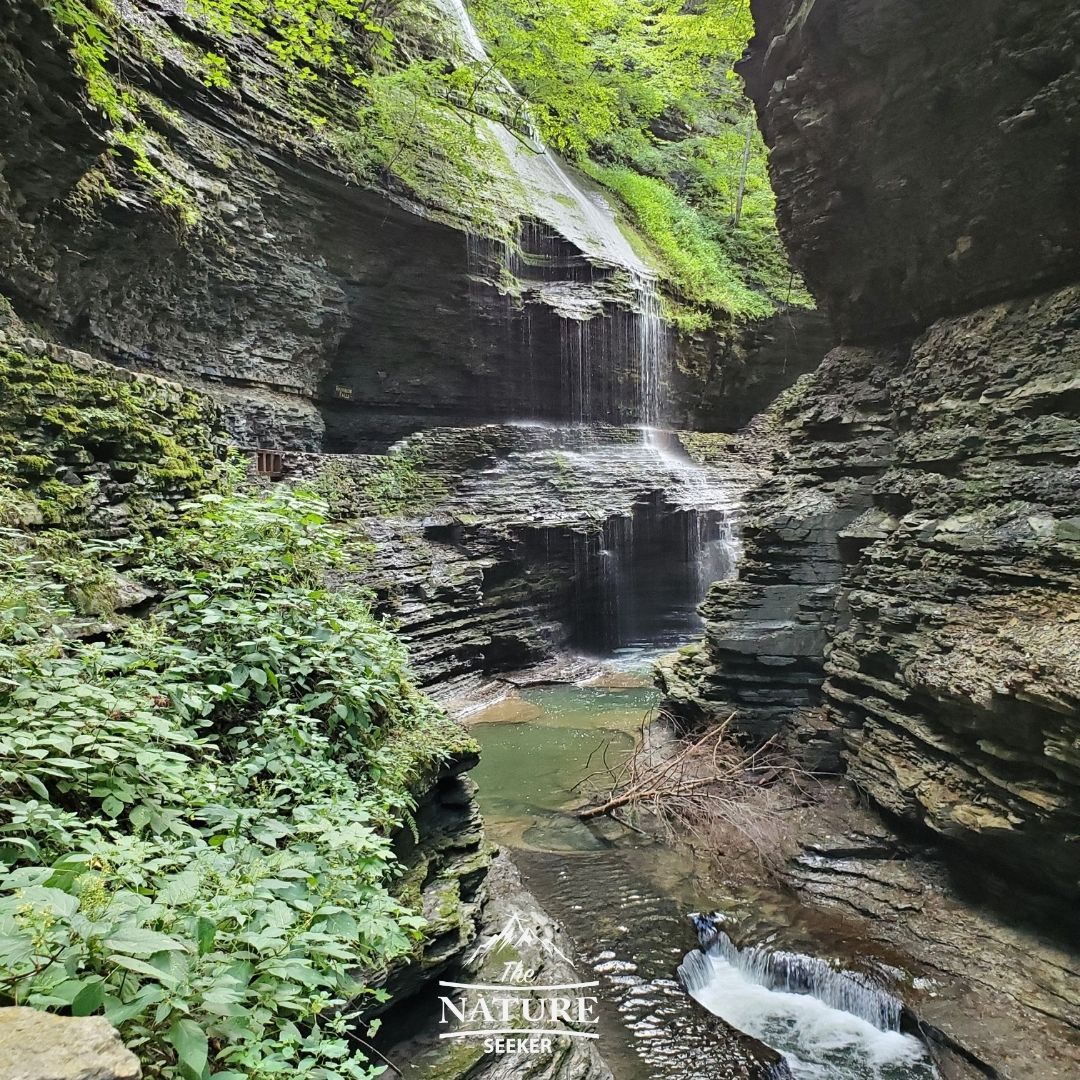 Location: Watkins Glen State Park.
Height: Only about 30 feet.
Description: Rainbow Falls itself isn't very impressive in terms of height, but in terms of beauty and location, it's a one of a kind waterfall in Finger Lakes worth exploring.
What makes it get on my list is that it's located inside one of the best state parks in New York that I've ever seen in my life, and that is Watkins Glen State Park.
Not only that, but this is also a gorge waterfall and you can walk underneath it.
Just as well, there's other waterfalls right by it, making the whole look of Rainbow Falls just something that looks like a fantasy and you would honestly need to go there and see it for yourself to understand what I mean.
I've been to this park twice so far and while there's many beautiful spots there to see, Rainbow Falls is the one which takes my breath away every single time I'm there.
7) Ithaca Falls: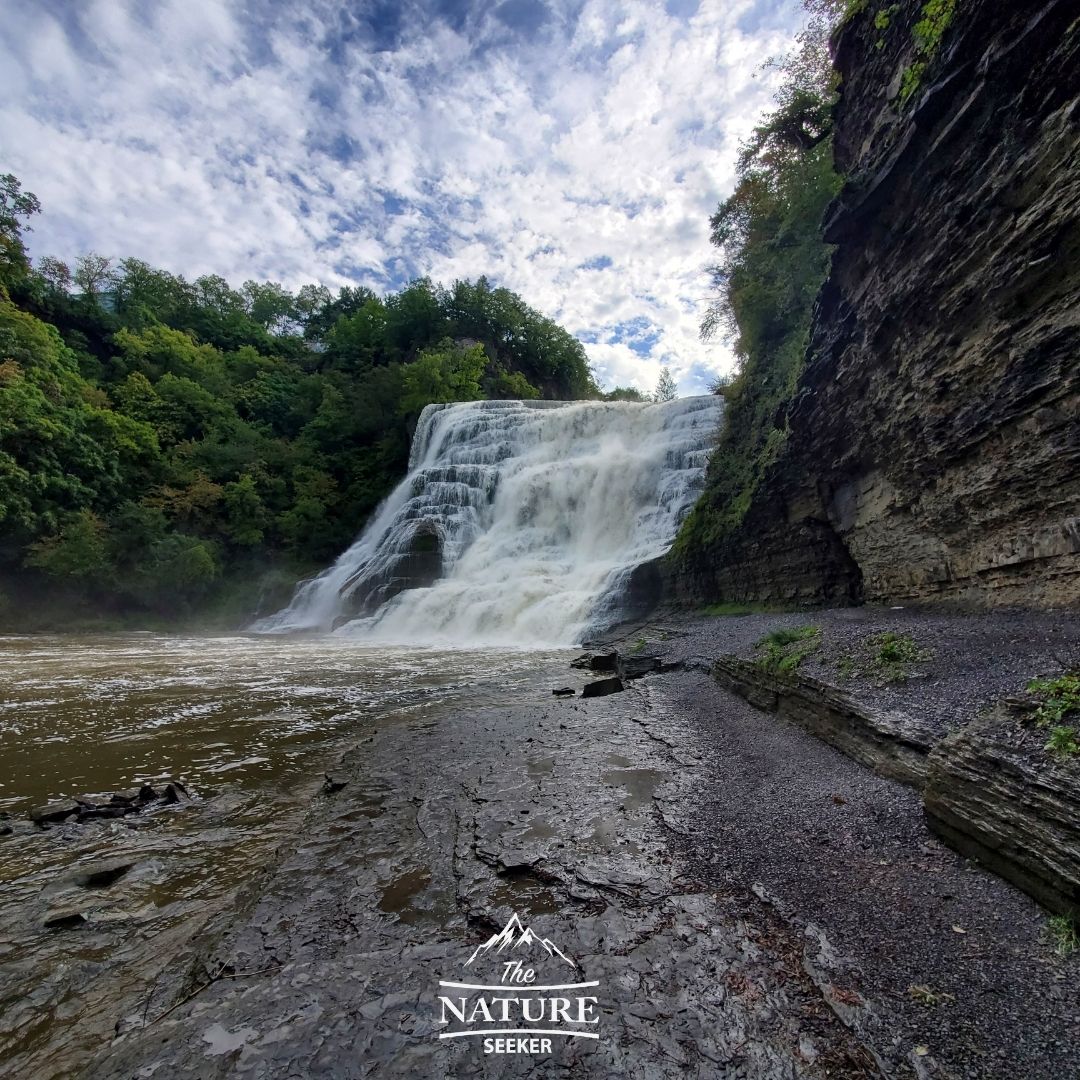 Location: Ithaca, NY.
Height: 200+ feet.
Description: As far as I know, Ithaca Falls is the largest waterfall you'll find in all of Finger Lakes (not the tallest though, as that would likely be Taughannock Falls).
There's many unique elements to this waterfall and the area you'll find it in. One of those things is that from the parking lot, it's a very easy 300 foot walk to reach the waterfall itself.
In fact, I'd say out of all the waterfalls I've seen in Finger Lakes, Ithaca Falls might be one of the easiest ones to hike to so if you're in this area, don't miss a chance to check it out.
When you reach the base of it, you'll feel it's power and massive size. Be careful when walking up to it because the road and railings do end and the closer you get to the waterfall, the more slippery it'll get.
8) Robert H. Treman waterfalls:
Location: Robert H. Treman State Park (not far from Ithaca).
Height: The largest waterfall there is over 150 feet high.
Description: Robert H. Treman State Park is an amazing park where you can hike a gorge (about 3 miles one way) and explore different waterfalls on the path.
I've included this region as the name vs the many waterfalls to see there (there's actually 12 of them) because there are just so many, of all sizes to that you can check out.
To see them all, simply do the 3 mile gorge hike and it'll take you close to all of them.
There's a way to do a loop trail in Robert H. Treman State Park so you can get different view points of each waterfall you see.
Just make sure you pick up a map when you enter this park to do it. There is some hiking involved to do the gorge trail so be prepared for that, but it's well worth it.
9) Wells Falls: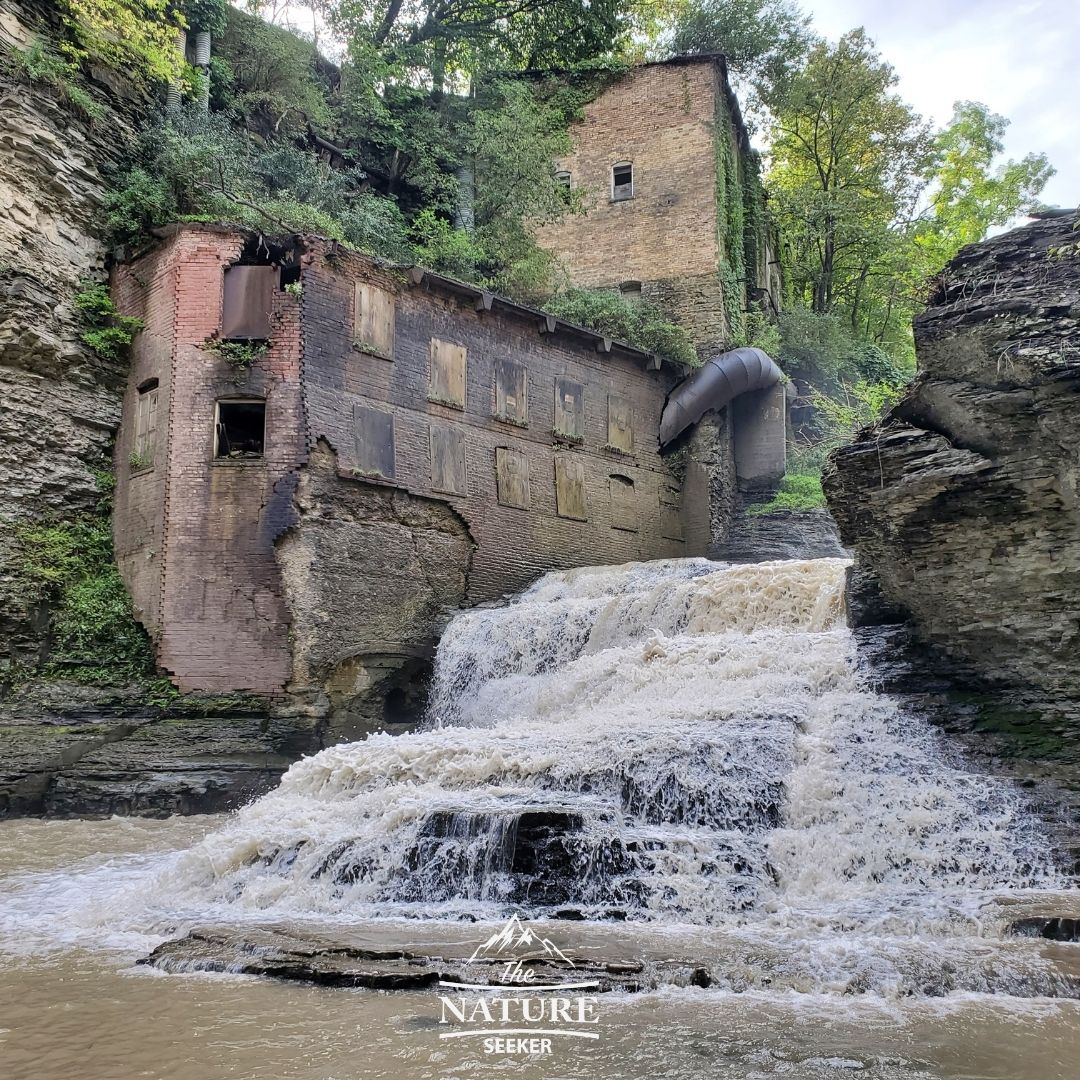 Location: Ithaca, NY.
Height: Over 50 feet high.
Description: This happens to be the very same waterfall I mistook for Triphammer Falls and you can probably see why.
I believe Wells Falls might be another dam waterfall, but whether or not it is, doesn't change the fact that this is one truly stunning waterfall I highly recommend you check out in Finger Lakes.
In my opinion, it's one of the best there is in the region. It's also right by a gorge, and has a hike you can take down to it's base.
The hike is pretty short, but it can get a little steep so be ready for that.
Just so you know, the Triphammer Falls that I said looks like this one is only 10 minutes away, so don't make my mistake if you go here, and be sure to check them both out!
10) Buttermilk Falls: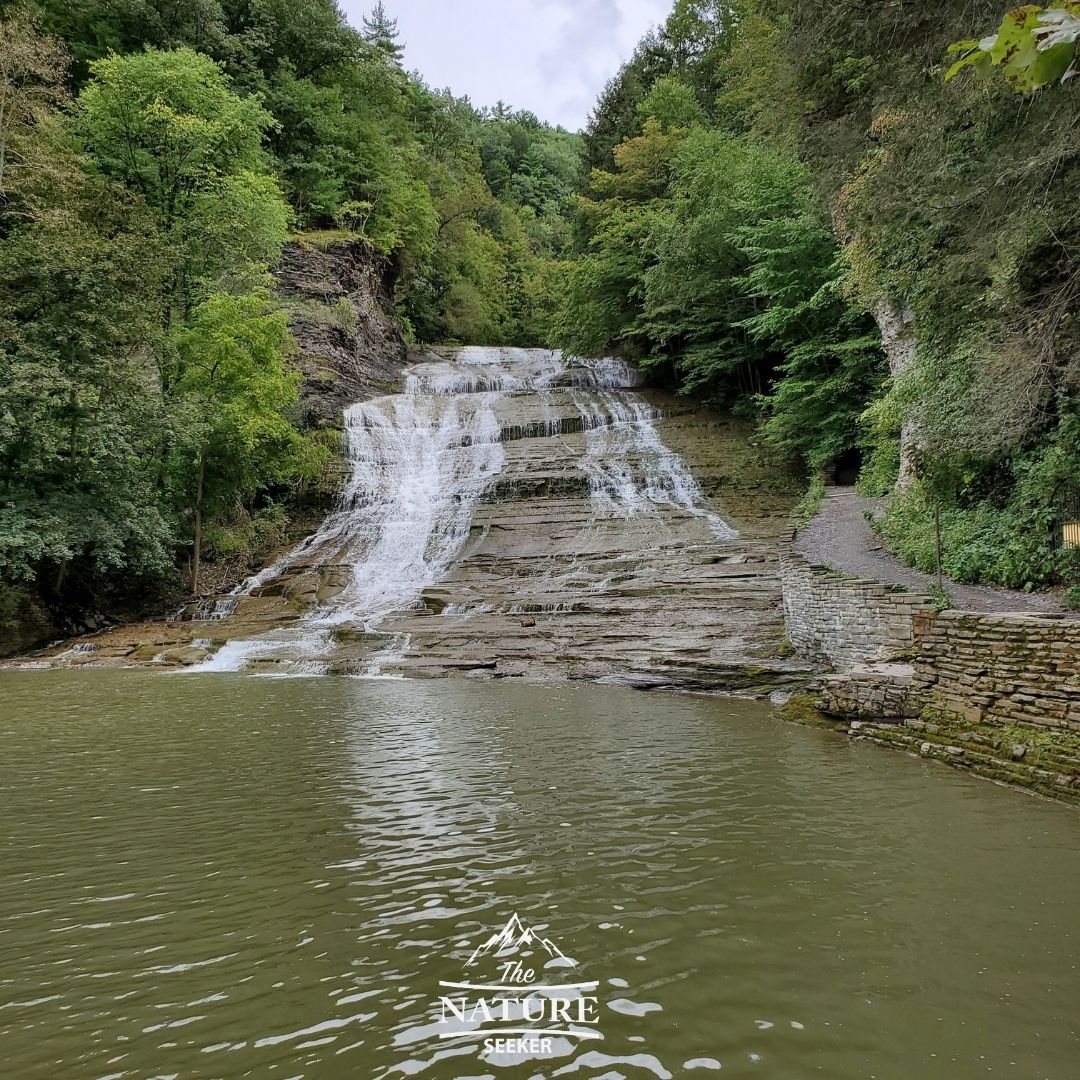 Location: Buttermilk Falls State Park, NY.
Height: Over 150 feet of cascading waterfall (even bigger than Hector Falls).
Description: Buttermilk Falls is the premier waterfall you'll find in Buttermilk Falls State Park (also in Finger Lakes) and in addition to this 150+ foot cascading falls to enjoy hiking at.
It's also one of the few main waterfalls in all of Finger Lakes where you can actually swim by it.
The picture you see to the right features a popular swimming hole and a gorge trail (to the right).
When I went here, the swimming hole was closed off for the season , but I did do the main gorge hike which I thought was amazing (and I highly recommend you do it too).
That hike will have you pass at least 10 big waterfalls before working your way back to the main one (Buttermilk Falls).
11) Cascadilla Gorge waterfall:
Location: Ithaca, NY.
Height: About 50 feet.
Description: I wish I was able to explore this region when I was in Finger Lakes, but next time I go, this will be on my list.
Cascadilla Gorge is a beautiful area, like Buttermilk Falls with a gorge trail, beautiful waterfalls and bridges which you can underneath and get great views of the nature area there.
And of course, the main waterfall (Cascadilla waterfall) is well worth seeing and the beauty is that the length of this trail is short (it's only under 1 mile long) and it's entirely carved out in concrete so it's easy to walk on for most people. The only thing is that there's a lot of steps to walk on.
There are also other small and medium sized waterfalls when you talk on the main Cascadilla Gorge Trail, so the good news is that there's plenty of them to see here (as well as many of the other ones on this list).
Finger Lakes has much more than just waterfalls:
While the waterfalls in this area are stunning, the true beauty of Finger Lakes is everything put together: The nature, the towns, the region itself, the giant lakes and much more. If you do go, I would strongly recommend enjoying all of this vs just hopping between one waterfall and another.
And if you're an avid Finger Lakes traveler and wouldn't mind sharing other waterfalls to check out in the region, I'm always open to new suggestions to add to my list!
More waterfalls to explore (In New York State):
New York State has tons of waterfall spots to explore and there's certain regions (like Finger Lakes) which house many of them. Here's other articles I've written in which you can find more waterfalls in this beautiful state:
I'll be updating this list as it grows.