If you're planning on checking out Robert H. Treman State Park, I'm going to share 5 awesome things to do when you go. I visited this place a few months ago and it is absolutely stunning there (you'll see why shortly).
It's also one of many beautiful places to check out in the Finger Lakes region of New York, but this article is going to specifically focus on the things to do at Robert H. Treman State Park.
Here are the 5 things to do at Robert H. Treman State Park:
Do the main gorge loop trail.
Check out the many waterfalls there.
Do a camping trip.
Check out the famous swimming hole there.
Try to do the Robert H. Treman, Buttermilk Falls State Park loop trail.
In my case, when I visited this beautiful park, it was for only a few hours.
I had a very long itinerary of things I wanted to see in Finger Lakes that day before continuing onto Letchworth State Park (which I also saw the same day), but in any case, my trip to this place, although short, gave me enough insight to know what's available, and the many awesome things you can do there.
Some quick FAQs about Robert H. Treman State Park:
Where is Robert H. Treman State Park located?
Near the city of Ithaca in Finger Lakes (New York State).
Is it safe to hike at Robert H. Treman State Park?
Most of the hikes are easy to walk on, but do note there are a lot of stairs and uphill/downhill walks in the park, so if you're injured or don't see yourself doing this, I'd just recommend starting at the "upper entrance" of the park and enjoying the sights there. One of the coolest spots in my opinion within this park is located there (the carved out gorge trail).
Worst case, if you have issues with uphill/downhill hikes, but still want to go, I'd consider getting trekking poles like these to make it easier.
So let's get into the details of those things now:
1) Do the main Rim Trail and Gorge Trail Loop at Robert H Treman State Park: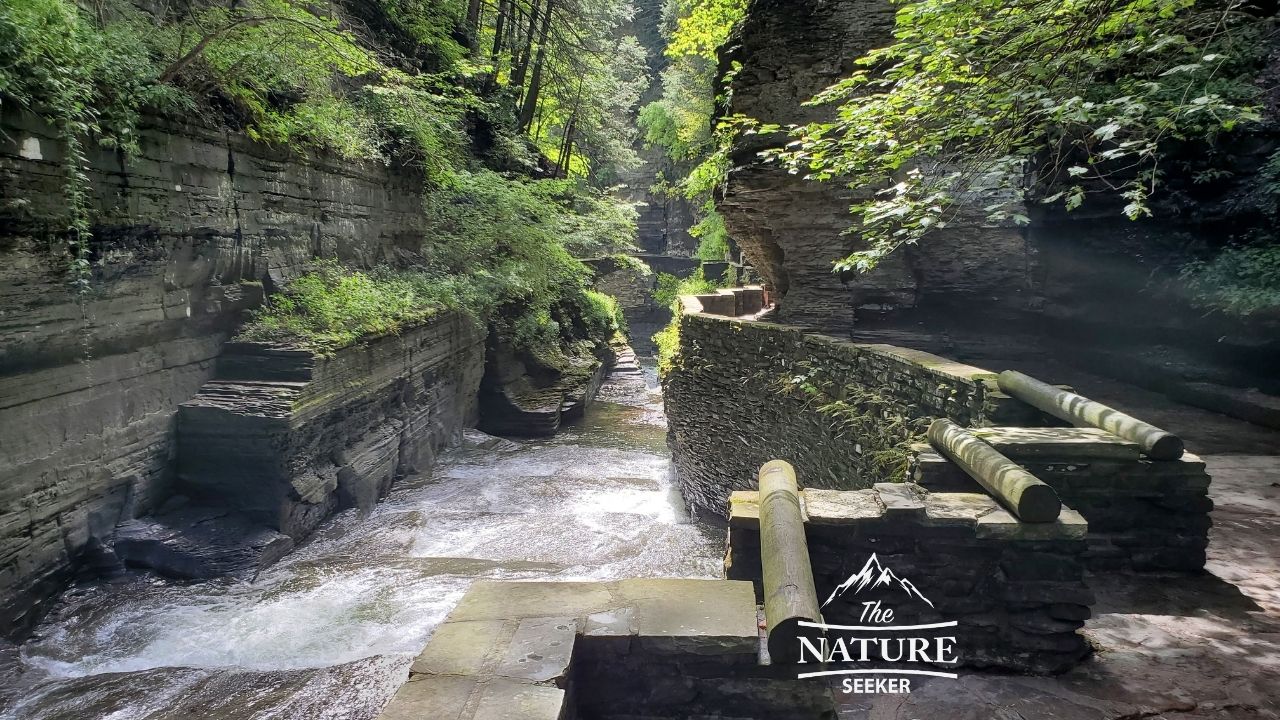 There's 2 entrances to the park. One is in the western end and it's called upper entrance and the other is east of the park, which my GPS took me to.
When I first came to the park, I started at the east parking area. From there, I really had no clue where to go, but only a few ideas of what I wanted to see, namely the following places:
The gorge trail at this park.
The giant waterfalls.
An awesome gorge area which literally looks like it's been carved out of the stone walls.
Well after speaking to a worker there, and getting a map, I was told the gorge trail (titled above) is the one that will take you through all of these sights (and more).
It's over 4 miles long (for the full loop) and will take you through the heart of the park and in my opinion, the most beautiful spots there are there.
You'll start at the parking lot, work your way west through the gorge, and come up on camping spots at the end (basically you'll finish at the upper entrance of the park). At the end of the trail is where you'll find that beautiful "carved out" gorge area I was talking about (picture above).
Along the way, you'll also have a bit of hiking to do and elevation gains of 1,000's of feet, which is also up and down in many spots, so it will get a little annoying. There's also a bit of stair climbing to do, especially when you reach the biggest waterfall there.
Either way, if you're short on time like I was, and you can only do one thing at Robert H. Treman State Park, this trail would be my top recommendation for you.
2) Check out the many waterfalls there: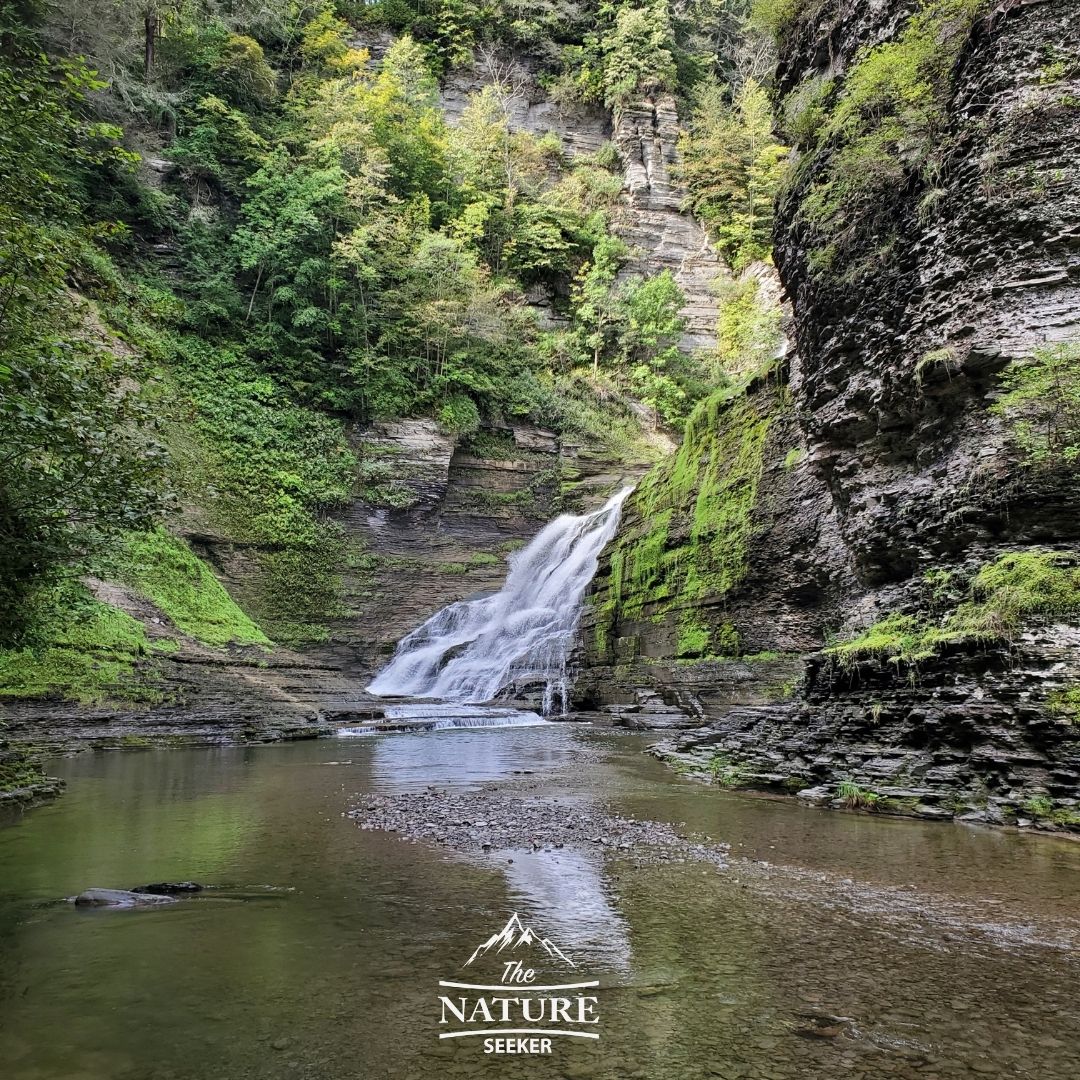 Most of the waterfalls at Robert H. Treman State Park can be found along the gorge tail.
In other words, once you start taking the trail I mentioned above, you'll probably see over 90% of the waterfalls in this park.
If you head west, which takes you to another trail, you'll come across another huge waterfall which happens to be a swimming hole, and one of the other things I recommend you check out at this park if you have the time.
But we'll get to that shortly.
Either way, I found it plentiful to say the least to see the waterfalls on the gorge trail and because they're all very close to the trail itself, its easy to see them and reach them.
From my research, Robert H Treman State Park has over 10 waterfalls there (12 I think) and you'll see at least 10 of them on the main trail, including the one you see to the right (the largest one in the park which is over 100 feet tall).
3) Do a camping trip to Robert H. Treman State Park:
The name of the camping region is called Lower Park camping area.
And if you're interested in staying there, you can reserve a spot here.
Just keep in mind that it is popular, so reserve well in advance of your trip.
I personally do not like camping anywhere but a lot of people do travel to this park (and Finger Lakes) to do just that and considering how beautiful the region is, I don't blame them.
In any case, camping at Robert H. Treman State Park is possible (as are other areas close by if you can't reserve a spot here).
4) Check out the Endfield Falls swimming hole at Robert H. Treman State Park: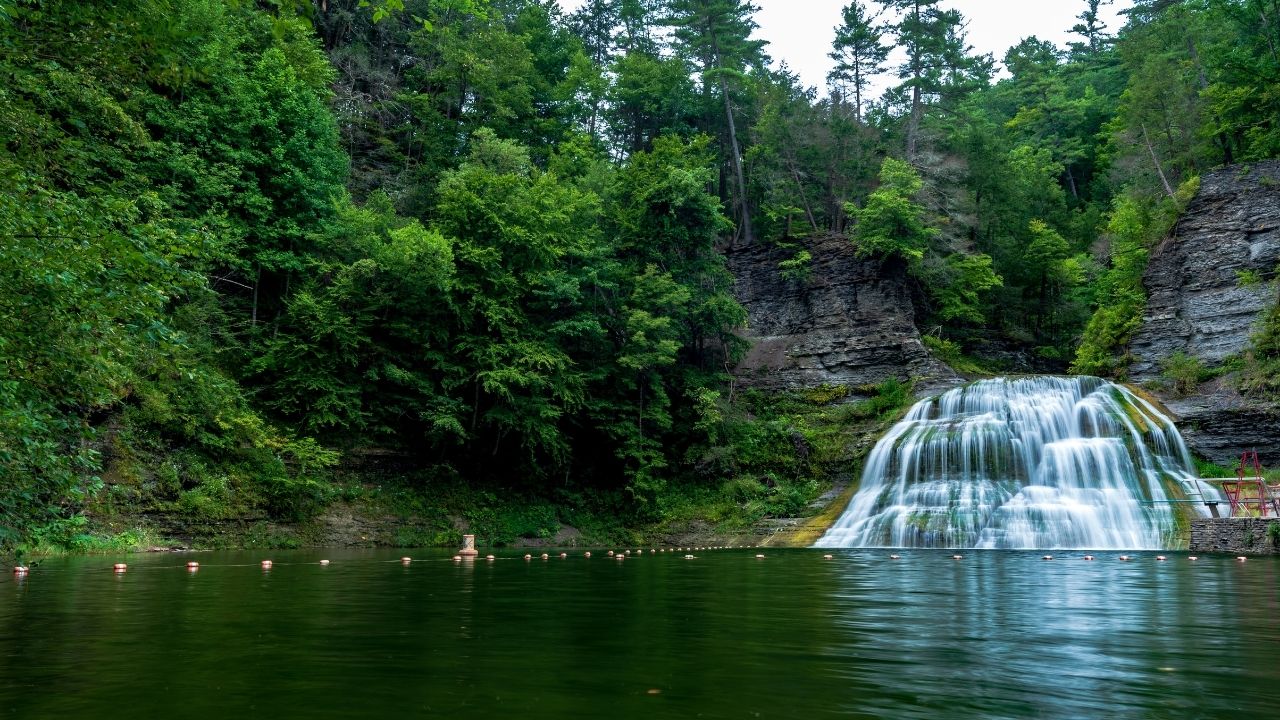 This swimming hole is one of the most popular ones in all of Finger Lakes and is highly crowded on most days.
Either way, if you enjoy swimming in the mountains, as well as swimming holes, you'll find the most popular one here at Robert H. Treman State Park.
Me personally, I don't like crowds, but I do like swimming holes.
And I can tell you that Finger Lakes has many of them are not well known of like this one and it's worth looking for them just to get that peaceful experience in nature.
5) Try the 20 mile Robert H. Treman, Buttermilk Falls State Park loop trail:
I didn't know this until after I went here, but Buttermilk Falls State Park (left), which is the next door neighbor to Robert H. Treman (right) is only a 5 minute drive away from it.
However, what I found out is that there is a very long 20+ mile loop trail that connects both parks and if you're someone who is seriously into hiking and wants to do a challenging fun hike, while also seeing incredible spots from both these parks. this connecting trail between them will do that for you.
For me, I'll be doing a separate post on Buttermilk Falls soon, and I happened to visit it right after my trip to Robert H. Treman State Park.
But knowing now that there is a trail connecting these parks and how much I personally love challenging hikes, this might one for that I'll consider doing in the future.
Other things to see in Finger Lakes besides Robert H. Treman State Park:
Buttermilk Falls State Park is a must.
Watkins Glen State Park is also a must (I think it's the most beautiful park in the whole region).
Just exploring the giant lakes of Finger Lakes as well is also highly recommended.
If you're into waterfalls, check out the following waterfalls in Finger Lakes as there's many beautiful ones to explore there.