One of the most beautiful parks in all of New York State that you need to see is Watkins Glen State Park.
This is one of the photos that makes Watkins Glen State Park so well known: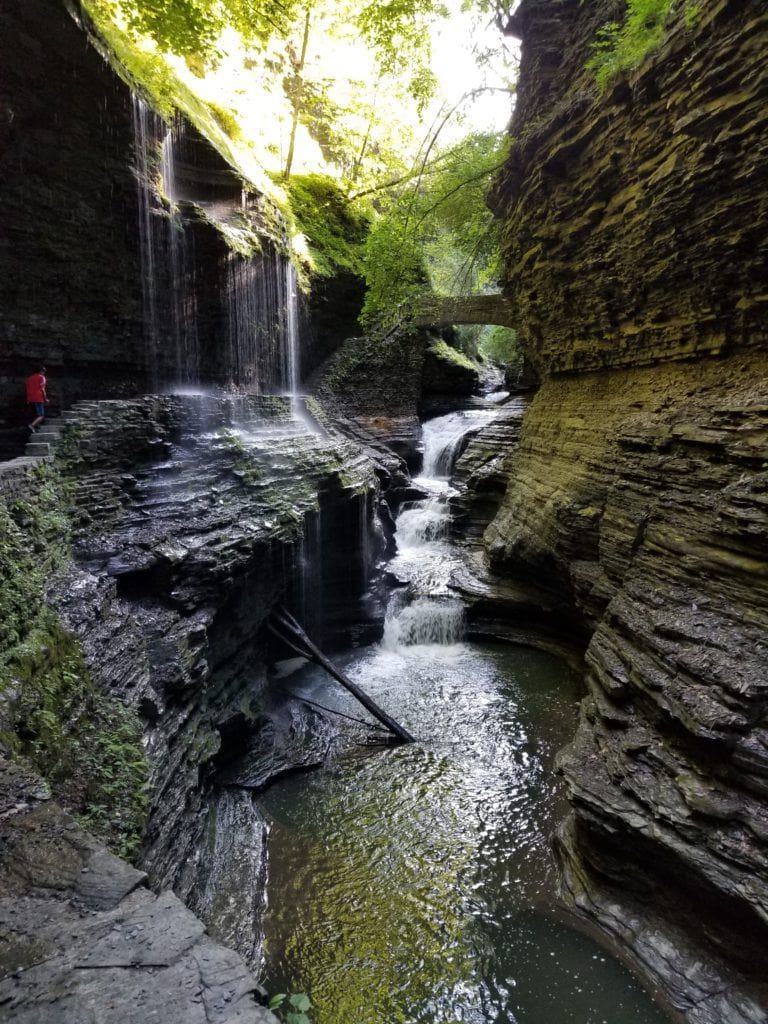 Odds are, you have likely seen this particular photo of that location, and if you've wondered where exactly this is from, now you know 🙂
And if you have never visited this place, allow me to share details about it before you go, so you can get the most out of it, because this particular park, is only a small piece of the larger area where this place lies, which is in Finger Lakes.
I visited this place last year, while finishing a very scenic road trip from the Blue Ridge Mountains with my friend. We were making our way back to New York, but were headed to the western side of it and looking for spots to check out.
One of the options that came up was Finger Lakes and even though I am a resident of New York City, I had never visited this spot, because it was about a 5-6 hour drive west from me.
But during this particular period, we had the opportunity to visit this location and it was while we were there, that we accidentally spotted Watkins Glen State Park.
I had seen photos of this place before and knew it was somewhere in New York State, but didn't realize it was right in the Finger Lakes area, so it just so happens that we accidentally stumbled upon it.
While our trip mainly took us through the Finger Lakes area, which I will cover in a later article, we decided to plan our day such that we would finish it up and make sure to visit this spot, and after we were done, not only were we glad we checked it out, but it was easily the most beautiful spot we saw on our 6 day road trip, most of which took us up the Appalachian Mountain Range.
But all of these locations, although highly recommended and incredibly scenic, still paled in comparison to Watkins Glen State Park. So with that said, let me give you the promised details of this location so you can enjoy it too!
Where is Watkins Glen State Park?
The official location is here and I've also included a screenshot of the map: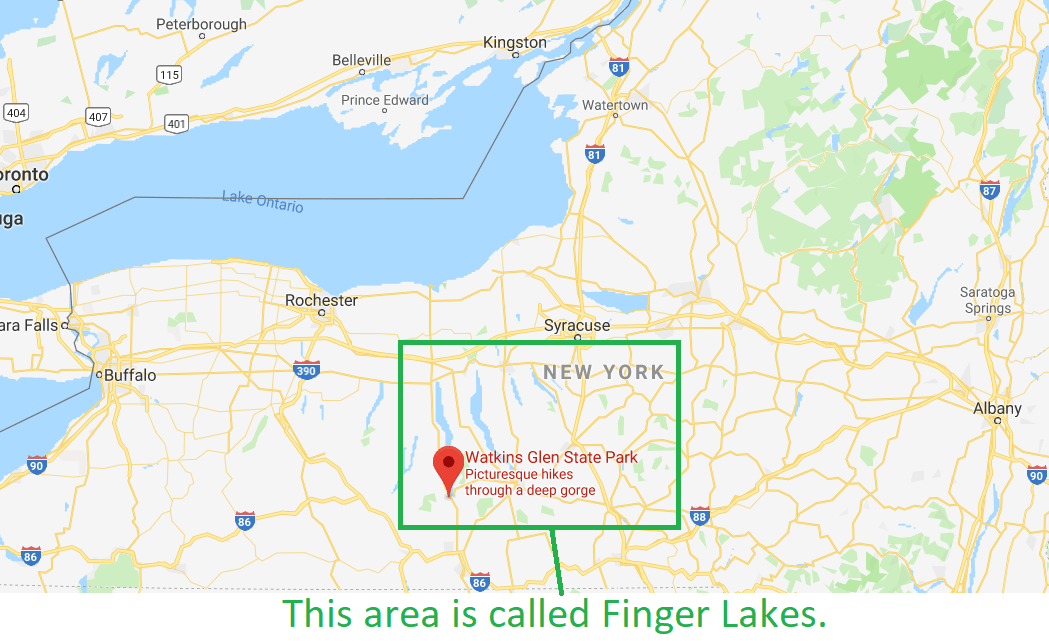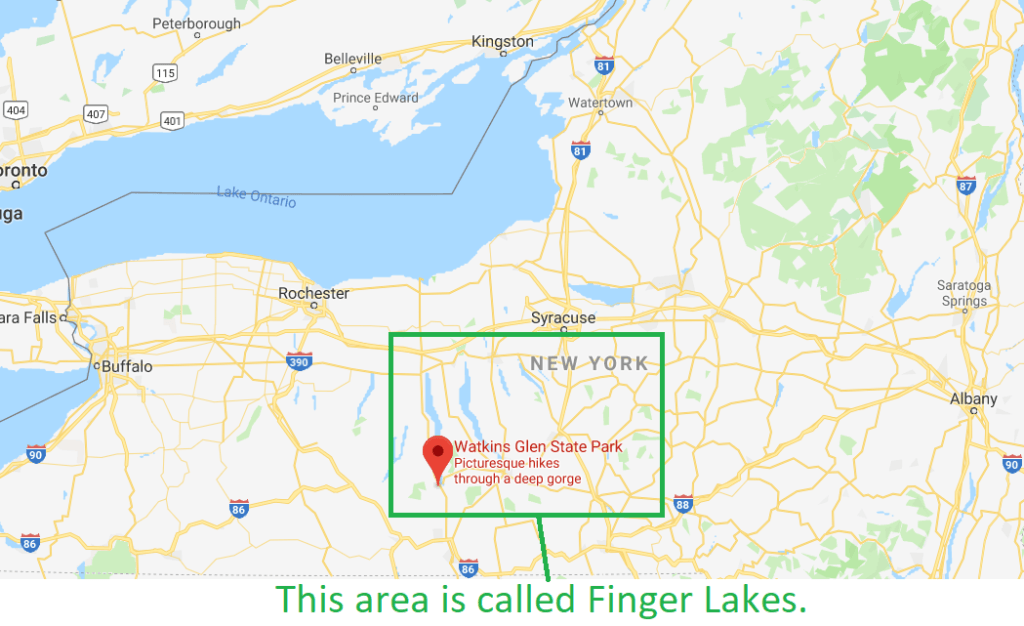 And here is the Google location to input into your GPS:
The great news for us was that because we were coming up from the south west area of the Blue Ridge Mountains, our trip took us right into the south west corner of Finger Lakes, where Watkins Glen State Park is, as you can see on the map.
As I said before, it is in New York State and if you live in NYC like I do, and want to plan a trip there, expect at least a 5 hour drive and plan to stay there for at least 1 night.
Other info on Watkins Glen State Park: The trail.
For those wondering, the park is actually free to get into, which is surprising considering how beautiful it is, but we didn't protest.
There is a public parking area right outside of it, and once you're there, the walk to start the trail takes about 5 minutes.
From there, you will climb a lot of steps and pass through walkways that take you into the trail itself. In case you don't know, this whole location is just one long gorge and the path which was made for people to walk through is easy to navigate. The only problem you may have is with all the steps that are there, so if you have knee problem or injuries, I wouldn't recommend it.
The entire trail is a little under 2 kilometers long but the good news is that the most scenic spots of it are in the first kilometer of the trail. Here's one of the scenic areas along the first kilometer of this spot:
If you have kids or pets, I wouldn't say it's dangerous there, but just make sure you stay on the path that was made. As you can see from the photo above, it's really huge and easy to walk on, but again, you will have a lot of steps to climb in certain spots.
One of the most scenic areas though is the spot I first showed you at start of this article, where there is literally a waterfall over a walkway where people can cross. I made sure to use that opportunity to film myself there, and here is one of my favorite photos from that location: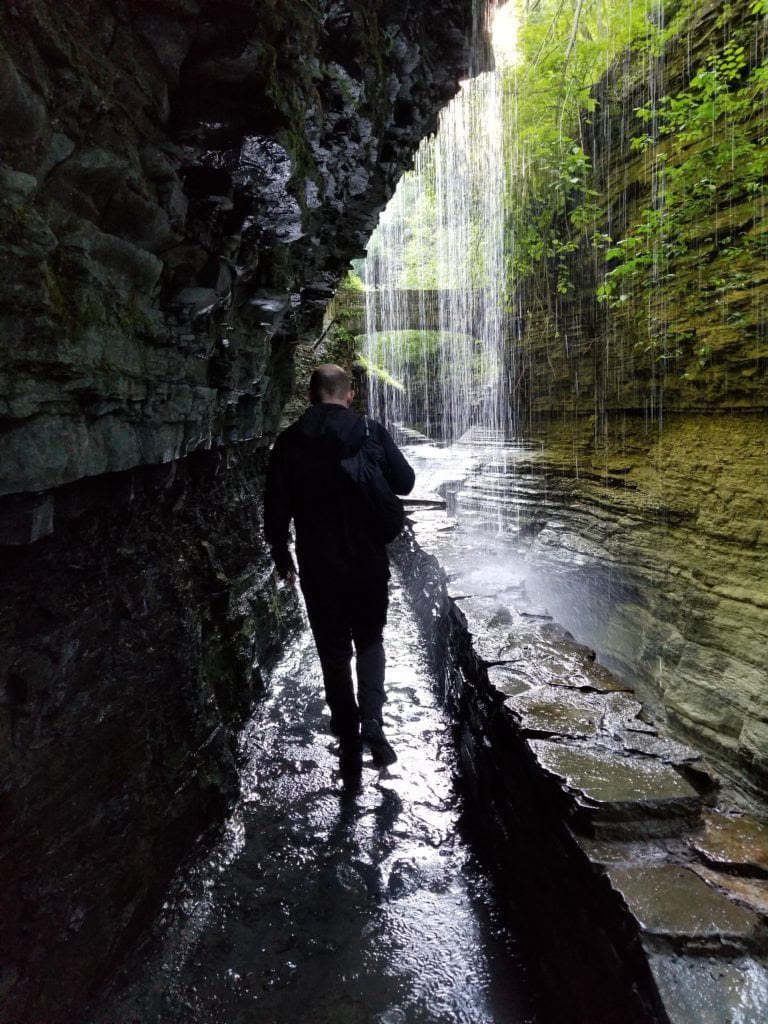 If you carry any expensive, electronic equipment, I would make sure you keep it enclosed in this area, because it will get wet. But this type of scene happens YEAR round at this location. No you may wonder…
When is the best time to visit Watkins Glen State Park?
Well, considering I was there in the middle of summer and everything was as green as you can see in these photos, I'd say this time is very beautiful, but I would not doubt that when fall hits and the colors of autumn surround Finger Lakes (which is around mid October there), that this location is also worth seeing then.
Accommodations near this spot…
So Watkins Glen State Park is literally in the middle of a pretty beautiful county called Schuyler County which holds many accommodations such as hotels, other scenic spots and trails to check out, including a gigantic lake called Seneca Lake (which will be covered in a future article about spots to visit in Finger Lakes), nice restaurants, including one Thai location we checked out after we finished with the trail in this location, and many other areas.
The good news is that Watkins Glen State Park is literally just a tiny area of the larger Finger Lakes location that you can enjoy for days and even weeks, especially if you're into nature.
Here's one more epic photo of Watkins Glen before we conclude:
In case you just like to see nature photos without people there, this is one of those for you 🙂
I hope this article has helped you plan a trip to this location, because it is VERY much recommended.
It's not a tough hike around this area, but even so, there's plenty more to do around the park anyway, so families, nature enthusiasts and others will find plenty accommodating things around this place and Finger Lakes in general.
And if you have visited this spectacular location before, or have more questions about it, please let me know!
Additionally, if you wish to explore more awesome looking areas like this in NY state, read this!