I recently returned home from a 10 day road trip to the Minnesota Coast. However, being that I drove the entire trip(and started in NY), my first day had me exploring much of the Finger Lakes region and in this post, I'd like to share 9 things to do if you go there too (and only have one day to explore it).
If someone were to ask me what nature places I recommend exploring in the New York State area, Finger Lakes would likely be in my top 3 spots, if not number one, not just because there's so much to see and do there, but also because the beauty you'll find in this region of the state is so unbelievable, and the pictures I'll show you of what Ib saw when I was there for one day will prove that.
Here are the 9 things to do at Finger Lakes NY (in one day):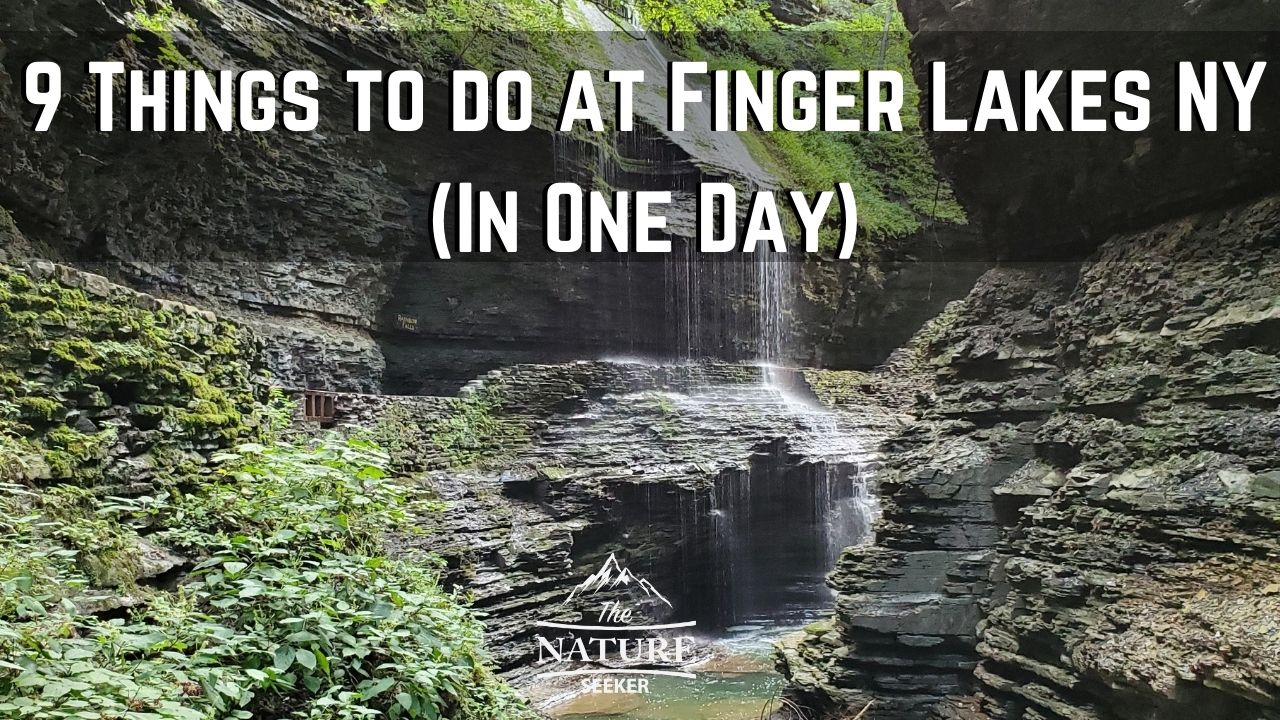 Explore Wells Falls.
Check out Ithaca Falls.
Explore Robert H. Treman State Park.
Hike through Buttermilk State Park.
Make a quick stop at Montour and look at Shequaga falls.
Check out Taughannock Falls.
Make a quick stop at Hector Falls.
Enjoy Seneca Lake.
Finish up with exploring Watkins Glenn State Park.
You can literally explore all of these places in one day at Finger Lakes and while the entire region has much more to offer, let me tell you, these spots will definitely make your day feel complete. It certainly did for me.
Quick background on my one day trip to Finger Lakes (and map):
I had been wanting to explore the North Shore of Minnesota for about a year and very recently, that dream became a reality. I was going to meet my friend who lives in Minnesota halfway (in Michigan). He would fly in and I would drive there, and we would continue the trip from there.
However, reaching the specific part of Michigan I needed to get to (Traverse City) would involve having to drive about 900 miles from New York City, and I decided to begin my trip there a day early.
This wouldn't just give me more time to get there, but also extra time to explore places along the way I'd been wanting to for a long time, namely Finger Lakes. I had explored a little bit of this area a few years ago when the same friend and I took a trip through the Appalachian region, but back then, we only explored a few areas before continuing.
In this case however, I decided to add more spots to my day trip to Finger Lakes and being that I like to travel, hike and explore spots quickly, I could probably make it happen. And so that is how my tale begins.
1) Wells Falls (the first stop in Finger Lakes NY):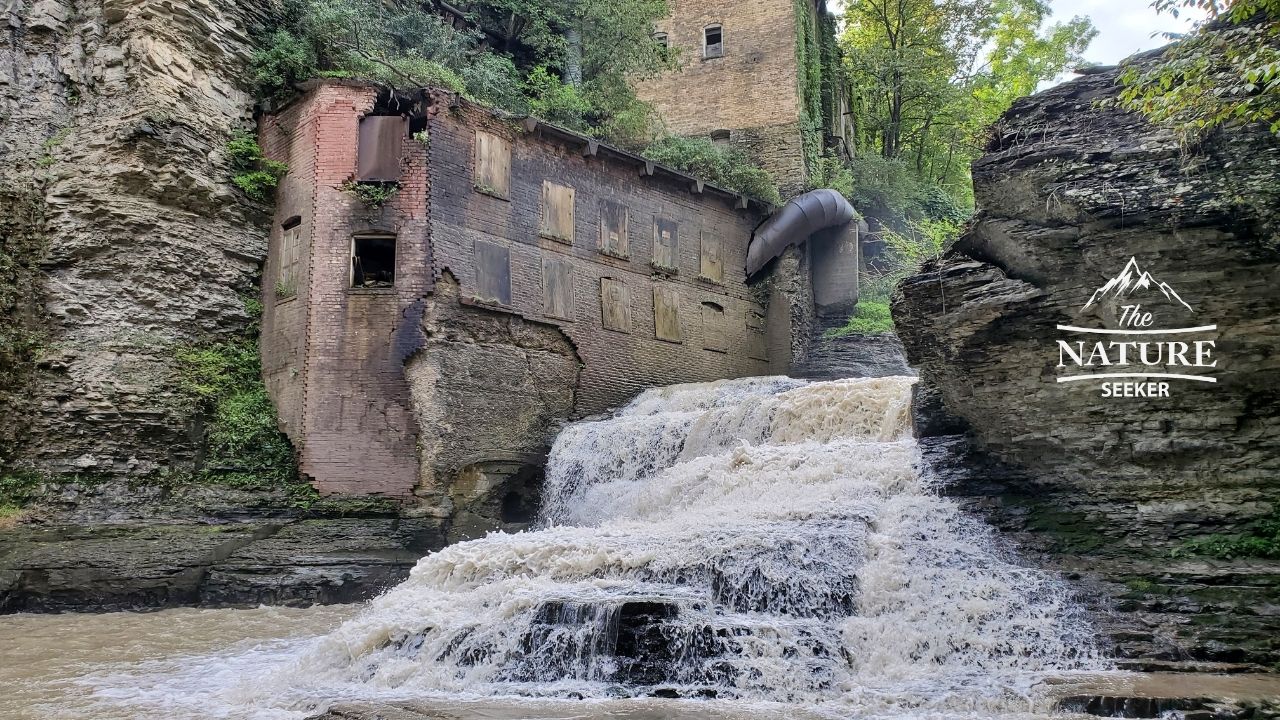 I left NYC around 5 a.m and got to Wells Falls in Finger Lakes around 9 a.m. Parking was difficult to find, but after doing so, I took a nice, short hike down to the falls. Wells Falls is one of the coolest spots I'd been wanting to see in Finger Lakes for a long time. It's an old dam, and abandoned building near a gorge with a waterfall. A hike is available for people to go to the base of the falls there and get a nice view of it.
This area is in Ithaca, NY, which is one of the most popular spots in all of Finger Lakes. The hike can be a little steep, but it's about a quarter mile from the road to reach the base and in my opinion totally worth it.
In fact, seeing Wells Falls set the bar pretty high for what else I had on my list of things to see that day in Finger Lakes. Speaking of which, here's a list of the best Finger Lakes waterfalls you may want to also check out.
2) Ithaca Falls (a must see in Finger Lakes):
Ithaca Falls is located very close to the road and a college campus in Ithaca, NY. It is a gigantic waterfall that is easy to walk to and while I've seen pictures of this area many times online, when you're actually there and see how gigantic this waterfall is, the experience is completely different (and much better).
If you're visiting Finger Lakes, I highly recommend you make a quick stop at Ithaca Falls if you have the time. For me, I was only in this spot for 15 minutes, but that 15 minutes was unforgettable considering how amazing this falls is. And the thing about it is that this is falls is one of many others in the region that are just as grand. This gives you an idea of how amazing Finger Lakes is.
3) Robert H. Treman State Park: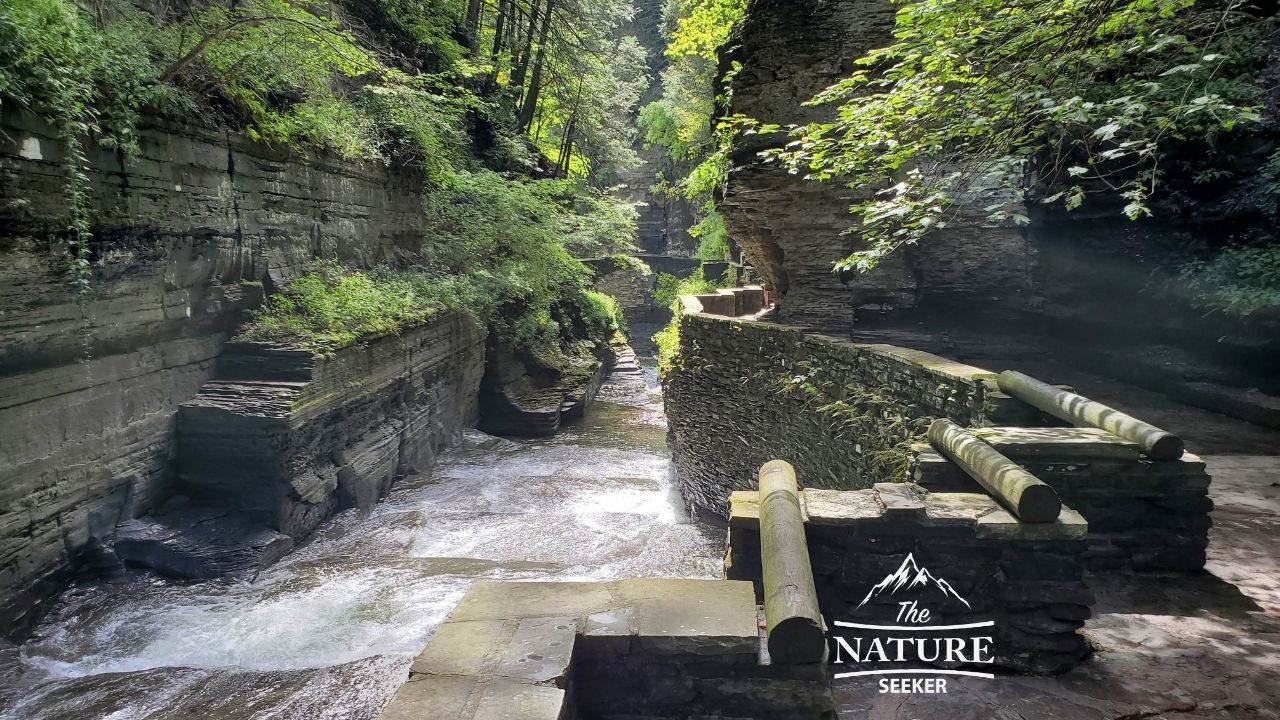 I saved many pictures I found on Instagram of Robert Treman State Park and today was the day I would finally explore this park and see for myself if the pictures truly matched the beauty (they did). Robert H. Treman State Park is located not far from Ithaca, NY and is highly recommended to visit.
There is a short hike that takes you upriver of this park and along the way, especially towards the northern end of it, you will find truly stunning sights, including giant waterfalls, epic gorges, and a "carved out" region of the park whose beauty I simply cannot put into words.
I just included a picture for your own reference, but as good as that is, when you're actually there and see this park for yourself, you will be stunned at how amazing it is. I did the hike at Robert H. Treman State Park in 2 hours and jogged about 6-7 miles in the process, but that quickness gave me the time to further explore more places in Finger Lakes and so let us continue:
4) Explore Buttermilk Falls State Park: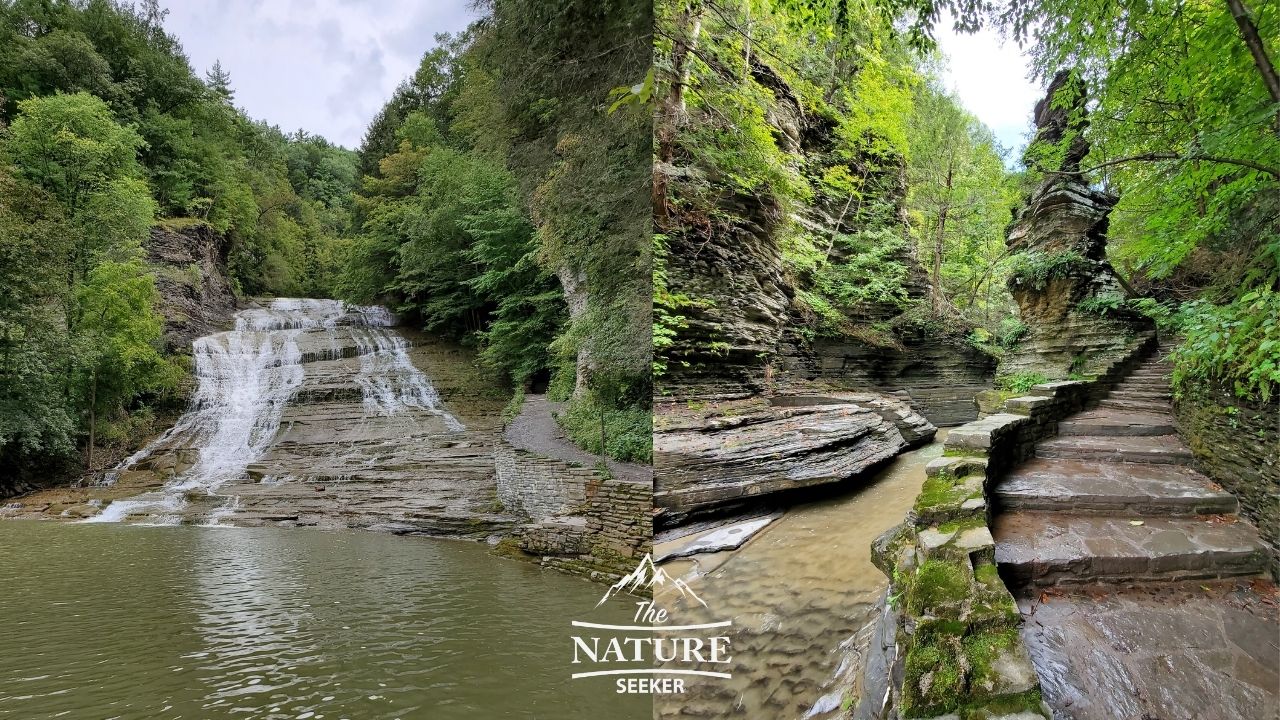 In hindsight, I should have checked out Buttermilk Falls State Park before Robert H. Treman, and if it weren't for a random stranger suggesting it to me in the parking lot of Robert H. Treman State Park, I might have never explored this area (thank you!). But this park is about 10 minutes away from the Robert H. Treman park area and I can't believe I'm saying this, but I think it's actually better looking than Robert H. Treman.
There are many things about this park that look similar to Watkins Glen, which to me is the top spot to explore in Finger Lakes (Which I saved for last for a reason), and there is a 4 mile loop hike you can do around the park. I only did about 2 miles there, but there are sections of this park that are better looking than others.
In my opinion, the gorge walk is the most important, and scenic hike/walk you will do in Buttermilk Falls State Park. You are going to see amazingly beautiful gorges, tons of waterfalls, including the big one Buttermilk Falls itself which is a cascading waterfall that is several 100's of feet long. I am truly glad I got the tip to explore this park, because it was truly worth it!
5) Visit the town of Montour and look at Shequaga falls:
This was an unexpected surprise one my day trip to Finger Lakes. After checking out the spots in Ithaca, I was making my way west to Seneca Lake where the other spots on this list are and the way my GPS took me, it had me driving through the town of Montour.
In that town, there is a famous waterfall called Shequaga Falls which you can see from a distance, drive up to and walk to as well. At night time, this waterfall gets lit up with many different colors. It's a beautiful waterfall as it the town where there's a bunch of things you can do including restaurant hopping.
6) Explore Taughannock Falls:
One of the first places I explored on my first visit to Finger Lakes was Taughannock Falls and it is one of the most popular spots people visit in the region. The good news is that you have several ways of exploring it, including from the area you see in the picture to the right, all the way to a hike that'll get you close to it.
I didn't get a chance to re explore this place the second time I came here, because I had to go eat instead and continue my day trip, but this is an easy stop you can make along the way on your day trip to Finger Lakes (and see nearby spots there too).
7) Hector Falls: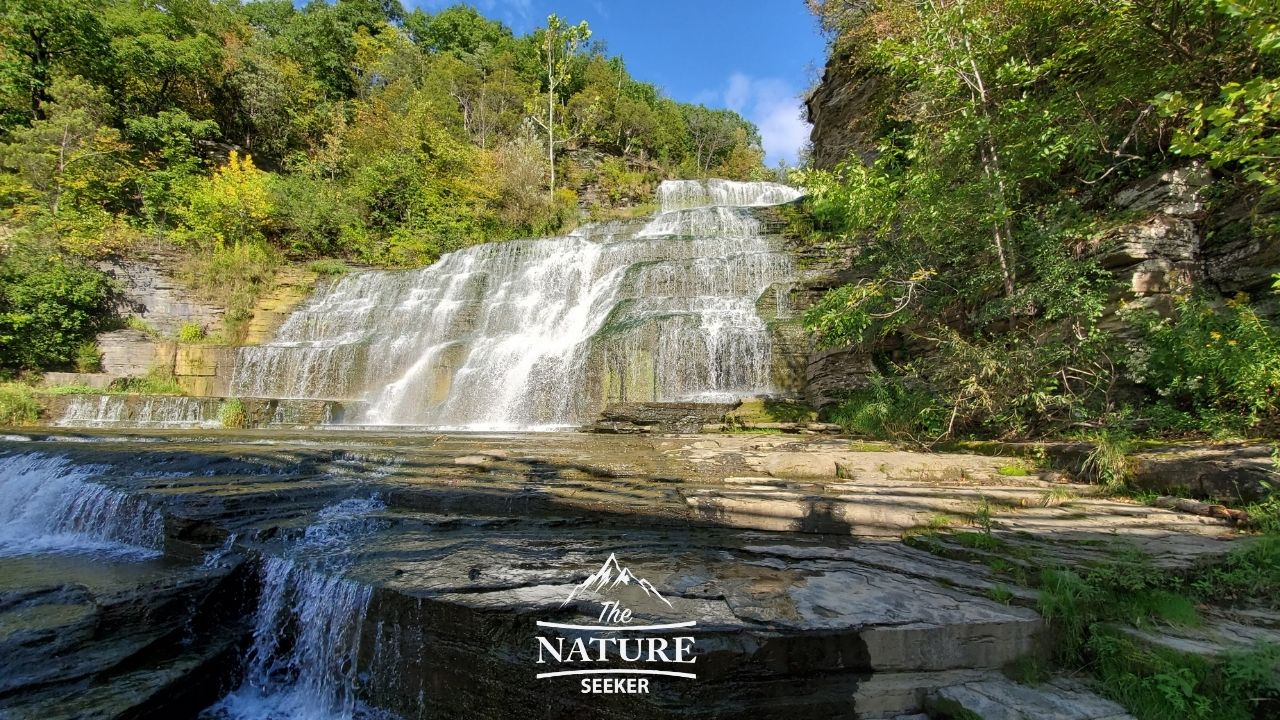 Hector Falls is another cascading waterfall worth exploring for a brief period in Finger Lakes. It's literally off the road and in my case, I stopped here on my day trip before I had to go eat at a restaurant.
Luckily, the parking lot was empty and I had the whole falls to myself when I came here. It's still amazing to me how easily accessible this waterfall is compared to other spots in Finger Lakes which require some sort of drive or entrance fee.
8) Seneca Lake:
As you make your way south from Hector Falls, you'll turn into the town of Seneca itself and have an amazing view/stop at Seneca Lake itself which I recommend taking. If you're into boating, kayaking or doing any sort of water activity, you can rent them there.
But this lake is worth taking a gander at because it is grand, and probably the same size as Lake George. And in my opinion, Seneca Lake looks a lot better than Lake George.
Anyway, from the southern end of this park (by the town of Seneca), there is a park available for tourists to explore with a beach and great scenic view of the lake from there. You can even take a drive around it if you have the time (but it will take you well over an hour). If you do decide to do that, make sure you have at least half a day prepared for the trip, because you will have many beautiful places to stop at around this lake.
9) Watkins Glen State Park (save the best for last):
The last visit on my list was Watkins Glen State Park and despite the fact that I saw incredibly scenic spots all day at Finger Lakes, Watkins Glen is in a league of it's own and I'm glad I saved it for last and recommend you do the same because it's one of the best state parks in New York.
This was my second visit to the park and I quickly re explored the massive gorge and it's beauty. There were many people there when I arrived (no surprise), but I managed to make my way up the park quickly, get all the videos and pictures I wanted, as well as the experience of the hike itself, before making my way down.
If there is only 1 place you can visit in Finger Lakes NY, then my recommendation would be Watkins Glen without question. And furthermore, there's even a campground close to this park too! See the best camping spots in Finger Lakes here. I also recommend visiting Watkins Glen during fall (it's on my top list of places to see for fall foliage in New York).
Questions about Finger Lakes NY that often come up:
Which of the Finger Lakes is the nicest?
Seneca Lake is typically the most popular of the Finger Lakes and offers access to many popular parks like Watkins Glen and Taughannock Falls, but every other one in this region is worth exploring too.
Are the Finger Lakes worth visiting?
Yes, Finger Lakes is in my opinion one of the most beautiful areas in New York State to explore for numerous reasons.
What is special about the Finger Lakes?
There are many things that make Finger Lakes special. They include the vineyards, beautiful waterfalls, incredible hikes, the famous Watkins Glen Park and overall this area is an incredible place to check out if you're looking for views and adventures.
What is the best time to visit the Finger Lakes?
The top seasons to visit Finger Lakes are Spring through Fall as you will get access to all the top places there and see the autumn colors. Winter time is also beautiful here, but a lot of areas are closed off.
How many days do you need in the Finger Lakes?
You can do a lot even in one day in Finger Lakes like I did, but for most people a weekend trip or even a week long trip is enough to explore this place.
Believe it or not, my day trip to Finger Lakes didn't end there:
Considering I still had to go west to Michigan, I had enough time to make a stop at Letchworth State Park and managed to check out most of it before sunset. I then continued driving to Erie, PA before finally calling it a night.
And that was just day 1 of my epic road trip. I'll be making a more comprehensive post outlining each day's spots I explored. But overall, I was very satisfied with my one day trip at Finger Lakes NY and I hope that reading this post also inspires you to go there too. It is truly a remarkable spot that you have to see to believe.