I visited this place for the first time in early September of this year and have to say, it was one of the shortest, but also one of the best adventures I've ever had. While there are many things you can do at Letchworth State Park, I want to focus on 9 particular activities that will give you the best experience possible.
Here are the 9 adventurous things to do in Letchworth State Park: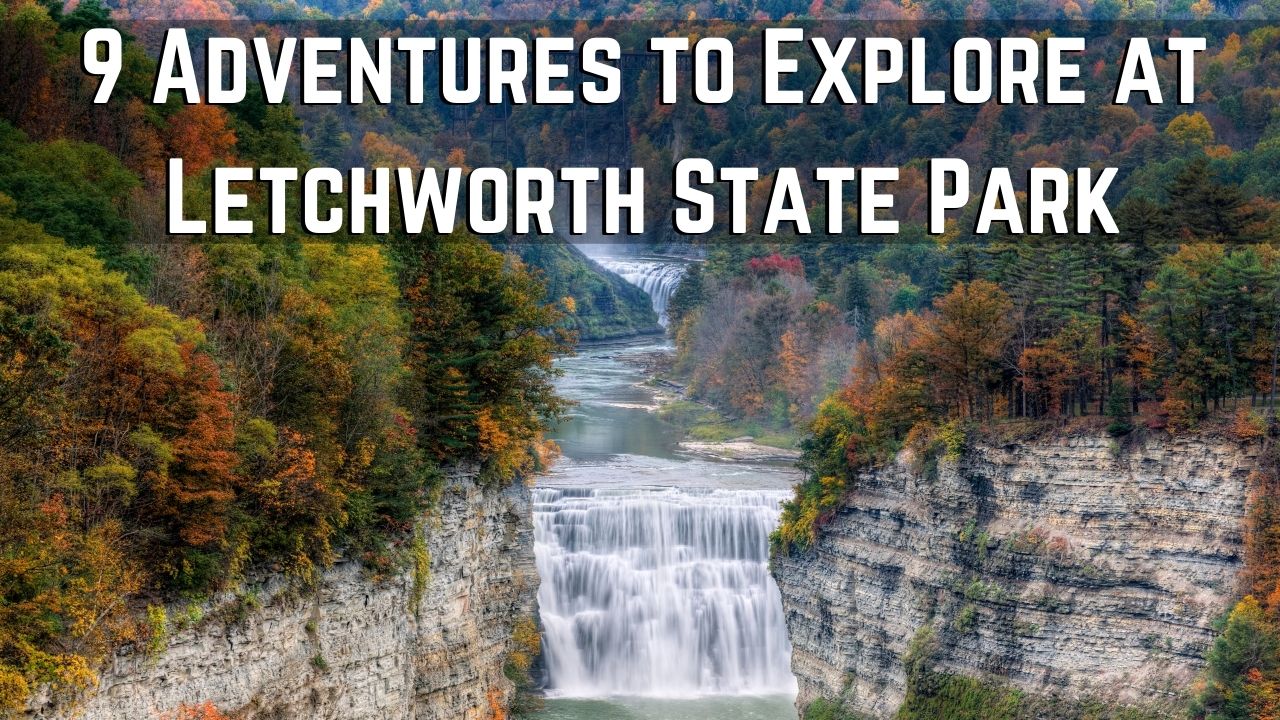 Start by visiting the Genesse Arch Bridge.
Then check out Upper falls.
Check out the picnic area by upper falls.
Explore Middle Falls.
Check out Inspiration Point in Letchworth State Park.
Eat at the Glen Iris Inn.
Hike the main trail parallel to Upper and Middle Falls.
Check out Mt. Morris Dam.
Stay at Letchworth State Campground.
This list of things to do at Letchworth State Park is organized in consecutive order.
5 things which make Letchworth State Park unlike any other park in New York:
1) The park is easy to navigate through and you can get the above activities (and more) done in order without getting lost.
2) This park is easy to hike through in most areas regardless of what physical level you're at. You can also hike parallel to the main 2 waterfalls (Upper and Middle Falls).
3) If you just want to enjoy a day of relaxation, this park is absolutely perfect for that as there are fields and places to rest at (and enjoy the views).
4) I found this to be one of the most serene parks I've ever been to. Even at night, it was a remarkable place to behold.
5) This is also one of the most well taken care of parks I've ever seen. Everything is well organized and clean.
Here is a map of the 9 things to do in Letchworth State Park: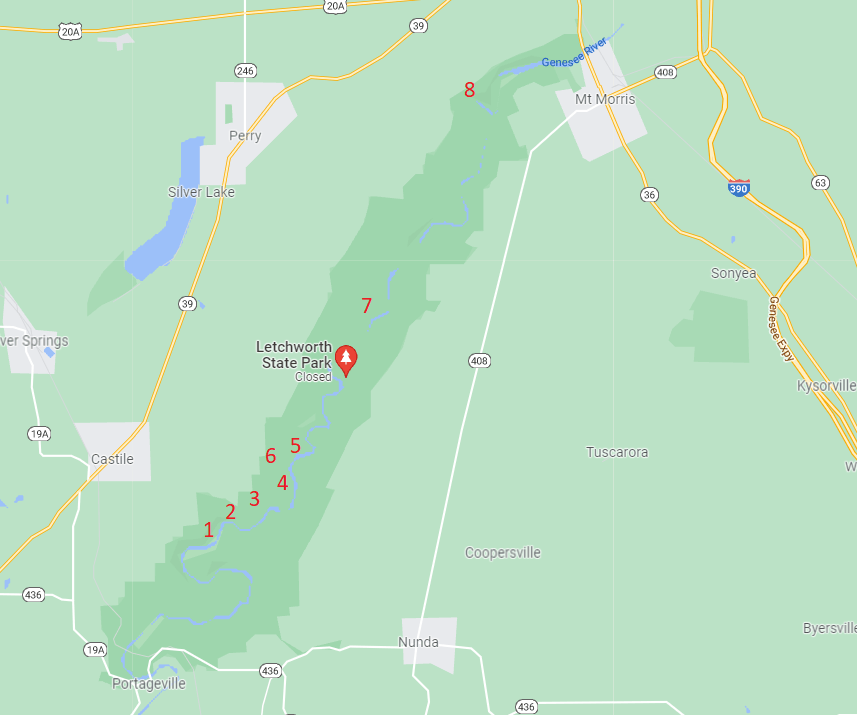 I'll be showing you details on each of these 8 things shortly, but before I do, I want to share something with you which is:
Why my visit to Letchworth State Park was so short:
The "day" I went to Letchworth State Park was actually closer to dusk.
I had just finished doing a near full day of hiking and exploring at Finger Lakes, which ended up in about 13 miles of hiking through 3 different parks.
Though I was pretty tired, I promised myself that on this day, I would absolutely explore Letchworth State Park no matter how little time I had left, because for years I had been wanting to do just that, and this particular day was the only opportunity I would have to do that.
If you're wondering why this was all done in a day, the answer is that on this day, the series of events I did were part of an even greater road trip I set out to complete, which actually had me traveling all the way to Minnesota's North Shore coast, and also crossing other beautiful areas like the Upper Peninsula of Michigan.
There was only 1 day I had to explore Letchworth State Park as well as the Finger Lakes area and this was it.
And afterwards, I would have to make my way as far west as possible to save time on the next day's trip, as I had to arrive in a certain city in Michigan by nightfall.
My first impressions of Letchworth State Park (I was honestly stunned):
I had finished my exploration of Finger Lakes around 5 p.m. and with the remaining daylight rushed to Letchworth. I arrived around 6:30 p.m with a little over an hour of daylight to spare.
To be honest, I was already floored by the beauty in Finger Lakes that I figured there was no way Letchworth could top it, but this park had many amazing surprises in store for me which honestly made it the best stop for me on that day (and that's something that's hard to do).
I arrived at the southern end of the park and made my way around as many areas on the above list as I could. I was actually surprised at how few people I saw there, and the scenery in this was place was just stunning.
Even though I had spent about 1-2 hours there, I felt like I got a buffet of satisfaction by finishing my day in this beautiful park and I will definitely be going back the next chance I get. But until then, I will remain nostalgic about what I saw there, and that brings me to the 8 things I recommend you do if you go there:
1) Visit Genesse Arch Bridge:
If you arrive to Letchworth State Park from the southern end, this will be the first main stop you'll see.
There's a parking lot available right by the bridge.
You will get a nice overview of the park, the bridge itself (which is active) and the Genesse River.
You can then elect to hike down parallel to the river to get to the next stops in this park, or you can just take the car to the next destination, which is Upper Falls (only 5 minutes away).
I chose the latter due to time constraints.
2) Check out Upper Falls: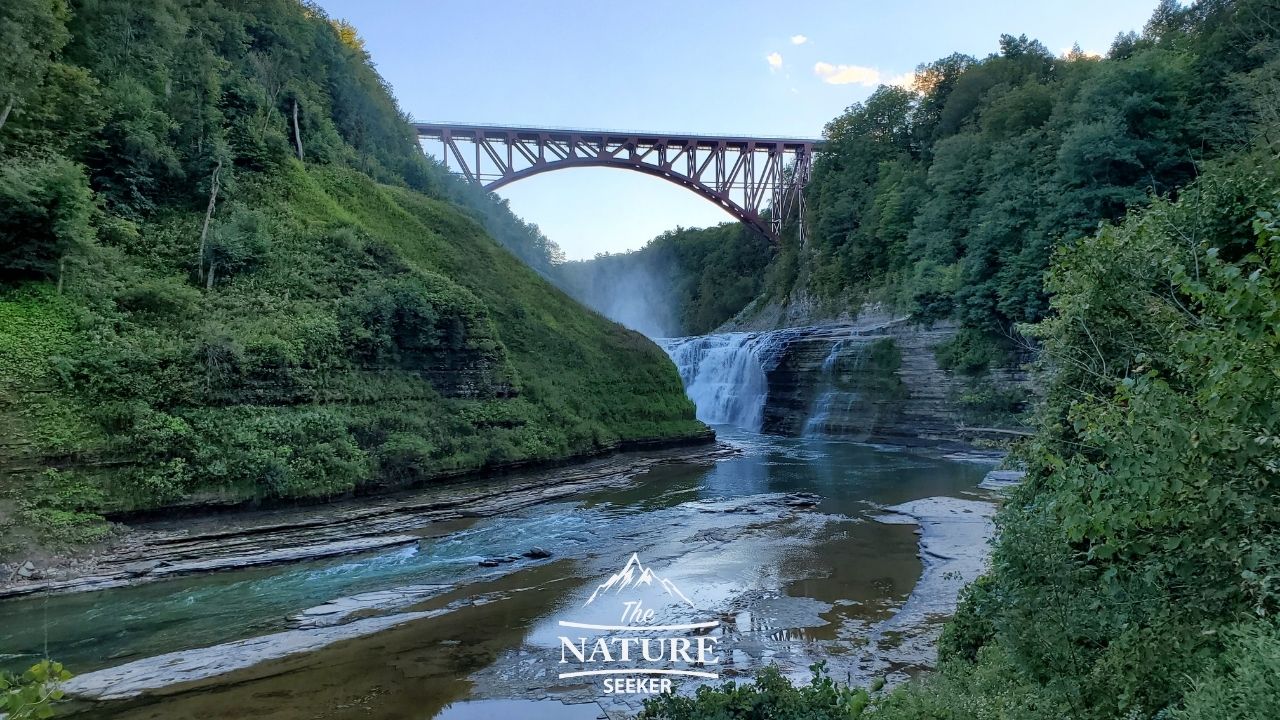 Upper Falls is one of the 2 main waterfalls in Letchworth State Park and it is a gorgeous one!
Just so you know, getting to the base of the actual falls is difficult, dangerous and not allowed (even though it looks easy), but there are plenty of viewing areas nearby which will get you pretty close to it (that's where I took the following picture from).
Specifically, there is a very large parking lot nearby that I stopped at to get the picture you see above.
You can also get a great view of the Genesse Arch Bridge from there as well.
3) Visit the picnic area by Upper Falls: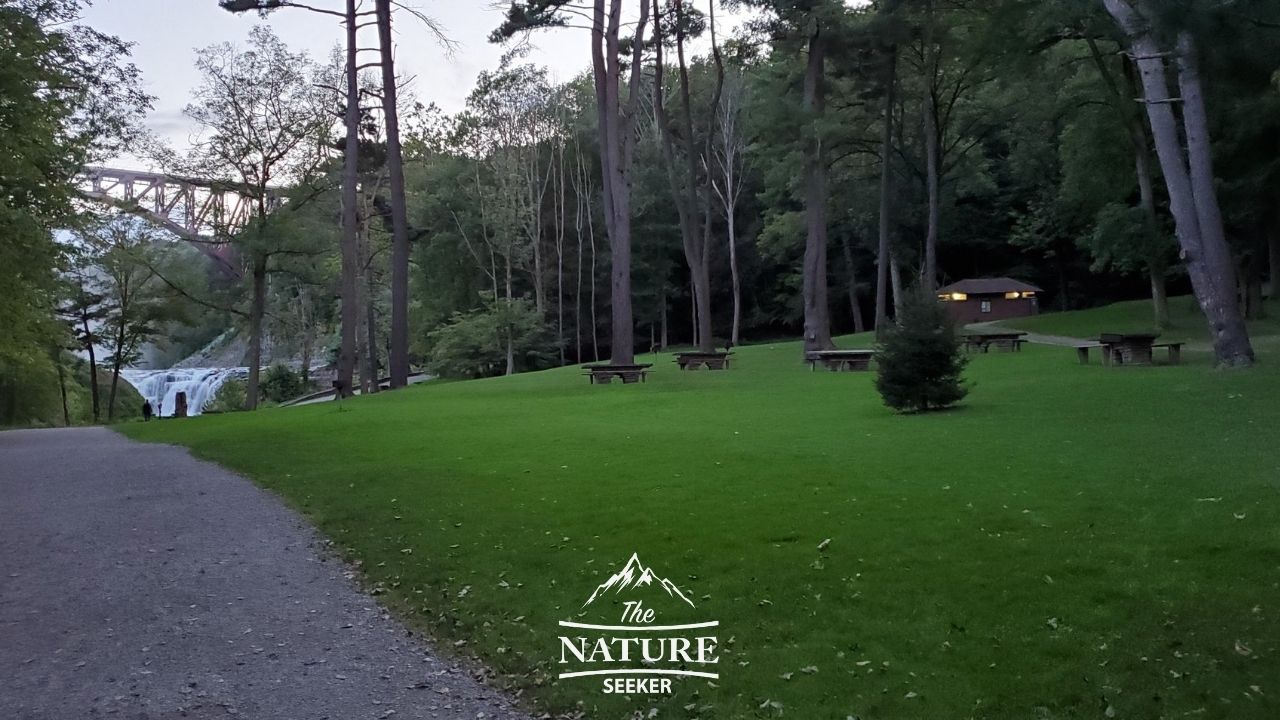 I'm rarely the type of person who will sit in one place long and enjoy the view, serenity and all that, but the picnic area by Upper Falls really floored me.
It was nearly empty when I was there, but the neatness of the grass, the scenery, and the tranquil vibes in this area really made me appreciate this park even more.
What's even cooler is that like I said, I had arrived to this park around dusk and there are several light posts that make this picnic area even more beautiful at night.
There wasn't even a single bug there!
4) Check out Middle Falls: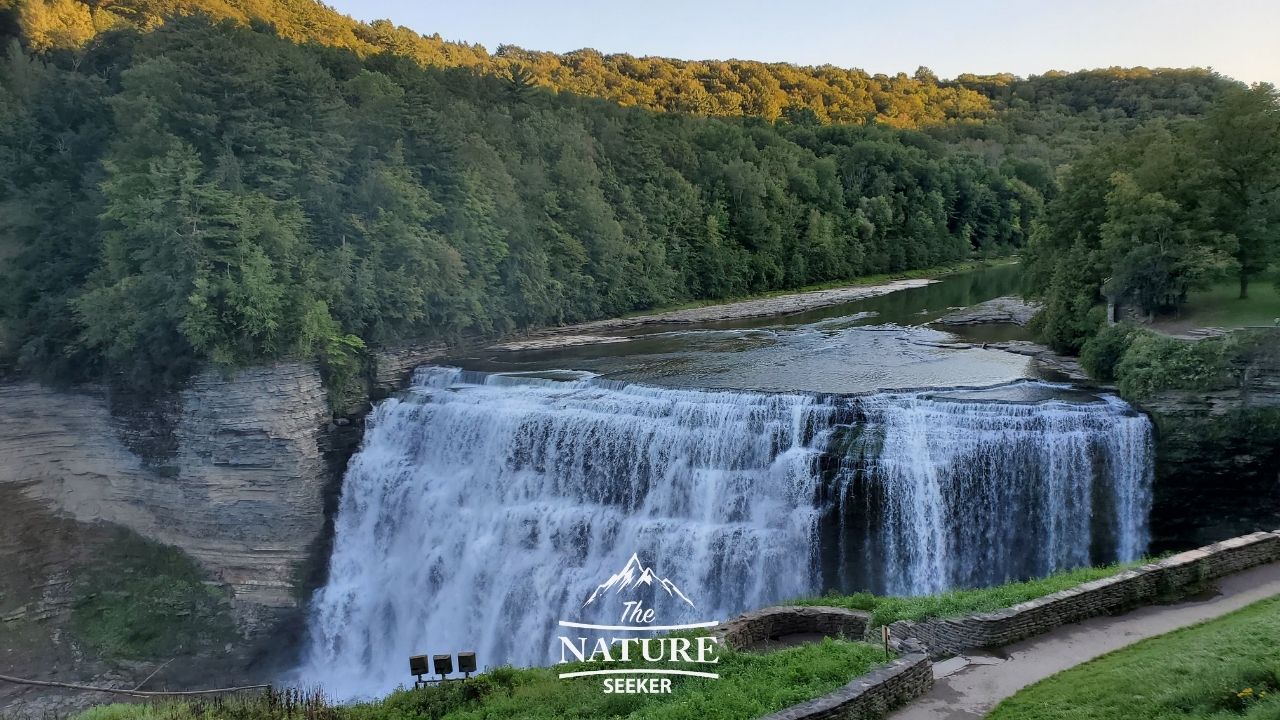 After you check out the Upper Falls area, next up (north) is Middle Falls and it is a truly grand waterfall.
You can also get close to it, but there are limits to that as well.
Never the less, you can get some pretty nice views of this waterfall from multiple angles, at least 3 by my count, even though there's probably more options available.
Not only that, but it is by a gigantic gorge area you can also enjoy checking out (and hiking deeper into if you wish).
To date, I'd say Middle Falls (and Upper Falls) are some of the largest waterfalls in New York State that I've ever seen. It's also very beautiful!
5) Check out Inspiration Point: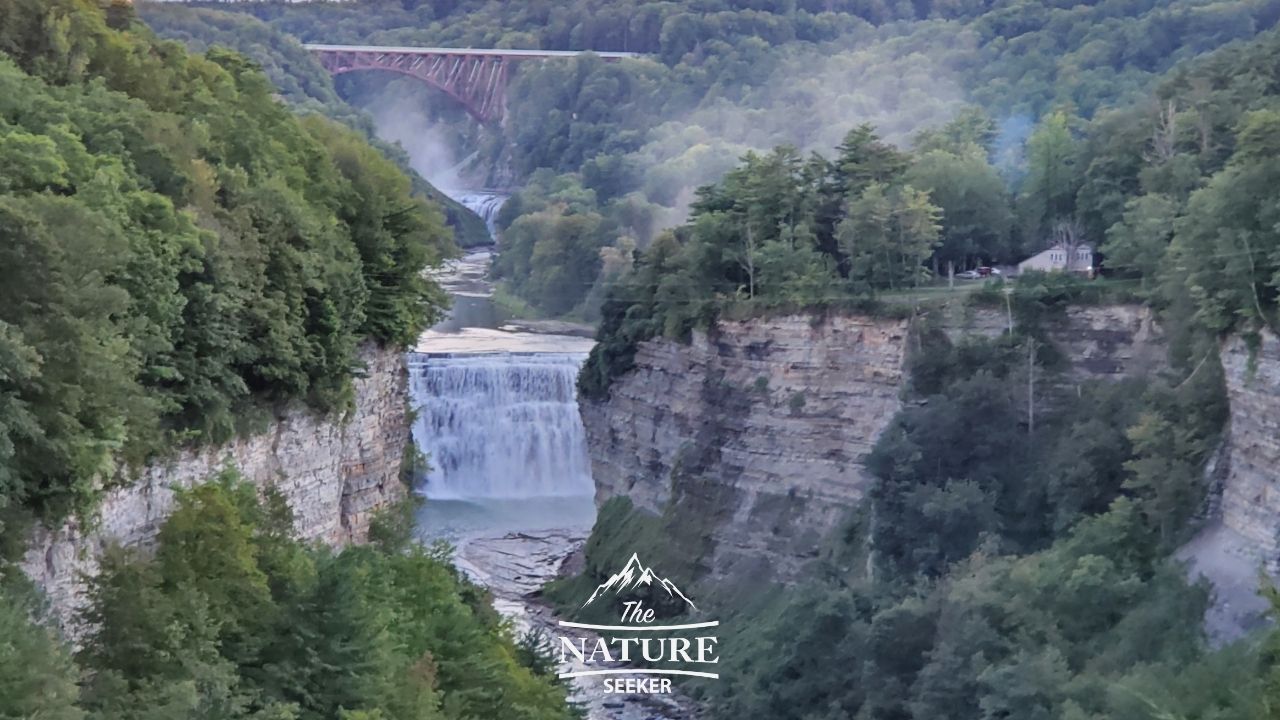 Inspiration Point is slightly north of Middle Falls and from it you can get a pretty decent view of Middle and Upper Falls in Letchworth.
However, this view isn't the iconic one you might see in other pictures and I was told there is a way to get a closer view of both waterfalls, which I didn't have time to find.
In my case, I had to zoom my camera in to get the above shot.
Either way, Inspiration Point has more to offer than just the overlook to the waterfalls.
It also has a nice little pond nearby, a hiking trail to explore and a beautiful stone house in the parking lot, which I think is a bathroom, but either way, the scenery of the whole place is just stunning.
6) Eat (or stay the night) at the Glen Iris Inn: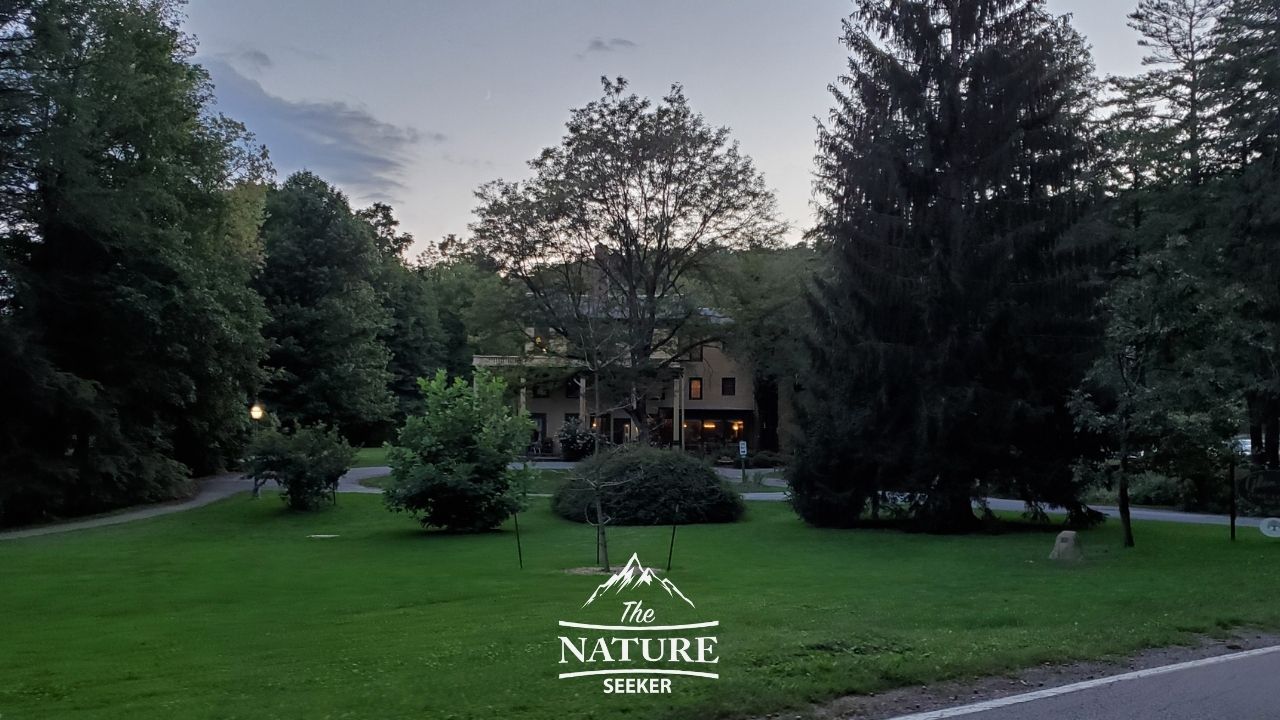 I was told by someone at the park that the Glen Iris Inn is where I can get a closer view of the waterfalls and so I went to go check it out.
The Inn is a bit south of Inspiration Point, but only by a few minutes.
I didn't get to check out the view I wanted and at best, I just got closer to Upper Falls than anything else (which isn't anything to complain about).
But overall, the inn itself is a place I recommend you check out, if not to stay the night, then to eat and just enjoy the outdoor setting available there.
It's very neat, clean and just a great place to stay at.
7) Try 2 of the following hikes in this park: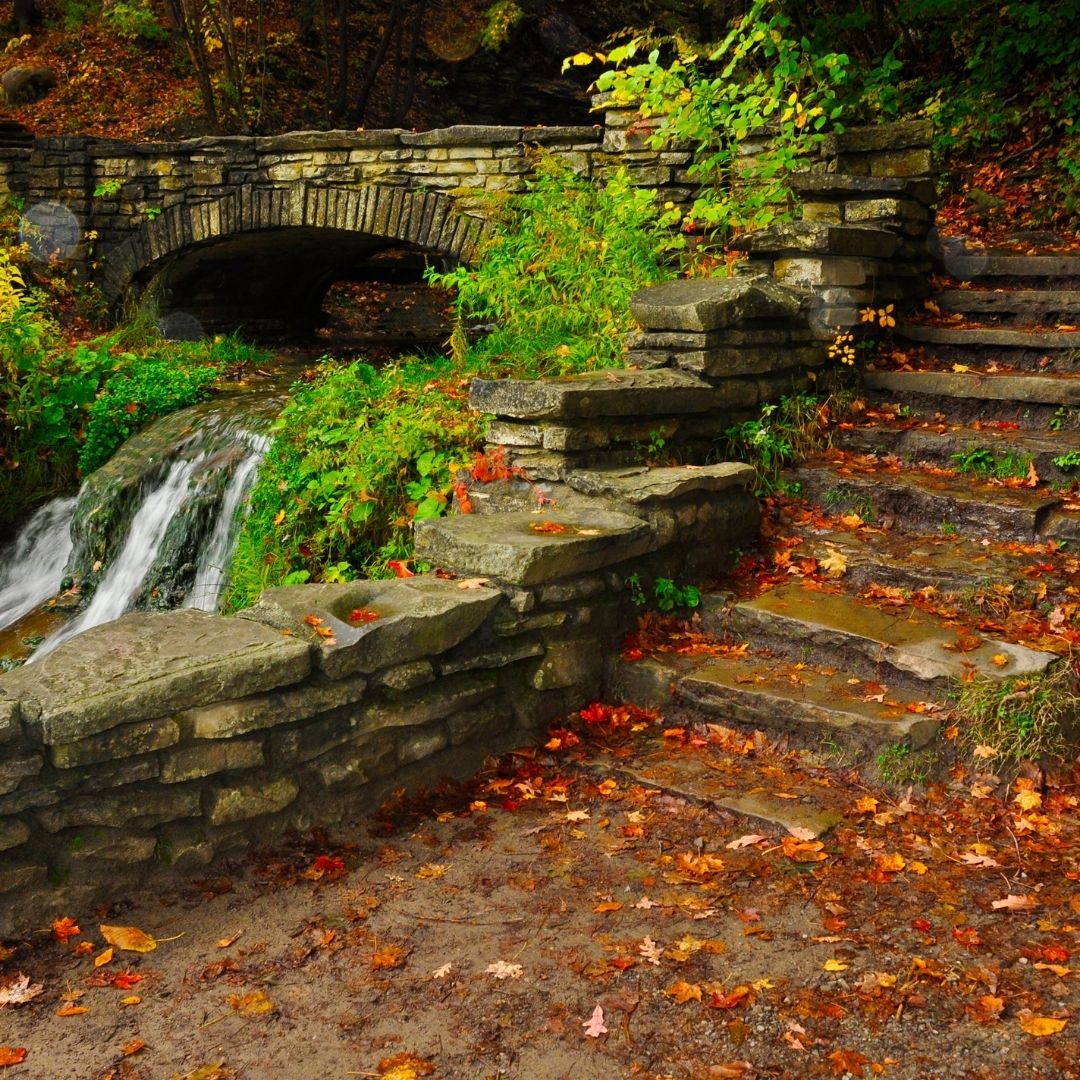 There's a number of trails you can take inside Letchworth State Park. Here is a list of the most popular ones:
1) The Letchworth State Park Gorge Trail: This trail is about 14 miles long (in and out) and basically has you start at the picnic area by Upper Falls and work your way north across the park.
You will basically be hiking at the top of the park at first (over the gorge) and parallel to the Genesse River (on the left side of it).
Then as you get further north into the trail, it will descend to the point where you can walk next to the river itself.
If you want to get as close as possible to the waterfalls in this park and then get a nice view of the river and little waterfalls further downstream, this is the trail I recommend you take.
2) Letchworth Finger Lakes Trail: This is a nearly 20 mile long trail (in and out) that basically has you walk all across the eastern side of Letchworth State Park, from the Genesse Arch Bridge (point A) all the way to Morris Dam (Point B) which happens to be the next place I recommend you check out on this list.
8) See Mt. Morris Dam: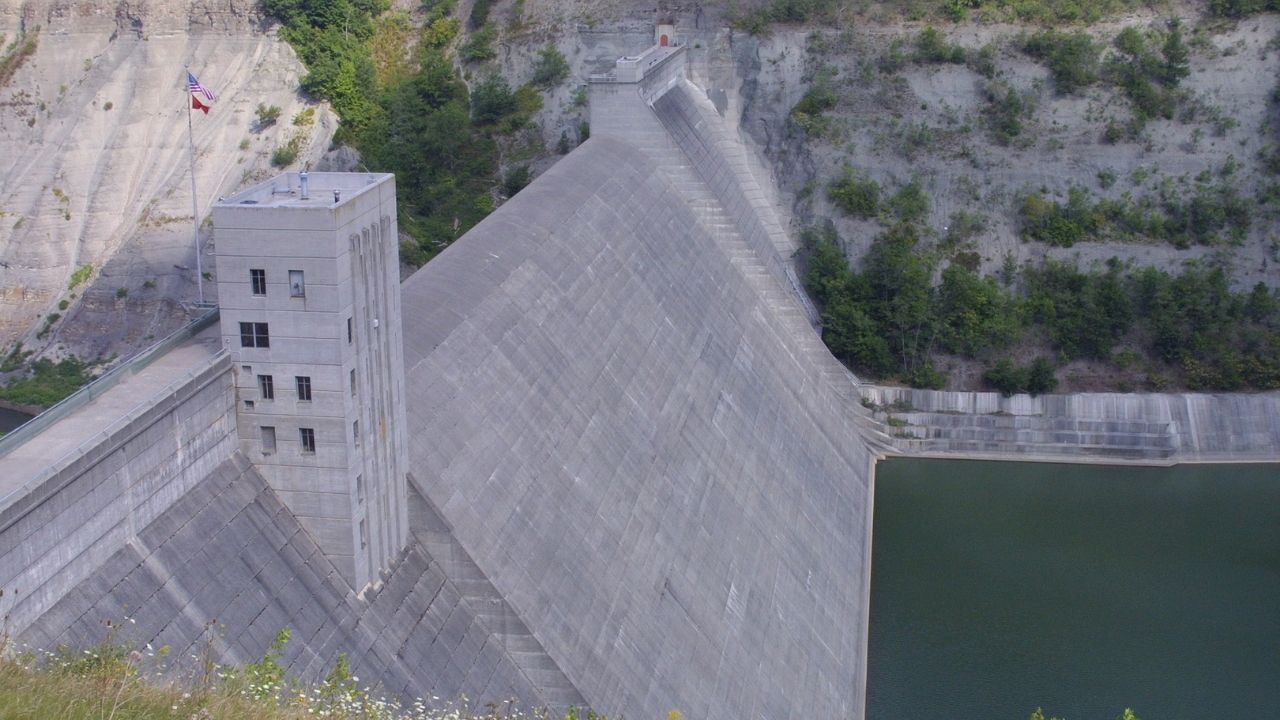 This area of Letchworth Park was one I didn't have time to explore and to be honest, I had no clue this giant dam even existed until recently.
But this is a dam that you will find in the northern most part of the park and you can either hike and/or drive right up to it.
In my case, I saw the single road that goes into Letchworth State Park going in that direction, but figured it probably continued to some picnic and camping areas (and it's true).
But as long as you stay on that single road and follow it, you will reach this dam and the ride should only take abou 10 minutes (if you start from Inspiration Point).
9) Stay at Letchworth State Campground: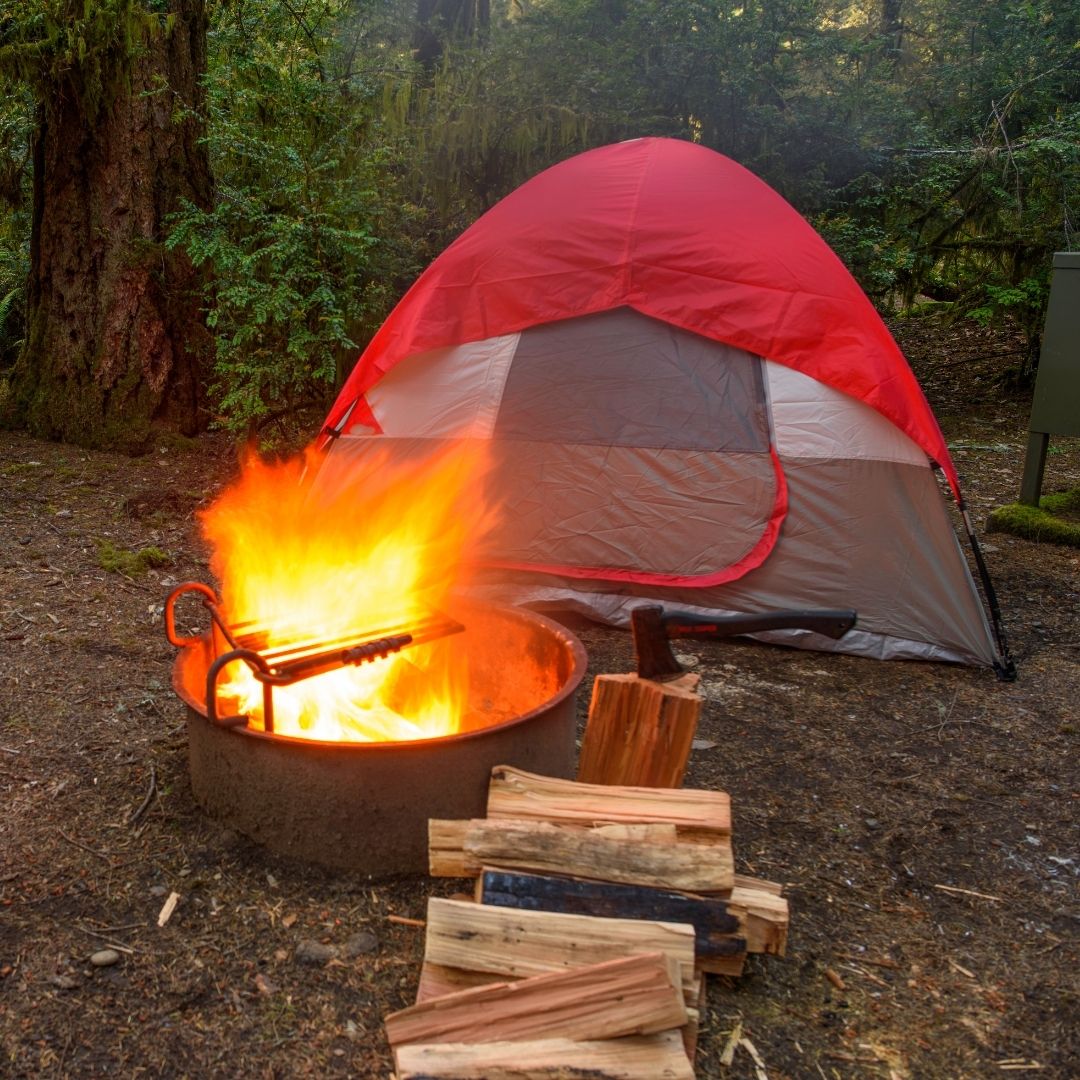 If camping is your thing, then the great news is that Letchworth State Park also has this available there.
The Letchworth State Campground is located slightly south of Morris Dam and does require prior reservations.
I've included a link so you can choose what days work for you.
This campground is also located very close to the Genesse River.
This park is very popular so make sure to plan ahead.
Also do note that there are cabins available in the park as well, and they too sell out quickly.
Other things to do in or outside Letchworth State Park:
1) Camping spots are available as are trails which take you closer to the river north of Upper Falls. Letchworth State Park has tons more to offer than what I just shared, but these 8 activities are very plentiful if you do them in a single day (or over a few days).
2) Either way, this park is (again) stunning and I am very glad I finally got my chance to explore it. Even though it was short, fulfilling is an accurate word to describe my experience there, but it is one I'll redo in the future, and this time, I'll make sure I start way earlier!
3) As for my next day's road trip, I ended up visiting Cayuhoga Valley National Park, and after that, many more adventures. However, despite all the beautiful things I saw (and trust me, there were many things), Letchworth State Park remained as one of my top experiences on that entire road trip.
4) If you wish to know all of my road trip's details, check out North Shore post here. Thanks for reading!