There are 10 specific things to do in Letchworth State Park that encapsulate the very best attractions and activities you'll find there and if you're reading this now as someone who has seen the many amazing photos of this place, trust me when I say that not only is it actually like that in reality, but by following this list you will also make sure you experience them too!
Here are the 10 best things to do in Letchworth State Park New York:
Start by visiting the Genesse Arch Bridge.
Then check out Upper falls.
Check out the picnic area by upper falls.
Explore Middle Falls.
Check out Inspiration Point in Letchworth State Park.
Stay at the Letchworth State Park hotel (Glen Iris Inn).
Hike the main trail parallel to Upper and Middle Falls.
Check out Mt. Morris Dam.
Stay at Letchworth State Campgrounds.
Hot air balloon rides.
This list of things to do at Letchworth State Park is organized in consecutive order.
5 reasons why Letchworth State Park unlike any other state park in NY: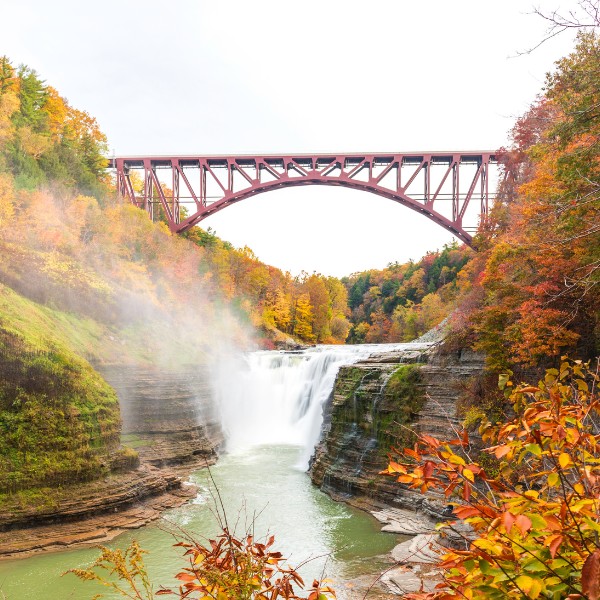 The park is easy to navigate through in order without getting lost.
This park is easy to hike through in most areas regardless of what physical level you're at.
If you just want to enjoy a day of relaxation, this park is absolutely perfect for that.
I found Letchworth State Park to be one of the most serene areas I've ever been to.
It's also one of the most well taken care of state parks in New York I've ever seen. Everything is well organized and clean.
1) Visit Genesse Arch Bridge:
Description:
Genesse Arch Bridge is the main train bridge you cross under when you enter this park and it's also one of the most photogenic from many different angles. It is an active train bridge so there will be times where you will see them cross it.
There's a parking lot available right by the bridge and if you stop there, you will get a nice overview of the park and the Genesse River. While I really like this train bridge, in my opinion it is far better to be viewed from the next stop in Letchworth State Park and that is from Upper Falls.
2) Check out Upper Falls: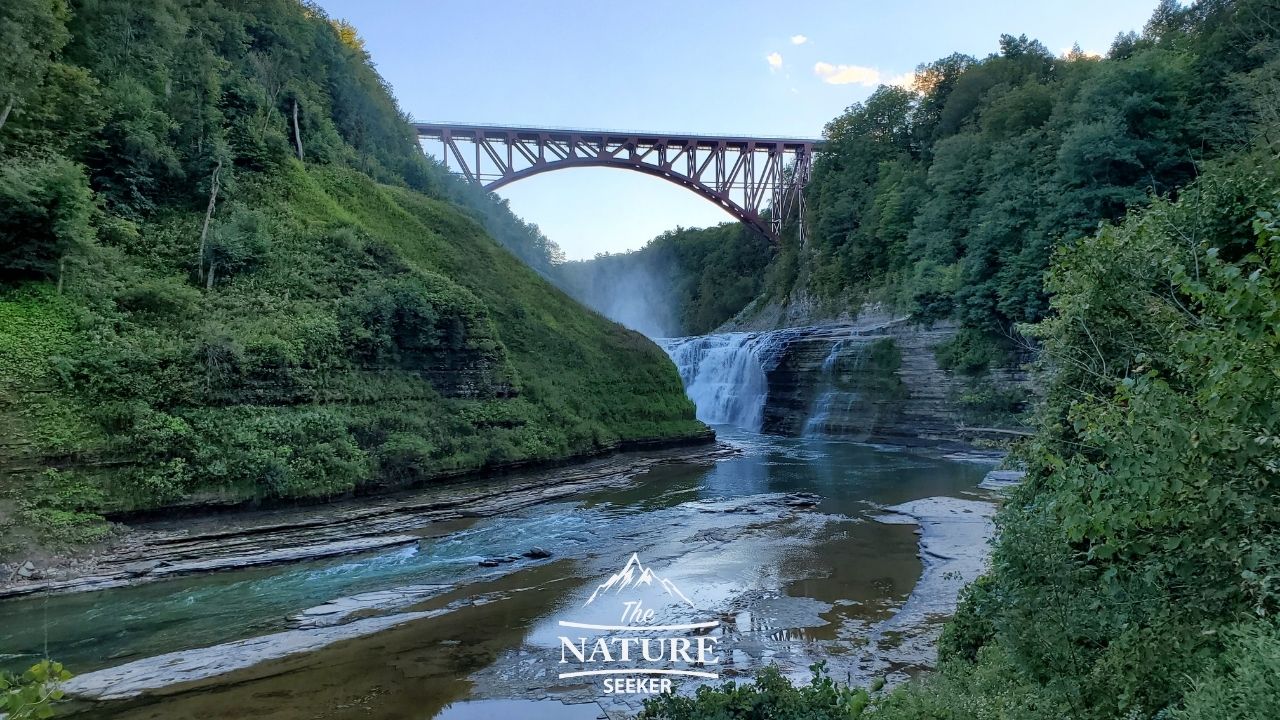 Description:
Upper Falls is one of the 2 main waterfalls in Letchworth State Park and it is a gorgeous one! Just so you know, getting right by the waterfall itself is difficult, dangerous and not allowed (even though it looks easy), but there are plenty of viewing areas nearby which will get you pretty close to it (that's where I took the following picture from).
Specifically, there is a very large parking lot nearby Upper Falls that I stopped at to get the picture you see above. And as I mentioned before, you can also get a great view of the Genesse Arch Bridge from there as well.
3) Visit the picnic area right by Upper Falls: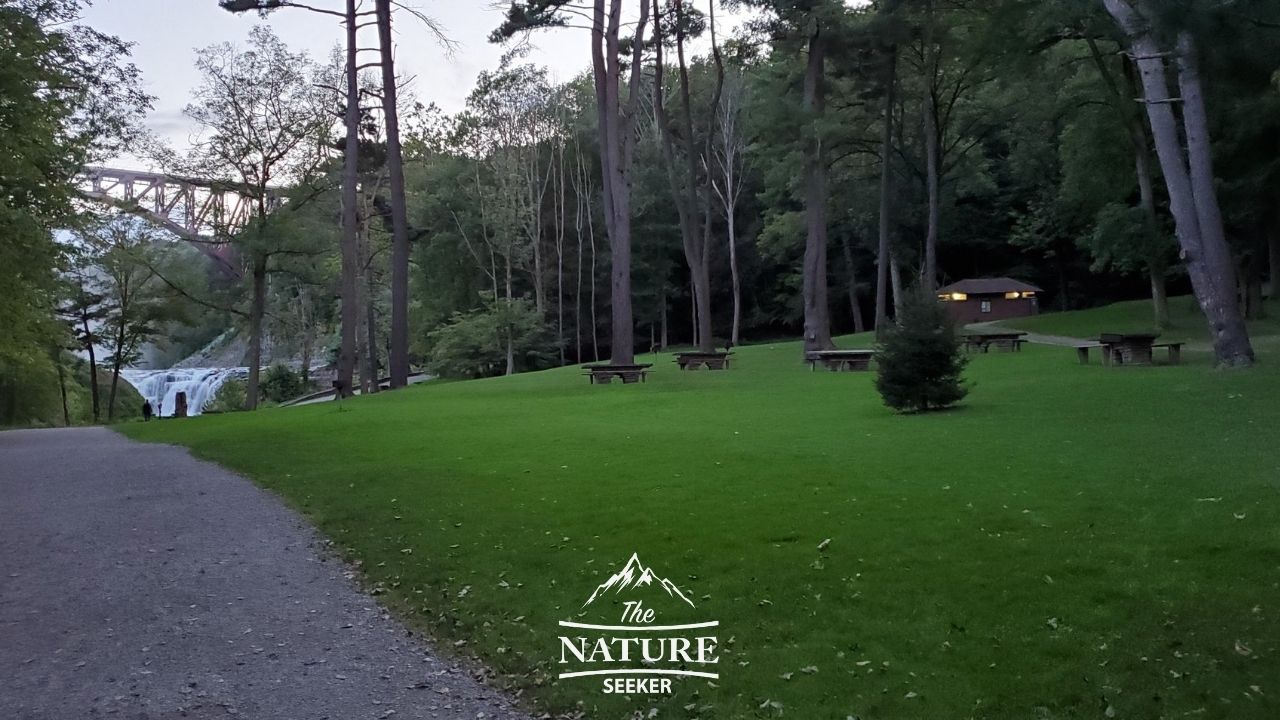 Description:
I'm rarely the type of person who will sit in one place long and enjoy the view, serenity and all that, but the picnic area by Upper Falls really floored me. It was nearly empty when I was there, but the neatness of the grass, the scenery, and the tranquil vibes in this area really made me appreciate this park even more.
What's even cooler is that like I said, I had arrived to this park around dusk and there are several light posts that make this picnic area even more beautiful at night. There wasn't even a single bug there!
4) Check out Middle Falls (the largest Letchworth State Park waterfall):
Description:
After you check out the Upper Falls area, Middle Falls is shortly seen downriver and if you were impressed by Upper Falls, this one should be just as impressive if not more so (it's actually much bigger too). You can also get close to it as there are several platforms you can see it from different angles, but getting down to it is not possible.
To date, I'd say Middle Falls (and Upper Falls) are some of the most beautiful waterfalls in New York that I've ever seen and while you can see others throughout the park, these 2 are the main Letchworth State Park waterfalls you'll want to prioritize seeing when you go.
5) Check out Inspiration Point: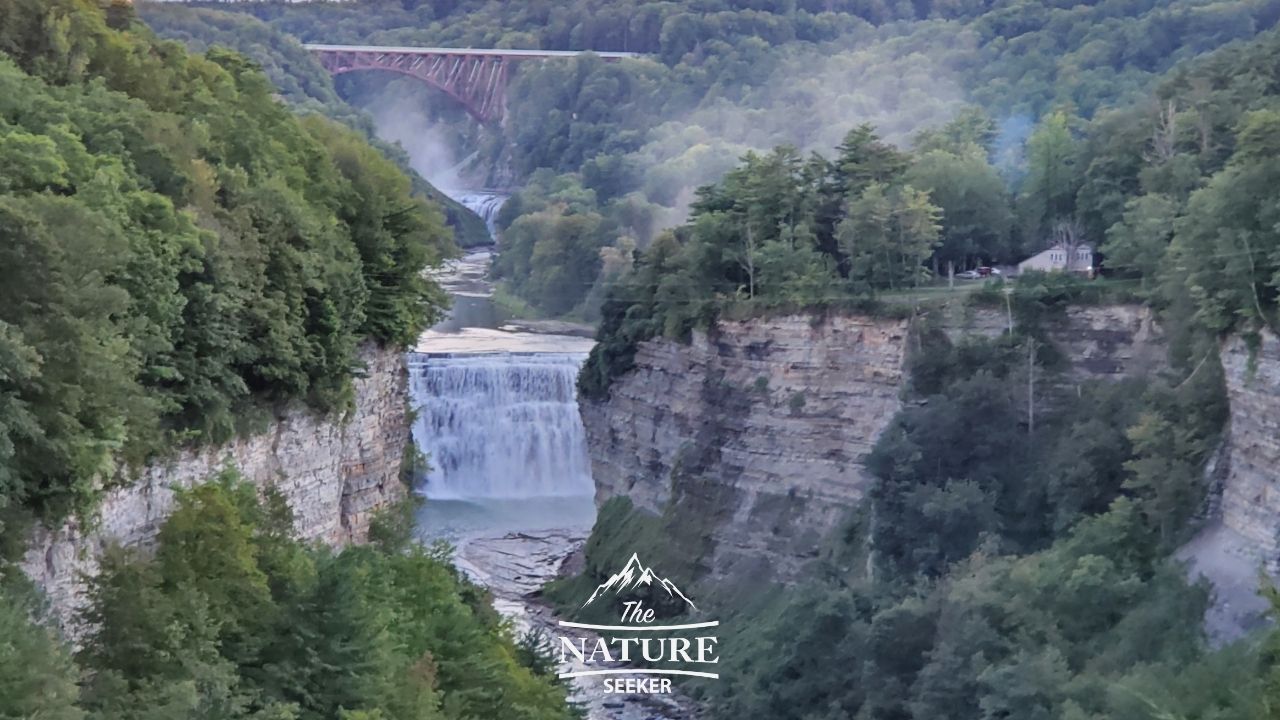 Description:
Inspiration Point is slightly north of Middle Falls and from it you can get a pretty decent view of Middle and Upper Falls in Letchworth. However, this view isn't the iconic one you might see in other pictures and I was told there is a way to get a closer view of both waterfalls, which I didn't have time to find.
In my case, I had to zoom my camera in to get the above shot. Either way, Inspiration Point has more to offer than just the overlook to the waterfalls. It also has a nice little pond nearby, a hiking trail to explore and a beautiful stone house in the parking lot, which I think is a bathroom, but either way, the scenery of the whole place is just stunning.
6) Stop at Glen Iris Inn (it's one of the best Letchworth State Park hotels):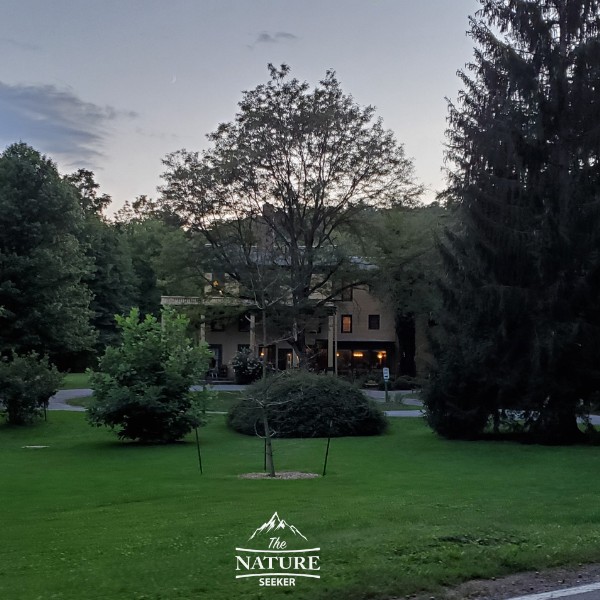 Description:
I was told by someone at the park that the Glen Iris Inn is where I can get a closer view of the waterfalls and so I went to go check it out. The Inn is a bit south of Inspiration Point, but only by a few minutes. I didn't get to check out the view I wanted and at best, I just got closer to Upper Falls than anything else (which isn't anything to complain about).
But overall, the inn itself is a place I recommend you check out, if not to stay the night, then to eat and just enjoy the outdoor setting available there. It's very neat, clean and just a great place to stay at. Furthermore, the views and how close you are to the falls (and because it's literally inside the park) makes this an awesome place to stay at.
Out of all the options of where to stay in Letchworth State Park (camping sites, hotels nearby and so forth), I'd say the Glen Iris Inn is the best place for that but its also very popular so if you're serious about staying here, reserve a room as early as you can and I'm talking several weeks before you visit Letchworth State Park.
7) Explore the popular Letchworth State Park hiking trails: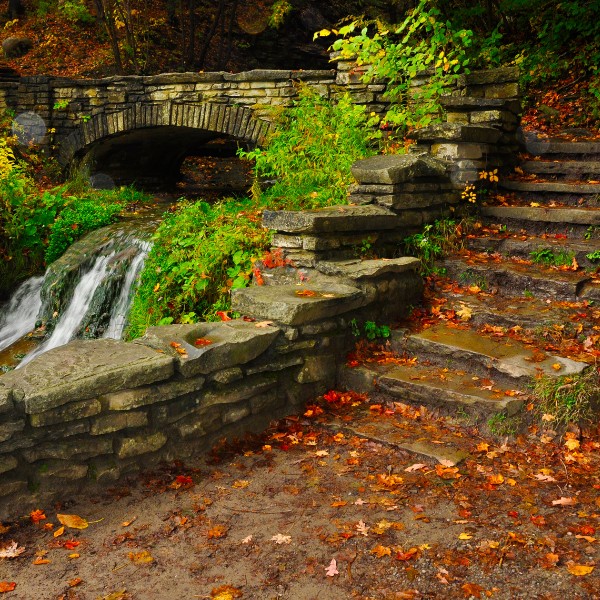 Description:
There's a number of hikes and trails you can take inside Letchworth State Park. Here is a list of the most popular ones:
1) The Letchworth State Park Gorge Trail:
This trail is about 14 miles long (in and out) and basically has you start at the picnic area by Upper Falls and work your way north across the park.
You will basically be hiking at the top of the park at first (over the gorge) and parallel to the Genesse River (on the left side of it).
Then as you get further north into the trail, it will descend to the point where you can walk next to the river itself.
If you want to get as close as possible to the waterfalls in this park and then get a nice view of the river and little waterfalls further downstream, this is the trail I recommend you take.
2) Letchworth Finger Lakes Trail:
This is a nearly 20 mile long trail (in and out) that basically has you walk all across the eastern side of Letchworth State Park, from the Genesse Arch Bridge (point A) all the way to Morris Dam (Point B). I also want to mention that this Finger Lakes trail also goes beyond Letchworth State Park and heads east to the actual Finger Lakes area of New York (60+ miles).
8) See Mt. Morris Dam: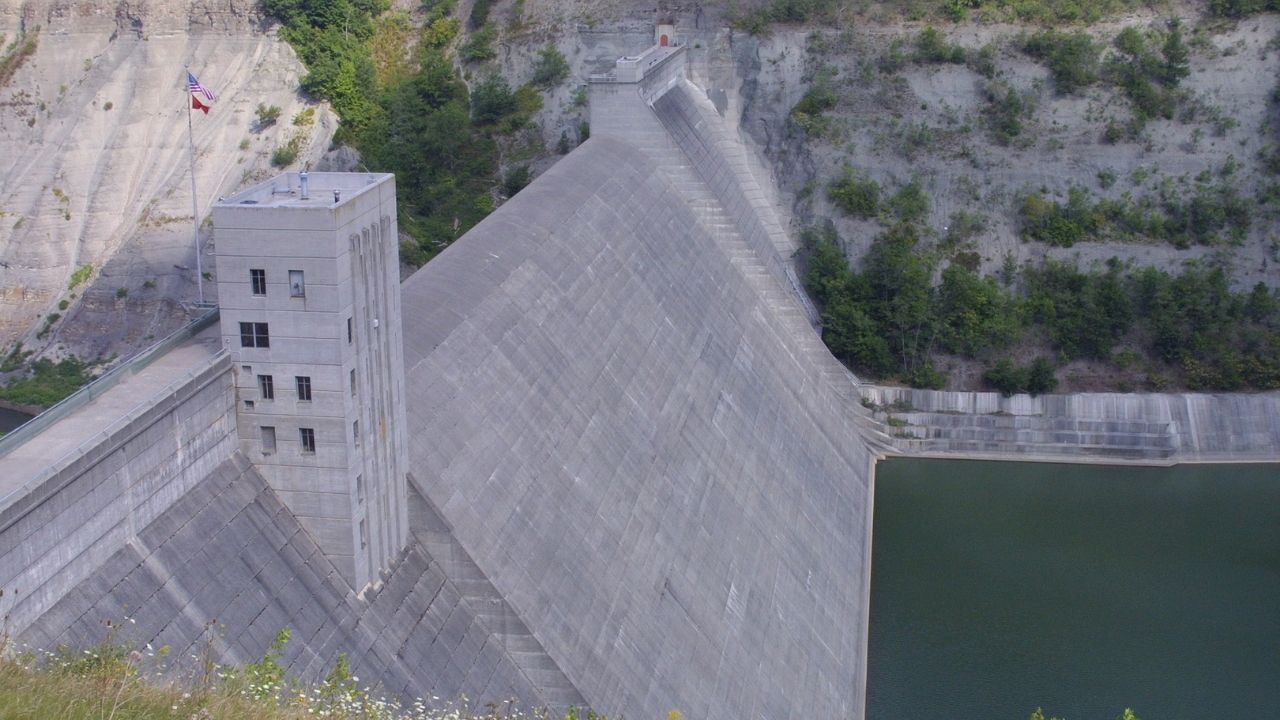 Description:
This is a dam that you will find in the northern most part of the park and you can either hike and/or drive right up to it. In my case, I saw the single road that goes into Letchworth State Park going in that direction, but figured it probably continued to some picnic and camping areas (and it's true). But as long as you stay on that single road and follow it, you will reach this dam and the ride should only take abou 10 minutes (if you start from Inspiration Point).
9) Letworth State Park camping (there are several options):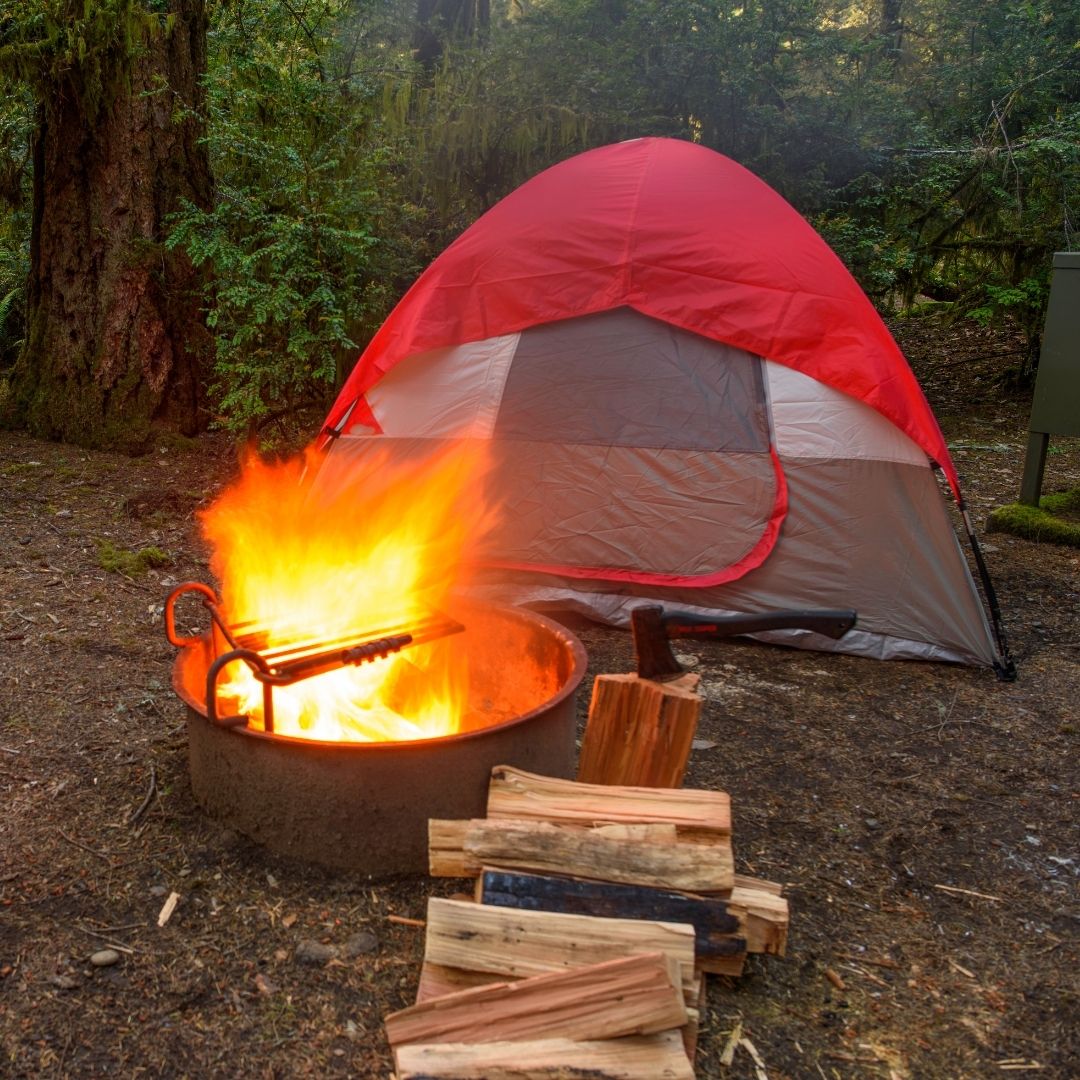 Description:
If camping is your thing, then the great news is that Letchworth State Park also has this available there. It's called:
The Letchworth State Campground:
And it is located slightly south of Morris Dam and does require prior reservations. I've included a link so you can choose what days work for you. This campground is also located very close to the Genesse River. This park is very popular so make sure to plan ahead. Also do note that there are cabins available in the park as well, and they too sell out quickly.
What about other campgrounds near Letchworth State Park?
Yes there are others including:
Woodstream Campsite.
Letchworth Valley Campground and Resort.
These and more camping spots are available as are trails which take you closer to the river north of Upper Falls.
10) Hot air balloon rides (one of the best things to do in Letchworth State Park):
Description:
I've seen a lot of photos of hot air balloons in Letchworth State Park but I had no idea that you could actually buy tickets to be in them (or if you're scared to just view them from areas in the park).
Here's the site where you can get tickets for the hot air balloon rides and it's not cheap, but it's probably going one of the best experiences you will ever have in this park and to date, it's the only New York State Park I've seen that has these types of activities.
Frequently asked questions about Letchworth State Park:
Can you camp anywhere in Letchworth State Park?
No, there are a few designated spots on the south and north ends of the park. There are also campgrounds outside the park too.
What is the best part of Letchworth State Park?
Inspiration Point because you get to see both major waterfalls (Upper and Middle) in the park.
How much does it cost to camp at Letchworth State Park?
$25 a night. You would need a reservation first.
How many days do you need to spend at Letchworth State Park?
2-3 is enough. You can even do a one day trip there like I did.
A quick note about Letchworth State Park in the winter:
I've been asked this question a number of times and there's a few things you need to know:
Yes the park is open then.
Access to the park is free during winter.
I would be very careful and check the road conditions beforehand.
Hiking might be very difficult at the park when it's icy or snowy.
The views are still beautiful if you can make it to the main viewing areas.
5 things to do near Letchworth State Park (more amazing areas to see):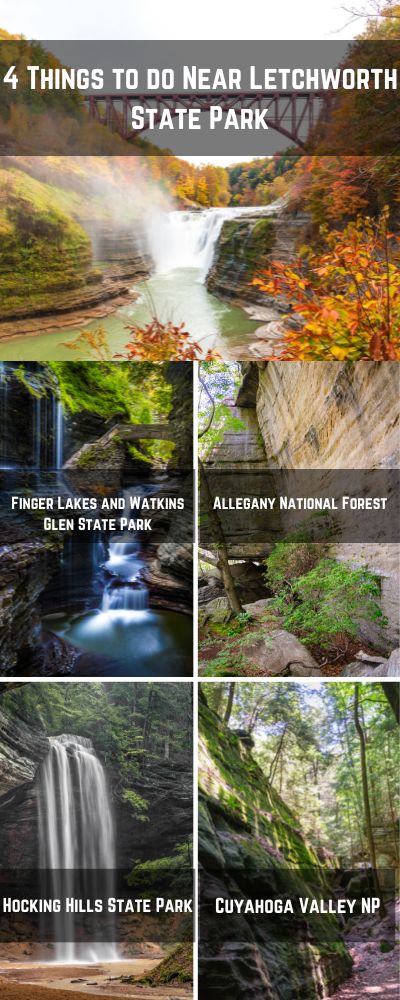 1) Finger Lakes:
East of Letchworth State Park (1 hour drive) is Finger Lakes and I highly recommend going there for the hikes, waterfalls, vineyards and more. The best area to check out there in my opinion is Watkins Glen State Park.
2) Cuyahoga Valley National Park:
This park is about 3 hours west of Letchworth State Park and it was my next day visit on a 10 day road trip I was doing. Cayuhoga Valley National Park is pretty awesome in that there are awesome hikes and scenic train rides to take.
3) Alleghany National Forest:
South east of Letchworth is Allegheny National Forest which is a stunning area for hiking (I would not do it in the winter). One of the most popular trails there is called the Minister Creek Trail that is very scenic from spring-autumn (this is 2 hours south of Letchworth State Park).
4) Hocking Hills State Park:
If you have an extra day or the time, I would highly recommend visiting Hocking Hills State Park (5 hours south east of Letchworth). The views there are completely different and it's an extremely popular/scenic park to explore!
5) Nelson Ledges State Park:
4 hours south east from Letchworth State Park is one of the smallest and yet amazing parks I've ever visited. It's called Nelson Ledges State Park and it has underground waterfalls and slot canyons to explore.
More Letchworth State Park photos (and one more thing I recommend doing):
Additionally if you have a chance to visit Letchworth State Park in the fall, do it! It's one of the best places to see fall foliage in New York. And just as well, this is one of the best state parks in New York that I've also seen so far and like I said earlier, the list above will really help you see and experience this park in the best way possible!