The Minister Creek trail is considered to be the most popular and scenic hike in all of Allegheny National Forest and it's why I personally decided to try it. In this post, I'll be sharing with you my experiences, what you should know before you try it and whether or not it's really worth doing.
Quick info on the Minister Creek trail in PA: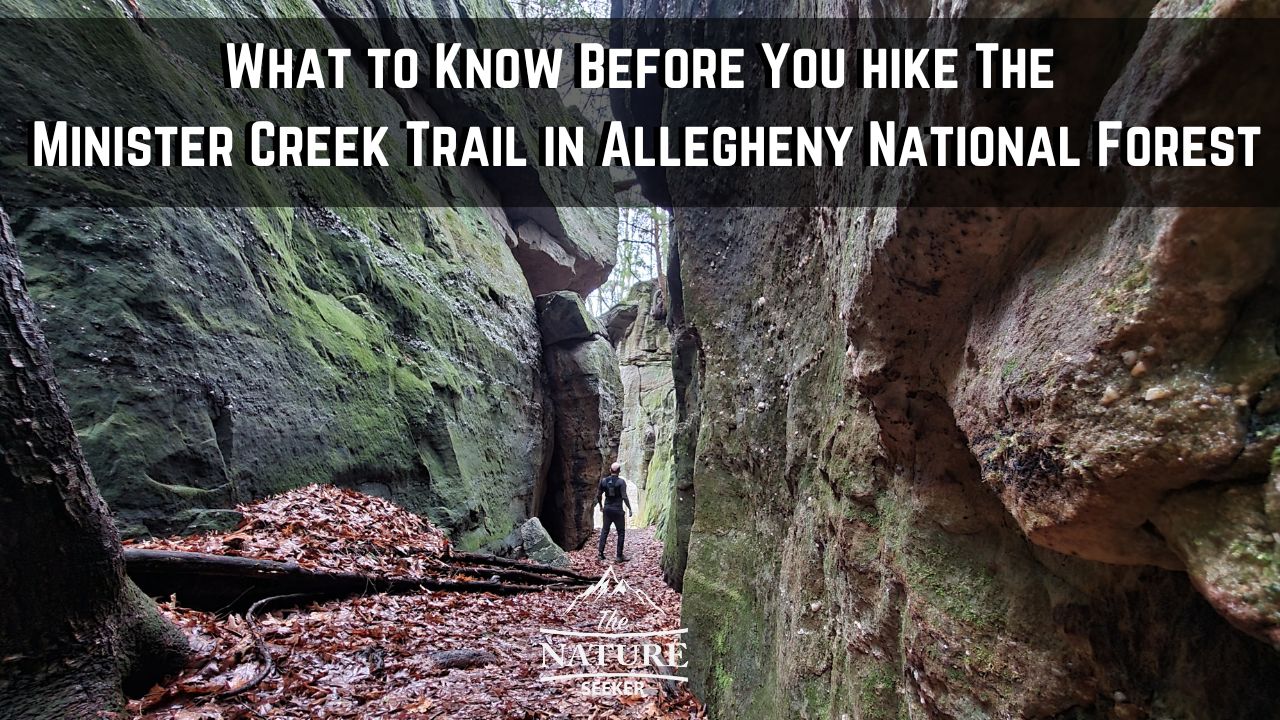 Name: Minister Creek trail.
Location: Allegheny National Forest, Pennsylvannia (south section of the area).
Distance: Up to 10 miles (shorter loops available).
Difficulty: Moderate.
Rating: 3.5 out of 5.
Recommended? Yes but I think I personally did in the wrong season (early April) and this made the scenery way less amazing than I had hoped. The hike can be difficult and boring in parts, but there are several sections which are worth checking out and I'll show you a map of where they are, including how to avoid the full loop if you want just to see the good areas.
Things to know about the Minister Creek trail before you go:
1) There are 4 loop options to this trail:
There are 2 starting points to this hike. One is at the trailhead with a parking (south end), and the other is near a campground (north end). I started at the south end.
There is one giant loop trail connecting these 2 parts which is the Minister Creek Trail (which is 6-7 miles, the one I did), but in between that loop are 2 trails which cut in between to make it a shorter hike and here is how it looks: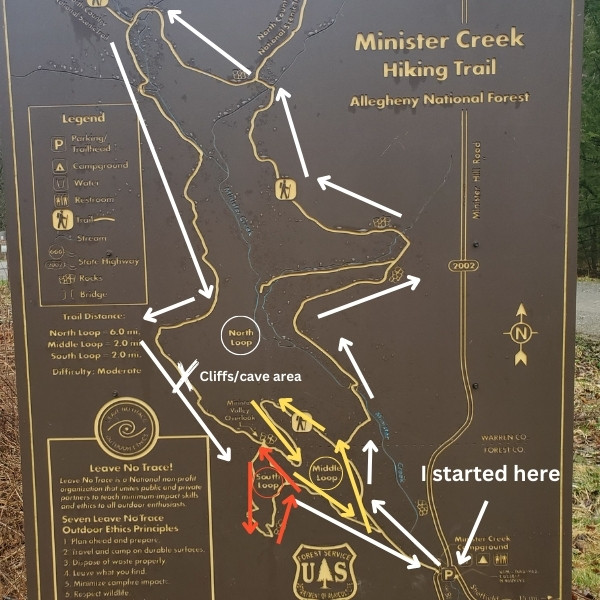 Here is how the loop options go from there:
The short loop is the easiest at around 2 miles.
The next one is the middle loop which is about a 4 mile hike.
Then there is the north loop which is basically a 6-7 mile hike (the one I did).
The final one is the trail where you go through all the entire north loop, but also cut through the south and middle loops, making it a full 10 mile trail.
If you're not physically fit and just want to see the best parts of the hike, just do the south loop. If you're OK with more challenging hikes, then do the 6-7 north loop or the entire 10 mile option.
2) I highly recommend you do this hike counterclockwise:
Regardless of which loop you decide to do, in my opinion the right side of this trail (eastern end) is less scenic. There is a bridge crossing, some OK trails, boulder hiking but that's about it.
The left side (western side) of the loop is better as it has a watery hiking area (very scenic), there's more pine trees adding the scenery, more higher elevation areas for better scenic views of the mountains and of course there is the most popular gorge/cliff area there too. In fact, that's actually close to the parking lot.
When you do the hike counterclockwise, you will save the better parts of this hike for last.
3) Wear hiking gear that is good for mud:
I personally did this hike when it was rainy and overall this area gets a lot of that. You will likely have to walk through mud in many areas and wearing either waterproof socks and/or good hiking or trail shoes will really help with this trail overall.
4) There is one main sign you will follow, a white diamond trail marker:
There were a few areas of this hike where I honestly thought it was easy to get lost in the woods, especially towards the end of the hike (southern end) with the cliffs, as there were forks with the same trail marker so I used a downloaded Alltrails map of this area to make sure I was on the right path.
A summary of the Minister Creek trail (from start to finish):
The following is a guide on what to expect if you do the 6-7 mile loop that I did. Obviously I can't cover all the details, so I'll stick to a basic summary of what you can expect if you do this trail (counterclockwise).
1) First you'll need to park at the trailhead to Minister Creek: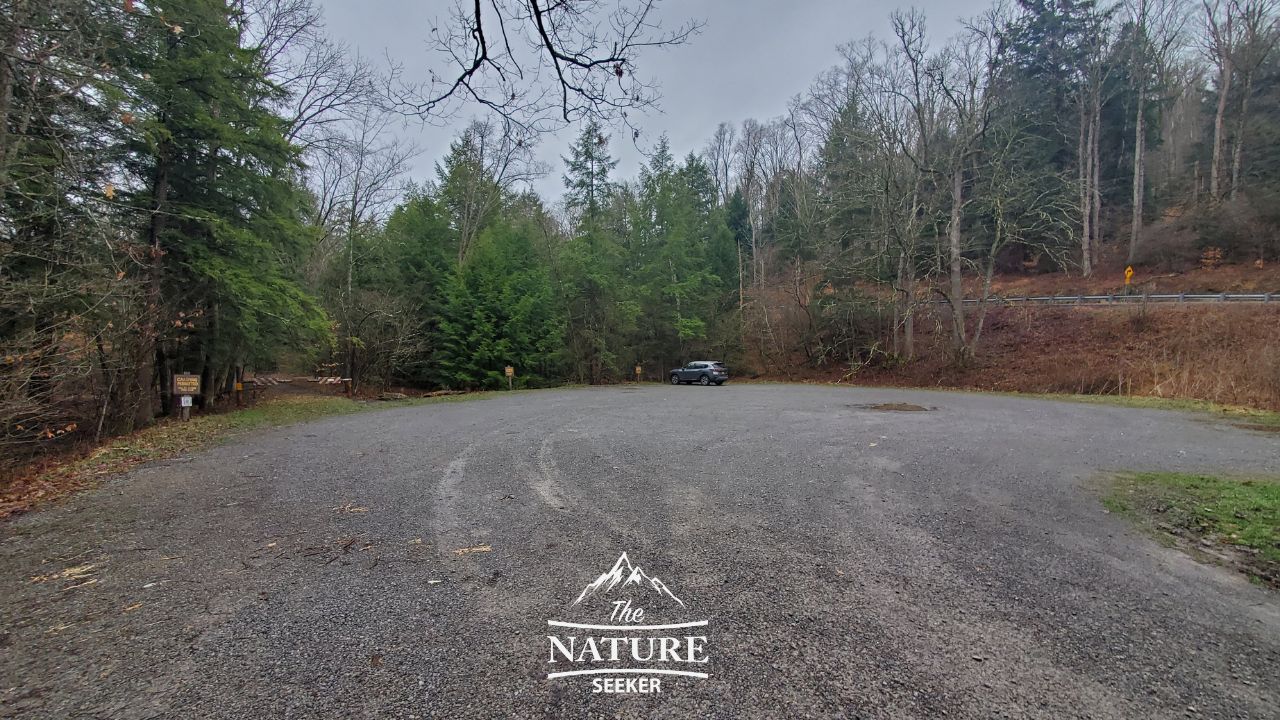 Once you do, there is a path that looks like a trail near it, but that's not the right one. You actually have to cross the road and then start on the trail (look for the white diamond marker).
2) About 1/4 mile in, you will see a split in the trail: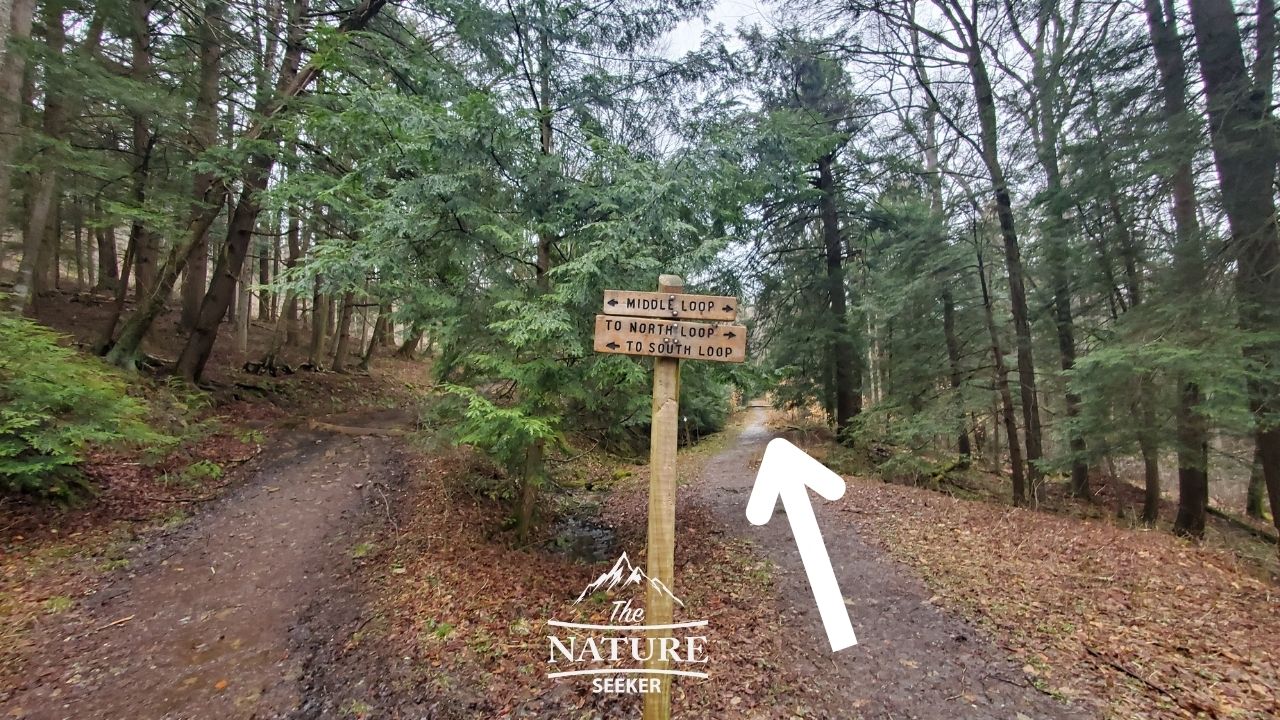 If you're doing the 6-7 mile loop, you'll turn right and continue. If you're not looking to do the full hike and just want to see the cliffs, overlook and "cave" spot of this trail (the best parts basically), you can actually turn left and it'll be about another 1/2 mile until you reach that. In my case, I turned right.
3) You will come across a fork to middle loop shortly after:
If you're doing that loop, turn left. If not and you're doing the 6-7 mile one, turn right. You will head down towards a river and follow the trail over a bride. From there, it will get a little bit boring for about another 2-3 miles. Again I was there at the worst time as there was hardly any green nature to look at so I imagine during spring or especially during the fall, it becomes very beautiful there.
4) Around mile 3-4, you will come across large boulder areas:
This area is OK and better than what you see beforehand. Shortly after you will cross a small metal bridge. There will be a trail sign to continue on a blue and white trail. Sometimes it'll be just blue, and sometimes it'll be just white. Please make sure to use a map so you are not lost!
5) Around mile 5, you will come across a beautiful watery area of the hike:
It's hard to describe it, but I thought this was the most scenic area of the hike. There was a large water flow on the trail which actually flooded much of the area but it made it amazing to look at as I had to cross the water sections (it wasn't deep) to continue on the trail (keep following the white diamond markers).
6) Next will be a gradual incline for about 1 mile:
You will see the mountains to your left and again this is likely best seen during the spring or fall because for me, it wasn't an enjoyable sight.
7) About 1/2 mile after, you will finally reach the cliffs and "cave" area: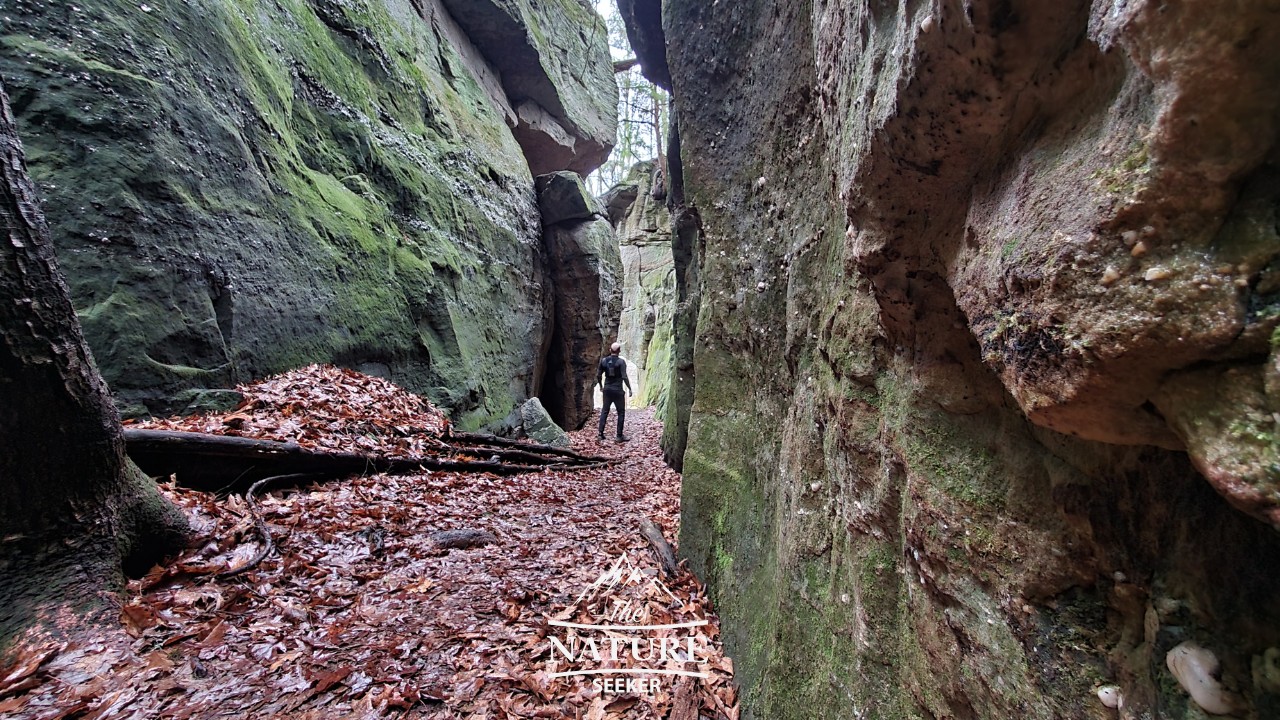 This is probably the most popular and photogenic part of the hike. You will walk along a cliff area for about another 1/2 mile and descend into a gorge region which is actually quite beautiful (but short).
8) Right after, you will come to the Minister Creek overlook: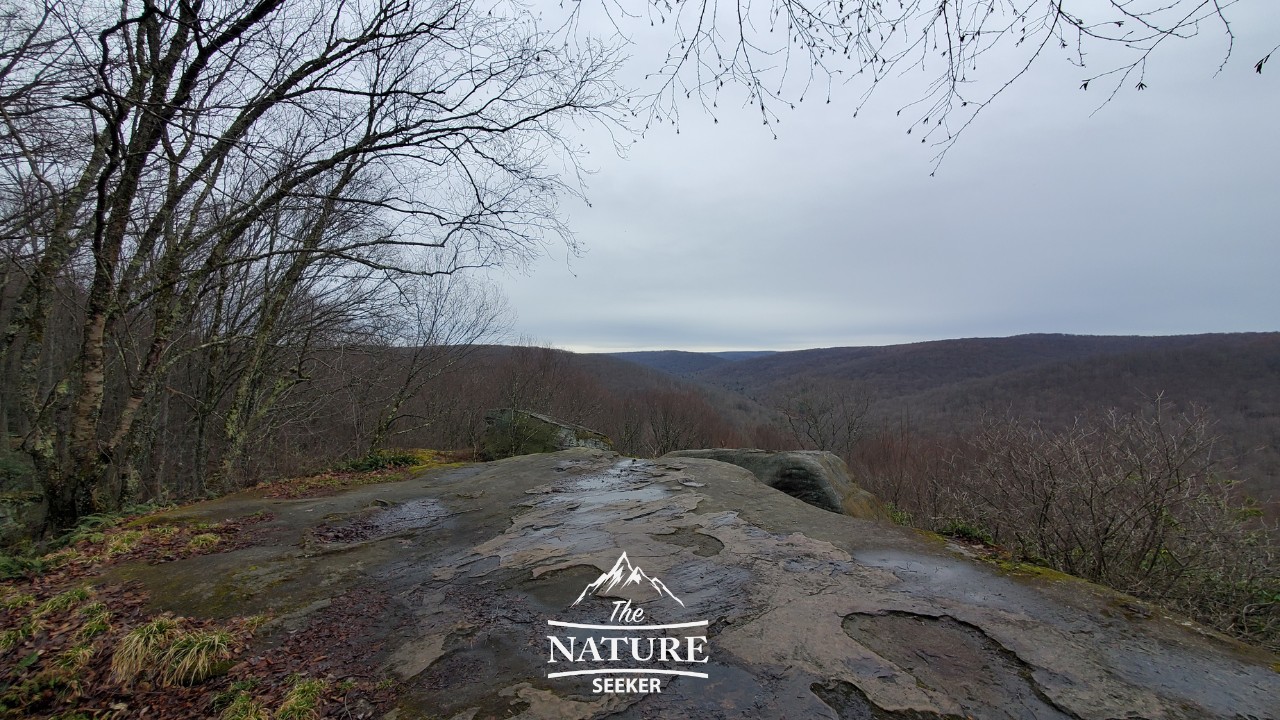 After the cave part, you will follow stairs up to to this overlook. For me, it wasn't a good sight, but during the right seasons, it can be. Right after, you will continue back on the same trail (further south) and this will meet with the original first fork you crossed when you started on the trail.
You will continue south, exit onto the road and back to the parking lot to finish.
Is the Minister Creek trail worth it?
For a one time hike, sure. I will likely try to do it again in the fall to get a better experience and views but during the time I did it, I wasn't particularly happy about it and this is considered to be the best trail in Allegheny National Forest.
The good news is that you at least know when not to go there, as well as the loop options to try if you aren't looking to do the full loop so you have several choices to enjoy this trail. The best parts of it in my opinion are the cliffs/cave area and the water section I talked about earlier. They are very scenic and make the hike way more enjoyable.
Things to see near Minister Creek Trail:
1) More of Allegheny National Forest (there's many more hikes, overlooks, river activities and sights to see there).
2) There is also Allegheny State Park further north (has similar attractions).
3) About 2 hours north of this is the amazing Letchworth State Park (great waterfalls, good sights, amazing scenic areas).
4) West of this area (about 1-2 hours) is another incredible park (in Ohio) called Nelson Ledges State Park which is much smaller than this whole trail, let alone Allegheny National Forest but it is extremely scenic, very fun to hike through and I personally explored it right after doing this trail and I loved that experience way more!
5) Finally I want to finish with making other recommendations for hikes that look like Minister Creek but are better. I originally sought out this hike because the cliffs area looked really cool and after finishing this hike, I can tell you that the following trails and areas just have way better stuff like this:
Obviously I don't think you'll be going to all of these trails, but just know that there's many more options like Minister Creek that are arguably way better to try.