5 Things to do at Nelson Ledges State Park Ohio
In my personal opinion, if you're someone who loves slot canyons, gorges and active hiking adventures, then Nelson Kennedy Ledges State Park is a must visit if you're in Ohio.
This is a place I recently checked out and I was extremely impressed by just how much fun you can have exploring this park and in this post I want to share 5 things to do when you do visit this place because despite being a very small park, there's a lot of "secret" spots within it that are easy to miss as well as nearby activities and attractions that are also worth checking out.
Quick info on Nelson-Kennedy Ledges State Park:
Name: Nelson-Kennedy Ledges State Park.
Location: Ohio.
Things to do: Scenic nature walks, see waterfalls, hiking, some caving, slot canyon explorations and more.
Family friendly park? Yes.
Does it cost money to enter? $0. There is also a parking lot.
Rating: 5 out of 5.
Is it worth checking out Nelson-Kennedy Ledges State Park? 100% yes! I loved this place and though I've explored many small parks before, this is easily my favorite and I intend to return. There's just so many fun things to do here.
5 things to do at Nelson Kennedy Ledges State Park Ohio:
Hike to Cascade falls
Hike all 4 hiking trails in the park
Picnicking
Visit Nelson Ledges Quarry Park
Explore nearby sights to Nelson Kennedy Ledges Park
1) Explore Cascade falls (main waterfall in Nelson Kennedy Ledges State Park):
This is the waterfall most people see pictures of when they look up this park. It cascades down a rock wall and underneath it is a cave you can hike into to get amazing pictures of it.
It's easy to reach area from the parking lot as you'll just get on the yellow trail and turn right. You may even see the waterfall from the start of the "hike" which is just a few 100 feet.
There used to be a bridge leading to the waterfall and then inside it, but when I went there, it was broken so I had to get wet (wore waterproof socks so I was OK) to get into the cave area, but it was an awesome experience.
I would say this hike is family friendly but you should be careful of slippery rocks and boardwalks.
2) Hikes! Here are Nelson-Kennedy Ledges State Park photos from the best trails there (and their details):
This is probably the most interesting thing you'll find inside Nelson Ledges State Park and trust me, it's totally worth it! There are 4 hiking trails and here is a description of each:
Blue trail (1-2 mile loop):
This is the most common and longest trail which you can take around the park. It's about a 2 mile loop which will take you close to the rock/canyon walls and then circle back around over the top of the park. It is scenic, there are some creek crossings, a few waterfalls and it's overall a decent nature walk. I would rate it a 3.5 out of 5.
This trail is also very similar to the Ledges Trail in Cuyahoga Valley National Park (also in Ohio).
Yellow trail (1/2 mile):
This is the right most trail in the park and it's the one which takes you to the same Cascade waterfall. There are boardwalks, some tight cave spots you'll cross into and overall it's a pretty adventurous hike. Great for hikers and kids in my opinion but there are some slippery spots. I would rate this this trail 4.5 out of 5.
White trail (1/2 mile):
This is more of a nature walk and takes you over the top of the park. In my opinion it is the most boring of the 4 options and only better if you've done the other 3 trails and/or if you are not into slot canyon hikes and more active trail walks. I would rate this a 1 out of 5.
Red trail (1/2 mile):
This is the best trail by far in the park, that is if you are a hiker, love hiking through canyons, tight spaces and slot canyons. I hiked through the red trail 3 times because I had so much fun doing it. This will take you deep into the gorges and slot canyons in the park. There will be several tight spots but it is the most scenic, there are caves you'll hike, scramble and in some cases crawl into.
One of the most amazing places within the red trail is a cave spot you have to crawl through to reach a ladder to get into a creek inside a cave and I was just amazed by the whole thing. However, this is also the toughest trail and there will be some deep, muddy areas, including scrambling and crawling. Some spots might be OK for kids, but I would recommend the red trail more so for adventurous people who don't mind this (I certainly didn't). I would personally rate the red trail as an easy 5 out of 5.
The great news about all 4 of these trails is that you can easily explore all of them within a few hours tops and decide which are your top choices. For me, it's easily the red trail.
Another great thing is that all throughout the hiking trails here, you are close to the road so you should have decent cell phone service.
3) Picnicking: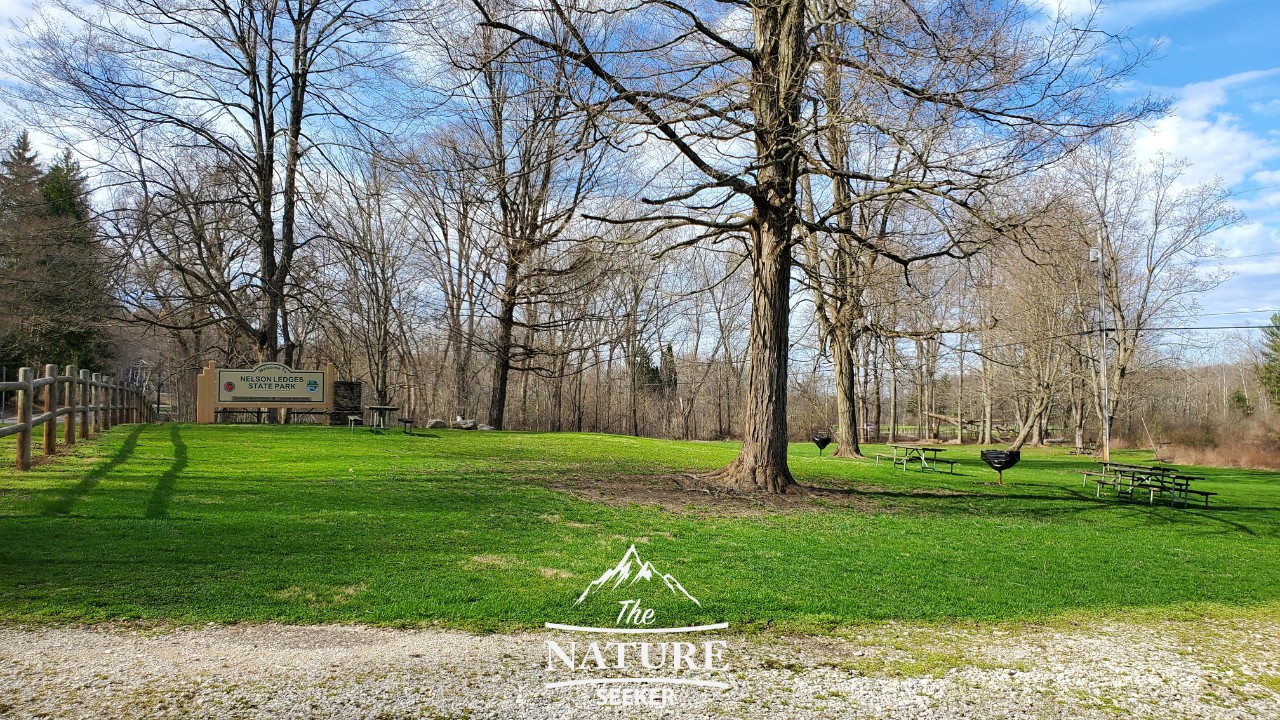 Right by the parking lot, you will see the official Nelson Kennedy Ledges State Park sign with picnic tables. This is a great area to stay at before, during or after you finish hiking the trails there. There aren't a lot of tables, but when I went here, it was totally empty in this area.
4) See Nelson Ledges Quarry Park: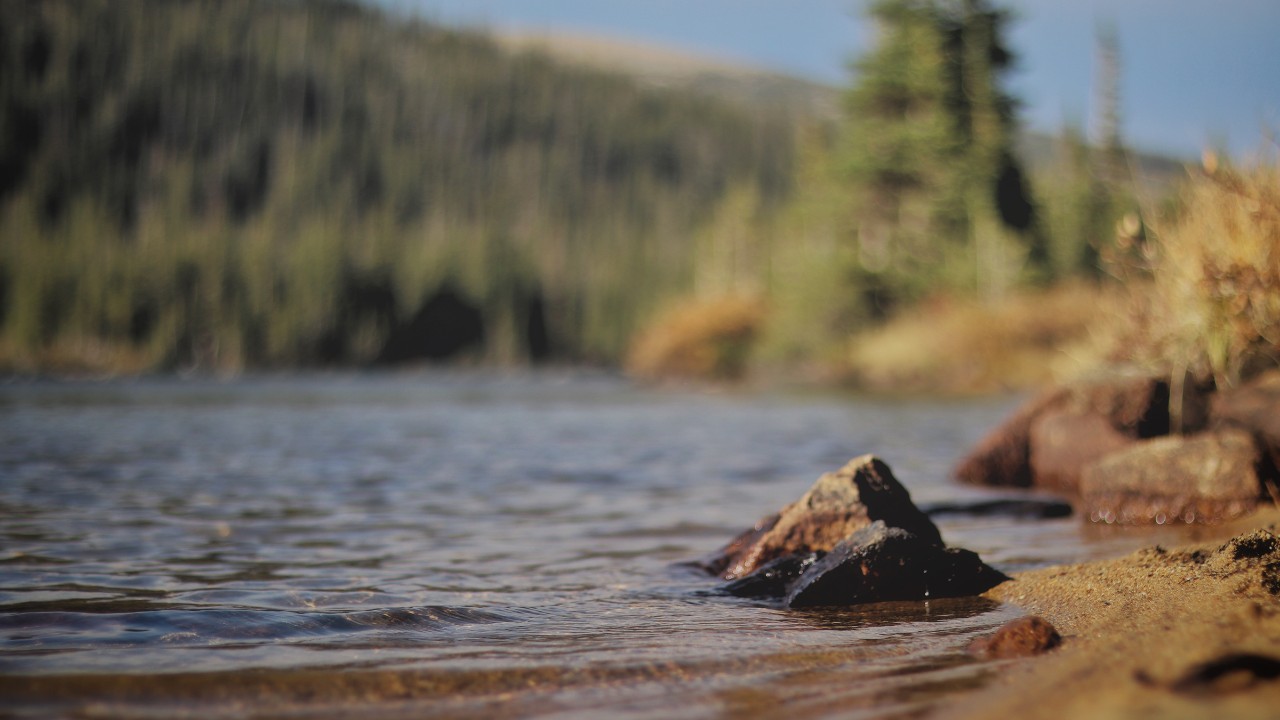 This is the next door park to Nelson Kennedy Ledges State Park. It's a popular spot for swimming, music festivals, camping and more. I tried coming here after checking out the state park, but the area was closed.
However you can see the Nelson Ledges Quarry park site here for details. If it's open, it's a great spot for mainly swimming and cliff diving and there's also lots to see there overall, but I would definitely prioritize exploring the state park first!
5) Explore nearby areas to Nelson Kennedy Ledges State Park (6 spots):
Aside from the quarry park, here are a few awesome things to do that aren't far from it:
Chickagami Park which is about 20 minutes north. More of a scenic park with picnics, traditional hikes and more.
Southington off road park which is a really cool place to ride 4x4s across amazing trails. You can also do ATV and dirt biking there.
Cuyahoga Valley National Park which is about 1 hour west of Nelson Ledges. It's got many mixed activities to check out.

Hocking Hills State Park

which is about 2-3 hours south west of Nelson Ledges. It's an incredibly scenic park with caves, family friendly hikes and incredible things to check out overall.
Allegheny National Forest which is about 2 hours north east of Nelson Ledges. Great family area for camping, hikes and more.
I also recently learned of an amazing park that's also only 2 hours away from this place, it's called Mohican State Park and it has a wider variety of things to do there than Nelson Ledges does.
Questions about Nelson Kennedy Ledges State Park:
What can you do at Nelson Ledges?
There can do a lot at Nelson Ledges State Park like hiking, some caving, waterfall explorations and even slot canyon walks.
Can you hike at Nelson Ledges?
Absolutely. The best trails to hike Nelson Ledges would be the red and yellow trail.
Does it cost money to go to Nelson Ledges?
No, it's free to park at the Nelson Ledges parking area.
Concluding thoughts on Nelson Ledges State Park:
It's only thanks to hiking the Ledges trail in Cuyahoga Valley was I able to learn that this park existed (Google shared a similar spot with me which was Nelson Kennedy Ledges) and I'm grateful because I really enjoyed hiking and exploring it. It's one of the most scenic and small parks I've ever seen and before that, there were actually a few small, but awesome parks I've been to which include:
And while those places were great, I loved Nelson Kennedy way more because of the the add on activities of caving and going through slot canyons you can do there which really make this park an amazing area to explore and one I highly recommend you check out!