Finding things to do in Mohican State Park Ohio is pretty easy but if you're going there for a first time visit, this article is going to help you by showing you the best attractions, where to locate them and overall just plan the ideal trip here.
Quick info on Mohican State Park:
Name: Mohican State Park.
Location: Ohio (2 hours from both Columbus and Cleveland).
Entrance fee: $0.
Family friendly?

Yes!

Things to do: Hiking, obstacle course, overlooks, and much more.
Rating: 5 out of 5.
Recommended?

Yes!

This may be one the top parks in all of Ohio and in many ways it is just as amazing as some of the other famous parks in this state (Cuyahoga Valley National Park and Hocking Hills State Park).
10 best things to do in Mohican State Park:
Do the entire Park Road scenic drive.
Explore Lyon Falls.
Kayak on Clear Fork Mohican River.
Horseback riding.
Camping.
Try the Obstacle Course in the park.
Visit Pleasent Hill Dam.
Drive through the famous Mohican Covered Bridge.
Walk up the Mohican State Park Firetower.
Check out Wolf Creek Grist Mill.
Note: Mohican State Park is connected to a larger area known as Mohican State Forest and there are several activities on this list where you will cross into that area.
1) Park Road Scenic Drive: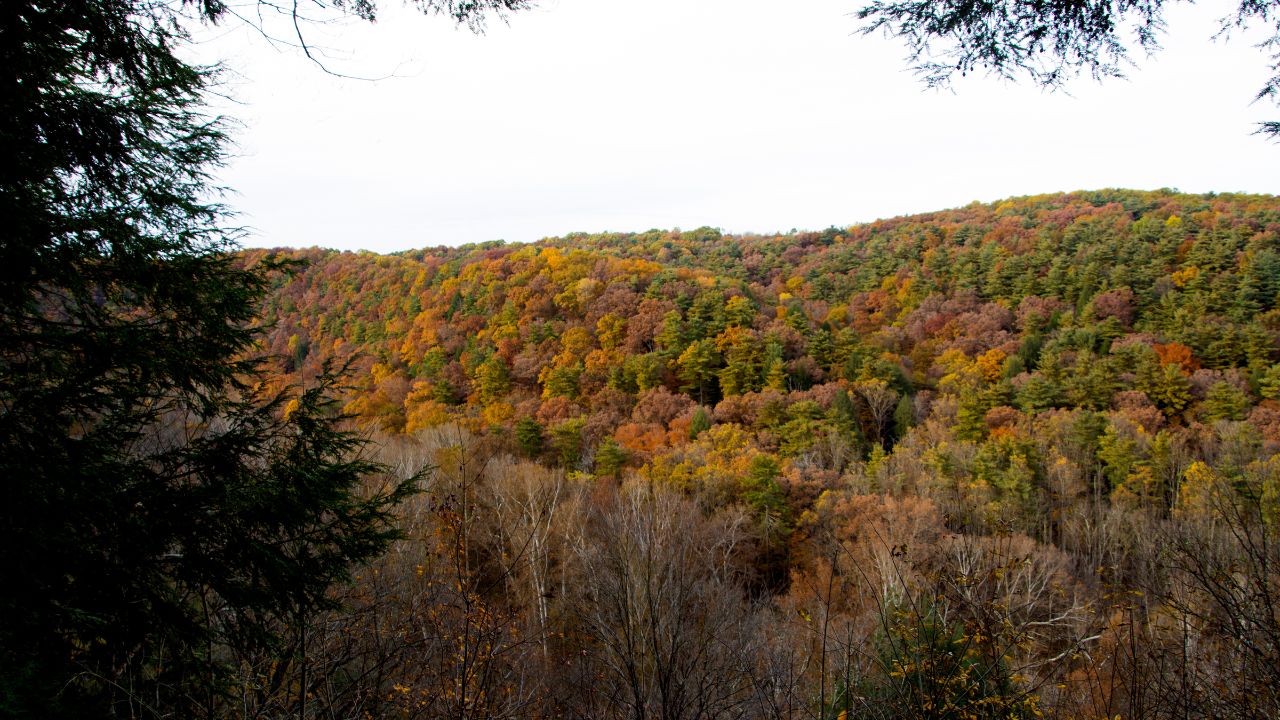 Details:
The Mohican State Park has a few areas to drive around it, but the Park Road is the most popular scenic drive in the area which takes you inside the area basically. You can use it to not just drive through the region and get some nice views, but it also takes you to some of the most popular trails, and iconic spots in the park including the Fire Tower, the Covered Bridge and more.
2) Hike to Lyon Falls:
Details:
There are at least 5 main hiking trails in Mohican State Park (more if you include the Mohican State Forest) and the trail to Lyon Falls is considered one of the top ones. It's a 2 mile hike that takes you down into a gorge area where you'll find this waterfall but there are actually 2 on this trail, Big (over 50 feet high) and Little Lyon Falls (about 20 feet high).
Related: There are also places south of this area (they are in Kentucky and Tennessee) which have more waterfalls like this. They are Red River Gorge and the famous Big South Fork.
3) Kayak the Clear Fork Mohican River (and other water activities):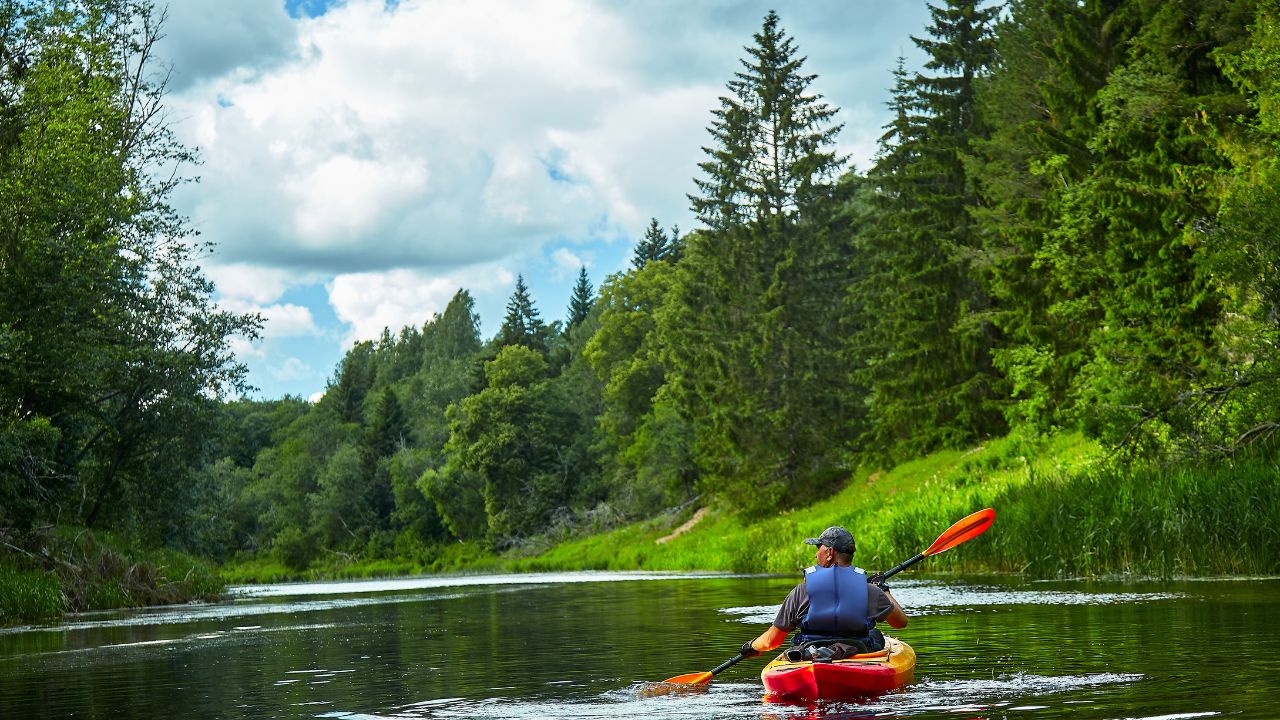 Details:
Kayaking, tubing and rafting is very popular in Mohican State Park and best way to do that is by going to the northeast corner of the park to a place known as Mohican Adventures which is actually it's own attraction area outside the park. There are 2 main ways to do the water activities in the park:
The 4 mile or the 7 mile trail. Each one can be done in either a kayak, canoe, raft or tube. Prices for these activities vary from about $30+ depending on the day you do it.
There are

2 additional things

to know about this:
You will rent the "boats" downriver. Then a shuttle will take you upriver where you'll start.
Because this water is "fed" by a dam upstream, the water levels of the river may impact this attraction meaning if they are low, you may not be able to do this activity so check on the day you plan to visit what the conditions are going to be.
4) Horseback riding: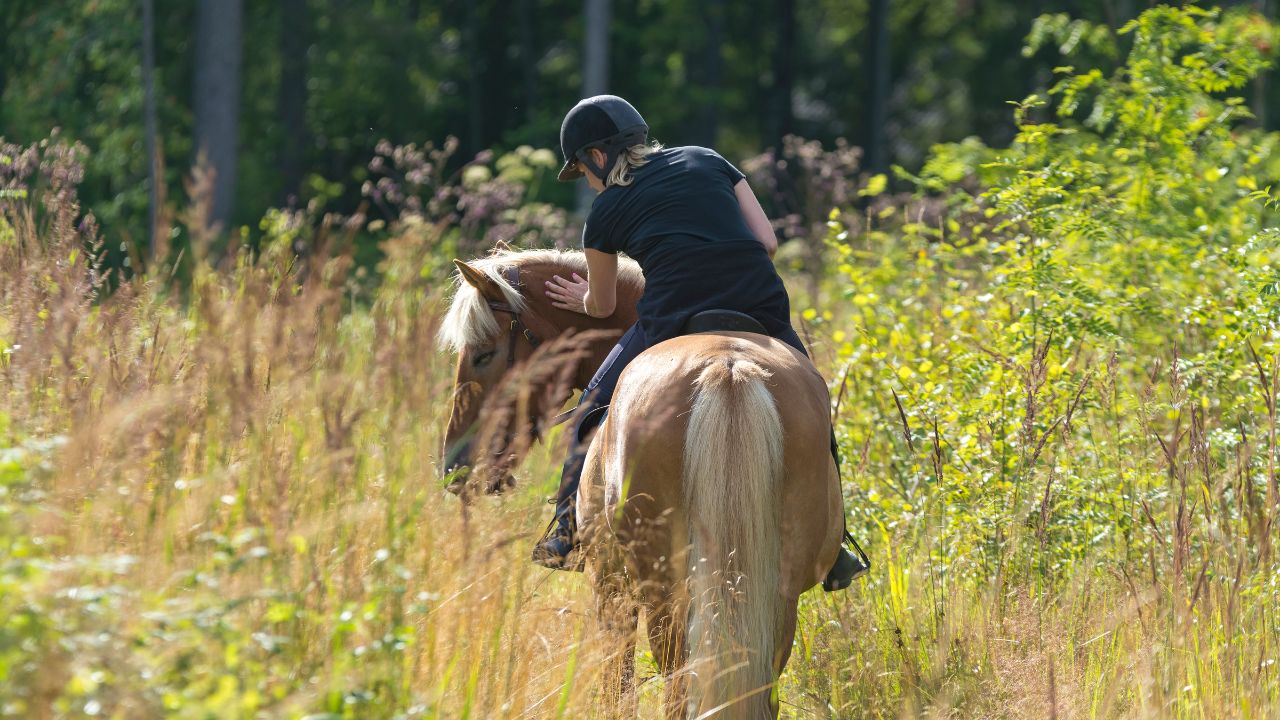 Details:
In addition to the hiking trails, Mohican State Park also has a few horse riding trails available around it that are known as Bridle Trails and they are marked in specific colors: Red, Blue, Grey, Green and Yellow. These same trails are also accessible for mountain biking and if you visit the area in winter time for things like cross country skiing. For horseback riding there is at least 1 stable within the park area you can go to with tours to go through these trails.
5) Camping (and cabins):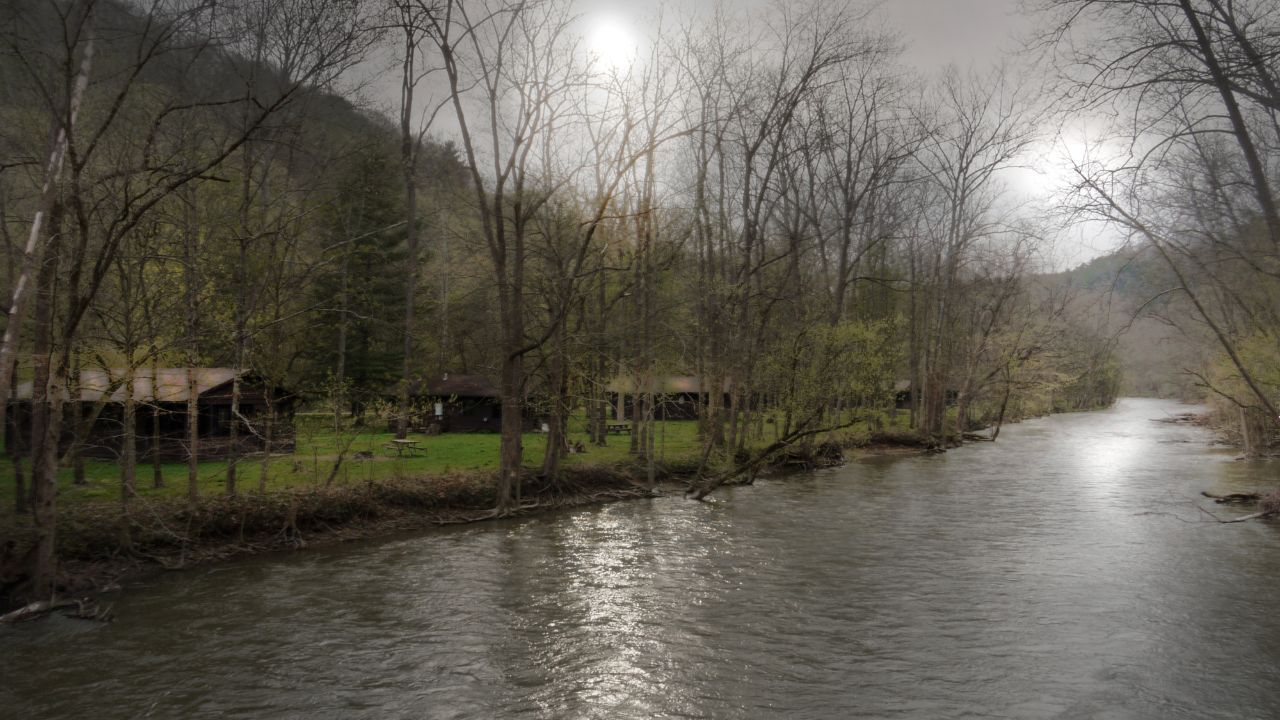 Details:
Camping is one of the most common things you will find people do in Mohican State Park and for this here is what you need to know:
There is one main campground known as Mohican State Park campground where you can enter in with an RV, trailer and get the best amnetities. In addition to that there are also several primitive campgrounds throughout the park you can stay at (without the same amenities). As for cabins and lodging, there are a few of them available in the park as well. Details of all of this can be found here.
6) Try the Aerial Adventure Park (obstacle course):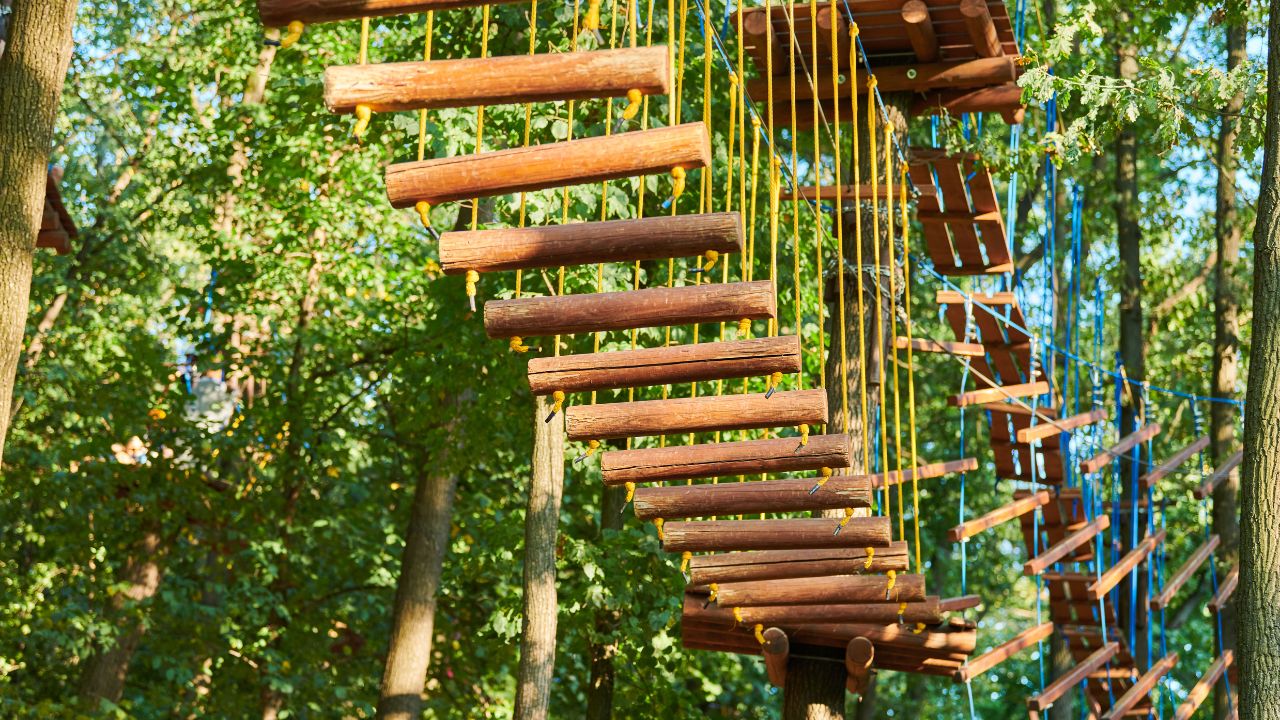 Details:
The same park where you can rent kayaks and canoes from is the same place where you can access the amazing Aerial Adventure Park and aside from the boat attractions there, you will find a bunch more things including karting and gaming areas that are great for kids.
However, the most popular attraction in this park is probably going to be the Aerial Adventure Park which is an awesome 4 part obstacle course which you can explore for 1-2 hours depending on which option you buy (it's $30 and up per person). If you've never done an obstacle course before, basically what happens is that you are tied with climbing gear and climb through a series of creative obstacles (while elevated from the ground). These are awesome experiences for kids and anyone who enjoys climbing in general, it's something I've done before in places like Mont Tremblant (that's in Canada however).
7) Visit Pleasent Hill Dam:
Details:
Pleasent Hill Dam is another popular spot in the park to explore. It divides the Clear Fork Mohican River from the Pleasent Hill Lake and it can be explored several different ways:
You can just drive past it on the scenic drive mentioned above.
You can also hike to it through the main Lyon Falls trail I talked about earlier.
There is also the option to just stop there in your car.
Another popular option is to also stop there by car but hike down the Pleasent Hill Lake trail to the Covered Bridge and then back.
You should choose whichever one fits how much time and interest you have to explore it. The shorest way to check out the dam is via just stopping by car, while the longest is via checking out during your hike through Lyon Falls trail.
8) Visit the Mohican Covered Bridge: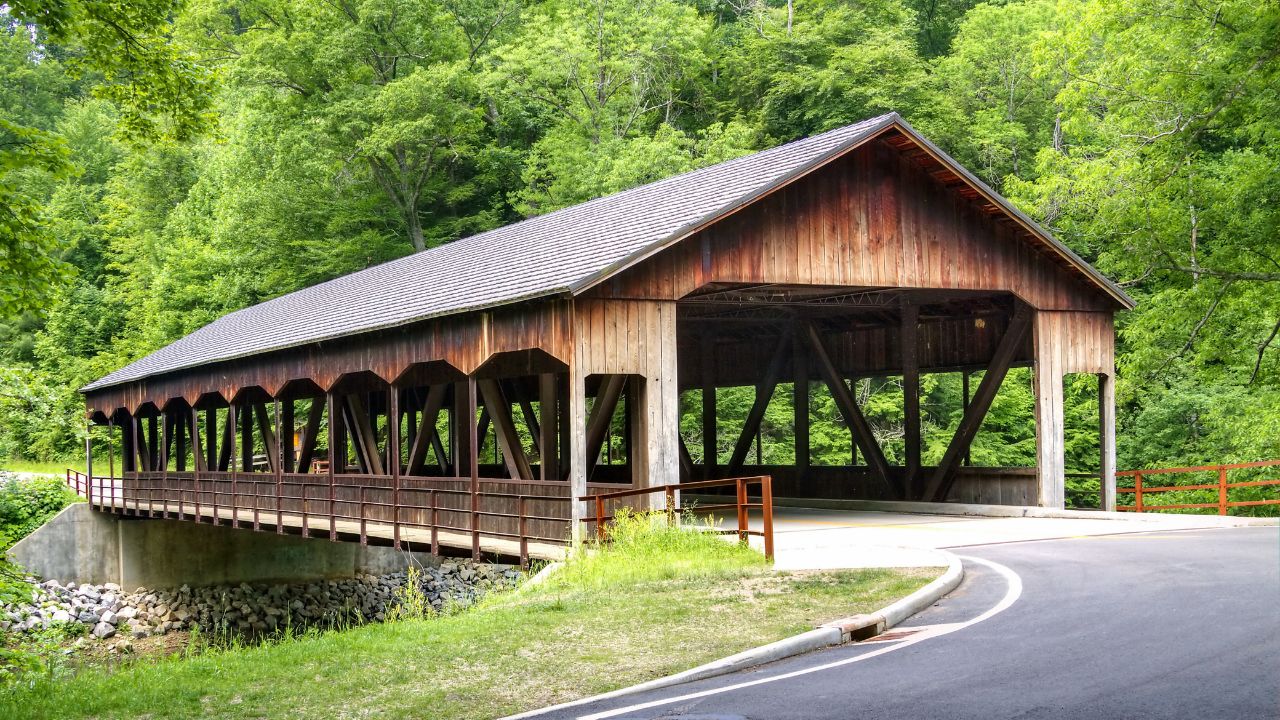 Details:
Many Mohican State Park photos feature this specific covered bridge and like the Pleasent Hill Dam, it can be accessed different ways:
The same Park Drive road (which also passes by the dam).
You can also hike past it on numerous trails.
You can also just drive or walk through it (and get some nice photos).
You can also just go underneath it if you are doing the kayak, tubing or rafting tours.
9) Reach the top of the Mohican Fire Tower: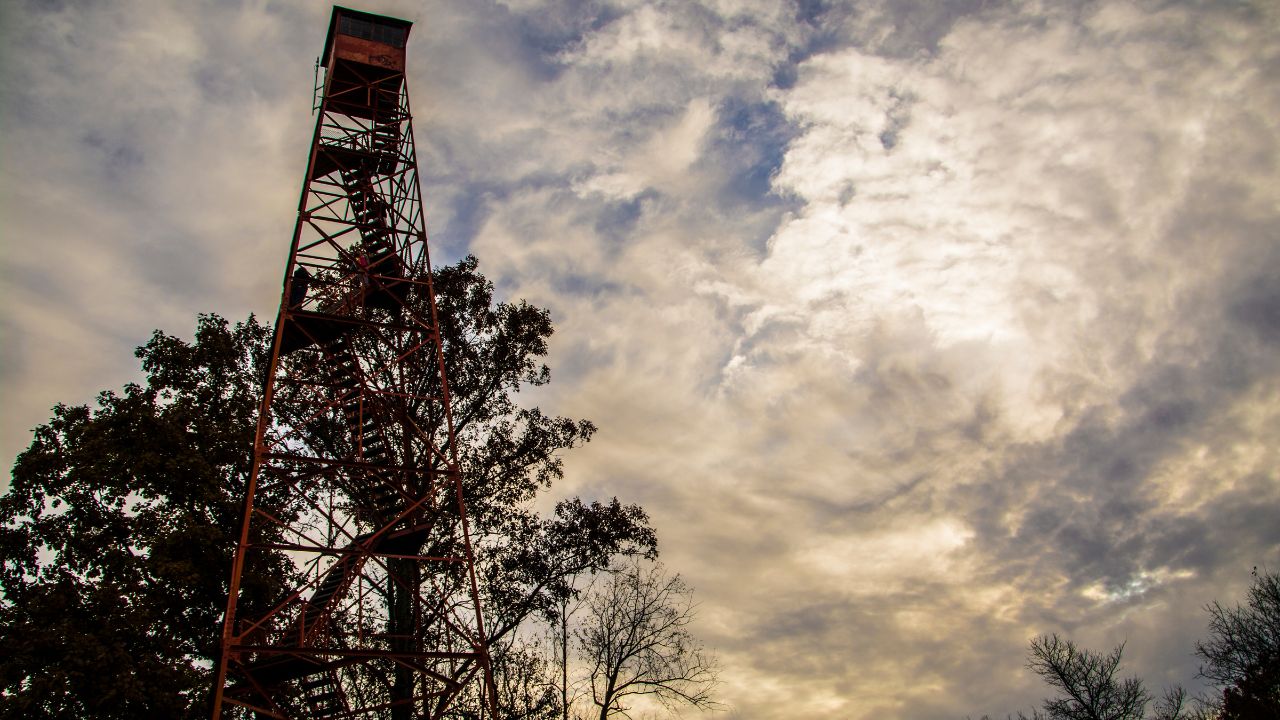 Details:
If you like Fire Towers, there also happens to be a very tall one in Mohican State Park. It is accessible through Park Drive Road, there is a parking close to it and you can walk to the very top of it to get amazing views of the park, the river and much more.
Now I also want to mention that there aren't many Fire Tower hikes in Ohio and this one may be the best. If you really enjoy these, then I would recommend exploring Fire Towers in New York State which has a bunch of them.
10) Visit Wolf Creek Grist Mill:
Details:
Wolf Creek Grist Mill is a historic section of the park where you can see an old farm village that also has a mill, museum, wagons and much more. Festivals are usually held in Mohican State Park within this area.
Mohican State Park map (where to find the spots above):
Questions about Mohican State Park:
Does Mohican State Park have waterfalls?
Yes there are 2 main waterfalls in Mohican State Park, Little and Big Lyon Falls which are both located on the same 2 mile Lyon Falls trail.
Can you swim in Mohican State Park?
There are certain parts of the Mohican State Park where you can swim but most people do tubing and kayaking there.
More Mohican State Park photos: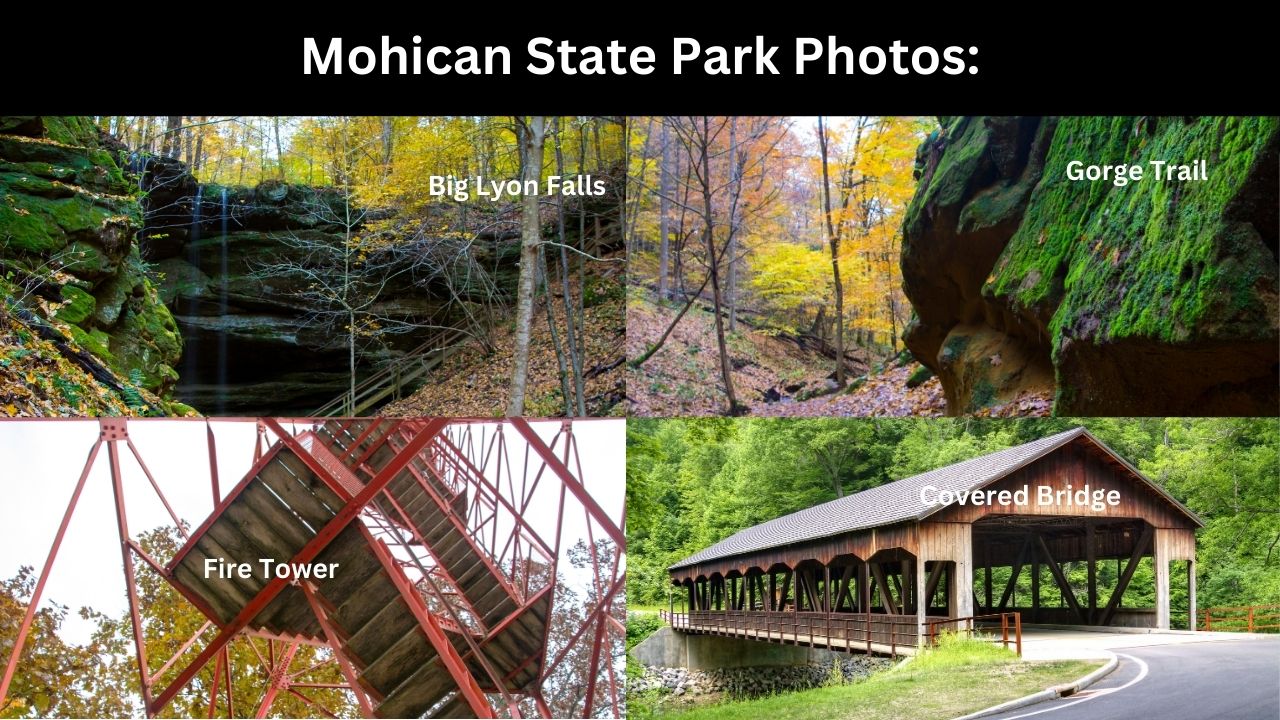 5 best things to do near Mohican State Park:
1) Visit the incredible Mohican Castle:
The full name of this place is called Landoll's Mohican Castle and it is located about 10 minutes south east from the park. It is actually considered to be haunted and has ghost tours (and lodging to my understanding) available.
2) Check out Pleasent Hill Lake:
That is located right above Pleasent Hill Dam and it's located right next to Mohican State Park. There you will find more public types of activities and a marina where you can boat on much more freely than if you were tubing in the river.
3) Cuyahoga Valley National Park:
This park is only 2 hours from Mohican State Park (northeast of it). Cuyahoga Valley National Park is much larger and has more things to do and I've added a link to showcase it's best activities as well.
4) Hocking Hills State Park:
This park is located about 3-4 hours south west of Mohican State Park but I am strongly going to recommend you take the time to visit it because it is my favorite Ohio park to date (learn more about Hocking Hills State Park). In my opinion it has the most beautiful nature in the whole state as it has gorge trails, numerous waterfalls and overall amazing, scenic hikes to explore.
5) Nelson Ledges State Park:
This park is way smaller than Mohican State Park but it is extremely fun and scenic in that it has great hikes, slot canyons, caves and more to explore. I came to Nelson Kennedy Ledges State Park once not expecting much but it ended up being my 2nd favorite park in all of Ohio (Hocking Hills is my top choice).
Depending on what type of trip you're doing, if it's for a day, you can easily fit most of the activities above into a single day at Mohican State Park, but if you are looking to explore multiple places over a few days, then the other spots nearby that I mentioned are perfect for seeing equally if not better places to make it a great road trip altogether.