I have been very lucky to visit Mont Tremblant on 3 different occasions, once during the summer season and twice during the winter seasons.
Whether it's during the cold or warm seasons that you visit this place, know that there is a lot you can do if you enjoy nature travels and I'd like to share some of those experiences I've had, especially if you're planning to visit this place for the first time.
Here are the 7 things I recommend trying at Mont Tremblant: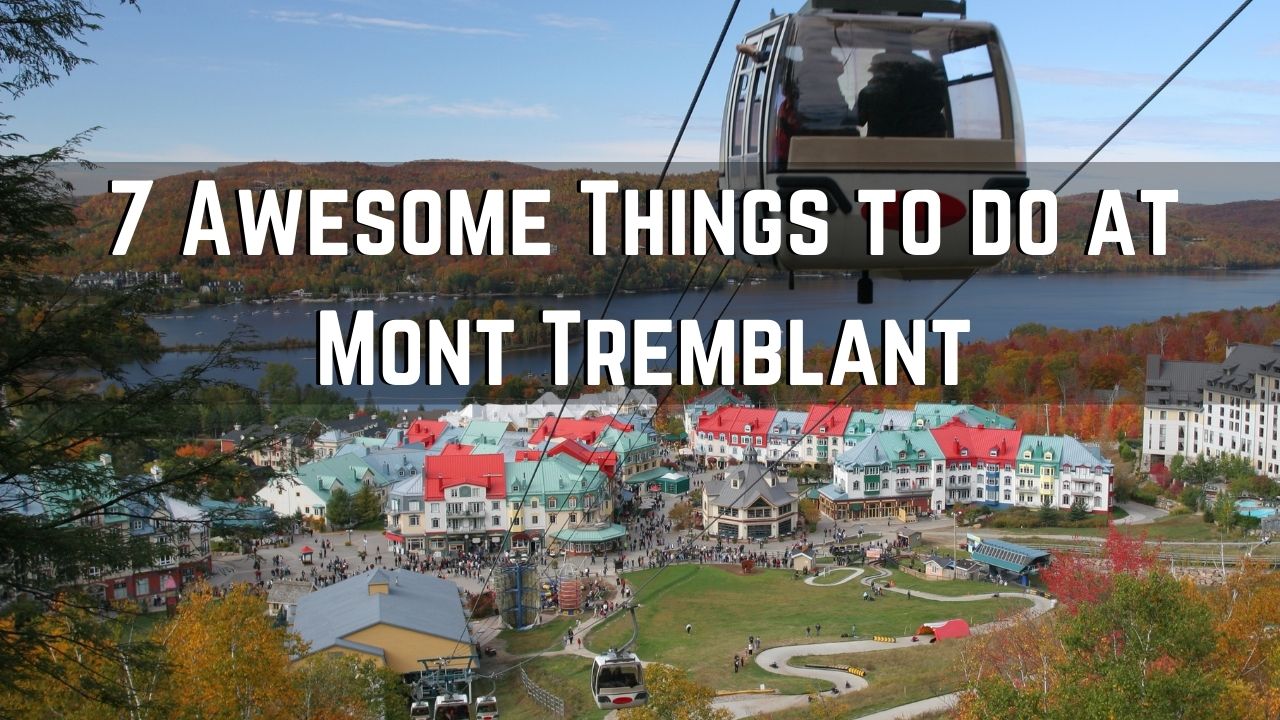 Start by visiting the town of  Mont Tremblant itself.
Check out the Scandinavian Spa nearby.
Check out the Casino near Mont Tremblant.
Visit Mont Tremblant National Park and try Cross Country (or feeding the birds from your hand).
Try some of the hikes near Mont Tremblant or outside of it.
Try the obstacle course attraction on Mont Tremblant.
Do any of the sports activities available there depending on which season you go there.
These 7 things are all activities you can get done in a few days when you visit Mont Tremblant.
FAQ on Mont Tremblant:
Why is Mont Tremblant famous?
Mont Tremblant is mostly famous for it's ski resort and beautiful village, but even if you come here during other seasons, there is a lot of other fun stuff to do.
Is Mont Tremblant worth visiting?
In my opinion Mont Tremblant is worth visiting at least once because of it's popularity, food, scenery and activities.
Do they speak English in Mont Tremblant?
Most people do speak English in Mont Tremblant, although the main language there is French.
How long is the gondola ride in Mont Tremblant?
The gondola ride to the top of Mont Tremblant mountain takes about 15 minutes to reach.
How many days do you need in Mont Tremblant?
5-7 days in Mont Tremblant is plenty to enjoy the many activities there.
1) Visit the town of Mont Tremblant itself: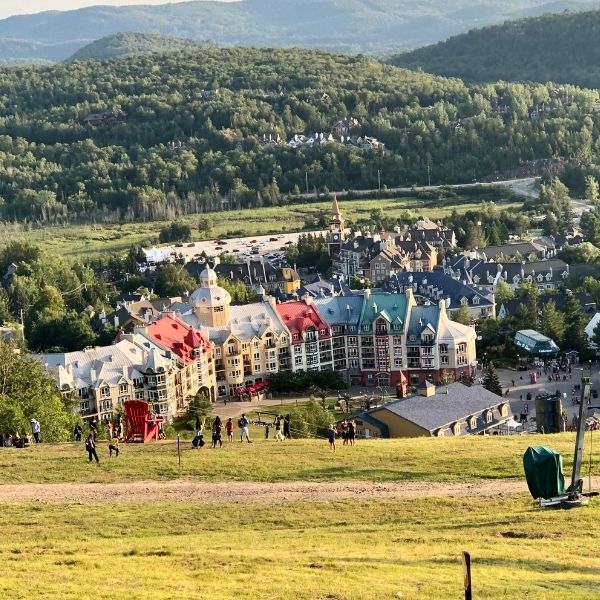 No matter what the season, the town of Mont Tremblant is absolutely stunning to check out in ANY season. This one is during the fall:
Here's just a "small list" of things you can do in the town of Mont Tremblant:
Bar hopping.
Wine tasting.
Beer tasting.
Shopping.
Trying the ski lift in the town.
Eating poutine, waffles in the restaurants.
Eating the amazing maple syrup they have there which tastes like condensed milk mixed with maple syrup!
Sight seeing.
Hotel stays with pools and Jacuzzis.
Swimming in the lake nearby.
Mountain biking (rentals are available).
And more.
There is one located about 20 minutes from the town which is very popular.
I actually visited it on January 1st, right on New Years day. While the wait to enter was long (over an hour), the spa is mainly outside and in the Forrest. You can go into the Jacuzzi's right in the open!
The thing I loved the most is that this spa is located right next to a river and during the winter, when most of it freezes up, they have a stairway that leads down to it, where there is a hole cut out that you can dive into.
While many people may not enjoy the sensation of diving into ice cold water, I did. And I did it 8 times, jumping in, coming out and jumping into a hot Jacuzzi right after.  
I was incredibly proud of myself because I'd never done this before. Unfortunately this excitement got the better of me because afterwards, I was heading home and got into a car accident because I wasn't focused enough on the road being slippery. Fortunately, the car was OK and so was I.
3) You can check out the Mont Tremblant casino nearby:
There is an official casino about 10-15 minutes outside of town. While it is small, it has enough entertainment to keep gamblers busy, there is also a nice restaurant and lounge available. I personally enjoyed visiting it.
4) Check out Mont Tremblant National Park and try Cross country:
Until I visited Mont Tremblant, I never knew that there was actually a hobby/sport known as cross country, an activity in which you can travel on skis through mountain trails and during the warm seasons with a bicycle (or just find find hikes there).
In any case, I have to find the name of the gigantic park (but Mont Tremblant National Park is it's official identity).
I believe it is the ONLY national park nearby the town) that's just 30 minutes out of town that has this. If you love animals, particularly birds, there are specific scenic areas in this park where you can put seeds in your hands and the nearby birds will literally land on your hand and eat from it:
It's an awesome experience. The only other place I've had this happen to me is at Crescent Lake which is on the Washington Coast. Same exact birds, just a totally different location (the Pacific Northwest).

It is also a a lake that is inside the famous Olympic National Park area, and the exact same birds you find in this region of Mont Tremblant are in this western area of the United States too!
5) Check out hiking trails right near the town of Mont Tremblant:

While the national park near the village has a lot of hikes to explore, the truth is so does Mont Tremblant Village itself and there are also other spots NEAR the village that offer a ton of opportunities too.
Basically the village is almost like an epicenter of hikes and trails you can check out.
If you're going to hike here (or anywhere near the village), see how to find easy hikes near me for details on what's available in this park.
I cannot imagine how much time you would need to visit them all, but just know there are more than enough to satisfy even the most extreme nature enthusiast and this coming from one.
The group I was with in the summer went to visit one of these parks (I wish I remembered the name, but this was so long ago, I never bothered to find out), and we settled to have a picnic and barbecue near a lake that was surrounded by many mountains (this whole area is just one giant mountain range). 
I would be careful if you go into these lakes as some of them may have leeches, which we did find in the particular one we were at.
This completely turned me off to the idea of swimming there, so if you enter a lake in this region, look for these things just in case. Here is one of the hikes I've done twice in Mont Tremblant which takes you right next to a beautiful waterfall:
6) Check out the climbing park and zipline in Mont Tremblant: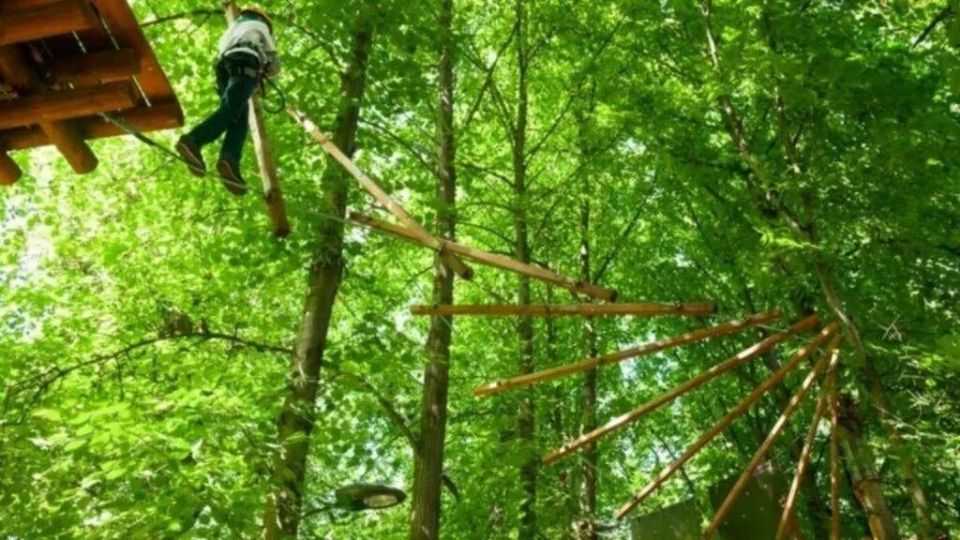 There is an awesome section of Mont Tremblant that has a obstacle course which takes you into the trees and try things like zip lining.
I went there with the people I was visiting with and really enjoyed this area:
If you're scared of heights, the obstacle course might not be for you because as you get further and further into it, the height of things like rope swings gets higher, and while you are harnessed and protected from falls, it's still tough.
I personally enjoyed it in spite of also having some fear of heights.
7) All of the sports activities available in Mont Tremblant:
Go karts.
Hiking in general.
Mountain biking.
Skiing.
Snowboarding.
Trail running.
Kayaking.
And more.
All of this is available there but obviously, depending on the season you visit Mont Tremblant determines what is possible. Since I've visited both during the warm and cold seasons, I've done most of these activities there.
For outdoor activities like hikes in Mont Tremblant, here is gear I would recommend:
3 more fun adventures to explore in eastern Canada:
I consider Mont Tremblant to be in the eastern part of Canada and having explored a lot of it personally, I'd like to share some other adventures I've partaken in. In short, I've explored several provinces in eastern Canada such as:
New Brunswick, Nova Scotia, and New Foundland. You can find a detailed explanation of my road trip through eastern Canada here, but here are the adventures I recommend you do if you go there (several hours east of Mont Tremblant):
1) Bay of Fundy. Located in New Brunswick and Nova Scotia.
2) Cabot Trail. Located in Nova Scotia.
3) And in New Foundland, the only real place to explore is the famous Gros Morne National Park. 
These areas are about 10 hours east of Mont Tremblant, but also have their own adventures, ski resorts and other things worth doing, so if you enjoy road trips, I'd consider these other areas, or checking out my road trip page to get other adventure ideas!