There are many activities and things to do in Mont Tremblant and I have been very lucky to visit this area on 3 different occasions, once during the summer season and twice during the winter seasons.
And the great news is that whether you visit Mont Tremblant during cold or warm seasons, know that there's always many things to do and in this post's case, 7 specific ones that are for first time visitors.

Here are the 7 things to do in Mont Tremblant:
Start by visiting the town of Mont Tremblant.
Check out the Scandinavian Spa nearby.
Check out the Casino near Mont Tremblant.
Visit Mont Tremblant National Park.
Check out hiking trails inside and out of Mont Tremblant.
Try the obstacle course and zipline attraction.
Do any of the sports activities available there depending on which season you go there.
These 7 things are all activities you can get done in a few days when you visit Mont Tremblant.
FAQ on Mont Tremblant: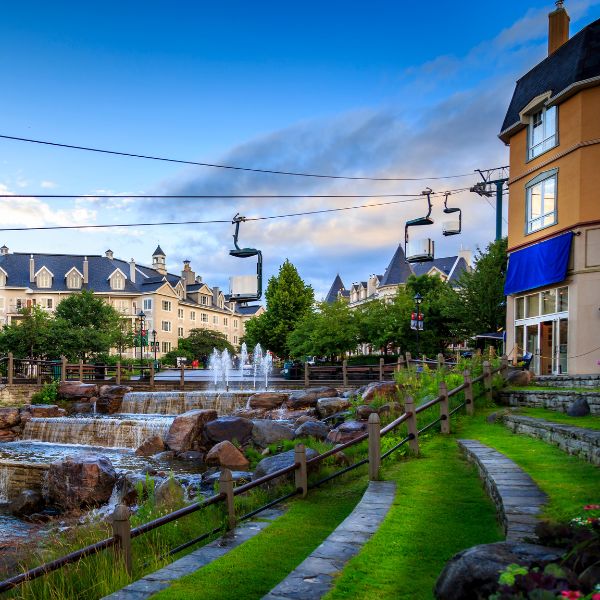 Why is Mont Tremblant famous?
Mont Tremblant is mostly famous for it's ski resort and beautiful village, but even if you come here during other seasons, there is a lot of other fun stuff to do.
Is Mont Tremblant worth visiting?
In my opinion Mont Tremblant is worth visiting at least once because of it's popularity, food, scenery and activities.
Do they speak English in Mont Tremblant?
Most people do speak English in Mont Tremblant, although the main language there is French.
How long is the gondola ride in Mont Tremblant?
The gondola ride to the top of Mont Tremblant mountain takes about 15 minutes to reach.
How many days do you need in Mont Tremblant?
5-7 days in Mont Tremblant is plenty to enjoy the many activities there.
Now on the specifics of what to do in Mont Tremblant:
We'll begin this list with the most obvious activity and that is:
1) Explore the village itself (here's what to do in Mont Tremblant itself):
No matter what the season, the town of Mont Tremblant is absolutely stunning to check out in ANY season. This one is during the fall:
Here's just a "small list" of things to do in Mont Tremblant village:

Bar hopping.
Wine tasting.
Beer tasting.
Shopping.
Trying the ski lift in the town.
Eating poutine, waffles in the restaurants.
Try the maple syrup there (it's amazing).
Sight seeing.
Hotel stays with pools and Jacuzzis.
Swimming in the lake nearby.
Mountain biking (rentals are available).
And more.
Another major activity is checking out the Mont Tremblant Gondola:
There's 2 of them actually. One is in the village which will take you to the base of Mont Tremblant Mountain and then there is a second by the base of it which will take you to the top of that mountain and that one is better if you're looking to do skiing. But both gondolas are great ways to see the village and then the mountains from this area.
2) Visit the Scandinavian spa near Mont Tremblant:

There is one located about 20 minutes from the town which is very popular.
I actually visited it on January 1st, right on New Years day. While the wait to enter was long (over an hour), the spa is mainly outside and in the Forrest. You can go into the Jacuzzi's right in the open!
The thing I loved the most is that this spa is located right next to a river and during the winter, when most of it freezes up, they have a stairway that leads down to it, where there is a hole cut out that you can dive into.
While many people may not enjoy the sensation of diving into ice cold water, I did. And I did it 8 times, jumping in, coming out and jumping into a hot Jacuzzi right after.  
I was incredibly proud of myself because I'd never done this before. Unfortunately this excitement got the better of me because afterwards, I was heading home and got into a car accident because I wasn't focused enough on the road being slippery. Fortunately, the car was OK and so was I.
3) Check out the Mont Tremblant casino:
There is an official casino near the village (about 10-15 minutes outside of it). While it is small, there is a lot of variety of things to do there.

I've personally been to that casino twice. One thing I do want to mention is the operating hours of this casino vary so make sure to check before going.
4) Visit Mont Tremblant National Park:
Yes the village is worth checking out, but not far from it is an official national park that has a lot to do, from hiking to swimming and in the winter, things like cross country.
For Mont Tremblant hiking trails, here is what I recommend:
There are several and you can use 2 types of methods to find popular hikes in the area:
My

easy hikes near me

post is great for this.
Another specific one is using Alltrails (they have lists of hiking trails in this area).
Another really cool thing about this specific national park is bird feeding. If you have seeds and visit any area in this park that has birds, they will actually land in your hand and eat from it (I've tried it and I loved it).
It's an awesome experience. The only other place I've had this happen to me is at Crescent Lake which is on the Washington Coast. Same exact birds, just a totally different location (the Pacific Northwest).
Note: For swimming be careful in these areas (leeches are common).
5) Check out specific Mont Tremblant hiking trails right near the town:

While the national park near the village has a lot of hikes to explore, the truth is so does Mont Tremblant Village itself and there are also other spots NEAR the village that offer a ton of opportunities too.
Basically the village is almost like an epicenter of hikes and trails you can check out.
I cannot imagine how much time you would need to visit them all, but just know there are more than enough to satisfy even the most extreme nature enthusiast and this coming from one.
I've done at least 2-3 hikes in this region and they were alright for the most part (the national park might have more scenic options, but the hiking trails are still good here).
6) Check out the obstacle course and zipline in Mont-Tremblant: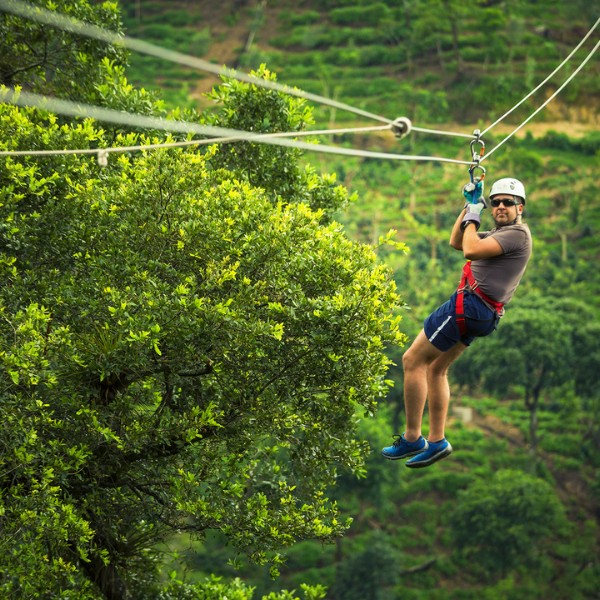 There is an awesome activity you can do in Mont Tremblant that involves going through an obstacle course that has harnesses and tree climbing.
That same obstacle course (towards the end) has several zip line sections that are very high up and very enjoyable. Basically you go uphill via the obstacle course, then down the zip line on the way back.
If you are scared of heights I would still recommend trying this obstacle course because it starts very easy and you slowly work your way up, and if during that period you get uncomfortable, there are several sections of the course where you can stop and hike back down on foot. 
I personally did the whole course and really enjoyed it, even though I'm personally not a fan of heights and to me the most fun section was towards the end with the zip line area and that's where you're highest off the ground, but I quickly got used to that feeling and stopped worrying about the heights after awhile.
Either way, this was one of the most fun activities I did when I visited Mont Tremblant.
7) Do the following summer activities (and winter) available in Mont Tremblant: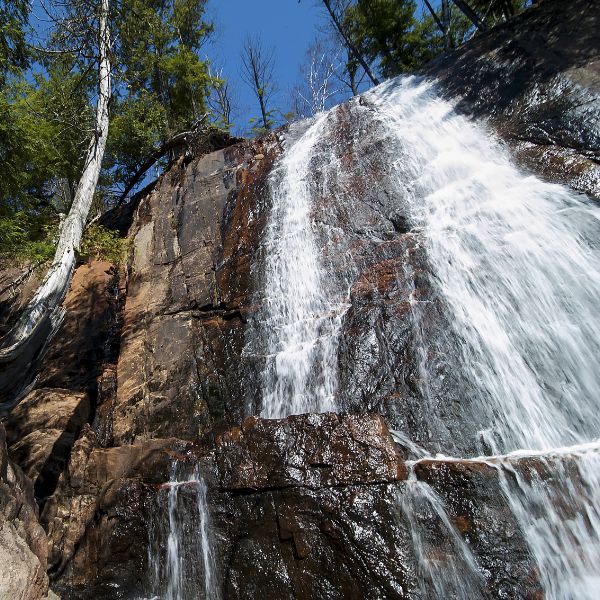 Go karts.
Hiking in general.
Mountain biking.
Skiing.
Snowboarding.
Trail running.
Kayaking and boating.
Swimming in the lakes nearby (watch for leeches).
And more.
All of this is available there but obviously, depending on the season you visit Mont Tremblant determines what is possible. Most of these activities are meant to be done in the spring and summer.
Since I've visited both during the warm and cold seasons, I've done most of these activities there and personally I can't say which season is better to visit this place during. If you enjoy winter stuff, then go to Mont Tremblant in the winter.
If it's in the warmer seasons, then visit it then (there's always going to be many things to do).
3 more fun adventures to explore in eastern Canada:
I consider Mont Tremblant to be in the eastern part of Canada and having explored a lot of it personally, I'd like to share some other adventures I've partaken in. In short, I've explored several provinces in eastern Canada such as:
New Brunswick, Nova Scotia, and New Foundland. You can find a detailed explanation of my road trip through eastern Canada here, but here are the adventures I recommend you do if you go there (several hours east of Mont Tremblant):
1) Bay of Fundy. Located in New Brunswick and Nova Scotia.
2) Cabot Trail. Located in Nova Scotia.
3) And in New Foundland, the only real place to explore is the famous Gros Morne National Park. 
These areas are about 10 hours east of Mont Tremblant, but also have their own adventures, ski resorts and other things worth doing, so if you enjoy road trips, I'd consider these other areas, or checking out my road trip page to get other adventure ideas!