7 Best Things to do in Bay of Fundy For Your First Visit
While there's a lot of things to do in Bay of Fundy, the truth is that it's tough to find decent information on this area because of how large it is. That's what happened to me when I visited this place and I have to say, the resources I found on what to see here were confusing at best.
As a result, I went in blind to explore Bay of Fundy and wasted a lot of time figuring out where to go, what to see and in the end missed out on a lot! Fortunately I did a lot of post research after my visit and learned how to properly explore this area, and that's why I wrote this article.
So if you're visiting Bay of Fundy for the first time, or missed out on it's many beautiful spots like I did, this article will help you get the most out of your first (or next) visit there!
Here's the 7 things to do in Bay of Fundy: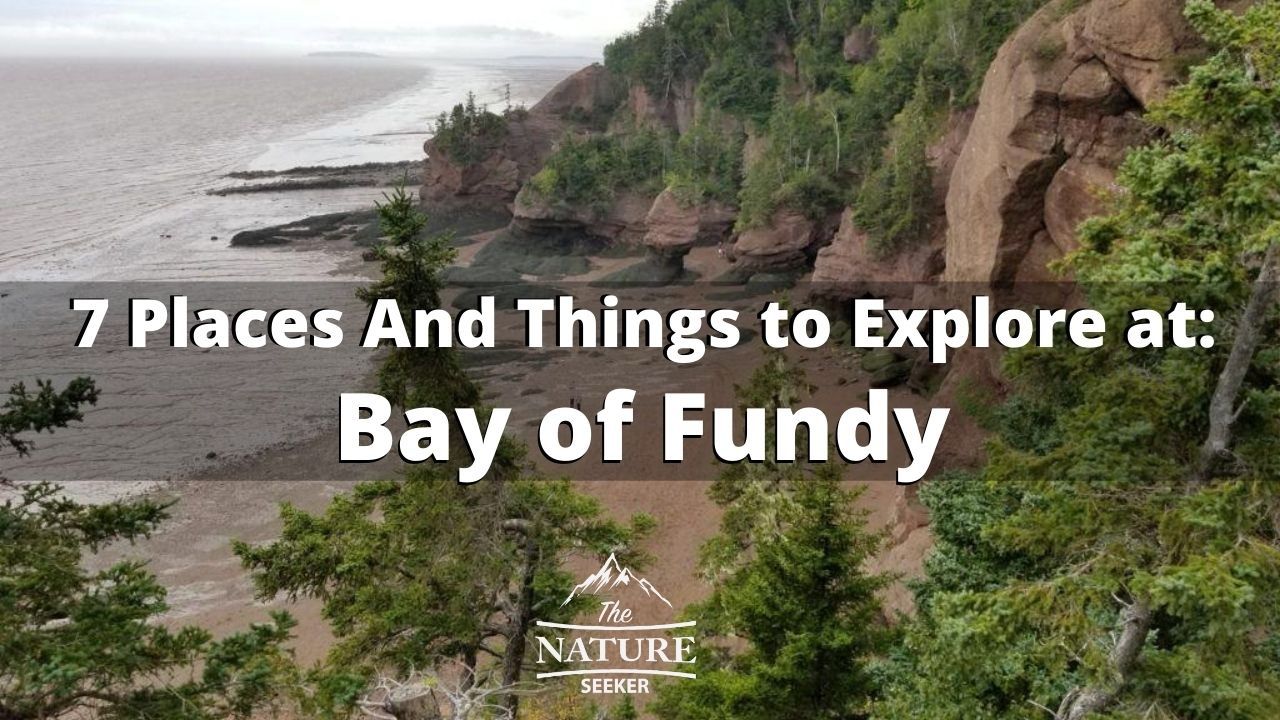 Hopewell Rocks
Whale watching
See the Bay of Fundy high/low tides
Waterfalls in Bay of Fundy National Park
Sea caves at Bay of Fundy
Bay of Fundy scenic drive
Exploring Bay of Fundy National Park
Bay of Fundy has a lot more things you can do there, but these 7 really encapsulate the most popular things people do when they go here. And I'll be showing you the locations of these places so you can get to them right away (without having to look for them like I did when I went there).
1) Hopewell Rocks

:
This is the most iconic spot in all of Bay of Fundy. It's basically a beach that you can walk on during low tide to see amazing rock formations, and during high tide, kayak through the same area and even see some sea caves.
Hopewell Cape is the location that most people will see if they Google "Bay of Fundy" but when I came to this area, I had no clue where to find it and lost a few hours in the process. I had to ask locals and they showed me how to get there, so to help you avoid that same problem here's what you need to know:
Hopewell Rocks is located in the north eastern part of Bay of Fundy

.

You do have to pay a fee to get into the park.

You then have a choice to see the Hopewell Rocks from above (if it's high tide) or go down to the beach (if it's low tide). I recommend you try to see them from below (on the beach). If you want to kayak through Hopewell Rocks, there are at least 2 kayak rental areas north and south of the area.
How to get to Hopewell Rocks:
I included a link to it and it's called Hopewell Rocks Provincial Park. I have also created a Hopewell Rocks guide to help you when you go here.
2) Whale watching tours: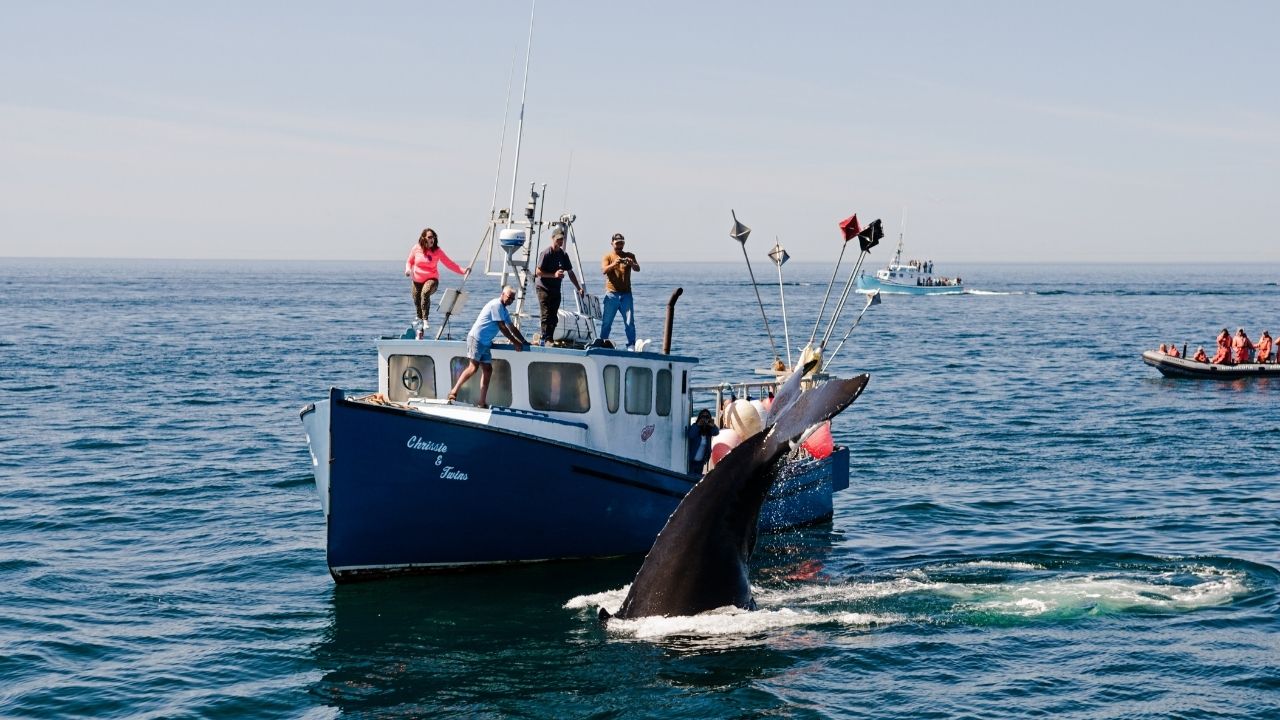 Bay of Fundy is well known for having a lot of whales swim through it. There's multiple boat tours you can take since this region is so large. 
In addition, there's also whale tours you can take near the northern part of the Cabot Trail, which is a location in the northern side of Nova Scotia (another region of Nova Scotia I would recommend checking out if you have the time). Depending on where you are located and how much time you have, you can choose this option or the Cabot Trail one (I believe the Cabot Trail has more places to see them).
While this is all available in eastern Canada, there are also many places in western Canada and the Pacific coast of the US where you can also do this (for example there are many places for whale watching on the Oregon Coast).
How to do whale watching tours in Bay of Fundy:
Here's a site with a compilation of Whale Watching tours, all within the Bay of Fundy region.
3) Witness the Bay of Fundy tides: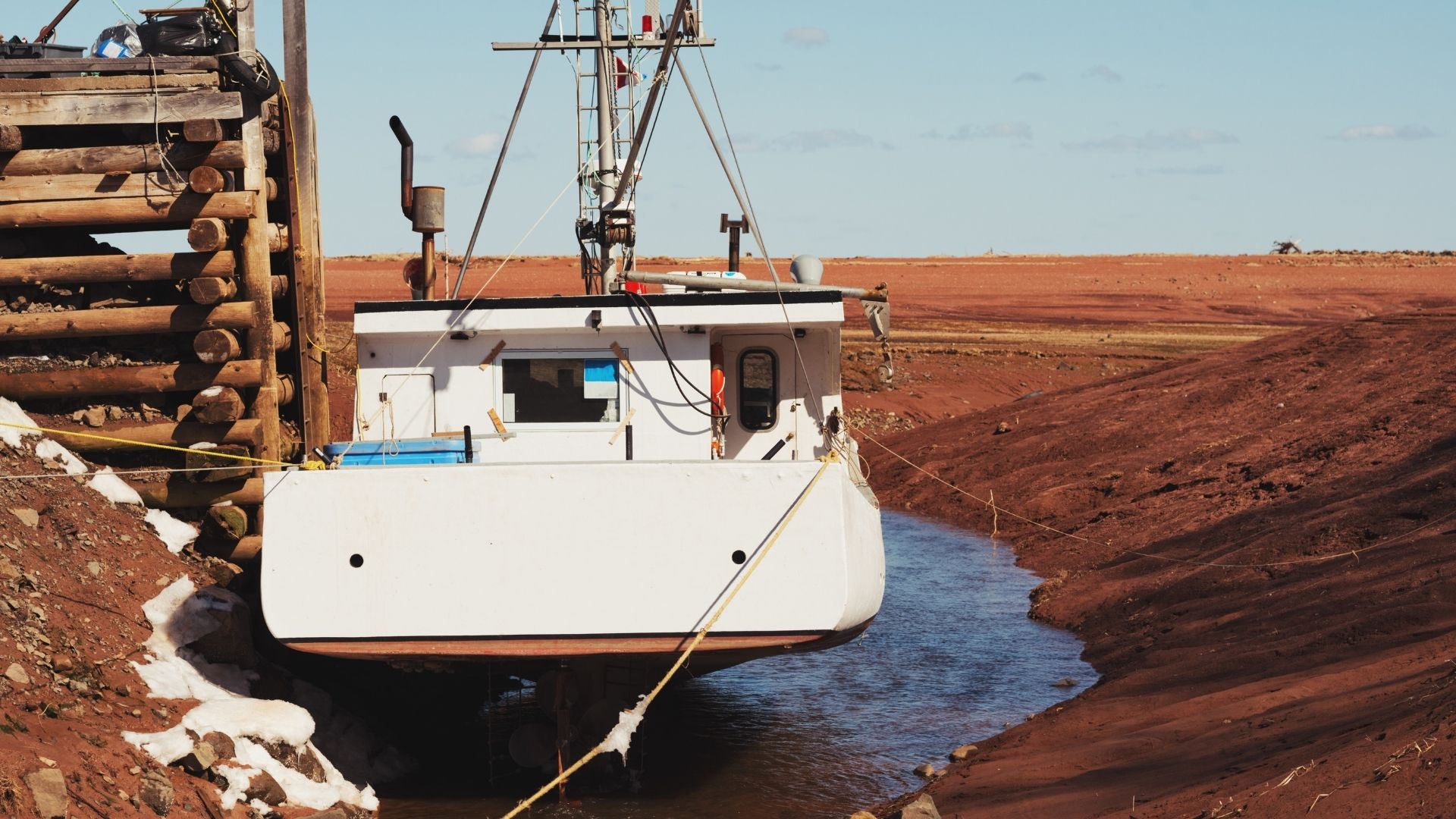 This is what Bay of Fundy is most known for! The entire area is very well known for having the biggest high and low tides you'll ever see and I can confirm this since when we landed on the coast, it was during the low tide period and you could see that the water fills in at least a kilometer inland.
The above image of Hopewell Rocks is also famous for this as when the low tides kick in fully, you explore the beach and rocks fully, but when it's high tide, you can't, but can kayak there to get another view of the land. But what you see in the image here (the boat) is very common to witness as when the low tides do happen, they are so extreme that it feels like a massive drought came through, and this happens every single day there.
What's the best place to see Bay of Fundy tides?
There's actually a lot of choices! Here are my top recommendations:
Hopewell Rocks.
Any coastal area in south New Brunswick (where Bay of Fundy is located), specifically any marina, towns on the coast, etc…
There are also some sea caves below as one of the other things to see here that's great for seeing the high and low tides.
4) See the many waterfalls in Fundy National Park: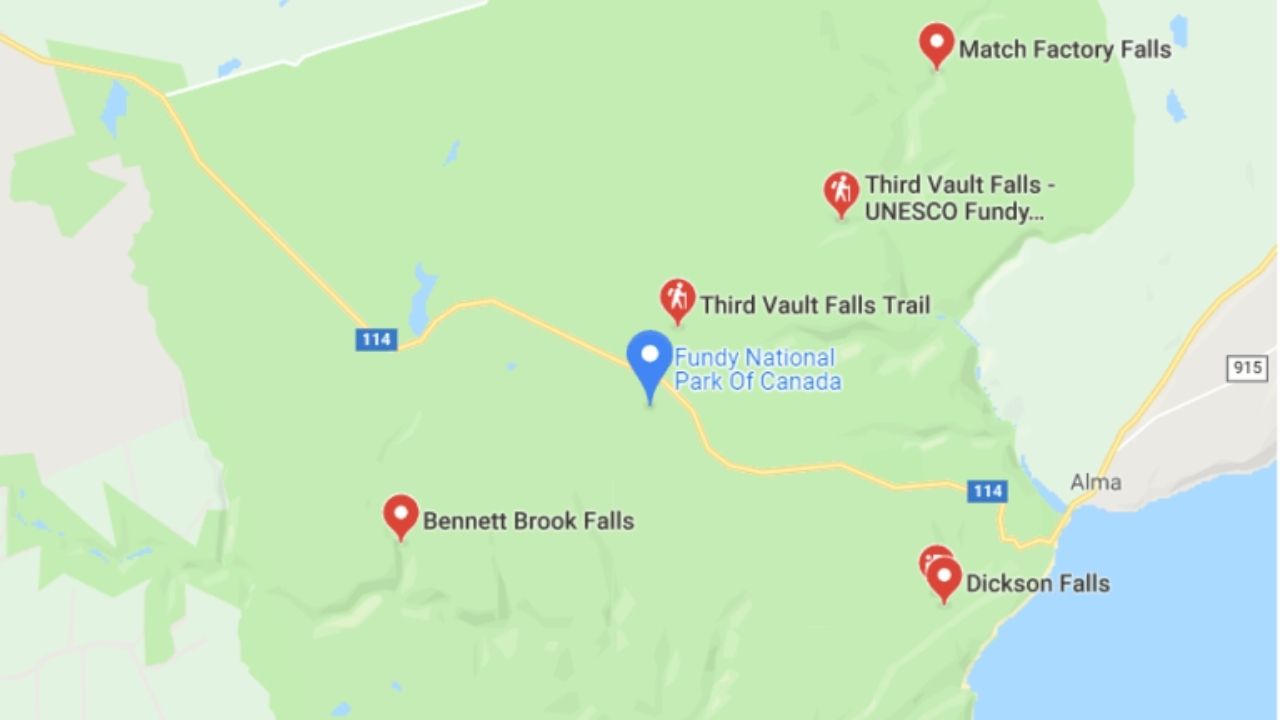 While high and low tides are are awesome to see in Bay of Fundy, there's also a national park that's connected to the coast, but also goes very far inland that I recommend seeing and for this specific activity, the waterfalls there. I mainly recommend Dickson Falls which is on the southern most end of the park, where you can also see great views of the coast (and possibly another great angle of the high and low tides).
How to see these waterfalls:
There is a map above where you can see several options, but you can also get a map of this national park when you enter. 
5) Bay of Fundy sea caves (St. Martins Sea Caves):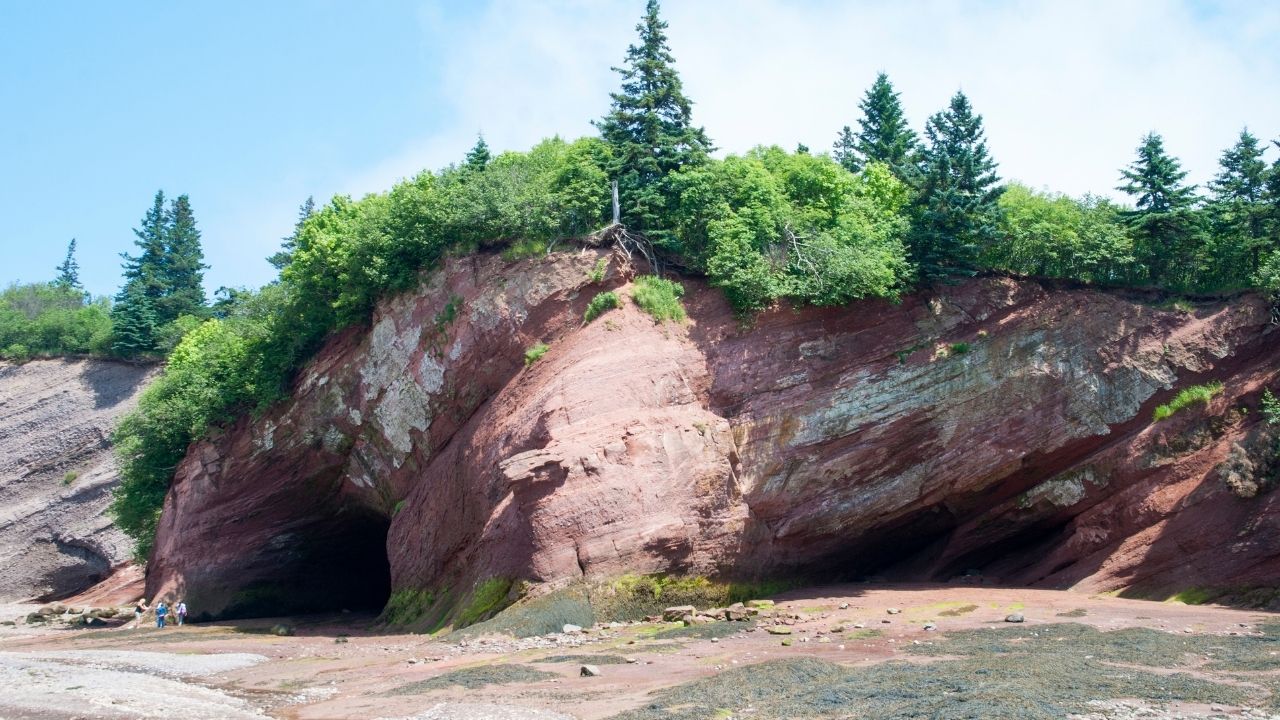 There is an iconic sea cave west of Fundy National Park park known as St. Martins Sea Caves and it's right on the coast, but on the western end of Bay of Fundy. Because it's directly opposite of Hopewell Rocks, when I visited this area, my friends and I had to decide on only seeing one location (we had to make the Ferry to go see Gros Morne National Park). And so, because we had to go further north east, Hopewell Rocks was the deciding location for us to visit, while the sea caves would have to be put on hold.
But if you're visiting this place for a few days, then you can definitely check all of these places out. From what I know seeing other sea caves at places like Cape Flattery, which are on the Washington Coast, these are also very beautiful and even accessible during the low tides. And by the way, the Oregon Coast has many as well. Here's a list of sea cave spots on the Oregon Coast.
Where to find this sea cave:
Here's a listing for this sea cave. The ideal time to visit this cave is during peak low tide. When high tide happens here, you won't be able to go inside the cave!
6) Bay of Fundy scenic drive (Fundy Trail Parkway):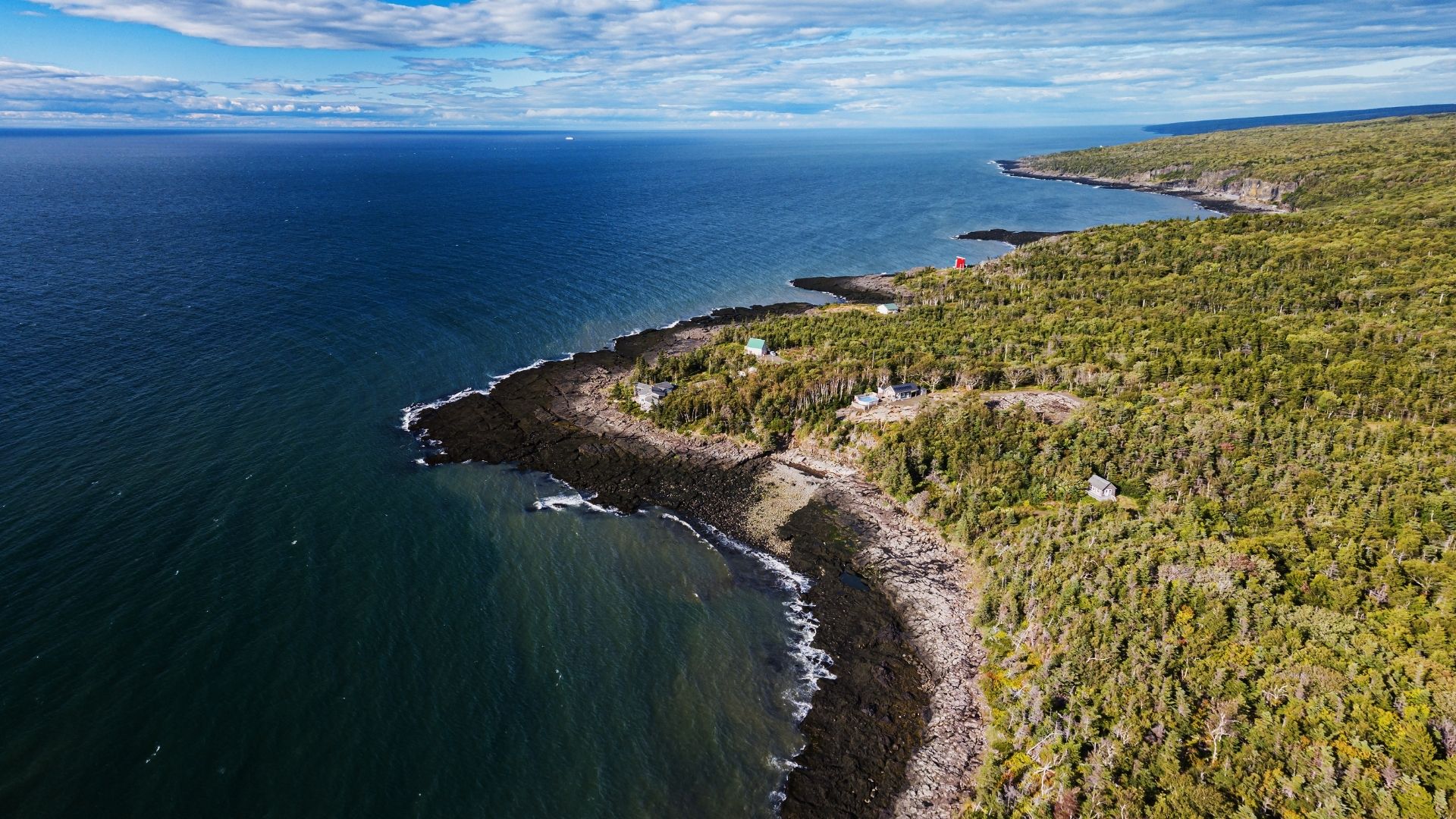 This is a scenic drive that begins in western Bay of Fundy (south New Brunswick) and goes all the way in and through Bay of Fundy National Park. After Fundy Trail Parkway ends (when the national park ends), you will be on different road that continues along Bay of Fundy and to places like Hopewell Rocks, so I recommend doing that drive too, not just for seeing all the best places in Bay of Fundy, but also getting the full experience of this scenic drive!
How to access the Fundy Trail Parkway:
I recommend starting the drive on the western end, which begins near the town of St. John. Here's details on the Fundy scenic drive. On the Fundy Trail Parkway, you will see a few towns, beautiful beach views (especially during low tide) and there will be plenty of opportunities to take pictures. And if you want to see more places like this, then the Cabot Trail which is north of Bay of Fundy is a must do drive as well! 
Additionally, if you have the options to travel anywhere, I always advise checking out the Pacific Coast Highway drive. That one is more beautiful than any of these options (but still, the east side of Canada is gorgeous too). And just as well, I also recommend the North Shore and South Shore, aka the Upper Peninsula of Michigan as these are equally amazing coastal drives, but in the US. 
7) Visit Fundy National park: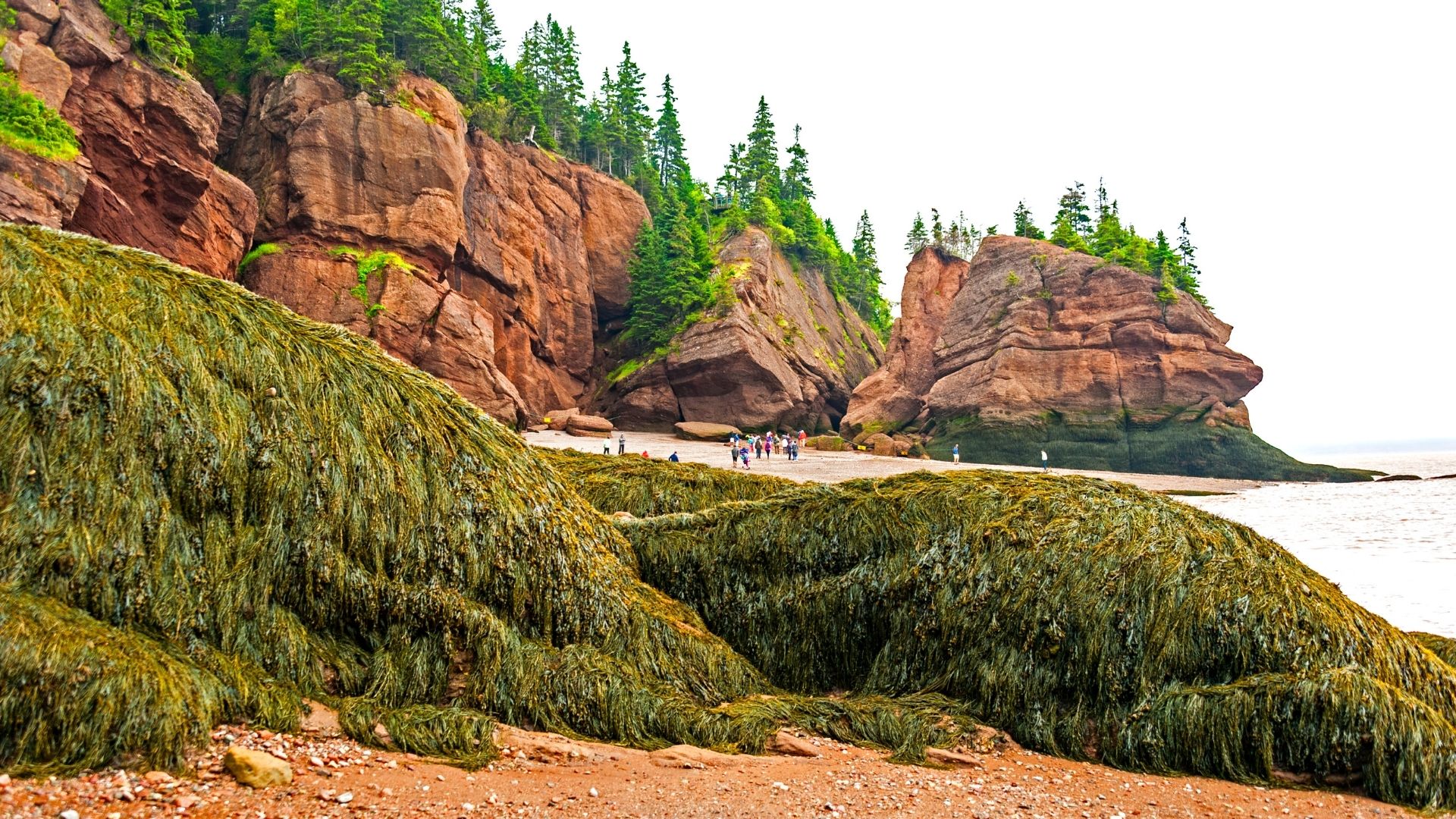 If you love nature but aren't really active in it like we were, you have the option to camp out and picnic in the park (in addition to doing the waterfall hikes mentioned earlier), which itself is huge. There's a few ways to enter Fundy National Park. I would just enter it into your GPS, but here's a few options:
You can do it from the scenic drive I mentioned earlier.
You can also access it from the main road (2) that's in New Brunswick.
You can also access it from the west road that goes through Bay of Fundy.
My personal advice before you visit Bay of Fundy:
Understand where the Bay of Fundy location is (I'll include a bigger map shortly).

To also understand just how bad the directions are to this place (because they literally clump all the locations I listed into one name which is Bay of Fundy, and it confuses people!) and to make sure you use this article to identify where in this large area you wish to go. 
Bay of Fundy location: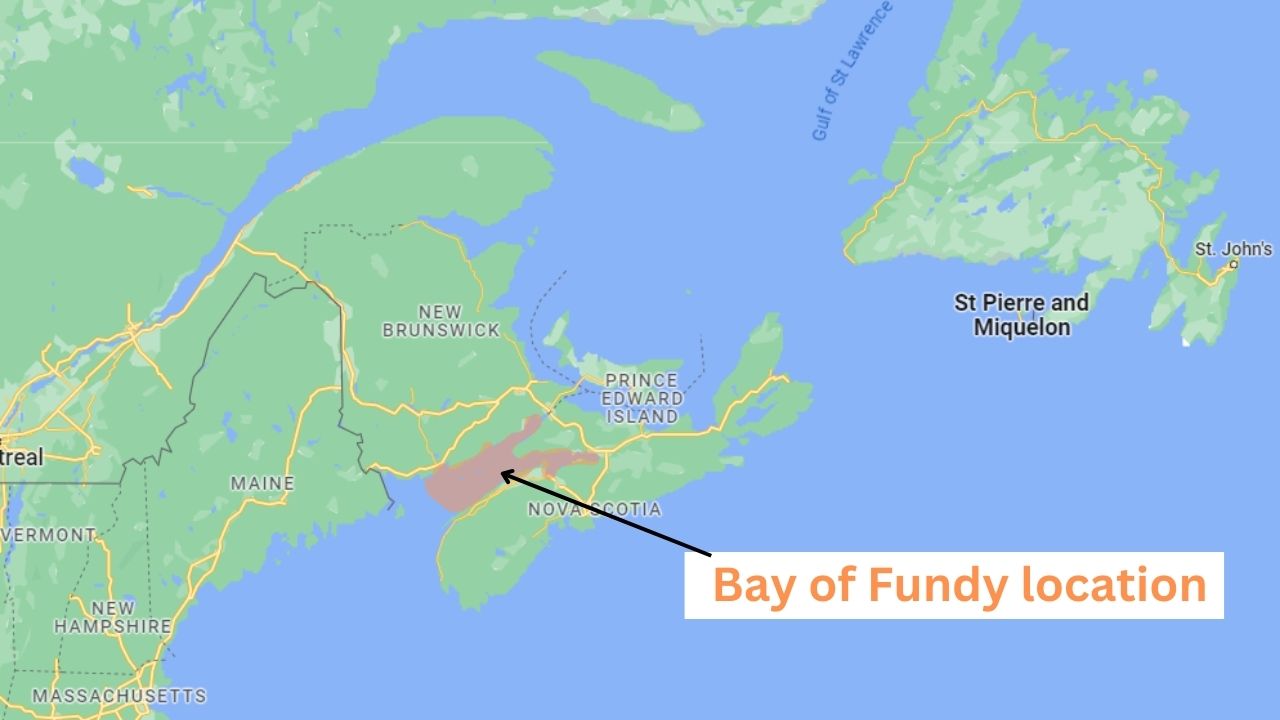 Like I said before, if you wish to enter this spot through the Fundy National Park park, I highly advise that you pick up a map at the ranger station and ask any questions on any spot you wish to see, so the ranger can mark it down on the map for you, so you don't get lost later.
Because we didn't do this, we had to make more frequent stops to ask locals where to go, which wasted time and forced us to then hurry to reach a ferry to get to Gros Morne National Park.
An updated map of the above places to visit in Bay of Fundy:
Common questions about Bay of Fundy:
Is it better to see Bay of Fundy in New Brunswick or Nova Scotia?
You can generally see the best parts of Bay of Fundy more so in New Brunswick than in Nova Scotia. 
Where is the Bay of Fundy and why is it famous?
Bay of Fundy is in eastern Canada, specifically the coasts of southern New Brunswisk and southern Nova Scotia. The most famous thing it's known for it's incredible high and low tides you can see daily.
Where is the best place to see the Bay of Fundy?
I recommend the St. Martins sea caves or Hopewell Rocks. Those are 2 of the best places to see the Bay of Fundy from. 
How much does it cost to go to the Bay of Fundy?
There are parts of Bay of Fundy which are free, but there are also places within this giant area where you have to pay to enter like Fundy National Park or Hopewell Rocks.
Can you walk across the Bay of Fundy?
During low tide it's possible to walk far into the shore, but you can't cross the entire Bay of Fundy even during that time.
Other great places to see around Bay of Fundy: