I had no idea I could find so many things to do in Sequoia National Park in one day until I actually went there and if you follow the activity list I have set up for you in this article which is the 10 best places to see there in order, you'll pretty easily be able to do that.
Here are the 10 best things to do in Sequoia National Park in one day: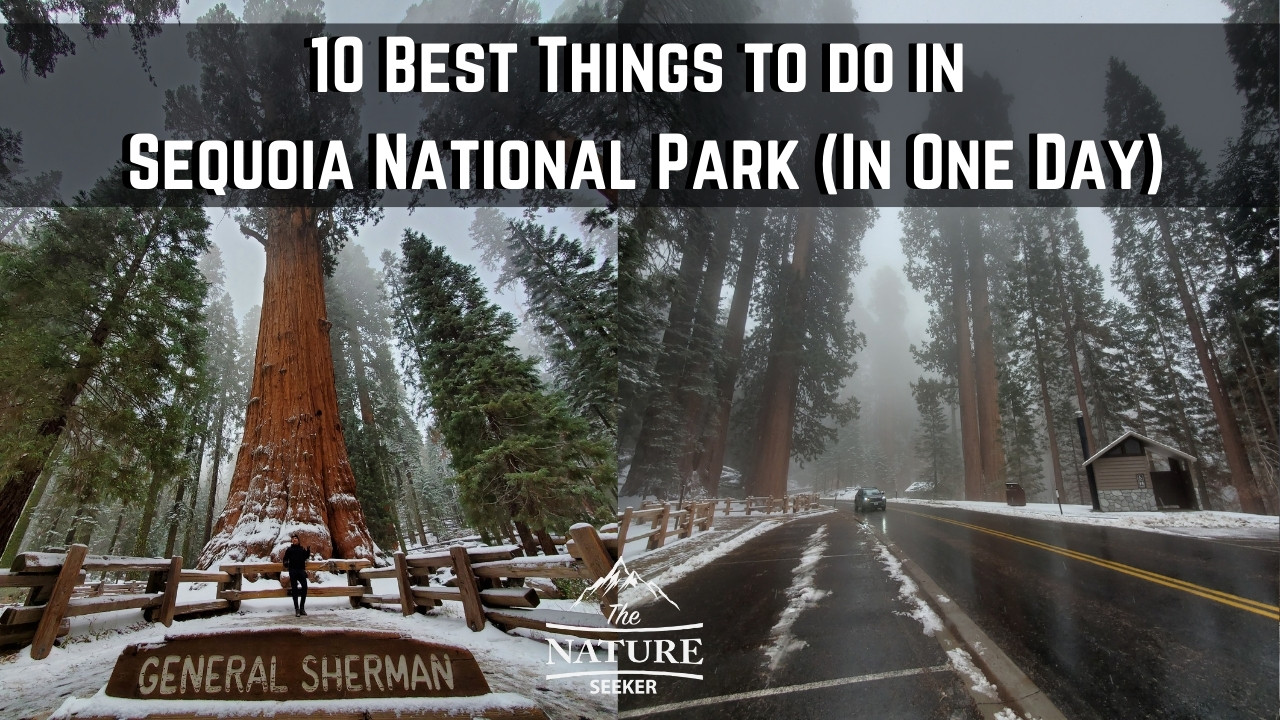 Start at Big Stump Grove.
Explore General Grant Grove.
Hike through Redwood Mountain Grove.
Drive through Generals Highway (Part 1 Sequoia scenic drive).
Hike Lost Grove and Muir Grove.
Check out General Sherman Tree.
Do the Hazlewood Nature Trail.
Drive through Tunnel Log (famous Sequoia drive through tree).
See Crystal Cave.
Finish with the Serpentine road (Part 2 Sequoia scenic drive).
This list encapsulates just about all the best things to do in the park in one day.
5 things to know before you do these 10 Sequoia National Park day trip activities:
1) You'll start in the north part of this park (Kings Canyon NP first), then finish in the south part (Sequoia NP):
There are 2 official entrances to Sequoia NP and the way I personally did it was started from the northern part, and finished in the south.
2) You can follow this Sequoia NP list south to north too.
If you are doing a day trip to this park and starting from the south, just follow the above list from 10 to 1. Either way, it's best to explore this park from one end to the other and not backtrack because the one way approach has you constantly seeing new places in this park and that is the best way to check out the most spots in it.
3) You will explore a small portion of Kings Canyon National Park from the start (or finish):
Kings Canyon NP is connected to Sequoia NP and you can actually see both of them in one day like I did, but because each park has a lot to see and do, it's better to spend one day in each one. However with this list, you will be exploring a few areas of Kings Canyon NP as there are Sequoia tree areas there too.
4) Some of the activities on this list aren't always open:
Certain things like Crystal Cave and Tunnel Log may be closed until the summer and at the same time you shouldn't rush as you do this list.
Enjoy each spot and even if you do 5 of the things on this list, it'll still be an amazing day trip to Sequoia.
5) This list has you explore the best spots in Sequoia National Park:
You won't just see a lot of Sequoia trees by following this list, but also:
Do the entire scenic drive through the park which is absolutely amazing.
See the 2 biggest Sequoia trees there are (General Sherman and General Grant).
Have several hikes you can do in the park to get close to a lot of Sequoia trees.
Do the famous Tunnel Log (where you drive through the Sequoia tree).
Each of these places also connects to longer hikes, trails and explorations so in many cases, you can explore even more in each spot if you choose to.
Make sure to get a Sequoia National Park map to properly do these 10 activities: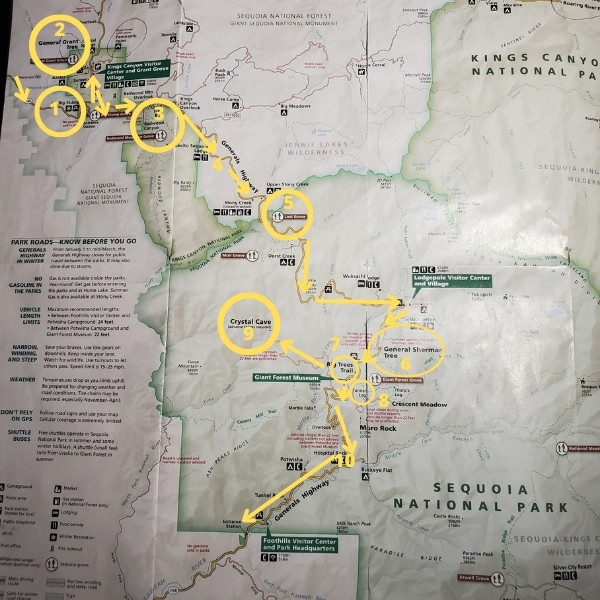 You can get a map of Sequoia National Park here, but also at any of the major welcome stations or welcome centers.
I've attached my own map that I used when I was exploring this park with each of the 10 activities circled on it so you know where to find them too.
Here's what you need to know about the layout of Sequoia National Park (how to navigate it):
The great news is that with this park, it's mostly just 1 main road you are on (called Generals Highway aka the Sequoia scenic drive).
One the map, I have labeled every spot in order that I have listed above so when you pick up your own map of this place, you'll be able to cross reference it with your map so you won't miss these places in Sequoia.
The key is knowing ahead of time what those best spots are which is what I've done for you in this post.
That way you don't have to guess or randomly choose where to go. I'll also add a hiking list below the top 10 spots further below.
Details of each of the 10 things to do at Sequoia National Park:
Remember with this list, we are beginning on the northern entrance of this park which is officially Kings Canyon National Park (another awesome place to explore if you have time).
But the first 3 activities on this list will have you exploring Sequoia trees in Kings Canyon before officially moving into Sequoia National Park.
1) Start at Big Stump Grove:
You'll start your trip by entering Kings Canyon and Sequoia National Park here (north end).
There will be a few giant Sequoia trees there to see and I recommend you make a short stop to take some pictures.
When I came to this park, this was the first real Sequoia I ever saw in my life and this was wider than any other tree I have seen so far in all of my adventures.
There is a nature trail right by that area, but I would recommend skipping it because later on you will also explore another spot on this list where the that nature trail is also available.
2) Explore General Grant Grove: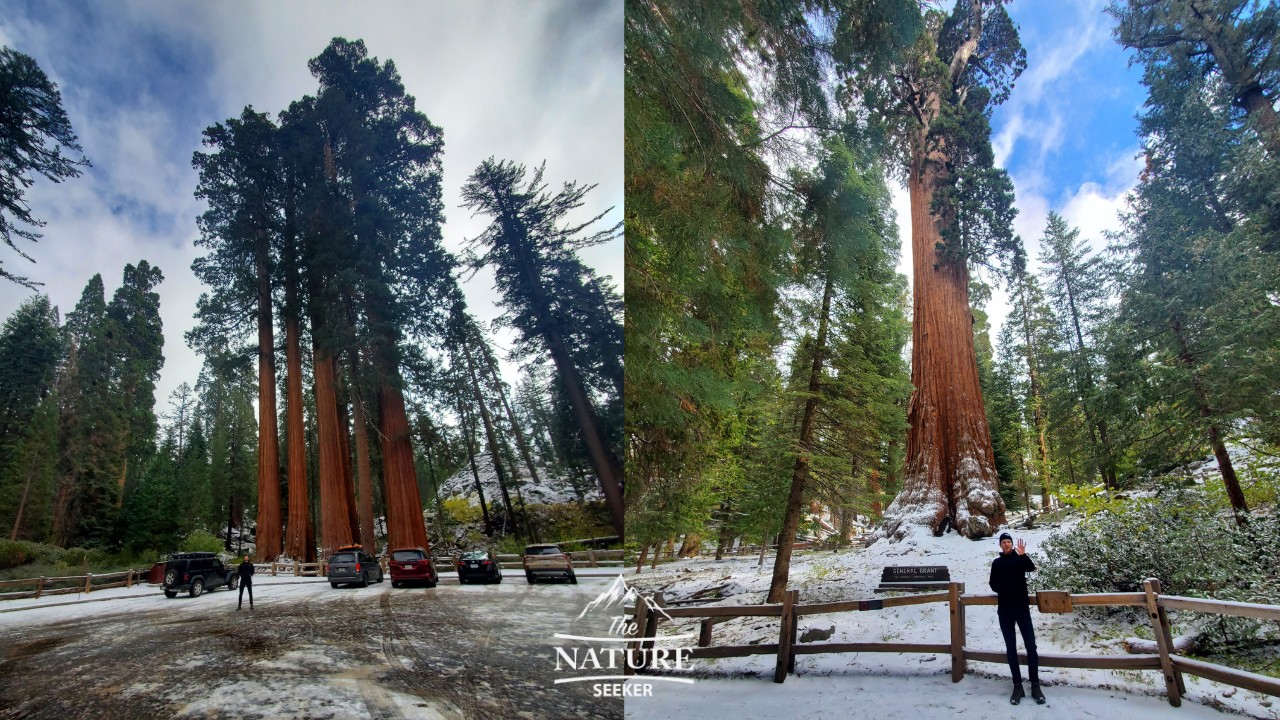 From the moment you enter the park, General Grant Grove is only about 5-10 minutes from the area and you'll cross a welcome center before that.
I would recommend stopping there to check out the small museum and getting some snacks for your day trip in this park.
But once you finish that, head over to General Grant Grove, which is a nice mellow hike through some amazing Sequoia trees and the second largest one in the park called General Grove.
There is also a tunnel log Sequoia tree you can walk through in this short hike (it's called Fallen Monarch).
3) Then go through Redwood Mountain Grove: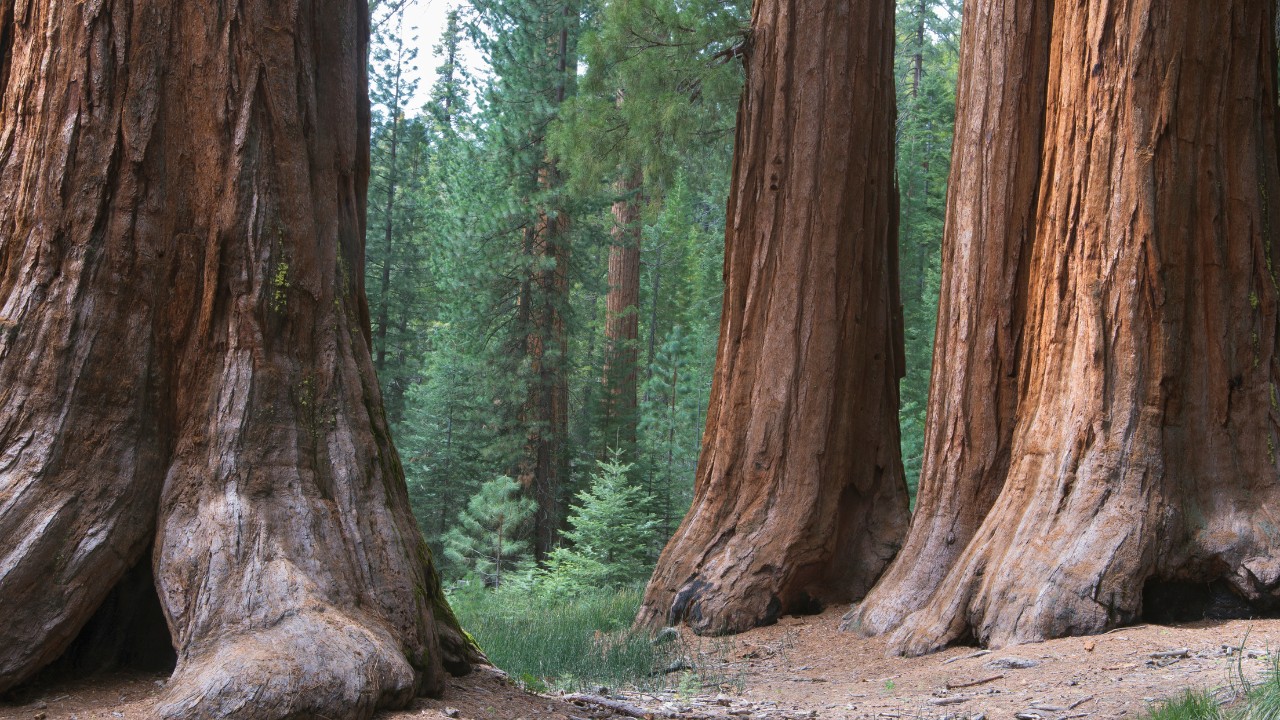 Redwood Mountain Grove is the next hike on this list and the last one you'll check out before you officially enter Sequoia National Park.
Now at first I thought that this section of the park had actual Redwood trees and on the topic of Redwood vs Sequoia, they are different in many ways so I was hoping to see some here, but it's actually not the case.
Redwood Mountain Grove is just another nice mellow walk with Sequoia trees all around you and it's still a very nice place to explore.
Still, I wish they would use a different name for this place because unless I'm mistaken, there are no Redwood trees here, nor anywhere in this park.
4) Drive through Generals Highway (aka Sequoia National Park scenic drive):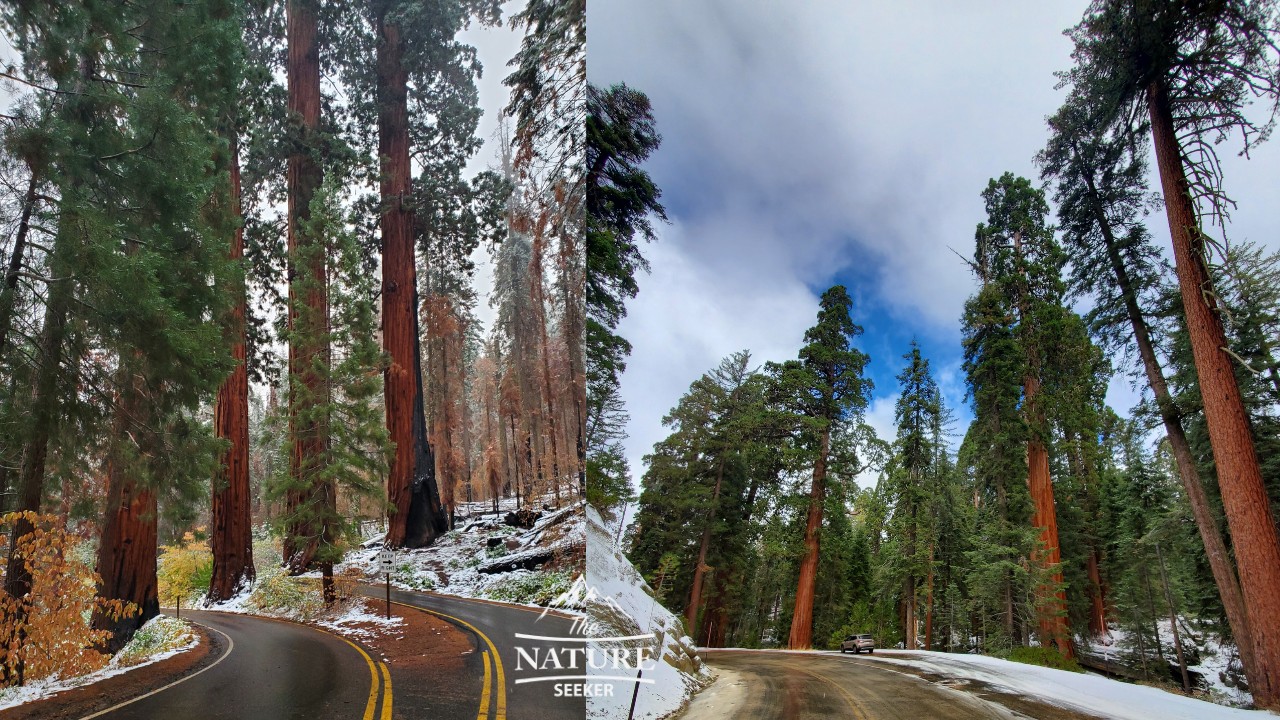 The entire main road through Sequoia National Park is called Generals Highway and this will be the longest activity you check out while in this park. I drove through the entire area and recommend the following things:
There are many stops to check out along the way, random Sequoia trees and little hikes. If you feel like stopping, I'd do it because the main spots on this list can sometimes get filled up by other cars.
Enjoy this scenic drive because it really is amazing. When I drove it, there was a lot of snow in the area, forcing me to drive slow, but at the same time enjoy the drive way more.
I like to think of the Sequoia scenic drive in 2 parts:
The first one is from Kings Canyon to General Sherman's tree area (Takes 45 minutes if there's no stops).
The second part is the very long serpentine drive you do on the southern portion of this park (Takes 1 hour if there's no stops).
It's the same exact named highway (General Shermans), but the views and experience is completely different which is why the second part of the Sequoia scenic drive deserves it's own mention on this list (which is #10).
5) Hike Lost Grove and Muir Grove:
This is a 2 part hike you'll come across as you're on General Sherman's highway. The views there are somewhat similar to the Redwood Mountain Grove but there still a lot of awesome things to see here too.
If you enjoy hiking, this is one of the best trails in Sequoia National Park to check out and by the way, once you enter this area of the park, you will officially be in Sequoia National Park (out of Kings Canyon).
Just a quick note, I will be sharing what to do in Kings Canyon National Park in another post as it is an entirely different looking park with amazing activities to check out (waterfalls, Yosemite National Park look alike experiences and more).
6) Check out General Sherman Tree (biggest tree in Sequoia National Park and world):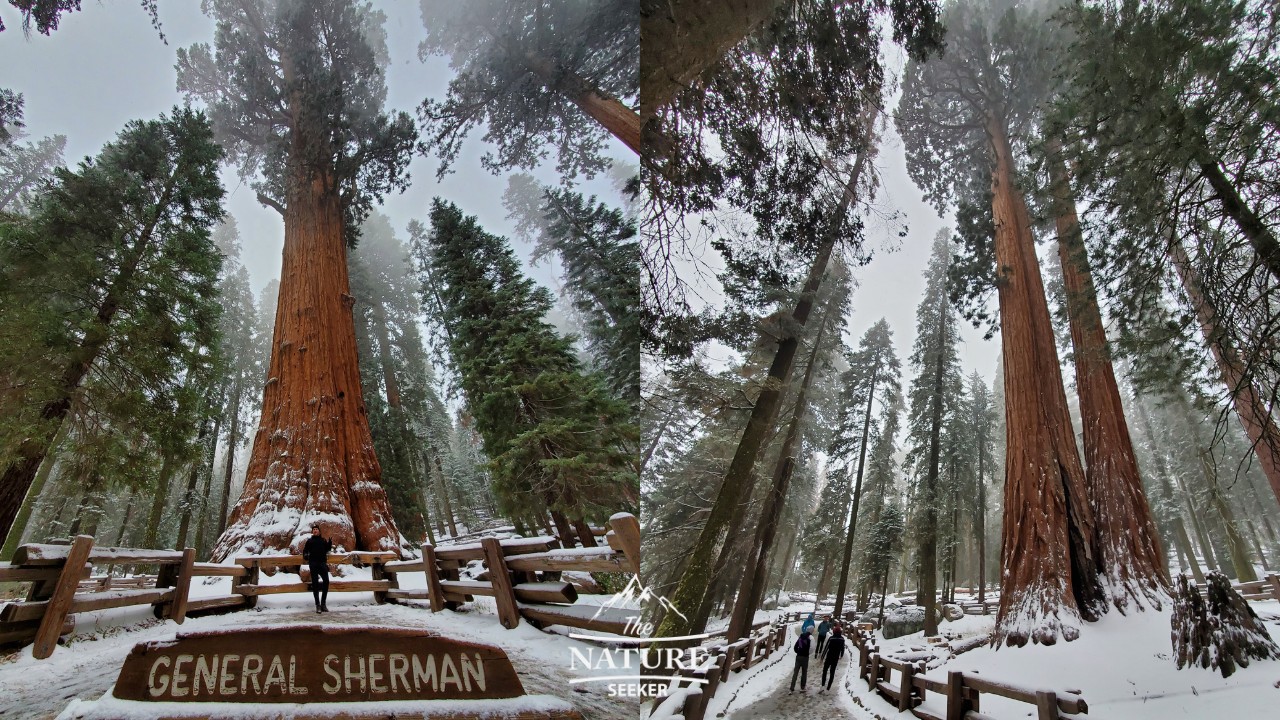 This the most famous tree in Sequoia National Park (and possibly anywhere) for obvious reasons. General Sherman is also bigger than the General Grant tree further north in the park.
If you have been exploring the things on this list, then you would have seen dozens of different Sequoia trees so far, and if you thought those trees were huge, then I promise you that the size of General Sherman tree will shock you.
The parking lot to explore this tree is right off the road and you will see the signs for it. The parking lot isn't large either and might fit 10 cars, but there is a bathroom nearby, and then a short walk around a bunch of Sequoia trees, and the biggest one in that section of the park is General Sherman.
There is a connecting trail there to see other areas of the park, but I'd only check them out if you have time and skills to not get lost in the woods.
7) Explore the Hazlewood Nature trail (one of the best hikes in Sequoia National Park):
Hazlewood Nature Trail is an amazing hike in Sequoia National Park that I highly recommend checking out. It's a short trail, connected to bigger ones, but the short one is maybe about 1/2 mile long, takes you through a very easy hike through Sequoia trees and other beautiful nature.
When I went here, because it was snowing and it was in November, I was able to see all the autumn colors, mixed together with the snow and Sequoia trees on top of that. In addition to this, because this trail is not well known about, there were barely any people there and the silence on that hike was something I will never forget!
Hazelwood Nature Trail also very close to the General Sherman, Crystal Cave area.
In fact, it's an easy to miss hiking trail right off the General's Highway. The parking lot is literally a small opening in the road that can fit maybe 4-5 cars and there is no large sign indicating it's there. The only thing I can tell you is that I listed it on the map above and that right by the parking lot are 2 giant Sequoia trees on opposite sides of the road that look like giant gates blocking it. That's where you'll find it.
8) Drive through the famous Sequoia drive through tree (Tunnel log):
The famous Tunnel log drive is located very close to General Sherman tree, and there is a road close to that area where you can access it. Expect there to probably be a line of other cars to take this picture too but also do note that this place may also be closed depending on the season/weather conditions.
The sign for it may also be easy to miss as was in my case because of the snowfall when I was visiting, so just know that it's very close to the General Sherman tree.
Note: In this region of the park, you can also see the following sights:
Both areas are short hikes to amazing overlook areas of Sequoia National Park and Kings Canyon NP in the distance. If the line for Tunnel log is too long, this is a good plan B to explore.
9) See Crystal Cave: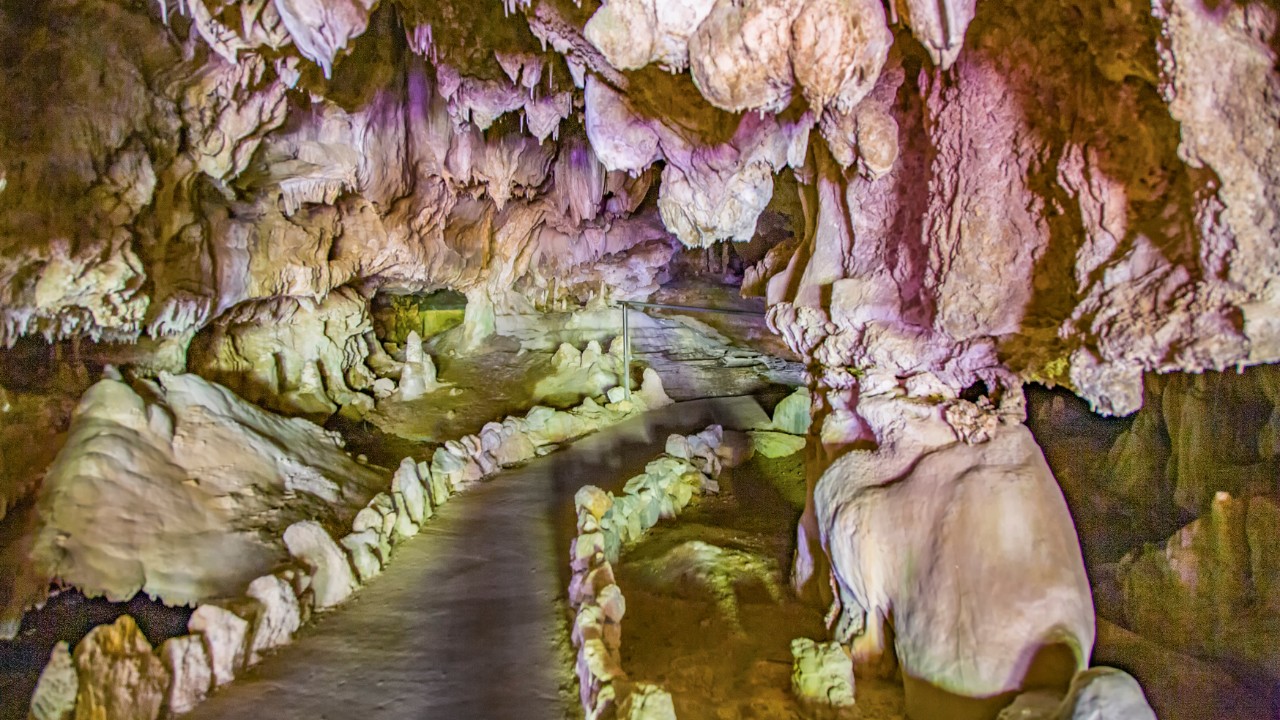 Sequoia National Park's Crystal Cave is one of the only activities I missed on the list because it was closed (it's a seasonal place in this NP).
At the time I explored Sequoia National Park, it was November and this is only open in the summer.
Basically Crystal Cave is a popular attraction in the park where you can go into a large cave and see incredible rock formations.
If you like to mix things up, then this is a great side attraction to check out while you're exploring Sequoia NP. There is a short road off Generals Highway you'll find after seeing General Sherman tree which takes you there.
10) Finish with the Serpentine road (the 2nd part of the Sequoia scenic drive):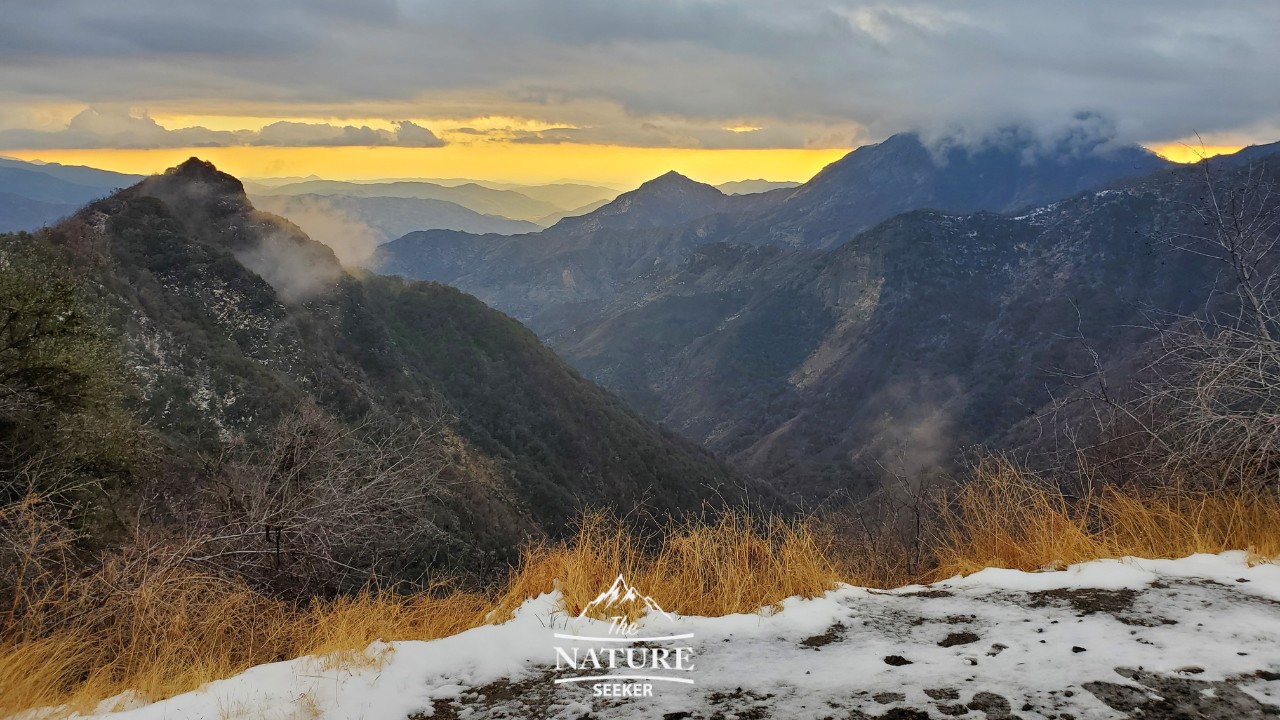 After Crystal Cave and the Hazelwood trail, you'll continue along the same General's Highway further south and cross some more Sequoia tree areas including a famous place called The Four Guardsmen which is 4 Sequoia trees in the middle of the road.
I honestly thought I had seen the best parts of this park, but that was until I hit the last section of the Generals Highway, and that is the serpentine section of the Sequoia scenic drive. Here's what you need to know about it:
1) This serpentine drive is absolutely stunning and completely different in terms of views from anything you have seen so far in Sequoia National Park (but it's still part of it).
2) There is a lot of zigzag turns on this road so drive slow.
3) The scenery is totally different, there are no Sequoia trees but there are many amazing mountain views in the area with stops on the road where you can get great photos of them (especially when the sun is setting).
4) There are hikes along the road here, but it'll take you a good hour to finish this section of the drive, and it's very much worth it!
5) Additionally, you will be descending on this road to the bottom of the park, where you will cross the southern gate, before exiting Sequoia National Park. There will be restaurants, places to stay at and more to see if you want to, but the closest town after this drive will be Fresno.
Best hikes in Sequoia National Park? Here's several to consider: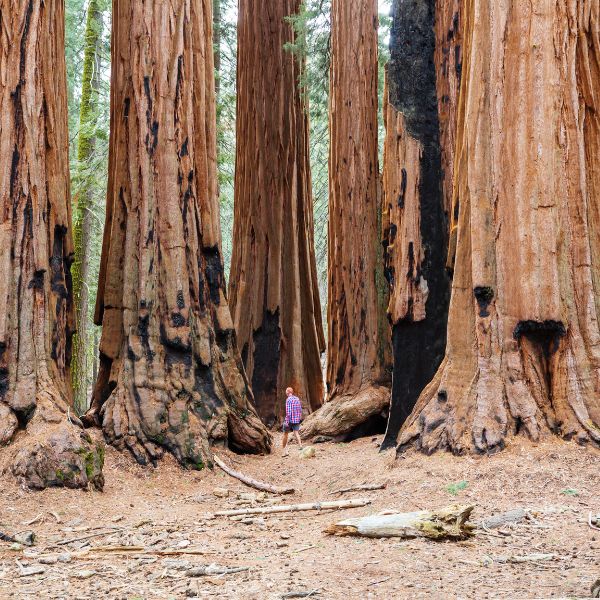 I have only explored a few, but if you're only looking for hiking trails in Sequoia, then the options I listed above will take you through many of them, but here are specific names of trails to add to your list:
Muir Grove Trail: It's about 4+ miles in and out, takes you through Sequoia trees.
Little Baldy Trail: 3+ mile trail (also in and out), has a swimming hole, and nice Sequoia forest hike.
Twin Lakes trail: A difficult 14 mile in and out trail to great eastern views of Sequoia and Kings Canyon.
Alta Peak Trail: A very scenic (but also 14 mile trail) that takes you to an Alpine lake.
Sherman tree trail: Very easy, scenic trail through General Sherman tree and many others nearby.
Hanging Rock Trail: A beautiful 2 mile loop trail near Tunnel Log.
Paradise Creek Trail: 5+ mile in and out trail with waterfalls and forest hiking.
Indian Head River Trail: A few miles of easy hiking with Sequoia trees (near the southern part of the park).
Gear to bring on these trails:
Questions about exploring Sequoia National Park:
What is the best month to go to Sequoia National Park?
I recommend going to Sequoia National Park in late October because you will see autumn colors there and usually less people.
Which park is better Yosemite or Sequoia?
Both Yosemite and Sequoia are amazing parks to explore and each national park has things that make it better than the other, so you should see both of them and decide that for yourself.
Can you do Sequoia in a day?
Absolutely. Sequoia National Park's main attractions are very close to the main scenic drive, so you can make multiple short stops and see the most popular spots in this NP in one day.
Which is better Kings Canyon or Sequoia?
I personally liked Sequoia National Park more than Kings Canyon but they are both awesome and you can even explore them in one day.
Can you drive a car through a Sequoia tree?
Yes, there is a drive through tree in Sequoia National Park called Tunnel Log and it's very close to the General Sherman tree attraction.
Places to see near Sequoia National Park:
Because Sequoia National Park is in such a remote area of California, specifically the Sierra Nevada Mountains, the closest attractions to it are actually several hours away. Keep this in mind:
1) The closest option is Kings Canyon National Park. You may even be able to see a large part of it in the same day you explore Sequoia.
2) The next option is Sequoia National Forest which is south of the NP.
3) Yosemite National Park is about 3 hours away from Sequoia.
4) Death Valley National Park is also about 3 hours from there, but south east.
5) Pyramid Lake is about 3 hours south west of this place.
6) I am a big fan of the Redwoods in California and there are a lot of them to see on the Pacific Coast Highway and all throughout the Northern California coast, specifically in places like Russian Gulch and closer to the Oregon Coast. Of course, this area is very far from Sequoia, but it's a great road trip to try too.
Thanks for checking out my article on how to explore Sequoia National Park in a day! I hope this list will help you have an amazing visit there!