Speaking from experience, I can tell you that there's a lot to see and many things to do in Kings Canyon National Park in one day, and in this article's case there are 10 (or more) activities I recommend you check out there.
4 things to know before you visit Kings Canyon National Park: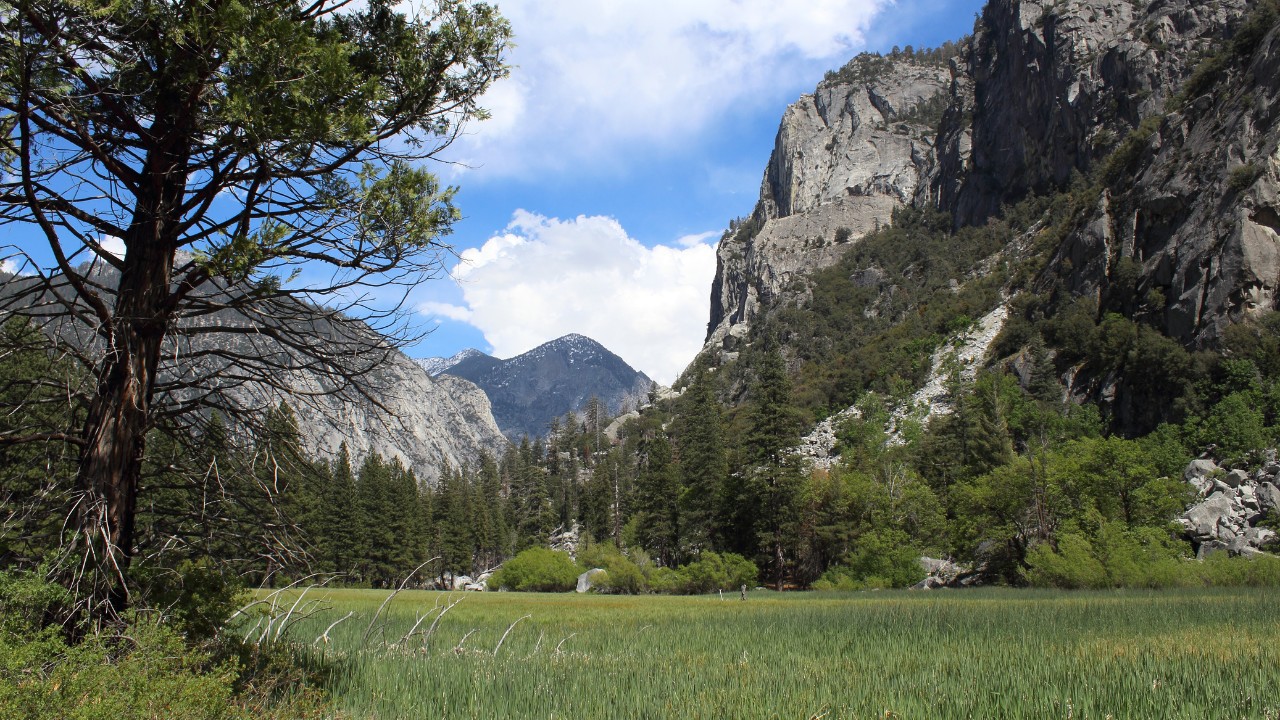 1) There's 2 ways to enter Kings Canyon NP:
One is directly from road 180 (east of Fresno).

And the second is through the south, but that road takes you through Sequoia National Park first, then Kings Canyon.
To make the most out of your day trip to Kings Canyon, take the first option and if there is time later, you can also explore Sequoia. If you come from the south, it's way better to see Sequoia first, then Kings Canyon.
2) The Kings Canyon scenic byway is what you'll use to find every activity on the list below:
If you follow the list I prepared for you in this article, you'll literally take this road to the end of the park (eastern Kings Canyon), and turn around and head back. That drive itself (there and back without stops) is likely to take you 2-3 hours on it's own so make sure you get to this park early.
3) I'll be including a map of Kings Canyon NP below alongside where every activity on the list can be found:
This will help you see where all 10 spots are located and also help you decide if you want to see all 10 or select a few.
Here are the 10 things to see in Kings Canyon National Park: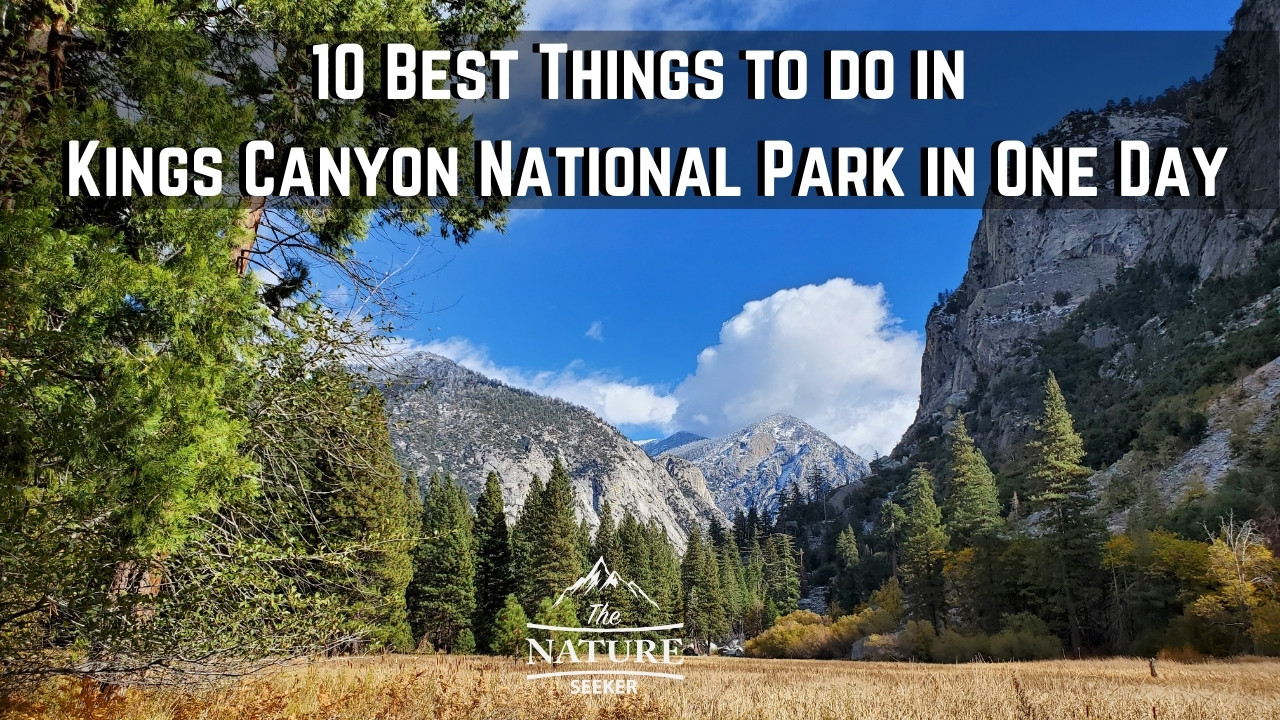 Check out the Sequoia tree spots by the Kings Canyon entrance.
See Panoramic Point.
Do the entire Kings Canyon scenic byway (slowly).
See Boyden Cavern.
Stop at Grizzly Falls.
Check out Cedar Grove Overlook.
See Roaring River Falls.
Do the Zumwalt Meadow hike.
Finish at Road's End, do the hikes there, then go back.
Enjoy the same Kings Canyon scenic drive back to the entrance.
I can promise you that this list of what to see in Kings Canyon National Park is very fulfilling and it will almost seem like you spent several days here, when in fact it was only one.
Where is Kings Canyon National Park located?
It's located in California. The closest major city to it is Fresno (30 minutes away) and here's a map showing where this park is: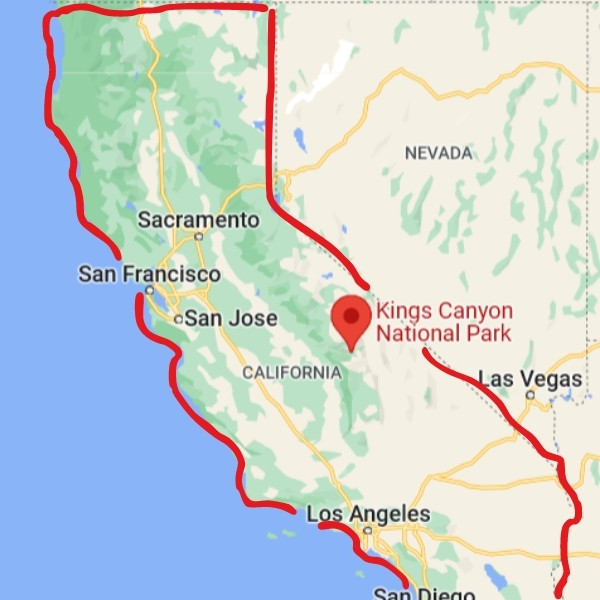 Note: This is not the same map which shows the things to do inside the park. That map will be detailed after the 10 things to do there.
1) Check out the Sequoia tree areas in Kings Canyon National Park (5 areas):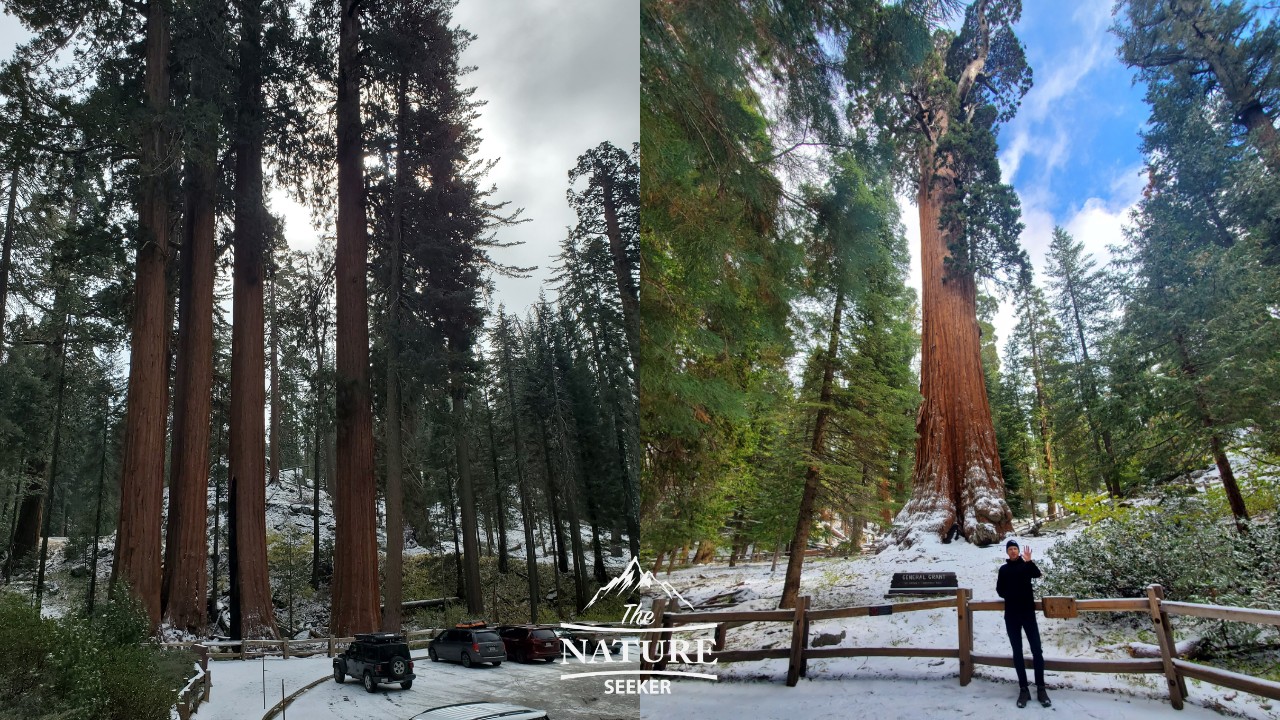 When you enter the park from road 180 (where I recommend you start), you'll immediately see several Sequoia trees so whether or not you're planning on seeing Sequoia National Park, the good news is that you'll still be able to see them here and in fact, there are at least 5 areas within Kings Canyon NP which house a ton of Sequoia trees.
Here are specific areas in Kings Canyon National Park where you can see Sequoia trees:
Big Stump Grove: One of the largest Sequoia trees in the whole region.
General Grant tree: My personal favorite place to see Sequoia trees in Kings Canyon.
Chicago Stump: A Sequoia tree that has been chopped off you can stand on top of.
Boole Tree: An open Giant Sequoia tree.
Redwood Mountain Grove: A bit out of the way from the Kings Canyon entrance, but it has tons of Sequoia trees and a good hike to check out.
All of these places are within a 20 minute drive from the entrance into the park.
2) See Panoramic Point in Kings Canyon: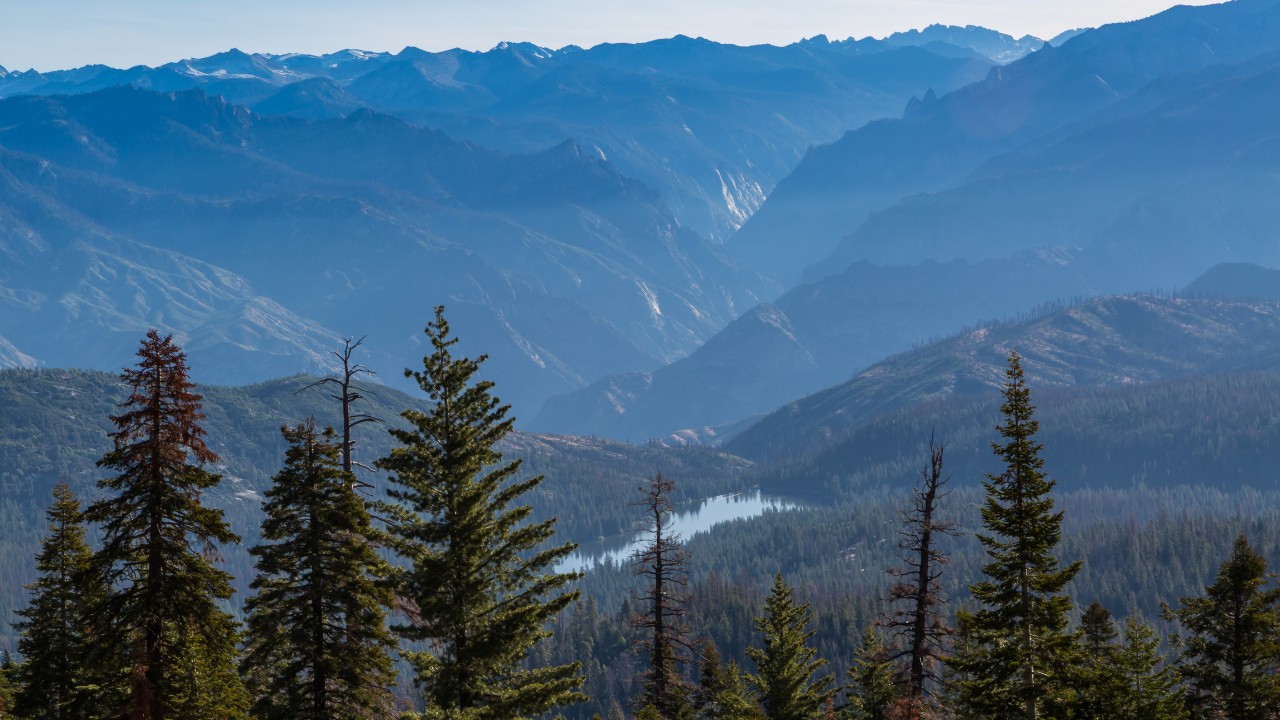 Panoramic Point is basically next door to the Kings Canyon NP visitor center and as you are on the Kings Canyon scenic byway, it'll be a right turn from that road. On that same turn, if you go left, that'll take you to the General Grant tree area so you can see this first, then the trees after or vice versa.
Panoramic Point is a great view of the eastern area of Kings Canyon and you can see very far into the park. If you want, you can also skip this part because you'll still be driving in that direction later as you continue on the scenic byway anyway and all throughout that drive will be similar stops you can take.
3) Complete the entire Kings Canyon scenic byway: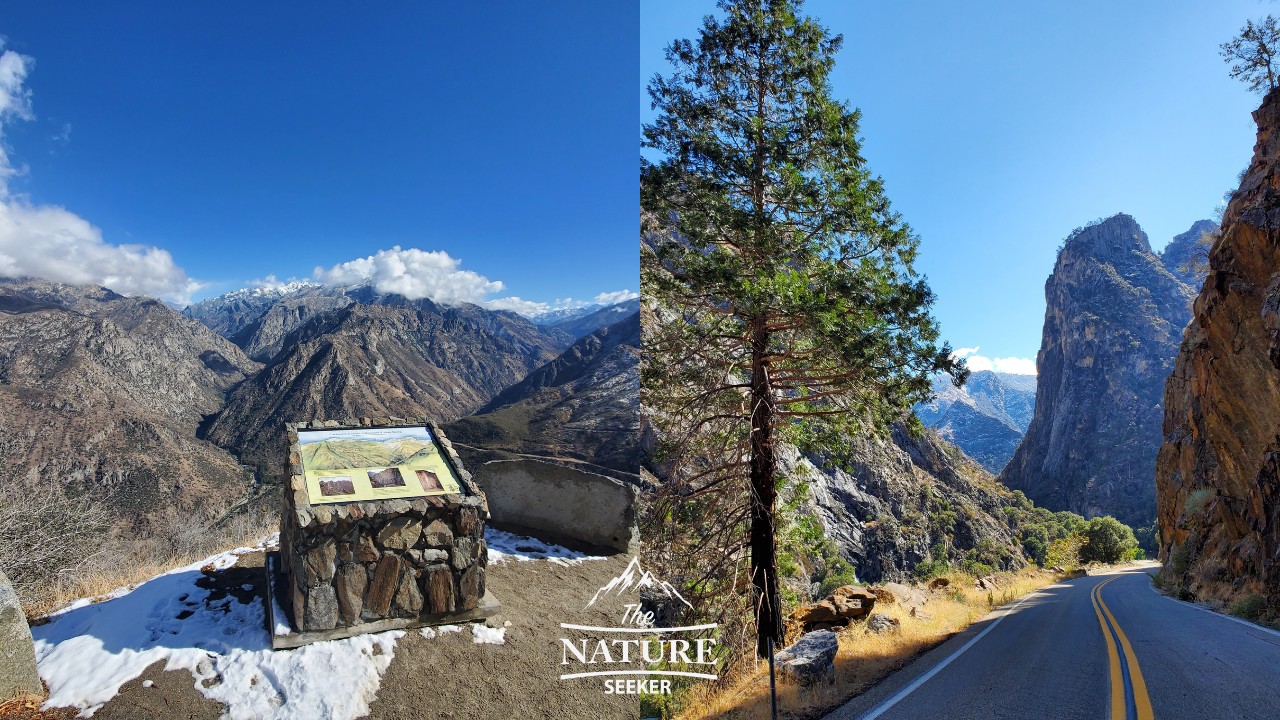 I did the entire drive in and out when I visited Kings Canyon and I loved it. It'll take you over an hour to drive (it's that long) and you'll start from the top area of the park overlooking the canyon, then slowly drive down into that canyon where you'll find many of the other activities on this list.
I strongly recommend taking your time on this drive, not just because of it's beauty but also because it can get dangerous in parts and it's easy to get distracted by how amazing this drive is.
And just as well, the same drive into the end of the scenic byway is one way to enjoy your day in this park, but at the same time when you're done, you'll be driving back on it, offering you a completely different view of the park, even though you are on the same exact road.
In any case, the Kings Canyon scenic byway is in my opinion one of the best scenic drives in North America. I also think it's one of the best scenic drives in Northern California too (and southern).
Also in a somewhat related subject on scenic drives, there is a place called Palo Duro Canyon State Park in Texas which has a scenic drive that's like a mini Kings Canyon drive too (it also has great hikes and things to see).
4) See Boyden Cavern:
Boyden Cavern is one of the most popular attractions you'll come across as you drive deeper into Kings Canyon. It's easy to spot from the road and there's a lot of space for parking.
This attraction takes you on a short hike up and around a mountain, then down into a large cavern with amazing rock formations. It's a great family activity to try. Unfortunately for me, because I was in this area in November, it was closed, and this is one of the many attractions in the park which is only open seasonally (I believe it closes in November).
5) See Grizzly Falls: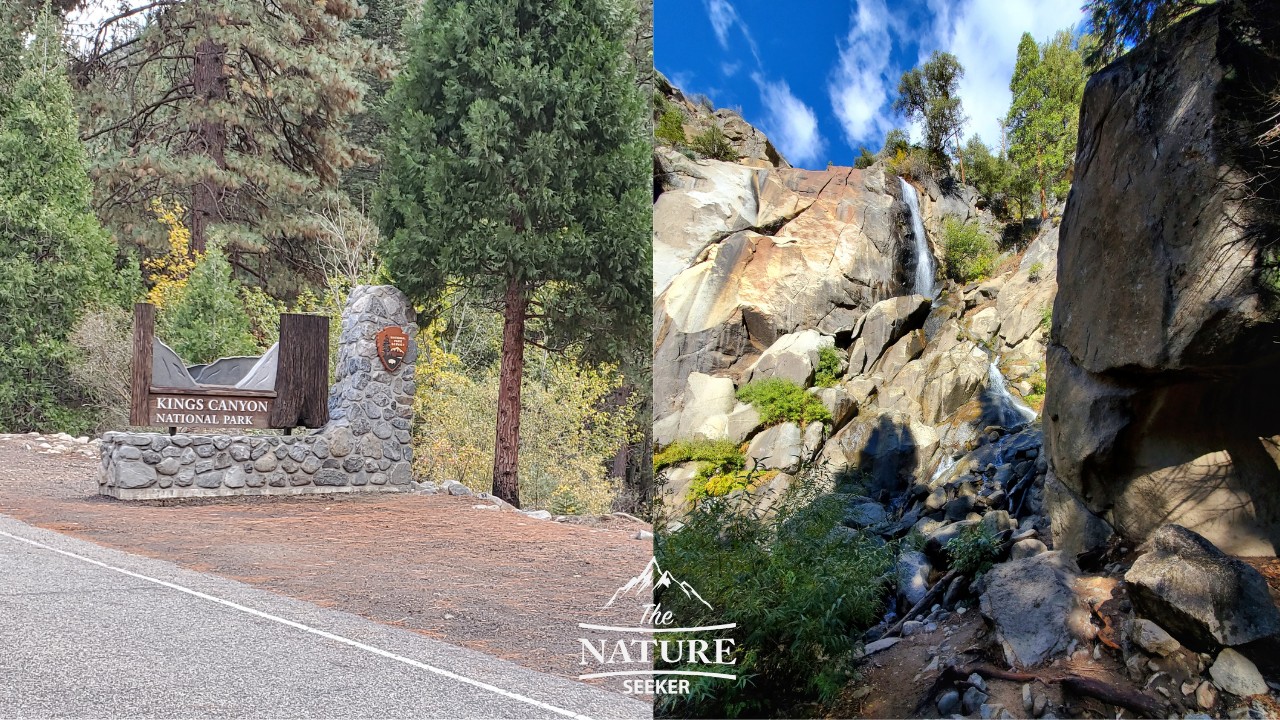 You won't find too many large waterfalls in Kings Canyon, but Grizzly Fall is one of the tallest. It's about 100 feet high and as you drive on the scenic byway (heading east), it'll be to your left.
There's a small parking with picnic tables and the hike from that area to Grizzly Falls is only about 100 feet. There are some hikes nearby but nothing official so if you are thinking of hiking up and around Grizzly Falls, I wouldn't recommend it. In any case, this is a great looking waterfall and because it's at the bottom of Kings Canyon, you'll also have beautiful views of that area as well.
6) Check out Cedar Grove Overlook: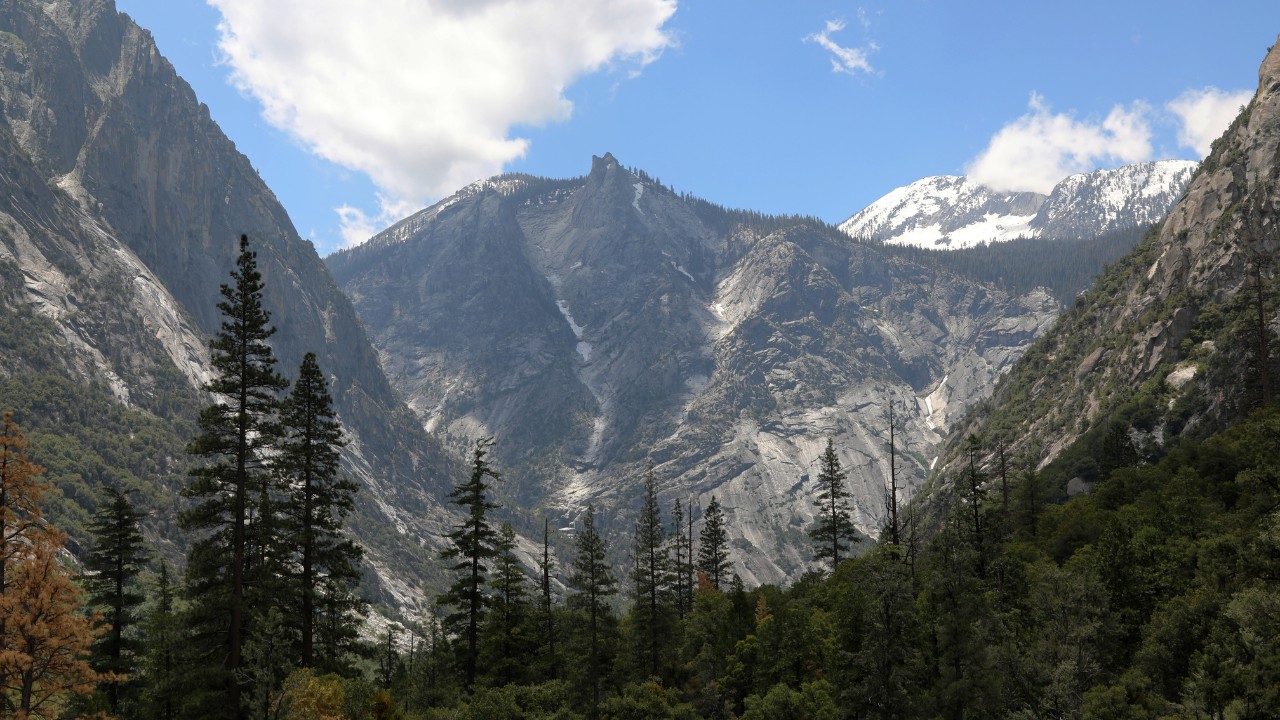 Continuing further east on the scenic byway, the next stop I recommend you take is the Cedar Grove Overlook. There's another visitor center in that area and from it, it's about a 1 mile hike to reach the overlook. This hike isn't difficult but takes you to a great view of Kings Canyon NP and I would say it's one of the top spots for getting a great/short hiking experience and view of the canyon area overall.
The good news is that within this region of the NP, you will find several stops with views similar to the Cedar Grove Overlook (one in particular is called Canyon View).
7) See Roaring River Falls:
Out of all the waterfalls I saw the day I visited this park (many off the road, not just Grizzly Falls), Roaring River Falls was my favorite. By the time you reach this waterfall, you'll only be a few miles away from the end of the scenic byway, but the parking lot for this waterfall will be to your right.
It's a quarter mile walk on a simple path to the waterfall. Once you reach it, the views from it are incredible. The waterfall is only about 50 feet high, but there's a beautiful pool and rock formation around it.
8) Explore the Zumwalt Meadow hike:
One of the best places to take a picture of Kings Canyon from the very bottom of the NP is in Zumwalt Meadow (at least in my opinion). You'll park in the area right by it (it's very large) and do a short quarter mile hike to the meadow.
You'll cross a small bridge, then walk on the other side of the river by the parking lot and that'll take you into the meadow. From there, you'll find a boardwalk that'll take you to amazing views of the canyon from a distance.
There are several connecting hiking trails in the area you'll also see which mix together with the next place to see on this list. Most of the hiking trails here are very easy and definitely very scenic. In my opinion, the views from this area of Kings Canyon National Park are close to if not equal to the beauty of Tunnel View which is at Yosemite National Park!
9) Stop at Kings Canyon Road's end: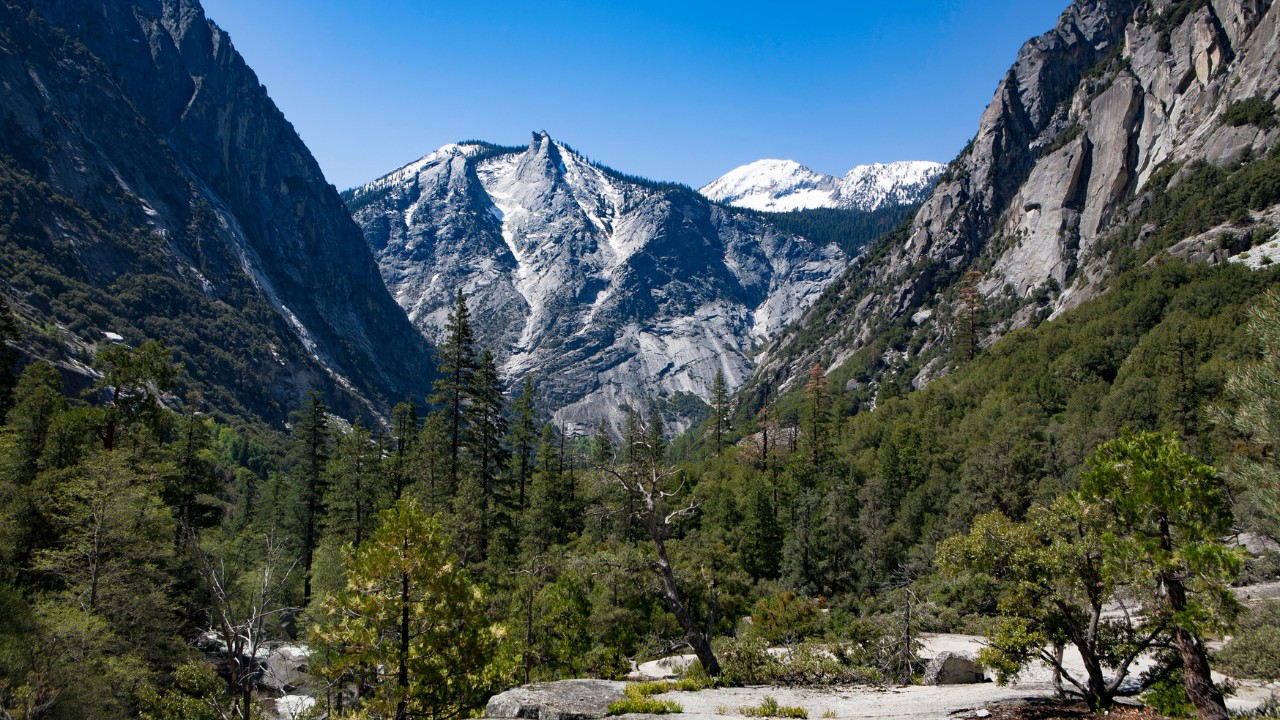 Road's End is the official last stop before the scenic byway ends and you'll have to turn back. But before you go, I would strongly recommend stopping in that area and checking out the several hikes available there. Here are some:
Bailey Bridge.
Mist Falls.
Copper Creek Trail.
There are also lists and maps of hikes in the area with their distances listed so you can choose which ones to go on depending on the time you have left. My advice would be to get something like Alltrails for these hikes so you can have a digital map while you're there. The reception in Kings Canyon within this region is very poor.
Since this is the last stop before you turn back, I would take your time in this area and try to enjoy as much of it as possible.
10) Enjoy the ride back on the same Kings Canyon scenic drive:
It may seem like driving back on the same road you just took to see everything in the park will be the same experience, but I can tell you that it won't be. In fact, if you finish all the other activities on this list before sunset, then the drive back up the same scenic byway will feel completely different.
The views will also be completely new so that is an aspect of Kings Canyon National Park I recommend you dedicate at least an extra hour to, because it's well worth it! At the same time, if you manage to do the drive back around sunset, you'll get even better views since the drive back will be facing west, giving you an amazing driving experience.
Here is a Kings Canyon National Park map that shows where all of these areas are located: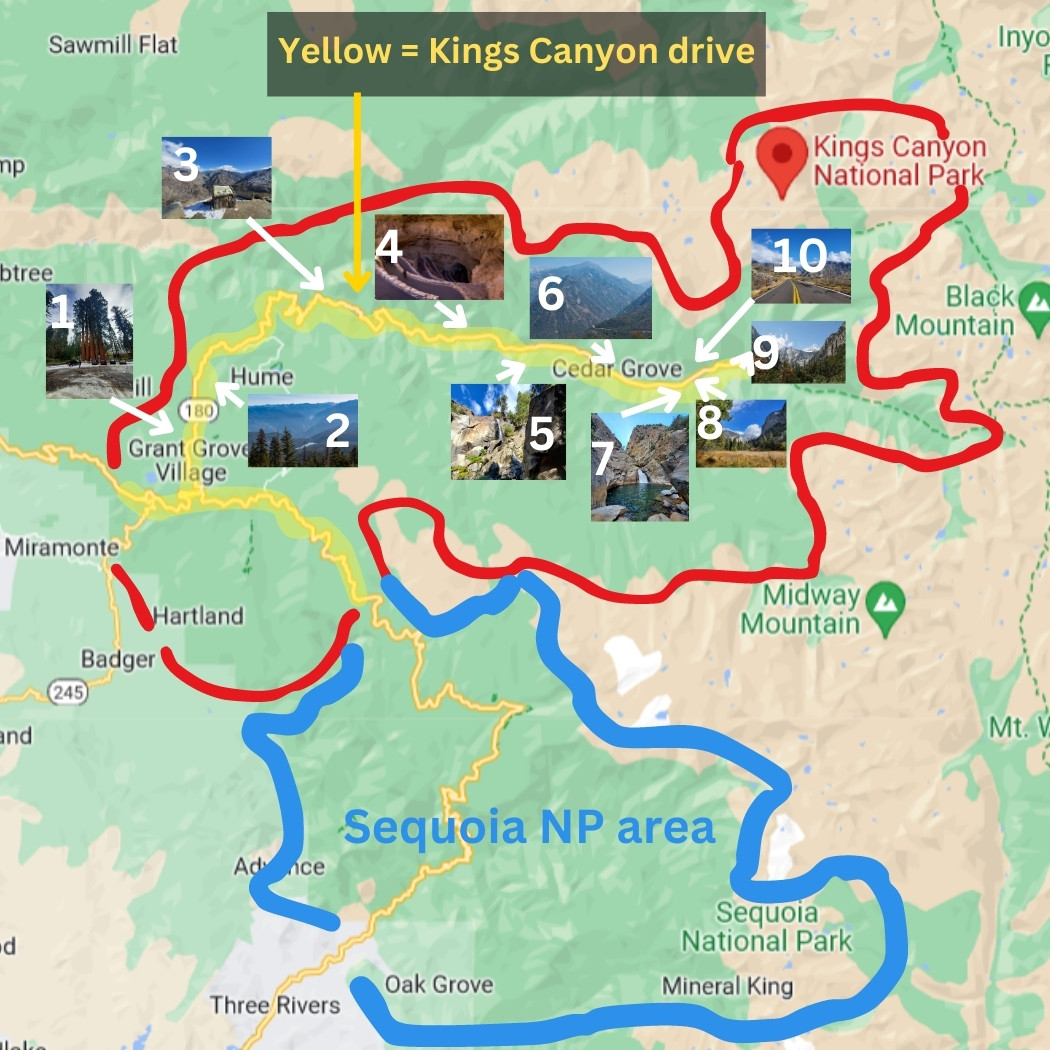 You will also have the option to get the official map of Kings Canyon National Park when you enter and I do recommend you do that too as well as stopping by the welcome area to talk to the rangers and ask what they recommend you see. This simple map I made will just make it easy to identify where each spot is as the official map doesn't actually show this stuff.
Info on the best places to stay at in Kings Canyon National Park (hotels, cabins, camping, and more):
1) For camping in Kings Canyon National Park:
Once you enter the park, you really only have campsites available throughout the scenic byway, so if you're into camping, you can find a spot on this map and reserve it. There are no hotels in Kings Canyon National Park to my knowledge, but:
2) For the best hotels near Kings Canyon National Park:
The closest ones are west of the park entrance (basically by Fresno).
3) For the best cabins and lodges close to Kings Canyon National Park:
Then there are options in Sequoia National Park, the most popular of which is Wuksachi Lodge (good ratings and the most high end option you'll find in either Kings Canyon and Sequoia).
Then there's also several inn's, bed and breakfast and cabin places and more options on the south region of Sequoia National Park.
Questions about Kings Canyon National Park:
What is special about Kings Canyon National Park?
There are a lot of things that make Kings Canyon National Park special including the scenic drive there, the views inside the park and the fact that you can also see Sequoia trees there.
How many days do you need to see Kings Canyon National Park?
If you plan a good itinerary, then you can see most of Kings Canyon National Park in one day, but if you're not rushing, then 2-3 days is enough.
Is Kings Canyon worth visiting?
Yes, Kings Canyon is a gorgeous park to check out with areas the look like Yosemite and Sequoia National Park combined.
How long does it take to drive through Kings Canyon National Park?
It takes a little over an hour to drive from the entrance of Kings Canyon to the end of the scenic byway, but that is only one way.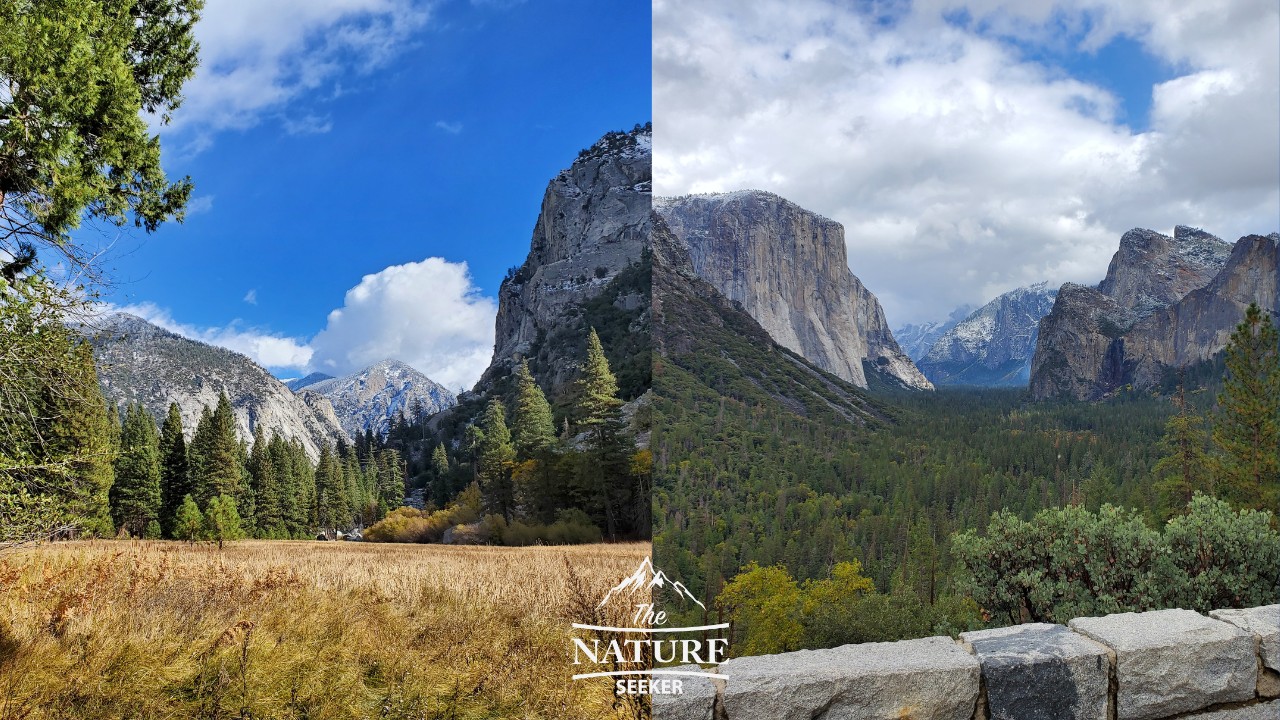 Places to see near Kings Canyon National Park:
1) Without question, you have to see Sequoia National Park and if you do plan on that, stay at that same Wuksachi Lodge I mentioned. It'll be a perfect way to connect your trip to both parks.
2) Yosemite National Park is north of Kings Canyon and about a 2-3 hour drive to reach (you basically have to go around the Sierra Nevada Mountains to reach it), but it's a stunning park to see as well (lots of hotel options, beautiful scenic drives and great hikes).
3) Sierra National Forest. This place is right in between Yosemite and Kings Canyon (2 hours from it).
4) Pinnacles National Park. I would only explore this park if you are actually heading west from Kings Canyon to Monterey or Big Sur.
5) Though this list is vast, I recommend reading my national parks on the west coast article to see even more places to explore.
Also with regards to airports, the best choice is in Fresno as it's also the closest airport to Yosemite National Park, and even closer to Kings Canyon but if you can't find any flights there, then the next best choice would be in Los Angeles.