The 9 Best Scenic Drives in Northern California
After finishing a post on the best scenic drives in southern California, I am now focusing on the northern end of this beautiful state and I happen to have a bit more places to recommend to you since I've been through this area more often.
So far the list of scenic drives in northern California that I have to share is up to 9 and like the southern list will grow more and more as I explore the state on future road trips.
Here are 9 of the best scenic drives you'll find in Northern California:
Golden Gate National Recreation area scenic drive.
Hendy Woods scenic drive (Route 128).
Vineyard scenic drive to Fort Bragg (Route 128).
Russian Gulch scenic drive (Point Cabrillo drive).
Fort Bragg scenic drive (Route 1).
Scenic drive along Route 152 (Pacheco State Park).
Redwoods National Park (Newton B. Drury Scenic Parkway).
Yosemite National Park (Southside and Northside drive).
Lake Tahoe scenic drive (Route 89).
Let's cover each of these amazing scenic drives you'll find in northern California so you can see why they're so amazing!
Golden Gate National Recreation area scenic drive: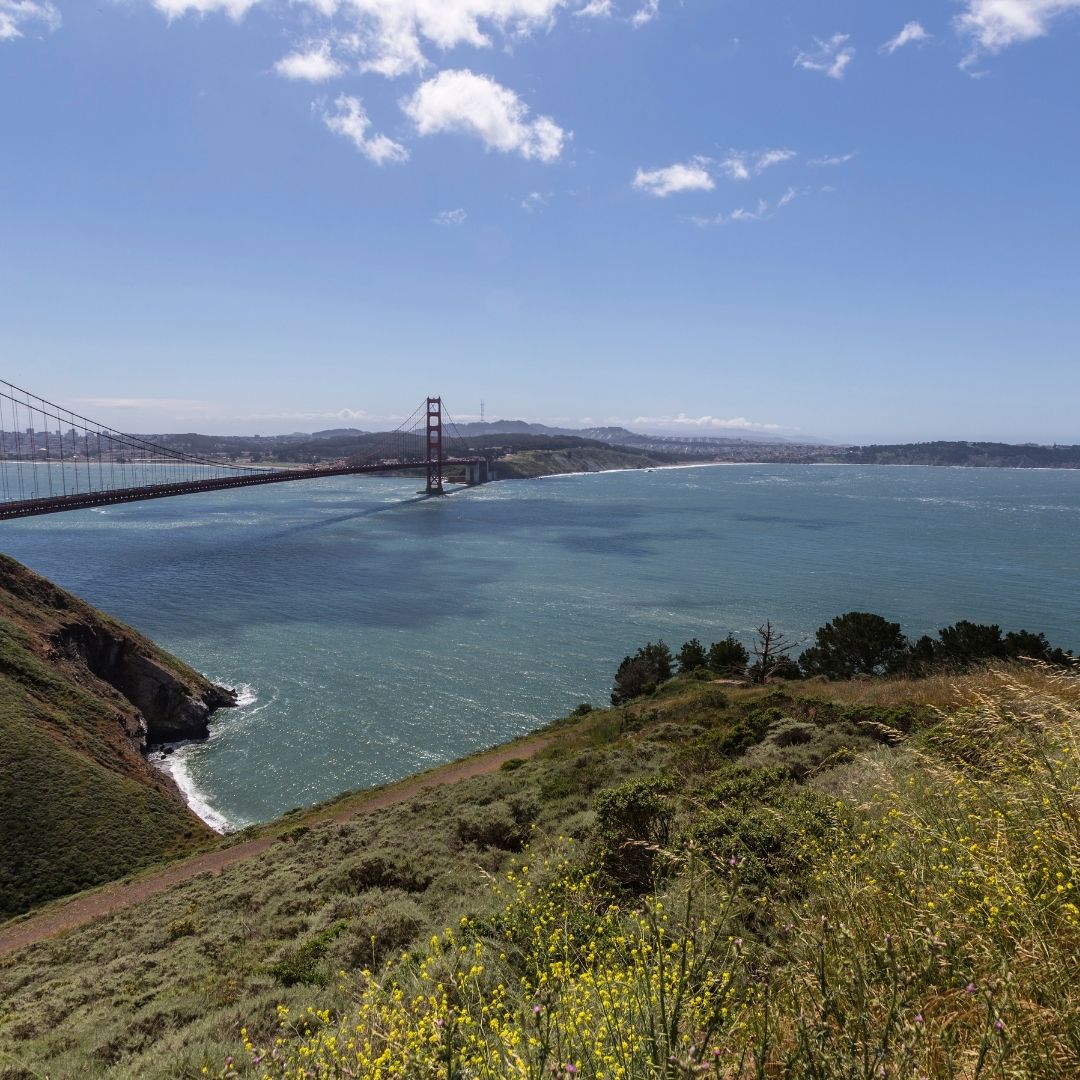 As you leave the city of San Francisco and head north on the 101, you'll cross the Golden Gate Bridge. After that, you'll have the option to immediately visit the Golden Gate National Recreation area. It is a large park with several scenic drives in it, some of which take you up one of the biggest mountains that gives you a great scenic drive and overview of the city.
It's a park I briefly visited on a sadly cloudy day on the last road trip I had. But it is a large area with at least 30+ miles of scenic drives and at least 5 of them that don't just give you a great view of the city, but also beautiful coastal drives nearby.
Needless to say, in addition to all the beautiful drives available there are also many hiking spots and places for joggers and cyclists to enjoy exploring just as well. Try to get here on a sunny day though because when the clouds hit this area, it's impossible to see the type of views you see from the image to the right!
Hendy Woods scenic drive (Route 128):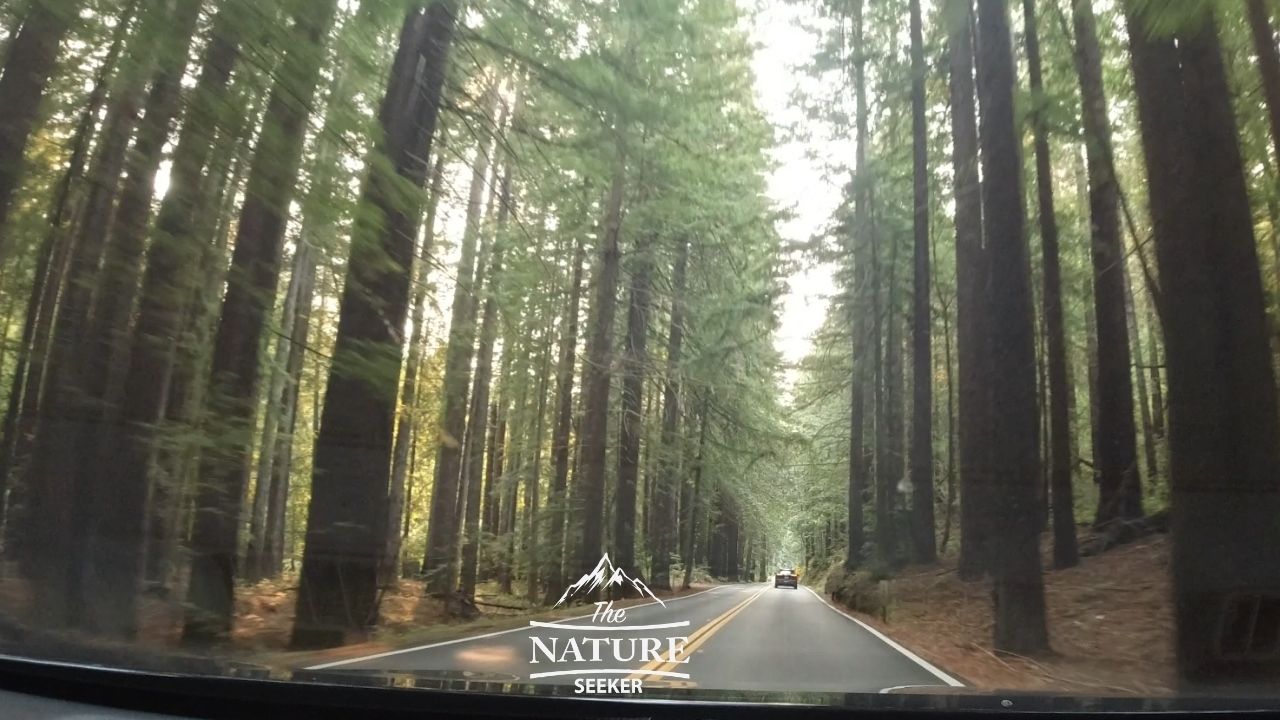 Hendy Woods is actually a park with many Redwoods trees and a beautiful scenic drive through it. I accidentally stumbled onto this spot while traveling with my friends on our way to Fort Bragg. We were on the 101 and our GPS told us to turn onto route 128, which took us through beautiful roads in general, but to our surprise also took us through this beautiful park too, which was instantly added to this list thereafter.
Northern California for those who don't know actually has several Redwoods locations and this is one of the more closer ones located to San Francisco so if you are visiting the city and want to see Redwoods, Hendy Woods is one of the places I'd recommend you visit. The road in this region stretches for about 10+ miles but it's totally worth it with nice hikes, viewing areas to stop at and more.
Note: As you continue north on 128, you will also hit another Redwoods location called Navarro River Redwoods State Park, and what makes this spot really cool is how it's right on the Pacific Coast Highway. something I wish I'd known the first time I passed here on my first Pacific Northwest road trip.
Vineyard scenic drive to Fort Bragg (Route 128):
Route 128 isn't just a haven for Redwoods. It's also a large stretch of scenic drives that'll take you through some of the most famous Vineyards California has to offer, which was another surprise to myself and the friends I was with as we were on this road.
As you exit the 101 and start heading to route 1 (the Pacific Coast Highway), route 128 will take you at least 1-2 hours to pass, during which you'll cross multiple vineyards and Redwoods locations, 2 perfect icons of the beautiful state of California.
Some of these Vineyards have stores in them and the ability to do some taste testing, so if you're into that, you can stop here for sure.
Russian Gulch scenic drive: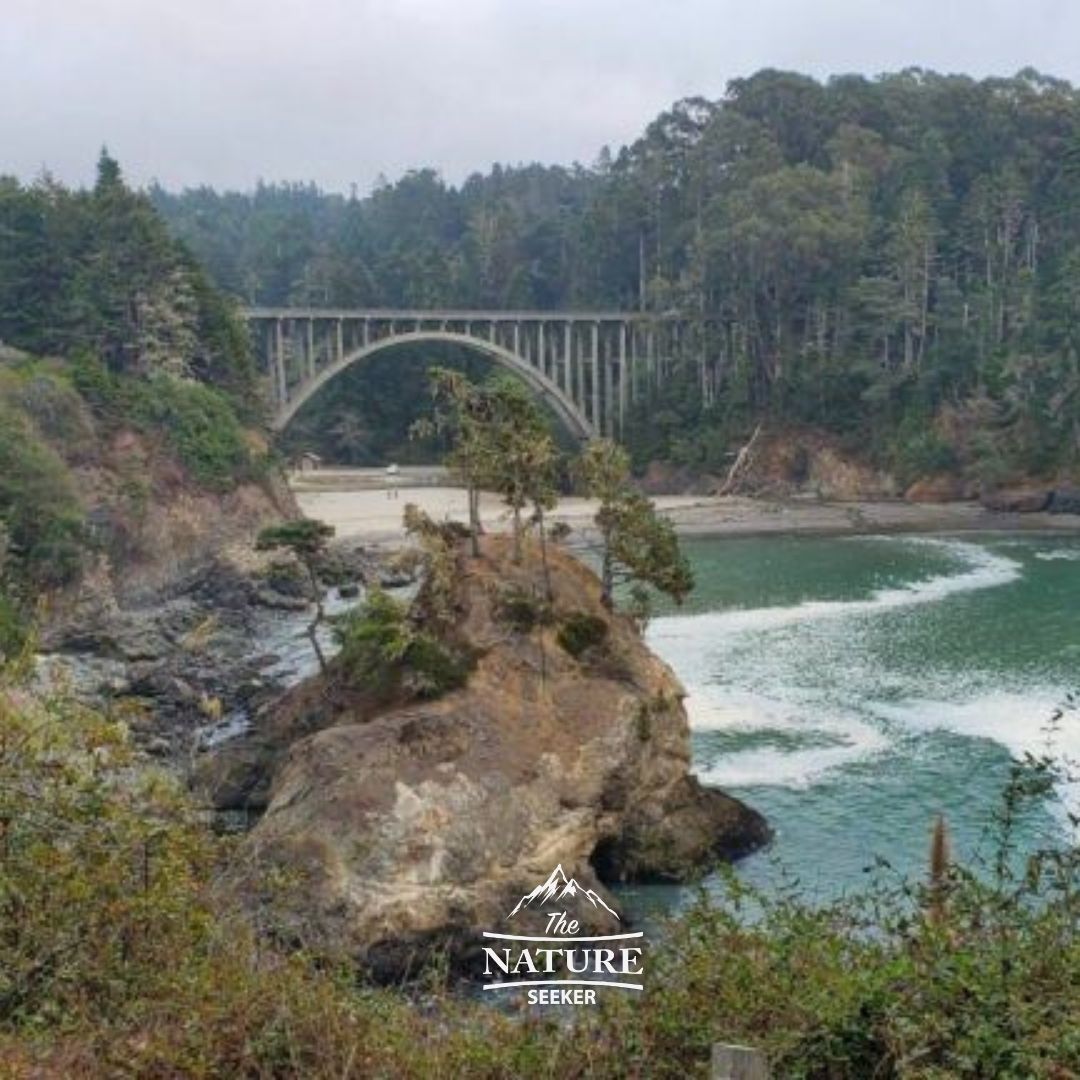 Russian Gulch is a state park I visited while passing by route 1 on the Pacific Coast Highway and it is a magnificent park to drive through and hike at. In fact, northern California has many hiking trails to try and some of the most beautiful ones I've seen are in this park.
Now as you enter the park, you can drive down and under the bridge located nearby (Russian Gulch State Park scenic drive which is the bridge you see to the right), or head north through the same road called Point Cabrillo drive. Either way is a delight to drive through and it is a scenic drive well worth doing.
I also highly recommend stopping at this park and enjoying the nature. While it's a small park, there's a lot to do and I've included a link to different things you can do there above. At the very least, if you're traveling through northern California and Russian Gulch is on your way, I highly recommend stopping, even if it's only for a few hours as it's totally worth it!
Fort Bragg scenic drive (also route 1):
About an hour north of Russian Gulch is Fort Bragg which is really in my opinion only popular for the Glass Beach it has. Aside from that, there is about a 20 mile drive starting from Fort Bragg that goes up north through Route 1 which I highly recommend and I've included an image of one of the stops I made on this 20 mile stretch.
It is very beautiful, especially during sunset time and if you are going to be doing a trip through road 1, this is an area I'd make sure to drive slowly through to enjoy fully, especially the one you see to the right that I personally took. This particular stop was so stunning I couldn't afford to pass it and stopped right around sunset time to take this shot. I've also been here during the day and I have to say it isn't as beautiful so if you travel through Fort Bragg and the scenic drive afterwards which includes this area, make sure it's about an hour before sunset to really get the full experience of this area!
Prairie Creek Redwoods State Park scenic drive: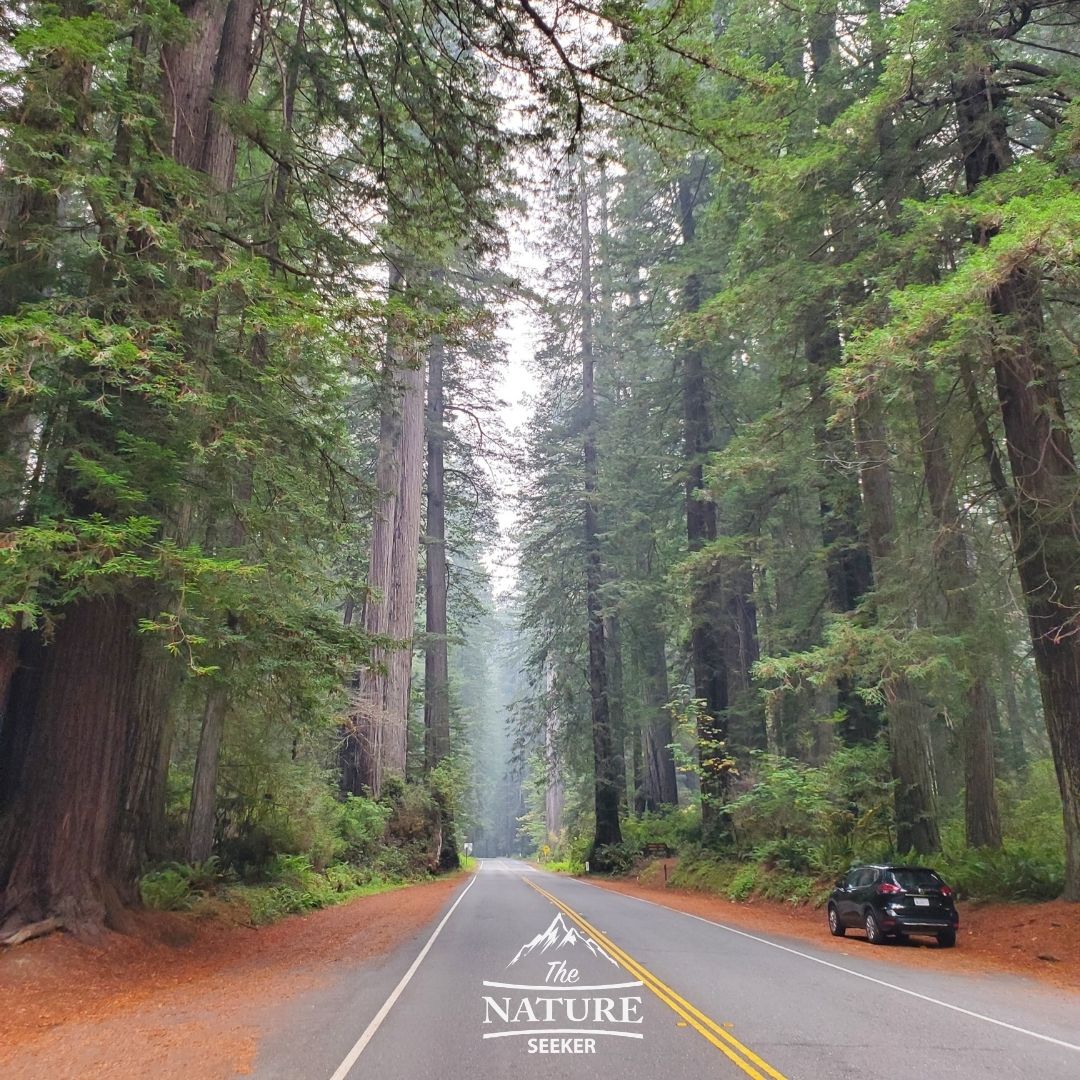 When I first traveled through northern California, this was the first place I had ever stumbled onto Redwoods and I was amazed by the scenic drive there as well as the hiking experiences I had. I loved it so much I returned 3 more times since and will keep coming back to. I found this particular Redwoods area to be a bit more fun to travel through than the others simply because there's less crowds here.
In fact, of the 3 times I was there, on 2 occasions, there was nobody there but myself and the friend I was with and the last time I went, I may have only seen 5 or less people across the whole park! The scenic drive in this location is actually off the 101 road and you will see signs for the park, so make sure to keep it handy. What you're specifically looking for is called Newton B. Drury Scenic Parkway (and oh is it scenic!). Besides the scenic drive, which you'll have about 30 minutes of, are also plenty of cool hiking locations to explore.
Fun fact: Every time I've been through this park, it's always been in the morning and it's always been misty or cloudy. Also I loved exploring Sequoia National Park (completely different park and giant trees) and I wrote an entire article comparing the Redwood vs Sequoia parks.
Note: For some locations above, you can find amazing camping spots on the Northern California coast, some of which are very close by to the beach.
Scenic drive through Route 152 (Pacheco State Park):
This is another accidental scenic drive I stumbled onto, but it's far from the California Coast. It is actually located not far from the city of Modesto. I found it while heading south west to Big Sur (which by the way is one of the scenic drives I recommend you try in southern California) and it is an amazing park and drive to say the least!
Basically you'll see amazing hills, parks, stops and scenic overviews all over. Mix that together with an amazing scenic drive where you'll want to make frequent stops and you've got yourself quite an experience traveling through Route 152!
I've been through this area twice and I am still stunned by the beauty of the park there as well as the drive, which you can see a picture of above. It literally looks like the mountains here are painted and if you don't believe me, just take this drive and see it for yourself. I recommend doing that in the winter time and possibly around February-March as you'll be able to see that effect I'm talking about! Here's another example of this amazing greenery this area has (it's another photo from Pacheco State Park):
Yosemite National Park (all of the drives there):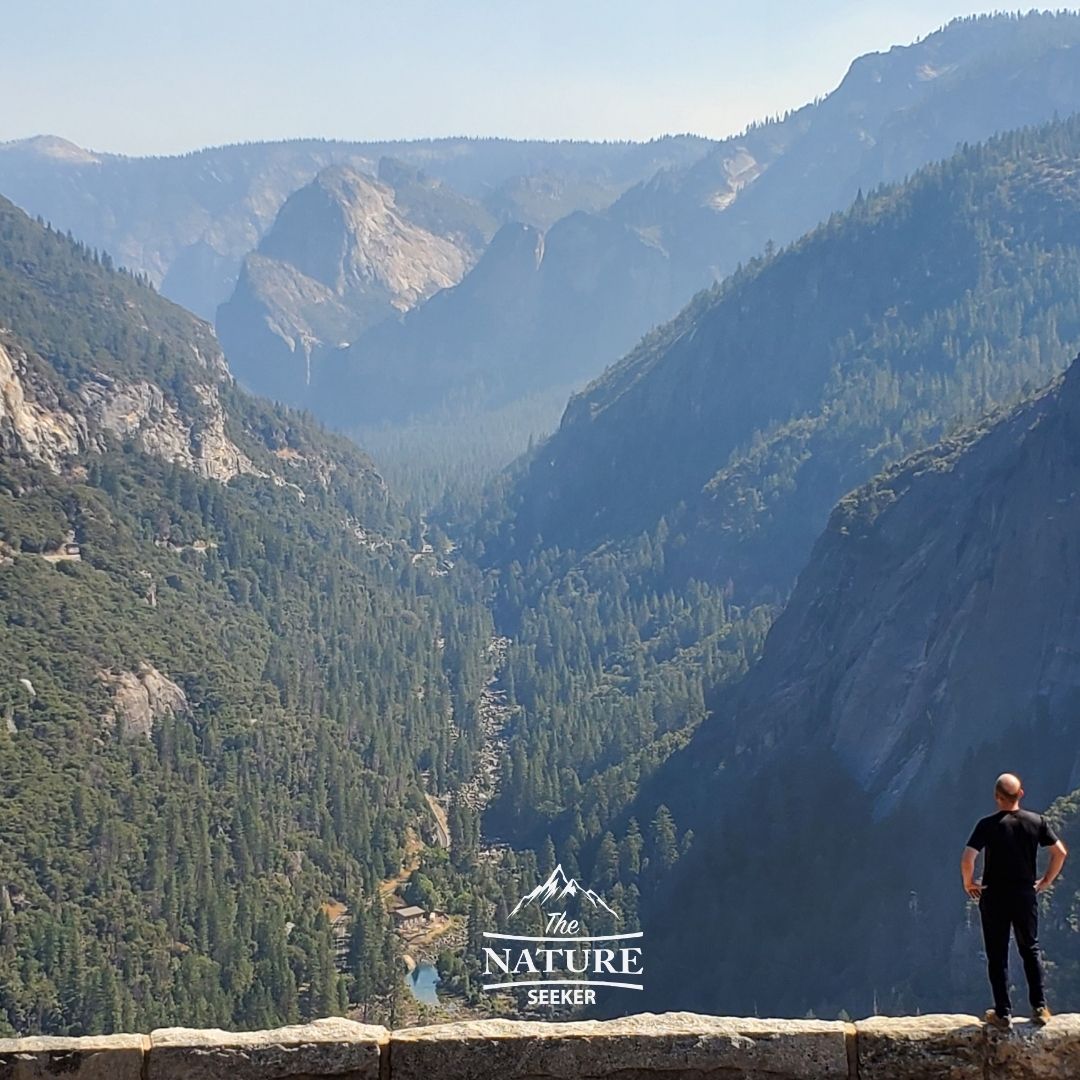 How could I write up a list of scenic drives in Northern California and not include the ones in Yosemite National Park? This was a major park I had wanted to see for years! On the 2 occasions I had visited California before, I always missed my shot because the winter season made it impossible to enter the park.
The third time though, I was exploring it in late September and thankfully, I made it! I had pretty much driven through all of Yosemite National Park, but without a doubt the most notable scenic drive in this park is in the valley area, where you can find amazing spots like this:
There is a loop scenic drive in the valley of Yosemite National Park that I highly recommend you take. It's not long, but my goodness is it scenic. It's about a 30 minute which starts from the south side drive, then loops back around to the north side drive. As you go through it, you will have plenty of opportunities to stop, hike and enjoy the beauty of Yosemite National Park (and I recommend you take all the time you can here).
Lake Tahoe scenic drive (Route 89):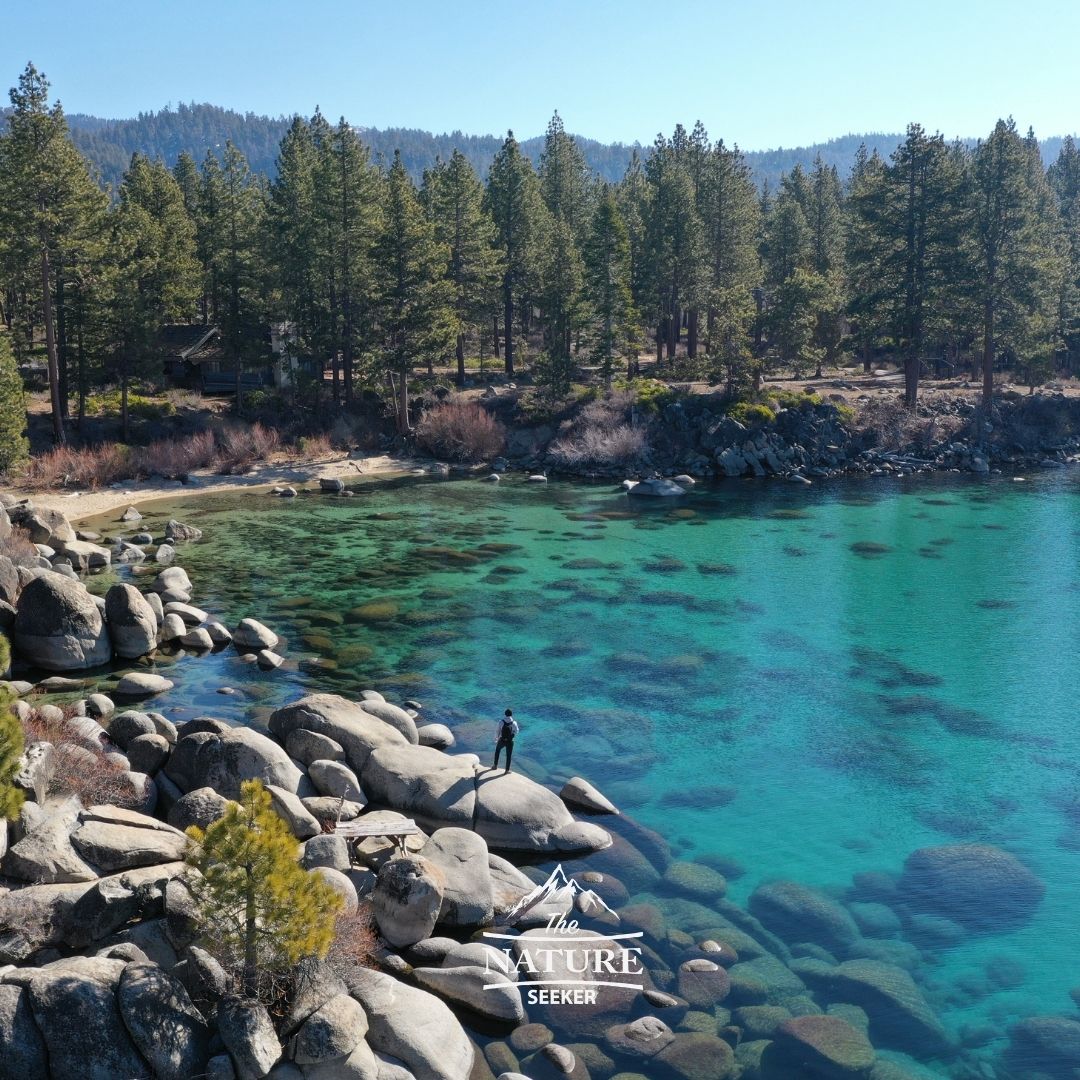 The first time I'd ever visited Lake Tahoe was in early 2020 and I was entering it from its Nevada side. There are 2 looped roads around the entire lake area and while I saw Lake Tahoe from the Nevada side, I highly recommend you take it and the California scenic drive around Lake Tahoe (route 89) to fully enjoy it.
Overall, with the entire loop around the Lake, you're looking at 200+ miles of scenic drives and days worth of activities to do aside from that. Of course make sure to make stops here, go kayaking, swimming and stay here if you can, because Lake Tahoe is extremely popular for good reason, which you'll see when you get here yourself.
I've included one image from my drive here, and it shows the beauty of this amazing lake. Fortunately, I was here off season so I hardly saw anyone, so if you're into that too, come here before March (but expect many kayaking rental areas to be closed).
Other scenic drives in California:
Here is a list of 5 scenic drives in southern California I recommend checking out as well, but depending on which area of California you're in determines which particular article applies to you more.
Aside from that, I can tell you that California is a stunning state to drive through and I will do it as many times as I can in the future to explore even more places to share with you!