California has over 800 miles of beautiful coast line you can explore and in this post, I want to share 10 of the best places on it.
My history with traveling through the California's coast:
I have so far traveled through about 500 miles of California, all the way from the middle of it through the entirety of the northern California Coast, and all through the neighboring states near it, including Oregon and Washington, whose costliness are also spectacular.
And besides the coastline, there's tons of places inside California state worth exploring: Parks, mountain regions, deserts, and more.
In fact, no state that I have ever explored has had more diverse nature and scenery than California, but that's for another list and on another article and if you're interested, check out my article on the west coast road trip I did that showed me the many places I explored here.
For this one, we're keeping it close to the coast and you'll be able to check it out off route 1, the main road that spans across the entire California shoreline.
Here are the top 10 places you have to see on the California coast:
Big Sur.
Fort Bragg.
A lookout near Coast Highway Lookout.
Redwoods State Park.
Sunset Cliffs Cave.
Russian Gulch.
Monterey Beach California.
Shark Fin Cove Beach.
San Francisco Bay.
Fern Canyon.
And this list will be growing as I explore California's coast more:
I'm someone who looks for the most beautiful nature areas, so whether I explore them or you know of beautiful spots on the California coast that are also similar to the beauty of these 11 spots, let me know below!
1) Big Sur: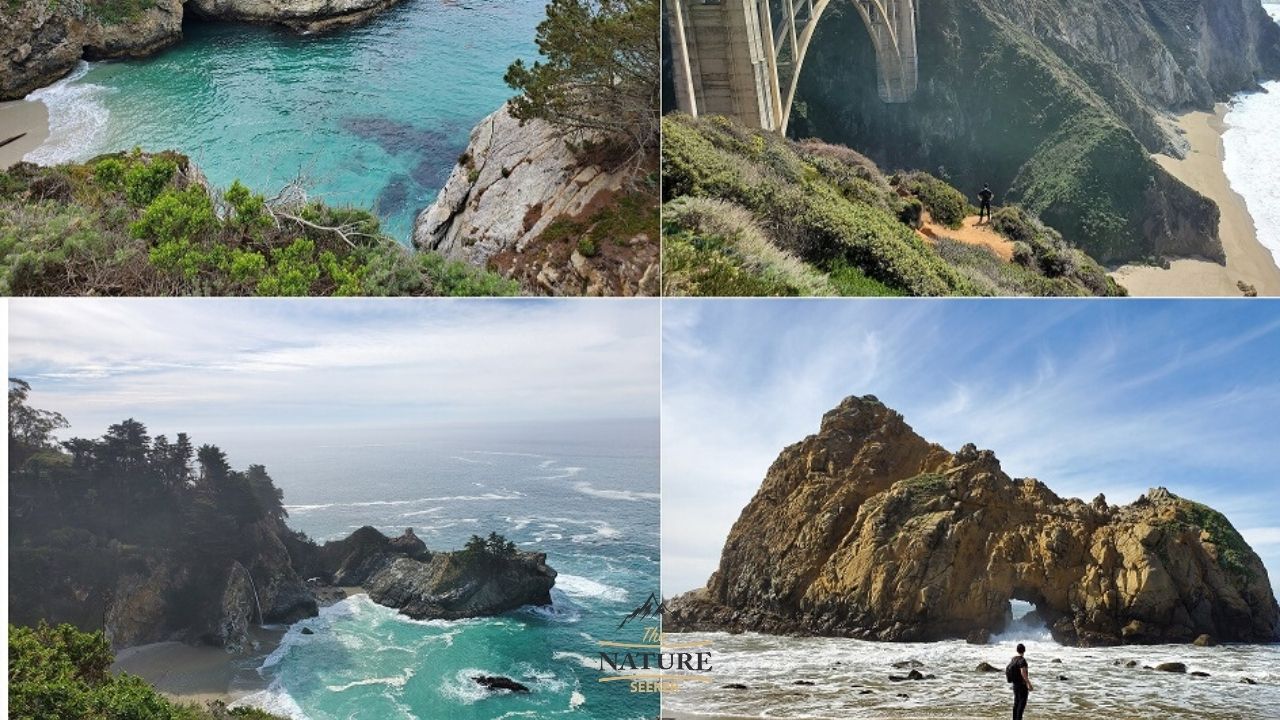 Big Sur is about 40 miles long and has many areas within it worth seeing. For nature, we have these 5 spots I explored in Big Sur as well as other activities you can do.
One of my main goals in visiting the California coast the first time I went there was to see Big Sur because some say it has the best nature areas all fit into one region, in all of California.
I will say that is a strong argument after seeing it for myself (twice).
In any case, I recommend exploring at least the 5 areas in Big Sur that I believe have the most beautiful areas in it and you can see them all in a day.
Additionally, Big Sur is one of 5 scenic drives in southern California I recommend taking.
2) Fort Bragg:
The main attraction of Fort Bragg isn't really it's nature, but the Glass Beach it holds that drives a lot of tourists there.
I've visited Fort Bragg twice and enjoyed going to the famous Glass Beach there.
Additionally, if you travel a little bit north of Fort Bragg, you'll cross a place called the Pudding Creek Bridge, which is beautiful to explore as it has a large bridge over it called Pudding Creek Trestle.
During sunsets, this place is very photogenic and I will personally be making plans to photograph this iconic spot on my next trip through Fort Bragg!
3) This lookout called Coast Highway lookout (not on the map):
One of the main benefits of being on route 1 on the California Coast is all the stops available and some of them aren't even well know, such as this one I found.
I couldn't even find the name of it on Google maps, but it's located right near Coast Highway Lookout (1 kilometer south of it) and it is a one of my top rated scenic drives in northern California.
It's also located about 20 minutes north of Fort Bragg if you need more references.
But anyway, not only does it have a beautiful lookout to see the sunset with, but there's also hikes to the beach and other beautiful scenery to explore.
4) Redwoods State Park (the giant trees):
Until I entered California State on my road trip, I had no idea this was the state that had the Redwoods, but when I discovered that it was, I had to go and visit it! And as it just so happens, it is located right on the California coastline.
In fact, you'll find tons of Redwoods north (and south) of Fort Bragg as you travel further and further north of it, and the epicenter of where most of these trees can be found is in the Redwoods State (and National) park.
I highly recommend going there during a weekday and during off season, because you just might be the only one there to enjoy the beauty, views, and air and more.
There is something truly breathtaking about being in the Redwoods and being able to enjoy them yourself. It felt surreal for me when I did it the first time.
5) Sunset Cliffs Cave: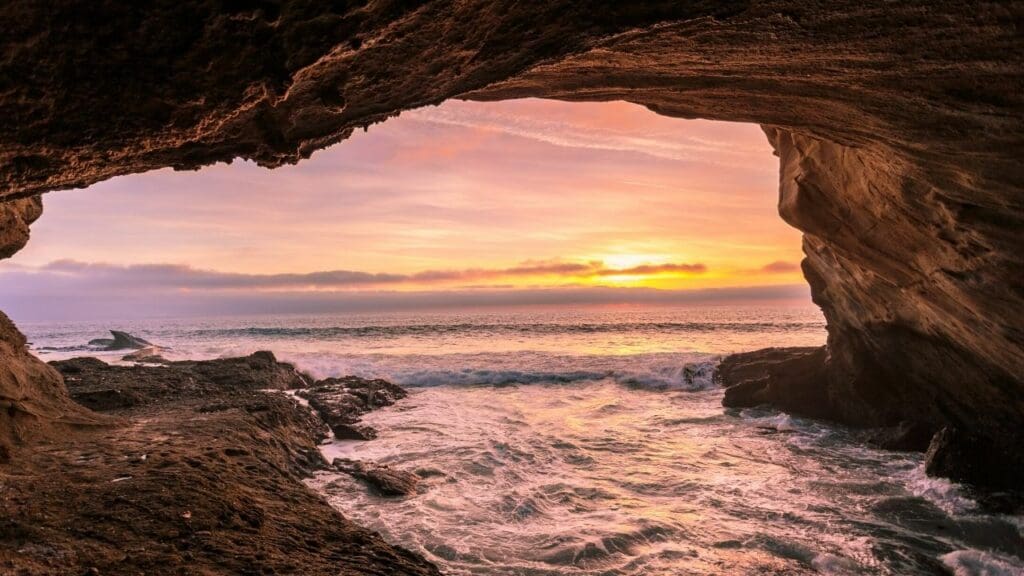 If you love sea caves and being able to enter them, then Sunset Cliff's Cave should be on your list.
This area is on a beach right by San Diego and it really looks a lot like the Devil's Punchbowl area in Oregon I explored.
But it's easier to walk in through Sunset Cliff's Cave than it is to Devils Punchbowl in Oregon.
Anyway, this spot, as you can see on the picture to the right is very iconic, and it is highly recommended to time your visit here when the sun is about to set (for obvious reasons).
6) Russian Gulch State Park: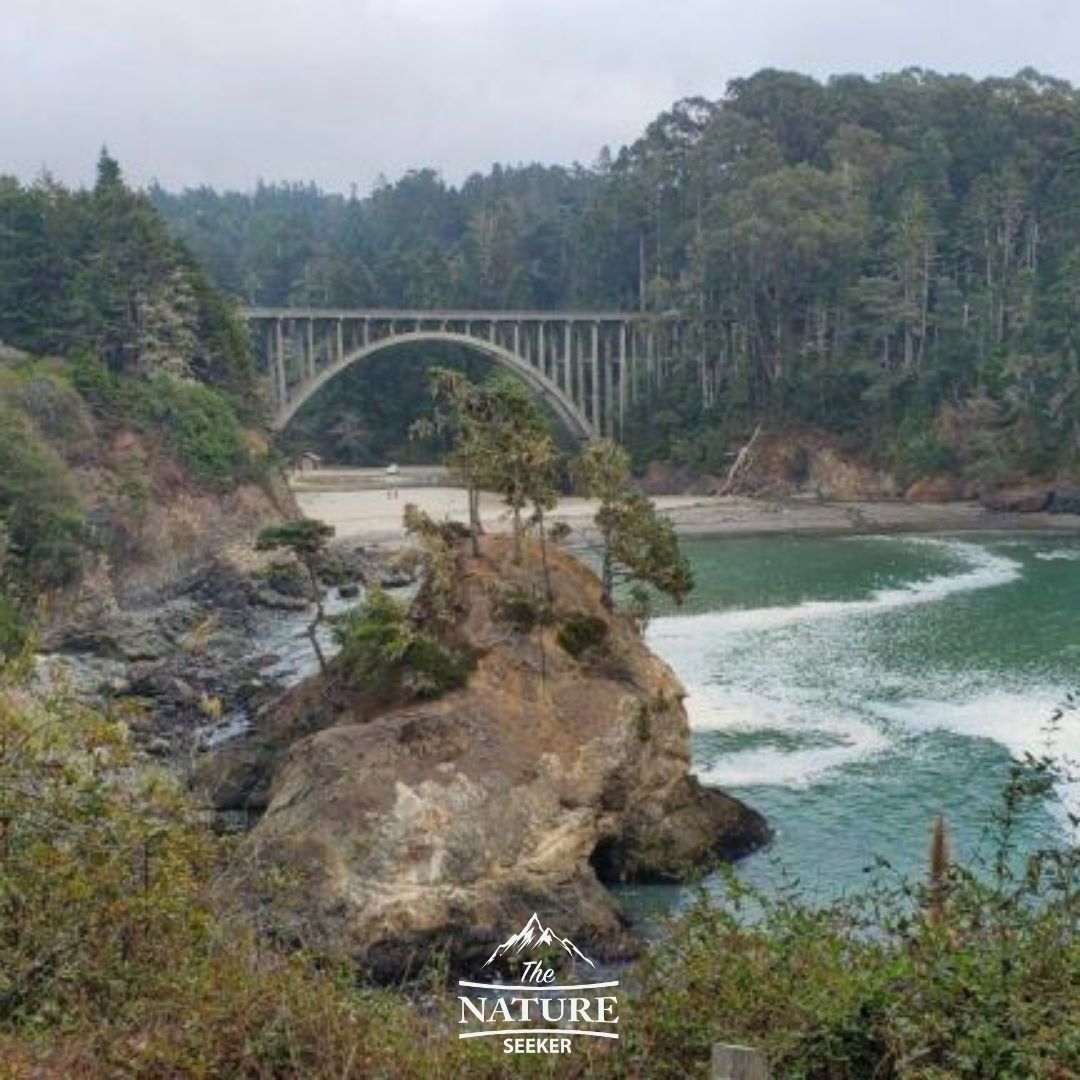 Russian Gulch State Park is south of Fort Bragg and is a beautiful park with a beach that should absolutely be explored if you get the chance. It's a small park, but it has a lot to see.
When I was looking for places to see in California's Coast, an image of this spot came up, but I didn't discover where it was until the next time I would travel through California.
Fortunately, I was able to see this awesome spot recently and I couldn't be happier.
In many ways, this area looks so similar to the type of stuff you see on the Oregon Coast, and there is a ton to explore there, including sea caves, a beautiful beach, and even a Devil's Punchbowl.
If you have the chance, check out Russian Gulch State Park.
It has an awesome scenic drive too around it which I ranked as one of the top scenic drives in northern California.
7) Monterey Bay California: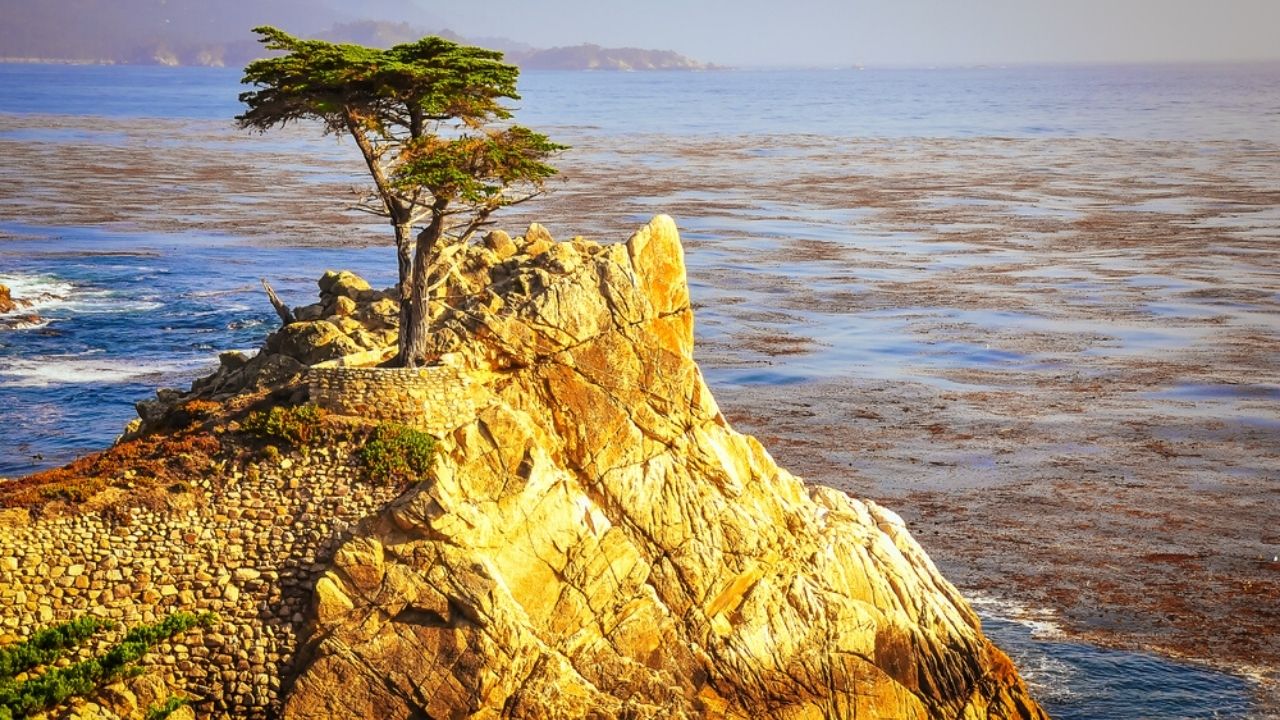 Monterey Beach is a popular spot to check out near the Monterey area.
But the beach itself is very scenic and has cliffs you can hike near.
There's also a lot of other tourist attractions in the Monterey area worth exploring aside from the coast itself, but for me, it's a place I have yet to explore personally.
When I first saw a picture of this place, I thought it was in Big Sur, but sadly, I was wrong (it was south of it) but I do recommend you plan your visit to this area too if you plan to explore the California Coast.
In short, I recommend you explore this and other areas within Monterey Bay.
8) Shark Fin Cove Beach: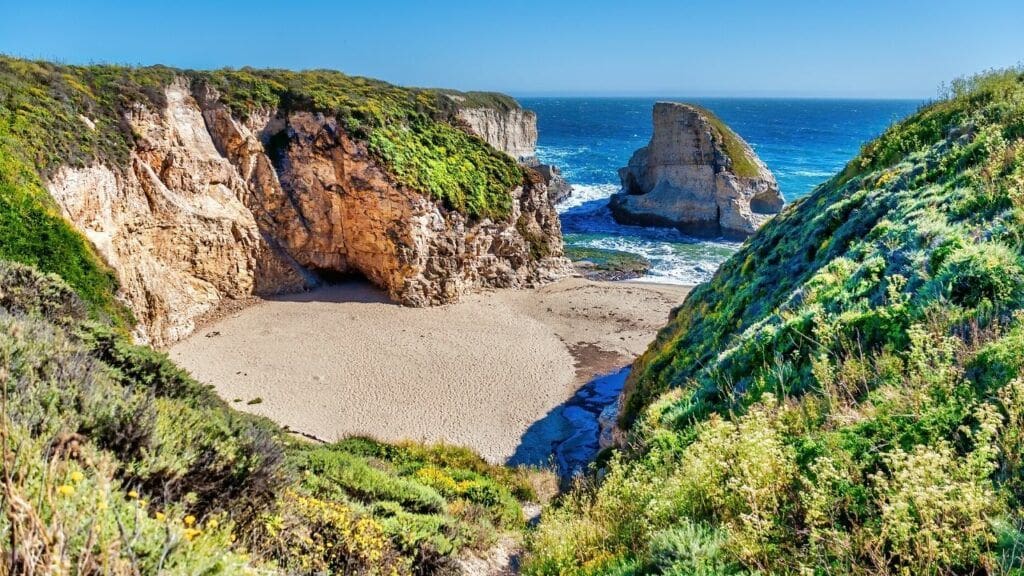 I think you can tell why this place is called Shark Fin Cove Beach.
In any case, I think it's gorgeous and has to be on this list! Sadly, it too is another spot I missed on the 3 trips I've taken across the California Coast.
Most of my adventures so far on this coastline have been north of Big Sur, and Shark Fin, like Monterey Bay are south of it, so I highly recommend that if you really want to plan a trip across this coastline, to start in San Diego, and map out all of the locations I am giving you here, so you don't miss any of them like I did.
I'm definitely planning to make a future stop here too!
9) San Francisco Bay: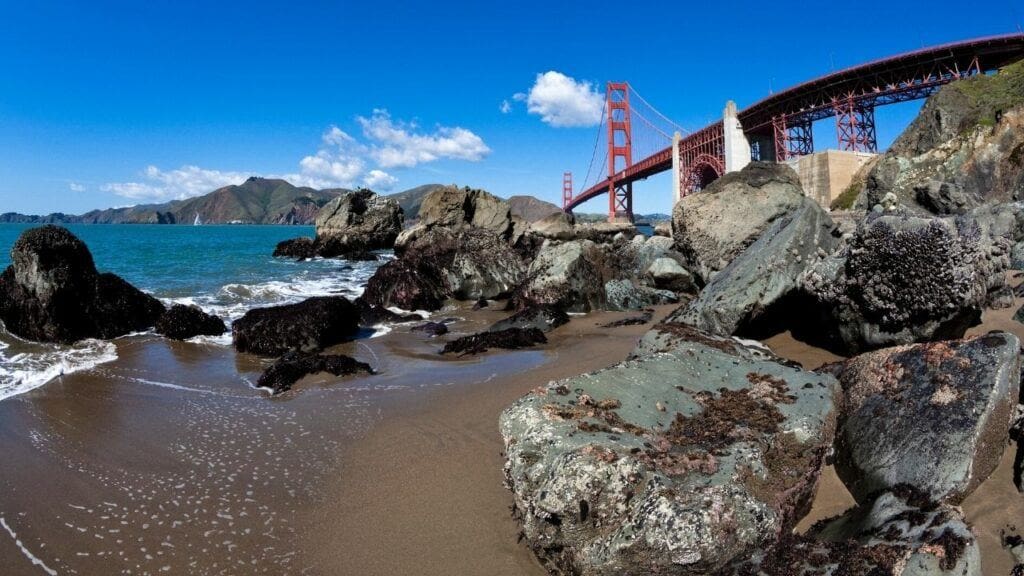 San Francisco itself is a very beautiful city and while it has had a lot of troubles, you can't deny it's nature is still there and is still beautiful and probably worth visiting and since we're talking about the coastal areas, San Francisco Bay has to be on the list.
There's tons of attractions and scenic spots there to see, including the Golden Gate Bridge, Alcatraz and activities to try such as mountain biking and hiking.
One of the most scenic hikes you can do in this region that will give you a great overview of the coastline is passing the Golden Gate Bridge, and going up the mountain right after it, which has scenic drives, and viewing areas to check out.
10) Fern Canyon: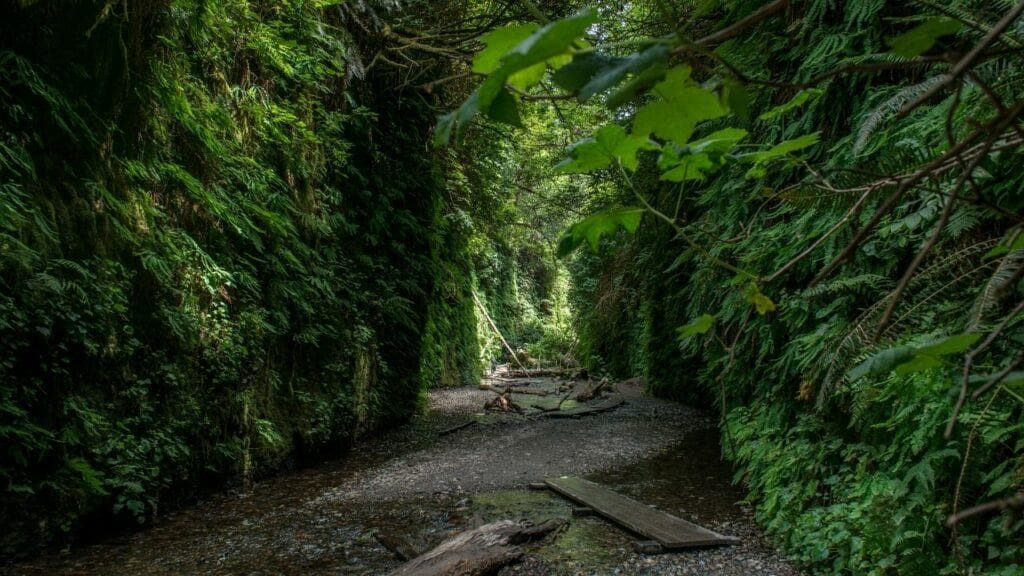 Fern Canyon is close to the Redwoods National Park and is a beautiful hike in a canyon that has plenty of greenery, a beautiful stream and an overall memorable hike that many people enjoy doing.
In my case, I'm very mad at myself because I had at least 2 opportunities to stop and see this place, but I kept missing it because the GPS showed me this location was north of me when I driving on the road, but as it turned out, the entrance into Fern Canyon and the hike there was at least 30 minutes south of me.
And thus, because I had to keep traveling north and was tight on time, I had to skip it. And it happened twice, which is sad, but I won't make that mistake again!
Note: If you want to know of places that look like Fern Canyon, I'd recommend Oneonta Gorge in Oregon's Columbia River Gorge area. It is still likely closed, but in case it ever opens, I say it's better there than it is in Fern Canyon.
If you decide to stop and hike any of these spots, here's what I recommend wearing:
Questions about exploring the California Coast:
What cities are in the coastal region of California?
The main cities on the California Coast are San Jose, San Diego, San Francisco and Los Angeles.
What is the California Coast known for?
The California Coast has tons of attractions, beautiful coastal drives and beaches as well as historic locations all throughout.
The good news about these 10 spots (besides their beauty):
It's that you can truly explore all of them off the same road in a matter of days. You can also probably cover multiple locations on this list in a single day too (like Big Sur). There's also a lot of camping locations across the coast, and here is a list of camping areas in northern California you can stay at (by the coast).
I still highly recommend you also explore:
I've compared Oregon to California's Coast before and I prefer Oregon, but I would love to know what you think of the California Coast overall and the list of places I listed here!