I have never seen a state with so many scenic drives as I have in California and in today's post, I will just focus on the southern region of this state.
I've only been through southern California once in my life, during a Pacific Northwest road trip, but after seeing all the diverse landscapes and scenic drives it has to offer, I just had to make this list.
Truth be told, it's not out of the question that every single road in California could be considered a scenic drive, but being that I have yet to explore all of them, I'll only mention the ones I have seen that have floored me because I had never in my life seen such beauty as when I first visited these areas and if the locations on this list are new to you or you're planning on visiting Southern California for the first time, put these scenic drives on your list!
Here are the 5 best scenic drives you'll find in Southern California:
Mojave Desert scenic drive (50+ miles).
Angeles National Forest scenic drive (50+ miles).
Interstate 5 scenic drive (150+ miles).
Sequoia National Park scenic drive (30+ miles).
Big Sur scenic drive (30+ miles).
My first visit through southern California had me pass by all of these places and I cannot wait to describe how beautiful they are!
Of course, this list is just the beginning and I will add more as I revisit southern California in the future.
If you have any recommendations, I'd be more than happy if you shared them here. Anyway:
1) Mojave Desert scenic drive:
The first time I passed the Mojave Desert, I was driving from Las Vegas to Los Angeles.
This was the first time I had ever gotten a major taste of what driving in the desert was like and from the very start of my road trip from Las Vegas's McCarren Airport to Los Angeles, I had never seen such a drastic change in landscape as I did on this 6 hour drive I did.
Believe me, the first time you do this drive, you'll see what I mean about that drastic landscape change and how awesome that experience is!
Anyway, the Mojave Desert and the scenic drive there is over 100 miles long and has tons of spots you can stop at to hike, sight see or just enjoy the driving views, including driving into the actual Mojave Desert and exploring more spots there.
While I didn't have much time to sightsee here, whether you're heading from Los Angeles to Las Vegas or vice versa, this scenic drive is one of southern California's best in my opinion.
It's right on Interstate 15 and impossible to miss.
2) Angeles National Forest scenic drive: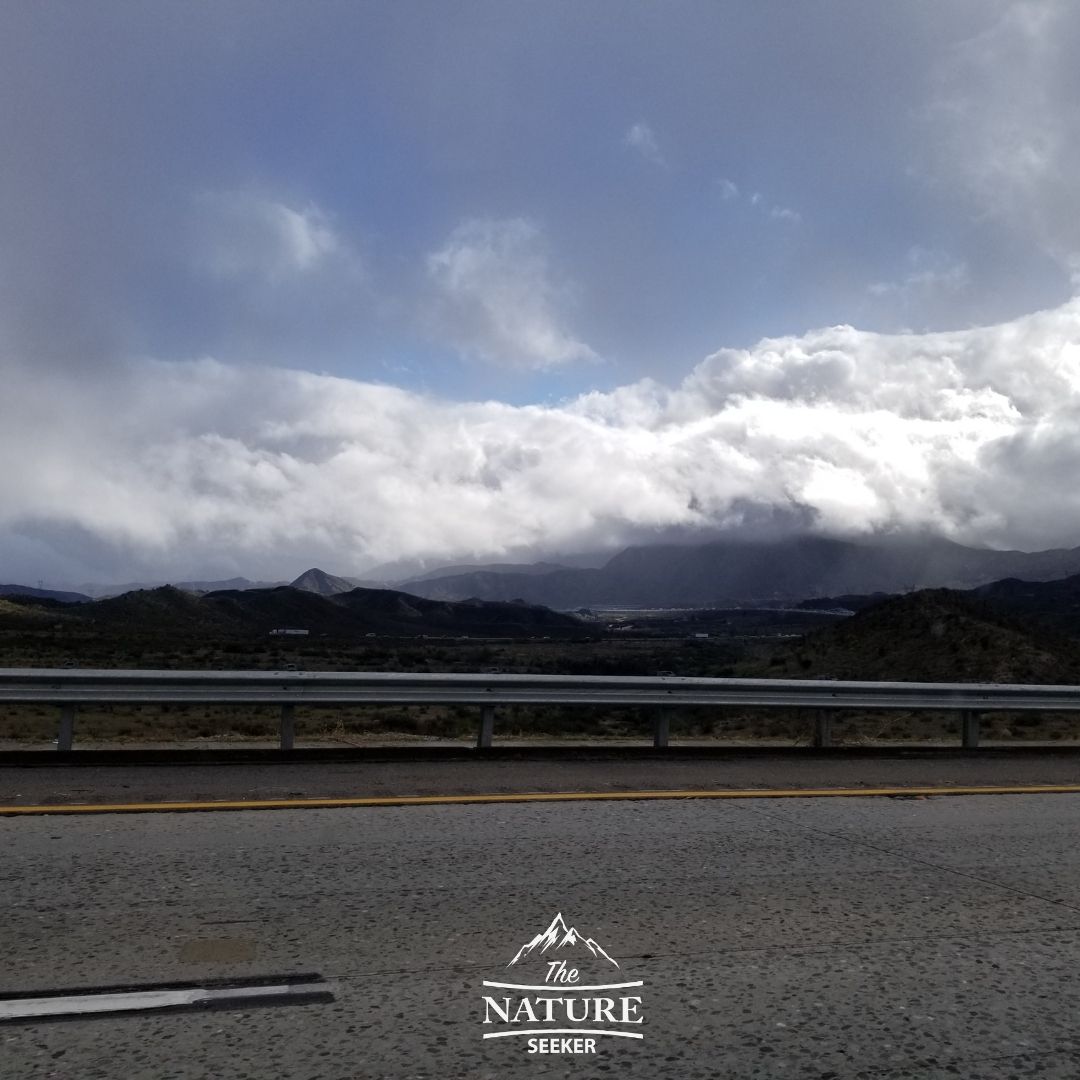 As my drive from Las Vegas was nearing Los Angeles, that crazy landscape change was beginning to take shape and the first major sign of this change came as I was nearing Angeles National Forest.
In fact, the Interstate 15 drive from Las Vegas takes you through both the Mojave Desert and Angeles National Forest so you don't have to worry about missing this amazing area of southern California.
The elevation changes in this region are astounding and you'll have tons of opportunities to stop and see major overlooks and signs to enter roads that go deep into Angeles National Forest.
Or you can elect to stay on the Interstate 15 drive to continue heading towards Los Angeles if you wish.
Either way, this national forest area is stunning, green, with massive mountains and so much more than I can't even begin to describe it's beauty.
You'll just have to drive through this region to see what I mean!
3) Interstate 5 scenic drive up to northern California:
While I'd wanted to see the coast of California when I entered Los Angeles, time was not on my side and the fastest way to reach my next destination was to head up through Interstate 5 which I thought would be a regular drive through the middle of California state.
Little did I know that some of the most beautiful nature and scenic drives I would end up seeing in the state and on my whole trip would actually be on this Interstate area!
Here are some notable spots on this drive:
Pyramid Lake (amazing views).
Green mountains (insanely beautiful mountain ranges).
Sequoia National Park (it's not far from Interstate 5).
200+ miles of this stuff and more!
The pictures from this drive are just a small sample of the beauty on Interstate 5 that you'll find and frankly, I'm glad I missed the coast and elected to explore this region of California. It was truly something!
4) Sequoia National Park scenic drive:
As I said, Interstate 5 gives you access to another road which takes you to Sequoia National Park and I elected to see this place as I was driving north and there's a few things worth mentioning:
First, there is a very scenic drive available before you even reach the park. It's about 30-40 miles long and I never expected to see such beauty, but I was very pleasantly surprised by it.
Second, I was unable to enter the park because there was too much snow in the region (I was literally at the entrance gate of Sequoia National Park), but I did some research and found that the drive inside the park is absolutely stunning and one I have on my list.
I had included one image I found on Canva.com for the scenic drive in this place to tease what it's like inside this park (and why you should definitely go).
I know that the next time I'm driving through southern California, I'll make sure to get into Sequoia National Park, do this drive and share even better pictures from that experience.
5) Big Sur scenic drive:
I have been through Big Sur 3 times so far and each time I go, I find there's so many more things I can do and see.
For starters, the very scenic drive on Big Sur is what I recommend any first time visitors do!
It's truly a remarkable scenic drive that'll have you pass through at least 30 miles of insanely beautiful coastal road on the Pacific Coast, which also happens to be one of the most popular areas in all of California, let alone southern California.
Second, there are several stops along the main Big Sur scenic drive you can enter into, be it parks, side roads and so forth that I recommend you explore which further get you closer into the coastal areas.
And as for hikes, camping and so forth, there's plenty of spots in Big Sur to do this on.
If anyone is wondering, that giant bridge you see is called Bixby Bridge and it is one of the most iconic spots you'll find in the Big Sur region.
The best times to do these scenic drives in southern California:
Each one in my opinion has their own period when it's best to visit, and here it is:
1) Mojave Desert scenic drive: Winter time as the temperatures are perfect.
2) Angeles National Forest: March-November. You may run into huge crowds as it's popular but at least you'll be able to avoid the snow which closes down many of the roads there.
3) Interstate 5 drive: February through August is when you should see the greenest foliage in the mountain ranges there.
4) Sequoia National Park: Anytime past April-November should be fine for the snow to thaw and allow you to go into the park. I went in late January which is why I wasn't able to get in.
5) Big Sur: Year round is fine, but I prefer going during the winter when it's cooler and there's less crowds.
More scenic drives will be added to this list!
Update: Here is a list of scenic drives to explore in Northern California! The list here is even bigger than the one in this article!